The Underdog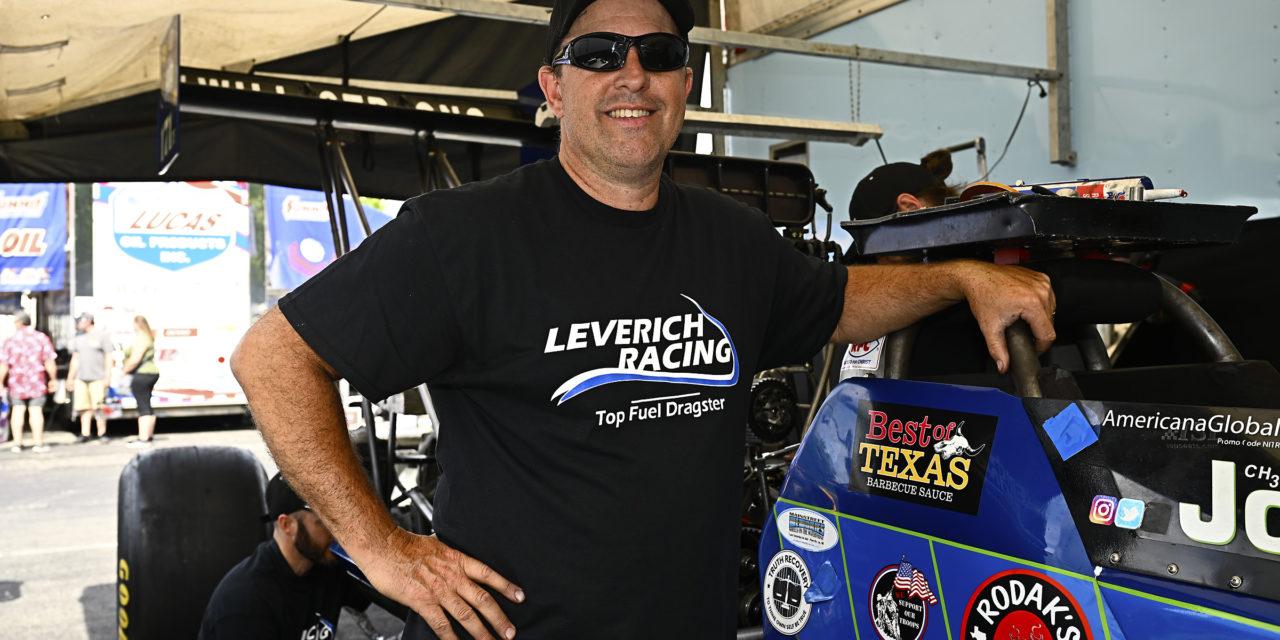 This week will feature a guest blog response to one we posted a few weeks ago. I'll let him tell his story, but I know that I will be rooting for him the next time I see him at the track.
My name is Joe Morrison. I have been racing part time in Top Fuel for the last few years and currently in the process of changing to Fuel Funny Car. Just wanted to add my $.02 in response to "The Next Generation" blog. I'm not exactly sure why I feel compelled to compose a response, but maybe it's because I am told that I am one of a few "everyman" type racers in the nitro ranks and I thought I would share my thoughts with you. One thing for sure, I am NOT the typical Nitro racer. Honestly, up until 2013 I never thought I had even the slightest chance of racing professionally.
First off, although my goal is to have a positive impact on the NHRA, I am not trying be the next John Force. While I don't think that someone has to match his record to be effective, I do believe that in order to achieve "premier influencer" or "primary personality" status, a racer MUST be very successful. Still, I am making a conscious effort to "spread the gospel of nitro" because of my passion for our sport. I believe that there are others doing the same thing. For our sport to really grow (I mean REALLY grow) it will take at least 20% of racers, teams, AND fans to actively participate in bringing new people to the races. Is inspiring the community going to be an attribute of our next icon? I think so.
If you're looking for a driver in the pro ranks that has not come from a privileged background/upbringing, there are a few like me, Clay Millican for one. As for me, my dad was a plumber, my mom is still a nurse and I am a landscaper from NJ with 4 kids. On paper, I have NO chance of racing at the highest level in our sport. Heck, without a friend giving me a chance, I never would have had the good fortune of racing (and winning) a Fiat Altered in NETO in a car that team owner Mike Gillespie trusted me to drive. As a result of that success, I was lucky to begin driving nostalgia funny cars and fuel altereds for team owners Rocky Pirrone and Ted Brine to further hone my skills. Unfortunately, I did not have the resources or luck to land a top alcohol ride, but I did get my TAD license in Jerry Darien's car in 2014. I have been actively pursuing a pro career since 2013 and managed to make my top fuel debut in 2020 of all years. Another fact that I find ironic (and somewhat terrifying) is that I earned my first competition license on 9/11/01 at Atco Dragway. I guess if I can fulfill one lifelong dream of driving a real race car on 9/11, might as well fulfill the dream of racing in Top Fuel during a global pandemic!
The big challenge for someone like me to break into the highest levels in motorsports is akin to the "Which came first, the chicken or the egg?" conundrum. In order to receive adequate sponsorship dollars, you need a large audience and influence; and – in order to have NHRA and racing media talk about you enough to develop a fanbase, you need enough money to perform well. I am still fighting that battle while doing everything I can to just be authentic. Why is John Force's story amazing? I have found that to overcome those barriers I just mentioned takes a LONG time and relentless pursuit. Most people are not willing to sacrifice what he did (or, quite honestly what I am fighting through right now) to reach the level he has achieved. Driving for the Leverich Racing team with old parts just to be "out there" is a first step. Hopefully, my new opportunity with the Herzhauser Racing nitro funny car will help me take the next step on the journey to full time nitro racer. To get a ride in a top ten team requires someone, somewhere to take a chance. Short of that, not sure it's possible to break through but it hasn't stopped me from working at it every day.
The desire to succeed regardless of how unlikely success looks from the outside, coupled with the fight playing out in front of our eyes, with the underdog eventually having not just "a day in the sun" but a long term success seems to summarize Force's journey. Is that what cemented him as the proverbial GOAT? I don't know for sure. One thing I can say for sure: trying to succeed in the nitro ranks as an underfunded/underdog racer is even harder than it looks from the outside. Still, I wouldn't trade it for the world. While I am not likely to be the next John Force, I think whoever picks up that torch might have a similar story to mine. -Joe Morrison