AND FOR SOMETHING A LITTLE DIFFERENT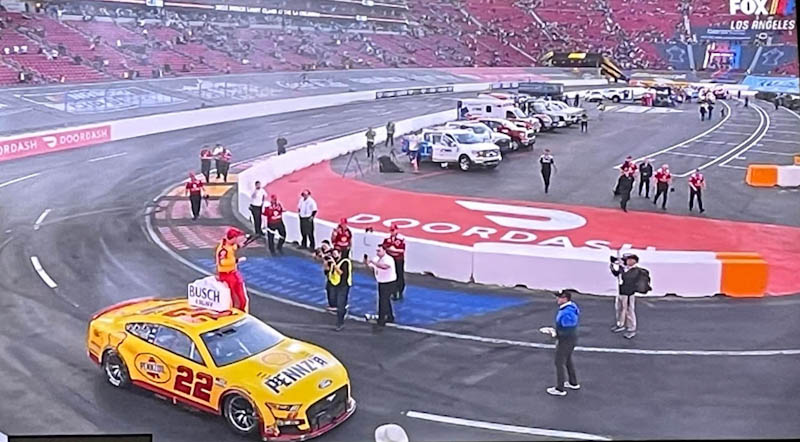 Maybe a little off topic this week, but still about motorsports. Not much to talk about in the drag racing world except for a little gossip, no football to watch on TV as we await the Super Bowl this weekend, so maybe it was time to clean the house/garage/shop, etc,, and who really likes doing that. But there was one thing which sort of piqued my interest and it's one I believe, maybe not racers, but certainly race promoters should have paid attention to.
I've mentioned that I am a fan of all sorts of motorsports; obviously more drag racing than anything; but I was interested in this past weekend's NASCAR Busch Clash at the LA Coliseum. Being held at such an iconic venue where there have been so many memorable events; football games, the Olympics, baseball, concerts; it sort of struck a chord with me and I was looking forward to watch a race unfold at a facility that has only held some old races there decades ago.
Built in 1923 as a memorial to the LA veterans of World War I, the Coliseum was rededicated in 1968 to honor all veterans. It originally held seating for 99,000, though after a renovation in 2018, the seating capacity was reduced somewhat. Still, a NASCAR race? How was this going to work?
Supposedly, NASCAR spent over $1,000,000 to build the quarter-mile long track some four feet on top of the playing surface. Pretty impressive and ranks even above whatever they spent to turn Bristol Speedway into a dirt track bullring.
I've read a number of comments on social media after the race, with opinions both pro and con. Of course, with it being held in southern California, you just knew it was going to be a show and more "Hollywood" than anything else, and for that, it didn't disappoint. In those regards, there were some who didn't appreciate the Hollywood atmosphere, but the truth is that it did draw in what may have been considered a big crowd for a race. From the reports I heard, most attendees weren't even what may be considered NASCAR fans, but regardless, they spent the money to be there, bought T-shirts, food and the like, and maybe hooked one or two of them for the future, so in that regard it had to be considered a hit.
Now the truth is that I'm really not a fan of the glitter and show, and maybe not even so much of the "new look" Next Gen NASCAR cars. While they do look a little more like their production counterparts, maybe I liked them best when they had unlimited horsepower and four-speed transmissions. But the new cars certainly are indicators of what's available today, with transaxles, fuel injection, power steering etc.
So, what was my take on the event? I thought it best when one of the booth personnel was Tony Stewart; who will make his debut into our world this year as a Top Fuel car owner; made the comment, "Even though I own a race track in Indiana, I believe every promoter should be watching what is taking place here." I couldn't agree more!
Maybe I personally don't care for too much of the glitter and show, but if it brings in customers and turns them into fans, so be it. There have been a number of things tried at NHRA national events which I've not been a fan of, but at least they've been tried.
I'm sure I don't have to tell anyone that we're living in a new age; one where there is so many things available for us to spend our hard-earned cash on. Motorsports in general has got to do what is necessary to compete in this new market. Okay so maybe we don't need Pit Bull dancing around or an Ice Cube "half-time show," but I do believe there are certainly a number of things promoters could take away from what transpired this past weekend.
And maybe racers could learn a thing or two as well. It's all about keeping your eyes and ears open to new ideas which can help us to be sure motorsports will be around for generations to come.
Here's the question I put to you: What were your thoughts?
And of course, I have to thank Artisan Coffee for their sponsorship of the Blog and I urge you to sign up for their Coffee Racing Club at www.coffeebyartisan.com which will get you discounts on some great tasting coffee. I'm out for this week. Have a great day!