Happy Halloween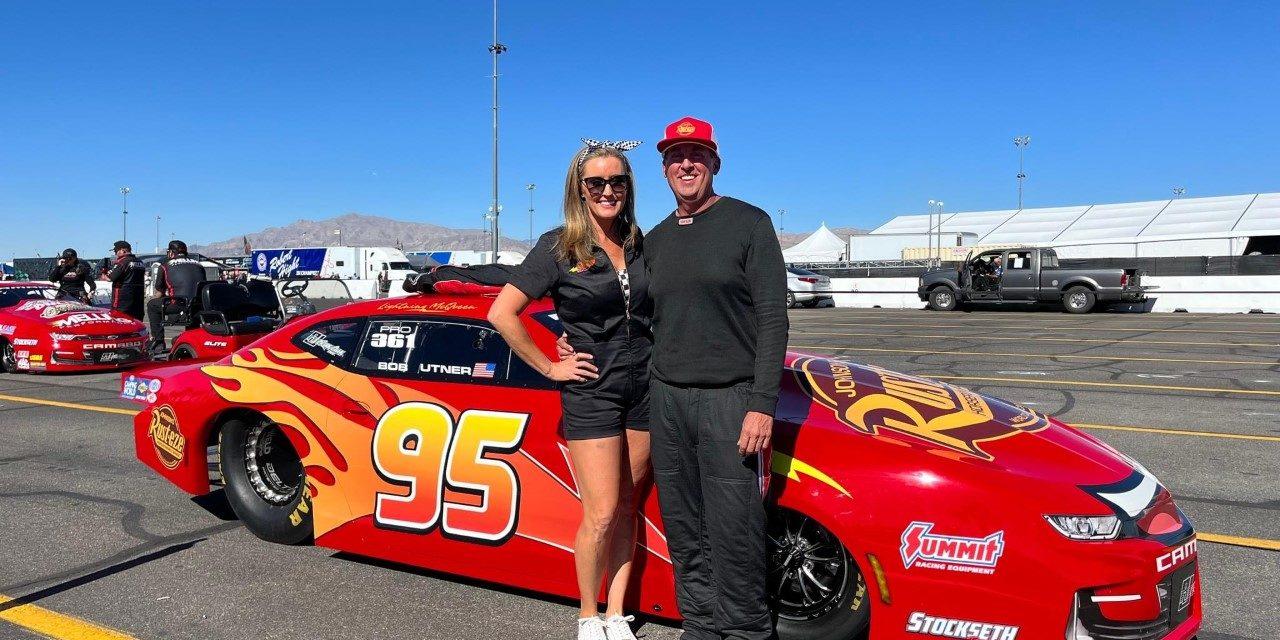 This week's guest is a long time racer and former junior drag racer. She has seven national event trophies to her name and likes to wheel a variety of cars, but none more cherished than her 1967 Pontiac Firebird. Despite her racing resume, she might be more beloved during the fall Vegas national event for her penchant for dressing up the team and car driven by her now husband, Bo Butner, for Halloween. Either way, we are happy to present Randi Lynn Butner this week.
The No. 1 question I'm asked – year-round and year after year – is what our Halloween theme will be. I like doing it. Halloween should be fun, and it gives me a creative outlet. Plus, I like getting the guys all dressed up. They act like they don't like it, but when it comes down to it, they love every part of it.
The first time we did Halloween at the track, I didn't realize that the Pro Stock Motorcycle racers had been doing it at the fall Las Vegas race for a while. That first year, I dressed up like Linda Vaughn, and my sister, Kristi, was Jungle Pam. That's what got it all started. We dressed up that day because it was actually on Halloween, and the crew guys were playing with our wigs and trying them on. I said, next year, we're going to go all out and dress all of us. They were like, yeah right – but when it came down to it, they ended up loving it.
I really wanted that first year to be a Dukes of Hazzard theme. Bo got his name because he loved Dukes of Hazzard, so it worked out perfectly. When we decided on it, I said, "I'm going to wrap the car orange." Bo and everybody thought I was crazy, so I called our wrap guys – Joey Bates and the guys at Bottom Sign Company. First, I YouTubed how to do it and was going to do it myself. I was bound and determined I could figure it out. But our wrap guys were like, why don't we just come out there with you. They said they would love to do it, and now they've been here with us every year.
This is the sixth year we've done a Halloween theme at the track. After Dukes of Hazzard, we did Smokey and the Bandit, Back to the Future, Wonder Bo from Talladega Nights, Bo Force One, and now this year we created Bo Lightning McQueen from the movie Cars.
It's hard to say which one would be my favorite, but Dukes of Hazzard will probably always be the best one to me because it's what got everything started. I loved the Bandit, too, because the car was super awesome and I liked everyone's costumes, including mine – the runaway bride. But my favorite creative year was Back to the Future. That's one that a lot of people don't really remember, but as far as making the things and the costumes and characters, I loved that one.
It isn't exactly easy getting everything together, but the hardest part is probably when I'm driving Bo nuts because I'm contemplating. It's always hard to lock down a theme because I have like four themes in my head at all times. I want to do so many. But I'm preparing for this all the time, slowly collecting stuff. If I kind of like certain movie themes, I'll see something that would fit, and I'll just go ahead and get it. Like the Cars theme, I saw the backdrop that we have set up in our pit several months ago. It's just a backdrop for a birthday party, but I decided to get it just in case.
We chose Cars for our theme this year mainly because Bo's grandson, James, loves the movie. Our car was already red, and we already had the Towmater golf cart, so all the stars aligned. That wasn't something I would have picked, but man, the response has been crazy. This year turned out to be super fun, and not just for the kids – I knew they'd like the Cars theme – but I didn't realize how much the adults would love it, too.
We also do a Trunk-or-Treat Haunted Showroom at the Jim Butner Auto Group car lot, and that's a lot of fun, too. I have a lot of help with that one, but the one we do for the race is just me and Austin Williams, thinking, planning, and talking about it all year long. Then we run it by Bo for him to roll his eyes, and then we do it.
I just love Halloween. I like being able to have a couple days where you get to be whatever you want. I would love to get everyone in Pro Stock on board and see the whole class dress up for Halloween, maybe we could have an actual competition. It would be hard to get everyone to do it, but it would be fun. Either way, it's something we're going to keep doing as long as we can. – Randi Lyn Shipp