HIGH TECH BEFORE IT'S TIME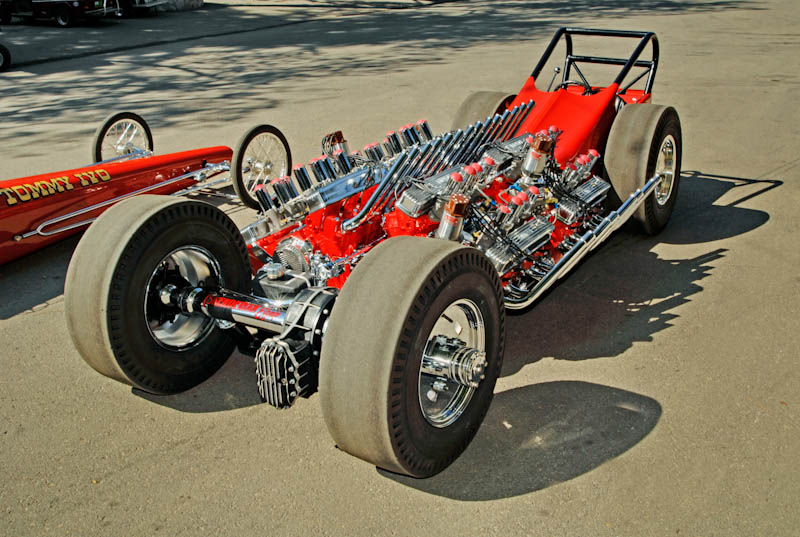 Today's drag race cars are loaded with huge amounts of technology, and parts which helps them to record the times and speeds they achieve. It can be mind boggling to see these modern Top Fuel cars make a pass from a standing start; almost scary they are so quick.
I think seeing these cars run under four-seconds at over 325 mph or better can be thought of as insane, but as I mentioned above most of it is today's high-tech parts and a whole bunch of money. Having been around since the '60s shooting drag racing I can attest to the overall uniqueness standing mere feet away from them as they launch! That blast to the chest, the over-whelming smell of nitro that surrounds you, the open headers; all make the modern-day Top Fuel car a fan favorite.
As you read this some of you will think, oh, oh; since he's no longer going to races, he's getting nostalgic. Some of that might be true because since my last race, the Finals back in 2020, I have been going through a lot of my photos as well as looking at some of the features I had shot on various drag cars for magazines during my career.
One car stood out among every drag car I ever shot. The genius of this one car blew me away when I first saw it in Hot Rod magazine. It was extremely unique, so over the top and it was also very high tech for the day. It was a massive a beast to say the least. What worried me the most was when would I get to see it run and photograph it, if ever?
I'll admit this car never had the horsepower of the modern Top Fuel car (2,000+ back then to today's 11,000), but boy could it put on a show! This car was a hit at every single drag strip it ever ran on.
The car I speak of is the Four Buick engine dragster of "TV" Tommy Ivo. Yes, it was more of an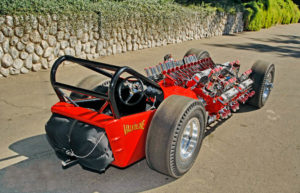 exhibition car, but that didn't matter, if you ever got to see it make a run, you were hooked on it wanting to see this car run again and again. Okay, at least I was, but to this day I think that car is as popular as ever just to see it sitting still and on display at the NHRA Museum, and to take in just how massive it is.
The car started its life in 1961, and it would be called "The Showboat" throughout its existence. The car was built by Ivo and chassis fabricator Kent Fuller in Ivo's small shop. After completion, it made it debut in July of 1961 at the San Fernando drag strip, and it was an instant crowd pleaser. It is written that just its physical size combined with the overall power of a car with four engines, the NHRA banned four-engine cars from competition, thus the car became the ultimate exhibition only car.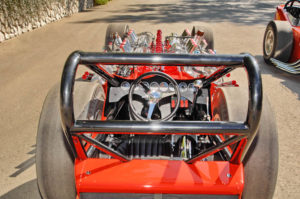 Point of fact, this car actually came to life because of the 1957 NHRA Nitro fuel ban, and Ivo who had already been racing thought like other racers who needed to change back to pump gas engines to compete at the races, there must be another way? Ivo built a dragster with two Buick engines, thinking the more engines the faster the speed. His two engined dragster set records for 170 mph, 175 mph, and 180 mph.
Ivo's thinking was if a two-engined dragster was good then a four-engined dragster would maybe be the ultimate. Of course, as I mentioned, in their infinite wisdom at that time, the NHRA banned dragsters with four engines. But that didn't stop Ivo from making various exhibition runs with the car.
Here are some specs:
The engines were four Buick nail head 401-cubic inch blocks, the stock blocks were reworked out to 464 cubic inches creating a total of 1,856 cubic inches
The nail head engines basically form two V-16 cylinder engines, and 32 cylinders and lots of header pipes
The dragster is four-wheel drive and smoked them all when run.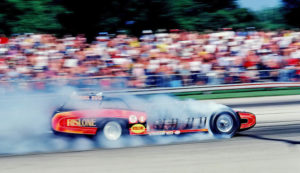 The two left hand engines work together to power the front wheels, while the right-hand engines power the rear wheels. Also, the two left hand engines faced backwards powering the front differential, and the right-hand engines, and industrial chain couplers were used to tie each pair of engines together as a working force
Best weight of the dragster ready to run was said to be 3,500 pounds
It should be noted that the Showboat Dragster name was converted to the Wagonmaster name back in 1981, because the dragster was fitted with a custom-made Buick Riviera station wagon style body. From all I could find, it was equally popular as the "Showboat" or the "Wagonmaster."
In 1982, it became a 30th Anniversary and Final Tour car, with the car's last run being run at the NHRA World Finals at Orange County International Raceway, commonly called (OCIR). I was lucky to be there to see and photograph that last run.
The first time I got to see it run and shoot photos of it was the '75 Silver Anniversary Indy U. S. Nationals, followed by some shots of it running at my home track Byron Dragway in 1980 for which I'm very thankful for. This car, or this machine whatever you want to call it, is just an incredible and very unique vehicle to the sport of Drag Racing. Ivo has been stated as saying it took about $4,000 to build back then, and it's been estimated that it would cost around $250,000 in today's dollars.
Ivo got to drive the car about a dozen times after it was initially built, but since he was still under studio contract for several TV shows he starred in, the studio actually asked him to choose between being an actor or being a drag racer. He had several crewmen to help him when he ran the car, one of them was a more or less unknown by the name of Don Prudhomme and Ivo asked him if he would drive the car locally, at first and after a time taking the car out on an across country U. S Tour, but he had to decline that offer.
Ivo's other choice was another crewman by the name of Tom McCurry who was offered the car and the tour but he too had to back out. Ivo offered the ride next with a fellow drag racer from the Chicago area by the name of Ron Pellegrini. Pellegrini flew out to Ivo's shop to pick up the car, trailer and tow vehicle. He started right away after picking it up to race it, as he detoured up to Minnesota Dragway to run the car. Pellegrini continued to barnstorm the car from 1961, thru the '62 and '63 seasons. Ivo then sold the car to ex-crewman McCurry who did run it for a time.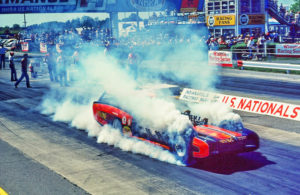 To add new life to the car, Tom Hanna built a custom body to place over the dragster chassis in the form of a Buick Station Wagon, changing the name of the car to Wagonmaster, which is the configuration most of got to see the car run. Eventually Norm Day bought it. Ivo decided that he wanted to buy the car back and to run a 30th Anniversary Tour with the car in 1982. Ivo had left TV and acting by then and thought the tour would be great fun, but on a run at Saskatoon Raceway, he hit a bump while driving the car, creating lower back problems ending his tour as driver. Funny Car driver Rick Johnson then took over the driving chores but Ivo did drive the car at the 1982 NHRA World Finals to retire the car in front of a sold out OCIR crowd.
I feel lucky to have been there to see Tommy Ivo run the car for the last time at Orange County but at a trip to the NHRA Museum several years later, I noticed one of the back doors was open, and there out back were two of Ivo's cars, and one happened to be the four-engine car. I asked if I could photograph it right there and was told to have at it but that I couldn't move either car, which was fine by me. I didn't get to shoot a lot of the angles I usually shoot because I couldn't move the car, but still it was a joy to this photographer to have in front of me the 32-cylinder Showboat right there in my view finder, one of the more unique drag cars ever conceived.