Fazio and Smith lead Fords into Winners Circle at Atco Dragway Micro Strategies National Open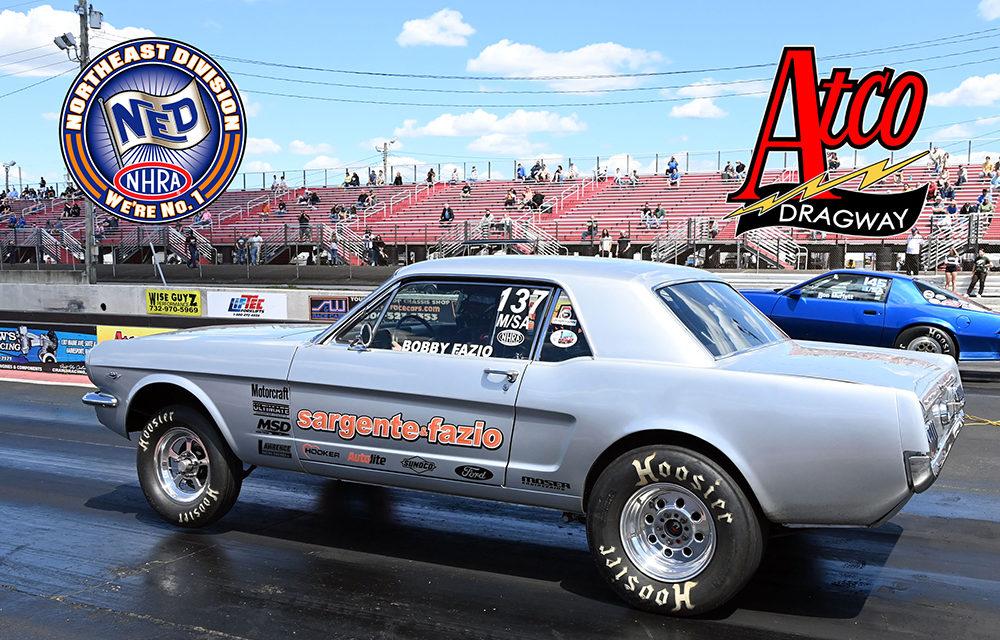 Drag Racing Action Online  Images: David Smith and Dave Milcarek
In a sport, more often than not, dominated by racers using Chevy powerplants, the recent NHRA Open at Atco Dragway in New Jersey, featured not one, but two Blue Oval powered entries taking a Wally home.
Former NHRA national winner Bobby Fazio from Egg Harbor Township N.J. put the Sargente and Fazio '64 M/SA Mustang in the Stock eliminator winner's circle defeating fellow Ford racer Ryan Horensky's A/SA Shelby in the finals.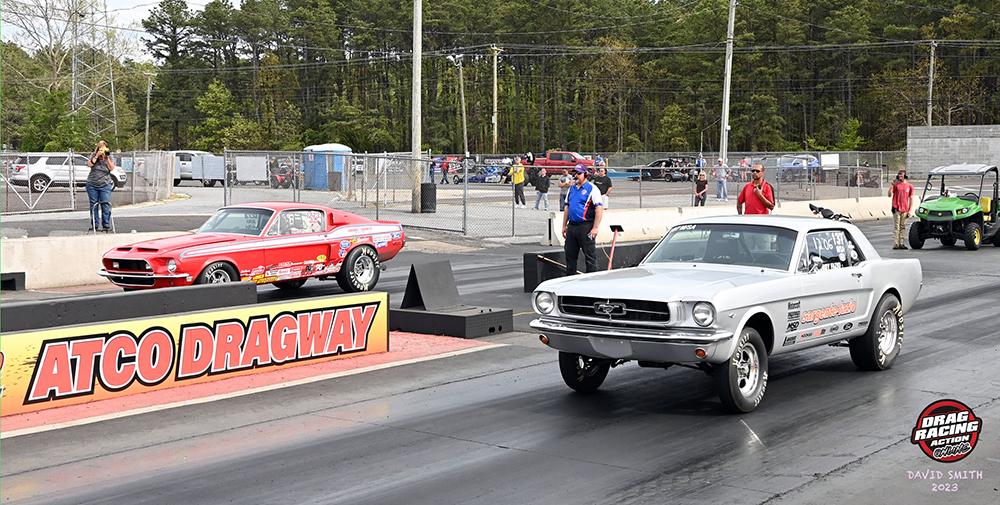 Fazio, near lane,  was second off the line with a 0.034 RT to Horensky's better 0.017 but the small block Mustang of Fazio ran 12.075 on his 12.06 dial to beat Horensky's 10.07 on a 9.97 dial.
After the win Fazio said, "Mark Sargente has given me such a cool car to drive these last few seasons. I almost feel more comfortable in it than I do in my own cars. The Jeff Lawrence engine is consistent and flawless. I was able to drive well when I had to and had luck on my side as all racers do when it is his or her 'day'."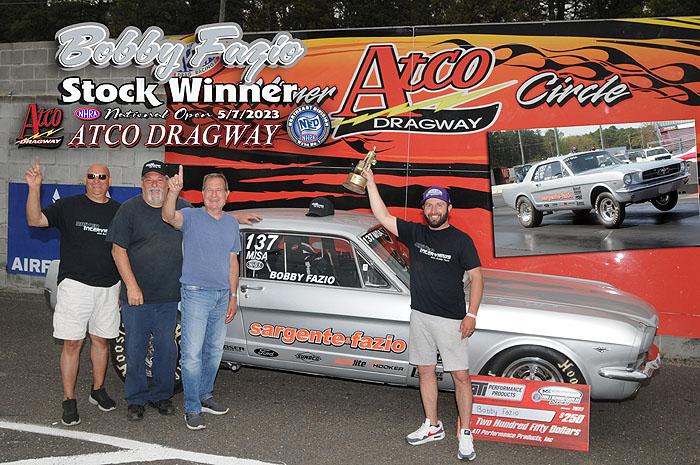 "Having my dad, along with Pete Astore and Jamie Schoenly helping us cool the car was so important in the late rounds and having my wife and sister with me made it all the better."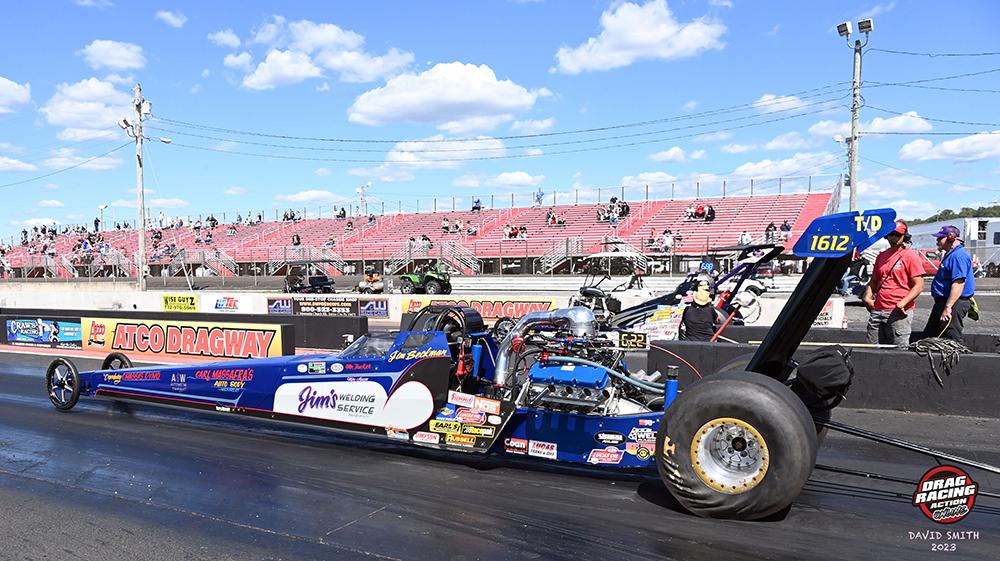 Joining Fazio in the winner's circle was Poughkeepsie N.Y. racer Johnny Smith driving the big block Ford powered dragster of Jim Beckman to a Top Dragster win. In the final his competition, Chris Mattern from Bridgeton N.J., dialed his dragster in with a 7.56 and ran a 7.575 but a 0.059 RT to Smith's awesome 0.004 spelled doom for Mattern as Smith, who had a 6.34 dial, ran a slower but winning 6.387 for the title.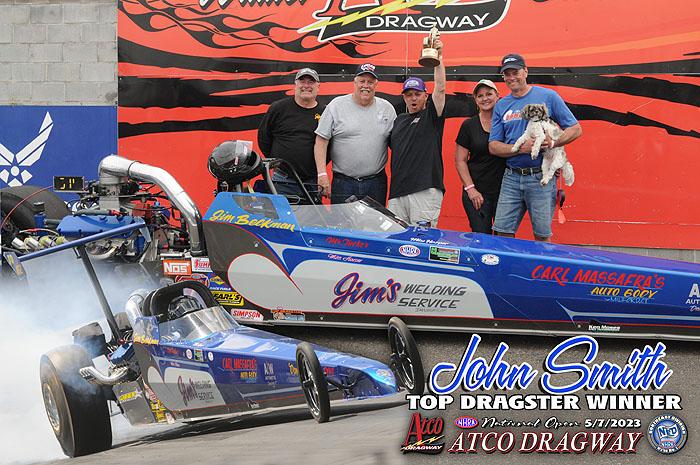 Smith, who has wins in the NHRA 0.90 classes said," Basically this is the first time ever running Top Dragster and my first time ever sitting in the car. I took a year and a half off from racing so to come back and go right to the winner circle was an awesome experience, I was so happy to give that Wally to car owner Jim Beckman and the win is dedicated to Jim's late daughter Jamie.  She was the one who got Jim into the sport when she used to race Junior dragsters.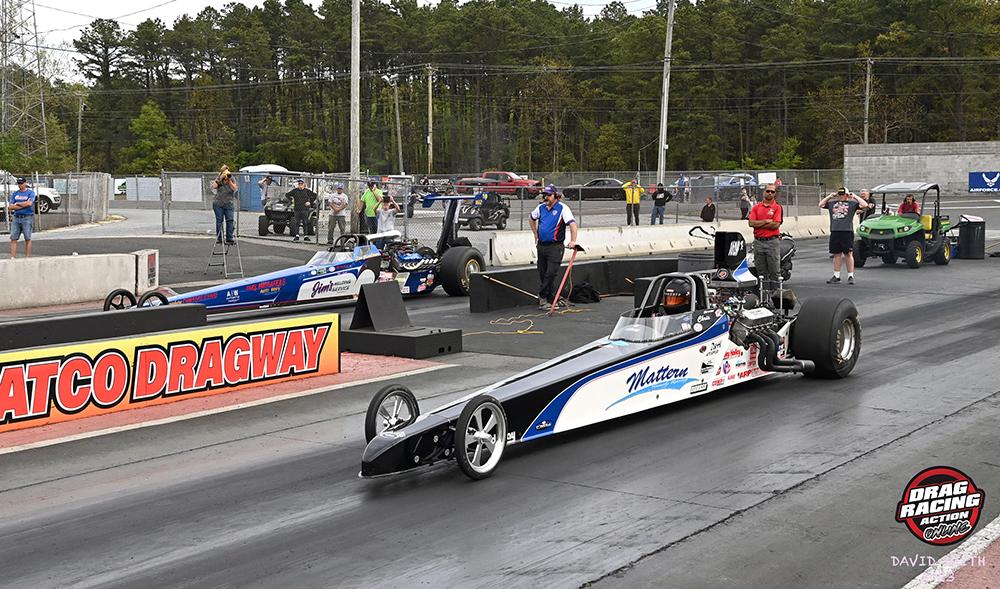 Mattern, near lane, ran closer to his dial but Smith's RT made the difference at the stripe
"I would like to express my thanks to car owner Jim Beckman, Jeff Roell for setting & tuning this whole deal up and Johnny Taylor the crew chief. Smith adds, "It was funny in the winner's circle when Jim says to me, 'I've been racing this car for years with no wins and you drive it once and get a win. What's up with that?"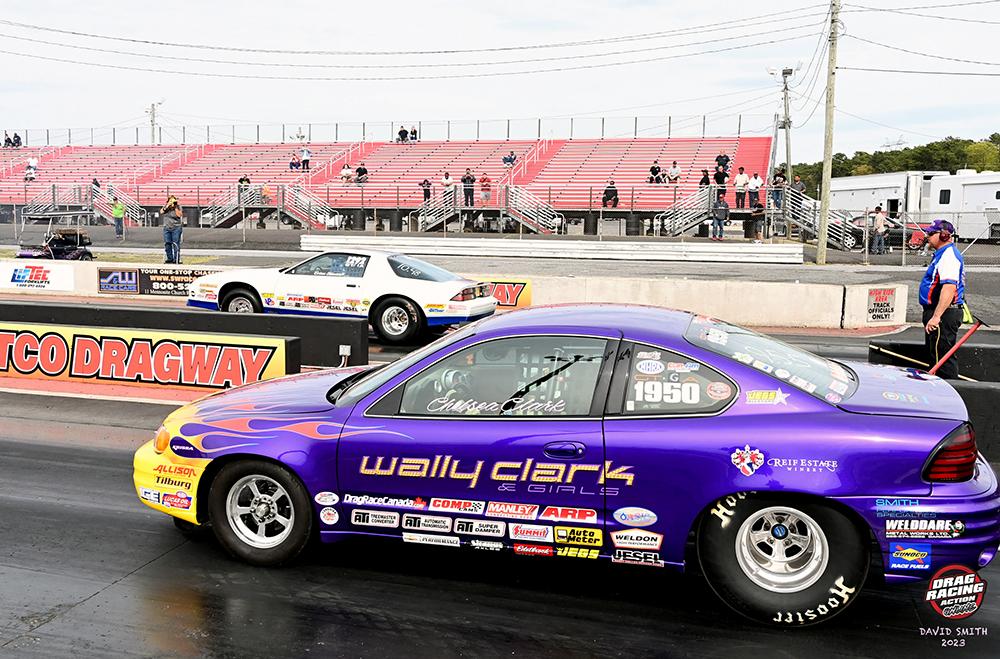 Stianchi, far lane, took his first NHRA win at Atco
In Super Stock it was Brian Stianchi from Bridgewater N.J. winning his first ever NHRA event. Stianchi, driving his GT/IA '87 Camaro beat long time NHRA racer Wally Clark from Niagara Falls Ontario in the final round. Stianchi, dialed his Camaro in with a 10.48 and despite a slower reaction time, a 0.034 to a near perfect 0.001 of Clark, posted a winning 10.494 to Clark's off pace 9.599 on his 9.55 dial.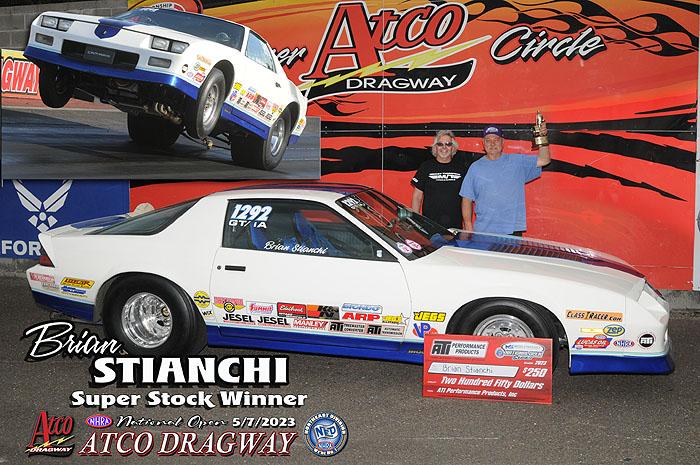 Stianchi said after the win, "I was down around the 1000 foot mark and I look over and Clark is about a half car behind me and I see his nose  drop and I kept my foot in it till the right before the end and I dumped it. He couldn't catch me after getting off it. When we got our time slips I looked at Wally and asked what happened and he said  'Uhh, that was a mistake!'."
"I must thank Mike Papp for the motor in the car. My motor is broke, and his motor is the same combination as mine. He wasn't racing his Nova and told me to use it. I also want to thank Tom Slater and Jerry Noonan for helping me all weekend."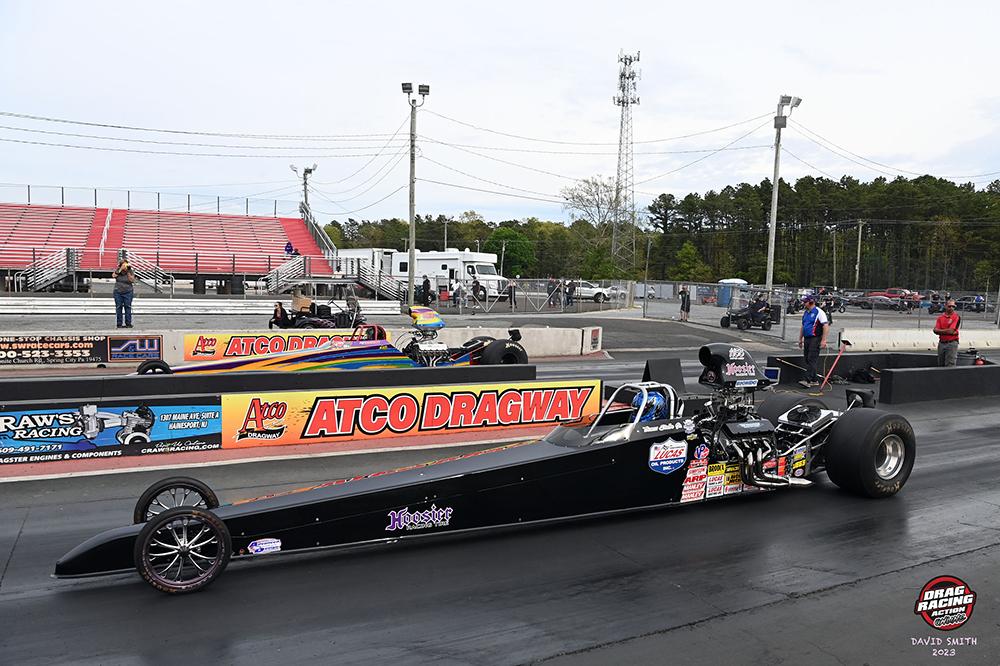 Barrett, far lane, took out local champ Tom Stalba in the finals of Super Comp
Joining Stianchi in the First Time NHRA Winner's Club was Tony Barrett winning Super Comp at Atco. Barrett from Bayville N.Y. was racing local racer and multi time NHRA champ Tom Stalba from Hammonton N.J. in the finals and both racers had nearly identical reaction times so it was down to who could run closest to the 8.90 index and trip the win light.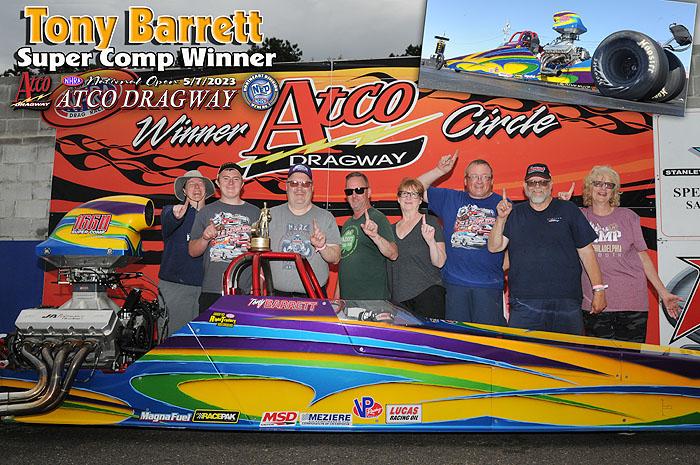 Barrett got to the stripe first with an 8.92 to Stalba's close but losing 8.93 After the win Barrett said," First is my first Wally after 30+ years of racing. This one felt really good because I lost in the final of the Pep Boys National event at the end of last season. You never know when you are going to get another chance to win one. This took the sting away from that loss. This was also my first race of the season. What a way to start!"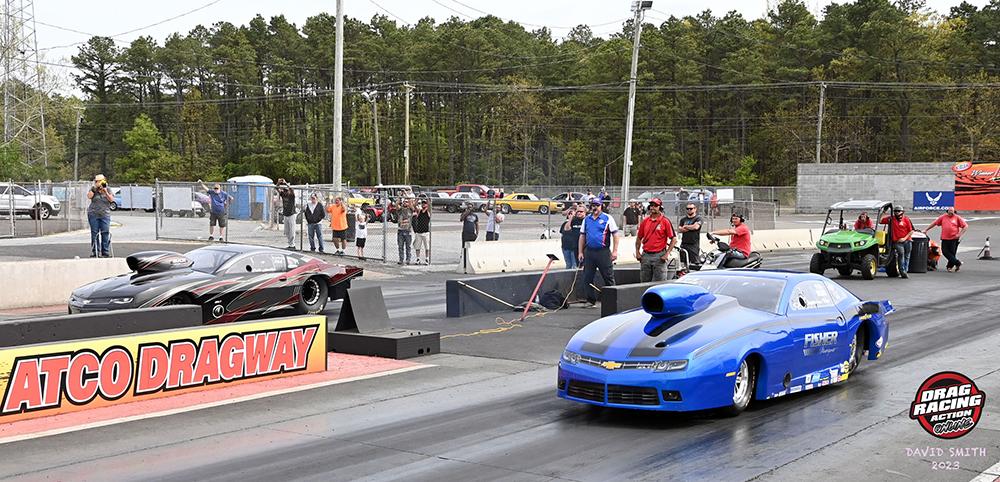 Janke, far lane, won the battle of late model Camaros with a win at Atco
Top Sportsman went to Low Qualifier Bill Janke from Newburg N.Y. driving his '13 Camaro to a win over Greg Fisher in an all Camaro final. Fisher from North Brunswick N.J. crushed the tree with a 0.005 reaction time but ran way off his 7.53 dial and lost with a 7.64. Janke, who dialed his winning Chevy in at a 6.49, took the win light with a 6.528.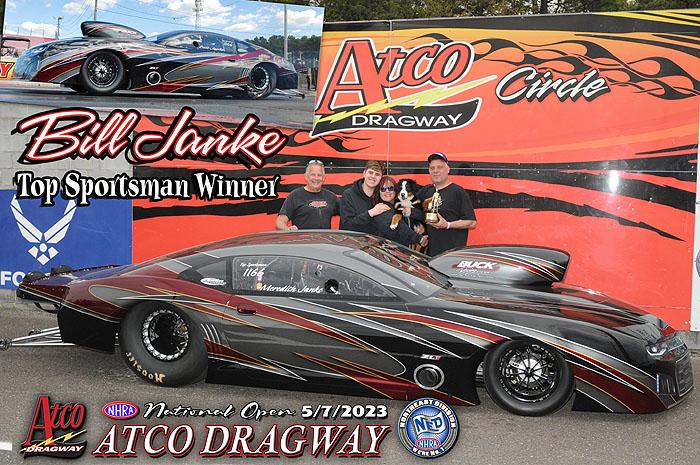 "I saw I was catching him and once I pulled ahead, I hit the chutes for the win, Janke said.  "It was truly a great moment in life! The car is running great, and we had a great time this weekend hanging out with good friends and going rounds.  Janke adds, "First, I need to thank God for keeping me safe! Many thanks to my wife Meredith and son Gavin, as I could not do this without them. Also, many thanks to all those who helped get this car into the winner's circle and to all my friends and family who have always encouraged and stood behind us."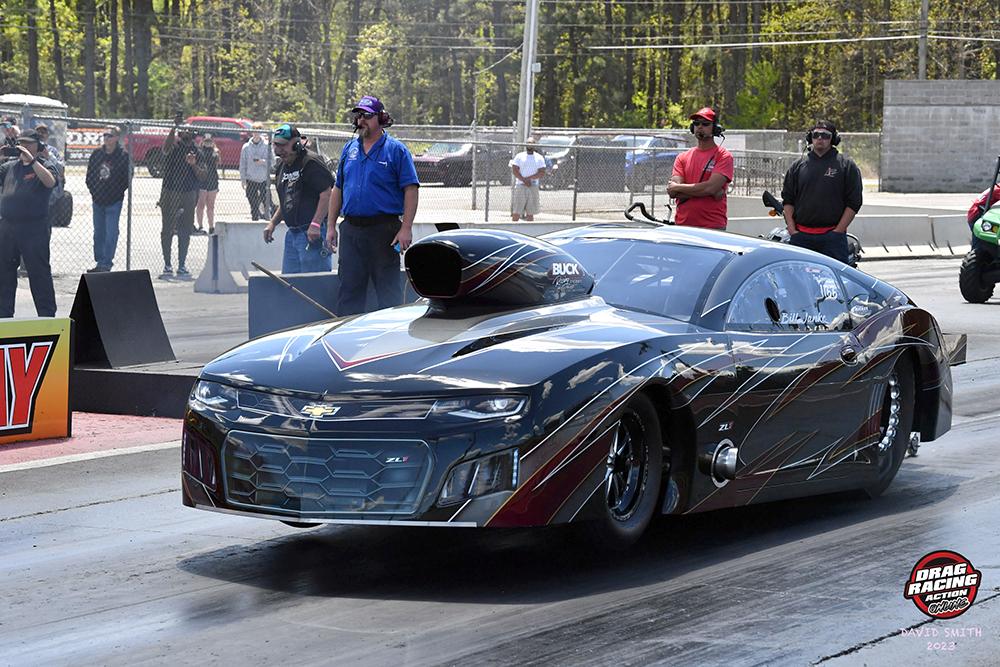 Janke, no stranger to the winner's circle having won the Dutch Classic and Yellow Bullet, said, "I think we will be able to win again with car, it is just a really good piece."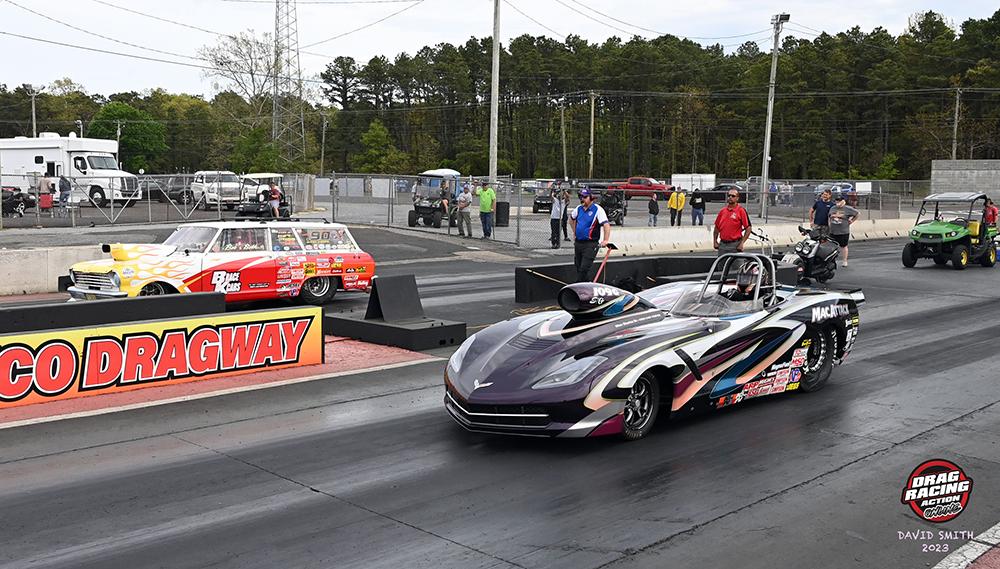 Starks, near lane, took out Mid Atlantic Series president Rob Keister in the finals of Super Gas
In Super Gas it was a double breakout final with East Longmeadow Mass. racer, Mac Starks coming up on the lesser of two evils running a 9.899 in his '19 Corvette roadster to a 9.897 of Rob Keister from Vineland N.J.  in his '64 Nova wagon.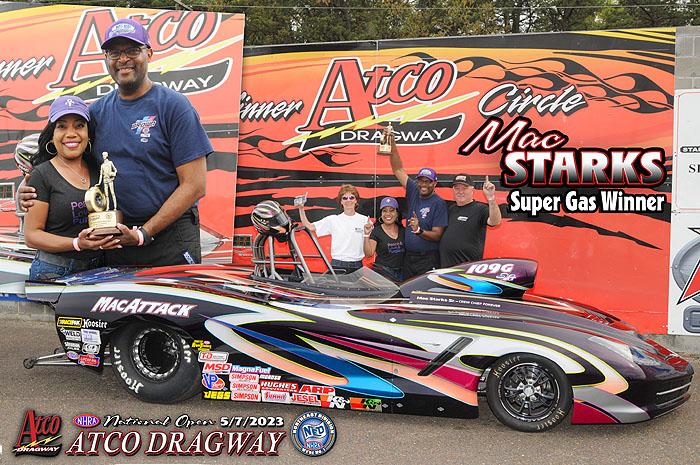 "I'm really happy to get the Atco 2023 Micro Strategies National Open Super Gas win", said Starks, "We were able to put together the package needed each round to win, especially against tough competitors and friends Hank Smith in the Semifinal and Rob Keister in the Final. Great start to the season for sure."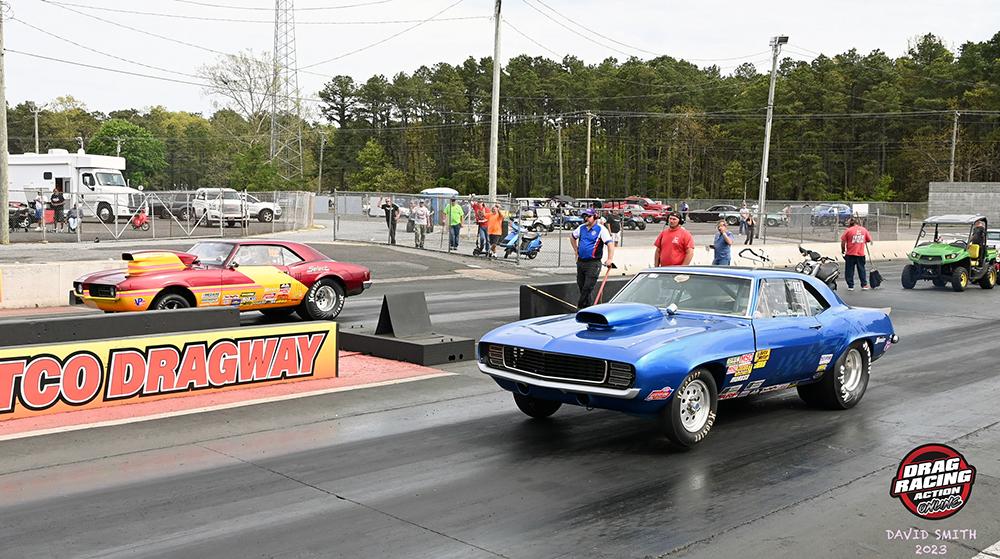 Burgese, near lane, got the better light in the finals of Super Street and it paid off
Dom Burgese from Williamstown N.J. took his '69 Camaro to a Super Street victory over the '68 Firebird of Eddie Bloom from Forest Hills N.Y.. Burgese got a great jump off the line with an 0.006 light to Bloom's later 0.028 and ran a 10.915 to Blooms better but later 10.909.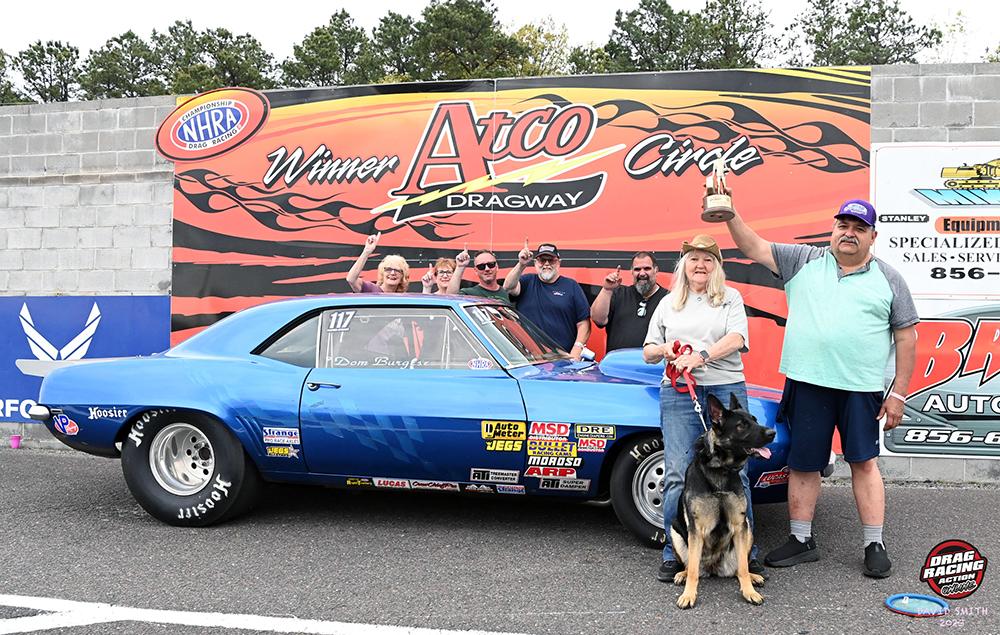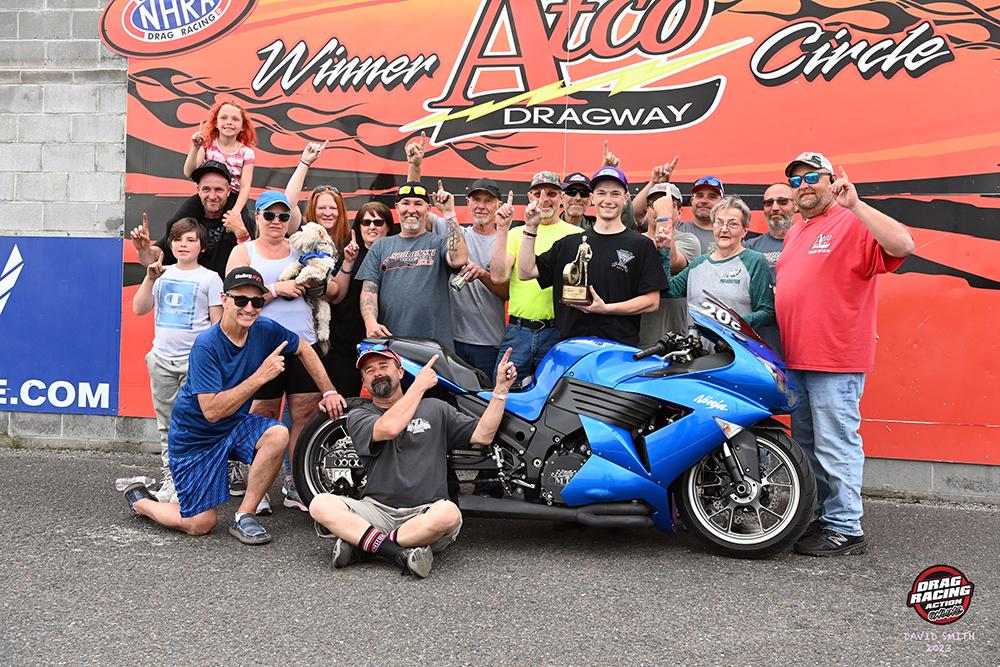 Colin Bustard from Wenonah N.J. won Motorcycle ET over Vanderbilt Boyce from Neptune N.J.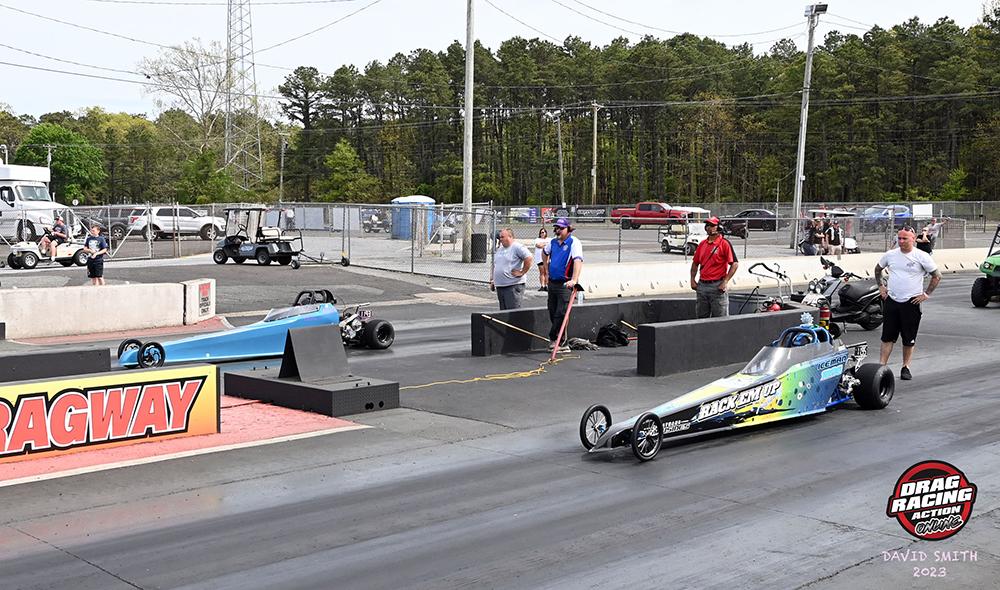 In Jr Dragster 6-9 it was Oliva Torchia, far lane,  beating Kole Paone in the finals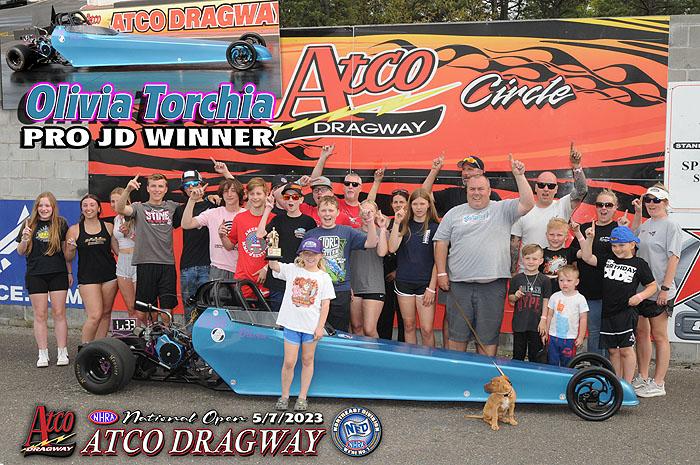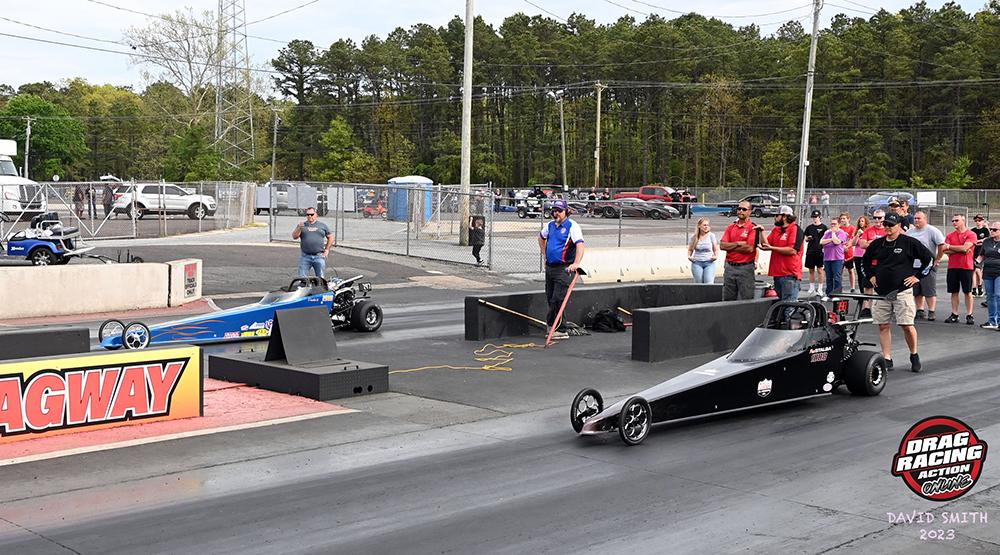 And finally in an emotional final in Jr Dragster 10-12 it was Frank Aragona III , far lane, taking out good friend Paul Stalba for the win at Atco.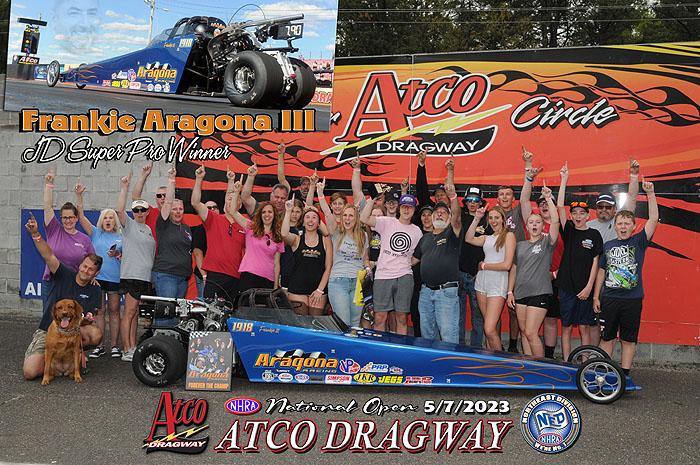 For more images from the Atco Dragway Micro Strategies National Open. Go to Dave Milcarek's website and Diane Kubicke's D1 site