NHRA Northeast Division Features Doubleheader at Numidia Dragway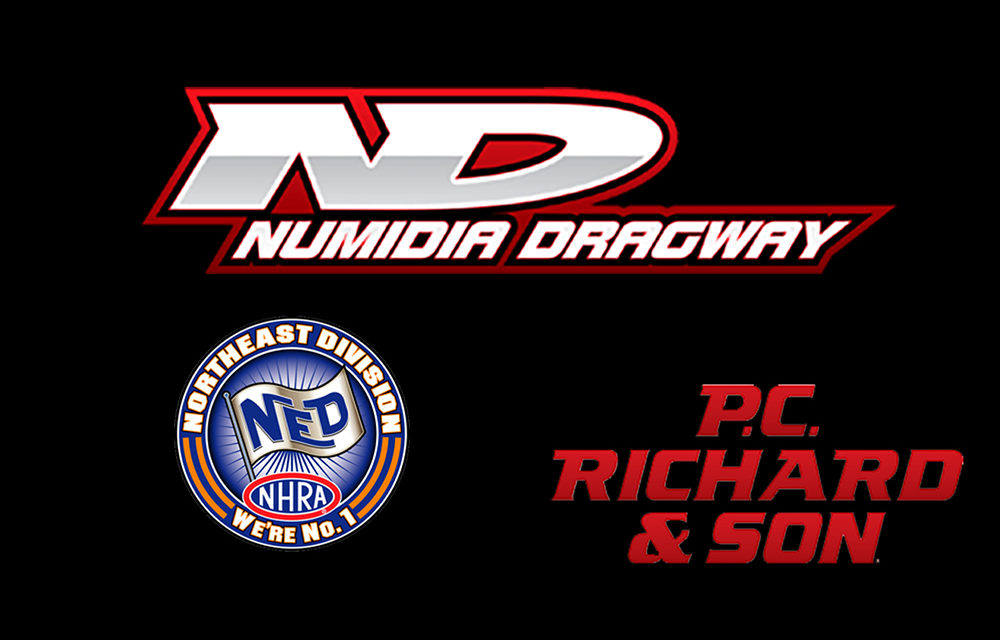 Story: DragRacingActionOnline
Images: David Smith/Kubicke Photography
The NHRA Northeast Division travelled to central Pennsylvania for a double event featuring the PCRichard.com National Open and a Lucas Oil Drag Racing Series event the same weekend.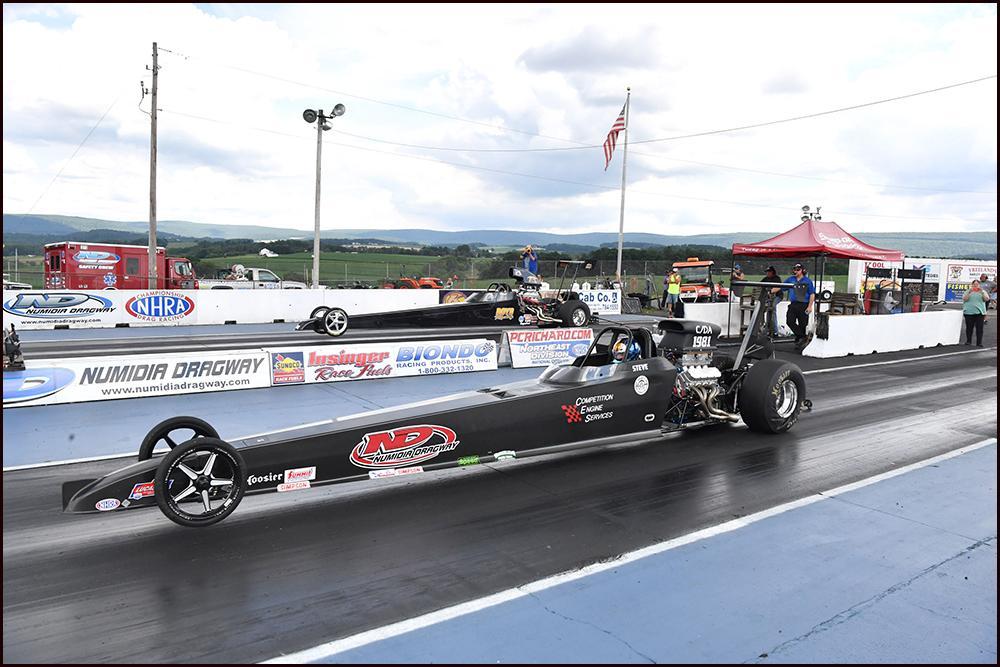 Boyd (Far Lane) caught and passed Szupka for the Open Comp win
Winning the Competition Eliminator title at the Open was Smithburg Va. racer Ronnie Boyd behind the wheel of his A/ED. Boyd's final round opponent, Steve Szupka from Northampton Pa. who was driving the Miskovsky Racing C/DA, ran a 7.039 @ 188.78 losing to the 6.731 of Boyd.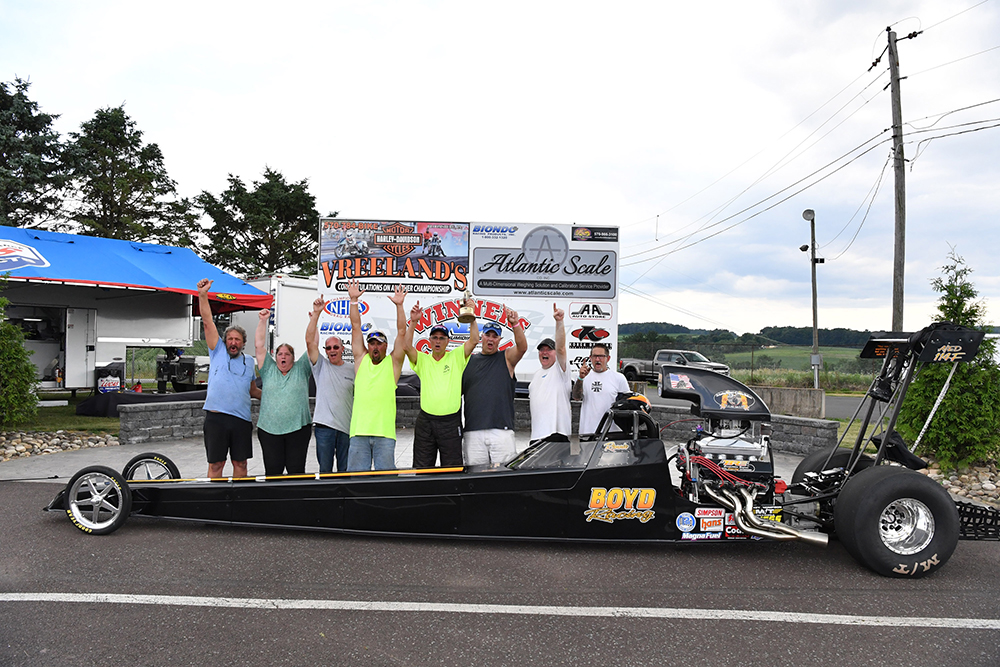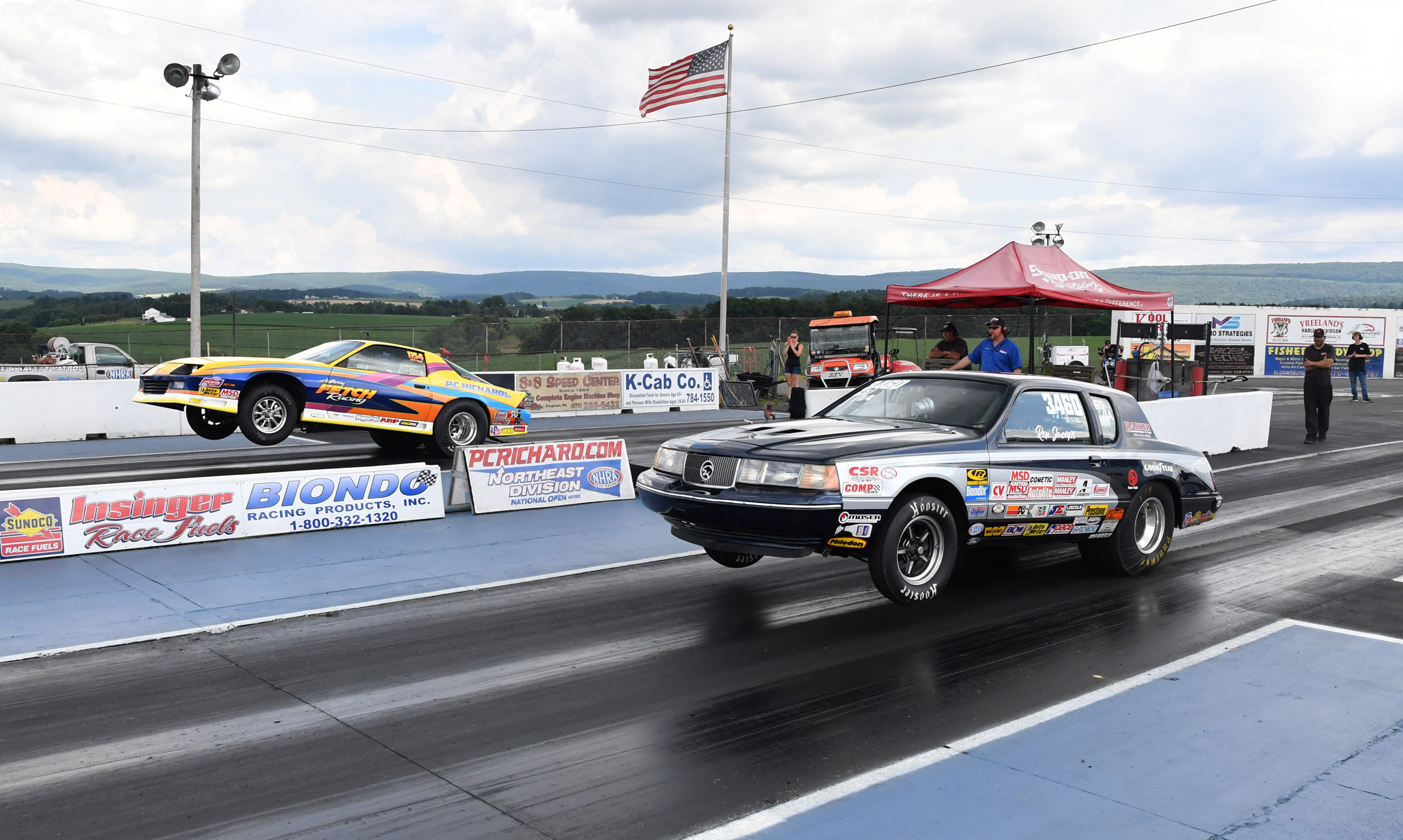 Anthony Fetch from Colonia NJ (Far Lane) beat a redlighting Ron Jacops in the final of Super Stock as Jacops' GT/IA '88 Cougar left 0.009 too soon putting the GT/KA Camaro of Fetch in the winner's circle.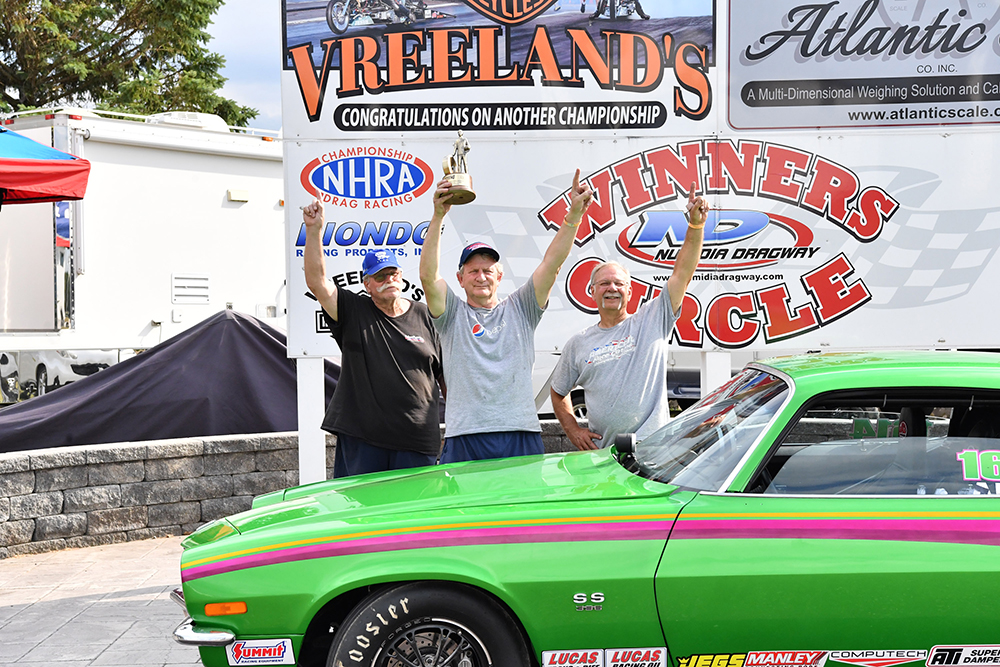 Stock Eliminator champ Barry Parker from Southampton MA drove his B/SA Camaro to a win over the G/SA '69 Camaro of Tim Fletcher from Selma NC. Parker ran a 10.367 to an 11.342 from Fletcher.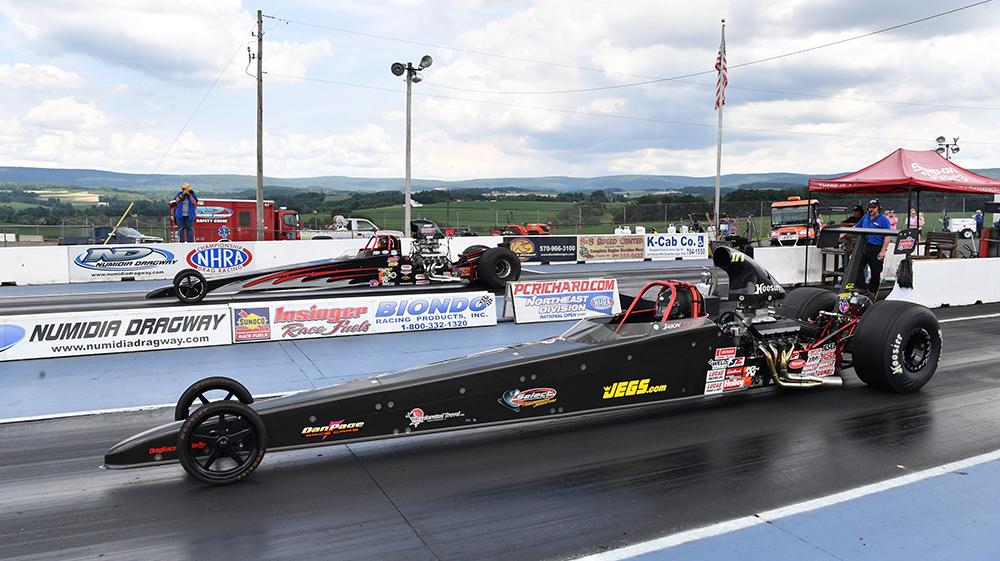 Multi time winner Jason Kenny from Kutztown PA used a slight starting line advantage to take the Super Comp title over David Markle from North Chili N.Y. Kenny's 0.012 reaction time coupled with a 8.901 defeated the close 8.906 of Markle who had a great 0.014 RT in the loss.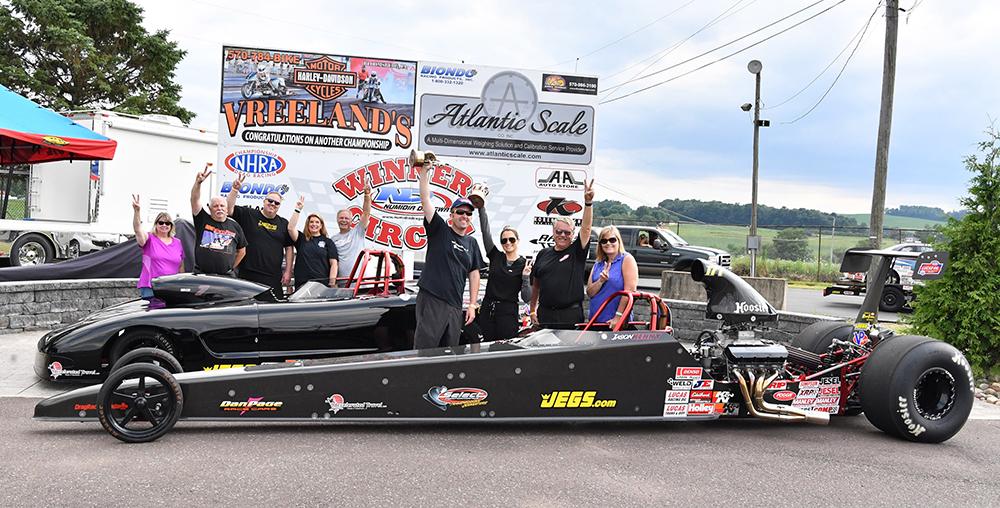 Not satisfied with winning the Super Comp title, Kenny also put the Kenny Racing Corvette in the Super Gas winner's circle for a double in Numidia. Kenny ran a right on 9.90 to defeat the 9.916 of Silver Spring Md. racer Craig Porter in his '04 Mustang.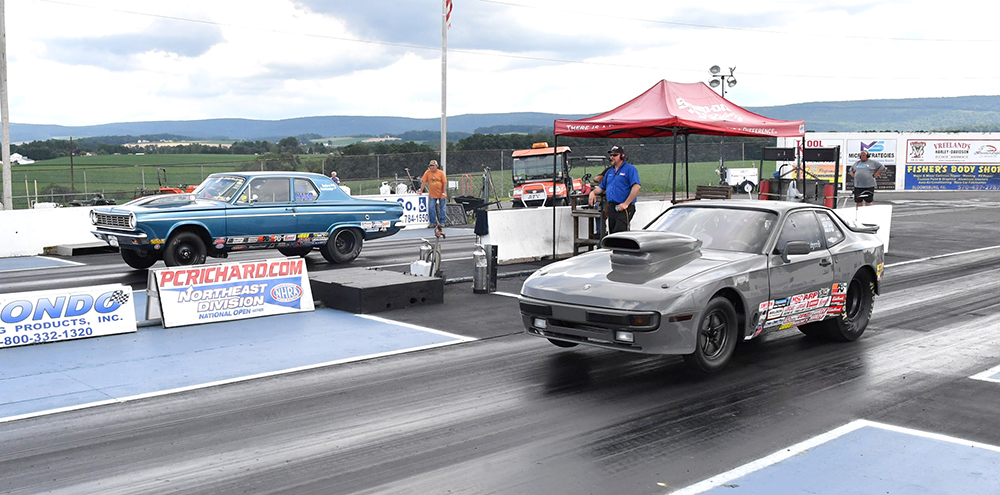 Super Street went to the '85 Porsche of Keith Mayers from Ellendale Del. Mayers who seems to be winning every race he enters, defeated the '65 Dodge Dart of Kevin Kohr from Meyerstown Pa. in the finals with a 10.917 to the losing 10.961 of Kohr.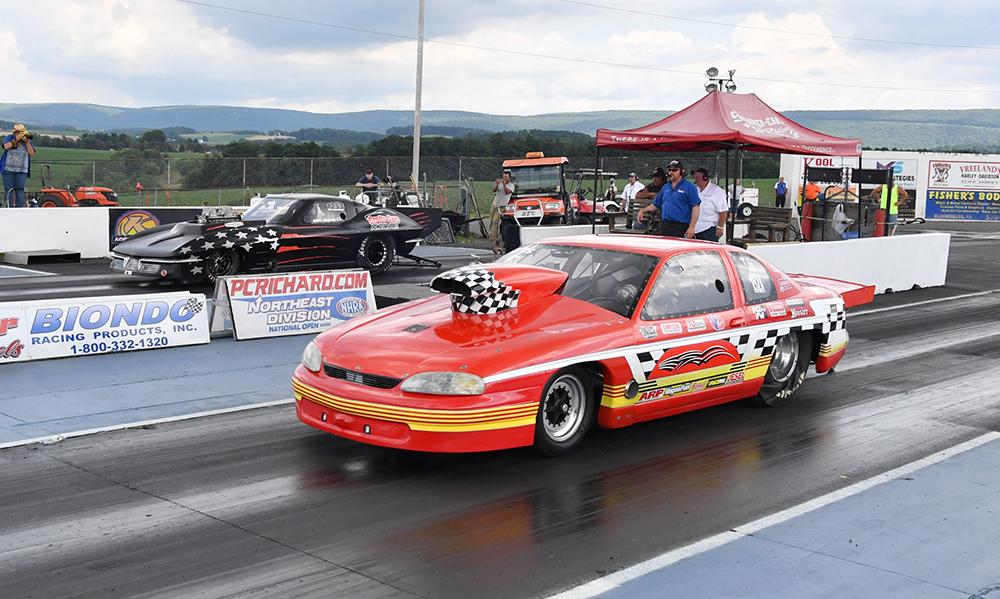 George Foster from Greencastle Pa. took his '98 Monte Carlo to the Top Sportsman title beating the '63 Corvette of David Crafts from Lisbon Falls ME. After a 0.000 light Crafts slowed from his earlier pace losing with a 5.134 to the winning 4.908 of Foster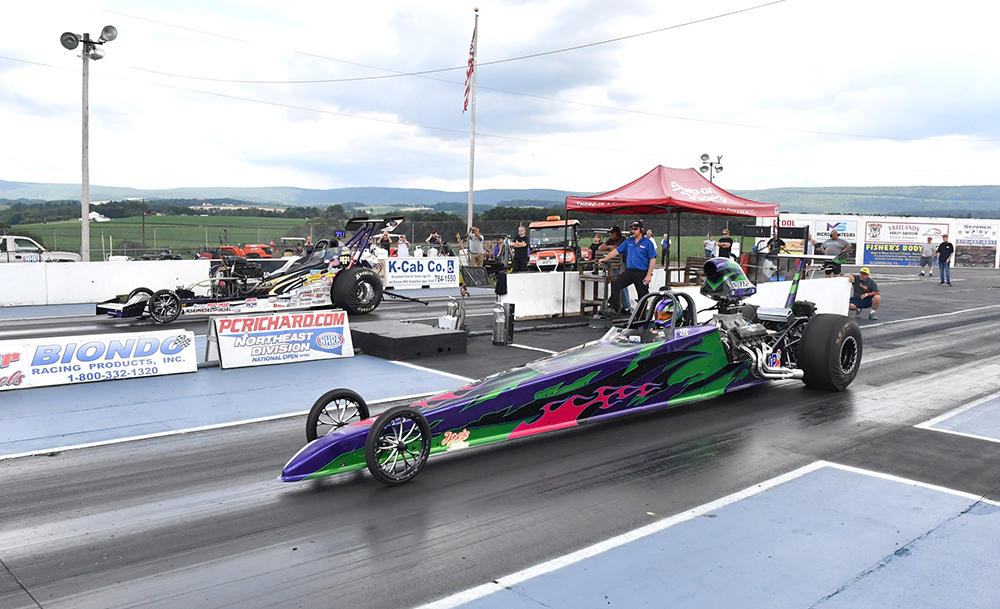 Top Dragster winner Brian Vollman II from Montgomery PA (Near Lane) defeated Jim Dunn from Roselle Park NJ running a 4.600 to Dunn's losing 4.443.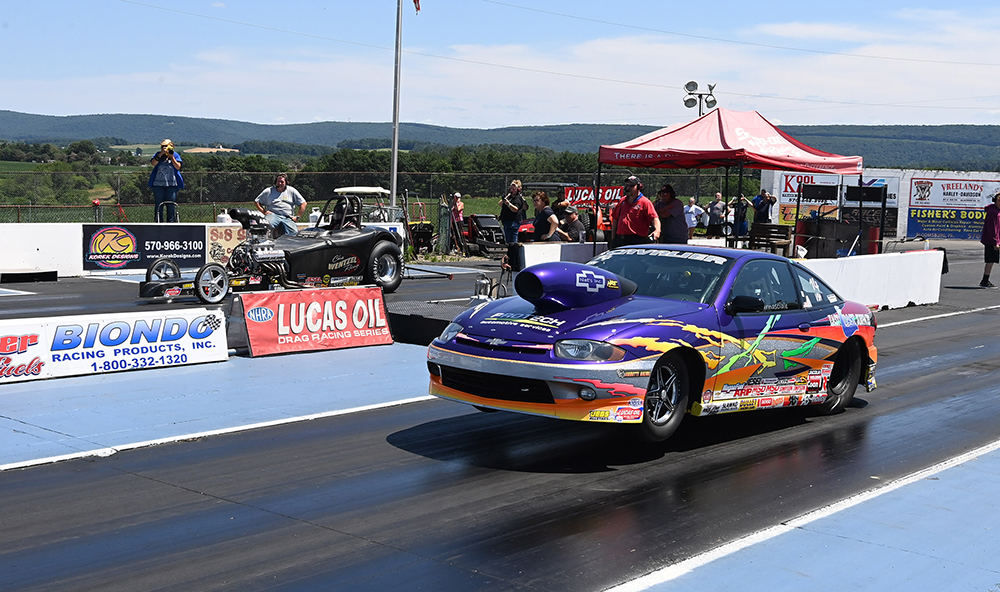 On Sunday racing resumed with the Lucas Oil divisional. Winning Competition Eliminator was Ashaway R.I. racer Joe Carnasciale. The '06 Cavalier I/SM of Carnasciale was off the line first and held of the Chris Wentzel Racing A/EA '32 Bantam driven by Santo Volpe. Carnasciale ran a 0.420 under 8.96 to Volpe's 0.421 under 7.459.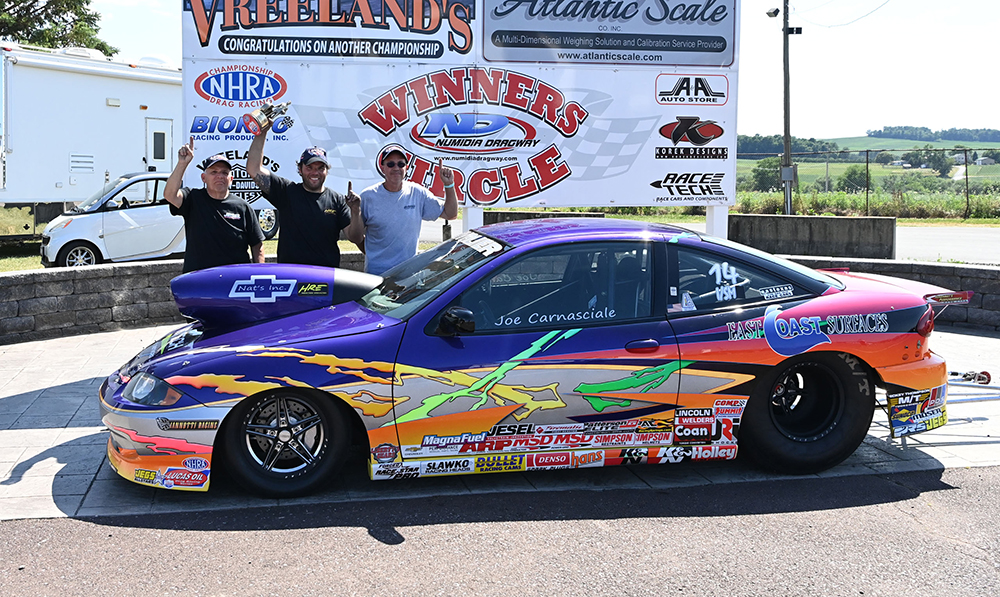 The victory at Numidia was Carnasciale's third Lucas Wally. In addition, the win puts Carnasciale in second place in the NED Lucas points chase with runner up Volpe continuing to lead the category.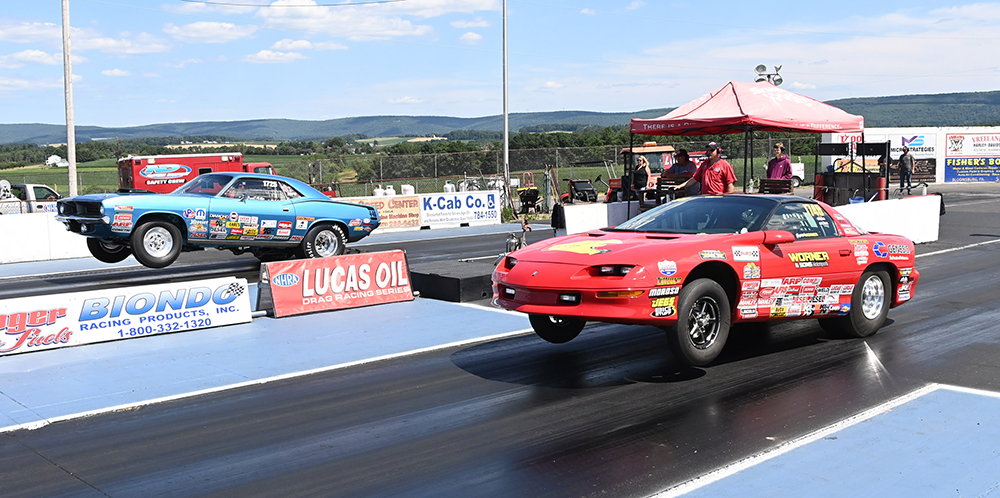 Larry Miller (Far Lane) from Gettysburg Pa. put his SS/FA '70 Cuda in the Super Stock winner's circle defeating Byron Worner from Duncannon Pa. The Mopar of Miller was off the life first and ran a 9.933 on his 9.91 dial to the 9.904 on a 9.85 dial of Worner's SS/IA '95 Camaro.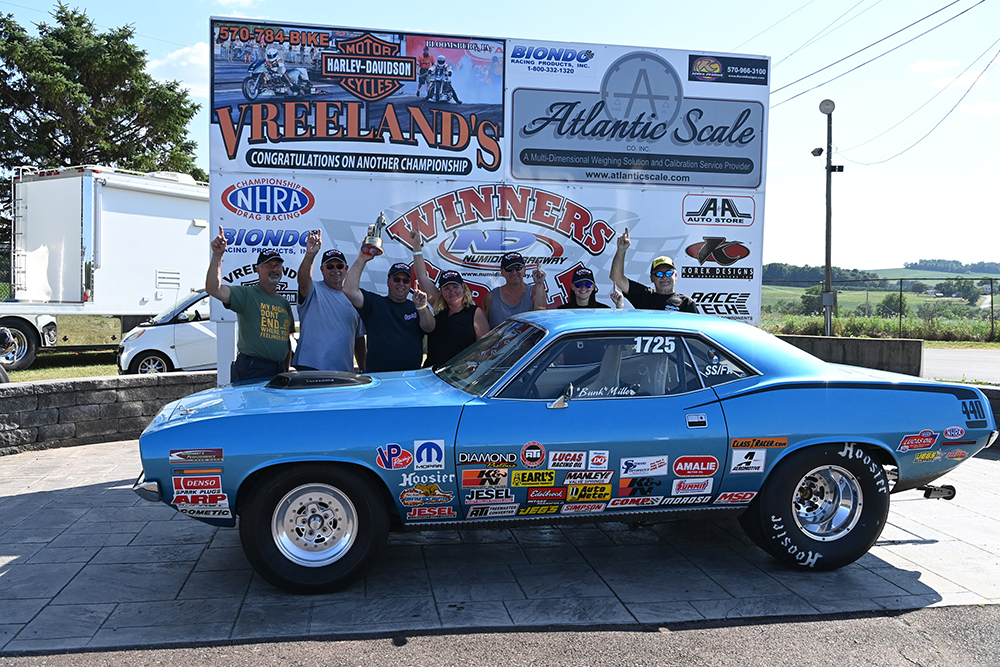 Byron Worner's brother Bryan continues to lead the NED points with Byron in third place. Atco winner Herbie Null Jr is sandwiched between the Worner brothers for second place.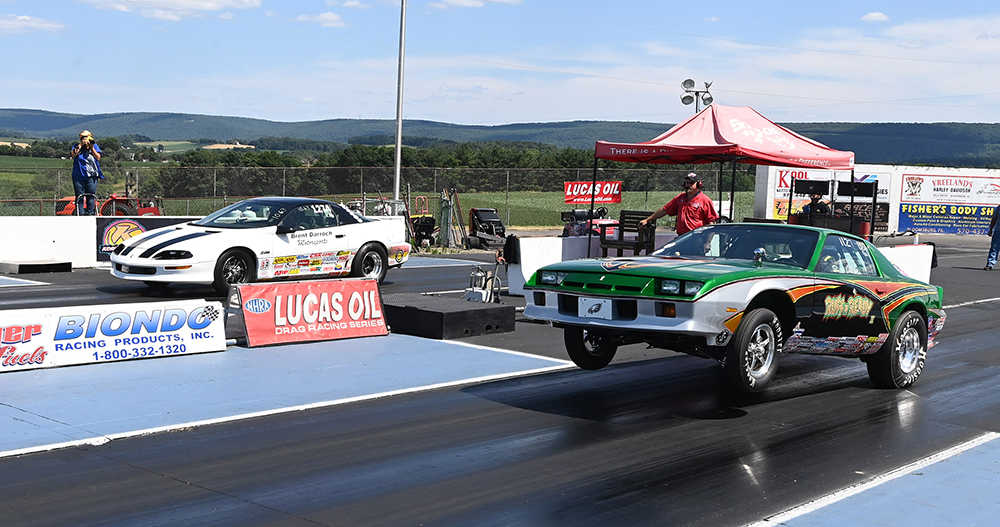 Former national event winner Shane Oakes from Ottsville Pa. drove his "Ruff n Ready"' G/SA 83 Camaro to a Stock Eliminator win over the B/S '94 Z-28 of Brent Darroch from Monaca, Pa. Oakes got the better light and ran a 11.302 on a 11.27 dial to Darroch's off pace 10.733 on a 10.63 dial. The win was Oakes' third career Lucas win.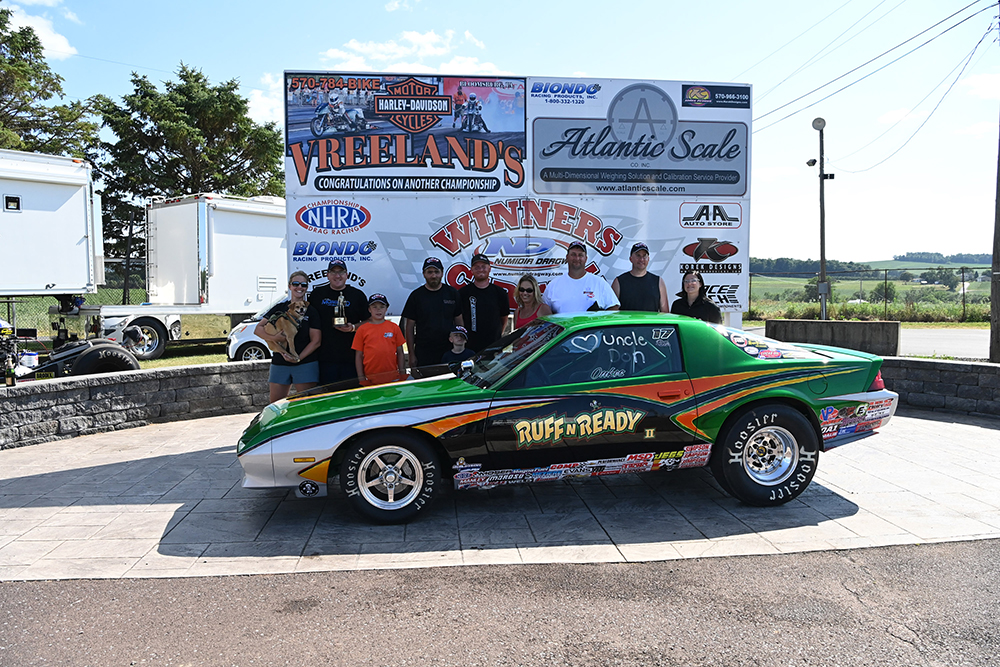 Shane also left Numidia in first place in the Lucas Oil Northeast points chase with Bubba Linke in second.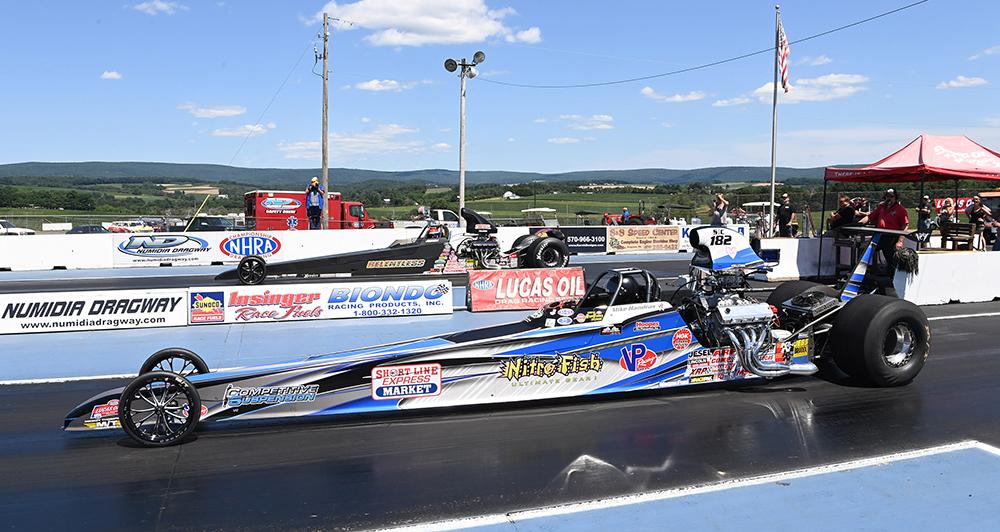 Michael Handras from Brooklyn, N.Y. drove his Nitro Fish/Short Line sponsored '11 Undercover chassis dragster to a Super Comp win beating Amanda Boicesco from Warminster Pa. Boicesco in her Relentless dragster was quicker off the line with a 0.013 light to Handras' 0.025 but gave it up at the stripe loosing with a 8.973 to Handras' winning 8.907. The win was Handras' second Lucas Oil win. Mike Robilotto continues to lead the division as Handras slid into #4 in the chase after his win.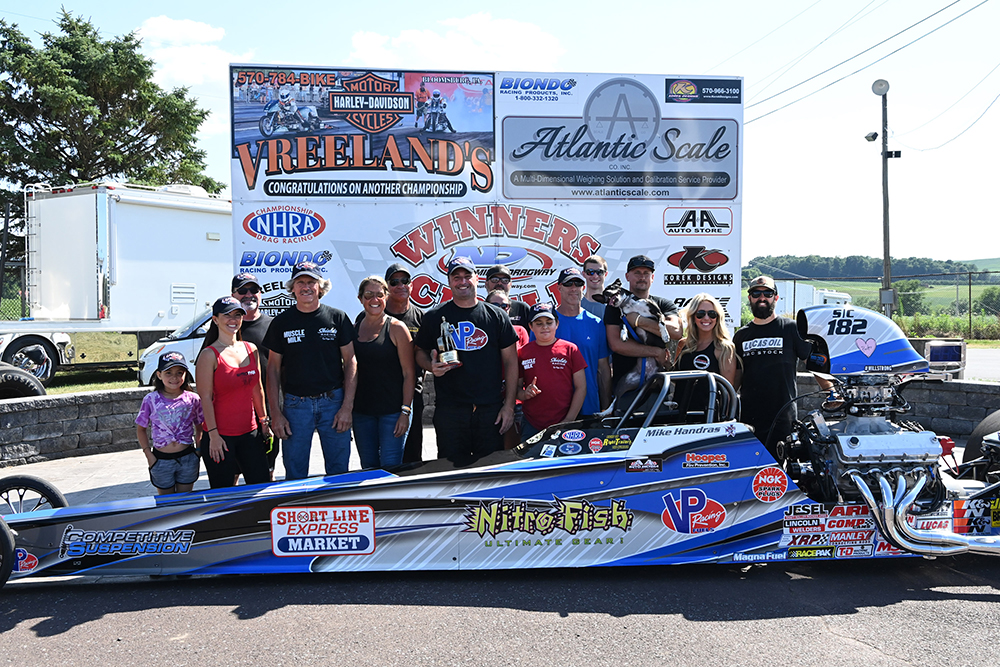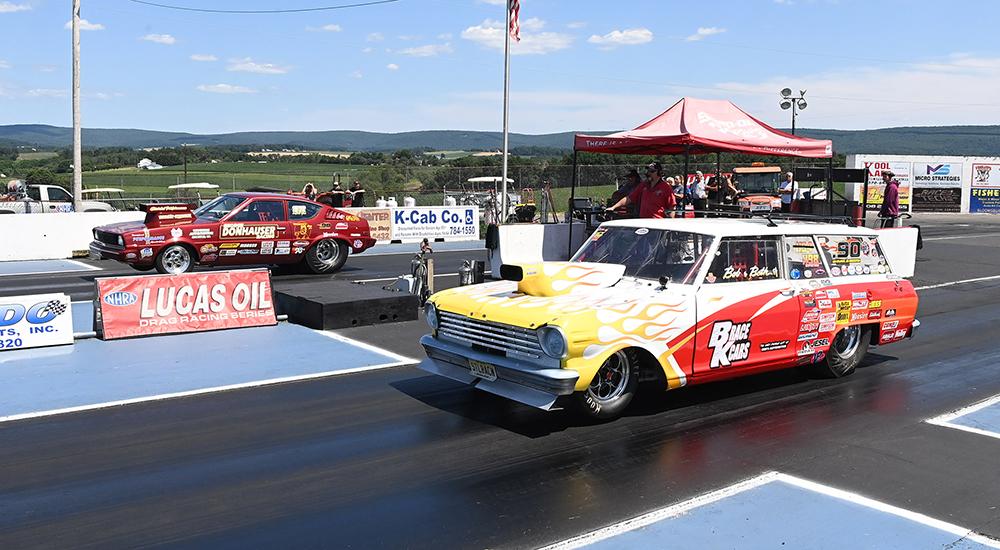 Mid Atlantic .90 Association president Rob Keister from Vineland, N.J. took his popular  '64 Nova Wagon to his first ever Super Gas win in his first ever final defeating fellow Mid Atlantic member George Donhauser's '79 Arrow. Donhauser from Bel Air Md. posted a 9.948 in the loss to Keister's 9.918.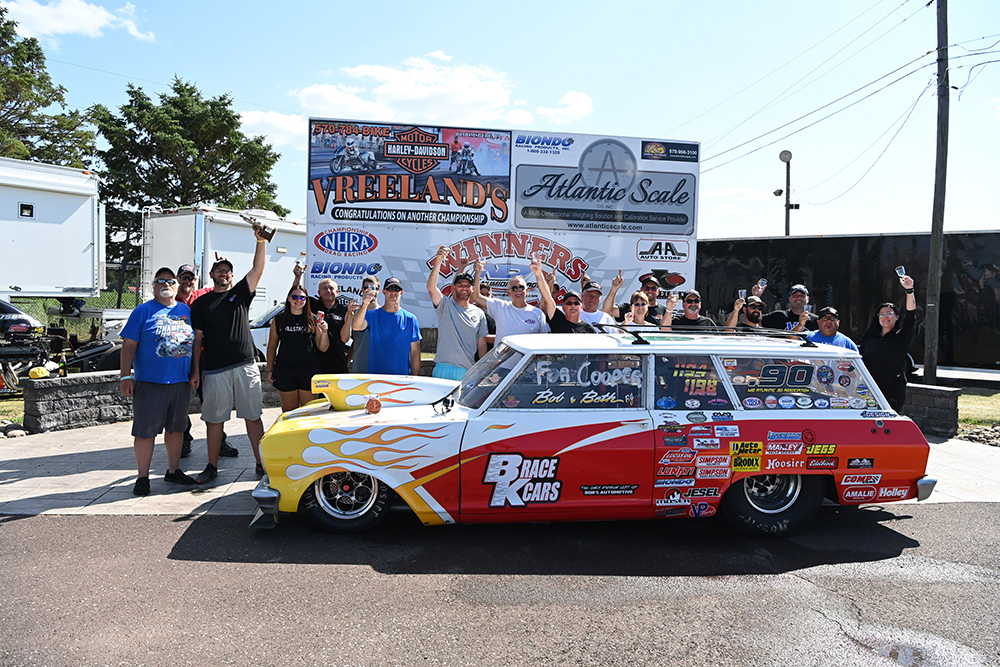 The win in Numidia put Keister sixth in division points with Hank Smith continuing to lead the NED Super Gas chase.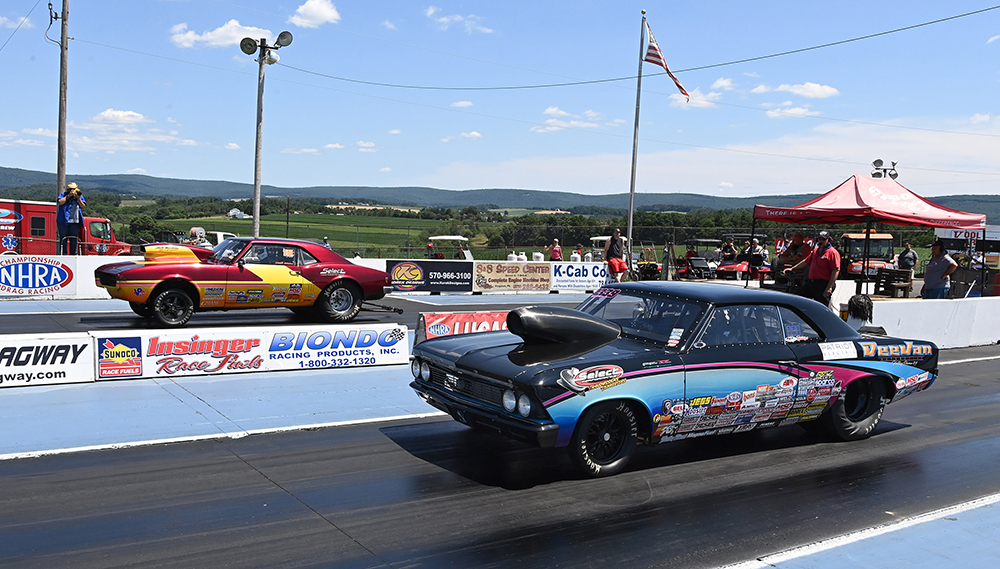 Super Street winner Eddie Bloom joined Keister in the first time club beating recent New England Nationals champ John Olson in the finals. Bloom, driving his '68 Firebird, crushed the tree with a 0.008 RT making Olson's job all that harder.  Both racers ran 10.95's but the race was won at the starting line.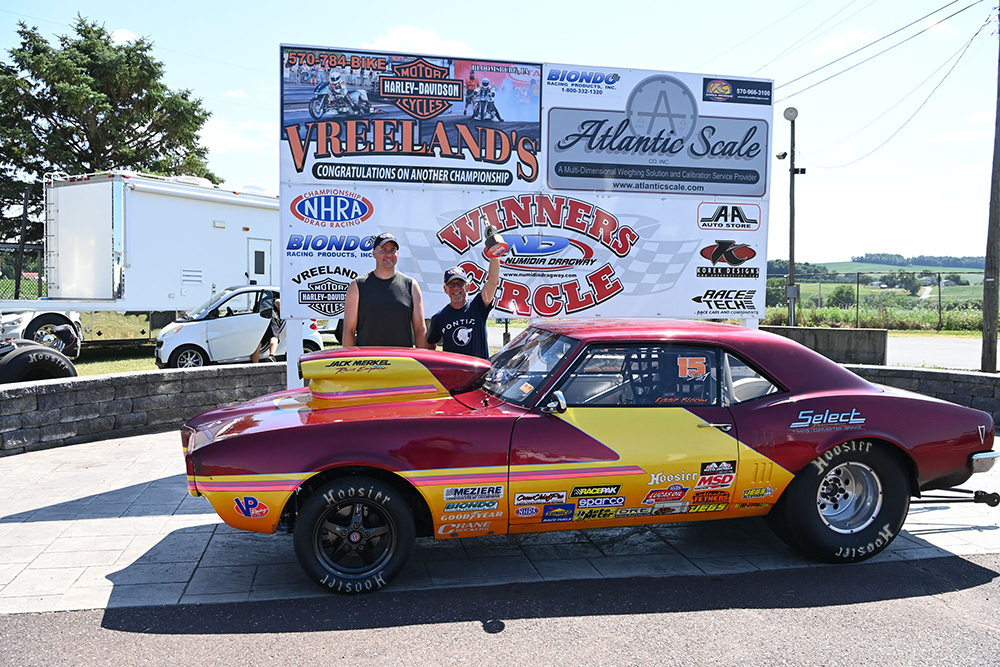 Numidia PCRichard.com Open winner Keith Mayers continues to hold a huge lead in the Lucas Oil points chase.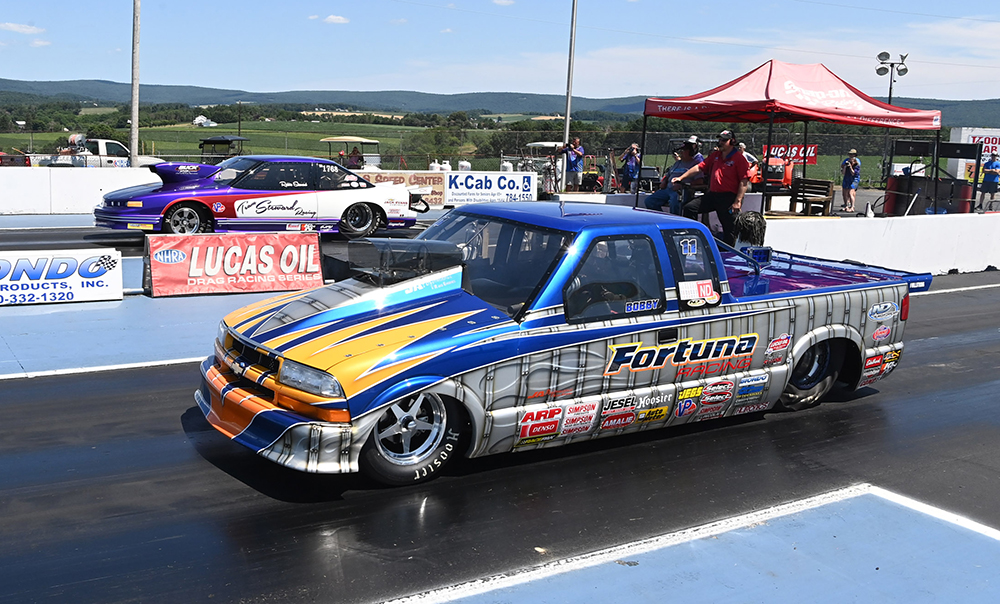 Tommy Tape Top Sportsman Presented by Select Performance went to defending division champ Robert Fortuna from Hawley Pa. Fortuna driving his '02 S-10 had a perfect 0.000 light and posted a 5.028 on his 5.00 dial as his competition, the '97 Cutlass of Robbie Steward from Strasburg Va. ran an off pace 5.289 on a 4.88 dial in the loss.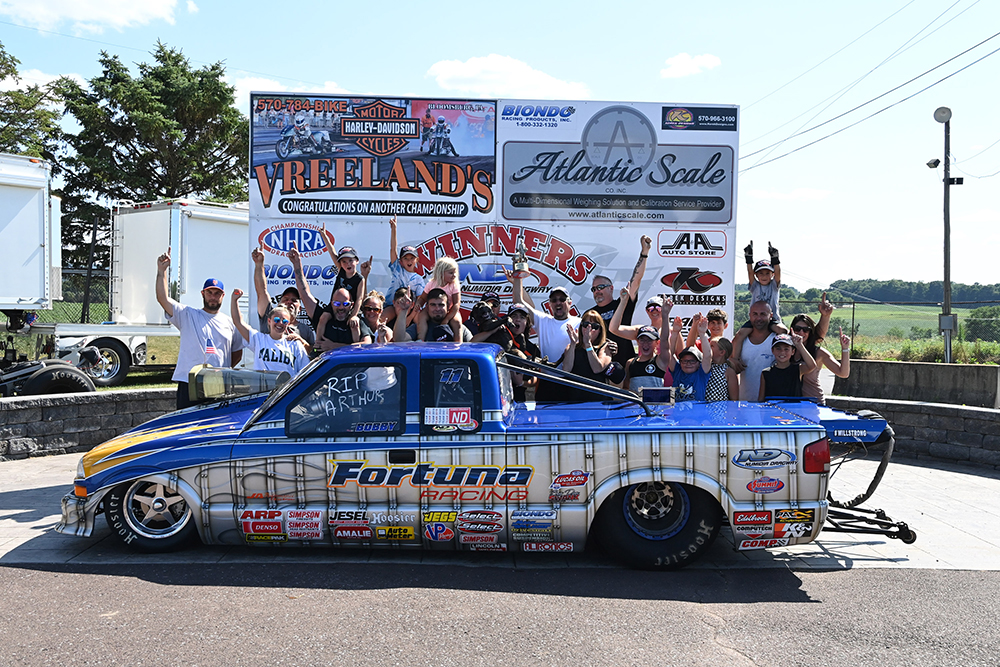 In a very tight Lucas Oil points chase, Fortuna is currently sixth with Ron Riegel leading the division.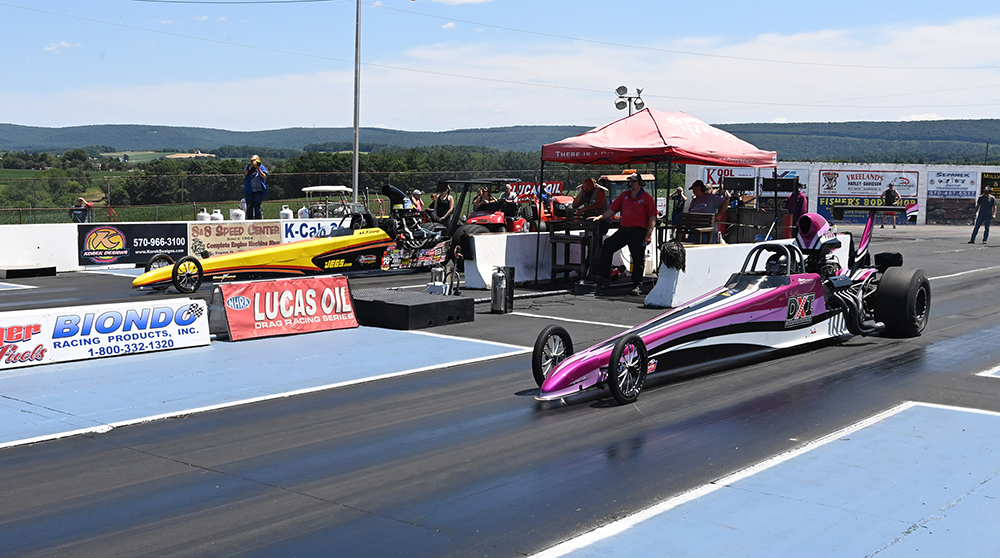 Thomson (Near Lane) beat Kenny for the Top Dragster title
Melissa Thomson from Whiteford Md. also joined the First Time Club driving her DXI Construction dragster to a Tommy Tape Top Dragster win defeating the blown car of Alan Kenny from Kutztown Pa in the finals. Kenny had a great 0.008 light but could not run his 4.04 dial losing with a 4.237 to the winning 4.895 on a 4.89 dial from Thomson.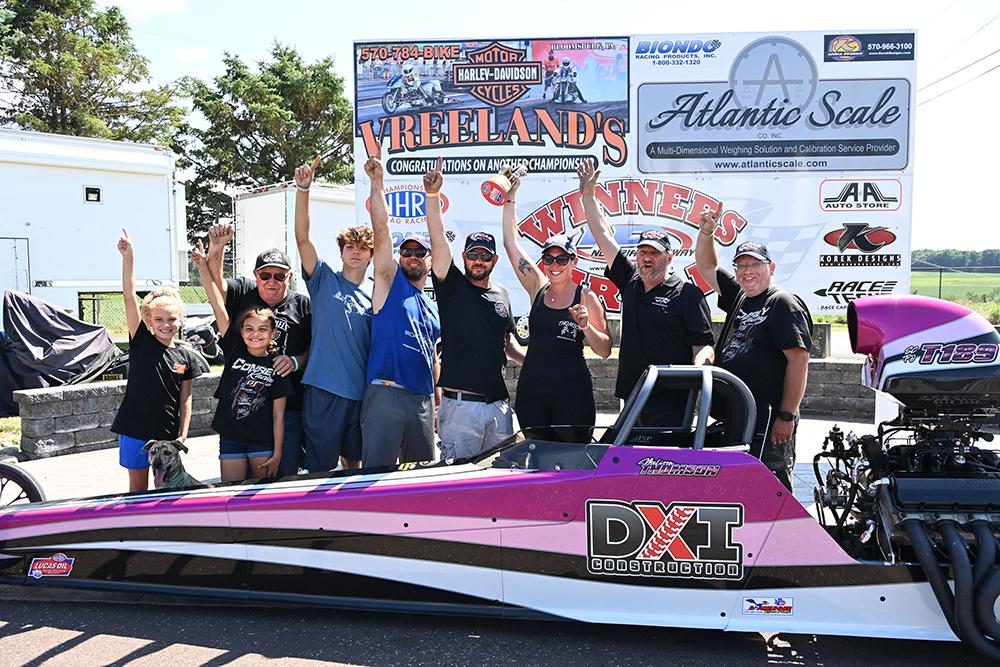 Thomson, who is not in the hunt for a division championship, is currently sitting 18thin points. Top Dragster points leader Al Smith, lost to eventual runner up Kenny in the semi finals.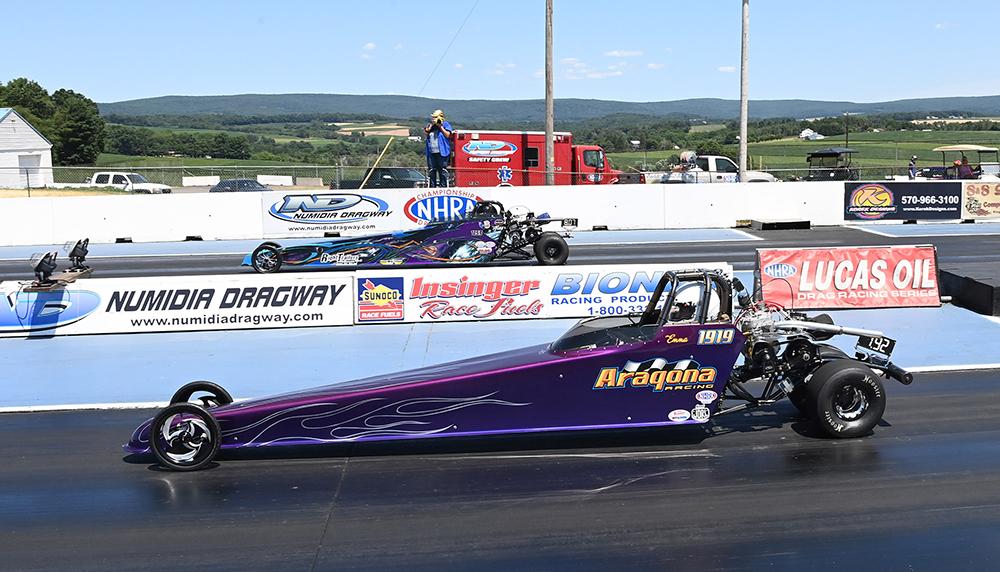 Third generation racer Tyler Depascale from Parlin N.J took the Junior Dragster 13-17 class defeating another third generation racer Emma Aragona from Freehold N.J. In the finals Depascale ran an 8.094 on an 8.07 dial in the win. Aragona had the better reaction time but was off her 7.92 dial with a 7.959 in the loss.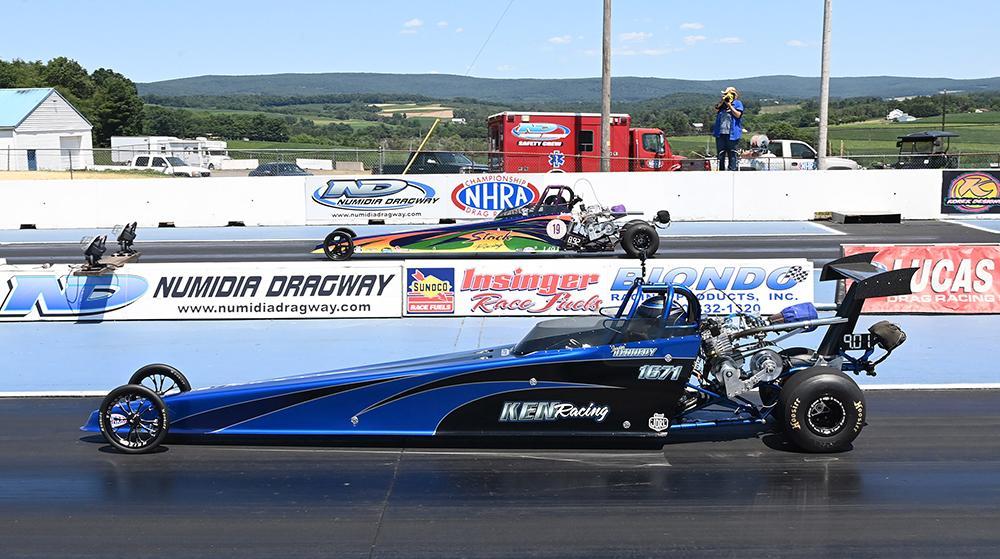 Former Super Street champ Jimmy Stack had to be one happy dad as all three of his boys, James Jr, Evan, and Eli were in the finals of their respective Junior Dragster eliminators at Numidia.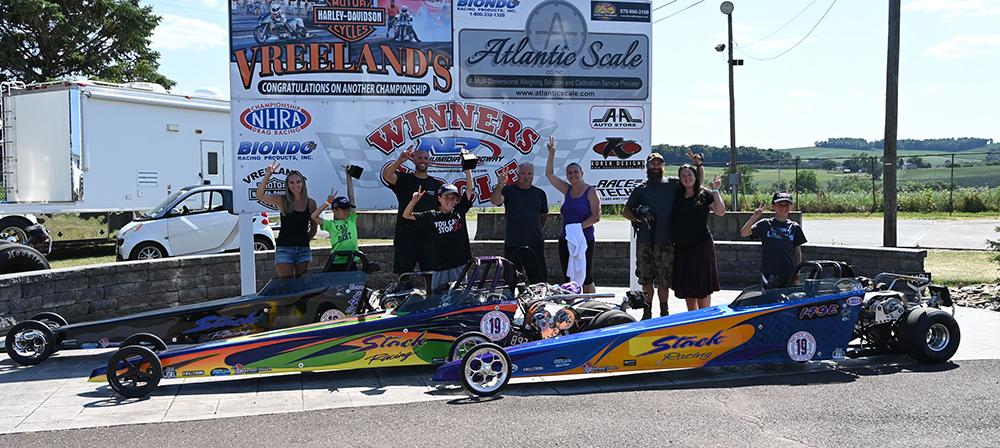 Stack Jr won the 10-12 year old class defeating Landen Kennedy from Wilkes Barre Pa. running a 8.965 on a 8.92 dial to Kennedy's much better 9.013 on a 9.01 dial. Kennedy's reaction time started with a "one"  which is never a good sign if you want to win.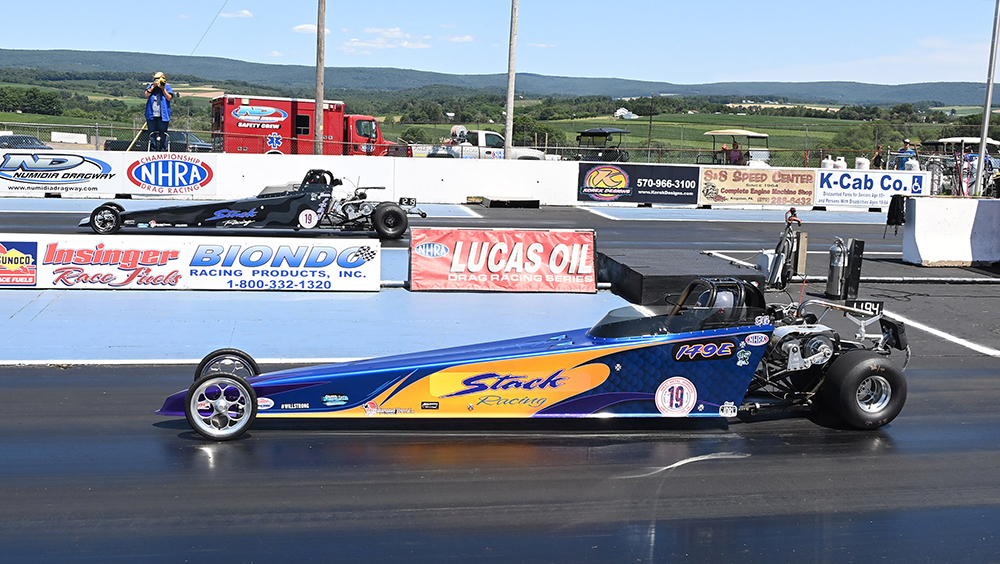 With two brother racing in the finals, someone had to lose. Evan had the better reaction time with a 0.086 to Eli's not so good 0.152 light and ran a 12.226 on a 12.19 dial to his brother losing 12.019 on a11.94 dial.
The NHRA Division One tour continues August 5-7 at Atco Dragway in New Jersey. The event will be part of the East Region series and will feature Alcohol Dragster and Funny Car as all of the other NHRA Sportsman classes.
For more images from the doubleheader at Numidia, go to: