Women Behind the Lens Pt. 1 Teresa Long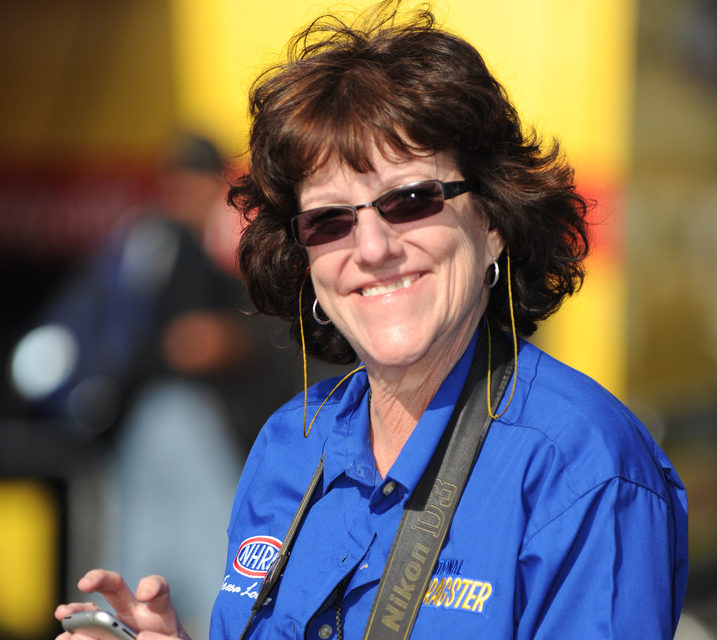 Story:Drag Racing Action Online
Images: Courtesy NHRA and Teresa Long
Drag Racing as a whole is one of the most gender-inclusive sports in the world. Women compete on the same playing field as men. Drivers, owners, and crewmembers.
This also continues on the journalistic side as well. Women writers contribute regularly in day-to-day websites and printed media. One other aspect that is close to my heart, is taking photos of the sport of drag racing.
It's time to highlight some of the instrumental women photographers that have made the sport jump off the page, or as is the norm, your computer screen starting with long time NHRA Photo Editor Teresa Long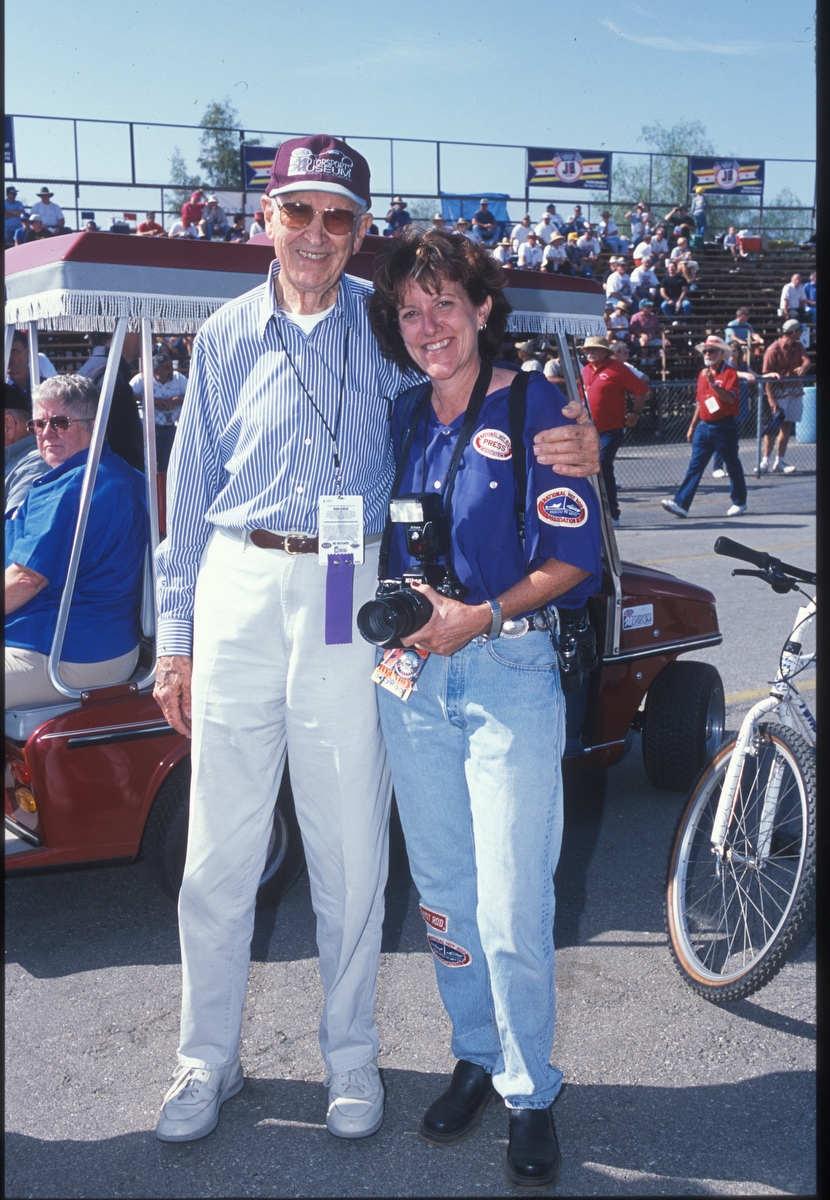 Teresa with NHRA president Wally Parks 
Long may have retired from her position at National Dragster a few years ago, but her lasting impact on drag racing photography lives on. Teresa was a mentor and friend to the current NHRA crew, and the high-quality standards she set as editor continue to this day.
Teresa was kind enough to discuss her career at NHRA with us during the New Year.
"When I was in high school in Montclair, California, my girlfriends Joni and Rondi were working part time for the NHRA," Long says. "I went to some local races with them so I knew what drag racing was about. After graduating from Chaffey College in 1983 and working in a few local photo labs, I asked my friends if they knew of any job openings at NHRA. Low and behold they needed someone to work in the photo lab to perform 'halftones,' and the photo editor at National Dragster, Leslie Lovett gave me the job.
"Halftones was a process of taking photos of black and white or color images with a big camera and make the original able to be resized for the magazine by converting it into dots which is how newspapers are printed. I had experience with this process working at some small newspapers in the area so I knew my way around the lab."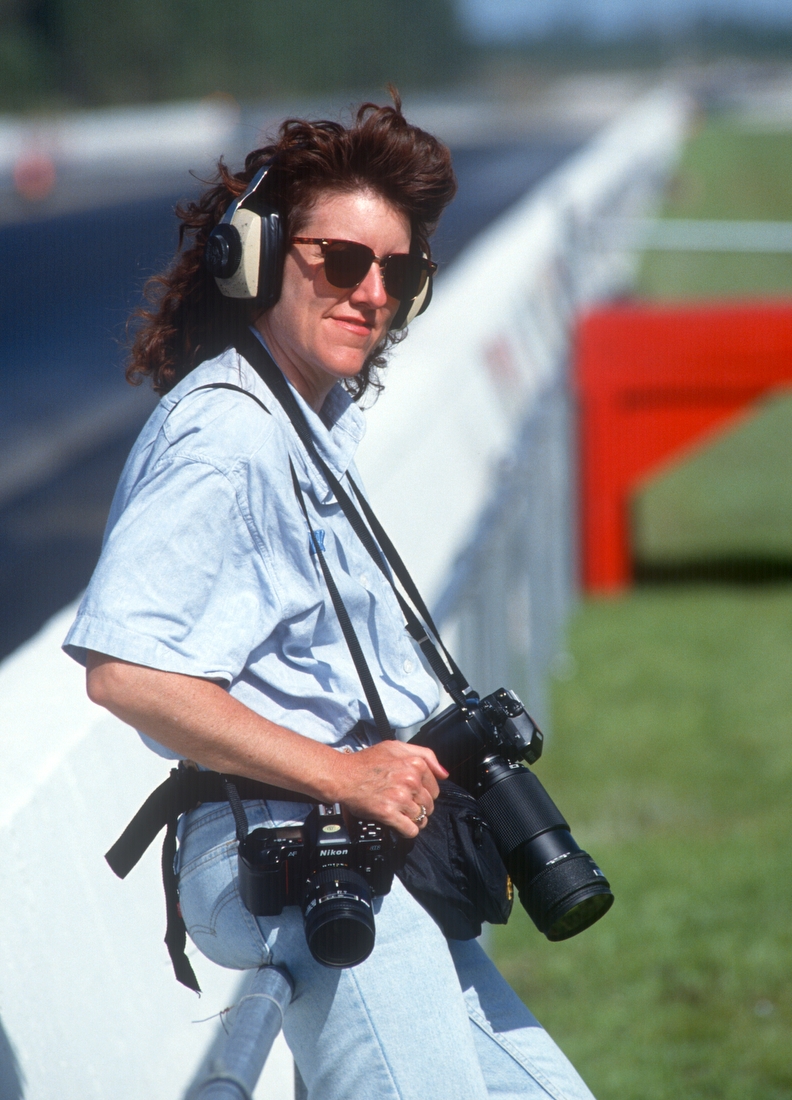 "Back then," she adds, "It was just Leslie as the photo editor, myself along with Bill Crites who was the Art Director and also shot some of the races too.   National Dragster used contract photographers like Richard Brady then to shoot the events that were too far away for us to travel to."
"At the time I thought, 'How can you go and just shoot the same thing over and over?' But after seeing Leslie standing over the light table one day looking at some of his shots after a race and he screamed, 'It worked, it worked.' He had been using some new ideas like an in-car camera and I thought, 'This is how I want to feel when I take photos.' For someone like Leslie who had been shooting photos for so long and to get this excited really inspired me. I thought, maybe there is something to this."
Long continued to ply her craft in the National Dragster photo lab until the mid '80s as she tells it," Neil Britt took over as publisher and in 1985 told me I was going to start going to the races. I was absolutely terrified. I went to some Southern California races with the team but later I got my first solo assignment, the Cajun Nationals in Louisiana and I was the only National Dragster photographer there. The local division photographer helped me but I was still terrified. Right after that race my next assignment was shooting the race in Montreal where again I relied on local photographers like Bruce Biegler to help. Later on I really enjoyed travelling especially to the East Coast as it was so different than California."
  Teresa captured Ron Capps getting ready to strap into his NAPA Funny Car in this iconic image
In 1996 after the untimely death of her mentor, best friend and soulmate, Lovett, Long was promoted to Photo Editor at National Dragster.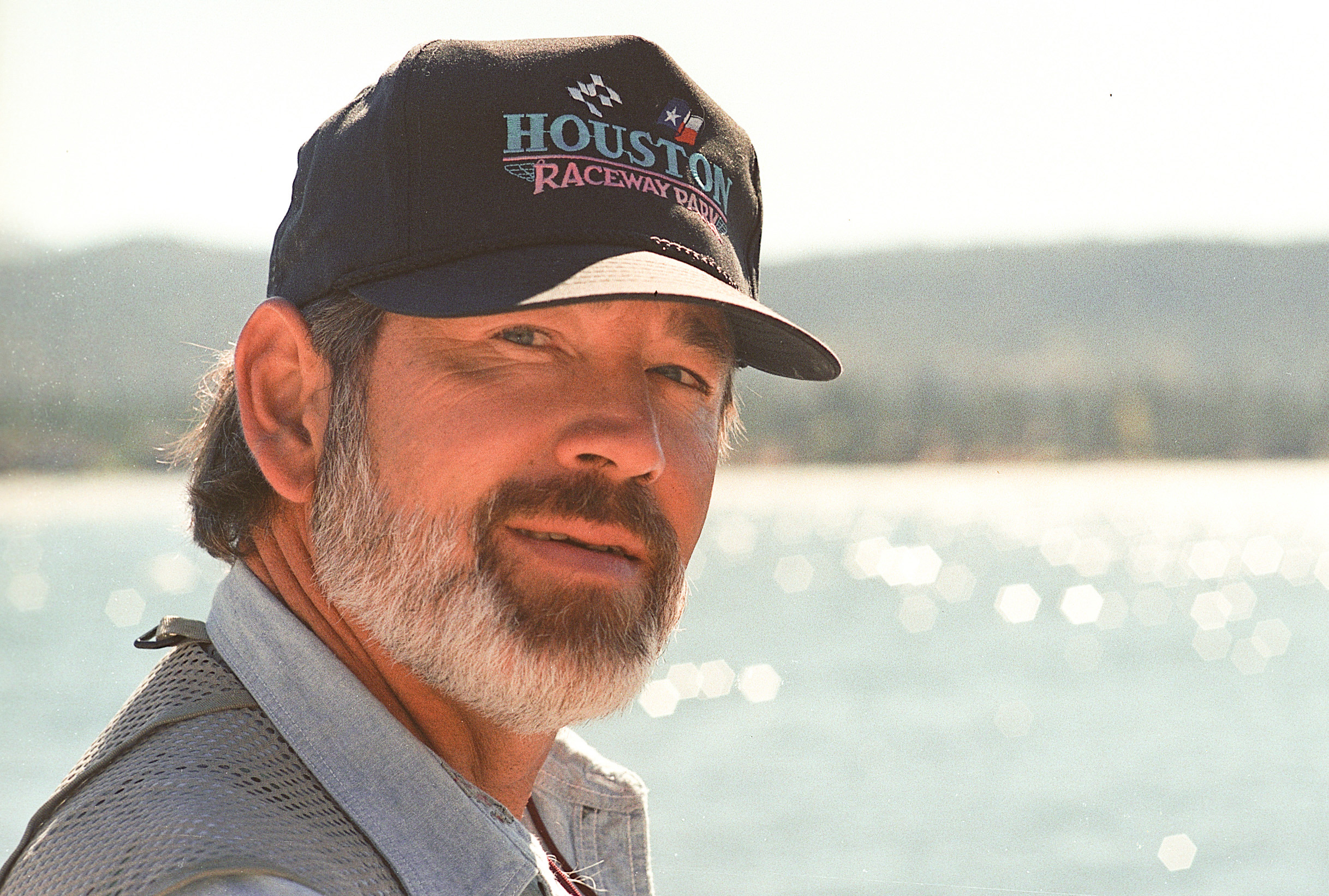 In addition to his love of drag racing and photography, Les Lovett's other passion was his time on the water and fishing. 
Current National Dragster Photo Editor Jerry Foss said, "Teresa stepped in to lead the group in an extremely difficult time both personally and professionally and she did a fantastic job."
Former National Dragster photographer Richard Brady added, "I will say that after Leslie passed away, the whole National Dragster Photo Team was crushed, but after some time away, TL stepped in to fill in for Leslie and did a fine job. I can think of no better way to honor her work ethic, than to say, she did a grand job holding the photo team together and to carry on in Leslie's absence."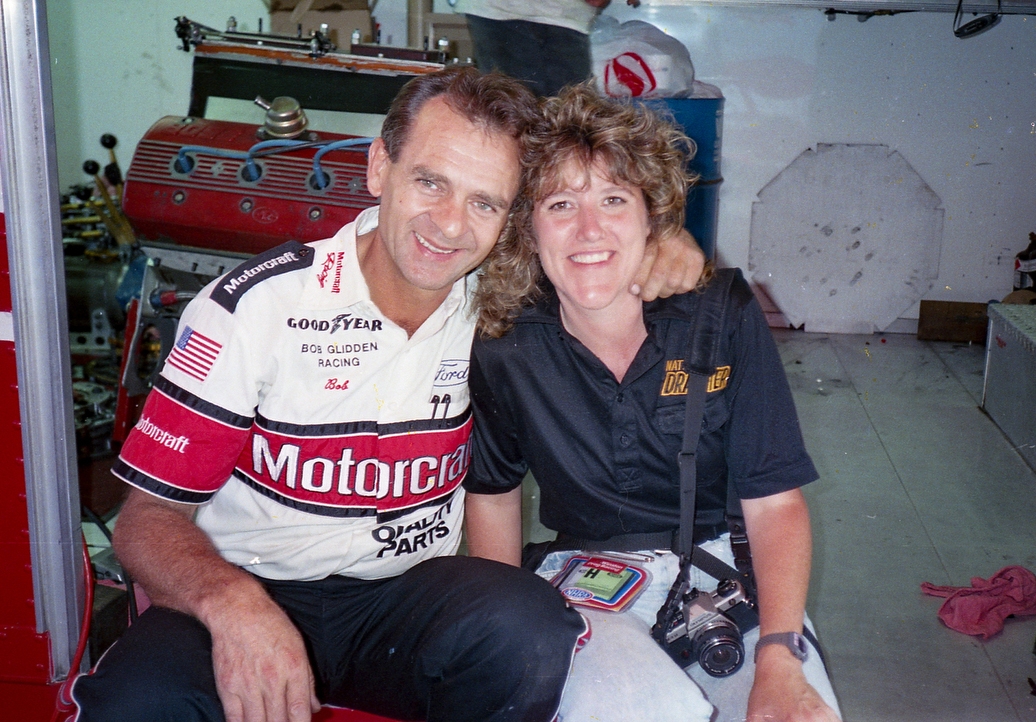 Teresa and Pro Stock legend Bob Glidden share some time in Bob's trailer
"At the time of Leslie's death it was just me, Steve Bianchi and Jerry Foss as photographers," Long says. I got to hire Marc Gewertz, as I knew him from working on the Junior Dragster magazine. After Bianchi left we brought on Angela Barraza and later Richard Wong."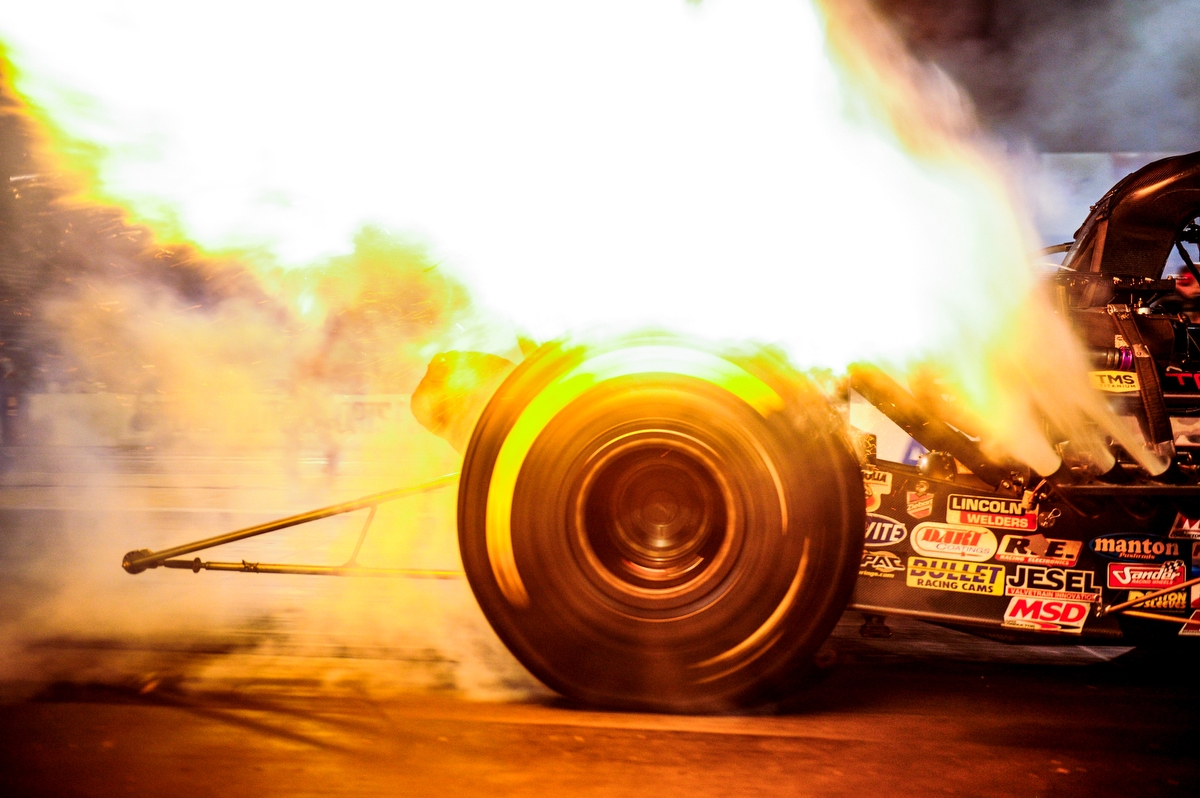 Teresa's image of a Top Fuel burnout was used on the cover of the NHRA Media Guide 
"After a while with technology changing and at the urging of our IT guy, we went digital. At the time National Dragster had two and a half million negatives and slides in the archive. Later the IT guy said the space needed to keep all the digital images was just as big as having the old files. We needed space for all the files, just a different kind of space."
"With our move to digital cameras, quality time after the race was rare. When we shot film we had to wait to get back to California to get the film processed and often the gang could go out for dinner after a day at the track, but with digital, it's instant and everybody was bugging us as soon as the day was over to get images ASAP."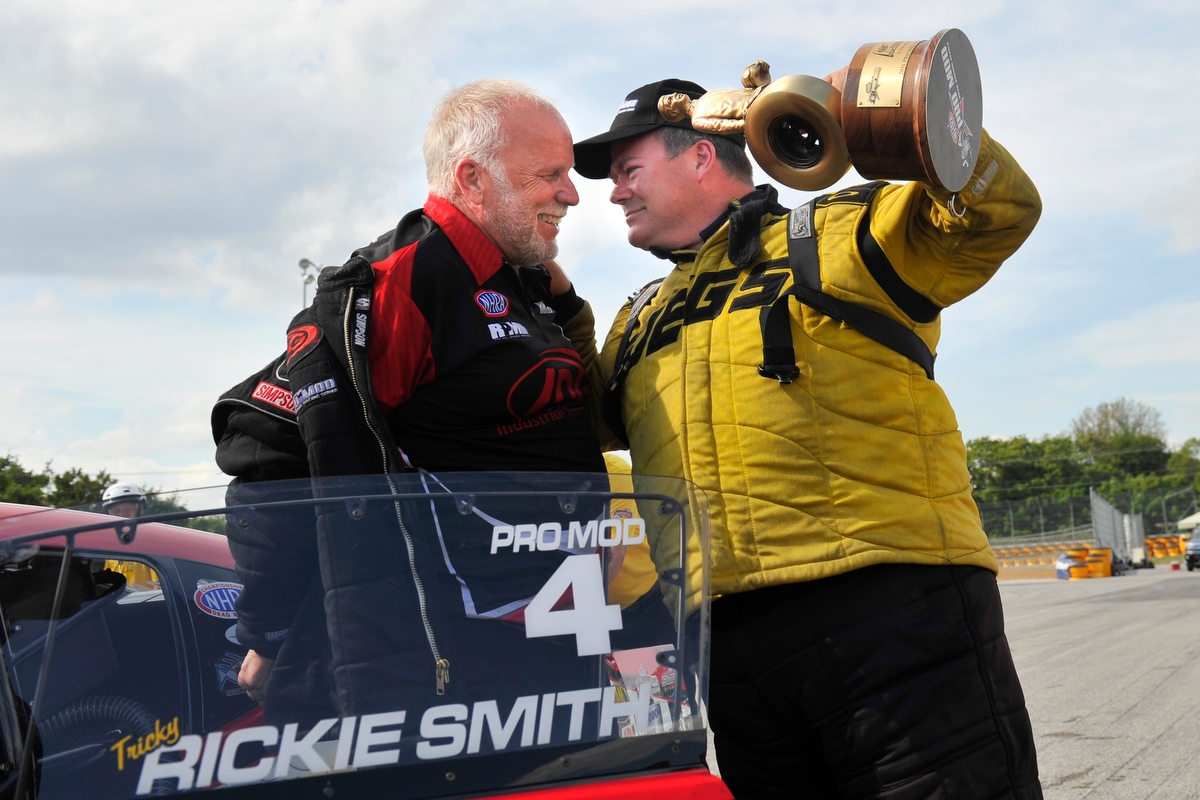 Pro Mod racers Rickie Smith (left) and Troy Coughlin share a moment on the top end 
In addition to the qualifty of her work behind the camera, Long also brought her skill as a portrait photographer to National Dragster. "In 1994, I was asked to shoot images of the possible NHRA world champions and our next race was Topeka. We shot all of the racers that were up in the points not knowing who would be the world champ. This was during the time of John Force having a lot of fires in his Funny Car and Jerry Foss came up with the idea of using a fabric steamer to create the illusion of smoke around John. The results came out great."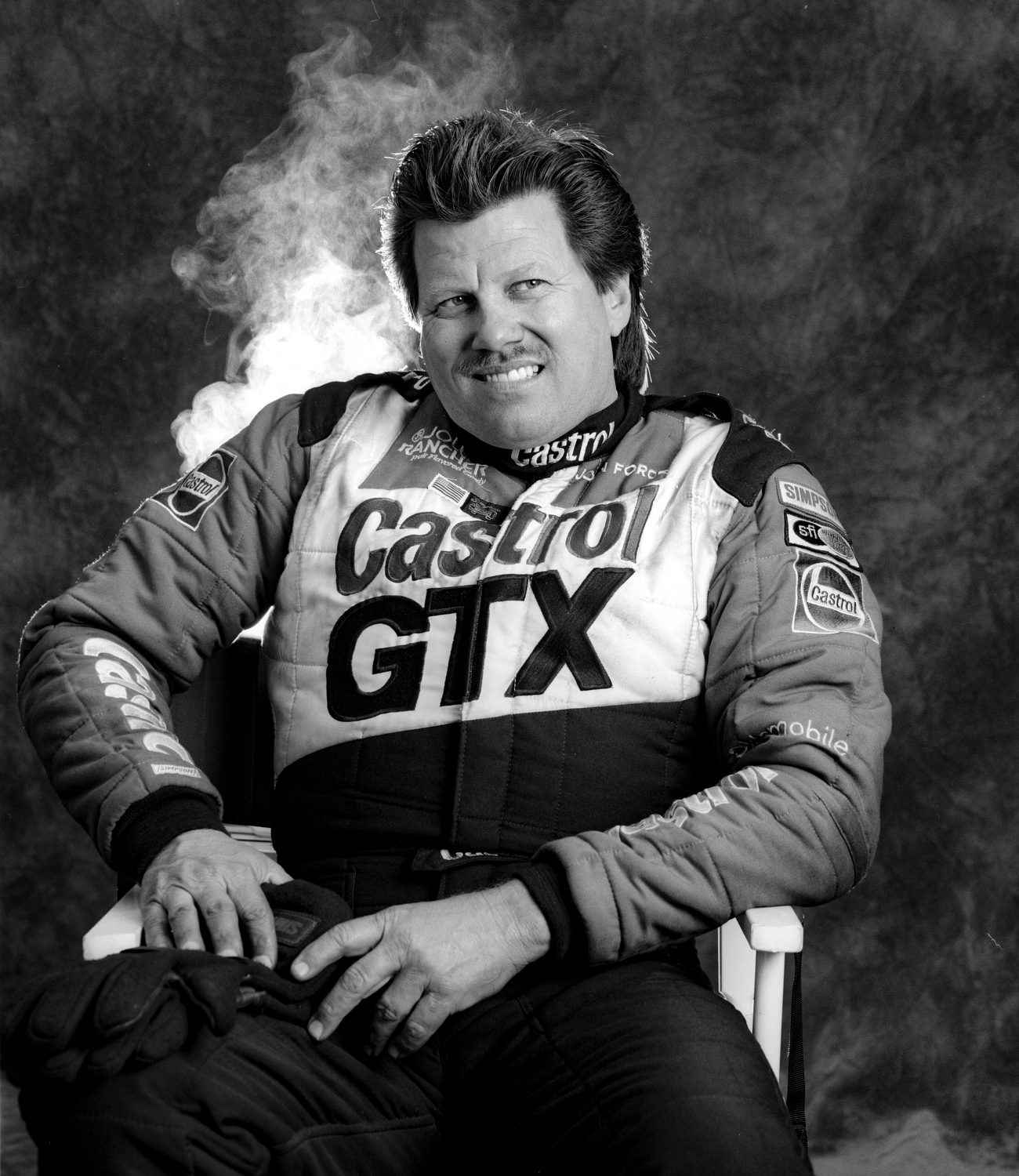 Marc Gewertz added, "I worked with Teresa for more than 20 years as the Sr. Staff Photographer at National Dragster. While she could shoot anything at the track; action, pits, winner's circle, it was her candid shots and portraits that really set her apart. It didn't matter if she was photographing a ten-time world champion or an up-and-coming sportsman racer; she always had a way to make them feel comfortable in front of the camera and the results showed."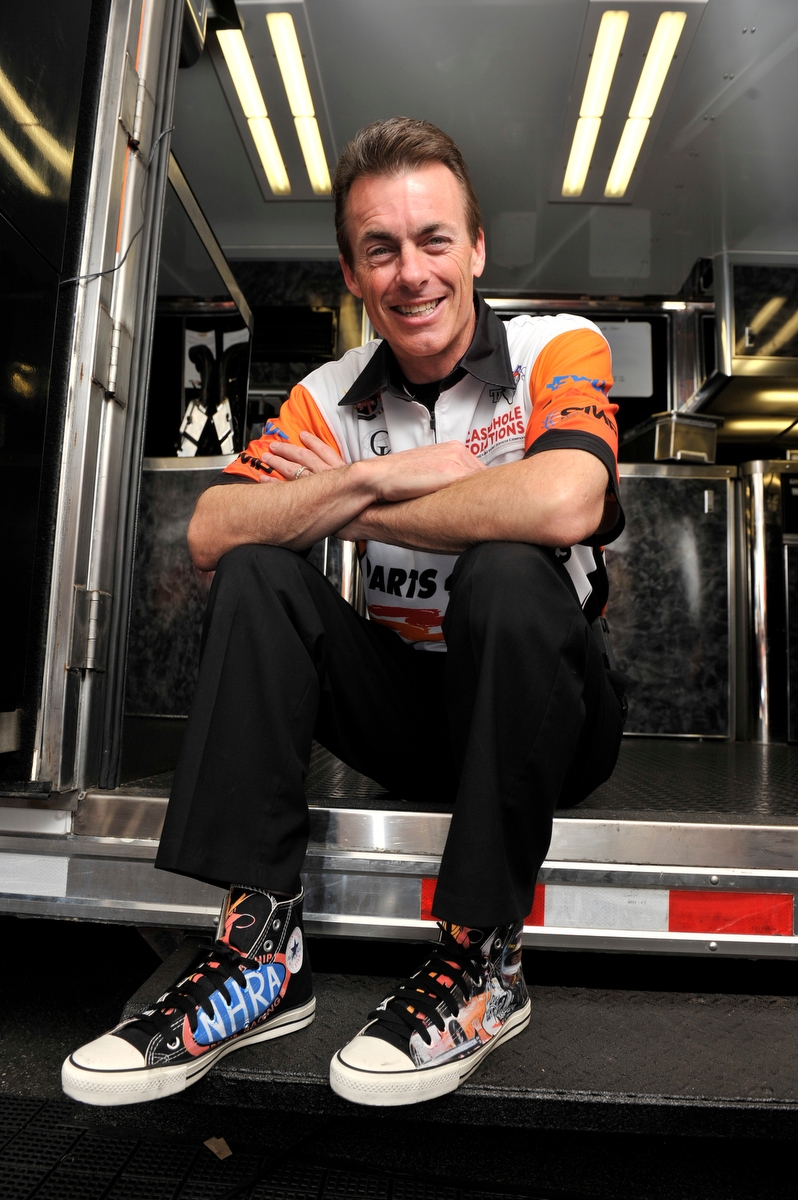 Top Fuel superstar Clay Millican and his unique sneakers made for a great shot
Marc continued, "Her decades long relationships with the drivers allowed her the unique ability to capture a drivers emotions and personality as only she could. Teresa has taken some of the most memorable and iconic shots of the sports legendary drivers, photos that the drag racing world will remember forever."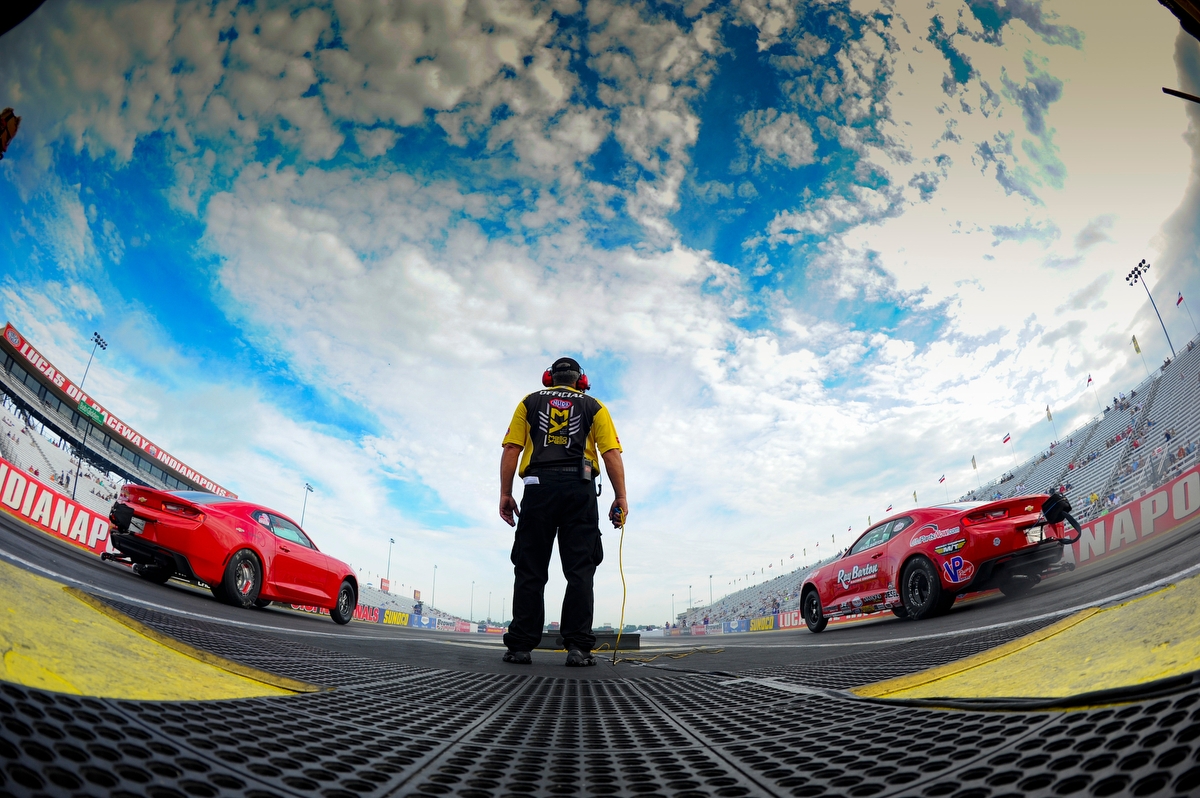 Long continued to lead the photo department at National Dragster until the Fall Las Vegas event in 2018 where she decided to call it a career and resigned.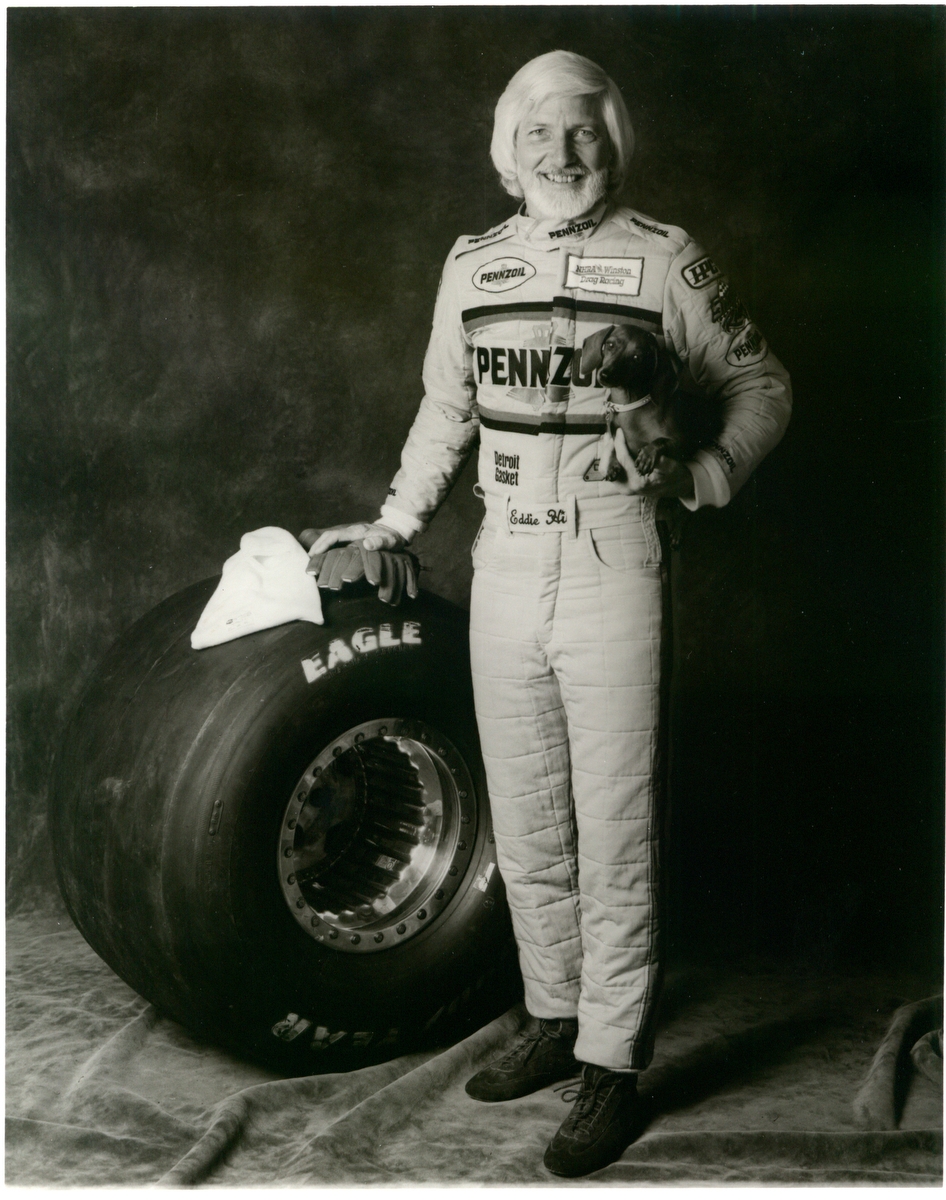 One of Teresa's most famous shots featured Top Fuel World Champ Eddie Hill
"It was wonderful documenting drag racing history," she says, "And at times humbling capturing someone else's accomplishment that may have been years in the making, especially a first time Sportsman winner on the top end after the victory. I hope the keeper of the archives does a good job at preserving all the special moments I am proud to be a part of."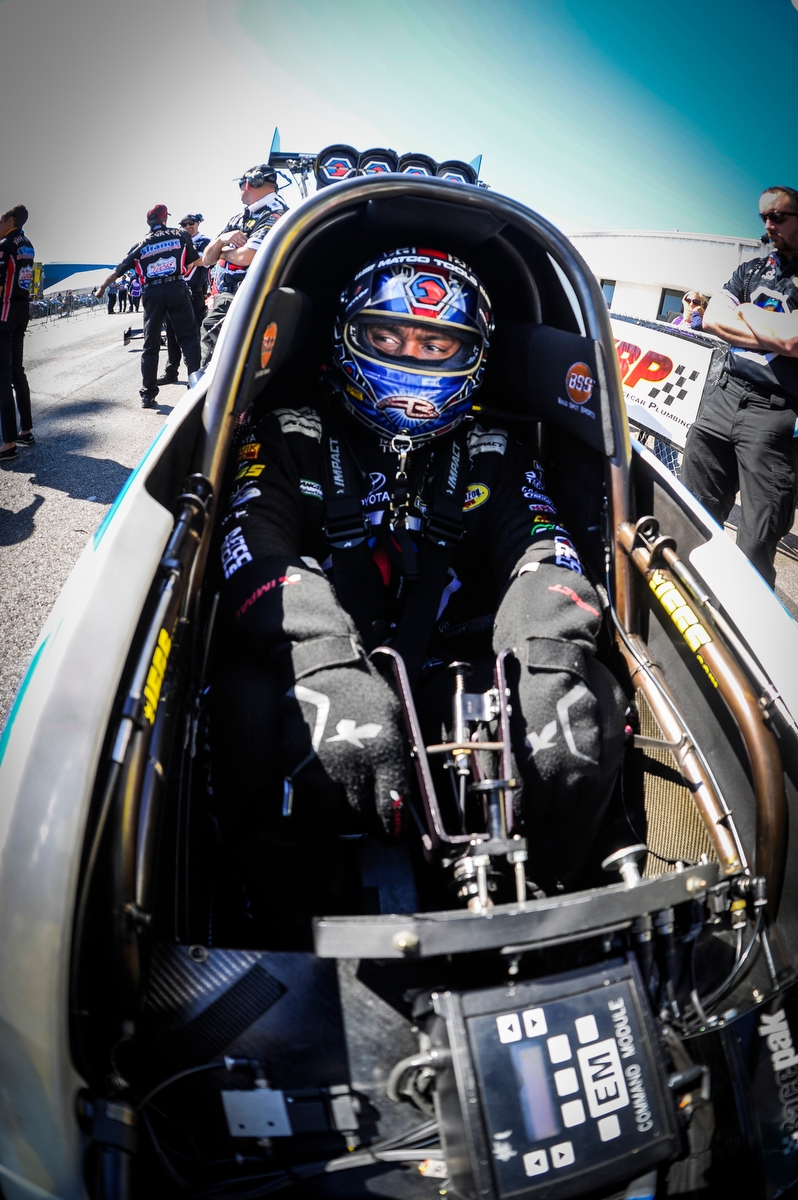 Antron Brown waiting for his shot down the track
Finally Gewertz added," It didn't matter what race I was going to; if I was going with Teresa I knew we were going to have fun. Teresa never told us what to shoot, she never said shoot like me. Teresa encouraged us to photograph drag racing through our eyes and capture the sport the way we saw it.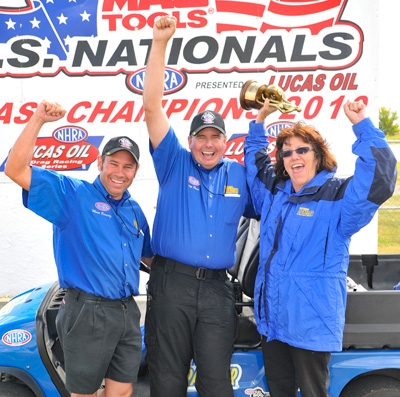 Marc, Jerry, and Teresa in the winner's circle at the US Nationals