Capps, Kalitta, and Anderson lead early qualifying at Lucas Oil NHRA Nationals at Brainerd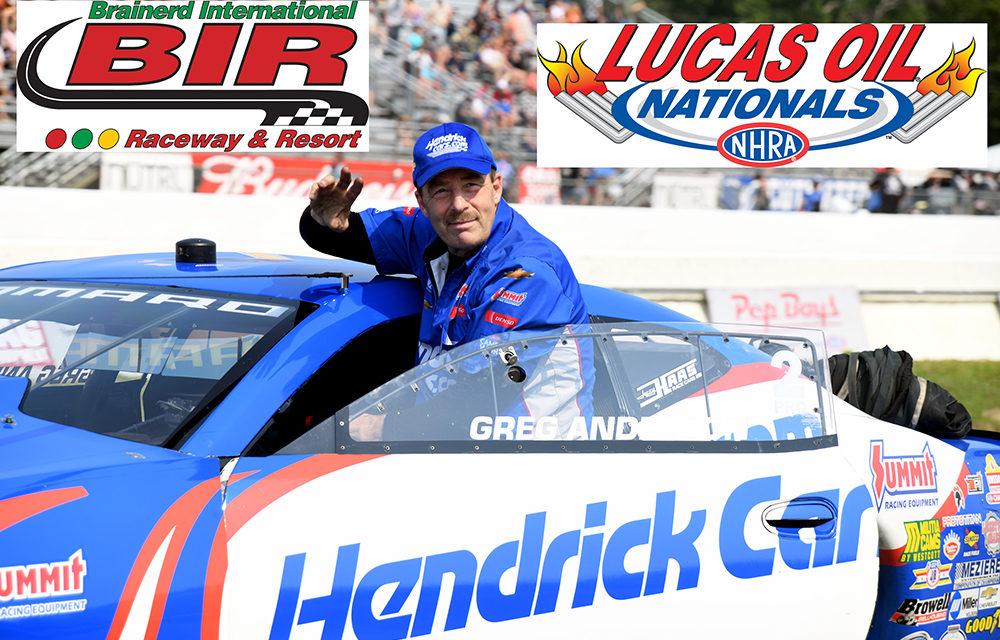 Courtesy NHRA Communications  Images: Geoff Sculley
BRAINERD, Minn. – Defending Funny Car world champion Ron Capps powered to the provisional No. 1 spot on Friday at Brainerd International Raceway as he looks to win the 41st annual Lucas Oil NHRA Nationals for a seventh time.
Doug Kalitta (Top Fuel) and Greg Anderson (Pro Stock) are also the provisional No. 1 qualifiers at the 14th of 21 races during the 2023 NHRA Camping World Drag Racing Series season.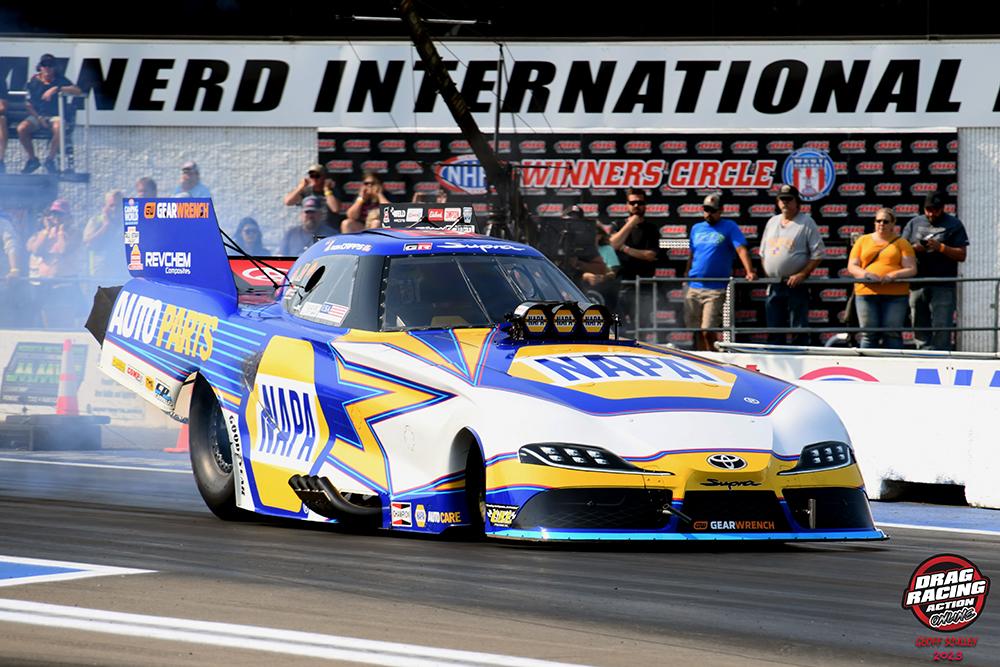 Capps went 3.894-seconds at 330.23 mph in his 11,000-horsepower NAPA Auto Parts Toyota GR Supra, putting the back-to-back Funny Car champ in the No. 1 position after two qualifying sessions. If it holds, it would give Capps his second No. 1 qualifier this season and 38th in his career. Only John Force has won at Brainerd more than Capps, who will look add to his success this weekend at a track that means a great deal to him.
"It's hard to explain, but I love this place, a lot of great memories," Capps said. "That was just another version of it. We had to shut the car off in the first run, and I sat there at the starting line and watched (Matt) Hagan go low E.T.
"(Crew chief) Guido (Dean Antonelli) and I had a talk [before the later session] and he said, 'It's going to be hot tomorrow, and I don't want to not be in the top half – but we can't improve. I don't want to throw down and miss it and smoke the tires. There are 17 cars.' But I just looked at him and said, 'Dude, go for it. Throw down.' He just smiled. He didn't throw down as much, but it was enough."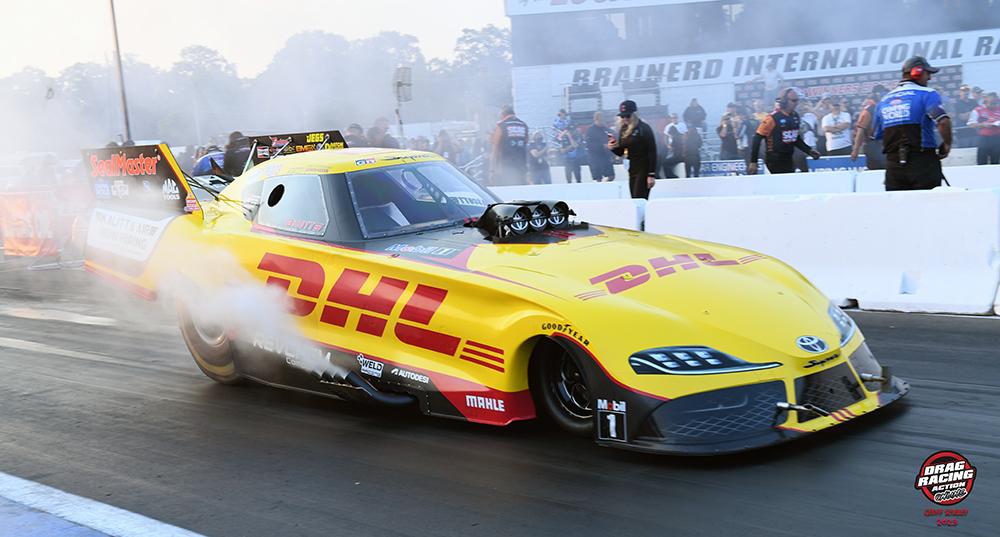 J.R. Todd is currently second with his run of 3.907 at 327.98 and points leader Matt Hagan is third after going 3.910 at 328.06.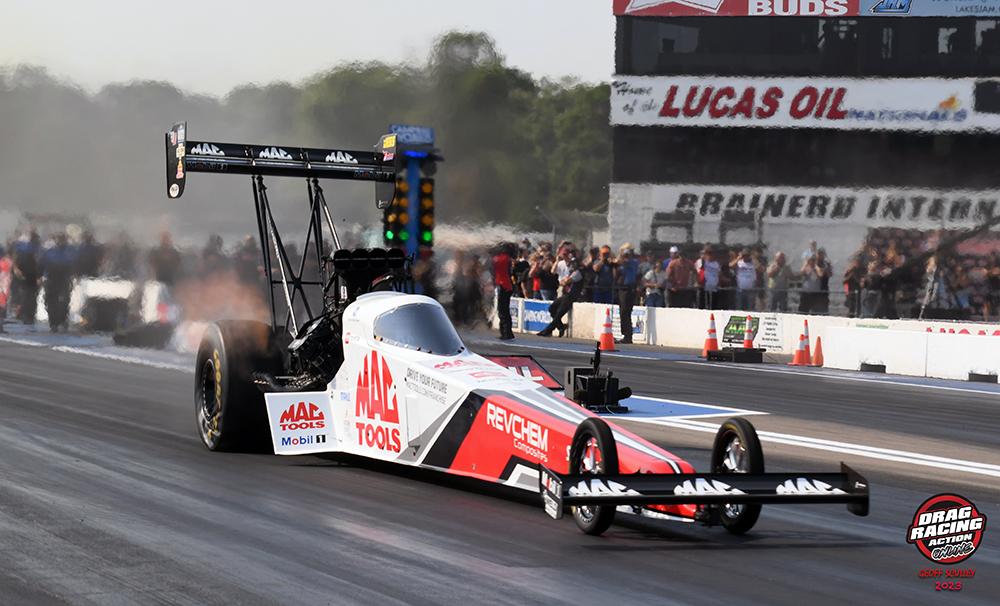 In Top Fuel, Doug Kalitta made the quickest run in the opening session, going 3.757 at 330.31 in his 11,000-horsepower Mac Tools dragster. The second session was cancelled due to a lack of daylight, but Kalitta made the most of the first run, putting together a strong run that he hopes sets him up for a strong weekend. He's in line for his second No. 1 qualifier this season and 52nd in his career, but what would really make the veteran happy is a 50th career victory. The team has been trending in the right direction and a third career win at Brainerd International Raceway could be in store this weekend.
"That was good. You never can tell really, but this track is usually really good, so I was hopeful we could get down," Kalitta said. "I'm real proud of my guys and I can't wait to see how it holds up for tomorrow. I'm happy for today, for sure. They do an awesome job on the track and I'm pretty confident we'll have two good lanes for tomorrow, so I'm looking forward to it.
"We're definitely hungry for a win but just making it to the final – if you can get to the final at every race, you can keep your points going. Hopefully, we'll fall into that win category again, and this would be a great place to do it. I love coming to Brainerd. It's always great coming back and seeing what we can do."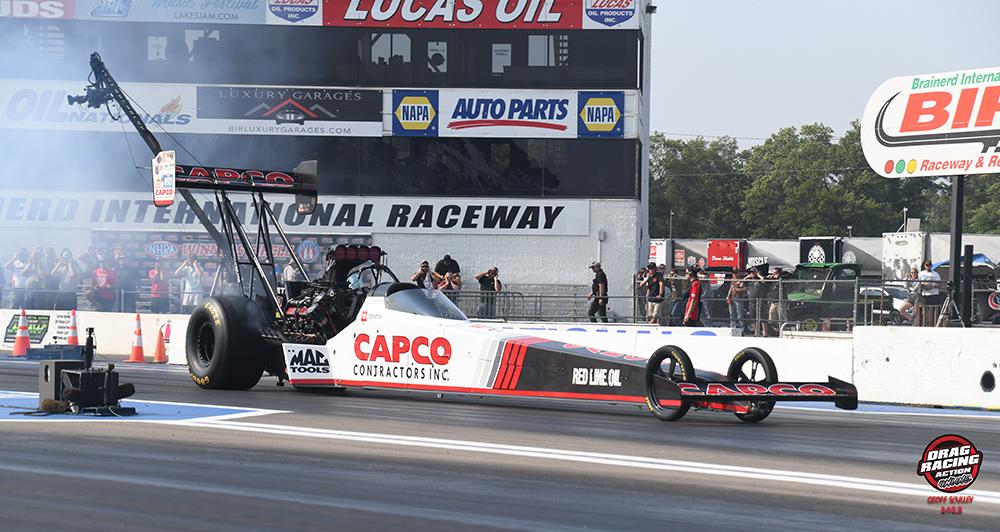 Steve Torrence's 3.758 at 328.54 has him second, while reigning world champion Brittany Force went 3.762 at 331.45. That has her third and points leader Justin Ashley is sixth.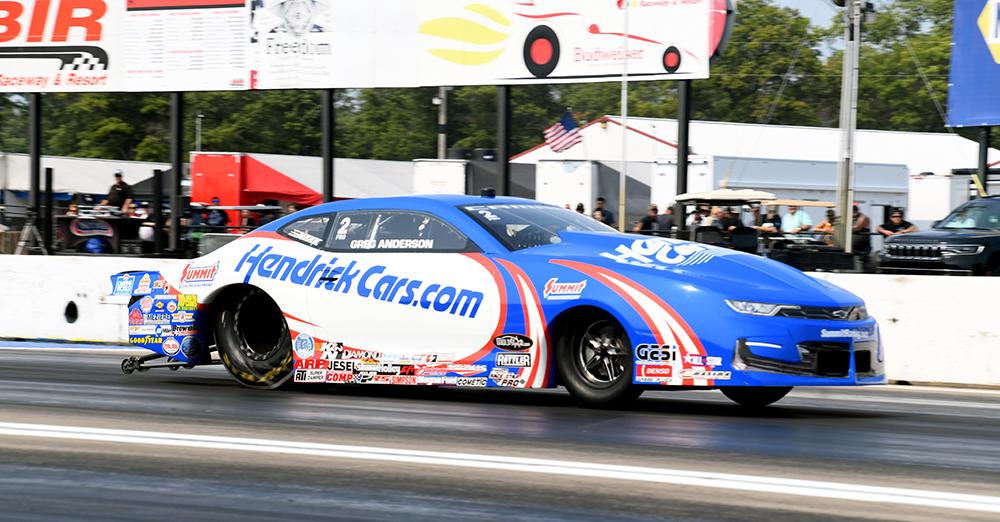 In Pro Stock's first appearance at Brainerd since 2019, it was the hometown guy who stole the show on Friday, as Duluth native Greg Anderson grabbed the provisional No. 1 position with a run of 6.597 at 205.79 in his HendrickCars.com Chevrolet Camaro. Coming off a strong showing last weekend in Topeka when Anderson raced to his first final round of the 2023 campaign, the five-time world champ kept rolling on Friday, making the quickest run in both sessions. If that holds, Anderson would pick up his first No. 1 of the season and the 122nd in his standout career. Hoping to make a big run with the Countdown to the Championship approaching, a good weekend in Brainerd would be huge for Anderson.
"Being back home is cool," Anderson said. "This is where I grew up, where it all started for me. It's pretty darn cool to come back after a long four years. The facility is wonderful, the racetrack is great, the weather is great – it's just like I remember it. It's been a really good Friday, and we got all the points that they had to give today with two pretty much flawless runs.
"They were absolutely right on par, and I couldn't be prouder of the guys that work on these KB Titan Chevys back here. They're impressive. It's time to win a race before we get into the Countdown. You have to peak at the right time, and it's the right time going into Indy and the playoffs, and here at my home track."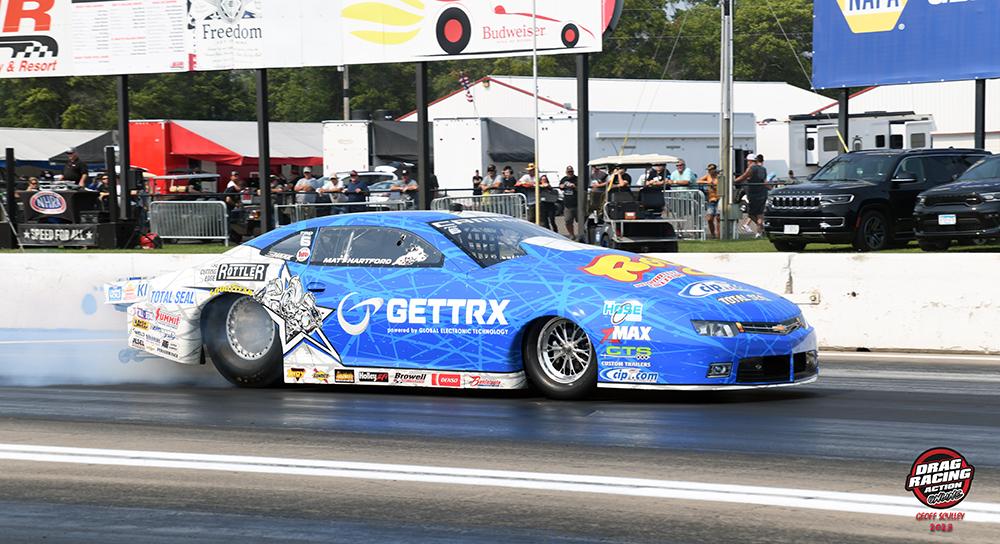 Matt Hartford jumped to second with a stout run of 6.598 at 205.54, while defending world champ Erica Enders, who won last weekend in Topeka, is currently third thanks to her 6.603 at 207.27.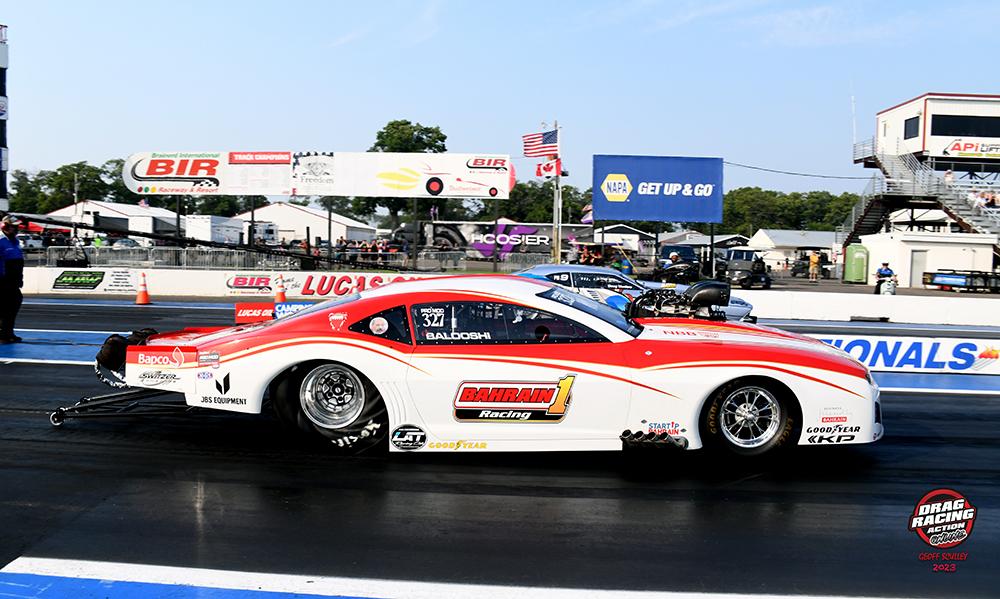 Khalid alBalooshi is currently sitting on top of the Pro Mod field with a 5.778 at 247.47 in his '21 Camaro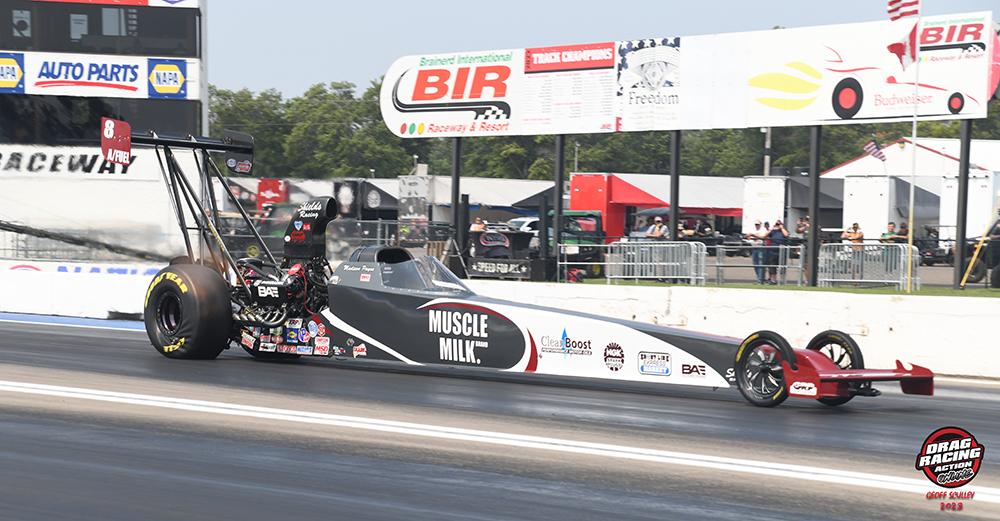 Top Alcohol Dragster Low Quallifier on Friday was the A/FD of  Duane Shields driven by third generation racer Madison Payne from Claremont CA. Payne has the Muscle Milk dragster on the #1 spot with a 5.254 @ 274.16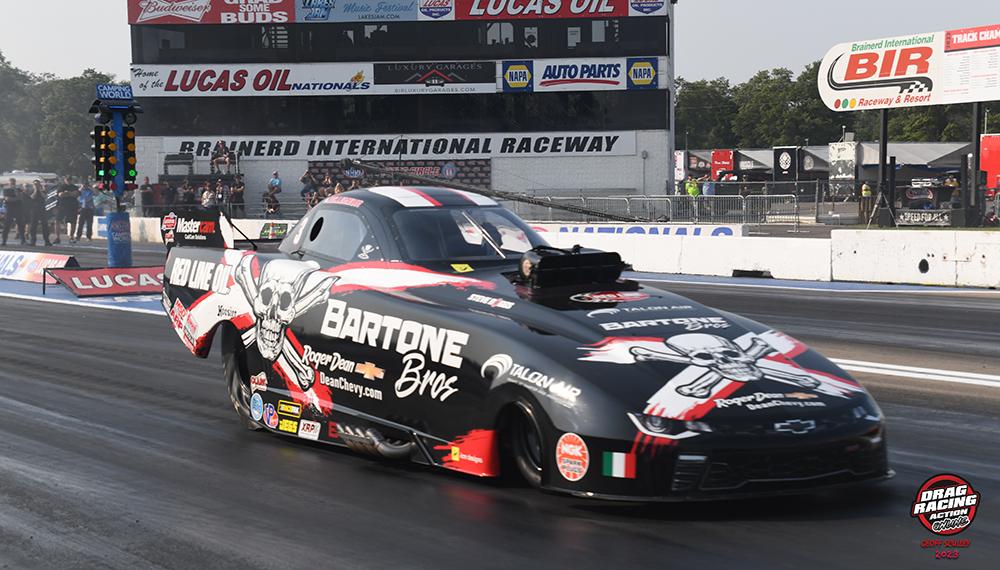 Former NHRA Lucas World Champ Sean Bellemeur from Placentia CA, has the  blown '21 Camaro of Tony Barone on the provisional #1 spot in Top Alcohol Funny Car with a 5.495  264.7
Qualifying continues at 12:45 p.m. CT on Saturday at the Lucas Oil NHRA Nationals at Brainerd International Raceway.