2022 NHRA Hot Rod Reunion Honorees Celebrated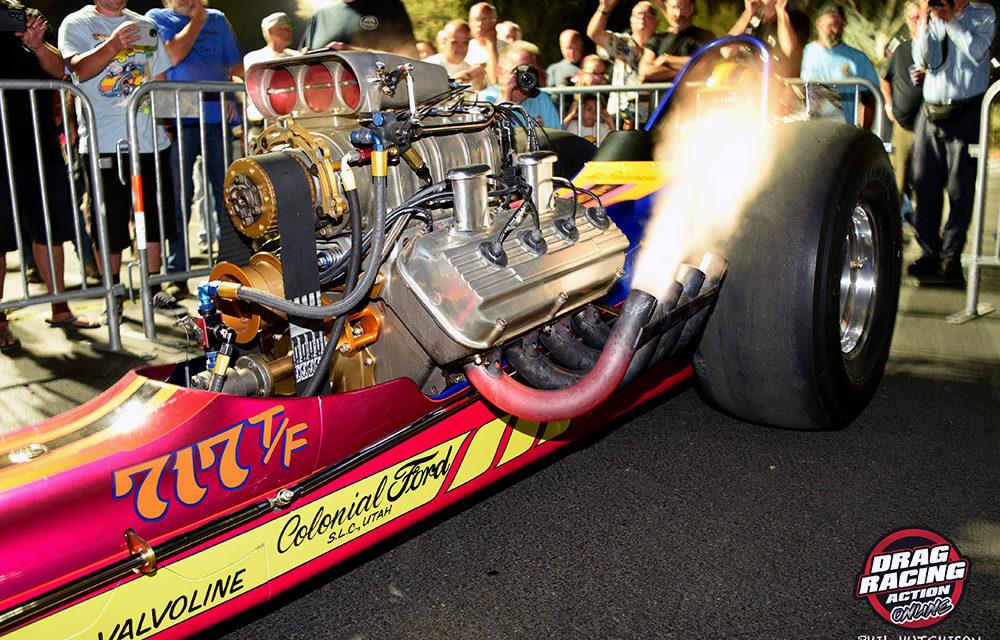 Courtesy NHRA Museum  Images Phil Hutchison
After a day of qualifying at the 30th Annual NHRA Hot Rod Reunion, the action shifted to the Doubletree Hotel in downtown Bakersfield for the 2022 Honoree Reception.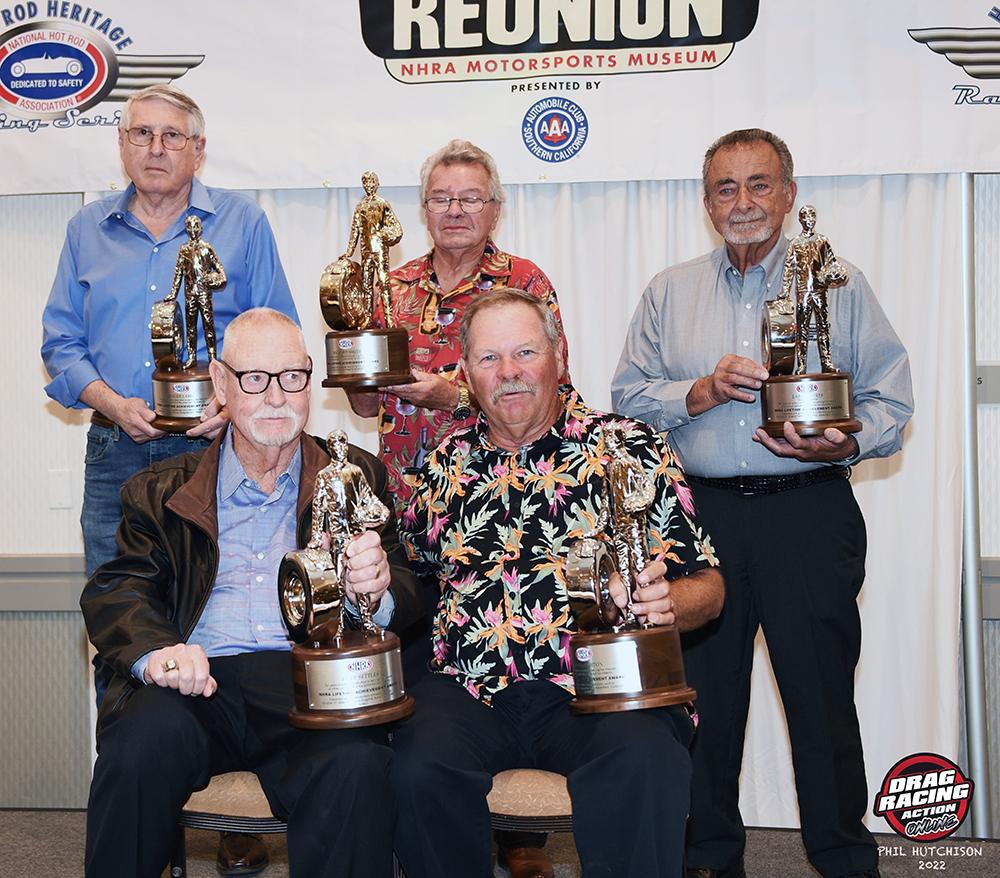 Hot Rod reunion Grand Marshal: Larry Tores was a long-time successful racer in Super Stock and Comp Eliminator and was the Buick racing guru in the late '70s and early '80s. Finding a need in his own cars for dependable equipment, he came up with shaft mounted rocker arms which he has manufactured at his T & D Machine Products since founding the business in 1975 in his home garage. T & D rockers are used in all forms of competition from drag racing to NASCAR.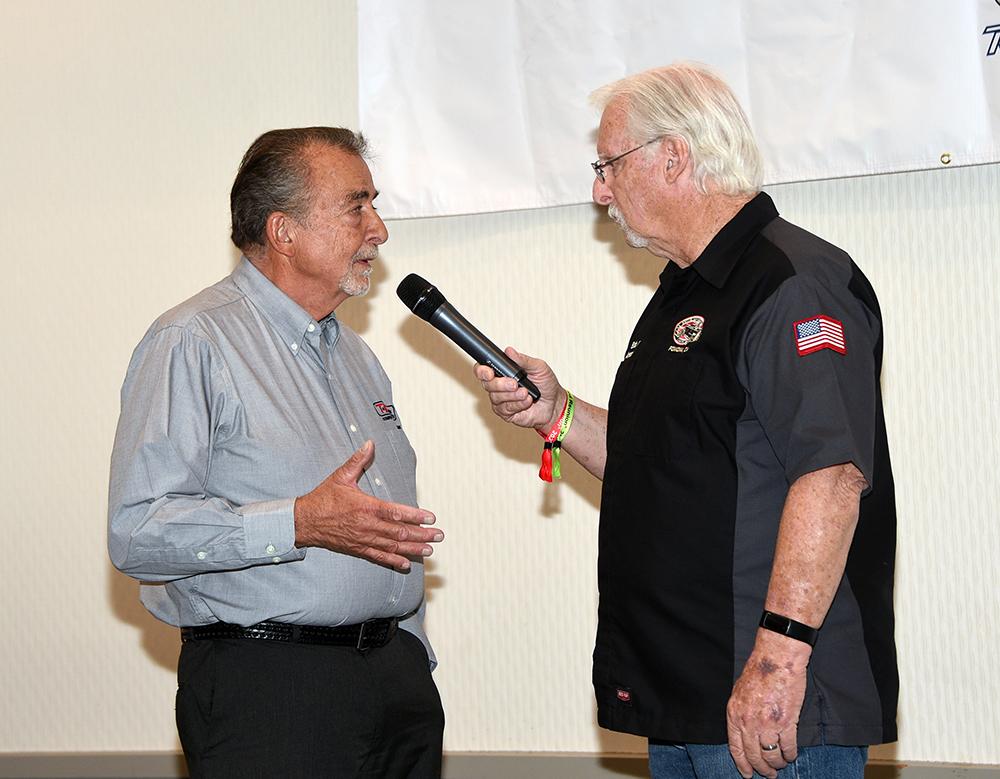 Since 1971 Roger Lamb of Lamb Components has been manufacturing top quality front suspension components and brake systems. It was Lamb who revolutionized Pro Stock racing when he installed the first Mac Pherson strut front suspension in the 1974 Grumpy's Toy XI. He created carbon disc brakes in 1987 and his equipment is today used extensively in Pro Stock, Pro Mod and Comp racing.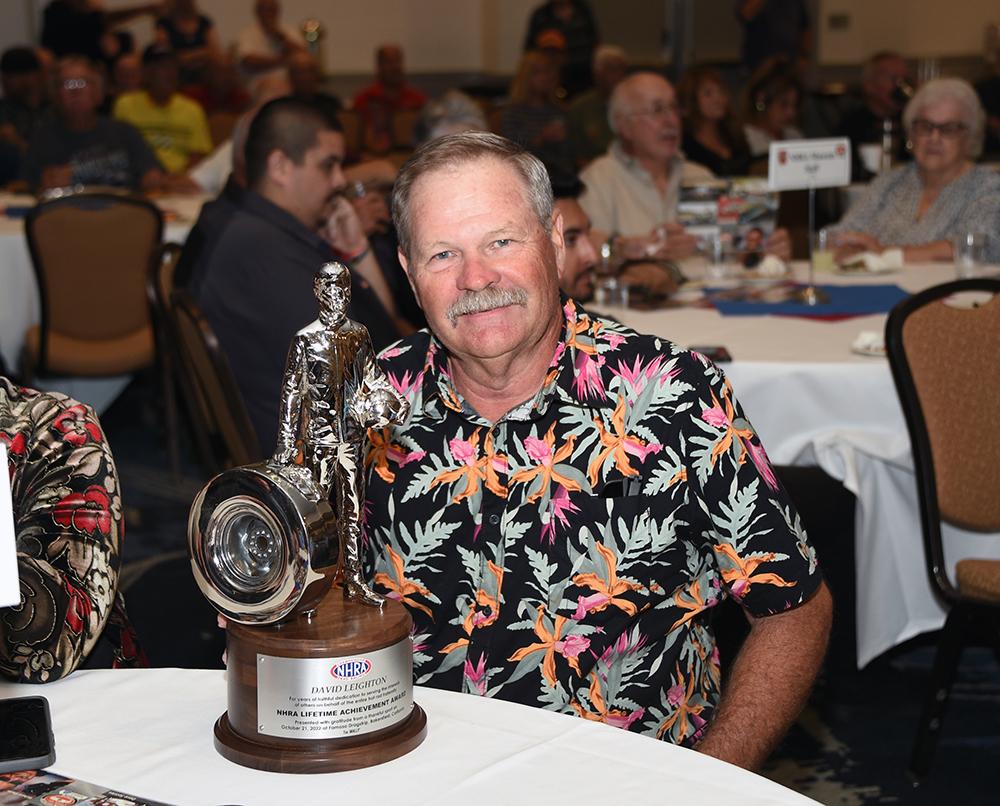 David Leighton was practically born into drag racing. His father "Gus" Leighton raced the Dragmaster B that finished in the Hot Rod magazine drag racing Top Ten in 1960. His mother Roberta was the first woman licensed by NHRA and won the J/Stock class at the 1962 U.S. Nationals. David started helping his mom with her race car at the age of seven. His aunt Phyllis was married to long-time NHRA official Bernie Partridge. A long-time member of the Dust Devils of Ridgecrest, David helped run the longest continuously operating drags strip at Inyokern until it was closed in 2005. He has raced successfully in the Comp, Super Comp and ET categories as well as serving as an NHRA track official.
Growing up in rural Fresno, Rance McDaniel was able to get a driver's license at age twelve. He immediately set to work on his flathead-powered '52 Ford. A few years later, Rance had moved up to a '55 Chevy which he raced at the inaugural March Meet in 1959. Following a two-year tour in the Army, he raced Junior Fuel dragster. By the mid-'70s Mc Daniel had jumped to Top Fuel with great success. He campaigned from the '70s to the '90s the old school way, for the fun of it. His long line of Valley Fever Chevy-powered dragsters were the darlings of Chevy fans across the country. He became the 7th member of the 300 MPH Club, and won the Division 7 Top Fuel Championship in 1977. In 1993 driving his own car, he took the Top Fuel title at the NHRA World Finals at Pomona defeating the late Jimmy Nix. In 1996 and '97 he drove for Colorado's Peek Brother and, after a brief retirement started driving Vintage Top Fuel winning the Goodguys Championship in 2000.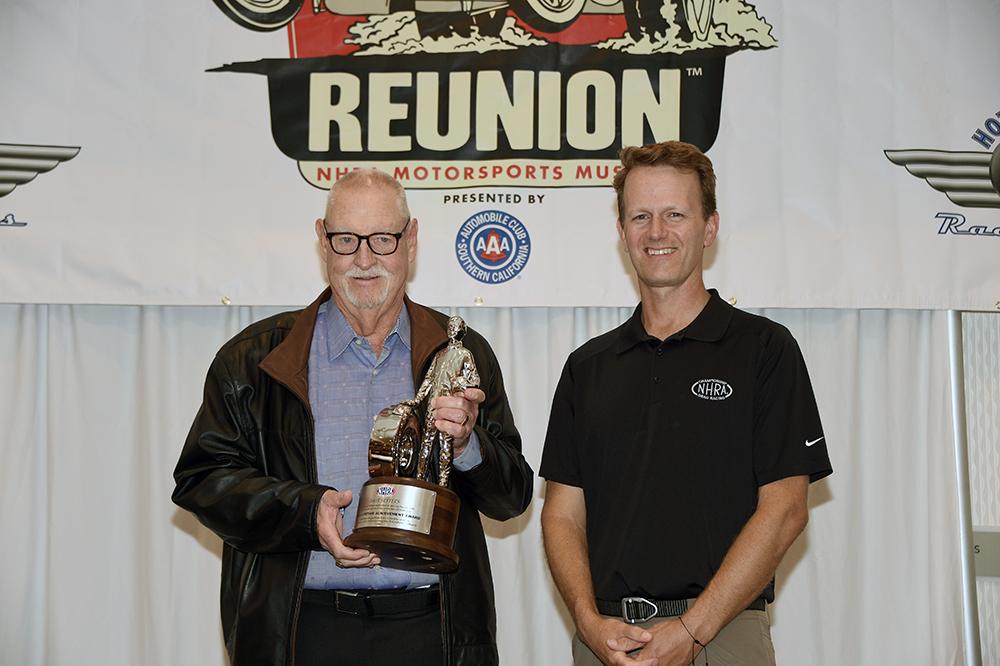 One of those legendary Texas fuel racers, Dave Settles has been a driver in both Top Fuel and Funny Car as well as a crew chief and engineer for some of the biggest names in the sport. Driving for Candies and Hughes he won Top Fuel at the '74 Gator Nationals and was runner-up to Don Garlits at the Super Nationals. He finished #2 in points that year behind champion Gary Beck and was the Division 4 Top Fuel champion. He drove for other Texans including the Carroll Brothers and Raymond Beadle. He was later a tuner for Connie Kalitta and Cruz Pedregon and is a member of the Arizona Drag Racing Hall of Fame.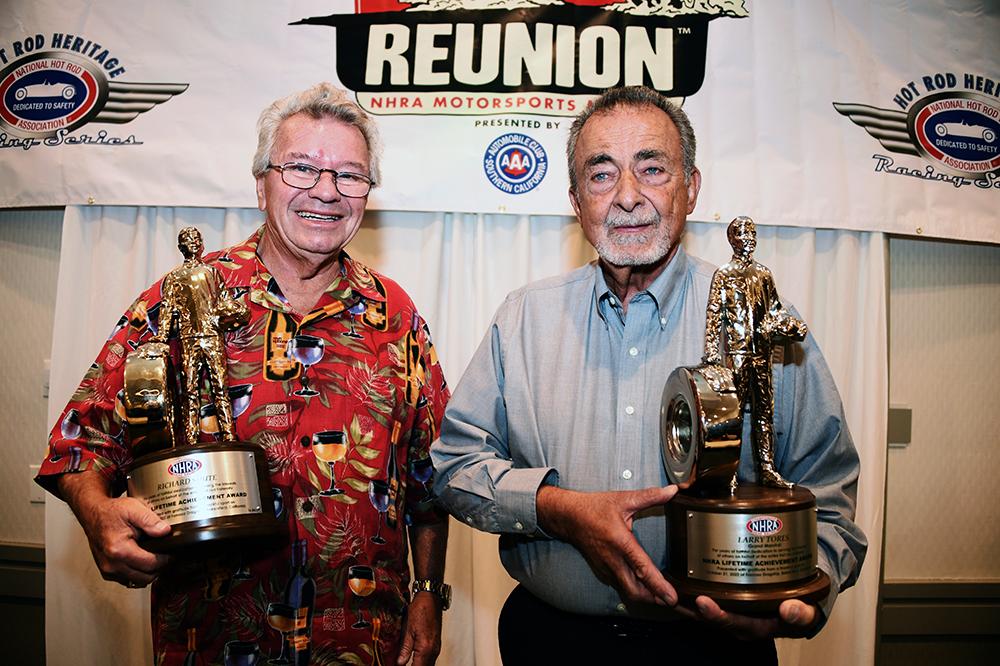 For more than 50 years Rick Shute recorded the history of the fastest accelerating cars on the planet. A long time Southern Californian first shot drag racing with a simple 126 Instamatic and the hook was set. When he retired from shooting himself, he was using a state-of-the-art Nikon and his Auto Imagery studio had amassed a tremendous archive. Throughout the 1970s CJ Hart hired Rick to be the official Orange County International Raceway photographer. Together with Dave Kommel Auto Imagery shot all the National events and their photos appeared in Popular Hot Rodding, Super Stock & Drag Illustrated, Car Craft and Hot Rod. Through Leslie Lovett, National Dragster's first photo editor, and Wally Parks, Rick was able to shoot commercially as long as he served as the backup for the NHRA photo department. To this day National Dragster's images are available to the public through Auto Imagery.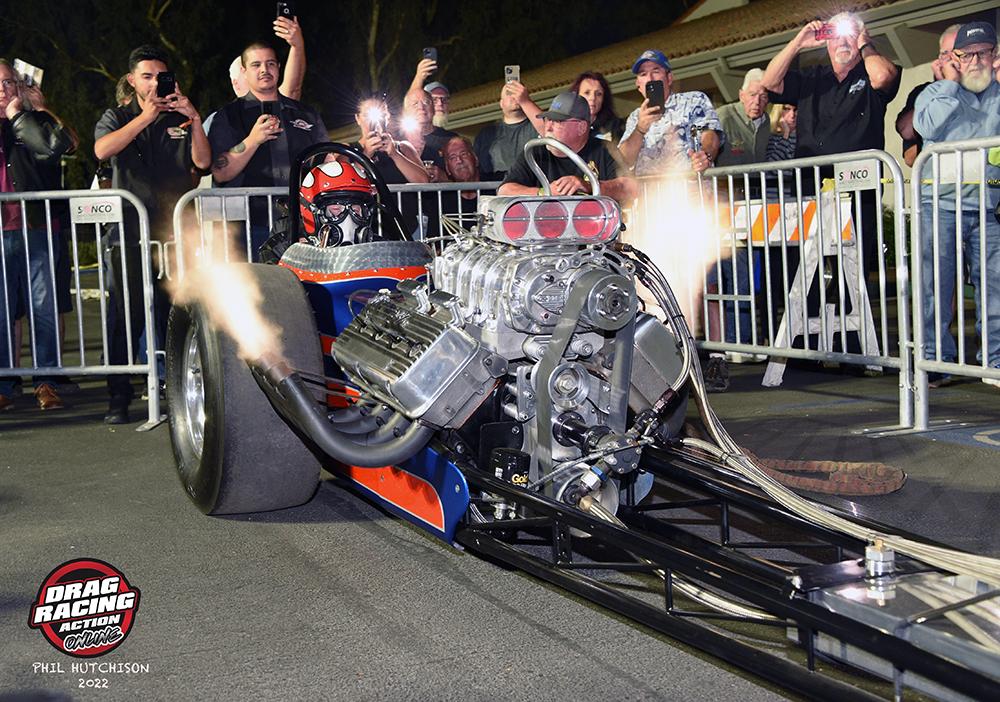 After all the new members were honored,  two nostalgia Top Fuel dragsters were on hand for a "Cackle" to the delight for the  fans outside of the hotel.