Fox and Gill win Atco Lucas Oil Divisional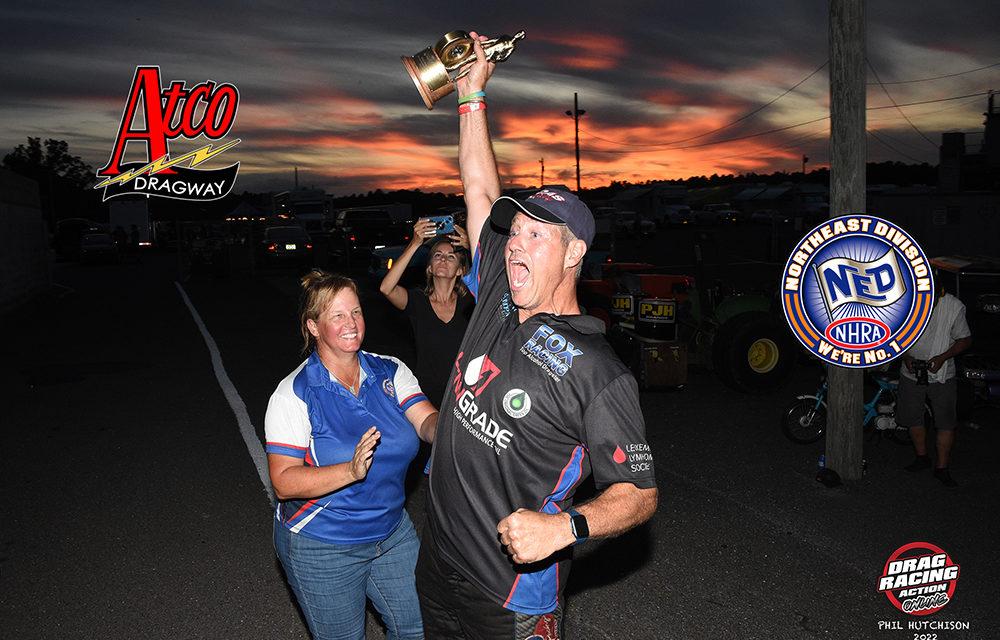 Story: DragRacingActionOnline. Images: Phil Hutchison
In what was a wild and hot day at the NHRA Northeast Division Lucas Oil divisional, the race had a new face in the Top Alcohol Dragster winner's circle. Shamong N.J. racer Tom Fox Jr. drove his blown AnnieMac Home Mortgage dragster to his first ever NHRA win over the blown car of Dan Dietrich from Glen Arm Md.
And what has become the norm in D1 Alcohol Dragster,  injected fuel dragsters make up the majority of the winners in the class but at Atco, the tables were turned. Heat and track conditions in south New Jersey leveled the playing field and after round one there were only blown cars remaining.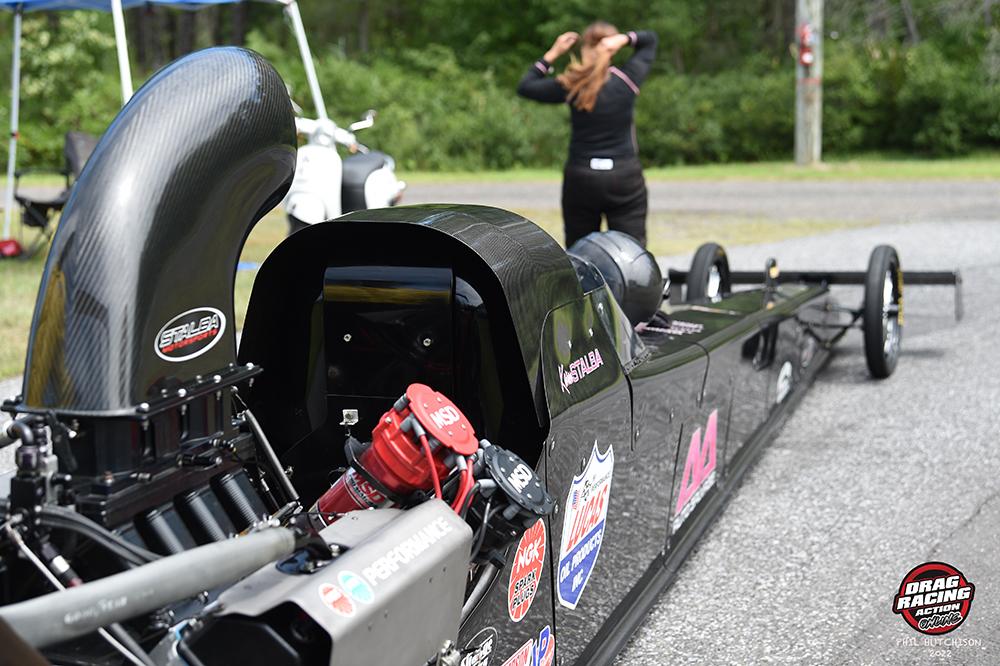 Low Quallifier Karen Stalba bowed out early at her home track
The day's eliminations started with Low Qualifier Karen Stalba blowing the tires off of her A/FD losing to Fox who legged his dragster to Low ET of the event with a 5.359. As Fox tells it, "We struggled in qualifying on Friday and smoked the tires in each of the 3 qualifiers. We ended up last and had to face a very fast number 1 qualifier Karen Stalba in round one! We ran low elapsed time of the meet and earned a bye into the finals!
Fox continued," We just rolled the beams to take the round 2 win. So the final was to be an all supercharged match up with our good friend Dan Dietrich! As it winds up the car spun right off the line and I lifted right away and I saw Dan get into trouble.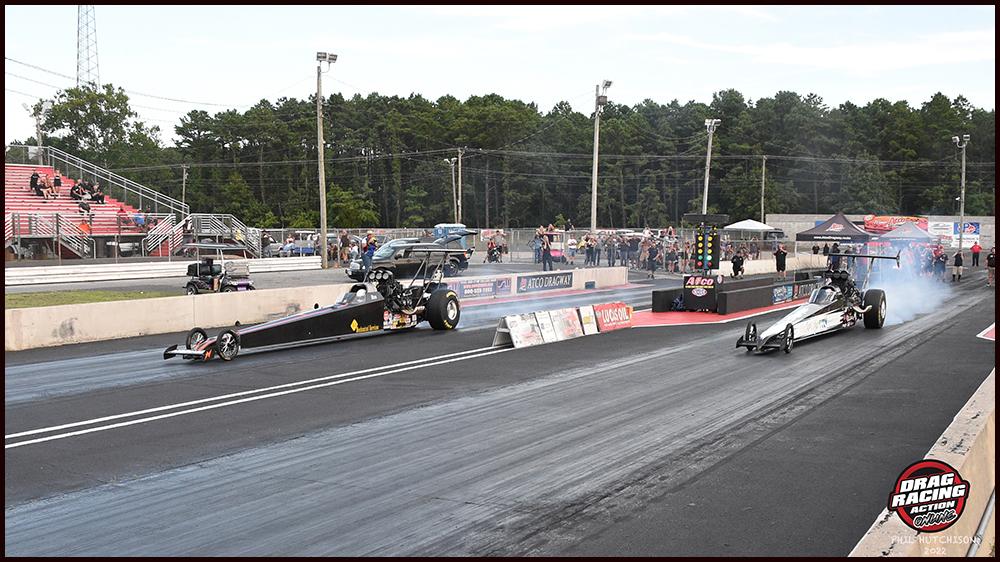 "I pedaled it again and it spun again so I squeezed the throttle and it bit hard and hiked the front wheels and shot past Dan like a lightning bolt! Then I was like I need to hit the shift button and it pulled really hard I hit high gear and took the win light for my first final round and first NHRA EVENT WALLY as a driver."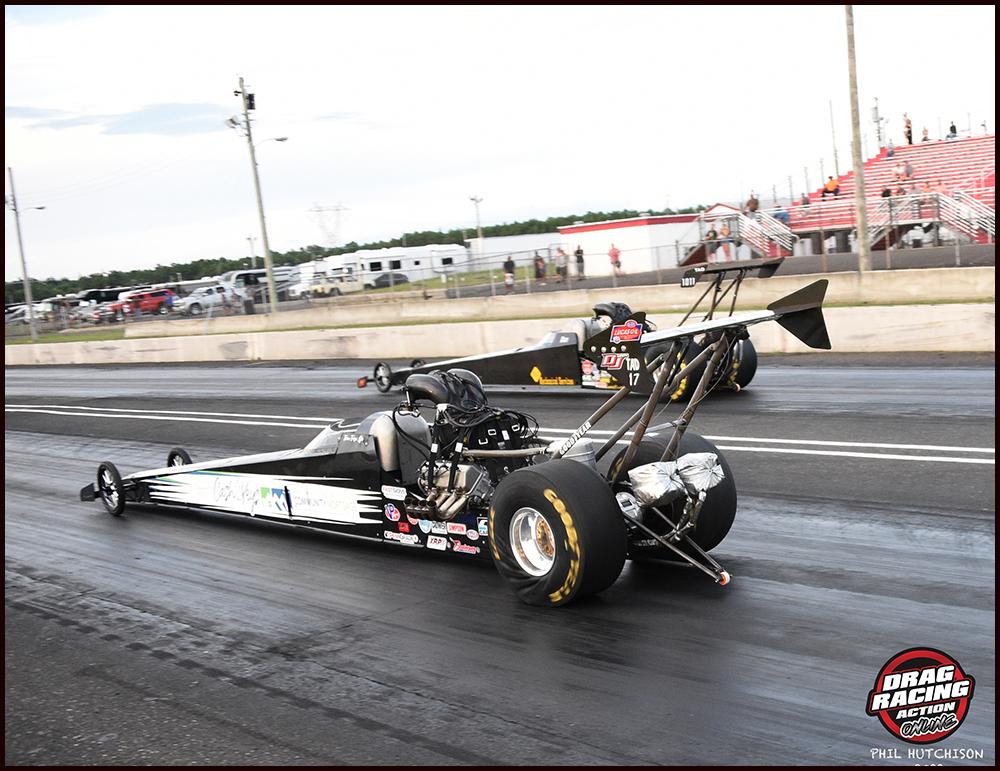 "My dad and I have won both National and regional Wally's with other drivers but this is our first together as a father tuner and me driving!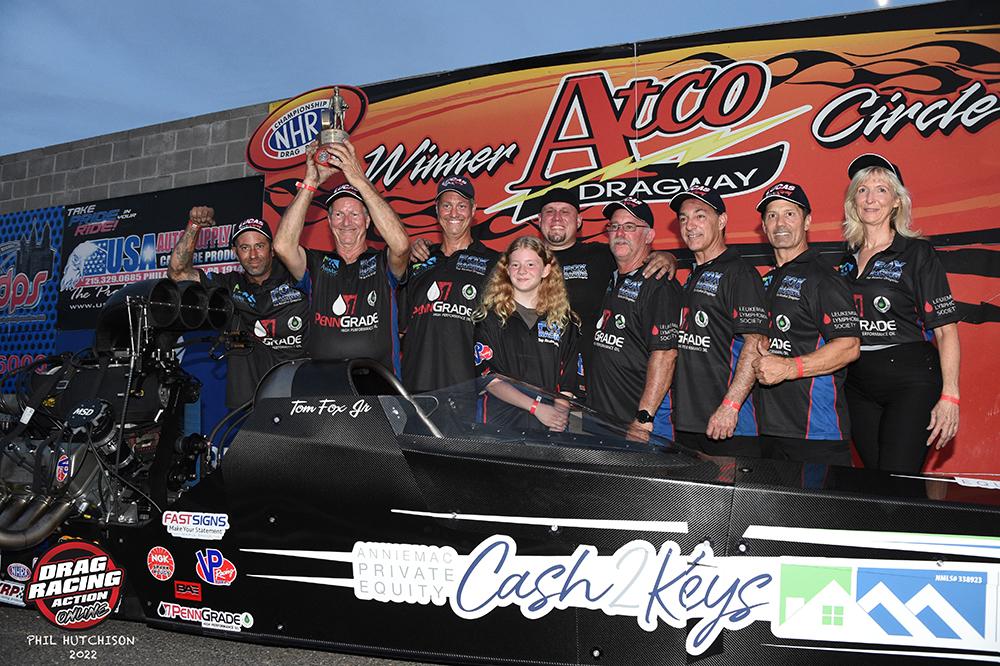 "We could not do this without the support of our families crew and sponsors," Fox added, "AnnieMac stepped up to help us and this was the very first race with the new wrap we made them proud. Richie Crampton front halfed the car for us and Anthony Dicerio made a new carbon fiber body and it worked perfectly. Thank you for your help and making a car the took the abuse of 3 pedal jobs and hooked up for the win."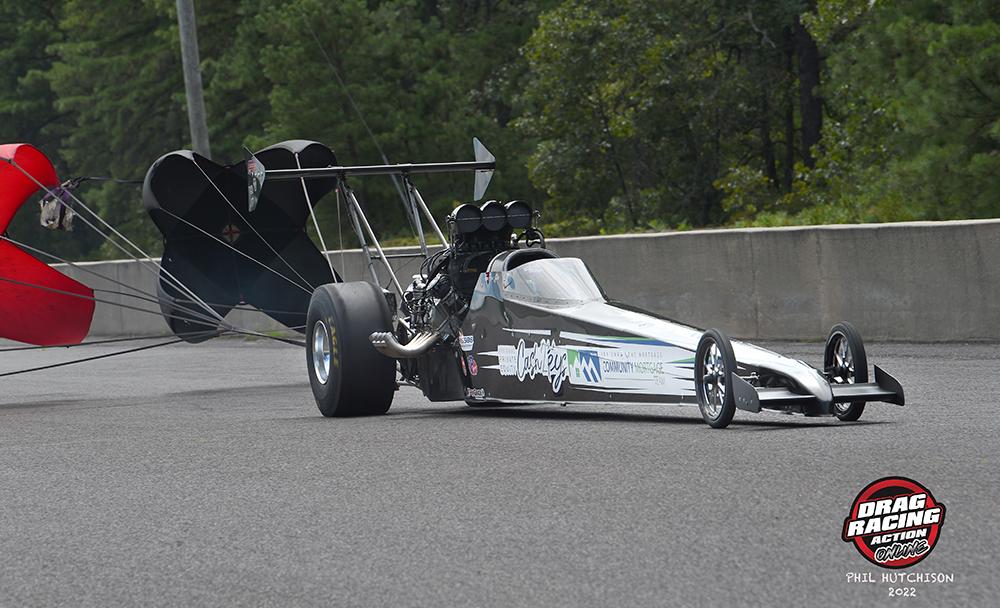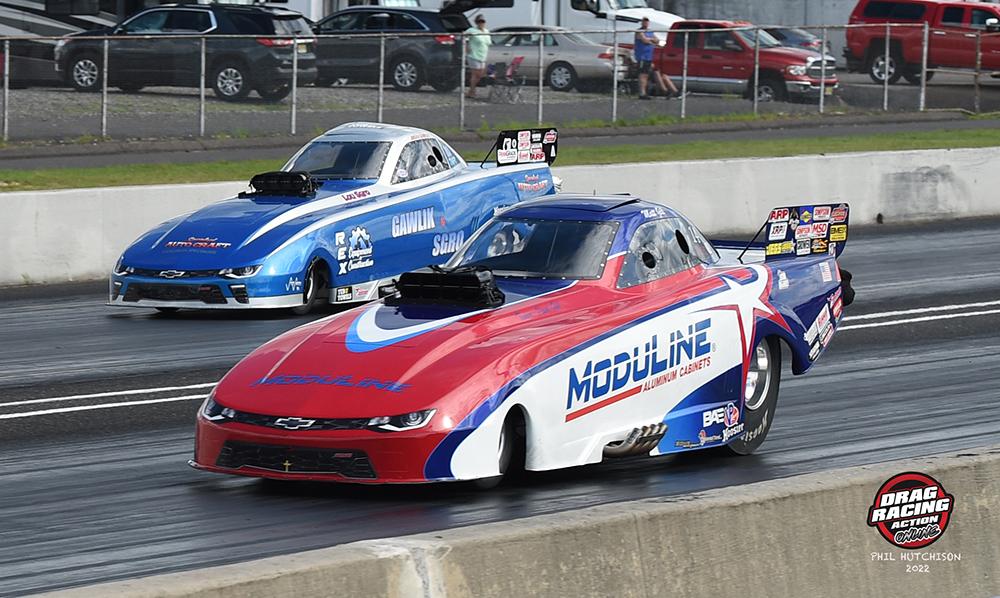 Gill defeated Brian Gawkik's Camaro in R2
Alcohol Funny Car  had a full field of eight cars on hand and Matt Gill from West Bridgewater Mass put his Moduline Cabinets'16 Camaro on the pole with a 5.552. Matt took it from there running a string of 5.50's to take the win. In the finals Gill was up against  Jay Blake's Follow a Dream Camaro driven by Phil Burkart from Yorkville N.Y.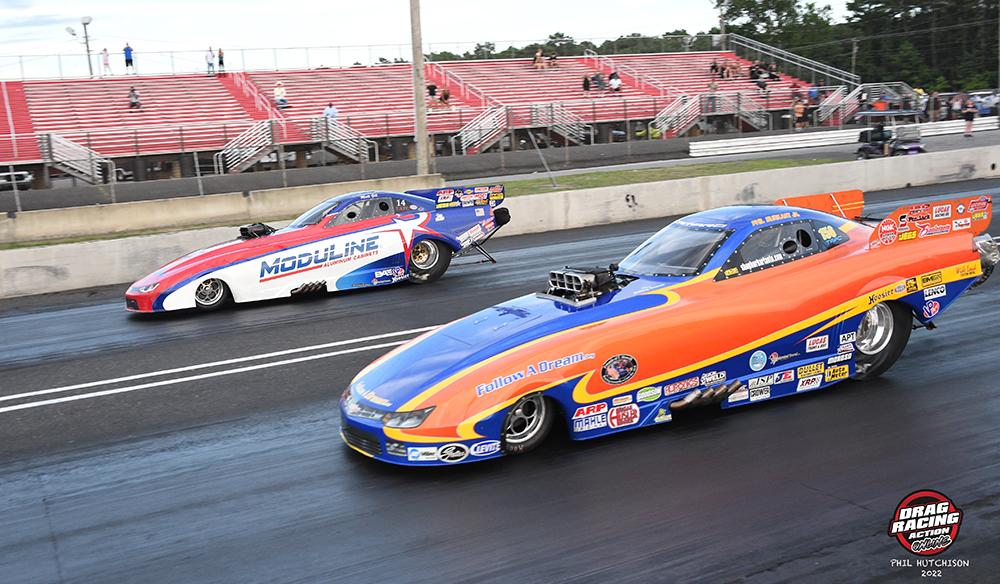 Burkart, like Gill had run a string of mid 5.50's to get to the final, but was not ready for the perfect 0.000 light Gill had up his sleeve. Burkart had a good 0.027 reaction time and ran a tick quicker with a 5.556 to Gill's 5.572 but the race was won back at the starting line.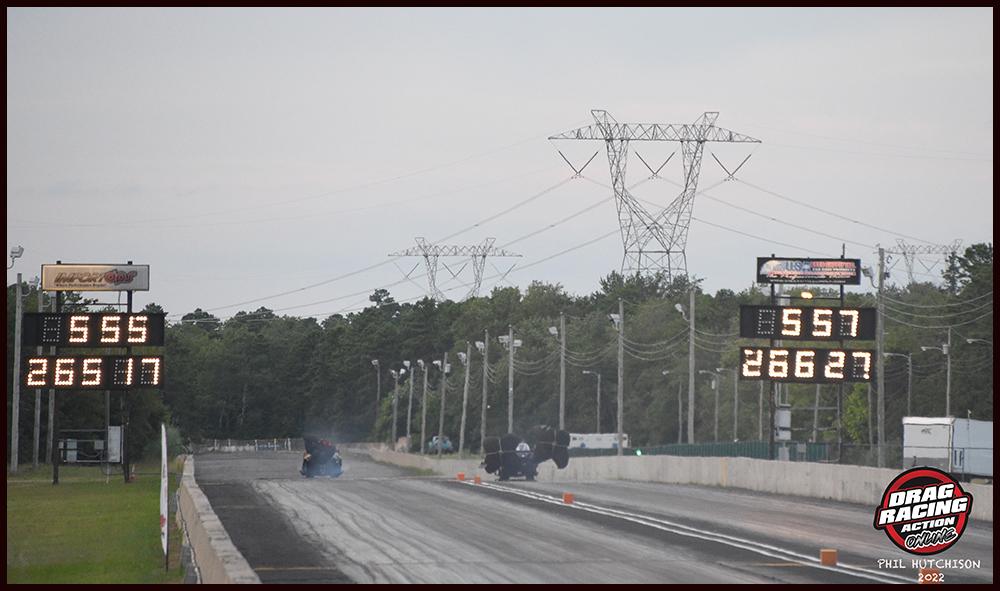 After his win Gill said, "This weekend my crew and I had to work for this one. Fighting electrical issues and the heat we were able to come out on top. We stayed consistent all weekend to take this win.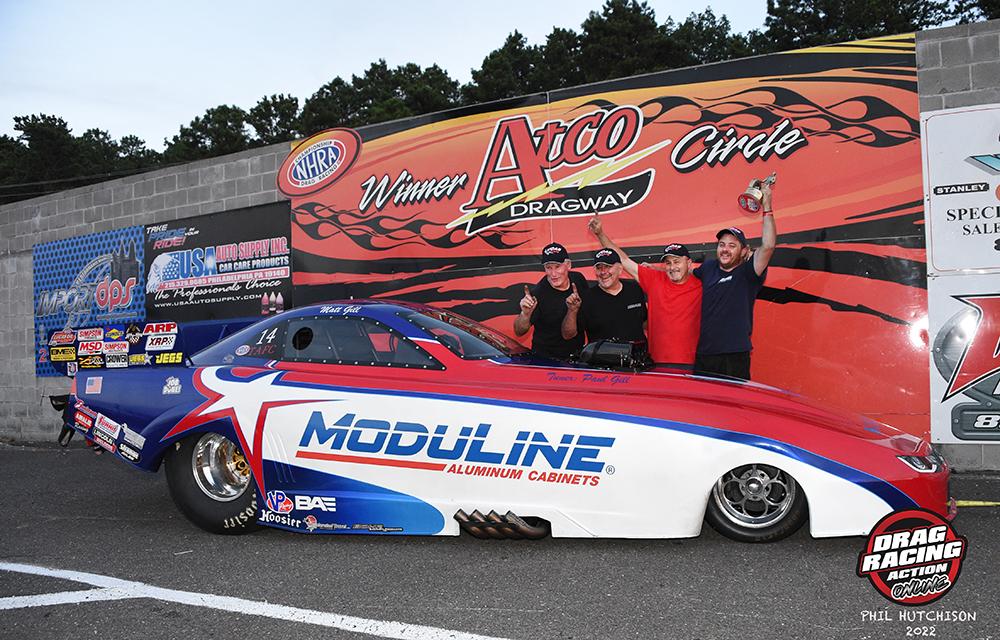 "The one thing that would make this win better would be to have my wife, kids and the full crew here. Our home track is next on the schedule so we are hoping to go back to back. I would like to thank Moduline Cabinets, my wife and kids, my crew and my dad for giving me a bad ass hotrod to drive"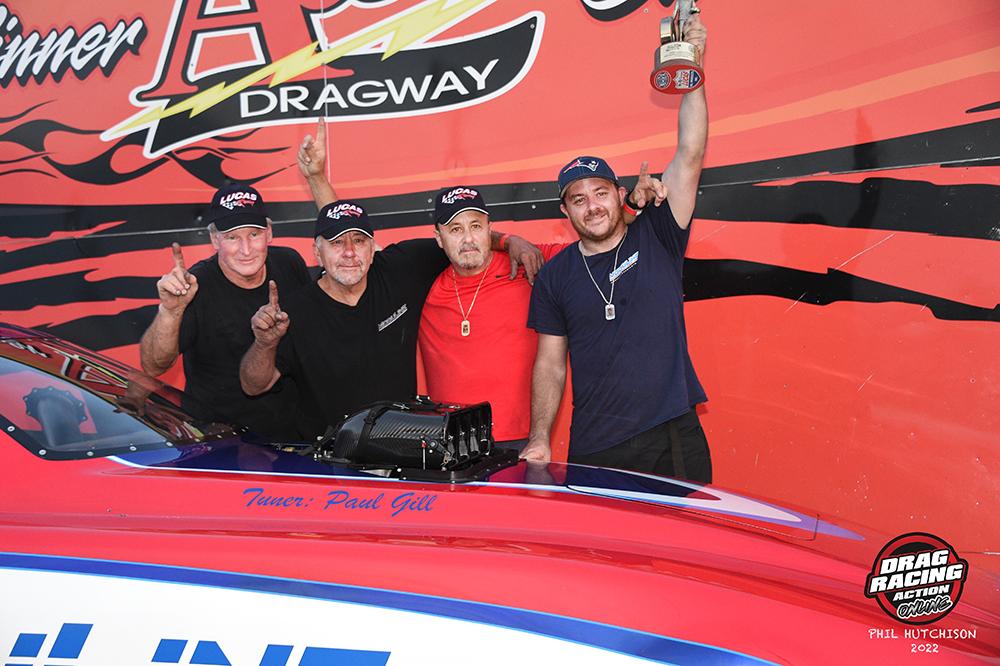 The win at Atco was Gill's 12th career win and his second of the season having won the Baby Gators earlier in the season.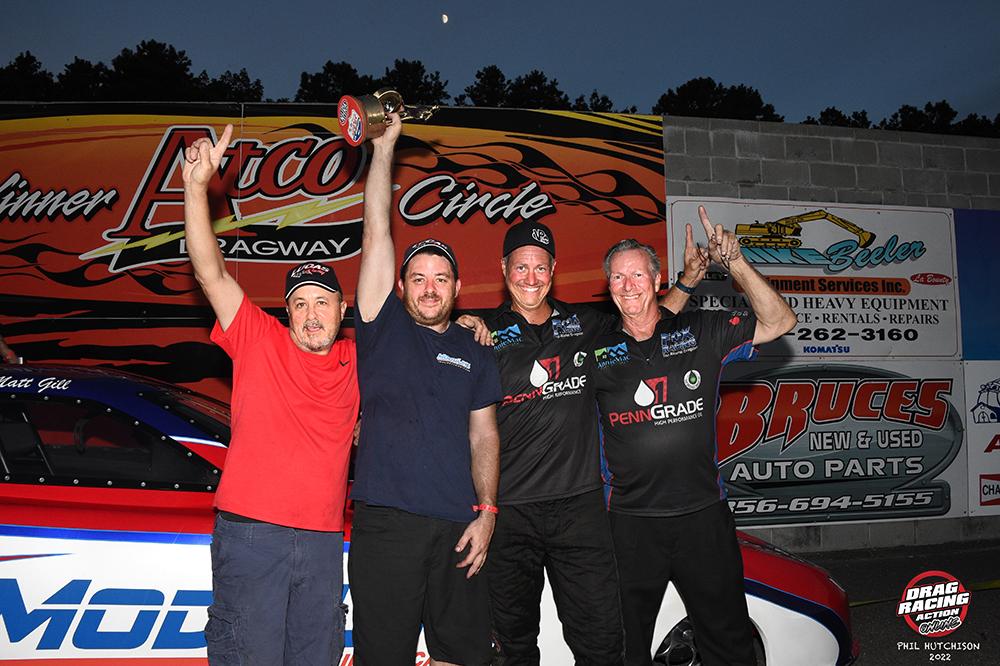 Two Happy father and son teams at Atco  Paul and Matt Gill and the Foxes, Tom Jr and Tom Sr.