"Charmed" Don Meziere Goes Two for Two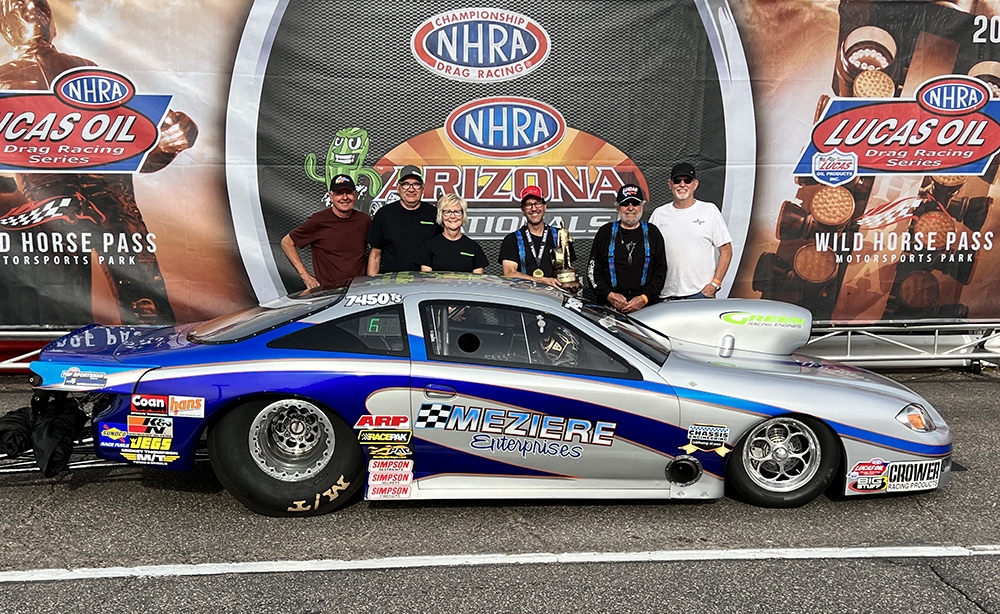 Story: Phil Hutchison  Images: Courtesy Auto Imagery and Don Meziere
After his Top Sportsman win at the season opening NHRA Winternationals in Pomona, Escondido, Calif. racer Don Meziere was looking to add to his good fortune at the NHRA Nationals at Wild Horse Pass Motorsport Park outside of Phoenix Ariz. Meziere, driving his, '09 Cobalt took one of the most auspicious wins in recent history in Pomona, winning an event that Meziere himself said, "I really even don't know how my win light came on!"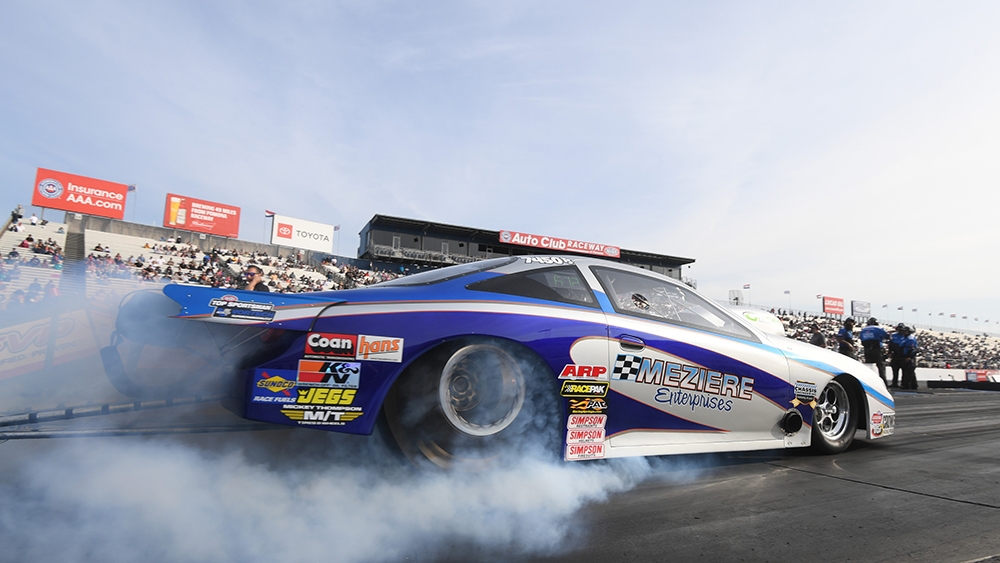 A week later Meziere turned on the win light in the again beating a broken Mike Ferderer in the finals of Top Sportsman presented by Vortech Superchargers.  The K&N Pontiac of Ferderer was leaking some liquid and the NHRA crew gave the Washington state driver the shut off sign. Meziere staged his Cobalt and eased down the track with a high six-second run for his second win in seven days.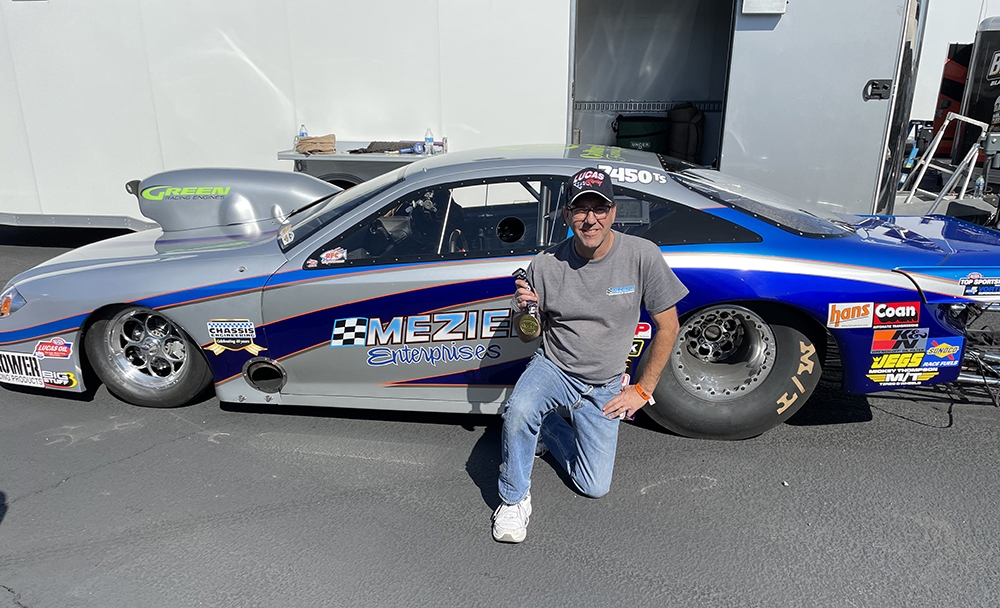 "I can't remember the last time I got a bye run in the final round," Meziere said after the Phoenix win. "It's so rare. I was backing the car up and hadn't done the inside stuff like purging the nitrous system and I see the NHRA starter coming up to my window giving me the one finger bye run signal and I couldn't believe it. I kept looking left to see if Ferderer's car was staging."
Meziere's dream week started in Pomona eight days earlier.
In the second round of the Winternationals against multi time winner Ed Olpin, Meziere's Cobalt shelled the rear end when the pinion gear broke on the one/two shift sending the motor to the rev limiter. Meziere limped to a 7.70 time but it didn't matter as Olpin, unaware of this competition's misfortune, legged it in his '68 Camaro breaking out with a 6.879 on a 6.88 dial putting Meziere in the next round. Not so easy when Meziere had to tow the Chevy back to his pits and swap out the ring and pinion in order to be ready for round three.
In addition to having to win the next round, the win would put Meziere on a bye run to the final on Sunday so it was a win/win situation.
"After we towed the car back to the pits, the third Pro qualifying session was taking place affording us time to do the repairs. I had a ring and pinion in the trailer but it takes time to do the swap. It took us a little more than an hour to do the repairs giving us a little cushion before round three. I beat Mike Lucas in that round and got the bye to the final."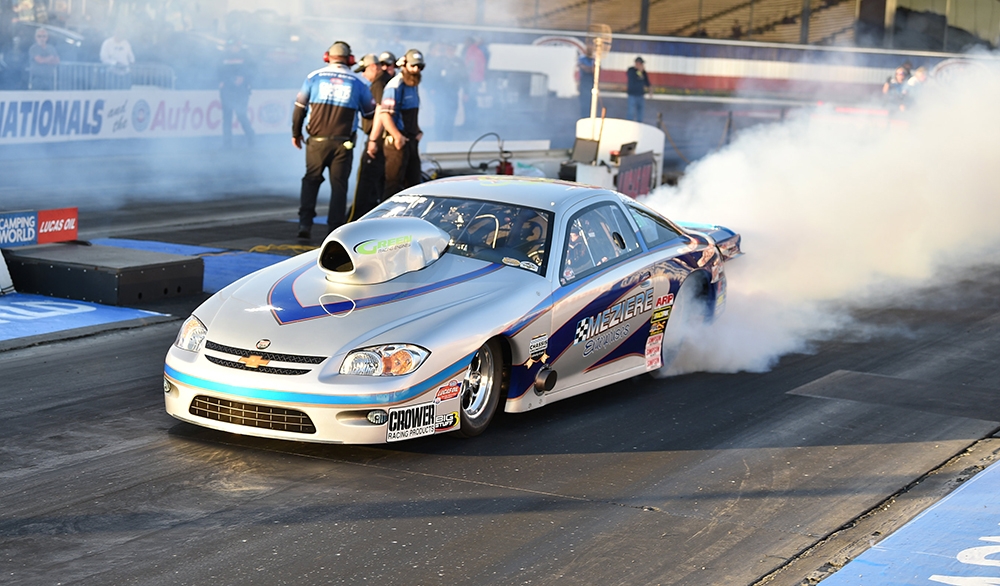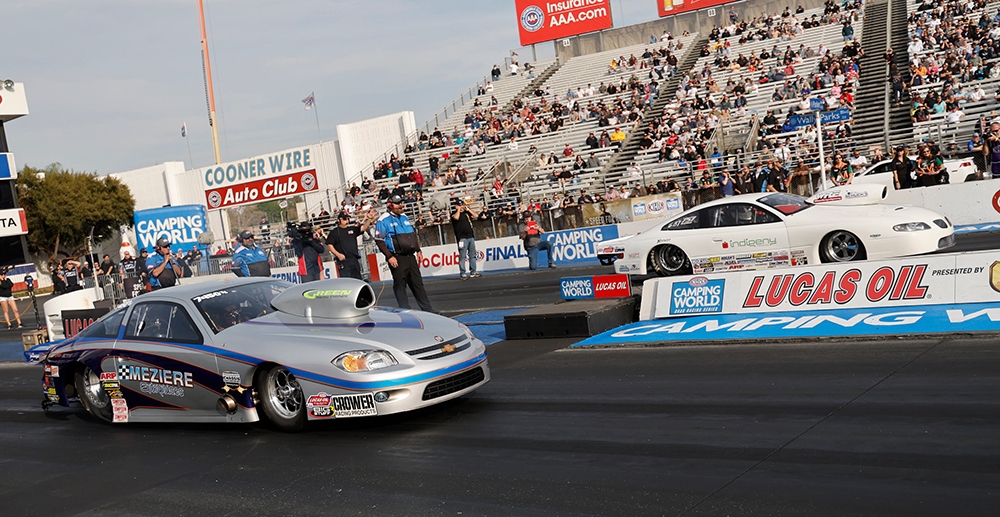 The Pomona final pitted Meziere against long time Competition Eliminator champ Jeff Gillette in his '06 Pontiac GTO. In what was a close race, Meziere edged Gillette running a 6.776 on a 6.72 dial as Gillette ran 6.932 on his 6.87 dial in.
Meziere added, "On the final run, I could see I was catching him and kept it close but not too close for the win. One of Gillette's crewmembers told me his car dropped off because of the weather."
A week after his Pomona win, Meziere found himself back in action at the 37th NHRA Nationals at Wild Horse Pass Motorsports Park.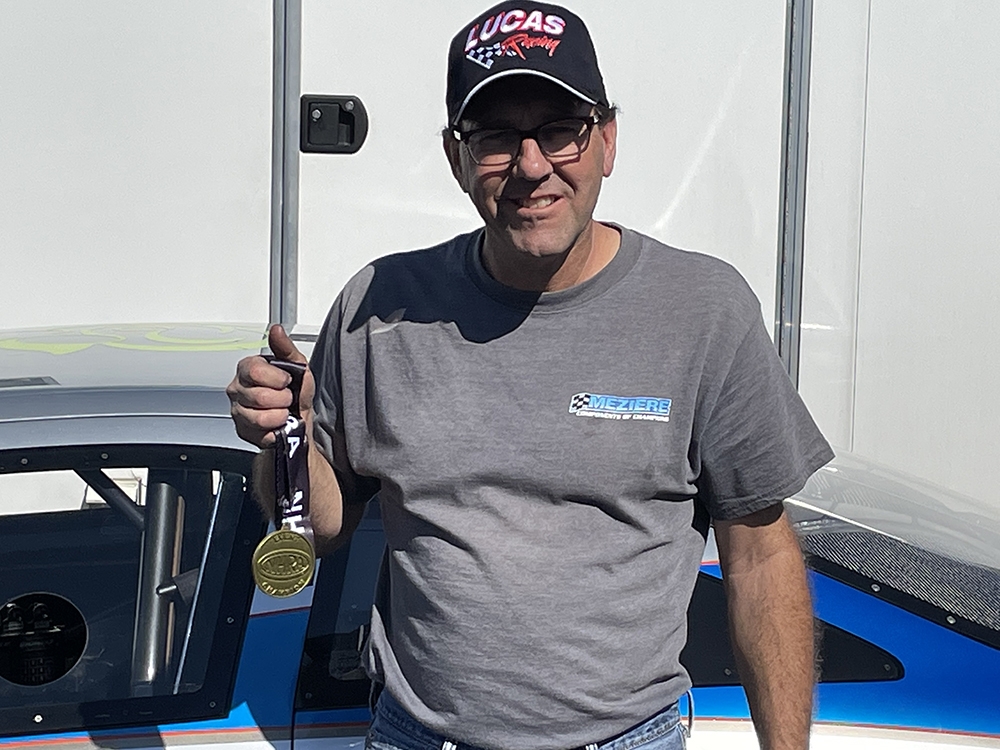 Once again Meziere had luck on his side in round one against Richard Okerman in his '89 Beretta. Okerman, driving the slower car of the two, left 0.001 seconds too soon turning on the red light. Meziere was also too quick on the light triggering a -0.003 RT but with the "First or Worse" rule, Okerman was out, and Meziere was on to round two.
"In round one the difference in our dials was only three tenths and I did not see his red light," said Meziere. "I was already on the gas; all the decisions had been made at this point. If he had not red lit, it would have been me on the trailer."
Meziere won his second round race beating Mera Silvia's '04 Cavalier running a great 6.723 on a 6.72 dial to Silvia's losing 6.92 on his 6.91 dial.
Sunday's round three had Meziere racing the '00 Firebird of Ted Kellner. Both drivers were on their game with Meziere off the line a tick quicker than Kellner and it made all the difference at the stripe as Meziere ran a 6.726 on his 6.72 dial as Kellner was closer to his dial with a 7.094 on a 7.09 dial but Meziere's better RT gave him the win
The semifinal round had Meziere up against the quick Corvette Mike Proctor from nearby Chandler. Proctor dialed his car in to a 6.36 and put down a 6.38, which did not handle the 6.716 (6.70 dial) of Meziere.
Don and his brothers, Dave and Mike, own Meziere Enterprises, started by his father Harold.
The company is known for supplying specialty racing equipment such as electric water pumps, starters, and flex plates. The parts are assembled in the USA and are used by some of the fastest cars in the country. Meziere Enterprises also posts contingency for NHRA Lucas Oil divisionals in addition to sponsoring PDRA events.

"My dad started the company and got us into fabrication, design and also drag racing," said Meziere. "My oldest brother Dave became a mechanical engineer and came back after graduating and started working with my other brother Mike and myself in the shop. We took what was basically a CNC machine shop in 1995 and built the business. All of our equipment is manufactured locally too."
When asked how he got into Top Sportsman after winning in the Super Comp class, Meziere replied, "I've always been a fan of fast doorslammers like Pro Stock. I relate more to door cars than the nitro classes. It's a fast way to go bracket racing and I love the challenge."
The winning Cobalt was originally a Jerry Bickel car campaigned by Ted Carli from Temecula Calif. Meziere adds, "Ted drove the car four or five years and had success at the divisional level before NHRA started running the class at the national events. When it came to building an engine for the car I looked around to see what was the best combination for a fast bracket car. Blown, turbocharged, but nitrous made the most sense. You take your own atmosphere with you when you race.
"Monte Green, who was a friend of a friend, knew a lot about running a nitrous powered motor and he agreed to help us. He has been with me ever since. He and his wife Tanya have become great friends. Monte also builds the two-speed Powerglide transmission for the car.
"In what is a departure from other racers using nitrous, we run a EFI system on the Cobalt. Big Stuff supplies the controller box system. We have two throttle bodies where the carbs would be."
Meziere will be back in Phoenix next weekend along with crew chief Steve Barber competing in the Lucas Oil Drag Racing Series divisional, looking to make it three in a row.