First Ink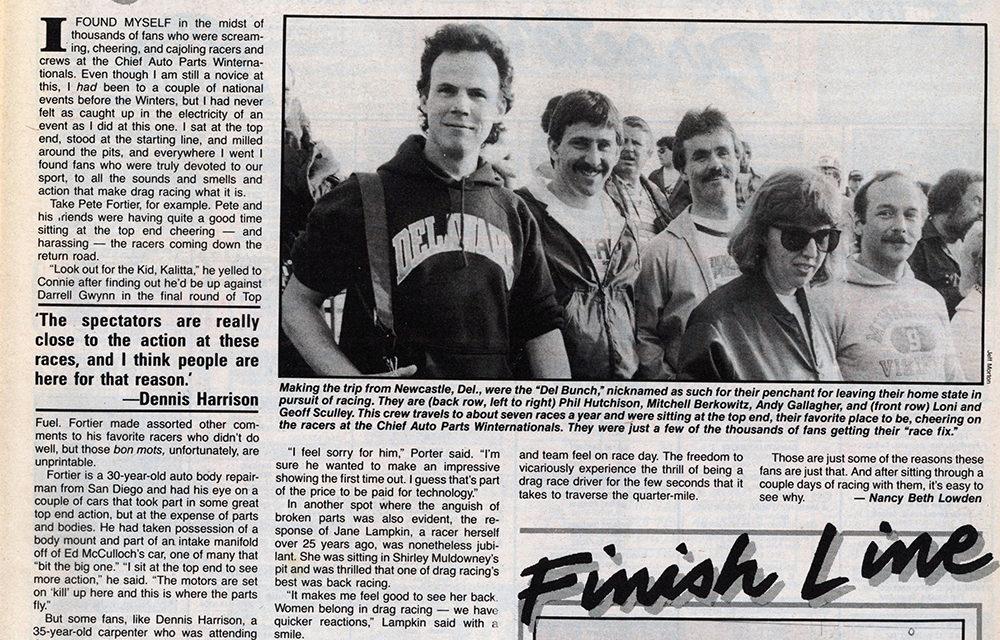 This week's guest blogger is known more for being on the other side of the camera taking pictures at the various events primarily in the Northeast for the past few decades. He was also an integral part of getting Drag Racing Action Online started with John. We are happy to present Phil Hutchison as our blogger.
I don't like seeing my name in print, said no one.  Ever.
Everyone likes to see his or her name in print, especially drag racers. Having your name in a track paper or even better, National Dragster or one of the drag racing magazines, means you have arrived.
In high school I was in a "Garage" rock and roll band and for our age and talent did quite well. We won some local Battle of the Bands and often had blurbs in the local paper advertising our gigs. My mom saved every one of these and made a scrapbook that I did not know about until well after my "Musical" career come to an end.
After high school, I raced for two years at Atco and Cecil County in my street driven 340 Duster. I won my class at Cecil twice and both times my name was on the back page listing last week's winners. That was a big deal to me. After I sold the car and my racing career was brought to a close, I bought a used 35mm camera and after a while, started shooting from the stands at NHRA and local events. My dream was to shoot the "Big" show from the starting line but getting credentials was a pipe dream. So, I continued being a "Professional" spectator travelling to as many races as my vacation and budget allowed.
This included attending the 1986 NHRA Winternationals in Pomona. I had travelled to the event with four friends from my home state of Delaware. We called ourselves the Del Boys (Copying the Bell Boys BB/FC name) and were sitting on the top end on the pit side when a woman in a ND shirt approached us.
Nancy Beth Lowden was writing an Out the Back Door feature for the National Dragster Winternationals results issue. The weekly Out the Back Door column was always featured on the back page of ND and was one of my favorites. During our conversation, Nancy discovered we had something in common as she grew up on the East Coast and had vacations at the Delaware and New Jersey beaches when she was young just as my family had done. Nancy talked to all of us but since I was the most vocal, used some of my quotes and an image of all of us for the story.
Nancy could not guarantee the story would ever see the light of day as editor Phil Burgess would make the final decision on what story would make the Sportsman results issue.
After about four weeks, my Dragster showed up in my mail box and I immediately thumbed the back page and I just about took a crap in my pants. ND used our group photo along with two paragraphs of my quotes. I had arrived. I was 33 years old then and I still remember the goose bumps I had that day. My only gripe is since my friend's wife was in the photo, Nancy changed our names to the "Del Bunch" but that's a small consolation to make to be immortalized in National Dragster!
Years would pass until my name once again graced the pages of National Dragster. I won the B&W portion of the annual ND photo contest in the mid 90's. The win included a starting line photo credential. From there my career morphed to shooting IHRA events to NHRA Division One races and my name was featured as photographer which was where I wanted to go. During my tenure shooting the NED events one of the highlights was the photos from the Summit Bracket finals at Cecil County were featured in the first all color National Dragster. Up until that time, all the divisional and opens were in black and white, but going to color really made the photos pop.
Once I started shooting NHRA D1 with Dave Bishop, Bob Lang the division director at the time, asked me if I would be interested in writing for the then D1 Newsletter. Division One was unique as they had a newsletter mailed to every racer in the division that had a current NHRA license. I had been a tech writer at DuPont and was good with "Just the Facts" writing so a recap of the events wasn't that difficult. Again my name would be included in all the stories along with my photos.
Unfortunately, funds dried up for the NED paper, but Dave Bishop and I teamed up to create our own monthly, East Coast Drag News. We wanted to fill the void that National Dragster was missing in coverage of the Sportsman and bracket racers.
East Coast Drag News was published for four years until, again, funds dried up. Enter John DiBartolomeo and Drag Racing Action and Drag Racing Edge, which gave me another outlet in addition to shooting D1 for NHRA. Seeing my name associated with my photographs was the high point of my photographer career. The money was nice, but seeing my name on the masthead of the magazines and the website was the accumulation of my long journey.
Once, while traveling on business in California,, some of my workmates and I were in a big box electronics store and at the checkout counter there was a magazine rack. I spotted a copy of Drag Racing Edge and showed everyone my name. One of the folks said, "Damn Phil, you are famous!"
To borrow from Meghan Trainor, It's all about the ink.  If you would like to tell me about your first time in print, drop me a note at Hutch20@Comcast.net.