The Big Trade Go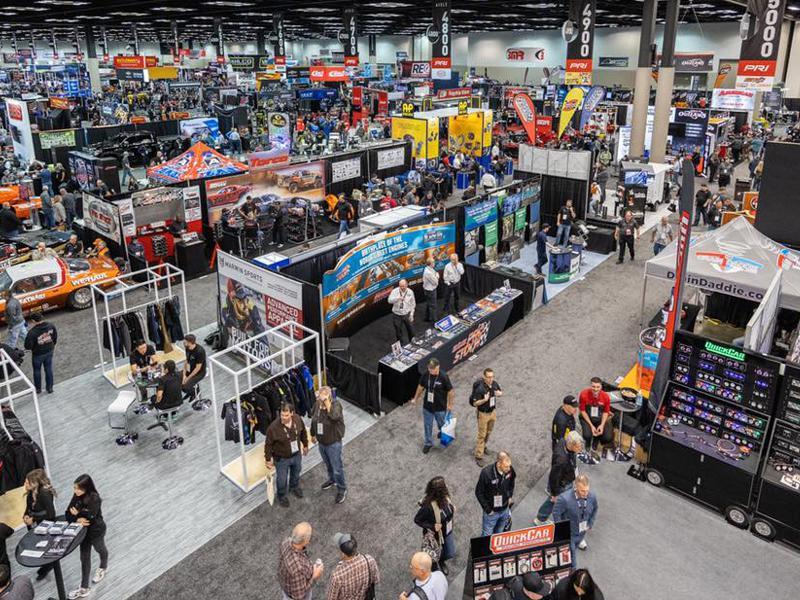 This week will be an exciting one as we set up our booth at the Indiana Convention Center and Lucas Oil Stadium and gear up for the annual Performance Racing Industry (PRI) Show. While John was disappointed when it was brought back to Indianapolis from a sunny and typically warm Orlando in December, he was a faithful attendee and exhibitor at the show. Each year the manufacturers of aftermarket racing components, shop machines, haulers, motor coaches and many more showcase their latest and greatest products. Need a new gage? See Autometer in booth 201. A CNC machine? Haas Automation in booth 5601. Racing tape? ISC Racers Tape in booth 1413. An engine stand? Come see me in booth 939 for DRC Race Products.
This is where the manufacturers who service our industry with come to meet new people and greet old friends. Every year is a new start to the upcoming season where you find out who going where and what the trick of the year is going to be. The various racing associations and leagues will have print copies of their calendar of race events for the following season as well as the typical trade show swag of free pens, bags and other marketing media.
While all this may seem great, it's not all fun and games. Trade shows are a good amount of work for the exhibitors. Although the show may not open their doors until Thursday, there are weeks of prep for even the smallest of booths. Much of this work is done behind the scenes by marketing people who design the booth layout but also the engineering team to design the new products and sales and product team to help bring it to market. The amount of manpower behind the big brands you see is really astounding. Similar to the crew guys on a pro team, the people who do this heavy lifting do not get enough of the credit for making this show happen every year.
In addition to the trade show, there is also various educational seminars throughout the week to learn about everything from choosing the right turbocharger to discussing broadcasting in motorsports. These various events are held simultaneously in the meeting rooms during the trade show hours. While it's impossible to attend them all, they offer an educational reprieve from being on your feet.
So, if you have never been to a PRI Show, I would highly recommend it. The who's who of our sport are always in attendance, from the NASCAR guys and NHRA pros down on through the local bracket racing and kart guys. Even if you don't plan on making any big purchases, you get to see what's out there and start thinking about what's next for your racing operation. I promise you will not regret a minute of it. From the learning experiences, to the questions you are able to ask directly to the manufacturers of the products you use during the season.
Look forward to seeing you there, so don't forget to stop by and say hello- Booth 939. -Dottie D.