Tatum, Hagan, Glenn, Stoffer Take Top Titles at Gators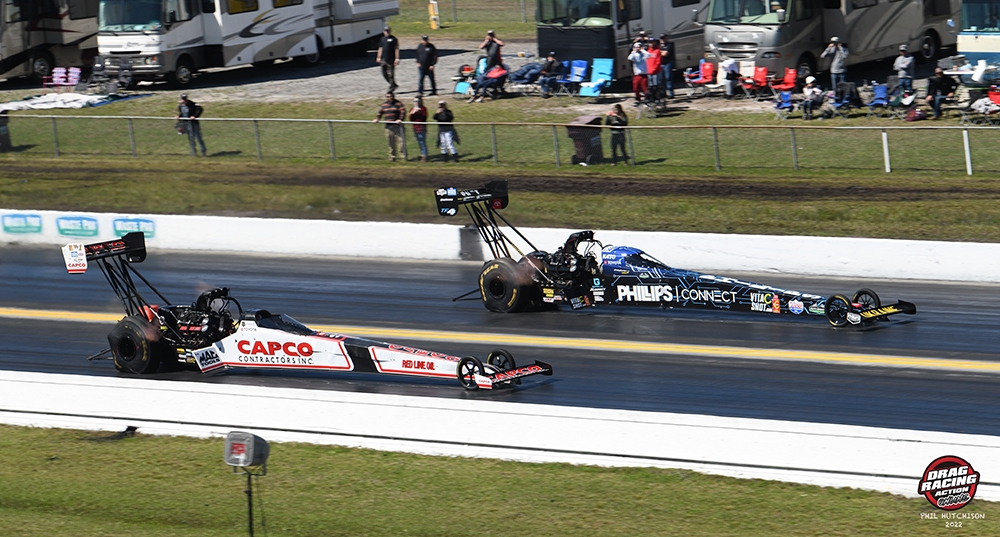 Courtesy NHRA  Images Phil Hutchison
Tripp Tatum, Matt Hagan, Dallas Glenn, and Karen Stoffer collected victories on a record-setting final eliminations day at the Amalie Motor Oil NHRA Gatornationals at Gainesville Raceway, the third event of the 2022 NHRA Camping World Drag Racing Series season.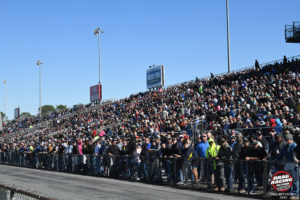 Florida fans who packed the venerable facility Sunday saw a battle between two first-time Top Fuel finalists, a first win for new team owner Tony Stewart, and national record runs in Pro Stock and Pro Stock Motorcyclel.
It only took Hagan three races to bring a Wally home to NASCAR legend Stewart and it was clear he was homing in on it after semifinal and runner-up finishes at the first two events and a No.1 qualifying effort in Phoenix. Hagan and the Dodge Power Brokers team collected his 40th career win with a 3.91 after Blake Alexander smoked the tires in the final. It was also Hagan's first Gatornationals win and his first score anywhere since last year's event in St. Louis.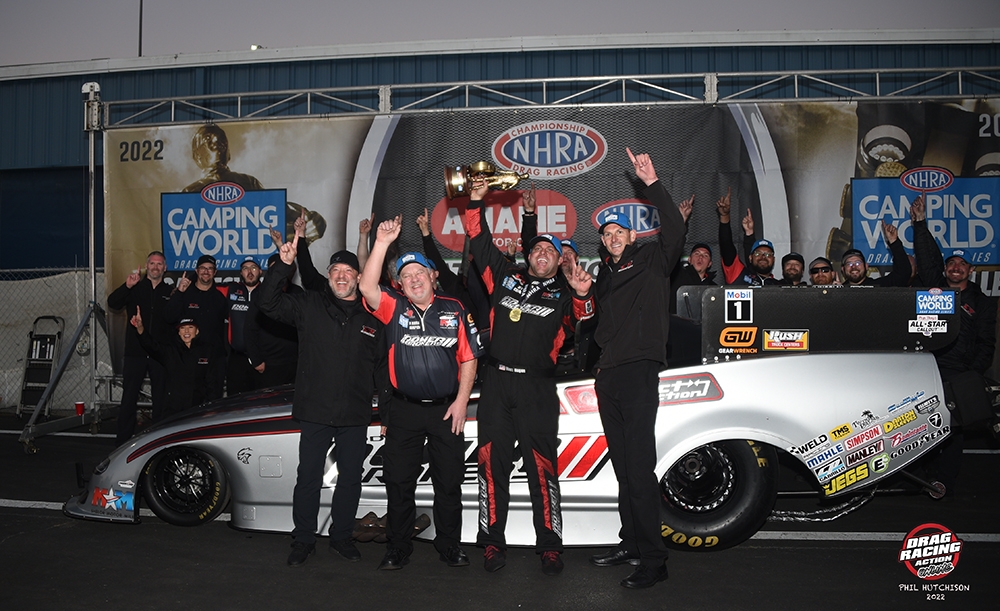 "It's a big day to get the first win for Tony Stewart Racing," said Hagan. "What he and Leah [Pruett] have done over the winter to put this team together and keep this thing going and to have Dodge Power Brokers and Direct Connection come over and be a part of it is huge. It shows that they like our team, they like what we're doing, like the wins that are coming, and get the return that we're trying to give them, that was big in itself. For Tony to come over here and be a part of NHRA is huge. He's married to Leah, but, you know, he ain't married me, and you can tell he wants to be here and that says a lot for our sport.
"It just was a big weekend for me personally because I've been wanting to win this race and check it off over my career box, and I think this allows me to accomplish everything I've ever set out to do in NHRA."
Stewart, who was also a winner with NASCAR driver Chase Briscoe this weekend in Phoenix, is the fifth NASCAR team owner to also get an NHRA event win, joining drag racing legends Kenny Bernstein and Raymond Beadle, Jack Rousch, and Joe Gibbs
Hagan's path to the final was perilous in the first two frames as he had to outpedal Florida favorite Dave Richards in round one, escaping to the finish line first with a 5.26, then wobbled his way to a 4.02 in round two after Terry Haddock was shut off on the starting line with a fluid leak. Venables righted the ship in the semifinals with a 3.89 to end former Pro Mod racer Chad Green's bid for a first Funny Car final-round appearance.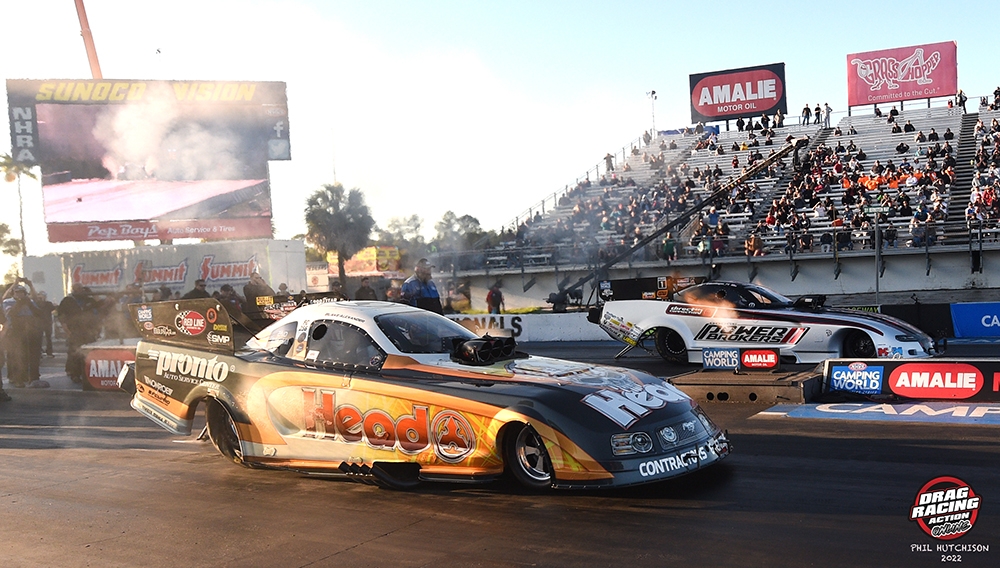 Alexander, who began his career in Funny Car in 2012 but got his first two wins in Top Fuel in 2018, reached his fifth career final round by riding a string of 3.9-second passes in Jim Head's Pronto Auto Service Center/Head Inc. Mustang, running 3.96, 3.92, and 3.93 to defeat a trio of world champions in J.R. Todd, Cruz Pedregon, and reigning champ Ron Capps. The Head team was competing in its first event since team member Dylan Cromwell was killed in a highway accident Oct. 23 and although the emotional finish eluded them, they had a get-well weekend.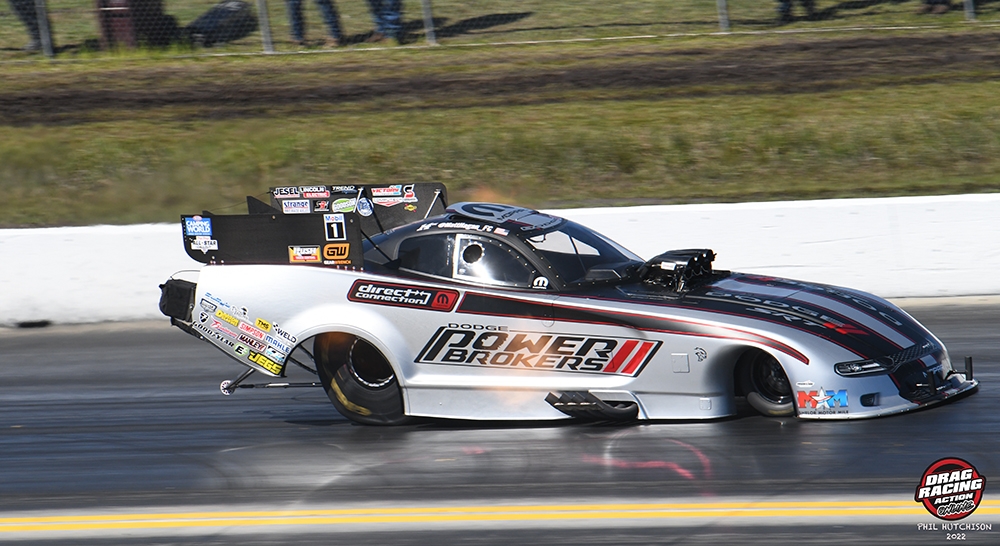 Alexander, a two-time winner in Top Fuel, was appearing in his second career Funny Car final; ironically, he lost the first, at Charlotte in 2013, to Hagan.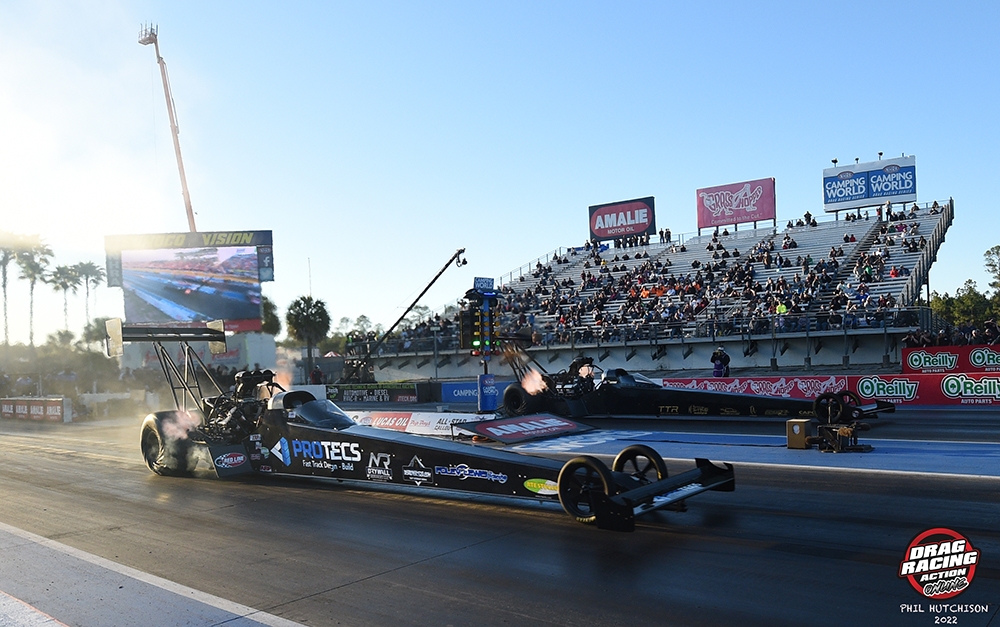 Just as was the case last year with Top Fuel winner Josh Hart, Tatum collected his first career win at the Gatornationals, defeating fellow first-time finalist Doug Foley in the final round, 3.70 to 3.80. It was just Tatum's 11th career race.
"I'm speechless. It's kind of sinking in a little bit," said Tatum "I never really thought about winning. I mean, it's just such a lot of work, so hard. It's like baby steps. It's like, as good as this car is run so early on, it's been overwhelming, and that's all because of the Capco family, and so it's just been a lot to swallow. It's a lot to it.
"I got lucky [in the final]. I could not see the Tree at all and had a .190 light, I just couldn't see it. He was out on me. I saw him until 300-400 feet. So there's a little luck involved there."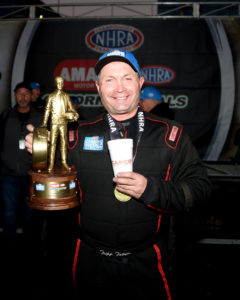 Tatum, who became a team owner late last year after running his first 10 races in the Lagana family's dragster, reached his first Top Fuel final in a car still tuned by Bobby Lagana Jr. –- Richard Hogan's right-hand man on Steve Torrence's four-time championship-winning Capco entry — and wrenched by journeymen veterans Tony Shortall and John Stewart.
Tatum, who impressed everyone at the NHRA Arizona Nationals with a pair of 3.6-second passes in qualifying before the parachutes accidentally deployed in round one, picked right up in Gainesville, qualifying No. 1 with a 3.674, then matched that number in round one to defeat Lex Joon. He followed with a 3.72 in round two to defeat Billy Torrence by just .001-second then raced to a 3.709 after Arizona Nationals champ Mike Salinas smoked the tires in his Pep Boys/Scrappers Racing entry.
Foley, a four-time Top Alcohol Dragster runner-up, reached his first Top Fuel final with the Foley & Lewis dragster, vindicating the team's decision to go all-in this year on new parts and crew chief Aaron Brooks.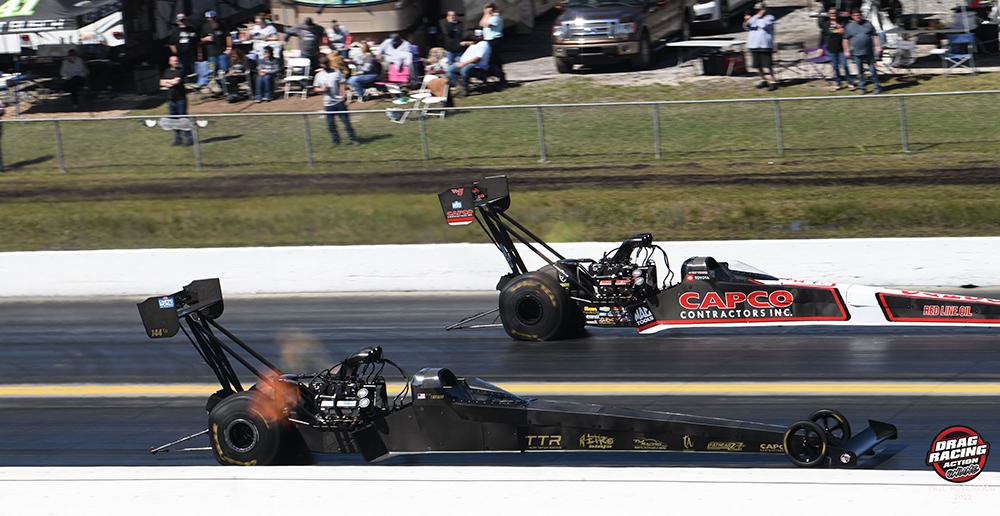 Foley, who raced Top Fuelers from 2005-2011 before taking a nine-year break, returned in 2020 on a part-time basis. After six career Top Fuel semifinal appearances, he reached his first final by working his way past Spencer Massey, red-lighting Clay Millican, and tractionless Justin Ashley with a steady trio of runs between 3.76 and 3.80.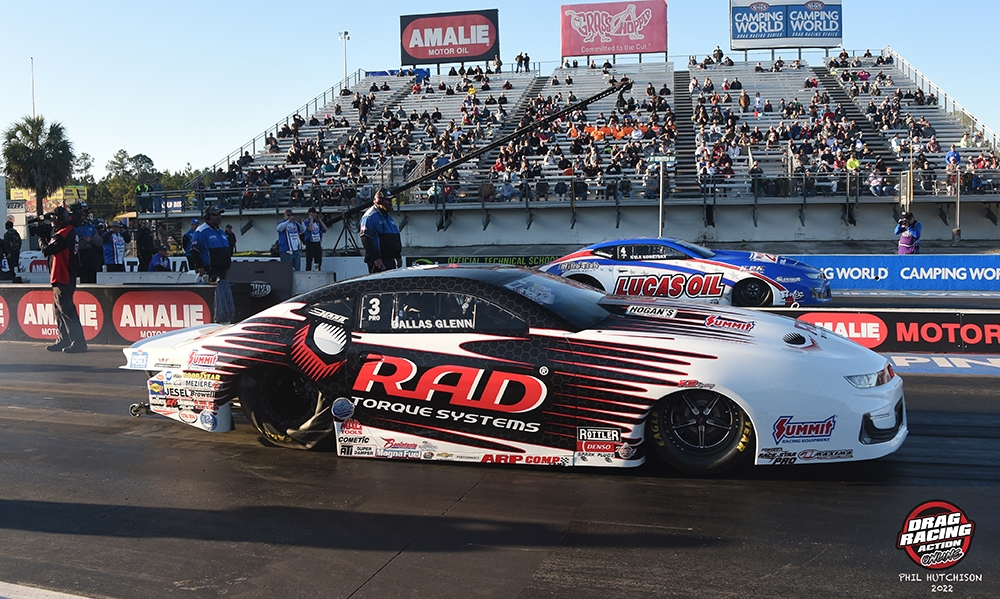 There will apparently be no sophomore slump for reigning NHRA Rookie of the Year Glenn, who earned the fourth national event title of his brief career by beating Kyle Koretsky in a final round battle featuring a pair of KB Racing teammates.
Glenn, who became known for his quick reaction times almost immediately after making his first runs in a Pro Stock car last season, did not leave first in the final, but managed to overpower Koretsky's 6.531 with a solid 6.486.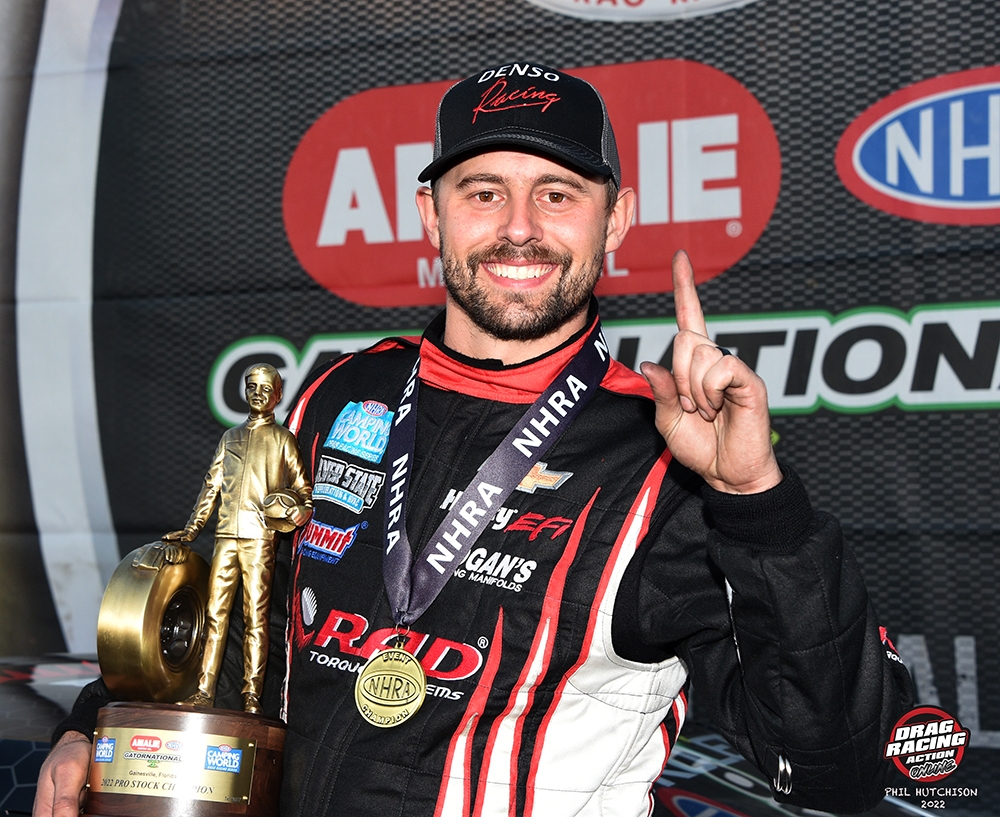 "The Pro Stock category so tough; it's awesome right now," said Glenn, who has raced in 20 Pro Stock events and appeared in six final rounds. "I didn't think I missed the Tree, but the sun was right in my eyes.  I can't thank RAD Torque Systems enough for their support. They're already talking about [an extension] for next year but I want to focus on winning some races this season."
Most Pro Stock drivers established new career bests thanks to the once-in-a-decade air and track conditions present over Gainesville Raceway and Glenn was no exception as he powered his RAD Torque Systems Camaro to a 6.478 in his opening-round win against Troy Coughlin Jr., who fouled when his two-step ignition malfunctioned.
Glenn scored perhaps the biggest win of the day when he put the brakes on Aaron Stanfield, who had been the hottest driver in the class with a win and a runner-up to start the season. Glenn left first and won on a slight holeshot, 6.508 to 6.504. A red-light by Rodger Brogdon in the semifinals sent Glenn to the money round.
After winning his first event last year at the Fall Charlotte race, Koretsky confidently predicted that he would be a contender for the 2022 Camping World Pro Stock title, and after reaching the final in Gainesville, it appears that he's going to make good on that pledge.
Koretsky was also solidly in the 6.4s in his wins over Fernando Cuadra, rookie Camrie Caruso, and Mason McGaha.
One of the day's biggest surprises came when Erica Enders pounded out a national record run of 6.450 in round one, only to fall on a holeshot loss to Bo Butner.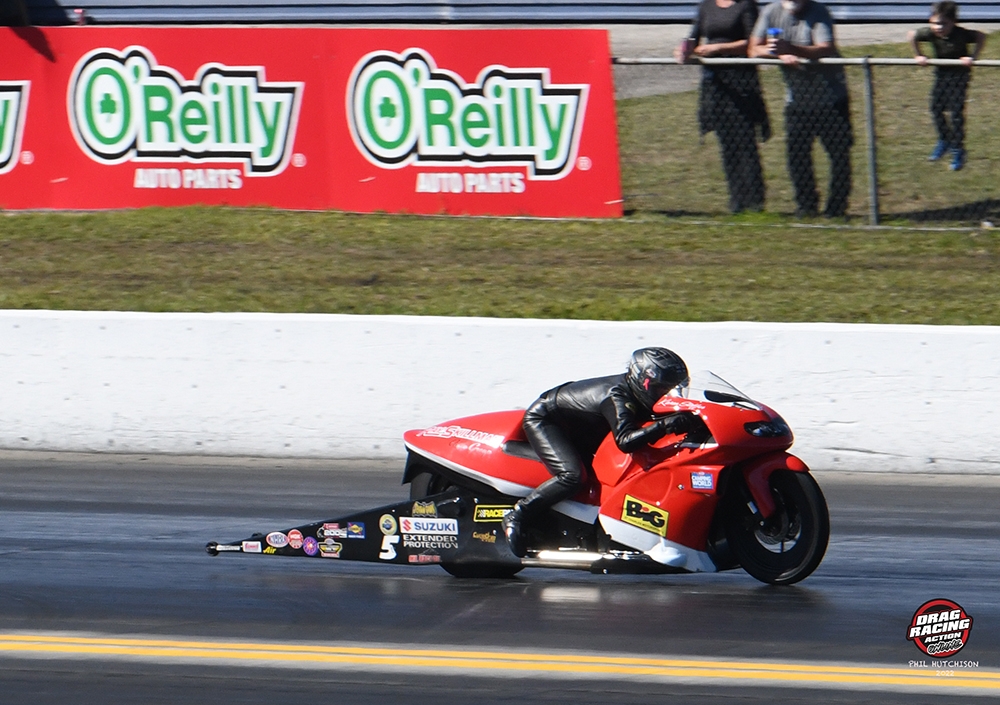 Stoffer won for the 11th time in her long career but none of her previous titles were as impressive, or as dominating as her Gatornationals victory. Stoffer not only won the event, but along the way, she also set the elapsed time record and made the three quickest runs in the history of the class.
Appearing in her fourth-straight final dating back to last season, Stoffer topped Angie Smith in the quickest side-by-side run in the history of the class, 6.700 to 6.723. Stoffer now has three wins in Gainesville, the traditional season-opening event for the Pro Stock Motorcycle class.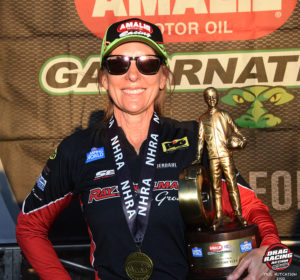 "Gainesville is like my second home," said Stoffer, who resides in Nevada. "My first team owner [Doug Johnson] was based here and I love to come back every year. It's a great place to kick off the season and to have three wins here is huge."
Pro Stock Motorcycle riders did not get a qualifying run due to cold track conditions on Saturday night, and since the class does not race in Pomona or Phoenix, the first round represented the first run of the season for many riders. That did nothing to slow Stoffer, who kicked off eliminations with the quickest run in history of the class, a 6.682 that drew an audible gasp from the stunned Gainesville crowd. Stoffer improved in the quarterfinals to a 6.665 that will stand as the new Pro Stock Motorcycle elapsed time record.
Stoffer defeated her team owner, Jerry Savoie in the semifinals before finishing the job against Smith's Denso Buell.
"It's so nice to come out and put our Ray Skillman Auto Group/Big St. Charles Suzuki in the winner's circle," Stoffer said. "We tried to improve in every round, but I bobbled a little in the semifinals. This win is for Jerry and Tim [Kulungian] everyone on the WAR [White Alligator Racing] team."