Barton Tames Tennessee Track For First Win of 2022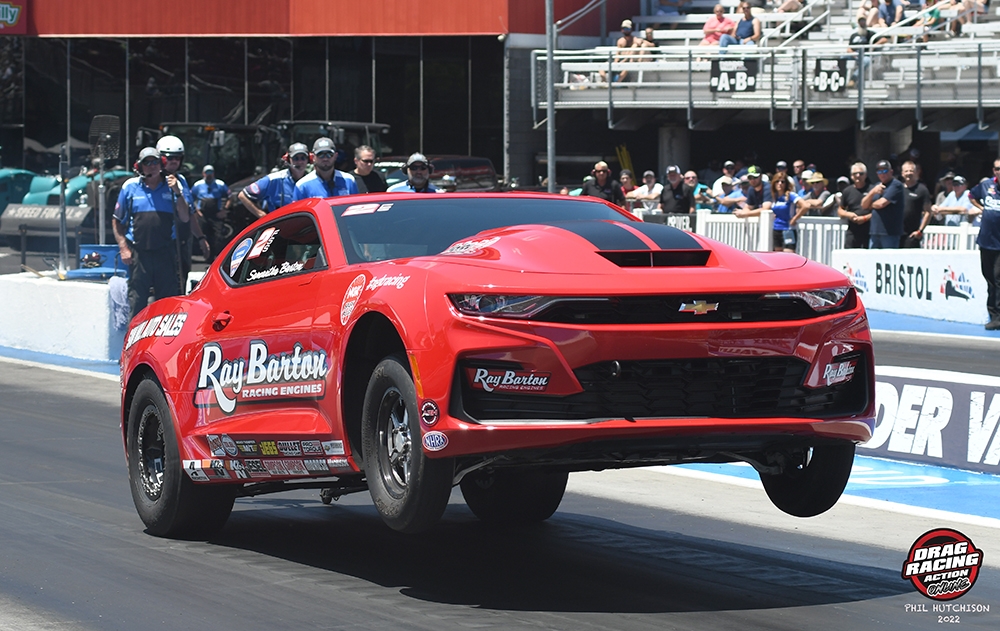 Story Drag Racing Action Online  Images: Courtesy Elon Werner, Dave Ostaszewski  and Phil Hutchison
Engine builder and COPO Camaro racer David Barton sealed the deal at the NHRA Thunder Valley Nationals in Bristol on Fathers Day taking the Constant Aviation Factory Stock Showdown title over Stephen Bell from Shreveport La.
Barton, from Sinking Springs Pa. came into Bristol in second place in points in his Saw Mill Auto Chevy COPO Camaro based on a runner up at Charlotte and decent finishes at Gainesville and Richmond and was looking to add to his total.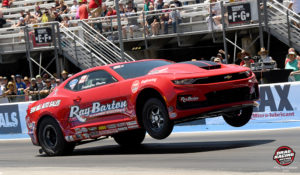 The air at Bristol was great but the track did not cooperate. During qualifying the big horsepower Factory Stockers had trouble hooking up and only six cars made it into the seven-second range going into first round.
"When it's hotter out it tends to make the track greasier," Barton said after his win. "And the Bristol track is famous for not having the best bite. We took the team cars to Knoxville Dragway in Maynardville right before Bristol to test and it was a killer track. They prepped the track perfectly. You could get anything to hook there. We worked on our 60 foot times and balancing the car and we felt confident going to Bristol.
"The Dodges and Fords don't leave the line as hard as the COPO's do. They leave soft and then crank it up. The COPOs are at a disadvantage as far as power and have to leave the line hard. The Fords and Dodges make a lot more power than us but at Bristol, they were leaving the line at a lot lower RPM than us and then getting on it.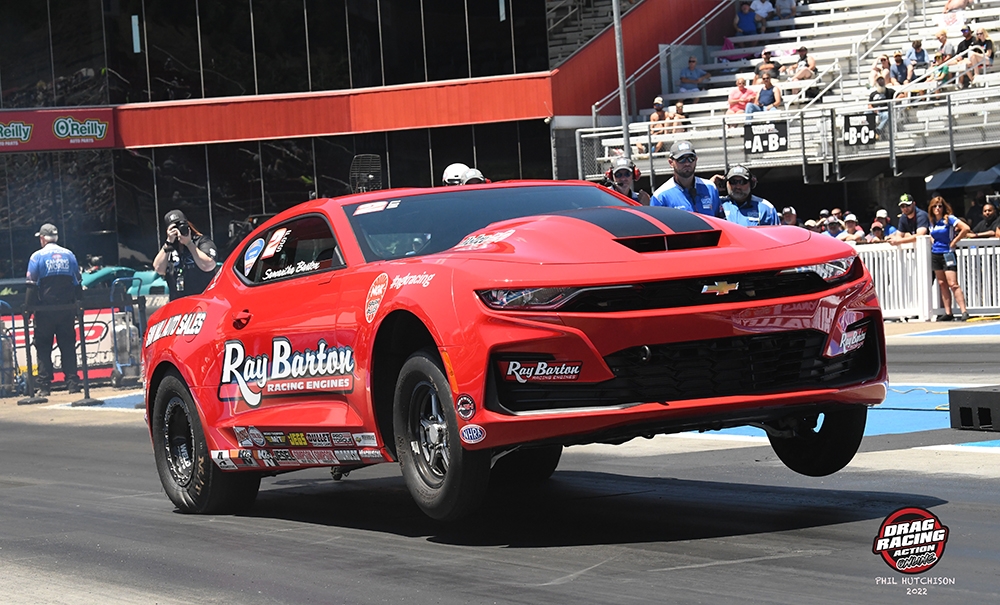 "If we can get off the line and have a good 60-foot time I felt we had a good chance and it worked. We had some ugly runs but we figured it out. Moving some weight around and playing with the timing curves helped. My only good qualifying pass was my first one, later runs the car pulled the wheels up and I had to peddle it.
"The worse part of qualifying was Jesse Alexandra, who runs one of our motors and was testing with us at Knoxville, spinning the tires in each qualifying pass and not making the field. And his car was running great in testing. But that's racing. I have asked NHRA to make it a larger field or an all run eliminator since some of these cars don't make the show and end up packing up and heading home. There will be over 24 cars at Norwalk and some of the racers are going home before eliminations." Barton added," I'm more nervous in qualifying than eliminations as if you have a bad run in the best conditions during qualifying, you might not make the field."
Barton picked up the pace once the racing started with a win over Gatornationals winner Lenny Lottig in round 1 and then a monster matchup against former champ Aaron Stanfield in round 2.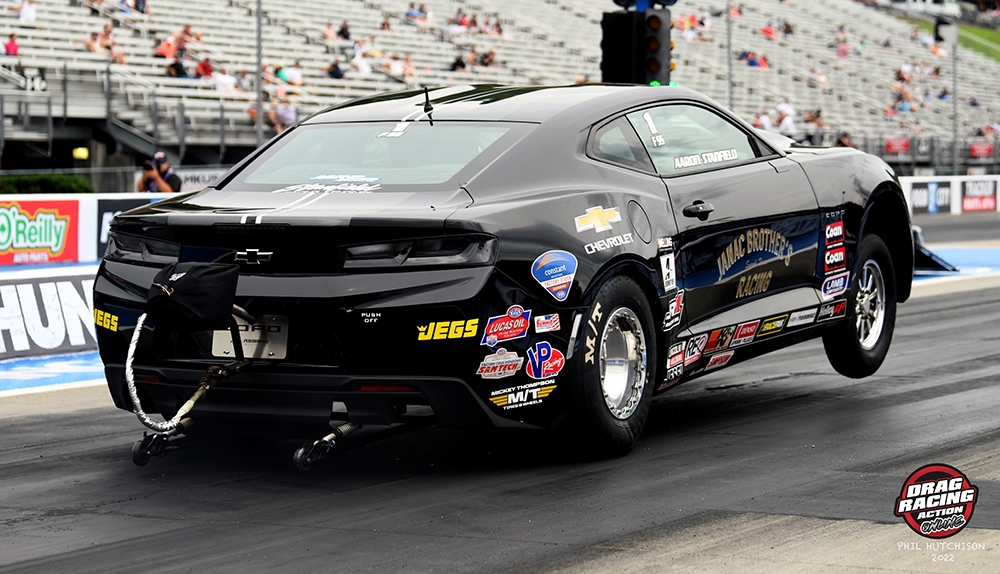 "We felt we had a handle on the track and in the second round I had Stanfield. We took a little power out of it and tamed it down a bit but not too much since we had Aaron who was right behind me in points."
Barton took the win over Stanfield in a great race with Barton off the line first with a 0.025 light to Stanfield's close 0.042 RT and the COPO of Barton ran low ET of the event with a 7.886 @ 174.01 to Stanfield's close 7.886 @ 173.92
Barton continued, "It worked out perfectly with the points leader Bill Skillman in his Ford losing first round and us getting by Stanfield.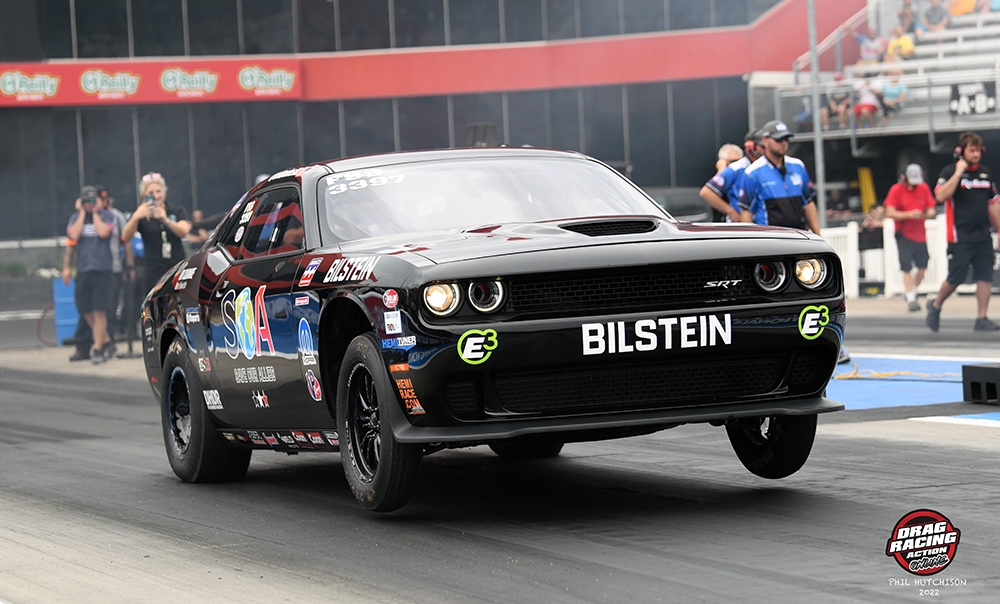 The semifinal round had David Davies '21 Challenger up against Barton and as he tells it, "Davies had a chance to step it up but he jumped the tree with a three hundred something red. We all make mistakes and I am not perfect and it's a learning curve. But wow!"  After seeing Davies red light Barton cruised to a mid 13 second run for the win and a trip to the finals. Barton's ET gave his competition, Stephen Bell, lane choice.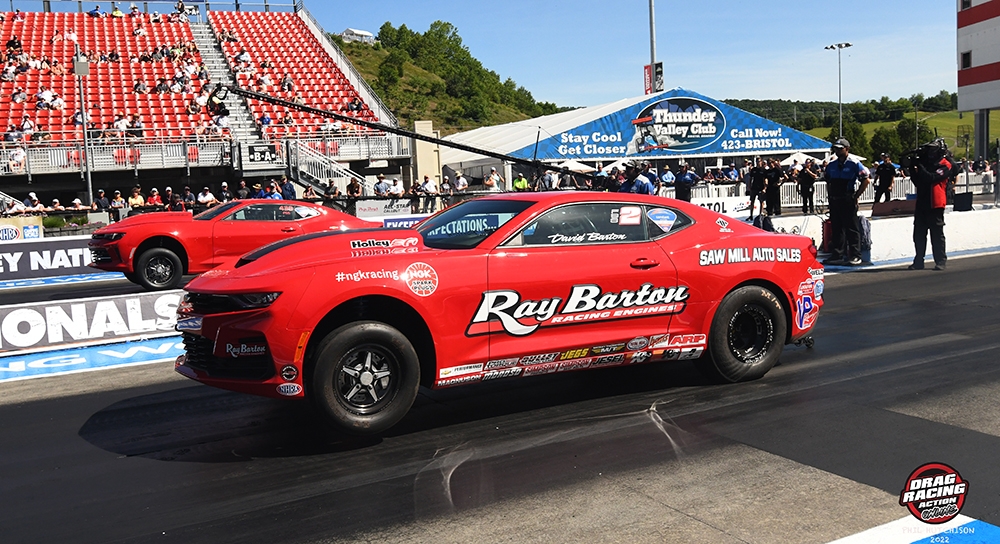 Bell (Far Lane) left second and finished second to Barton in the finals
Lane choice didn't make a bit of difference in the finals against Bell. Barton used a super 0.016 reaction time coupled with a 7.889 to defeat the COPO of Bell who crossed the finish line second with 7.930 in the loss. The win at Bristol was Barton's fourth career Factory Stock win.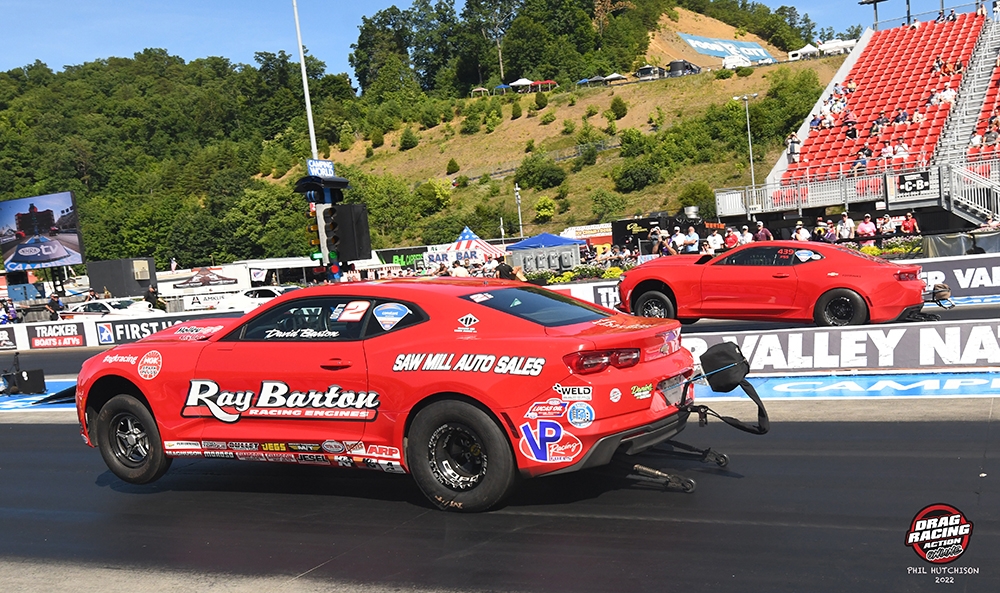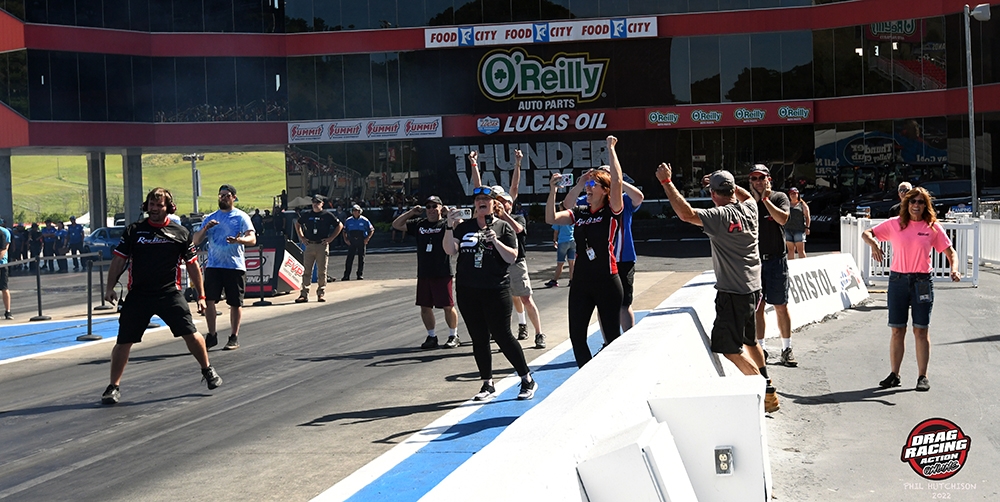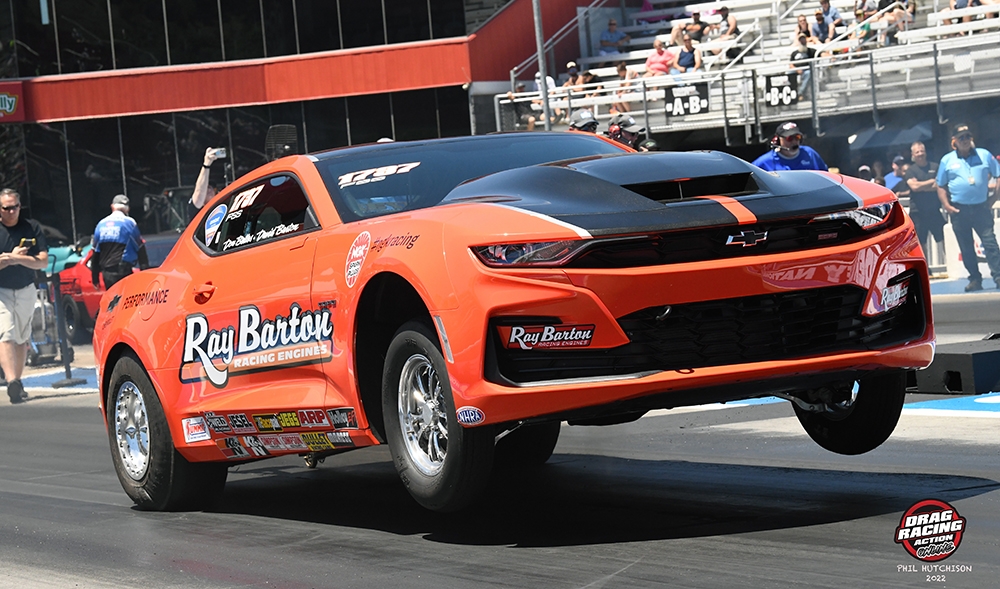 "I am very proud of our team as any one of us can win. We have a group of cars that all run great. I don't hog the good motors. It shows with Lenny winning at Gainesville and Anthony Troyer getting the runner up. At Charlotte we had a car in the finals and at Virginia we had another runner up. Two wins and two runner-ups in 2022 are pretty good for our team.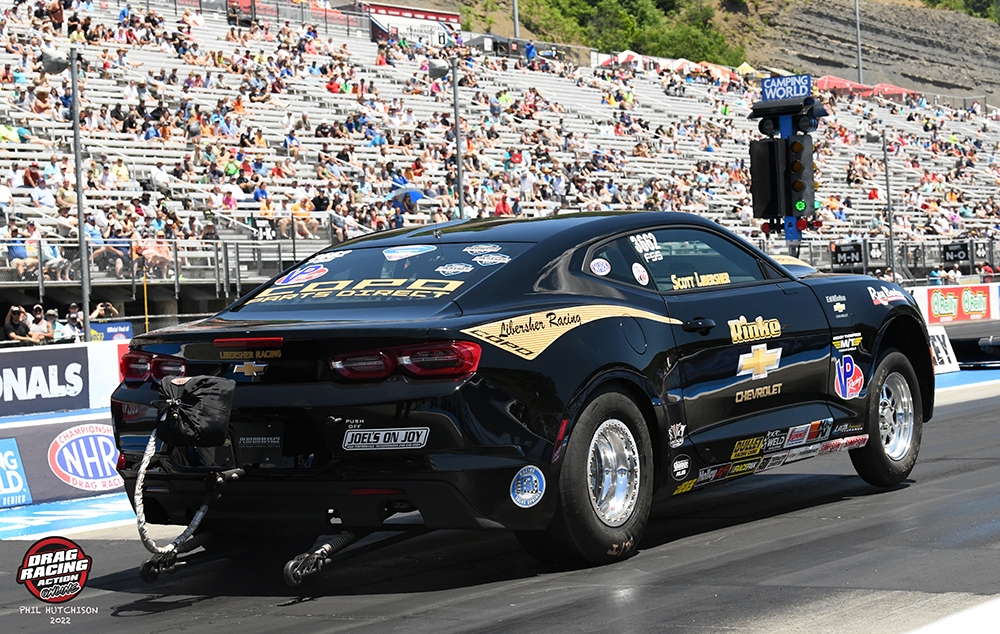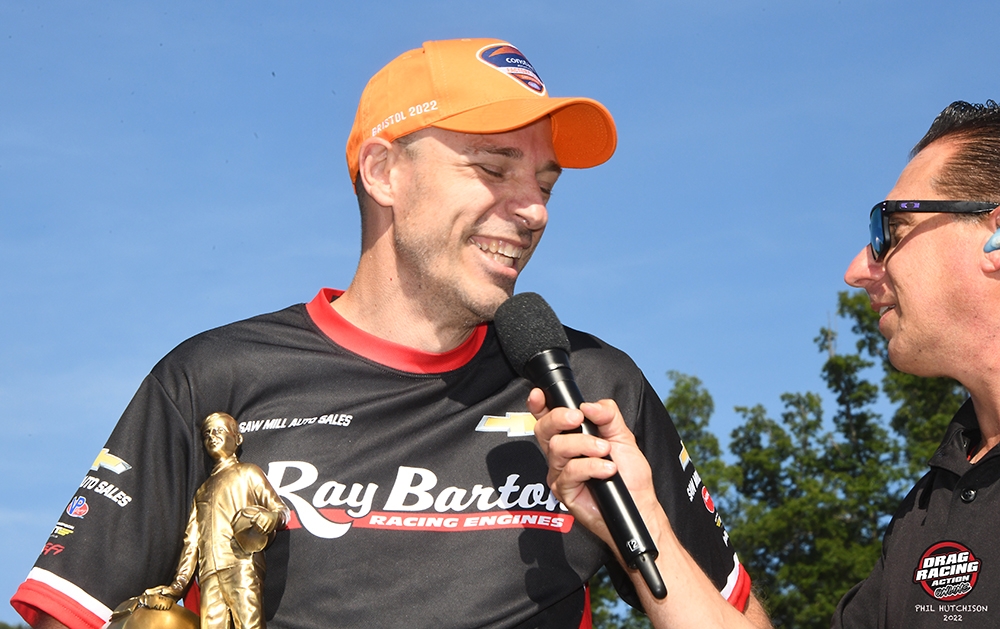 "Factory Stock was a godsend for me after building Hemi cars for so long. I wondered where our business was going and along comes these fast factory cars. I thought we would never see modern muscle cars again! And I can use a laptop to tune the cars instead of messing with carburetors. I grew up with the Hemi challenge and now each race feels like Indy with heads up racing in Factory Stock.
"I have to thank our sponsors NGK, Chevrolet, Saw Mill Auto Sales, VP, and Mickey Thompson Tires along with Pro Torque Convertors and Joel Rabe who does our transmissions. The entire Barton racing team along with our friends makes it happen. If I trip and fall there is someone to pick me up.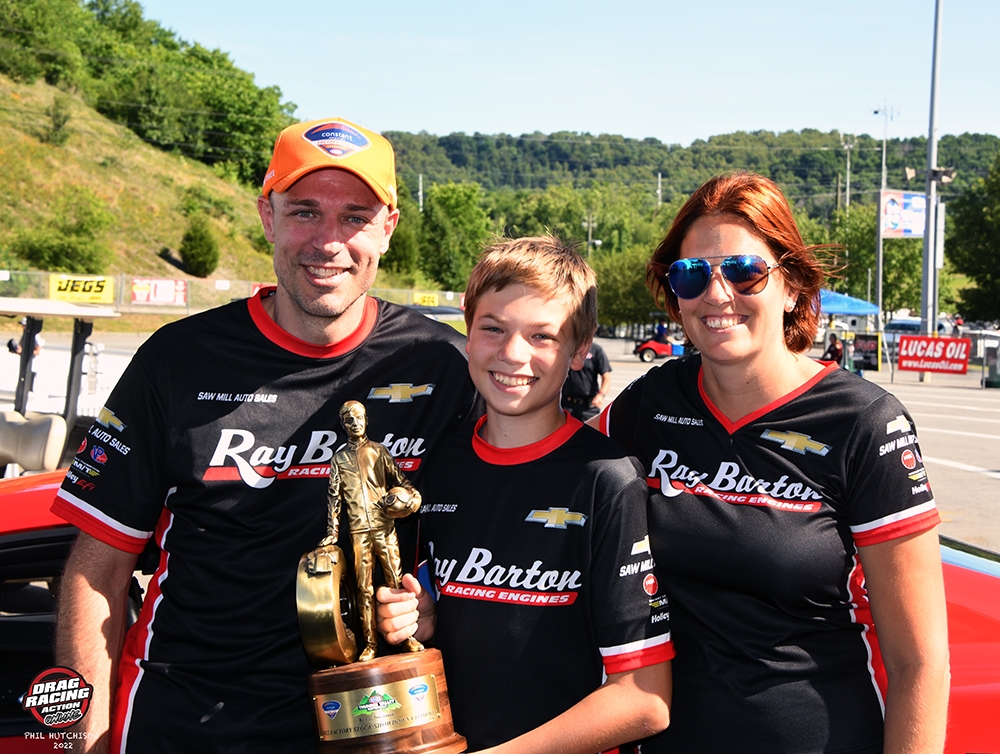 David, Jax, and Samantha celebrate the win at Bristol
"Winning on Fathers Day was a great gift for my dad. It wasn't for him; I certainly wouldn't be in this position. And having my wife Samantha and son Jax at Bristol was cool. It's an experience I will always remember.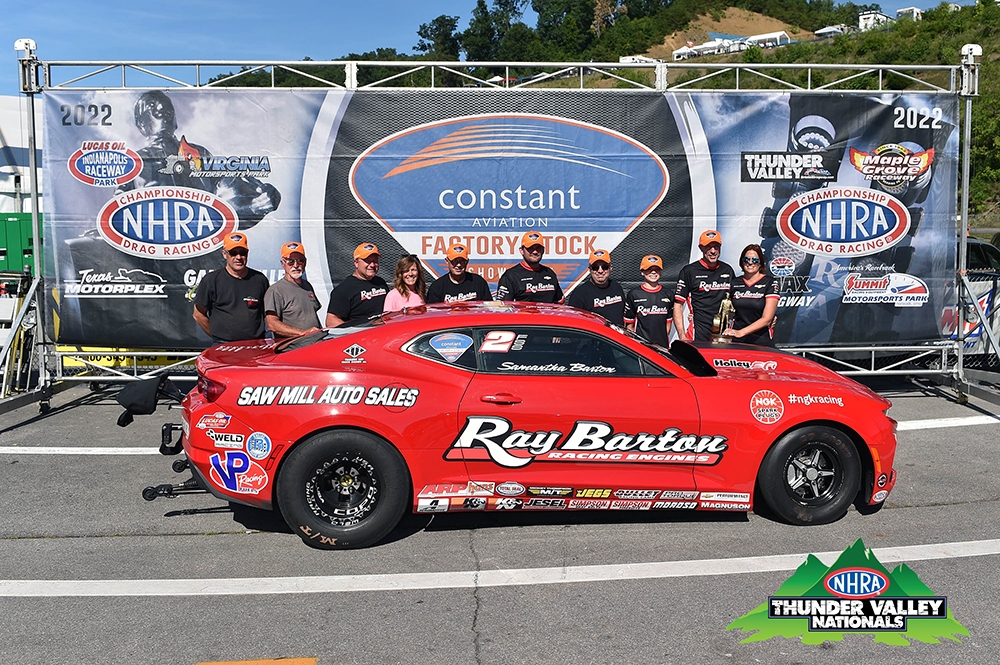 Constant Aviation Factory Stock Showdown Top Ten Points Standings:
David Barton           330
Bill Skillman            317
Lenny Lottig            250
Stephen Bell           237
Aaron Stanfield      223
David Davies III       192
Anthony Troyer      185
David Janac             179
Dan Condon            172
Mark Pawuk          159