Katie Sepanek Never Loses in the Finals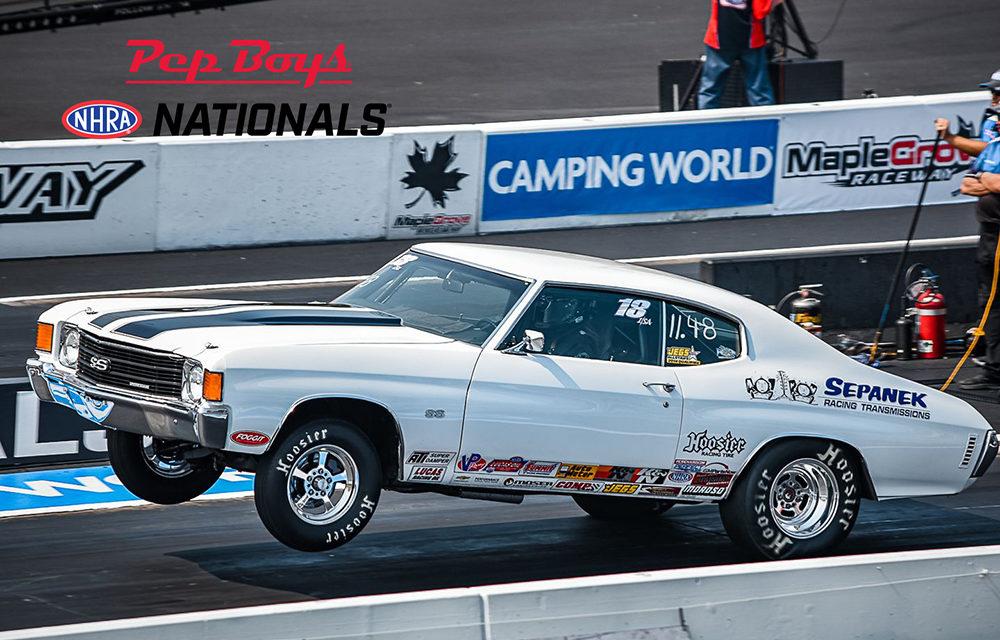 Story Drag Racing Action Online. Images Phil Hutchison and Bob Reed
Katie Sepanek's I/SA '72 Chevelle has never been runner up in NHRA national event final. Never. The Moosic Pa. driver has won every time she has made it to the final pair. Sepanek kept that record alive at the 37th annual Pep Boys NHRA Nationals at Maple Grove Dragway taking the win over former D1 champ Joe Santangelo. The win was her third career NHRA national event Wally.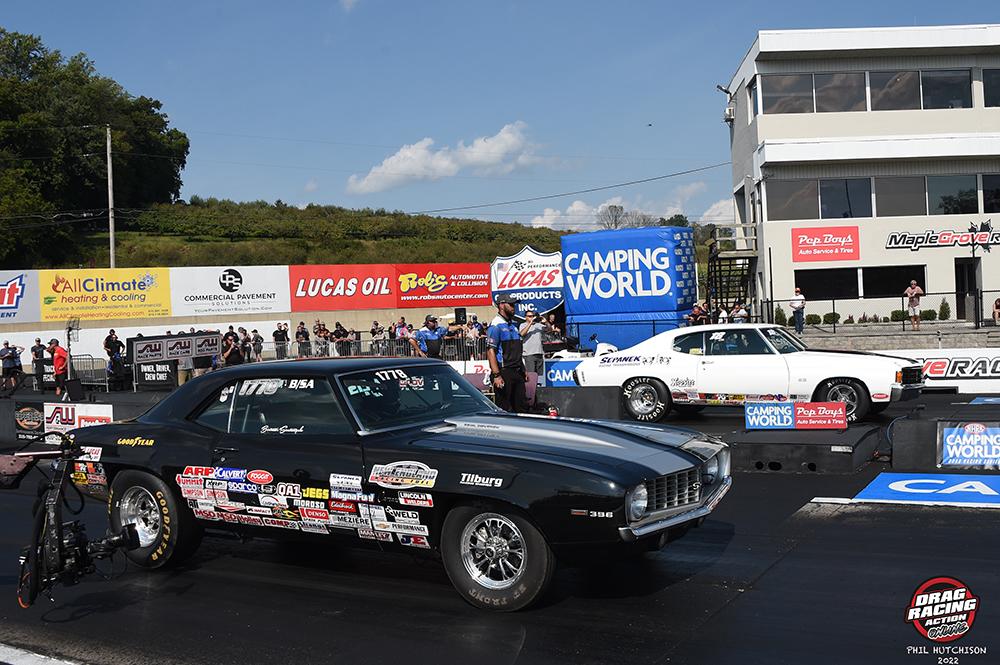 Sepanek in the Sepanek Transmissions Chevy had been deadly on the tree throughout eliminations and in the final, it was no different. Sepanek tattooed the tree with a 0.003 light and ran a 11.598 on her 11.58 dial while Santangelo pushed his B/SA Camaro too far and broke out by just 0.002 with a 10.418 on a 10.42 dial. Santangelo mathematically had no chance of winning as her package was better than his reaction time!
"Joe came over and congratulated me after I won.  He's always good like that. He knew he was behind on the tree," Sepanek said. "In the finals I brought the launch RPM up a bit knowing that Joe is so good. An average run never cuts it against him. I wasn't expecting a 0.003 but it happened. I was lucky I didn't come up red in the finals."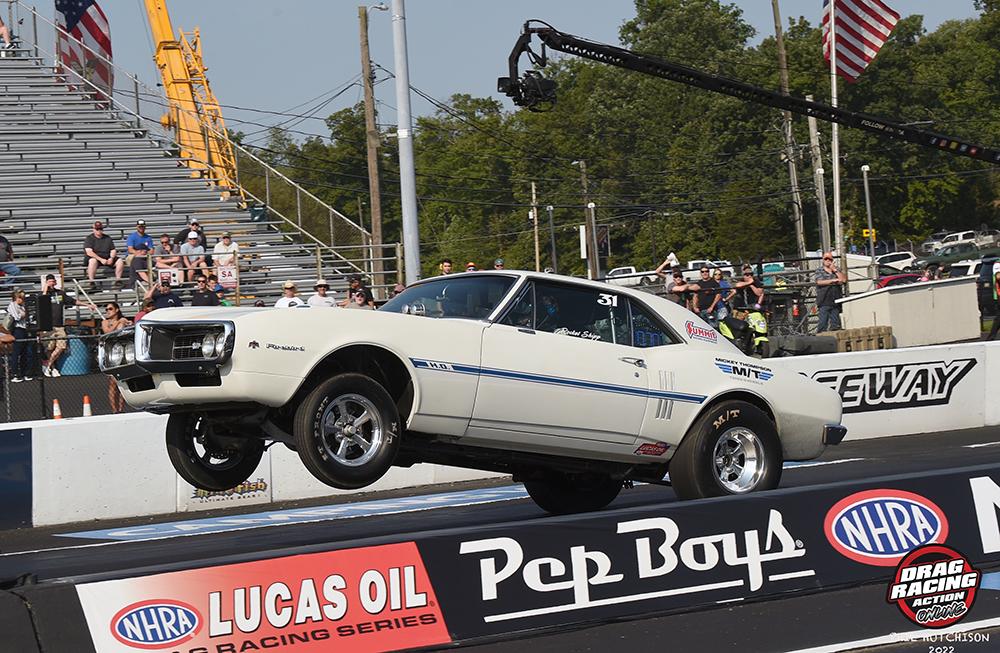 Randi Shipp went out in the semis against Santangelo
It was nearly an all-female final as Santangelo beat Randi Lyn Shipp's D/SA Firebird in the semifinals taking away the changes of two of the best ladies in the business facing each other for the title. "It would have pretty neat to race her," said Sepanek, "She's such a hardcore Sportsman racer and I think she and Bo Butner are so cool."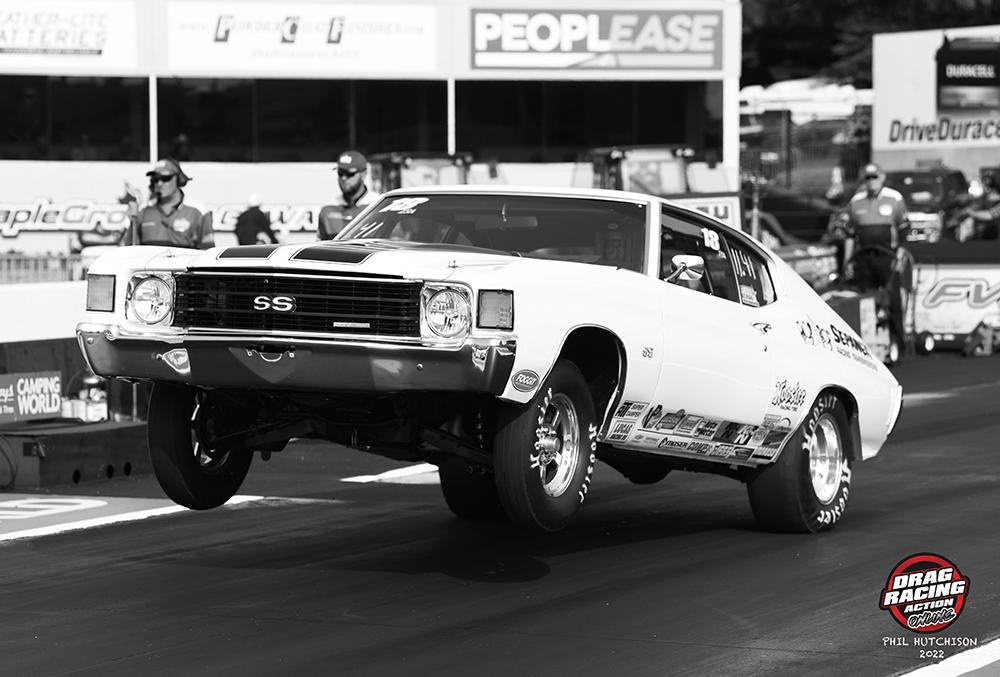 Sepanek adds, "My lucky round was against Jim Roberts in round one. I knew I had a bad light and did not feel good going down the track. I was surprised I had room at the finish line. It's hard to win with a 0.065 light. He was off his dial and that made the difference."
Bob Bender, her second-round opponent had a reaction time that started with a one which usually spells bad news. "I'm not in my comfort zone chasing like that. Sepanek said. "It doesn't happen very often but luckily; I had a good enough light so I didn't have to be perfect at the finish line."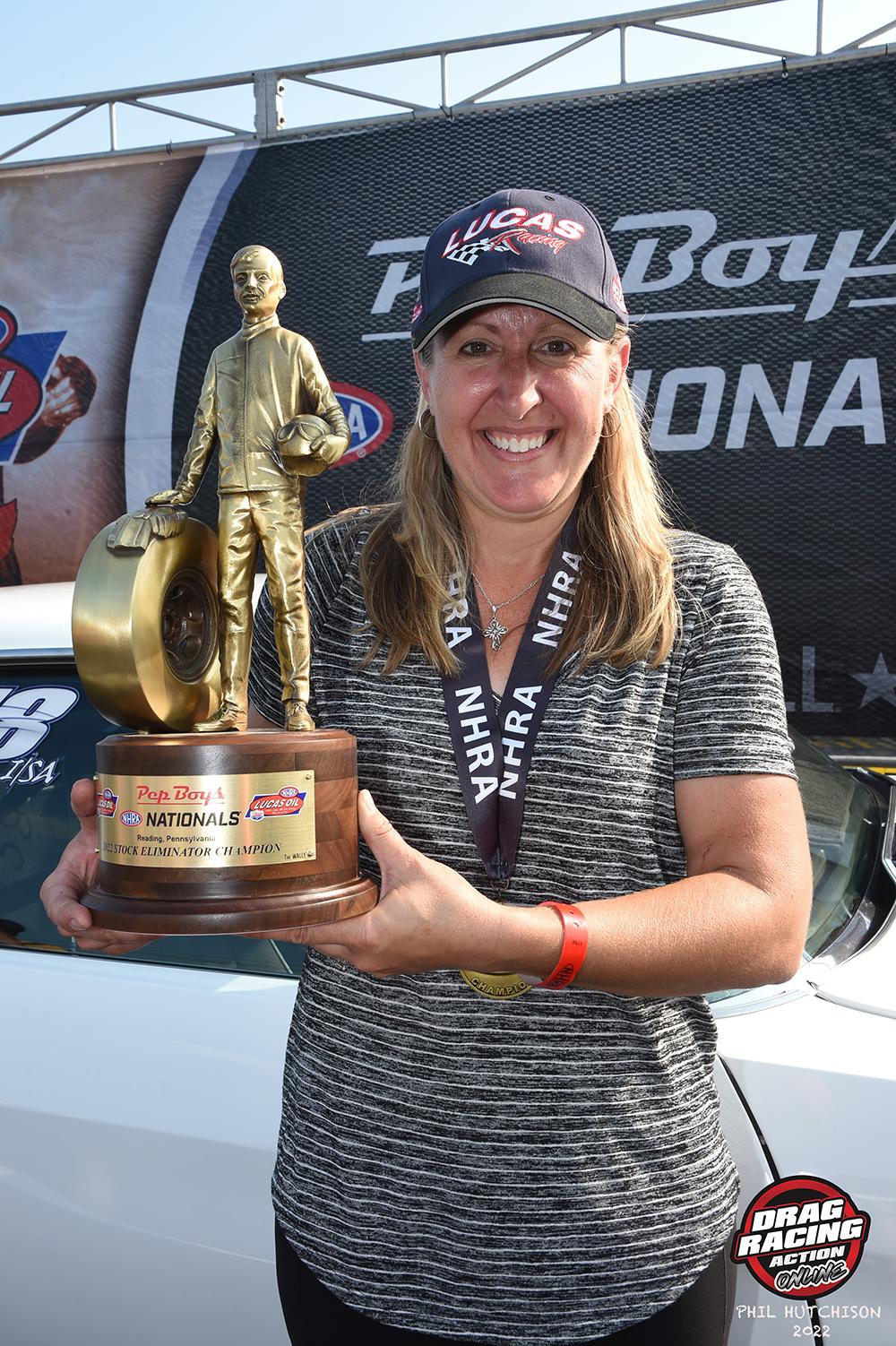 The history of the winning Chevy is a story in itself as Katie says, "I've had the car since I was 14 , I wanted a '69 Camaro when I was in high school. My dad raced brackets and found the Chevelle and said, "It's a solid car Katie", so I drove it to school every day and raced on the weekends at Numidia. I went to the Bracket Finals twice in High School class and later qualified the car in  Pro at the D1 Bracket Finals. When I got older my dad and Jack did the chassis work on the car, and I started racing in Stock Eliminator."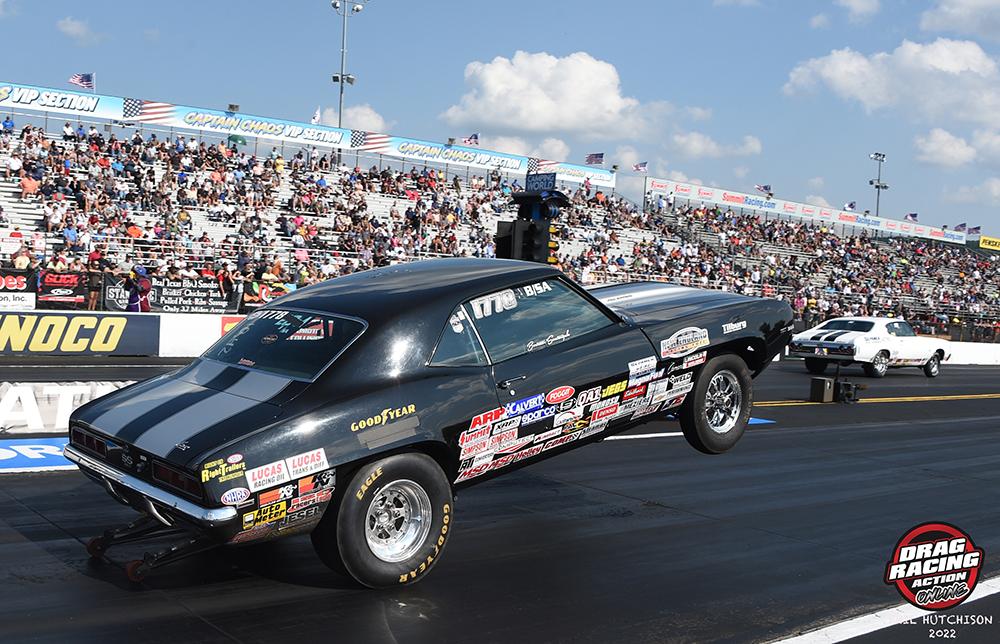 Santangelo (near lane) is already in a bad place as Sepanek cut a killer light in the finals
"The Chevelle has a 350 cubic inch motor assembled by my husband Jack and the machining is done by Morgantini in West Wyoming Pa. I must thank, my husband Jack, my mom Mary Ellen, and my mother-in-law Gale Sepanek. Kent Hanley and TC Smith.And our good friends Ken and Debbie Moses, Bob Bauer, Chris Fritz and Roy Freeman from Hoosier for all they do."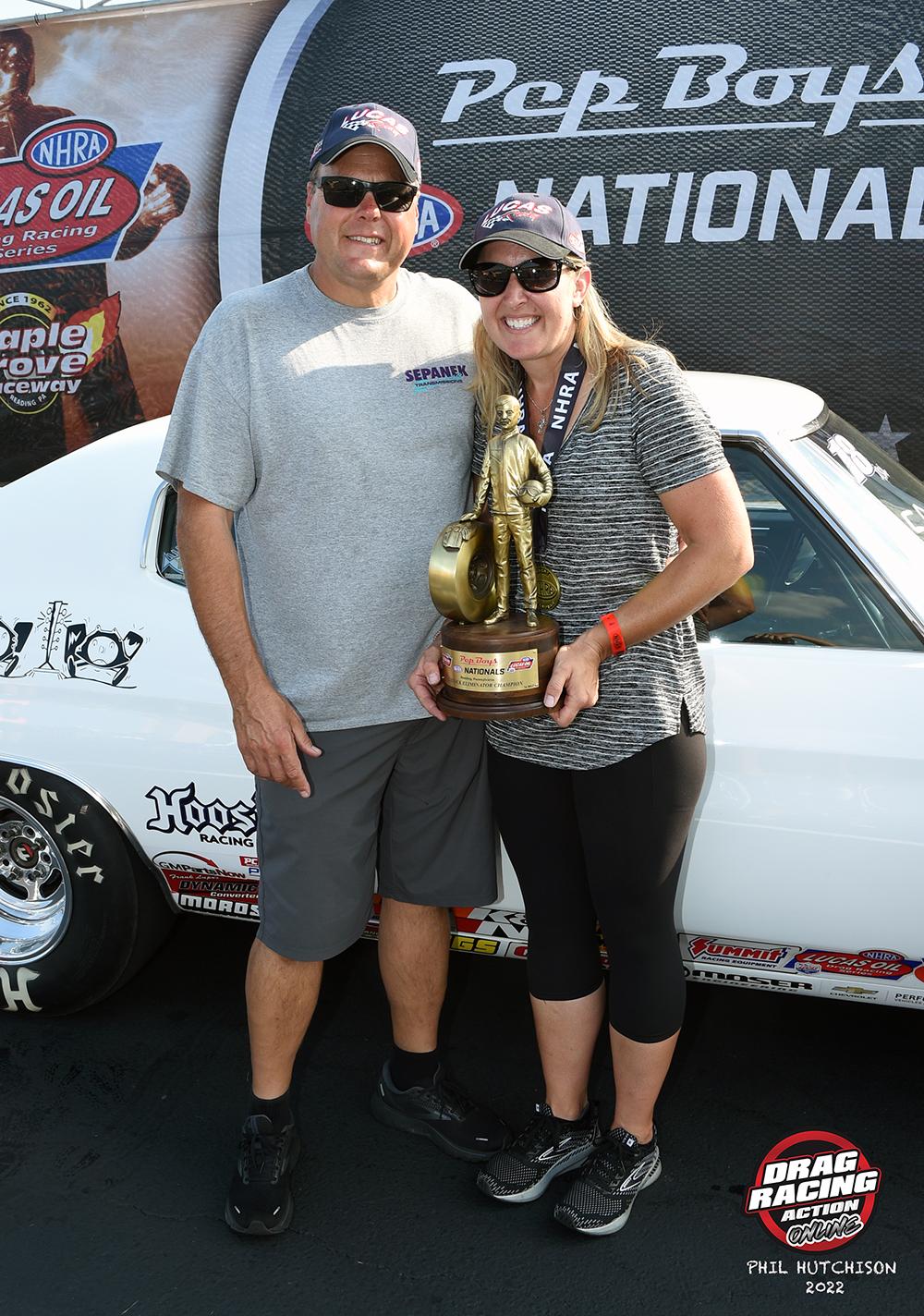 Jack and Katie Sepanek 
Katie would also like to recognize her sponsors. Sepanek Racing Transmissions, Hoosier Tires, Foggit High Performance Oil, ATI Performance Products, Insinger Performance Products and Dynamic Convertors.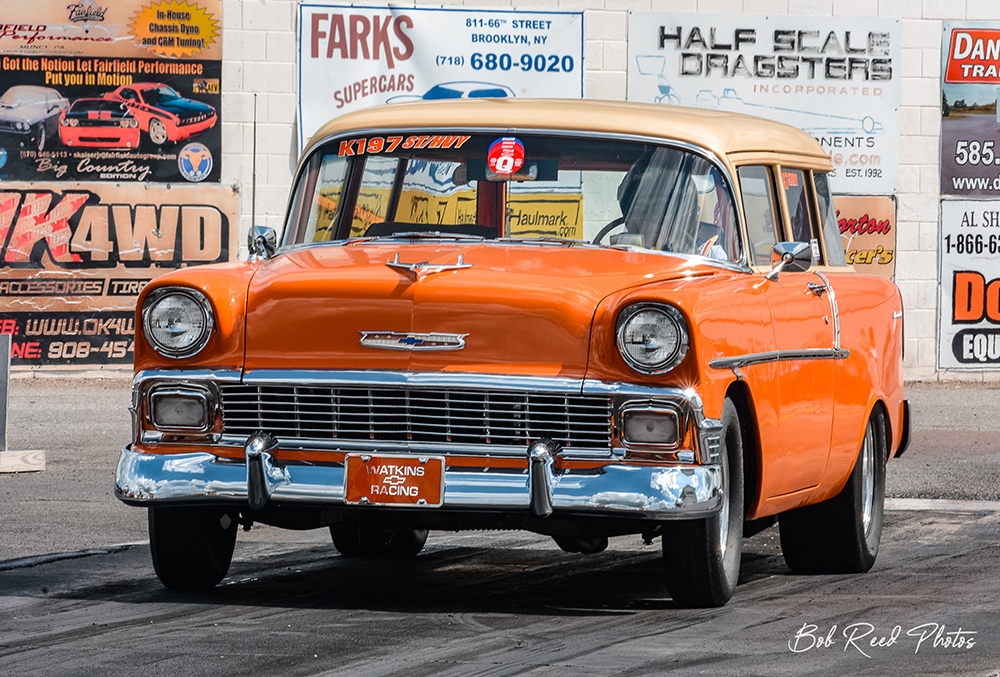 "I come from a racing family and my mom still races Street Tire at Numidia in her Chevy Nomad and has a win this year in her Chevy Wagon."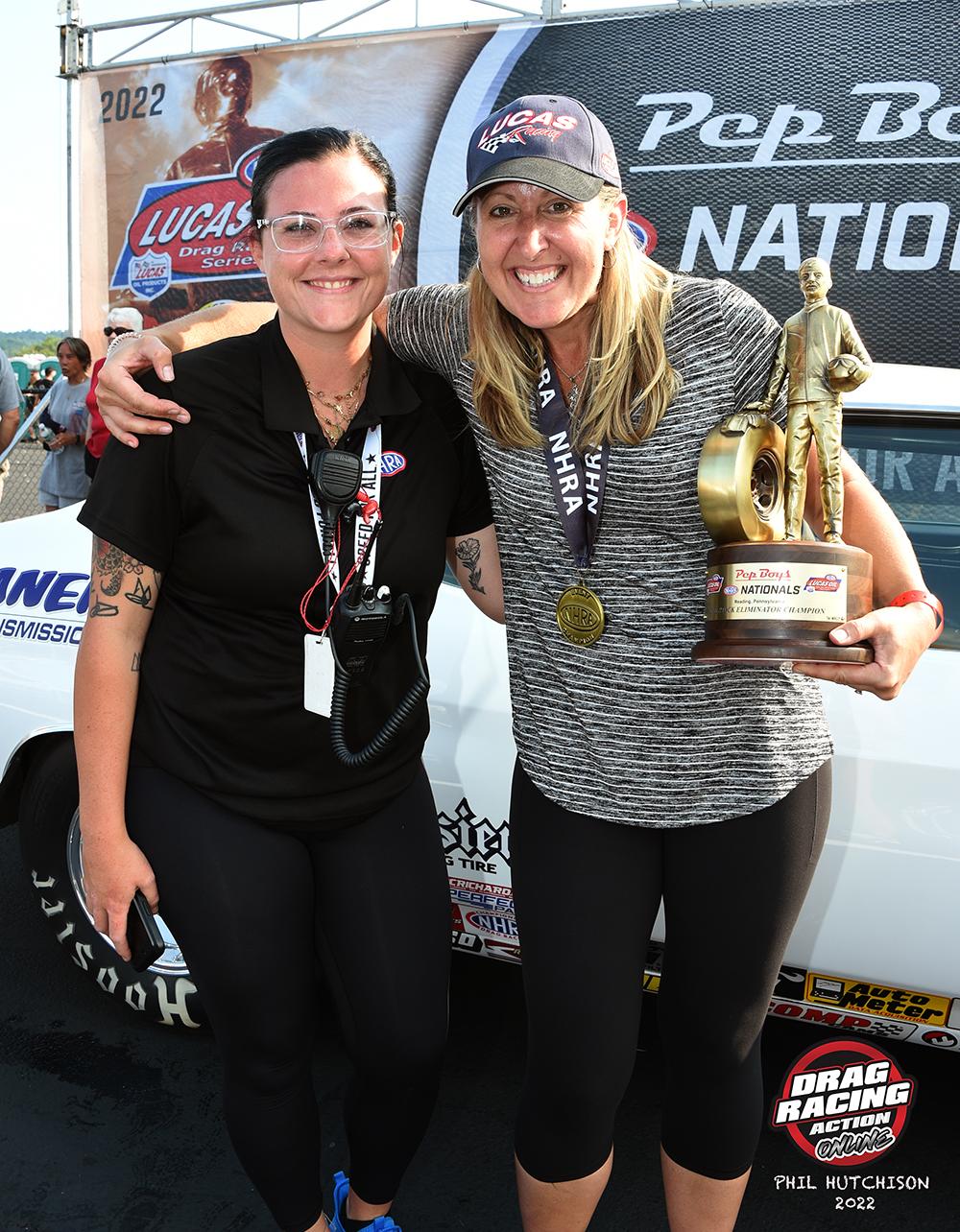 Two K's in the winner's circle NHRA's Kalyn Guenther and Katie Sepanek 
 In closing Katie said, "Jack and I would not be here racing if it wasn't for our dads. Jack Sepanek Sr and my dad Jeff Watkins. They're no longer with us but we owe them so much for what we are today."