Voight Wins Competition Eliminator at Pep Boys Nats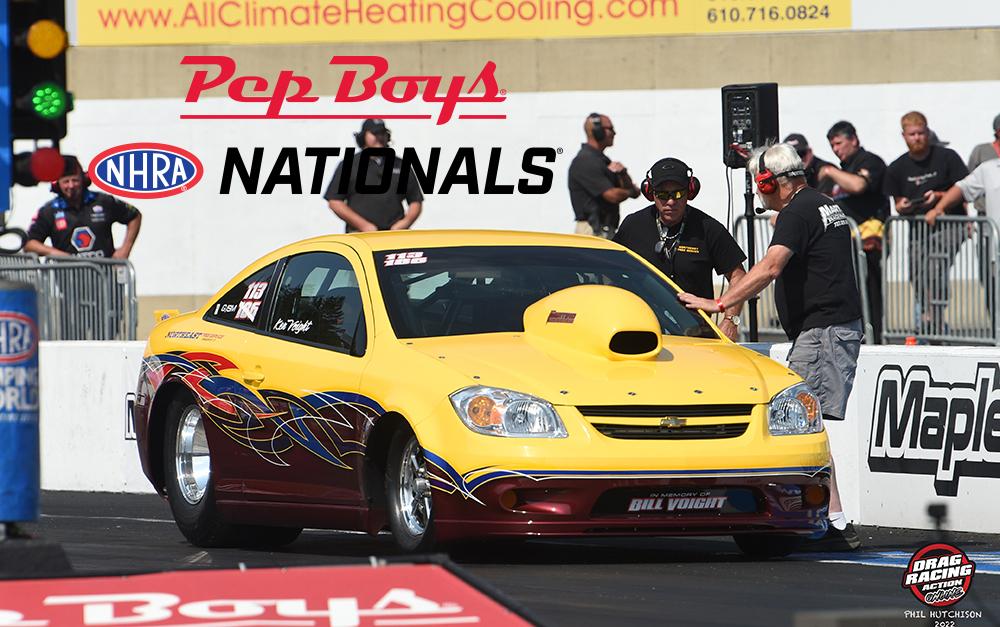 Story and Images: Drag Racing Action Online
In front of a capacity crowd at Maple Grove Dragway in Mohnton PA, Ken Voight from Bridgeport Conn. drove his G/SM '08 Cobalt to a win in Competition Eliminator. Voight's final round opponent, the I/A Cutlass of Jay Schonberger wouldn't start for the final giving Voight a solo pass and the win. The victory was his first career NHRA national win in his first ever NHRA final.
It wasn't the Cobalt's first trip to the finals at Maple Grove as Voight said, "In 2017 and 2018 Tom Martino drove the car to a win and also was runner up in 2019."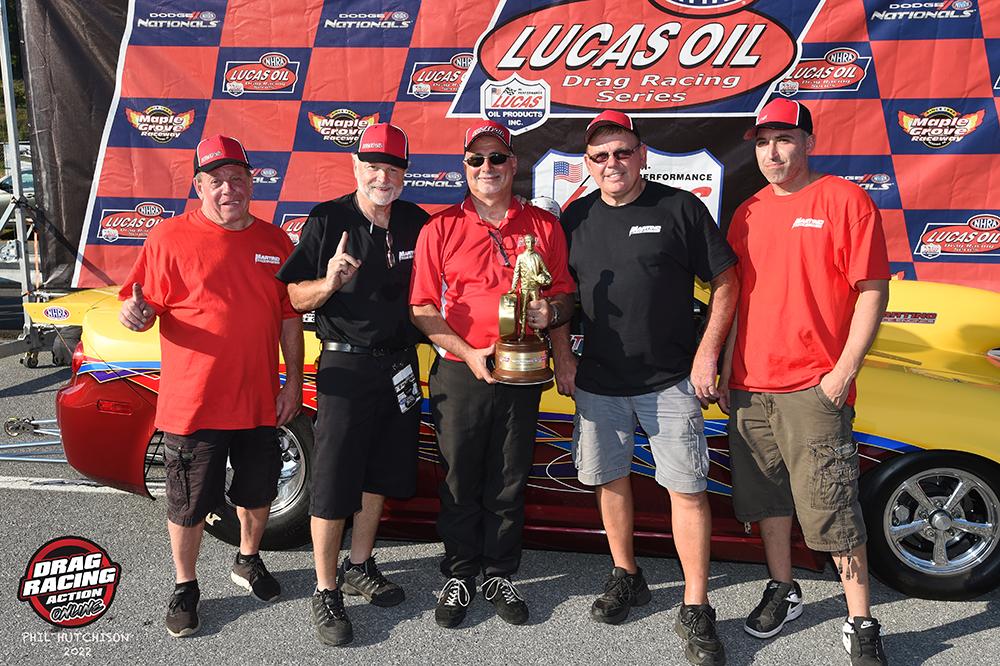 The Cobalt has been in the winner's circle three times at Maple. Here the team celebrates in 2017
Voight qualified his Chevy in the #4 spot with an 0.658 under 8.642 was hit twice during eliminations with a CIC penalty. The Connecticut driver was running of a 9.16 index after starting the race with a 9.30 but needed to push his car to get around Jimmy Daniels Dodge Dart, Chris Piston's quick F/DA, and the FS/SM Mustang of Bill Skillman who was #2 qualifier. Voight got a bye in Sunday's semifinal round to set up the final against Schonberger. Schonberger earlier defeated the I/SM Cavalier of Low Qualifier Joe Carnascale to get to the final round.
"We only have a 290-inch motor in the car with only one carb, Voight said, "It needs good air to run good. We were #3 qualifier early and ended up #4. I have not raced the car for over a year and must credit my fiancé Laurie Penna as the driving force to get me to go to the event. She told me to go for it and I just loaded it up and headed to Maple Grove."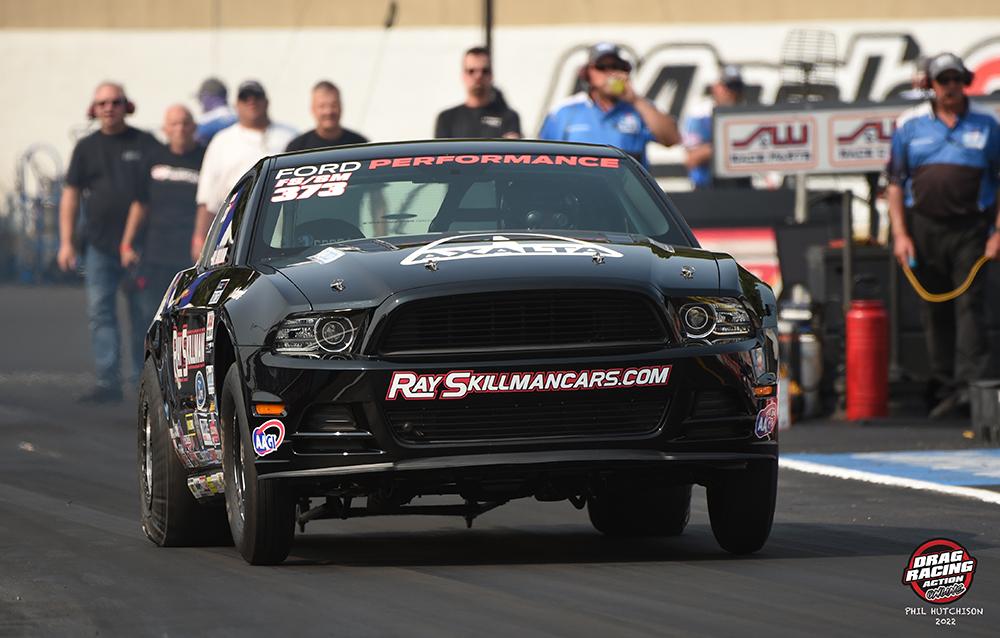 Skillman's Mustang was hit with a CIC Penalty in R2
With good air and a great track, winners were often rewarded with a CIC penalty for going too quick including Skillman who got hit with a nearly two tenths after his win over Greg Mannix's B/ED in R2.  The CIC hit affected Skillman's chances against Voight. "We raced Skillman in round 3 and he couldn't catch me. I saw him coming and wanted to save some index and was on the brakes." Voight adds, "Keeping your index is important. In round two I was racing Chris Piston and he beat Martino in 2019 so I told the crew I don't give a crap about the index I'll run the thing out the back door. He's not going to beat us again. I won but lost a tenth off my index."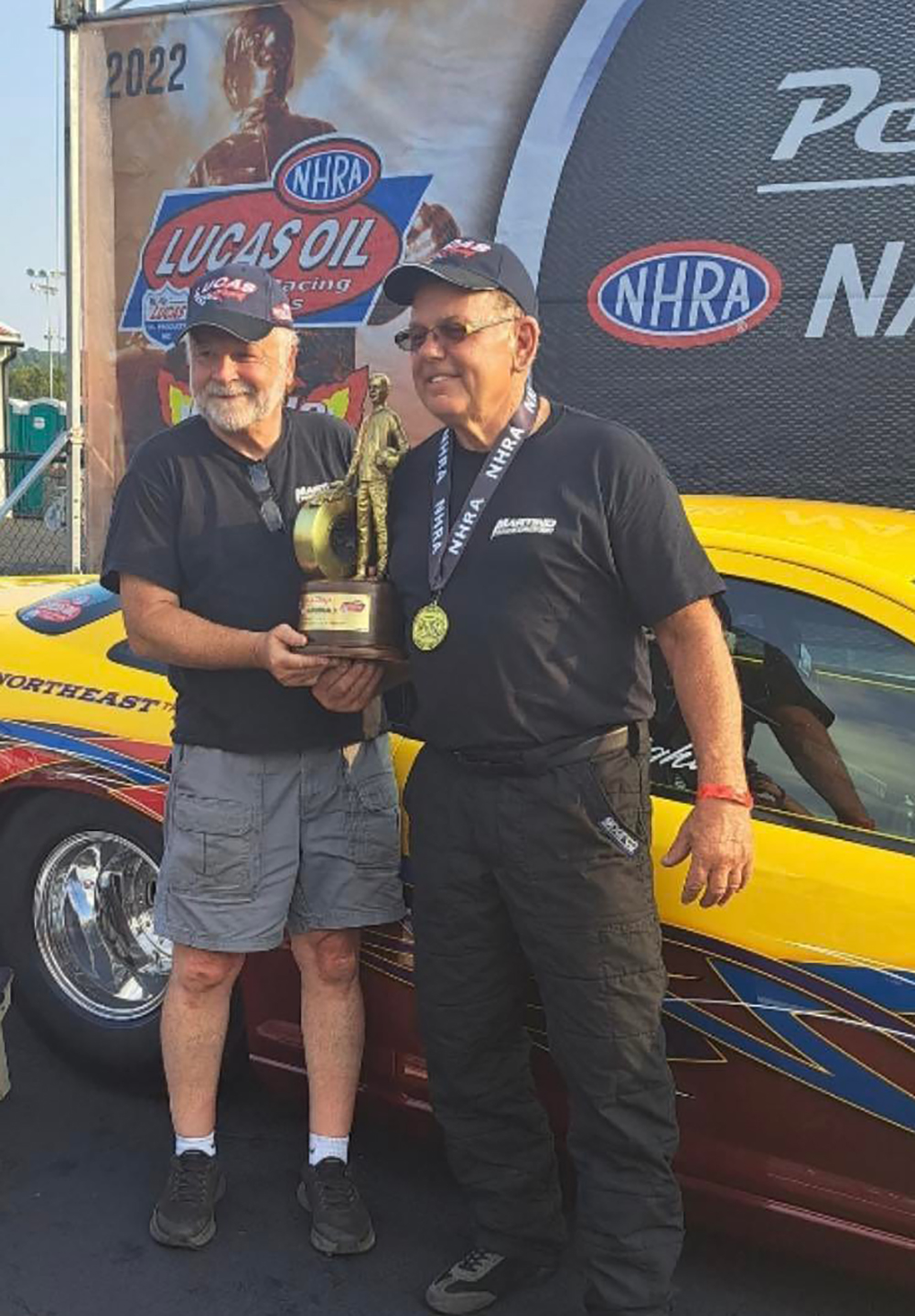 Rick Rollinson and Voight celebrate the win at Maple Grove
Things could have gone sideways for Voight before the racing started. "Right before eliminations I was warming the car up with the water pump on and there was water coming out of one of the cylinder head castings. Voight said, "I thought, "we're done' but I put some epoxy on it and it stopped the leak, and we went on to win the race."
"The Cobalt was built by East Texas Race Cars and Charlie Westcott supplies the clutch.  And of course, Tom Martino and Bob Cave builds my motors. Ever since Tommy came on the scene it turned my life around. Bob and Tommy treat me so good.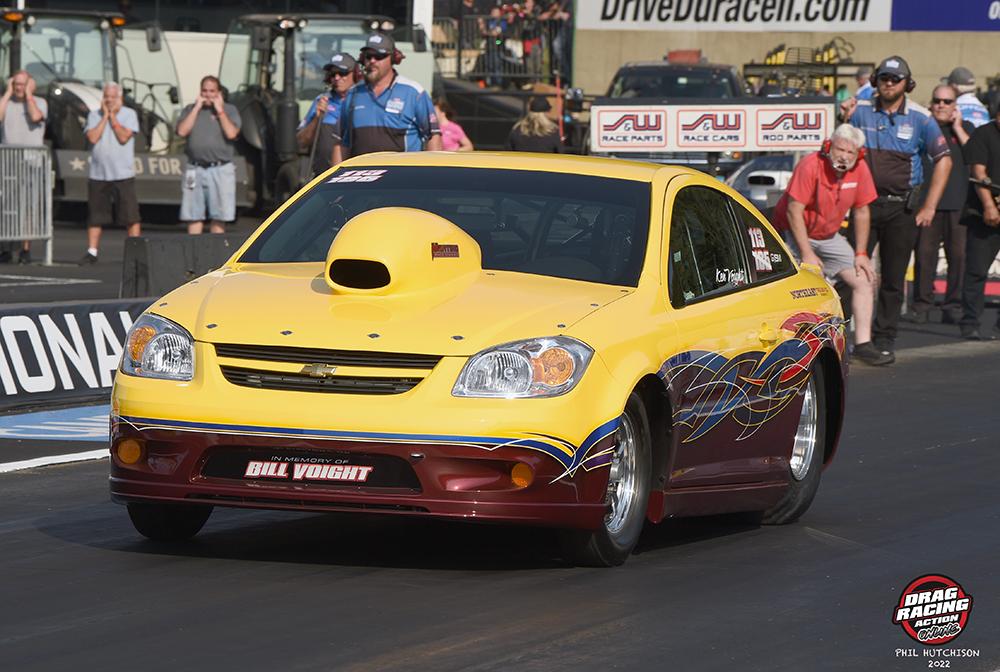 "I was very emotional after the win. I have been runner up at NHRA Opens and for once we had luck with us." Voight continues, "In the finals, Schonberger was in front of me in the staging lanes and pulled up past the ready line and he couldn't start the car. They asked me to wait, and I said sure! I got a call on the radio to come up and I waited as long as I could, but NHRA wanted me to get up to the line. Once you pass the ready line the car must start. I wasn't crazy about taking a single but that's the way it came down.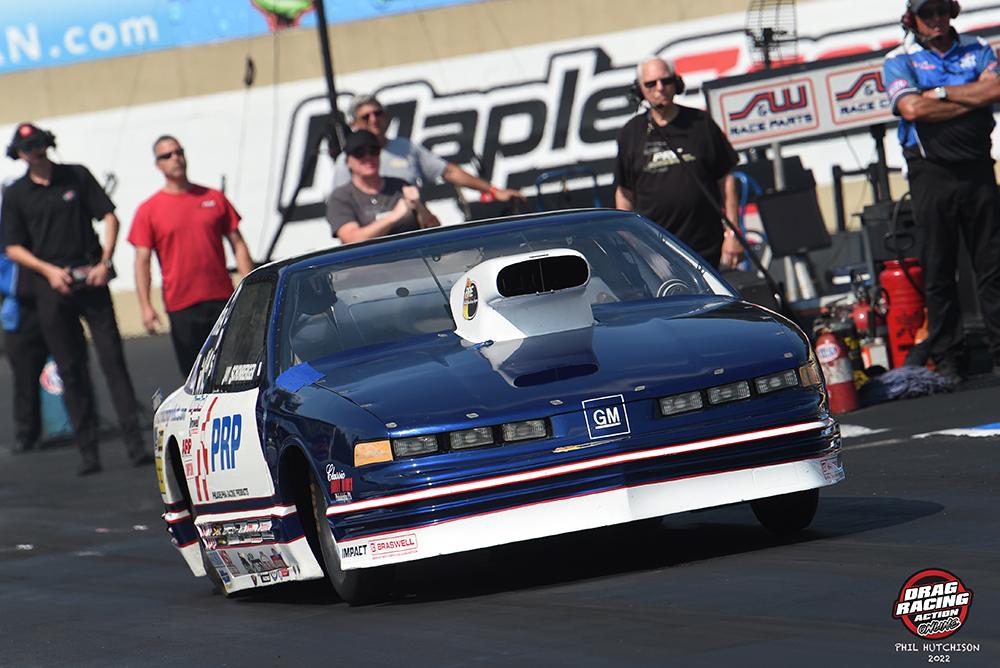 Schonberger's Cutlass would not start in the finals handing the win to Voight
 "In addition to Laurie, Tommy, and Bob, I must thank Rick Rollinson for helping. Rick was racing his Super Comp car at Maple and was with me every round. Also, I want to thank Joe Santangelo. Joe and his dad live near my shop and during the race Joe came flying down the lanes and jumped off his scooter and asked me for my fire suit pants. He had forgot his, so I lent him my pair.  I said to Joe's dad, thank him for giving me some luck in the finals."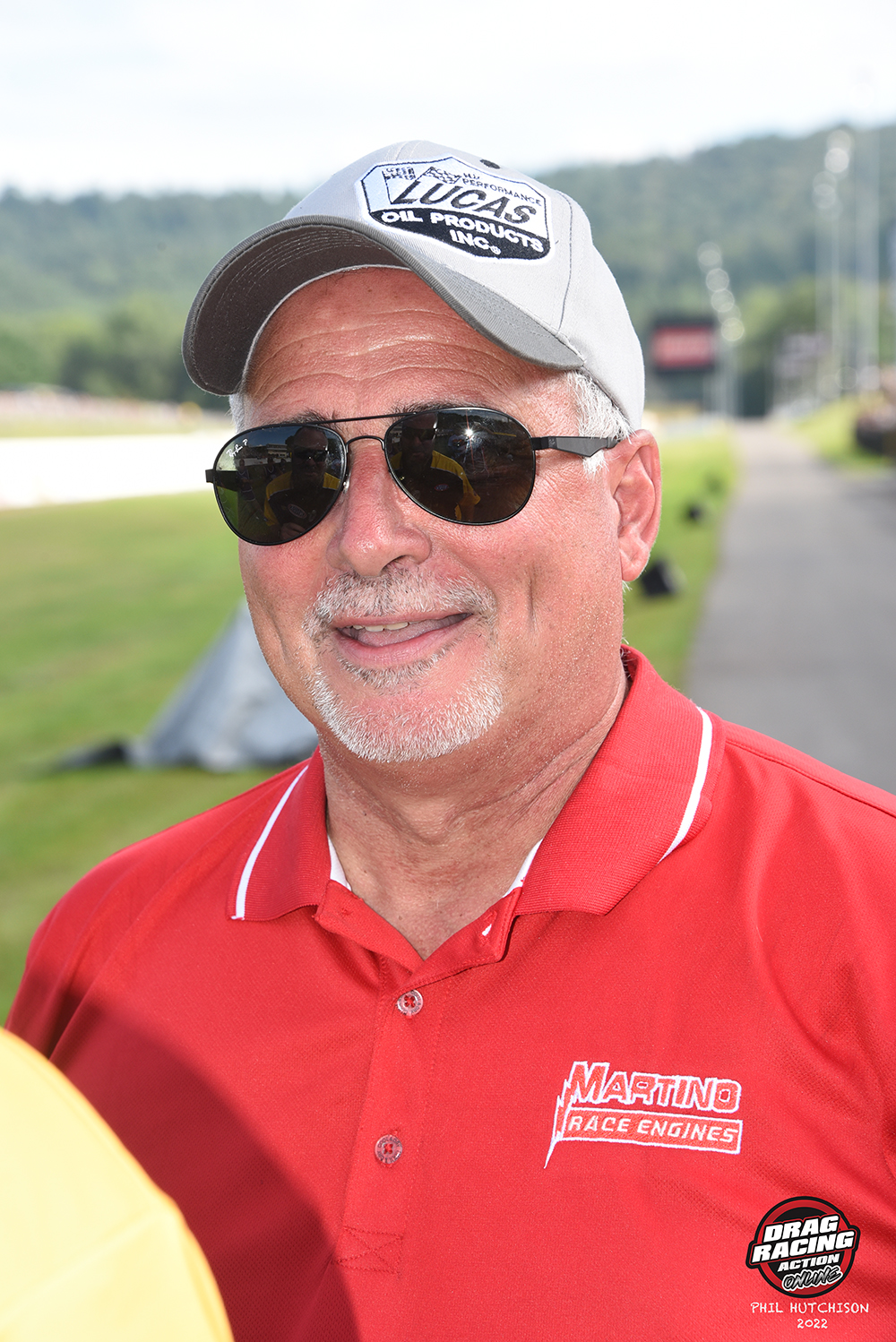 Tom Martino builds the small block Chevy for the winning Cobalt