Don "Bangs" Out Super Comp Win at Pep Boys NHRA Nationals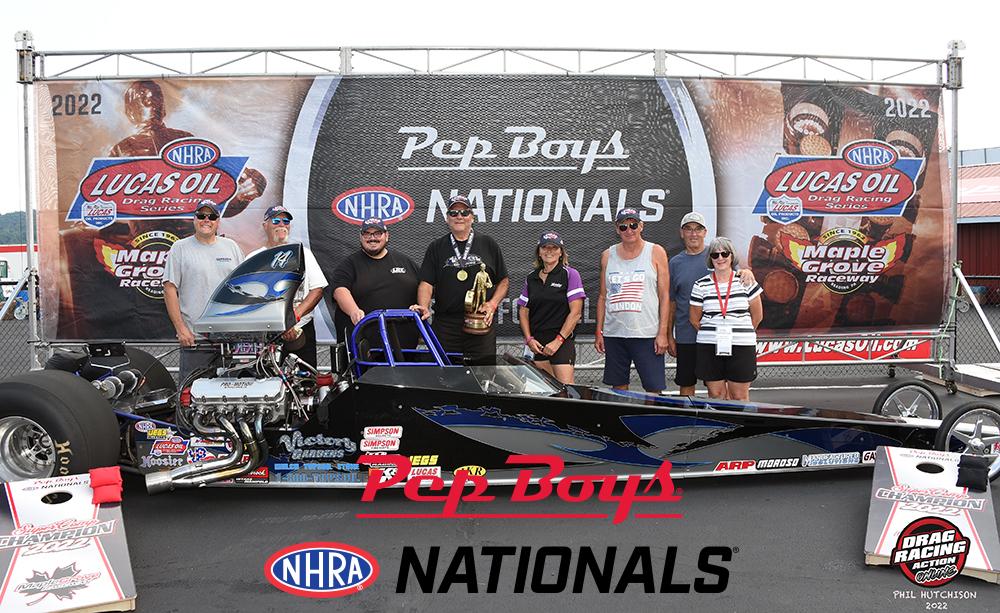 Story: Drag Racing Action Online  Images: Phil Hutchison  Bob Reed
Joining first time national event winners Ken Voight and Roger Reese, Don Bangs from Southampton Pa. took his dragster to the Super Comp victory at the 37th Annual Pep Boys NHRA Nationals at Maple Grove Raceway.
Bangs didn't have it easy on his side of the ladder as it was populated with a "Murderers Row" of top flight competition. Former and current Division champs along with seasoned bracket racers like Bangs' final round opponent Tony Barrett all tried to knock Bangs out of competition but he wasn't going to let it happen.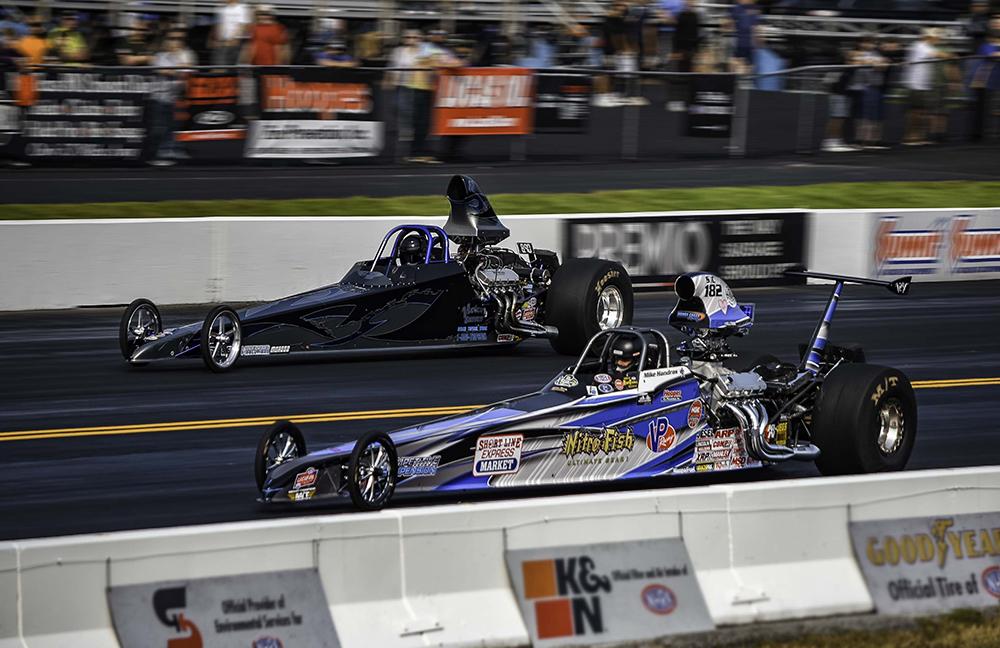 Bangs (far lane) had D1 S/G champ Mike Handras in R1
During eliminations, Bangs' worst reaction time was .027. His first round opponent, D1 2021 Super Gas champ Mike Handras went out when Bangs had a .009 light coupled with a 8.917. In R2, it was Jamie Blake then Dick Dorr on the wrong end putting Bangs up against transmission guru and nemesis, Ken Moses and his 190+ MPH ride in R4.  Bangs, winner of the Atco Lucas Divisional event in August, used his best reaction time of eliminations, an .004 to take the win with a 8.914 to Moses' better but later 8.903.  Multi-time NHRA champ Jason Kenny was Bangs' semi-final round opponent and for the first time in eliminations, Bangs left second. Kenny left with a .016 light to Bangs' slightly later.021 but at the stripe, Kenny tripped the timers with a 8.947 to Bangs' winning 8.935.   On the other side of the ladder, Barrett had his share of hitters in the other lane as he defeated Mike Mitchell, former S/G World Champ John Asta, current D1 champ Kevin Scholl along with Kathy Smulligan to get to the finals.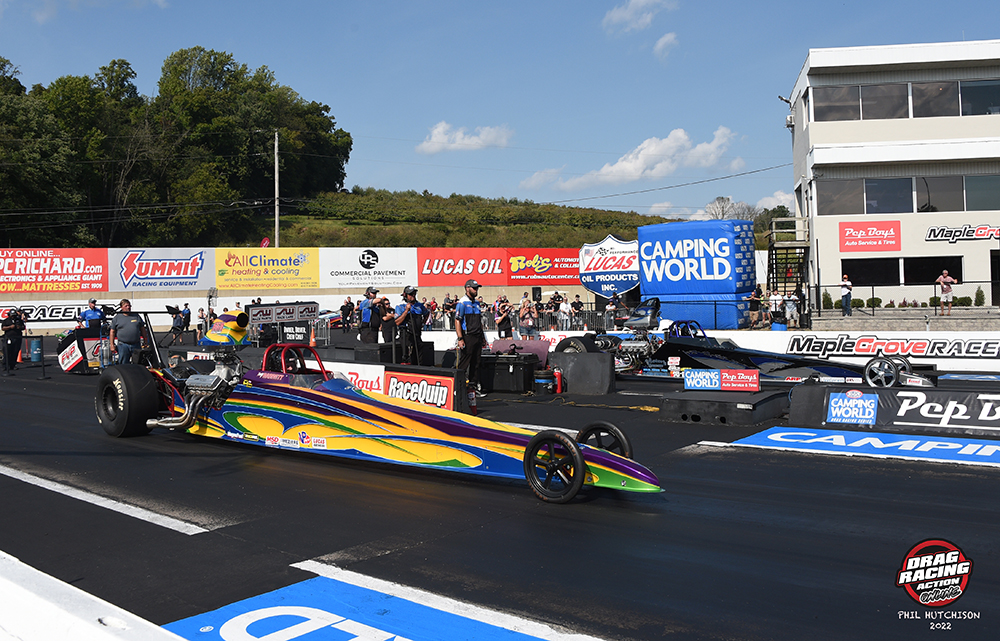 Barrett (near lane) broke out putting Bangs in the winner's circle for the first time
In the final, Bangs had the starting line advantage with a .014 light to Barrett's .032 and after seeing Bangs was out front, pushed his dragster too far, breaking out with a 8.885 to the winning 8.927.  After the win Bangs said, "Tony is a tough racer. We used to bracket race together on Sundays at Englishtown back in the day.  Through 6 elimination rounds, 3 of my wins were decided by .009 or less which tells you just how tough the competition is. To bring two Wallys home in the space of six weeks is beyond my wildest dreams.  I just hope I can keep the roll going at Virginia next weekend. I would love to salvage another D1 top 10 finish for 2022".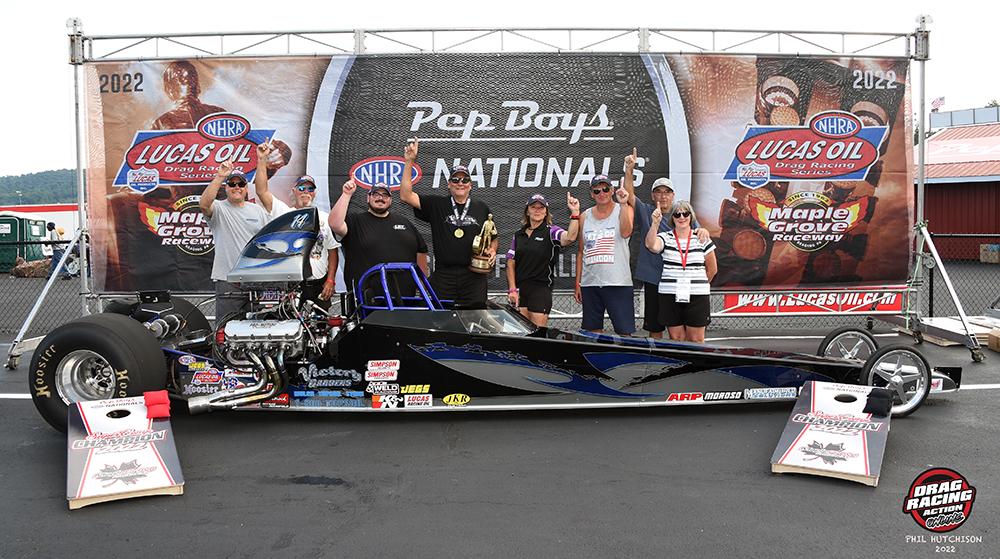 Bangs added, "It's been an up and down year. Yeah, I have the Atco win, but I also have five first round losses to go with it. It's been feast or famine for sure but, I'll keep doing my best and the D1 points will sort themselves out in the end.  I'm also sitting in (and hoping to hold on to) 2nd in the Mid-Atlantic .90 Association series with 2 races left but, Chase Fahnestock has already run away with that Championship.
"I have a normal routine in the car after I do my burnout and back up. At Maple Grove in the final, after backing up, I just stopped for a second or two and tried to take it all in. I looked around at all the people in the stands, took a mental snapshot of it and soaked it up. You just never know if you are going to be lucky enough to get back there again. I'm glad I had the wherewithal to do that and absorb the "WOW" moment.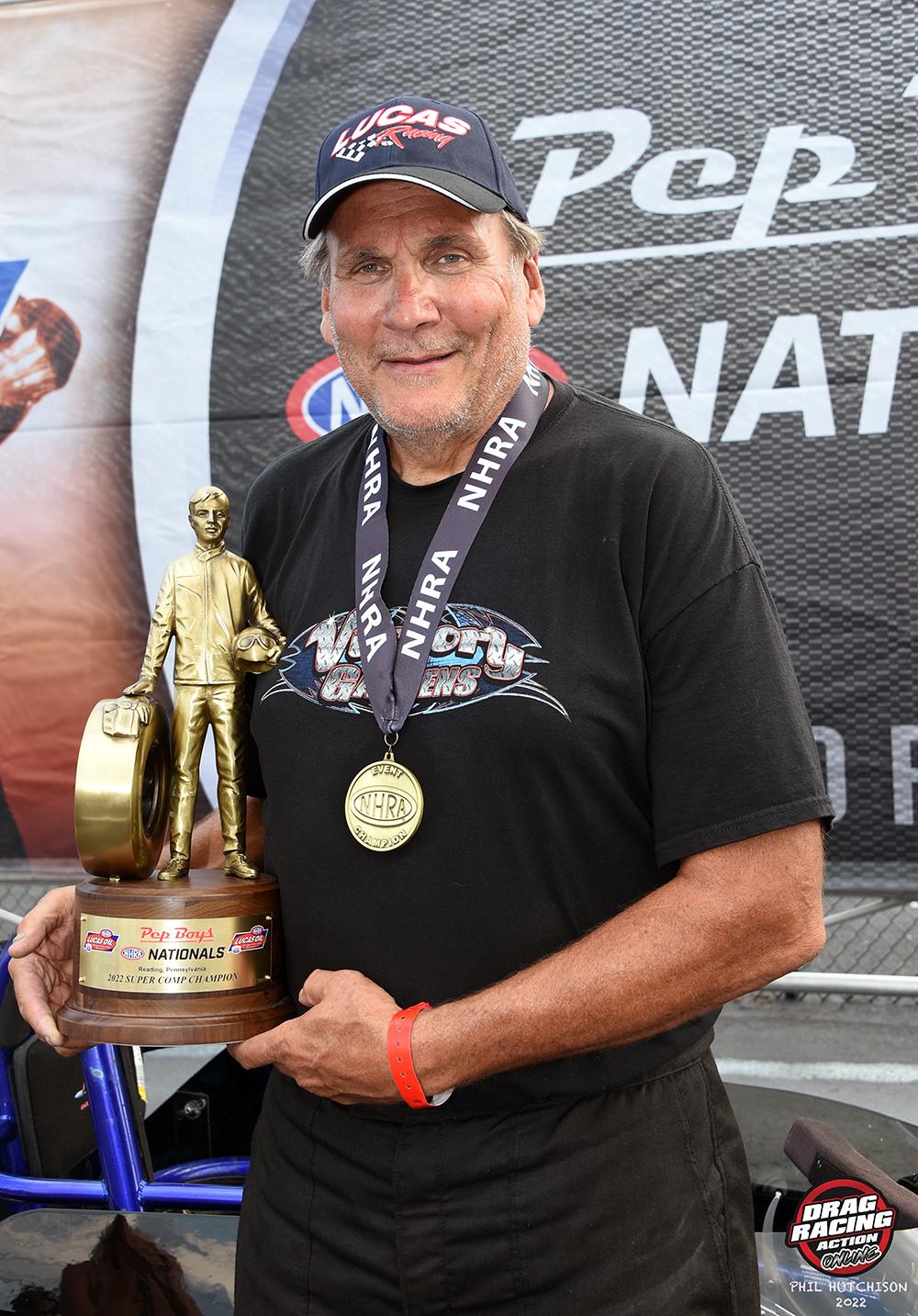 About the winning dragster, Bangs said, "The chassis is just a basic 2002 Race Tech slip-joint hardtail. The engine is a 582″ Chevy with a Dart block & 365 Heads, Edelbrock SV intake and a Ron's Terminator Methanol Injection system. The car is about as basic and low-tech as you can get!
In closing Bangs said, "I would like to thank my wife of 40 years Beth Anne and my boys, Donnie, Tim, Jeffery, and Corey along with our large Racing Family who without all their support, this mess would not function at all!  Special thanks to the Butler family at Victory Gardens, Doug at Moroso Performance Products, Jeff Stricker at Road Runner Race Fuels, Roy Freeman at Hoosier Tire, the "Eddies" at Select Performance, Lee Ream at C2 Competition, James Monroe at Killerrons.com, Russ, Kellan and the crew at Race Tech Race Cars …and last but definitely NOT least, my "#1 go-to", Tom Goldman and his partner Kathy Purcell".