DJ Cox Shows He Can Handle a Dragster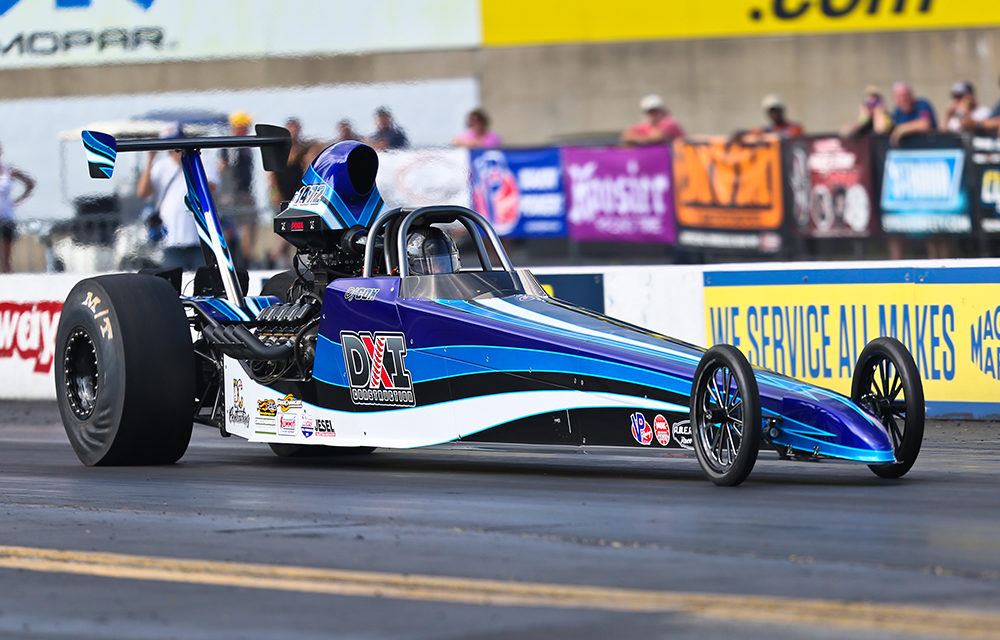 Story: Phil Hutchison
Photos: Phil Hutchison and Tara Bowker
Defending 2020 NHRA East Region Alcohol Funny car racer DJ Cox showed his versatility behind the wheel at the PDRA Northern Nationals presented by P2 Racing at Maple Grove Raceway taking the Lucas Oil Elite Top Dragster trophy back to Whiteford MD.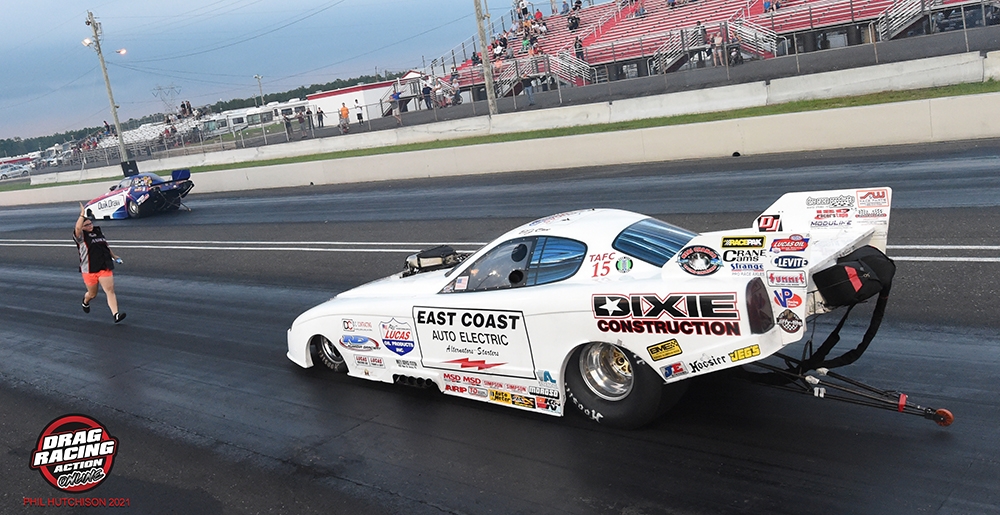 Before his driving a blown alcohol funny car, DJ ran in Super Comp with some success but after licensing in 2005, he has made TA/FC his main passion.  After a few years in his dad's Alcohol Funny Car, along with a stint behind the wheel of Chuck Anderika's East Coast Auto Electric car, he made the step to run his own team.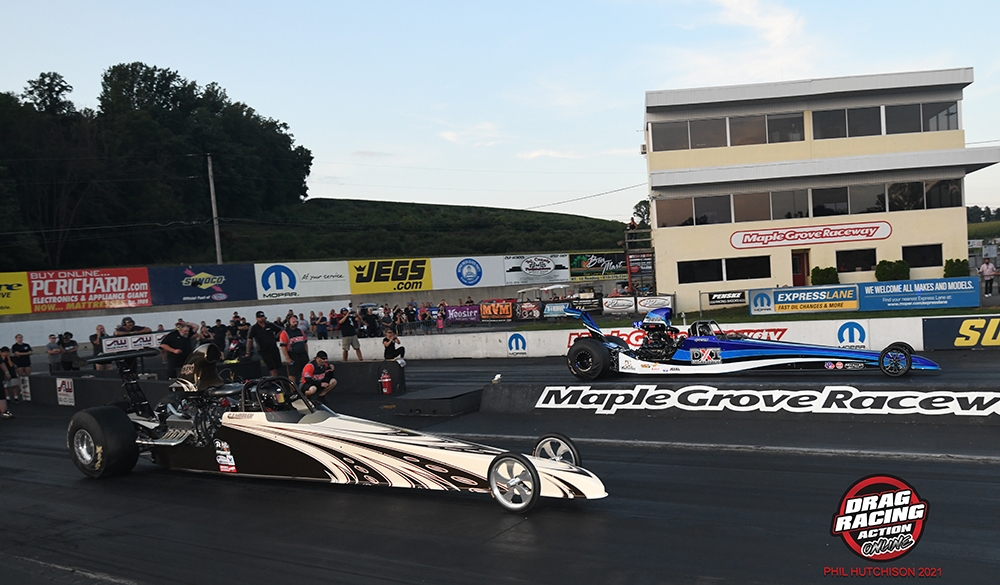 In his first PDRA event of the season, Cox wheeled his '20 American chassis dragster to a final round win beating a red lighting CJ Morley. Cox said after the win, "We wanted to run PDRA's Elite Top Dragster with the car but the way it was set up, qualifying in such a tight field, we did not have the setup we needed to qualify. We run a small ProCharger on the car so we made a bunch of changes before the race. We put zoomie headers on it, took weight out, threw more boost at it, changed the timing to get into the Elite 16. We just got in at #15."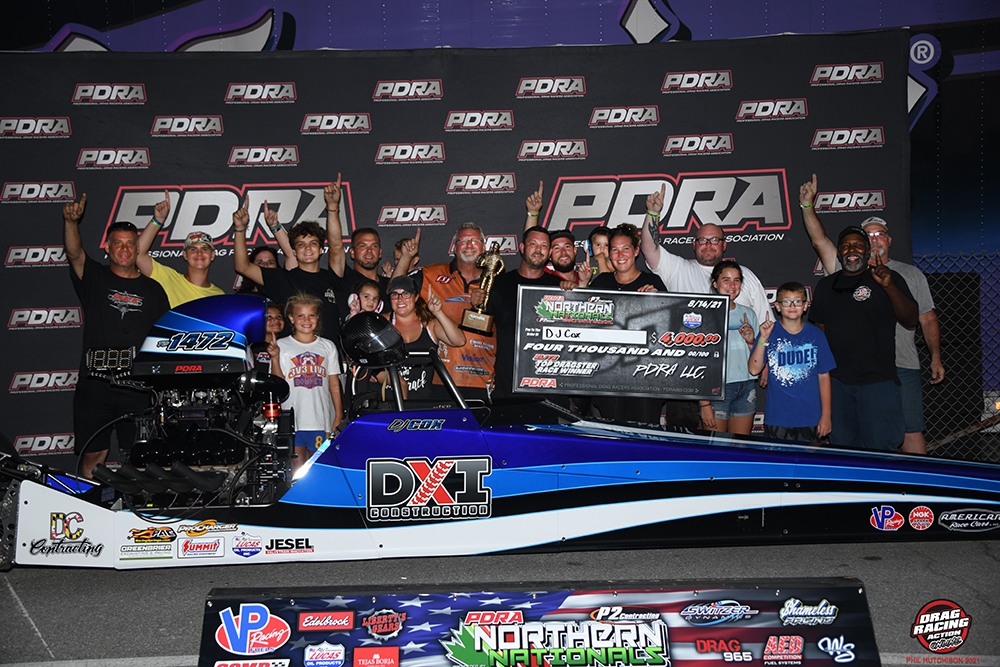 The dragster used for his PDRA win has an interesting back-story of its own according to Cox, "I bought a raffle ticket from American Race Cars for $250 for a brand new car that was painted, wired and had a Racepak data system installed. All it basically needed was a motor. I forgot about the raffle ticket and one day the phone rang and was told I won the dragster. So I had to make a decision, sell the dragster and put the money into the Funny Car, or race the car. We decided to have some fun and race the dragster. I bought a motor from a Canadian racer and had it freshened up and put it in the American chassis. If it weren't for the raffle I would have never raced a Top Dragster as my money goes into the Funny Car."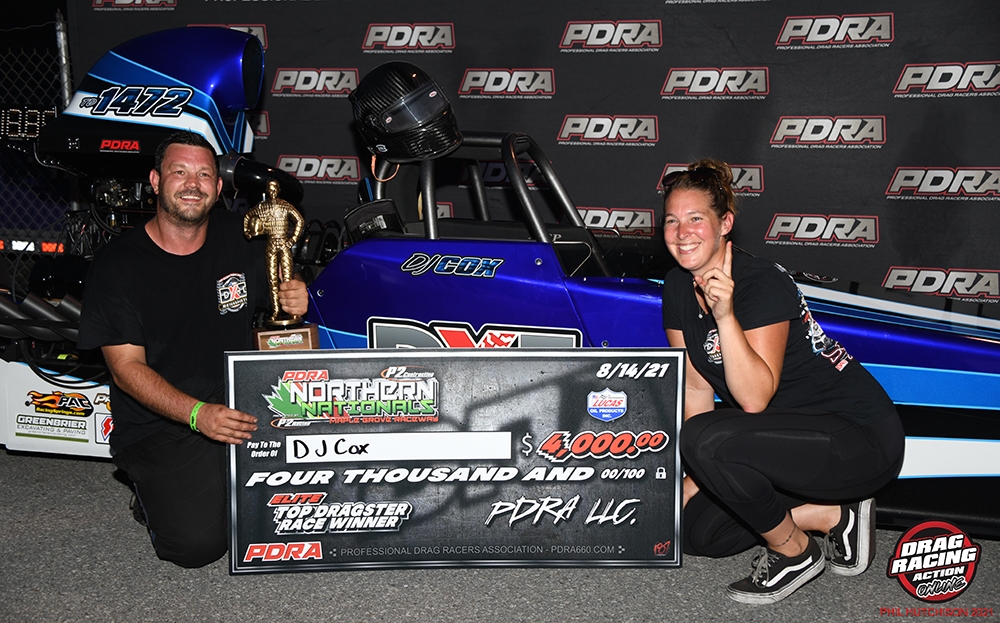 DJ was not done with raffles as a few months later he won another dragster but this time he sold it and took the money to build an American Race Car dragster for his girlfriend Melissa Thomson to drive.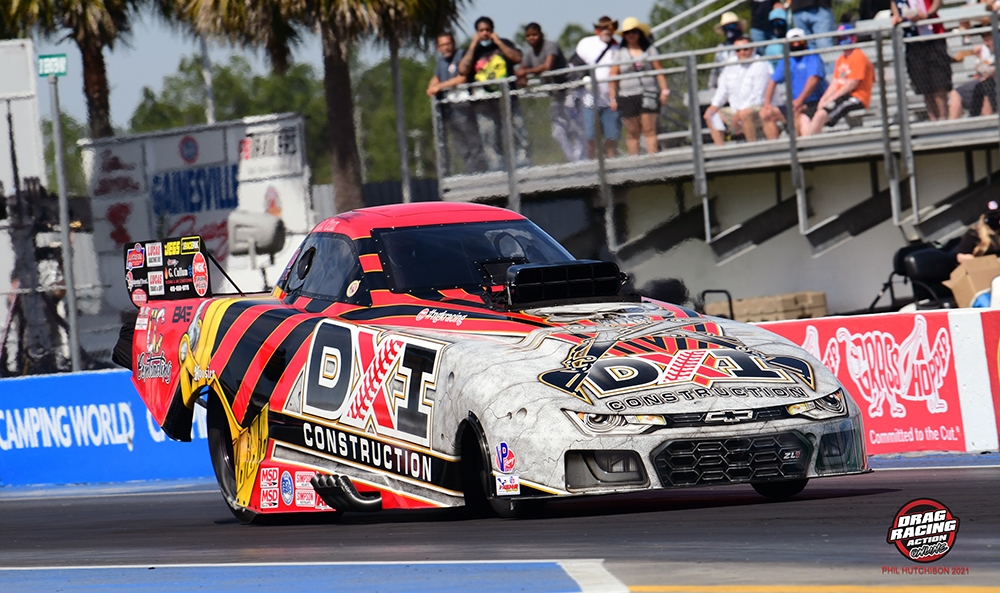 Cox, who is the NHRA East Region representative for the 2021 JEGS Allstars at the US Nationals over Labor Day, had this to say about the "Race Within a Race" at the Jeg's event. "We get a qualifying shot on Thursday the day before the Jeg's race and hopefully we make a clean run then. If we don't, then first round on Friday is our second qualifier and now we have to get the car down the track to win, and also qualify the car for the main show. It's a balancing act to get it all to work."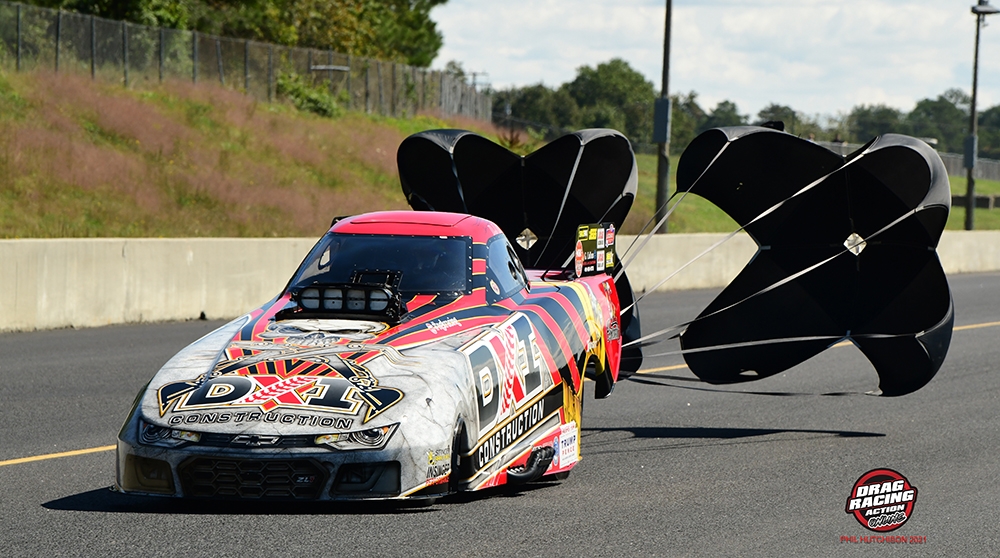 DJ has had a great season in 2021 winning back-to-back events at Norwalk in Alcohol Funny Car, which has him firmly in 5thplace in the Lucas Oil national chase and first place in the East Region. And the good news is DJ has more races to claim in 2021 that the racers that are in front of him in points.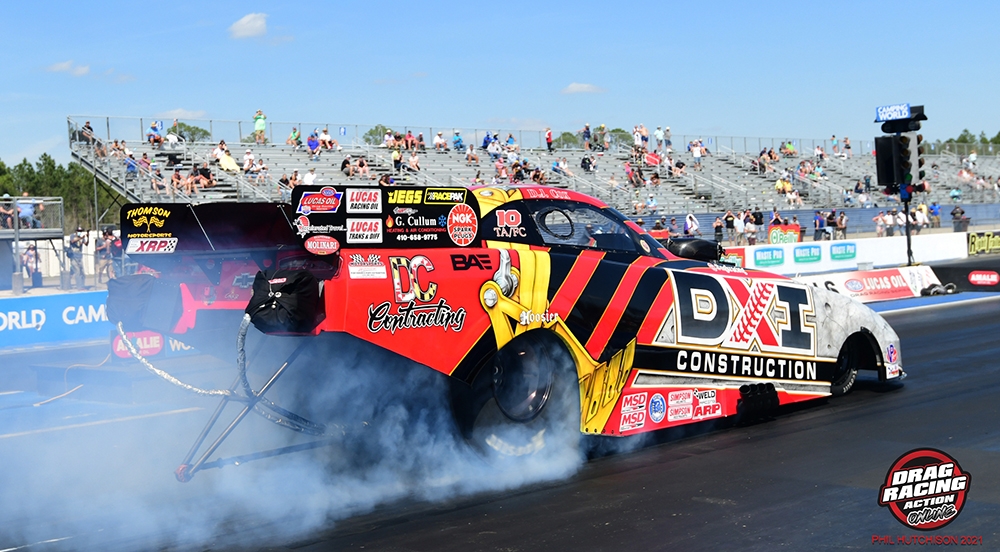 Cox, who has two NHRA national wins along with seven regional events in his resume, will have a busy next few weeks with his TA/FC '19 Camaro with a Lucas Oil divisional at Maple Grove, then to Indianapolis for the US Nationals, back to Maple Grove for the Mopar Express Lane NHRA Nationals, then tow to NC for the DeWalt NHRA Carolina Nationals. DJ is also excited about the Cecil County Lucas Oil event in October. "Cecil is my home track and the Alcohol show will have more money than usual up for grabs. Also all my sponsors and friends will be there too and with the new smooth surface at Cecil and October weather I expect some stout times."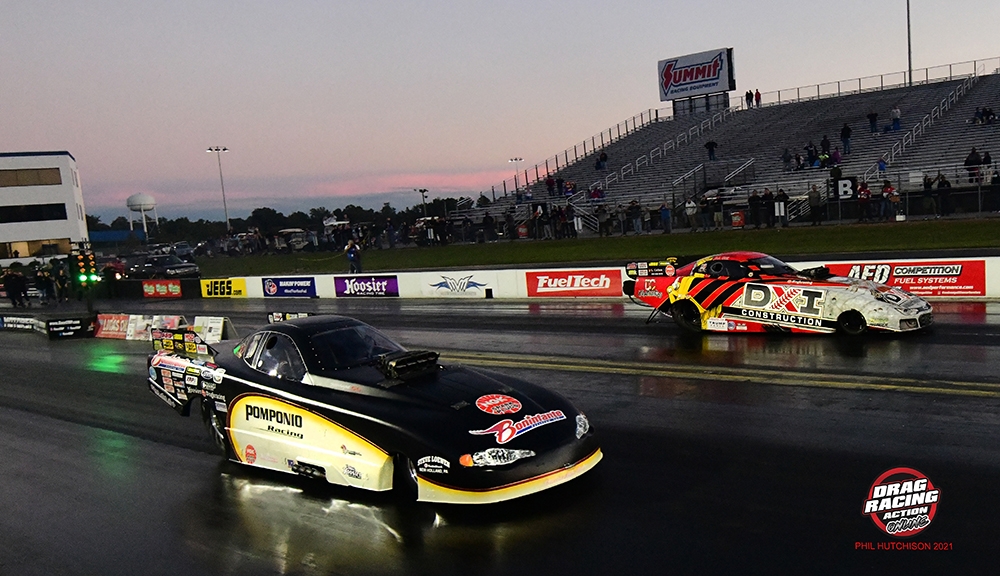 DJ's mom and dad, Mary and Darrel are the crew chiefs on the team along with Chrissy and Haley Walter handling general maintenance. Danny Mauk drives the tow rig and is bottom end specialist and Charlie Reynolds is bottom end and valve train guy. Sam Jenkins handles the clutch and Jon Mink along with DJ's girlfriend Melissa take care of the engine between rounds.
The team's major sponsors are DXI Construction, DC Contracting, NGK Sparkplugs, Road Runner Race Fuels, VP Racing Fuels, and Gary Cullum Heating and Air Conditioning.