MID ATLANTIC .90 FINALE AT MAPLE GROVE DRAGWAY CLOSES OUT 2023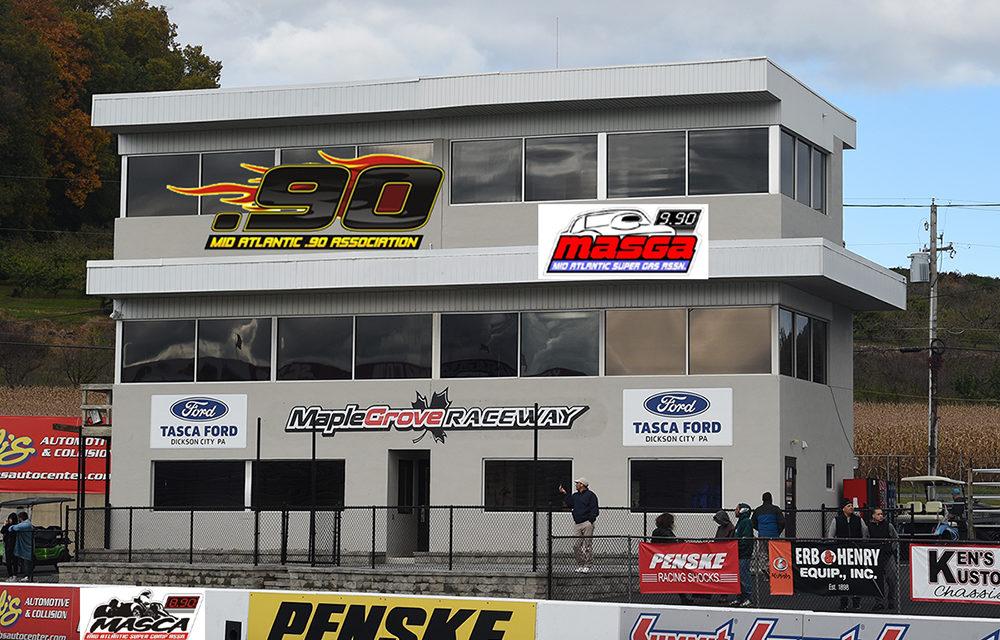 Drag Racing Action Online
Images: Phil Hutchison and Courtesy Rob Keister
At the start of the season, 2023 was looking good for the Mid Atlantic .90 Association. A full slate of events along with the addition of the Top 32 Challenge which included Top Dragster and Top Sportsman, and Jr Dragster, the year looked rosy. Unfortunately, things didn't work out as planned as weather and the sudden closure of Atco Dragway, the schedule was cut down and thankfully for association president Rob Keister, Maple Grove Dragway jumped up and agreed to have the series finale at the track the week before the NHRA Dutch Classic
The weather forecasted for the weekend looked bleak but by Saturday, the decision was made to hold the race and in the consideration of safety, keep the race to an eighth mile instead of the full quarter with winds and cool track temperatures being the deciding factor.
Super Comp would run off a 5.70 index, Super Gas, 6.30, and Super Street, 6.90.
All the season titles were up for grabs with Kevin Scholl leading Super Comp, Bob Phillips in the points lead in Super Gas, and Frank Volpe III in Super Street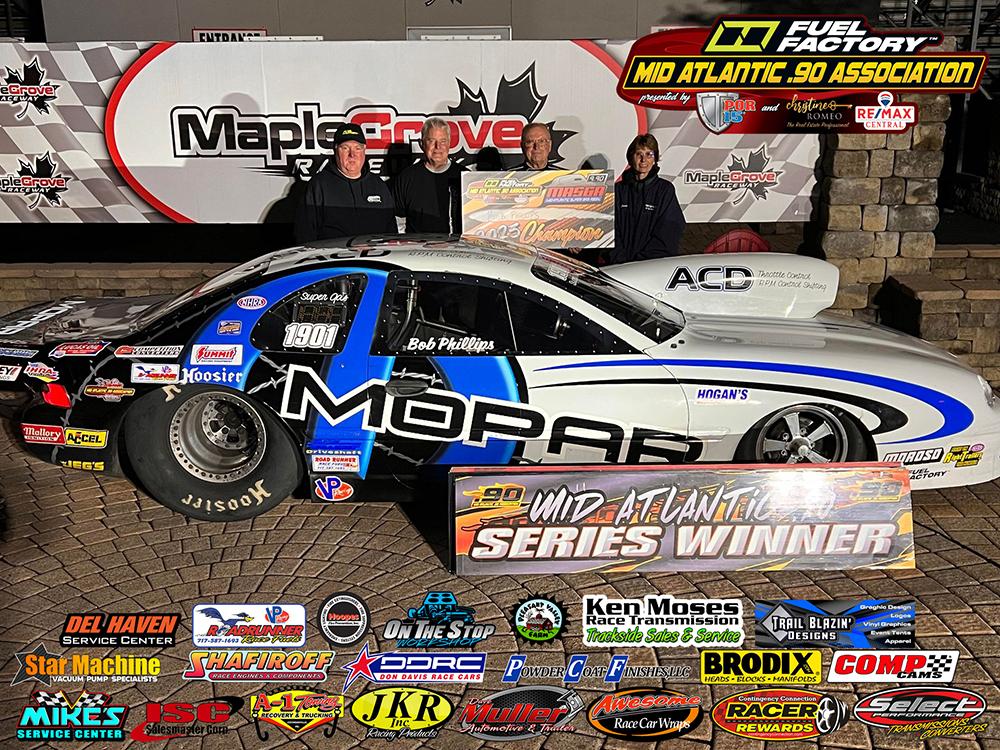 After the smoke cleared at Maple Grove, only Phillips retained his lead for the 2023 title.
Scholl lost to David Rowe in R1 in a double breakout as Scholl had the better RT with a 0.29 to Rowe's 0.40 but Scholl went a too quick 5.693 to Rowe's less of a breakout, 5.697.
Rowe, who was withing striking distance of the title, lost in R2 to long time Super Comp racer Kathy Smulligan. Smulligan, from Coopersburg Pa. used a 5.705 to Rowe's close 5.708 to get the bye to the finals.
On the other side of the ladder, Chase Fahnestock, the 2022 champ, had a slim chance of defending his title but he needed to go rounds. As it worked out, Fahnestock did just that. After a first round bye, he defeated Randy Winfelder in R2 and then took out Shamong NJ racer Bill Hardifer to get the chance to run Smulligan.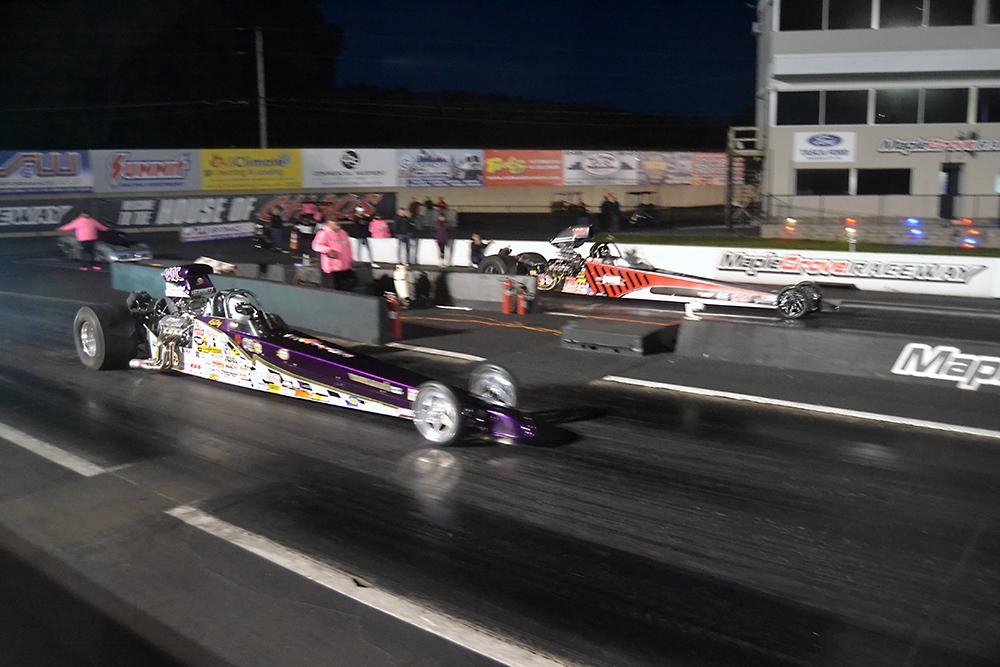 At the green Smulligan was perfect on the lights with a 0.000 RT to Fahnestock's 0.067 and took the win with a 5.739 to the breaking out 5.686 of Fahnestock.
After her win and having to fight adversity to even make the race Smulligan said, "From not knowing If I can get the rig out of the shop due to power outage to being in the final with one of the toughest .90 racer Chase Fahnestock and winning was something I will never forget."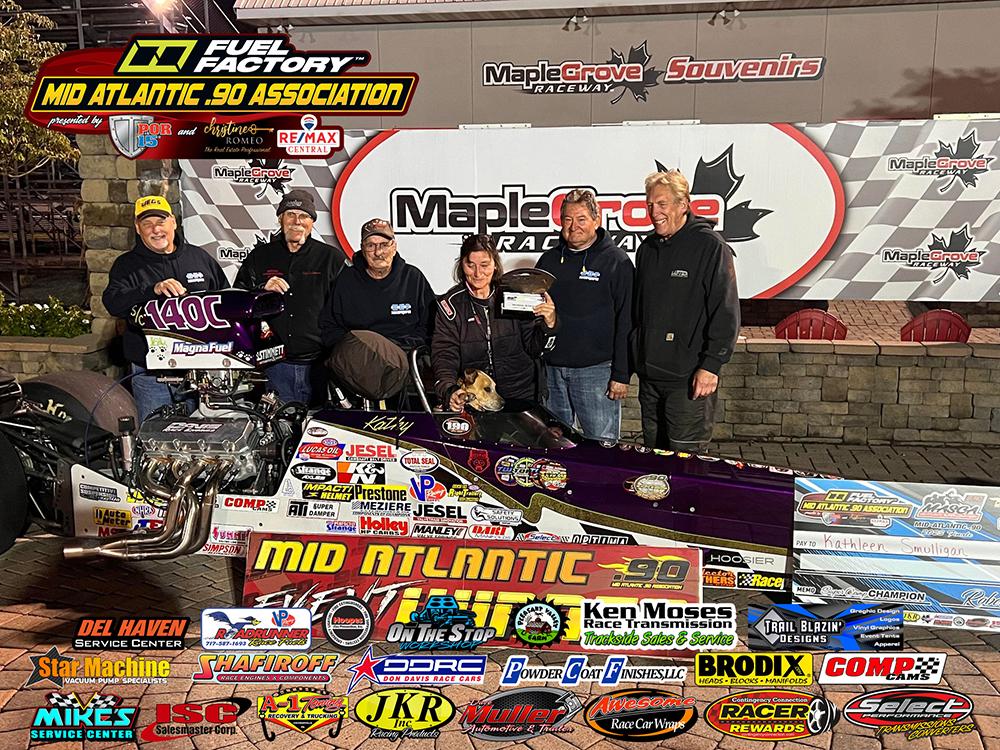 "To all my friends who came to my help getting me out of the trailer to staying for the last pass and winners circle pictures. Priceless! Maple Grove is always a special place, and they did a fantastic job in getting the .90 Finale done and last but not least Mid Atlantic .90 Association president Rob and his team made a great decision on going 1/8 mile to get the last race done."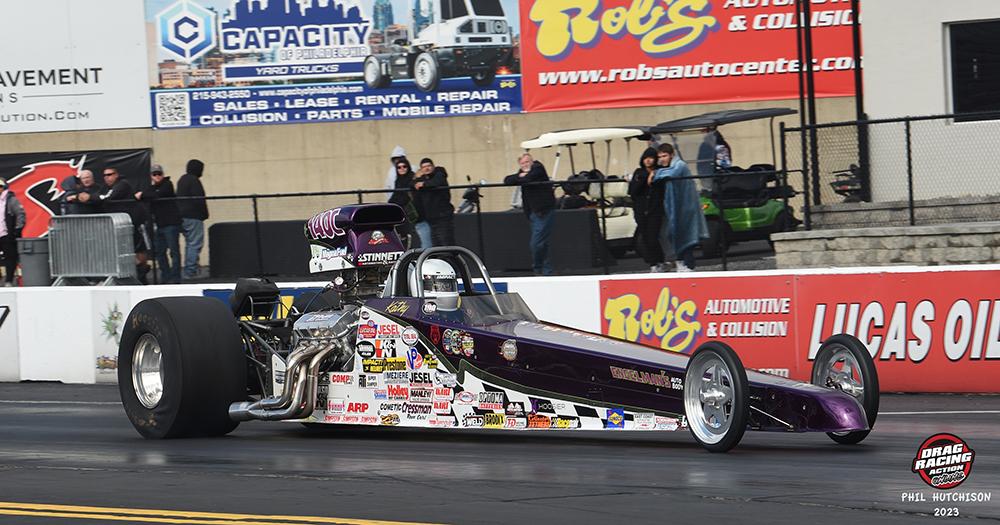 "Never raced 1/8th mile but we all adjusted and got it done! Like I said, the only thing better than retirement is drag racing with awesome friends and winning!"
Although he did not win the finale, Fahnestock amassed enough points to win the 2023 title.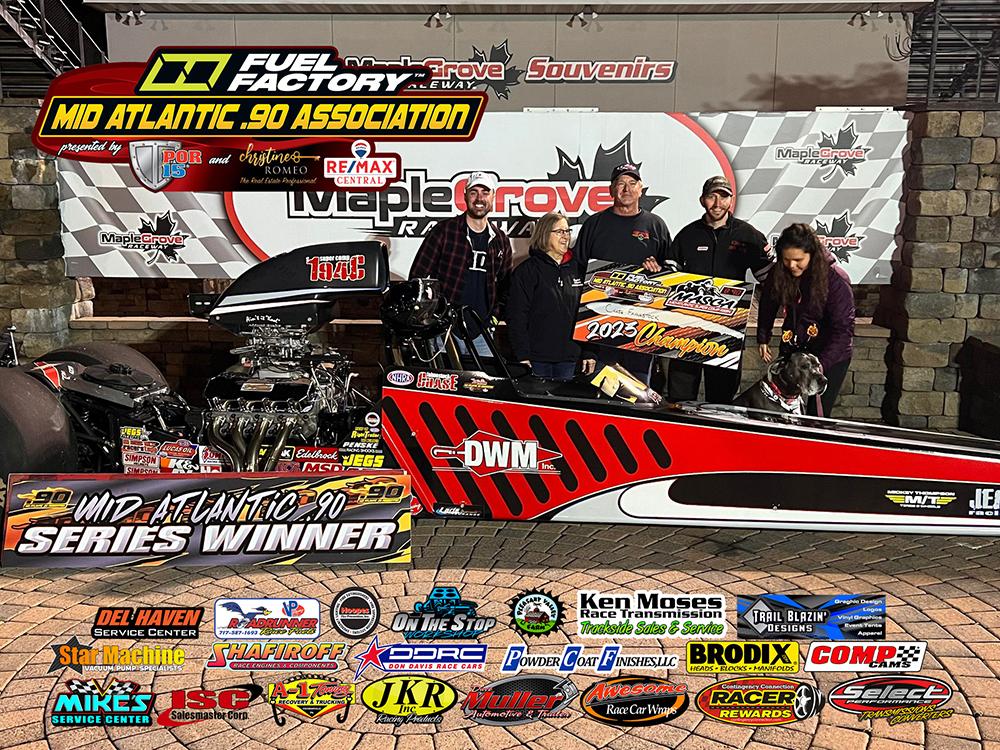 "Definitely cool to go back to back!", Fahnestock said after the finals. "Something I absolutely wasn't expecting. Everything seemed to fall right into place for us, and we capitalized on it. I greatly appreciated Kevin Scholl's support. He was the first to tell me I won it and congratulated me."
Bob Phillips from Oley PA. had  the Super Gas lead going into the finale with Iggie Boicesco and Hank Smith within striking distance.
Smith lost in R1 on a red light and Boicesco made it to the semifinals where he lost to the '68 Camaro of George Smith. Iggie, in his '17 Corvette roadster had the better light with a 0.009 to Smiths 0.029 but Smith ran closer to the 6.30 index with a 6.325 to the 6.344 of Boicesco.
On his side of the ladder, Phillips had the bye run to the finals and by this time, mathematically won the 2023 Mid Atlantic Super Gas Championship.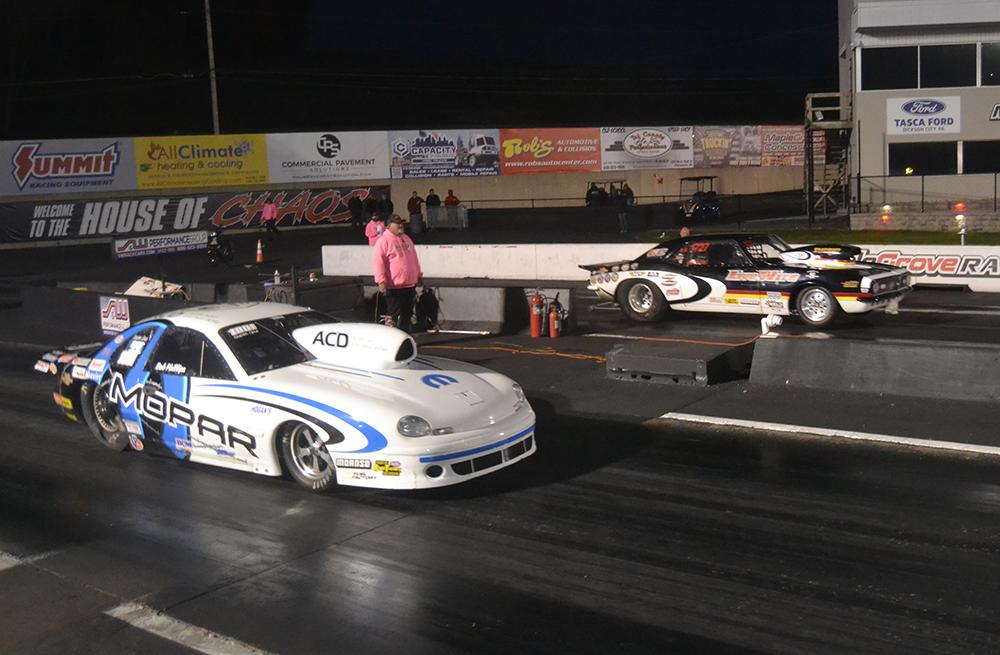 In the last Mid Atlantic Super Gas race of 2023, Phillips picked the worse time to have a bad reaction time and left second with a 0.105 to Smith's great 0.010 RT. At the stripe it was Smith winning with a 6.320 to Phillips' better but losing 6.305.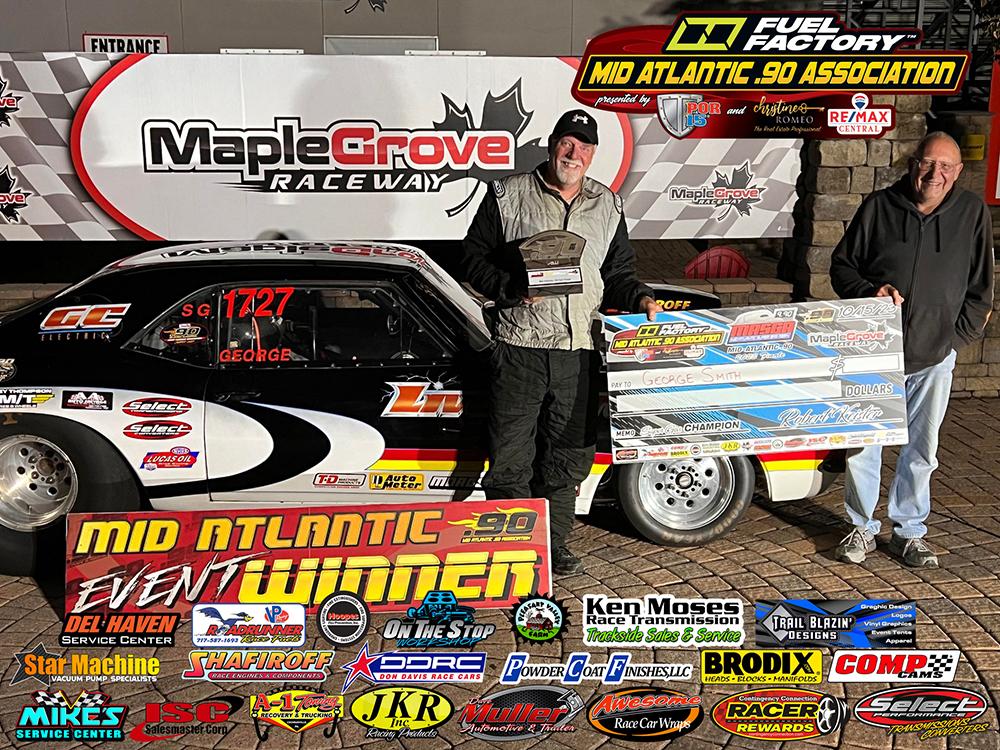 In Fuel Factory Super Street second place Don Burgese had one thing to do to win the Championship. Go more rounds than points leader Frank Volpe III.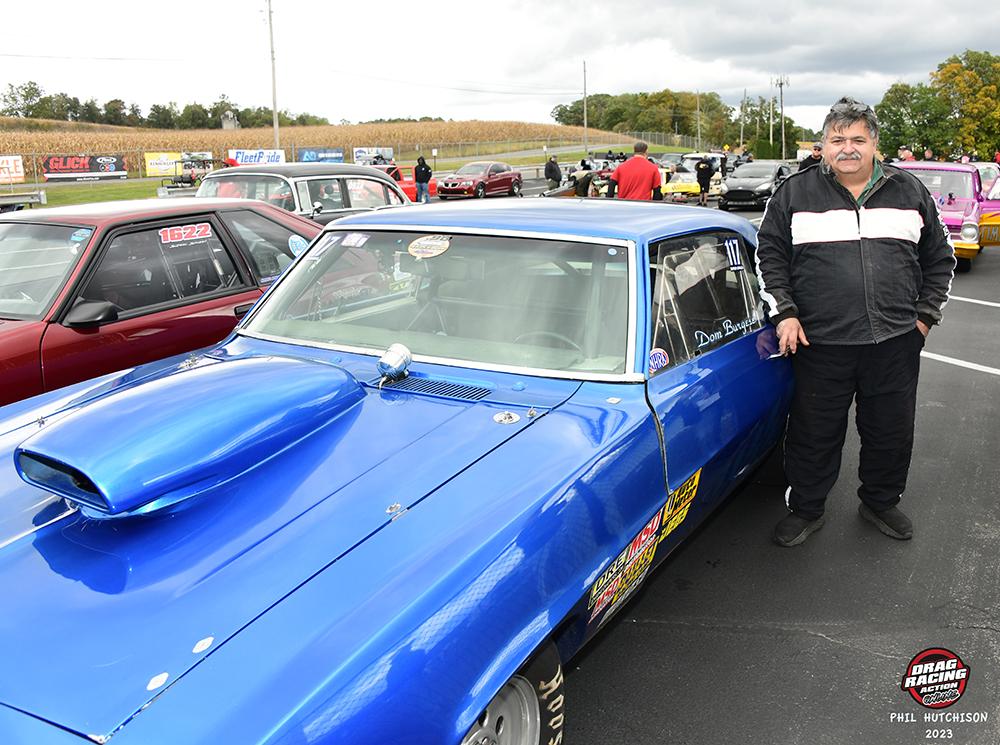 As it worked out after qualifying, the two would meet in Round 1 to decide who would be the 2023 Mid Atlantic champ.
Burgese was second off the line with a 0.022 light to Volpe's better 0.009 but the Williamstown NJ driver ran a perfect 6.90 for the win as Volpe crossed the line second with a 6.931 in the loss.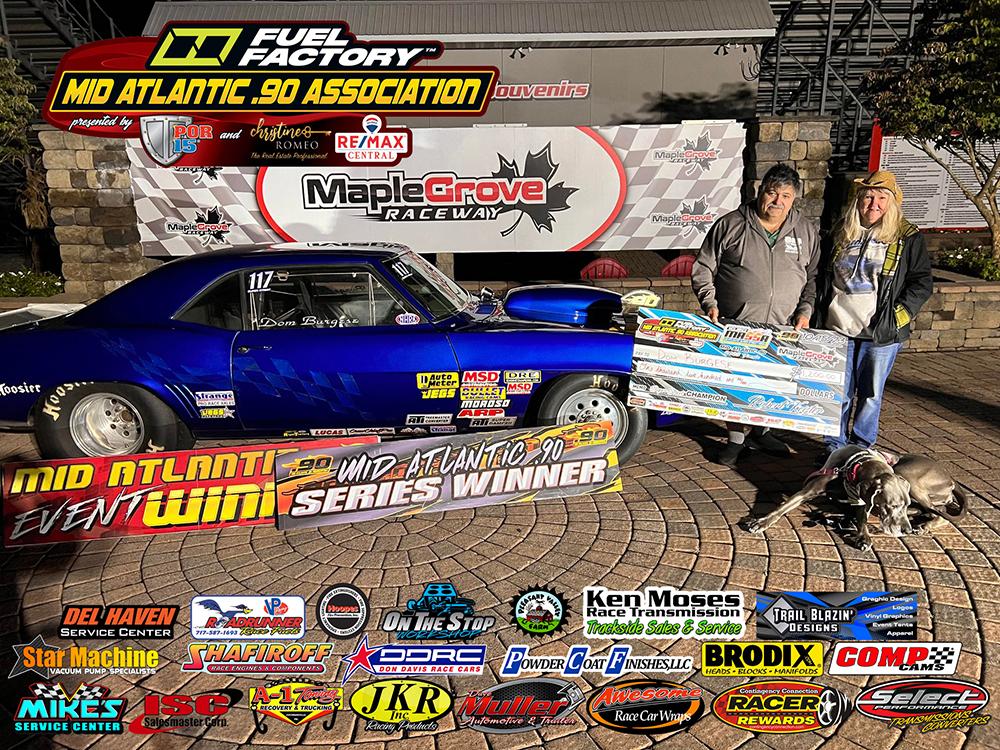 Burgese still needed to go past the 3rd round to claim the title and did so when Dave E'Nama went red giving Burgese the 2023 Mid Atlantic title.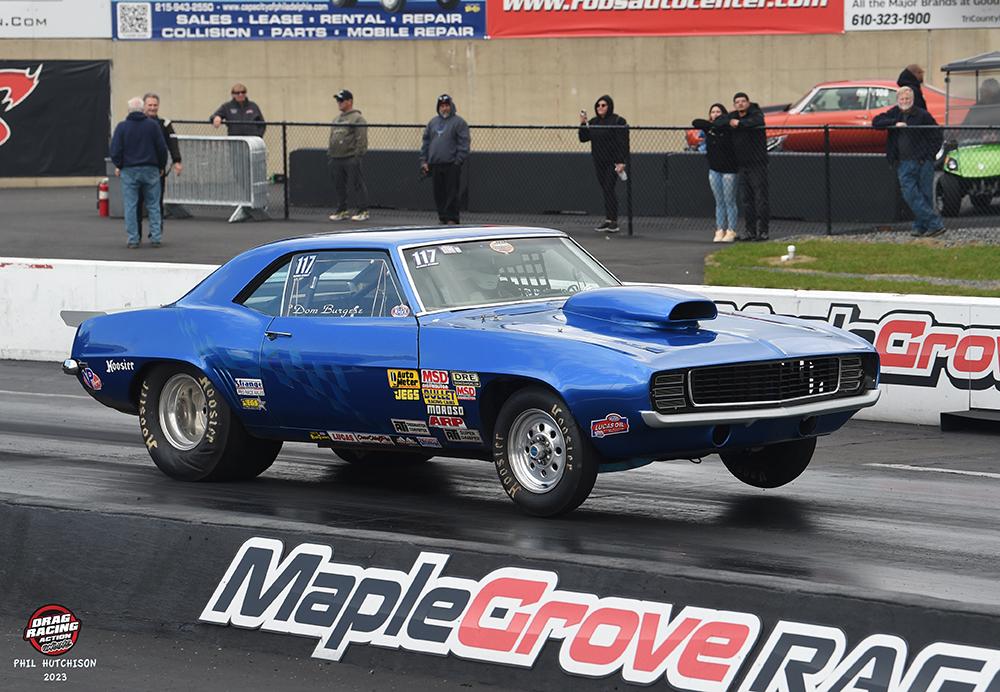 To make it even sweeter, Burgese won Sunday's final over the Chevy Nova of Scott Lang from Slatington PA. Burgese's Camaro was first off the line and ran another perfect 6.90 for the win as Lang trailed with a 6.907.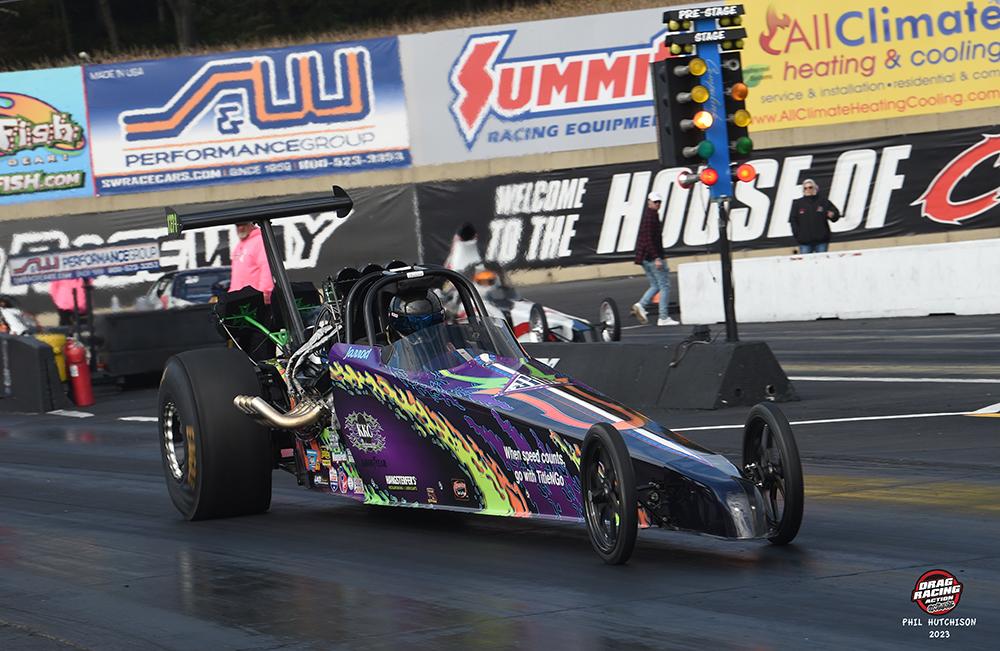 Jarrod Kissinger from Bernville Pa. was leading the Top 32 Challenge going into the finale and he made it look easy beating the beautiful '63 Corvette of Mike Grafas in the finals for the race win along with the 2023 Championship.
Kissinger, dialed in with a 4.53, ran a 4.546 for the win as Grafas was right there with a 4.574 on a 4.56 dial but Kissinger's better reaction time made all the difference at the stripe.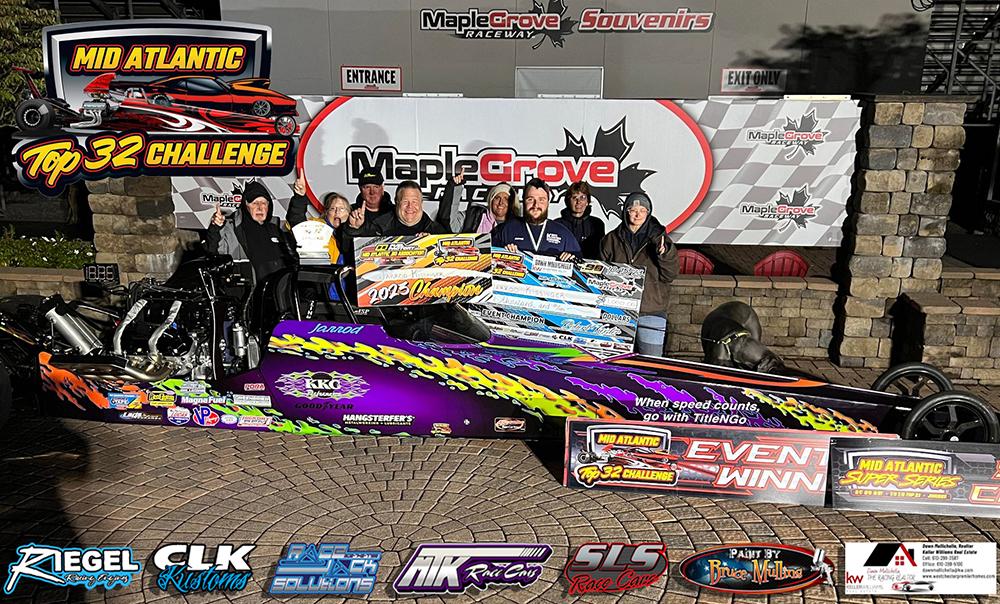 "We came into this season with a lot of confidence in our new blower combination and the first race of the Mid-Atlantic Top 32 series we went to the semi-finals," Kissinger said.  "Through mid-season we were going rounds but just couldn't punch it through for a win. Then we went to Empire Dragway for a Top Dragster race and hurt the motor going into the semi-finals. This was just 10 days before the second race of the Series. Lee Reem of C2 Competition came through in a big way for us getting the motor back to us the night before the Dave Stine Race at Maple Grove. The motor ran great, but a red light took us out second round.
"We then headed to Cecil County for the Uncle Buck race where motorhome and generator problems almost forced us to leave before the race started. Luckily, we stayed and took it to the winners' circle and took a slim 10 point lead headed into the last race of the year @ Maple Grove. We headed to Maple Grove for the last race after a full day of rain and cold temperatures, this made for a very challenging day of racing with less-than-ideal track conditions. On our first qualifier we just hazed the tires and had to abort the run. As luck would have it, they gave everyone a second qualifier and we were able to get enough timing out of it to get down the track and earn the #1 qualifier position.
"We made it to the finals in a winner take all race for the Championship against Mike Grafas. We took it to the house for a win and our first ever Series Championship!"
Junior Dragster had the largest field at Maple Grove with nearly 30 racer answering the first round bell.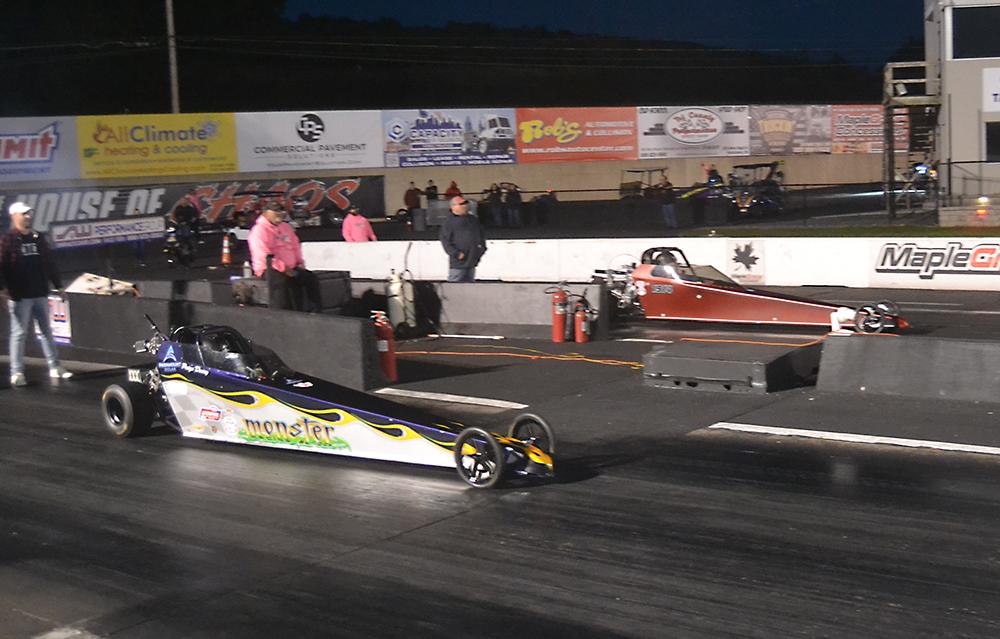 Local racer Bobby Pennabaker from Morgantown PA. beat Page Doney in the final with a 7.97 on his 7.95 as Page left too soon drawing a red light.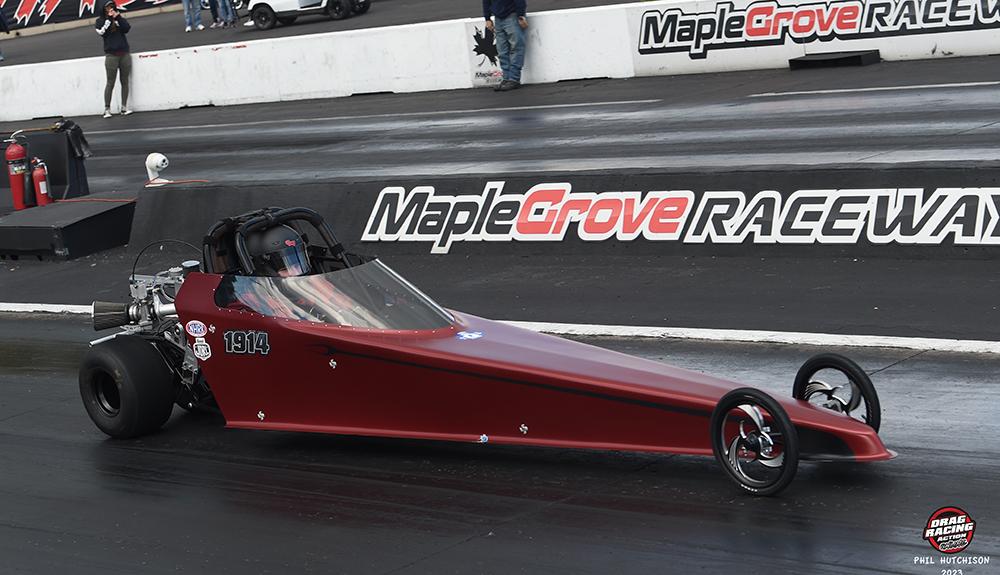 Pennabaker, who is going "Big Car" racing in 2024 with the family '20 Camaro said after the win, "This was a special win since my Junior Dragster career started at Maple Grove in 2014 and this was his last race in a Junior at Maple Grove. I really liked the Mid Atlantic series and had a lot of fun. I liked it being at different tracks and racing with kids I didn't always get to race with."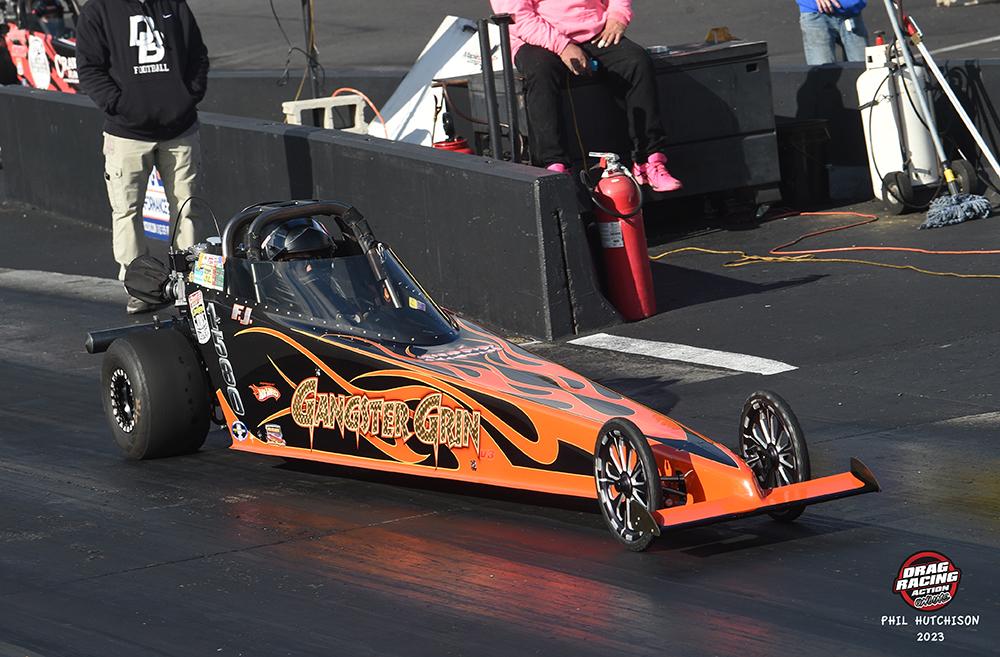 Francis "FJ" Vignola from Mahwah NJ was leading in the points going into the last race and lasted to round two losing to fellow New Jersey racer Paul Stalba from Hammonton but still had enough points to hold off Frank Aragona III and Stalba for the title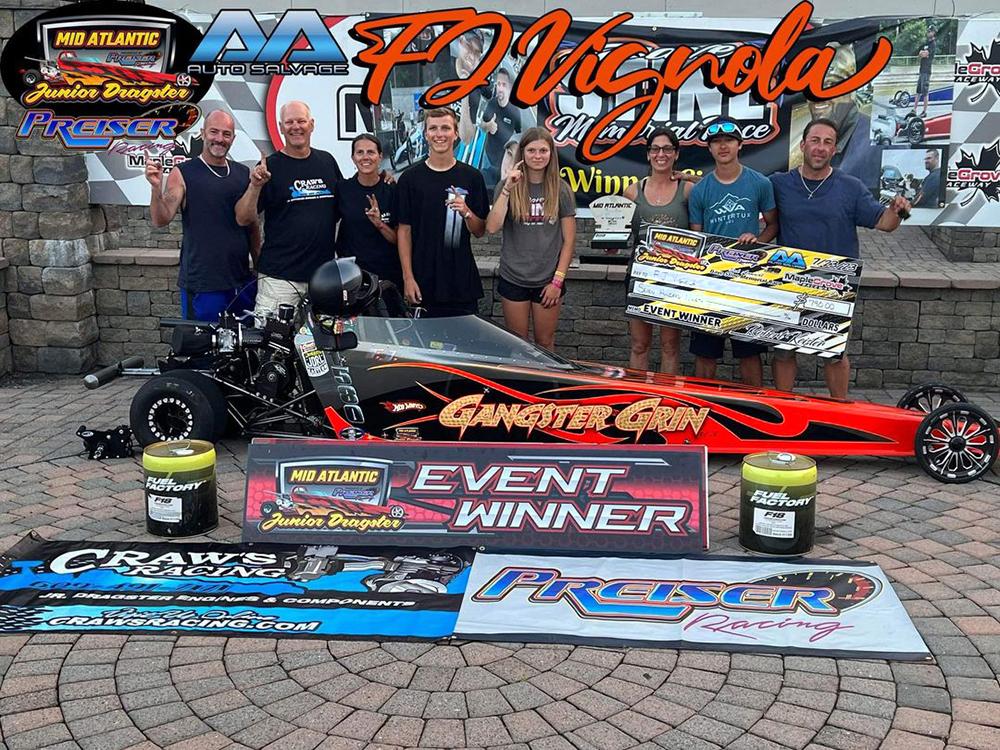 FJ said after the finale, "It was a battle right from the beginning. This was a tough and competitive field. Thank you, Rob Keister, and all of the generous sponsors. It was an honor to be a part of this series. Can't wait until next year!"
.Series President Rob Keister said," The series was thrown a lot of curveballs this season with the weather & tracks closing but, sometimes you need those obstacles thrown at you to see how you handle under the pressure and if you will bend or break. As I tell people time and time again, I believe we have some of the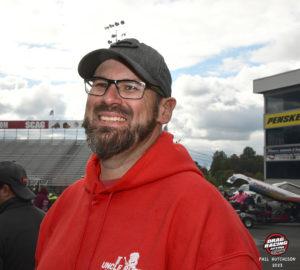 toughest racers on the east coast that run our series, no one round is a gimme in this series and the seat time & knowledge they earn at these events makes them better drivers for other events and it's been proven with yearly Top 10 finishes, Divisional Championships, National Event wins and just this past weekend all three Jegs All Stars for the .90 categories in D1 were Mid Atlantic .90 Members and supporters.
"I love being the president of this series and seeing our members do well at my events and on other levels of racing. I can't wait to see what next year holds in store for the series and what the future holds for us. Congrats to Chase who becomes the winningest Super Comp Champion in series history with 3, Dom Burgese who breaks up the Keith Mayers strangle hold of 4 years straight, Bob Phillips who came out of retirement because he has soo much fun at these events finally got his first championship, Jarrod Kissinger overcame different obstacles to come out on top as the first ever Top 32 Champ and sweep the last 2 events.
And in Juniors, a nail biter to the end to crown FJ Vignola the Inaugural Champion of this series. Thanks to all my racers for a great year and hanging with me during this crazy year of changes and bending and not breaking, you guys are the best!