Landry, Firestone, and Eaton lead Sportsman winners at the Gators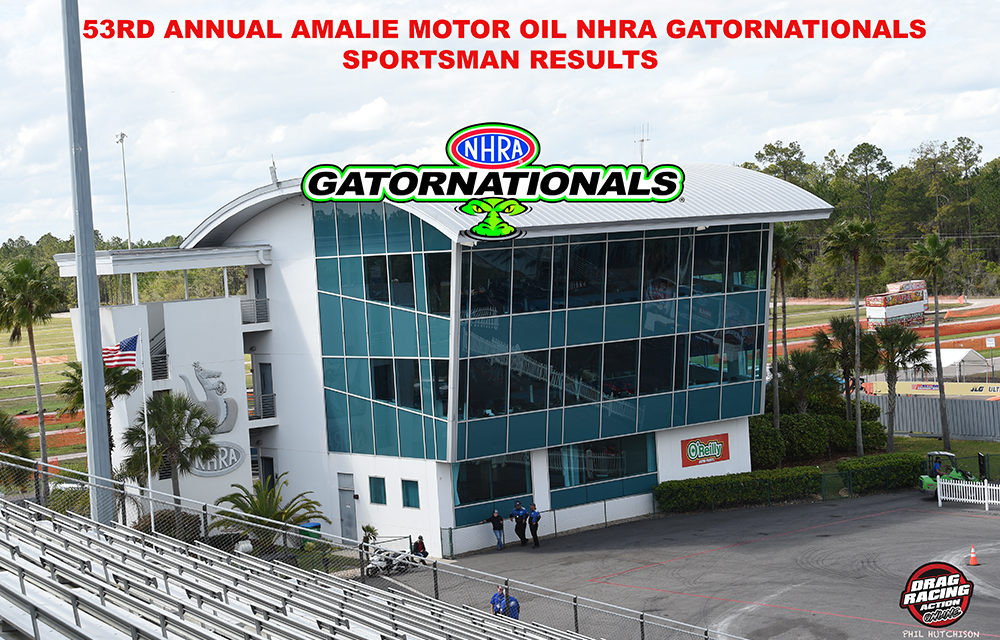 Story/Photos  Phil Hutchison
It was an eerily quiet Monday morning at the 53rd annual Amalie Motor Oil NHRA Gatornationals in Gainesville Raceway. The Pro portion of the event was completed Sunday and the Fuel Dragsters and Funny Cars along with Pro Stock were packed up and on their way to the next NHRA event. The handful of fans that returned had the place to themselves, as the Pro pits were empty as were the stands. The persistent rains that hit the area for nearly four days affected the entire race schedule forcing the NHRA to make the decision to run the remainder of the race on Monday.
Many of the Sportsman racers made the decision to pull up stakes and head home but those who stayed found near perfect race conditions and cloudless skies.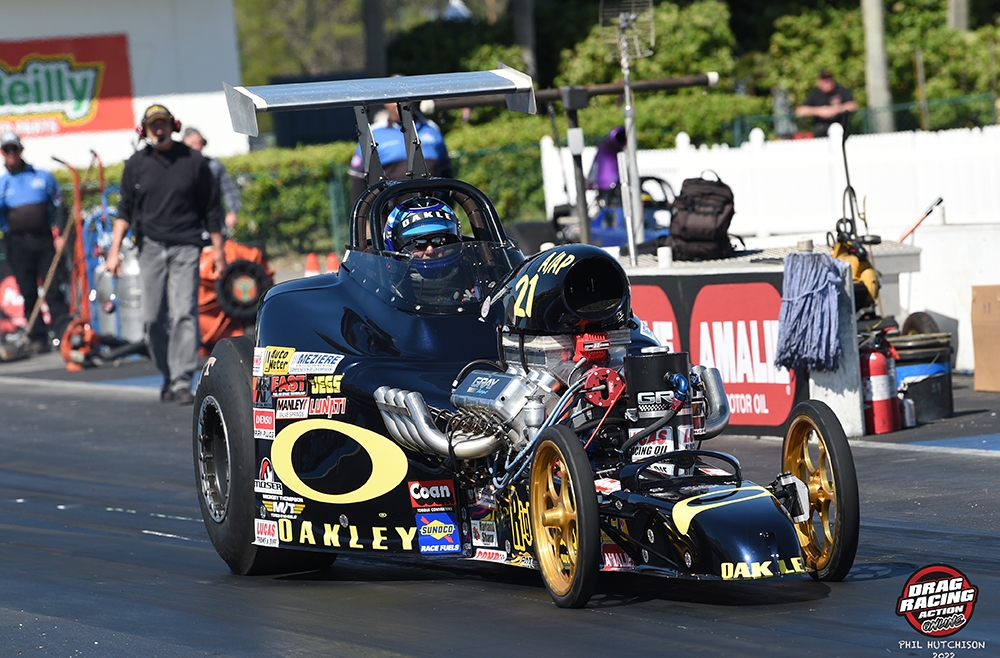 Reigning Division 2 division champ David Eaton drove his unique '32 Bantam A/AP to a win in Competition Eliminator defeating New York racer Frank Affronti's D/SMA Cobalt in the finals.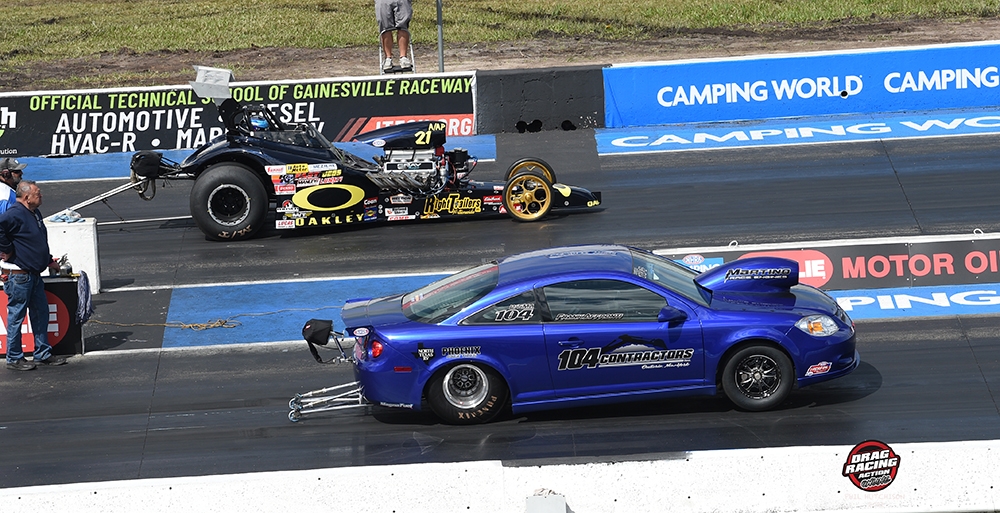 Eaton, who lives in nearby Merrit Island Fla., qualified in the # 5 spot with a 0.648 under 6.582 in his Gray Motorsports powered Altered as Affronti put his Chevy in the #2 spot with a 0.695 under 8.265.
Both drivers took a CIC hit in their semifinal round wins with Affronti taking a 0.08 second penalty to Eaton's less egregious 0.04. The slight difference in index may have had made a difference but Eaton's better reaction time (0.026) to Affronti's later 0.063 was the deciding factor as Eaton's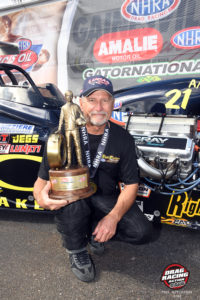 0.516 under 6.67 to the Ontario N.Y.  racers 0.534 under 8.346.
The victory, Eaton's third career NHRA Wally, came 13 years after his first Gatornationals win.
New Orleans' Wayne Landry driving his American Chassis dragster won Top Dragster presented by Vortech Superchargers. Landry defeated Clint Riley from Greenville Fla In the finals.
Landry, who was near perfect all day on the lights having posted two  0.000 RTs, dialed in a 6.20 in his ProCharger assisted dragster and ran a 6.23 as Riley was close with a 7.003 on his 6.97 dial. The win at the Gators was Landry's second national event Wally.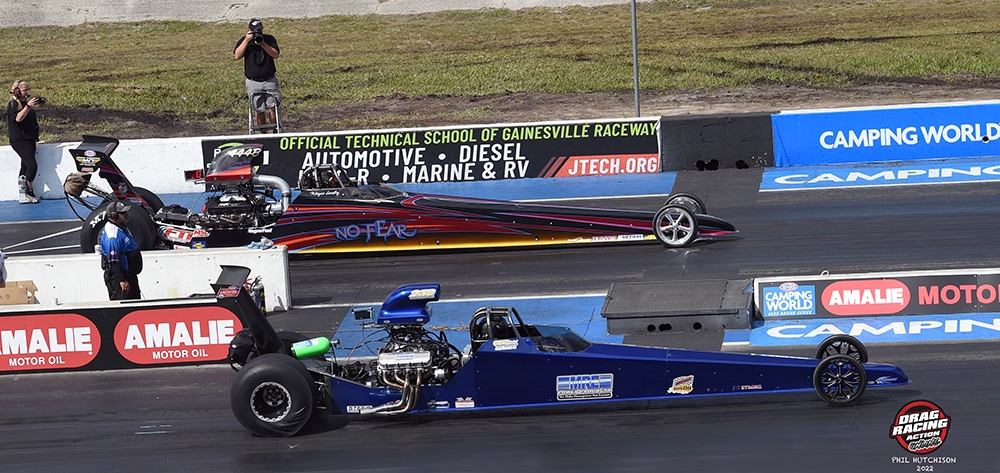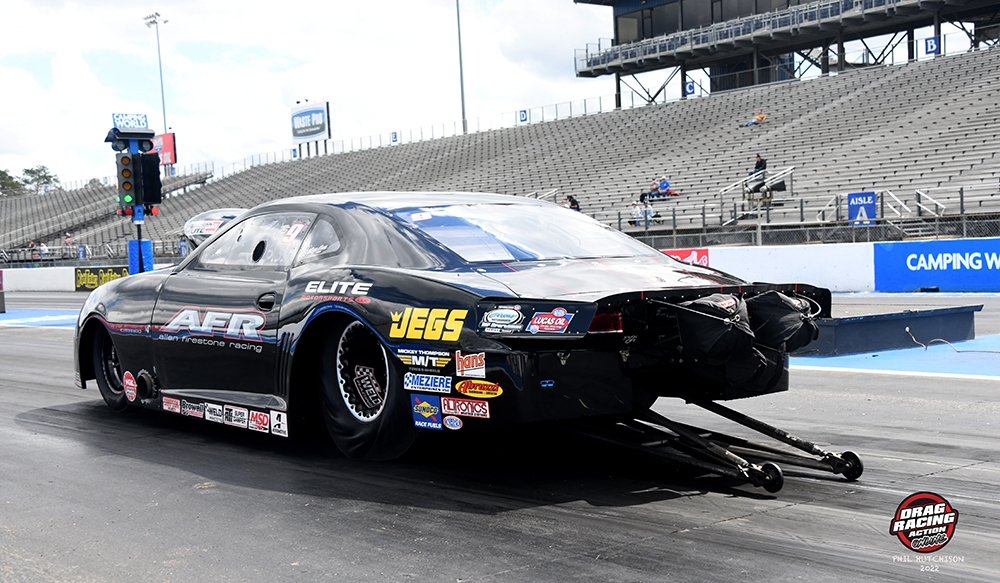 Top Sportsman winner Allen Firestone from Velma Oklahoma didn't get a representative run during Sunday's abbreviated single qualifier. His '16 Camaro spun the tires and only posted a mid eight-second pass going into Monday's first round. Firestone, who normally runs in the mid six-second range in his ProCharger Camaro, dialed in a 6.54 in round one and defeated the '15 Camaro of Vince Fourcade who couldn't run his 6.87 dial slowing to a low seven-second time. The round served as a tune up for the Elite Motorsports driver as it gave him the baseline the team needed to capture his third NHRA national event win.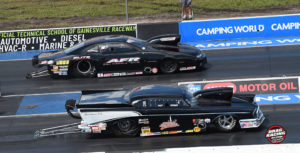 In the finals it was Firestone up against the swoopy '57 Chevy of Plainville Connecticut's "Fast" Freddy Perkins. Perkins who had been good on the lights throughout eliminations, had a 0.042 RT to Firestone's better 0.013 and ended up breaking out with a 6.788 on a 6.79 dial to Firestone's 6.584 on a 6.56 dial.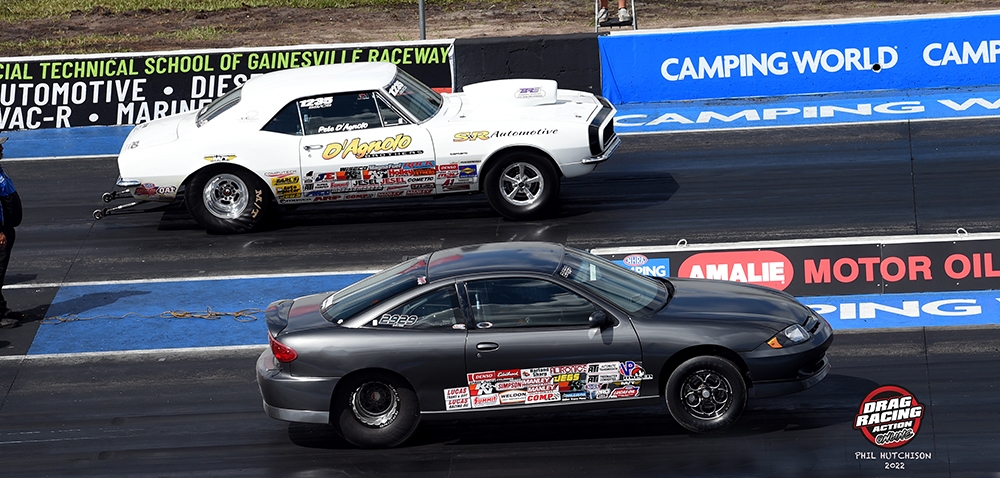 Peter D'Agnolo from Rochester, New York put his SS/CS '67 Camaro in the Super Stock winner's circle defeating the GT/GA '05 Cavalier of Billy Ryan in the finals.
Ryan from Iron Station N.C., was fortunate to be in the finals, as his Chevy could not fire for his semifinal bye run but got the car started and managed to stage the car to make it to the finals to face D'Agnolo.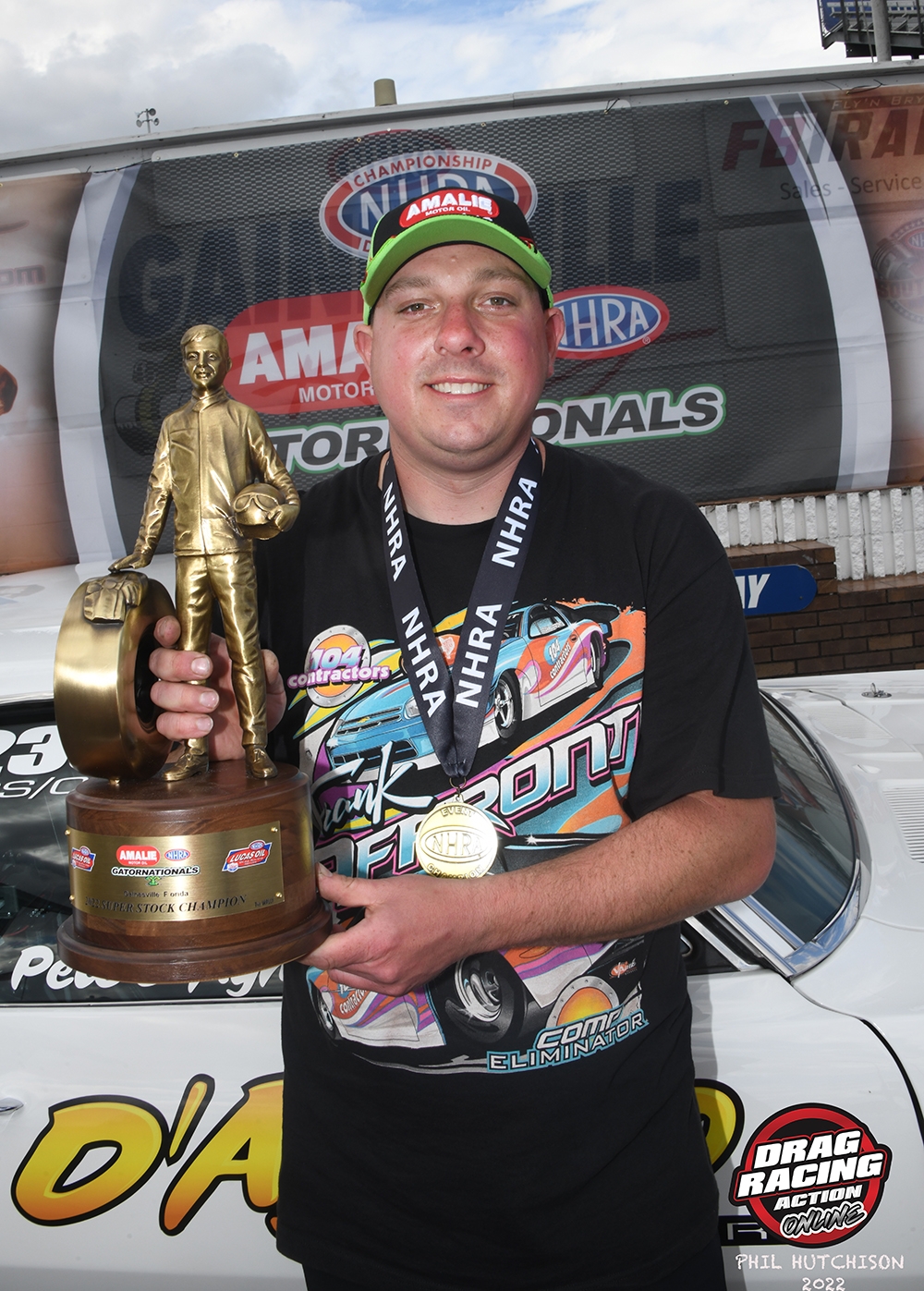 It was D'Agnolo's better reaction time that made the difference as he ran a 0.019 over 9.459 to Ryan's better 0.015 over 9.755 but D'Agnolo's 0.029 light made the difference over Ryan's later 0.034. The win was D'Agnolo's fourth National event win.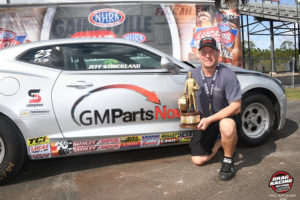 The Gatornationals Stock Eliminator title went to the FS/B '22 Camaro of multi-time champ Jeff Strickland from Red Bay Alabama. Strickland defeated the F/SA '68 Camaro of Chesterfield Virginia's Ron Urquhart in a double breakout final. Strickland was 0.009 under with a 9.16 to Urquhart's 0.039 under 10.96.
Super Comp went to Hugh Meeks III from Pike Road, Alabama over race partner Sherman Adcock from Georgia. Meeks got the better light forcing the former world champ to break out with a 8.894 to Meeks nearly right on 8.909. The win was Meeks third career win.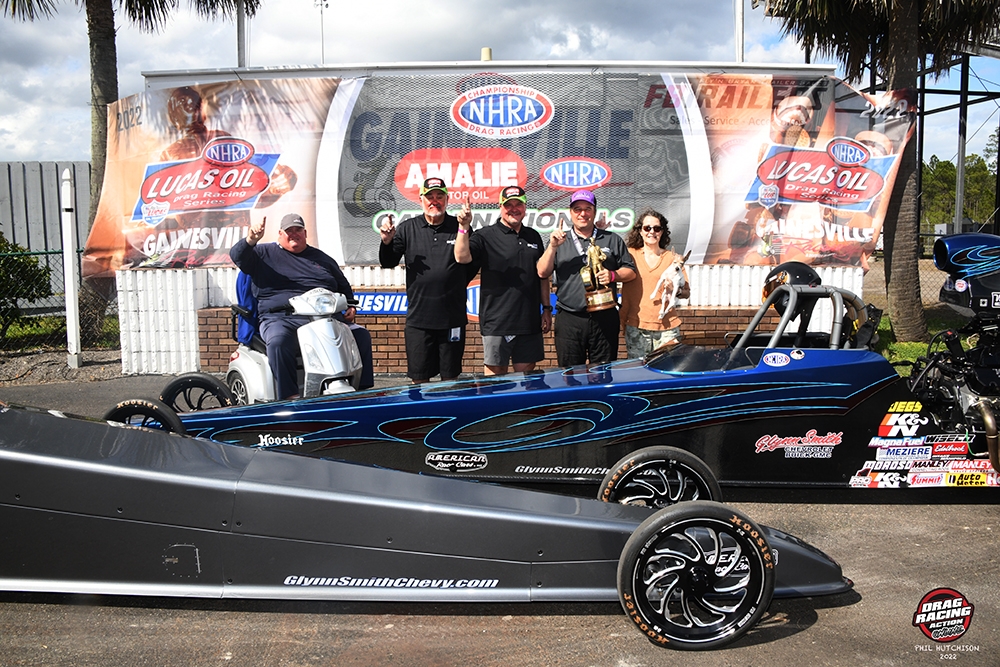 Longwood Fla. racer Frank Altilio had the better light in the finals of Super Gas but gave it up at the stripe putting North Port, Florida's Kevin MacNicol in his first NHRA National event winner's circle.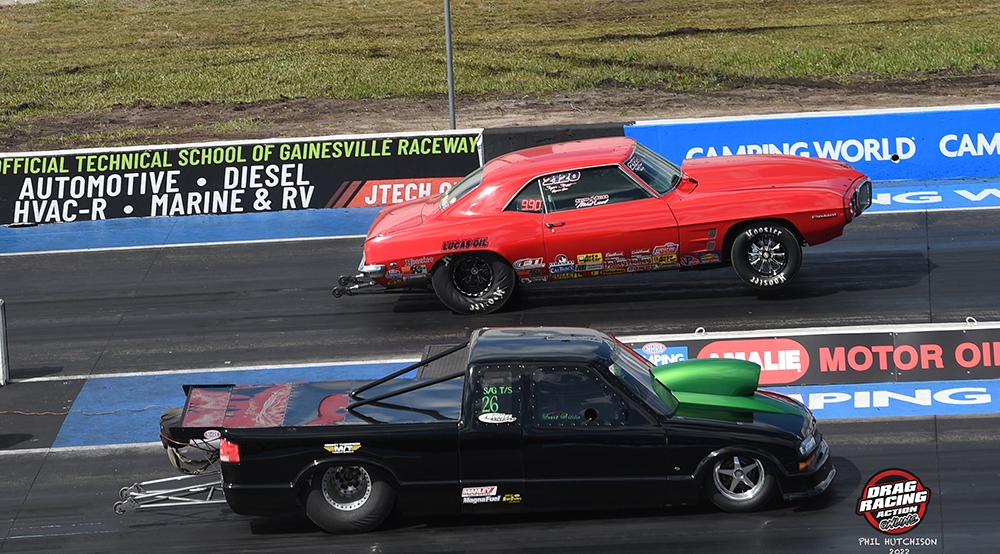 MacNicol, who has won the Division 2 Super Gas title twice, ran a 9.918 in the win to Altilio's slower 9.925.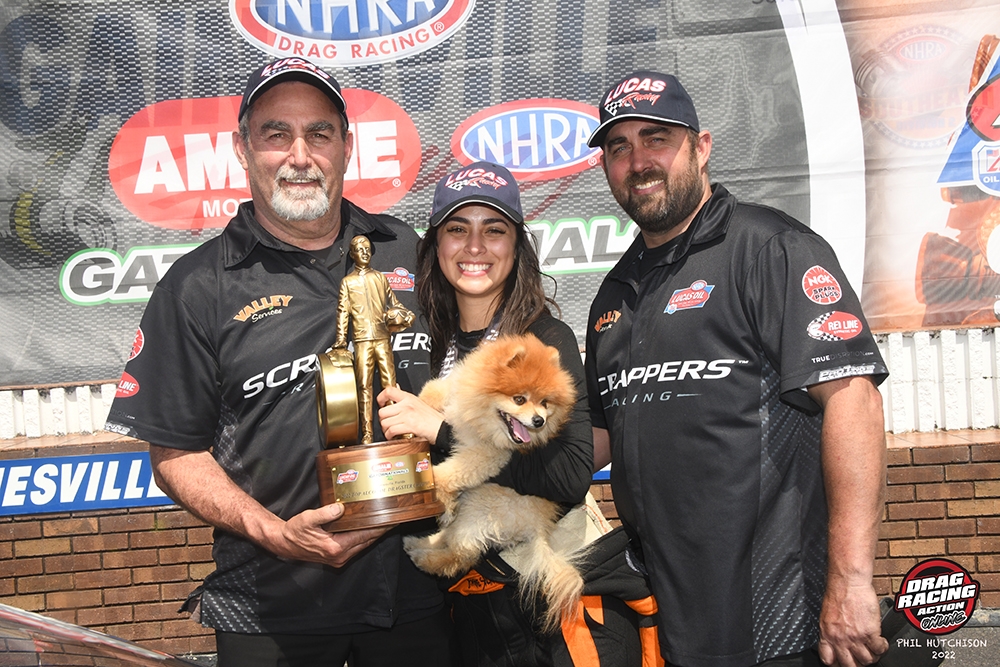 Earlier in the day, Jasmine Salinas took her Rich McPhillips tuned A/FD to a win over Julie Nataas in the Top Alcohol Dragster finals. Salinas, who just one year ago was putting her destroyed dragster in the trailer after a blow over crash during qualifying in 2021, drove her Scrappers Racing dragster to a first ever NHRA National Event win.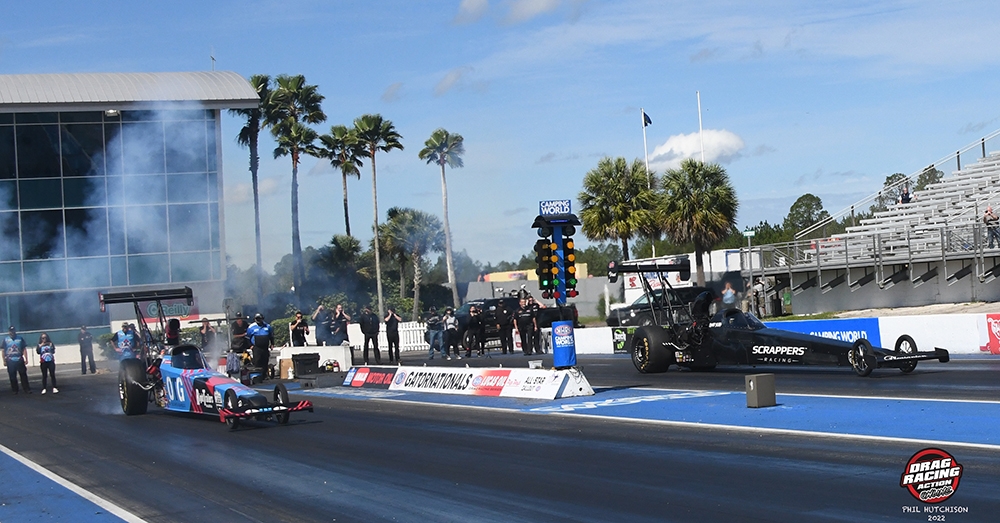 Nataas who earlier ran low ET of the event at 5.146 in her semifinal win over a tire smoking Karen Stalba, was herself a victim of too much power in the finals striking the tires right off the starting line giving Salinas the Gatornationals win.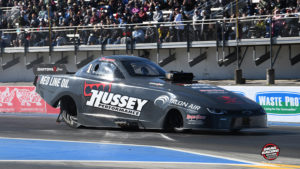 Top Alcohol Funny Car was down to two cars, the Massachusetts car of No.1 qualifier of Matt Gill and California racer and reigning Lucas Oil champ Sean Bellemeur. Gill who broke his Camaro in his semifinal bye run and Bellemeur, having to catch a flight home, decided to complete their race at the Charlotte Four-Wide race in April.