Franklin Father-Daughter Duo Double Up; Lang, Gillig, Al-Saber, Kincaid And Mota Also Victorious At PDRA DragWars 2023 Points Race Tightens Up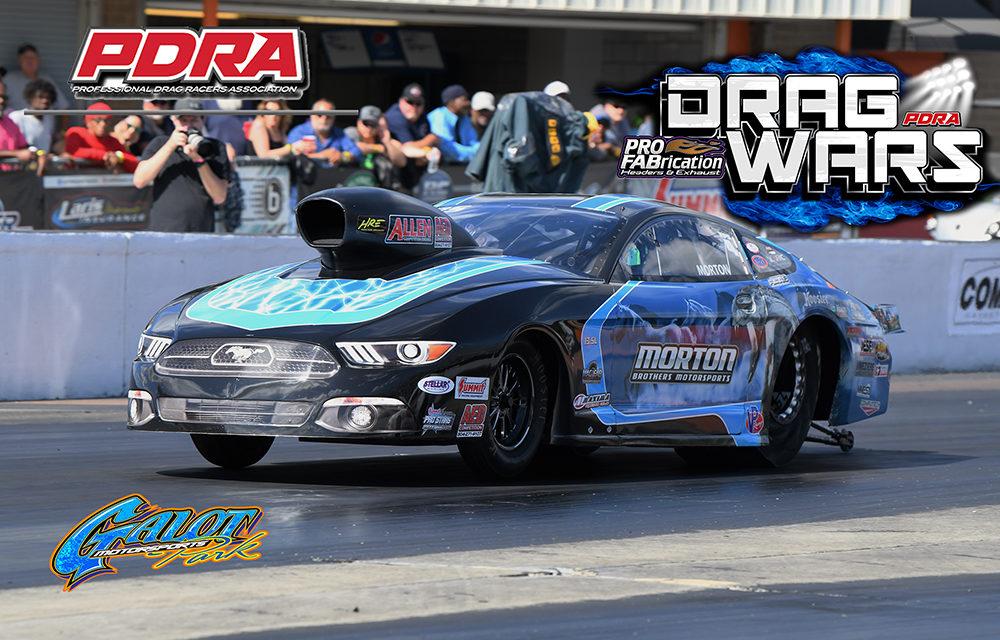 Nate Van Wagnen Drag Illustrated
Images: Geoff Sculley
For the second time  in two seasons, father-daughter duo Tommy and Amber Franklin doubled up in their respective Professional Drag Racers Association (PDRA) pro classes. Competing at the ProFabrication DragWars at GALOT Motorsports Park, Tommy raced to his third consecutive win in Switzer Dynamics Pro Nitrous and Amber picked up her second win of the season in M&M Transmission Pro 632. The elder Franklin also took over the points lead with one race left in the PDRA's 10th season.
Pro class wins also went to Scott Lang in WS Construction Pro Boost presented by P2 Contracting and Ty-Drive, Tony Gillig in Liberty's Gears Extreme Pro Stock presented by AED Competition, Meshal Al-Saber in Drag 965 Pro Nitrous Motorcycle, Scott Kincaid in Menscer Motorsports Pro Street presented by Afco Racing, and Derek Mota in Afco Racing Super Street presented by Menscer Motorsports.
DragWars also featured ultra-competitive sportsman racing, where victories went to Chris Nyerges in MagnaFuel Elite Top Sportsman presented by PAR Racing Engines, Michael White in Laris Motorsports Insurance Elite Top Dragster, Chad Traylor in MagnaFuel Top Sportsman presented by Corbin's RV, and Troy Williams in Laris Motorsports Insurance Top Dragster. Donald Webb picked up the win in Edelbrock Bracket Bash presented by COMP Cams, defeating Glenn Russell in the final round.
PRO NITROUS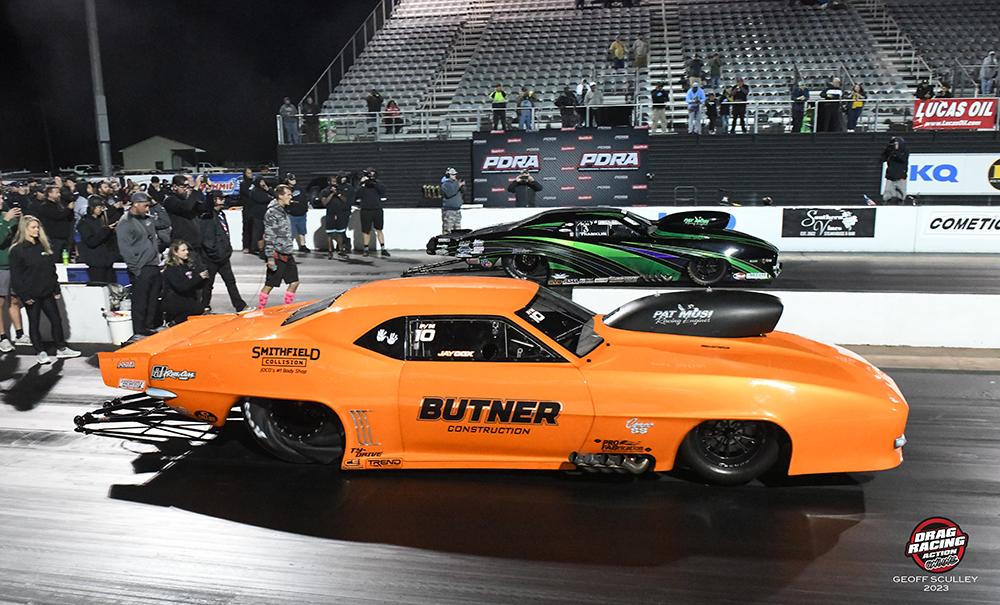 Franklin, far lane, is off first and on his way to his the Pro Nitrous win at GALOT
Two-time world champion Tommy Franklin is one of the winningest drivers in the history of PDRA Pro Nitrous, but he's never won three consecutive races. That changed Saturday night when he defeated Jay Cox in the final round for the second race in a row. Franklin was first off the starting line in his Musi-powered "Jungle Rat" '69 Camaro, then he charged to his second consecutive 3.626-second pass at 207.56 MPH to collect his fourth win on the season. Cox, from nearby Smithfield, recorded a 3.65 at 206.48 to take runner-up honors.
"My crew, I said it at the last race – we just go through our steps," said Franklin, who thanked Pat Musi Racing Engines, Red Line Oil, Mark Menscer of Menscer Motorsports, and Jerry Bickel Race Cars. "The motor's been good. This thing's been through testing, it's been through qualifying, it's been through eliminations, and it can head right to Virginia [for the World Finals] right now. It's happy. It's good.
"I'm proud of everything we put together," Franklin continued. "I told everybody we had the odds stacked against us. We'd won two in a row. How do you win three in a row? But we come in with the idea that we're gonna try to win, really, four in a row. We've got one more that we want to get. It's good, but it's hats off to [the team]. I didn't feel like I was driving good in qualifying. I just had to really get in the game and finally got better in eliminations."
Franklin, who passed four-time and defending world champion Jim Halsey for the points lead, shared the winner's circle with daughter Amber, the Pro 632 winner, for the second time.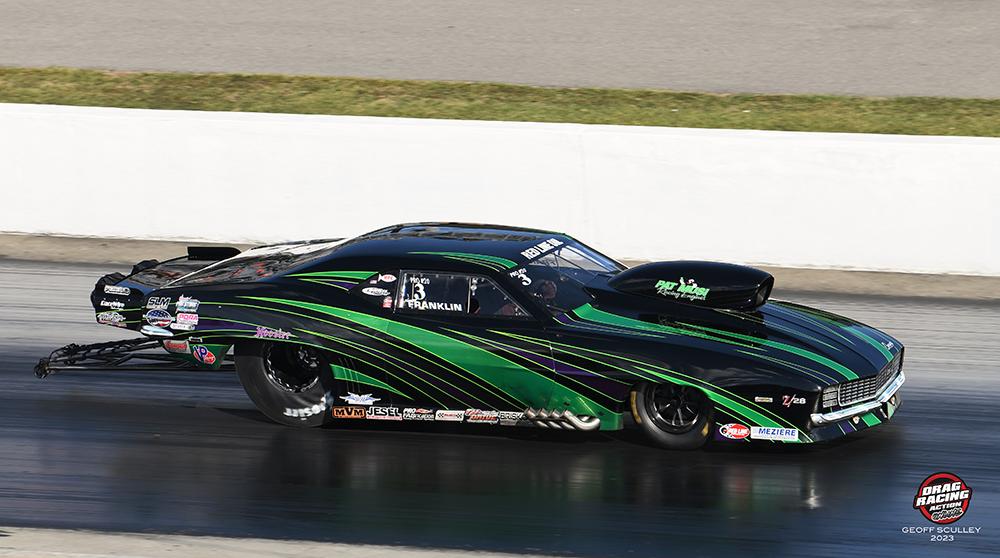 "I do this because I do it with my family every day," Franklin said. "We race together. To be able to put cars in the winner's circle, final rounds, or just qualifying, it doesn't matter, but we come here together, and we have just a heck of a crew that helps us. My daughter, she's at a rules disadvantage right now, but, hey, she went out there and she won that on her driving. I'm happy for her."
Franklin earned a first-round bye when he qualified No. 1, using it to set low E.T. of the round with a 3.662 at 206.23. He stepped up to a 3.634 at 207.15 to take out Brian Shrader in the second round. At the same time, Halsey lost his match with Billy Albert, opening the door for Franklin to move around him for the points lead. The Pro Nitrous veteran picked away at it in the semifinals, lowering the boom with a 3.626 at 207.02 to defeat nitrous Pro Modified legend "Tricky" Rickie Smith and his 3.662 at 208.14.
Cox, driver of the Musi-powered Butner Construction "Pumpkin" '69 Camaro, was the second-quickest of the first round with a 3.694 at 205.98 alongside Dane Wood's 3.77. He laid down a 3.656 at 207.05 to take down Chris Rini and his 3.699 in the second round. Semifinal opponent Billy Albert grabbed a holeshot advantage, but Cox drove around his 3.706 with a 3.653 at 207.11.
PRO BOOST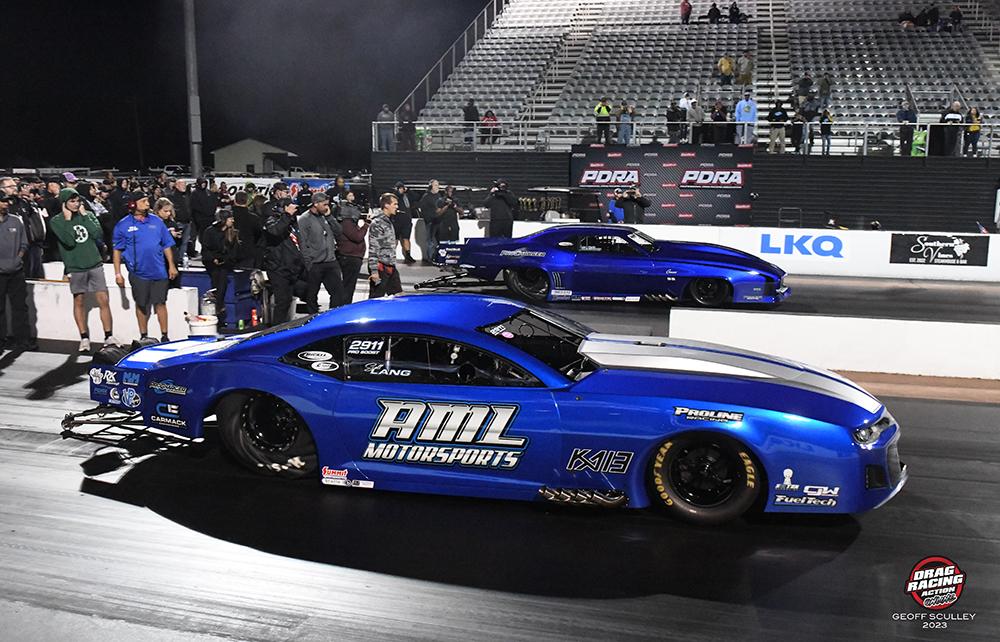 Lang, near lane, took his second PDRA race in a row beating Jason Harris in the final
At the last race on the PDRA tour, Scott Lang picked up his first career win in Pro Boost when points leader Jason Harris went red in the final round. The two North Carolina-based drivers met up again in the DragWars final round, and Lang won again on the starting line. This time, it was a holeshot advantage that sealed the deal. Driving his ProCharged AML Motorsports '18 Camaro, Lang used a .014 reaction time and a 3.603 at 205.69 to finish ahead of Harris and his 3.589 at 208.91 by just .005 seconds.
"I came here at the first race of the year and did not qualify, just got in the car," Lang said. "To come full circle and win, it's huge. Huge. It's hard to describe. I just want to thank God for the opportunity. Thanks to the PDRA for giving us a great racing facility. Over here, you're racing the best Pro Mod racers in the country, hands down. You think you got a good Pro Mod car? Come over here because these guys ain't no layups. You gotta be on your game each and every round to win these things."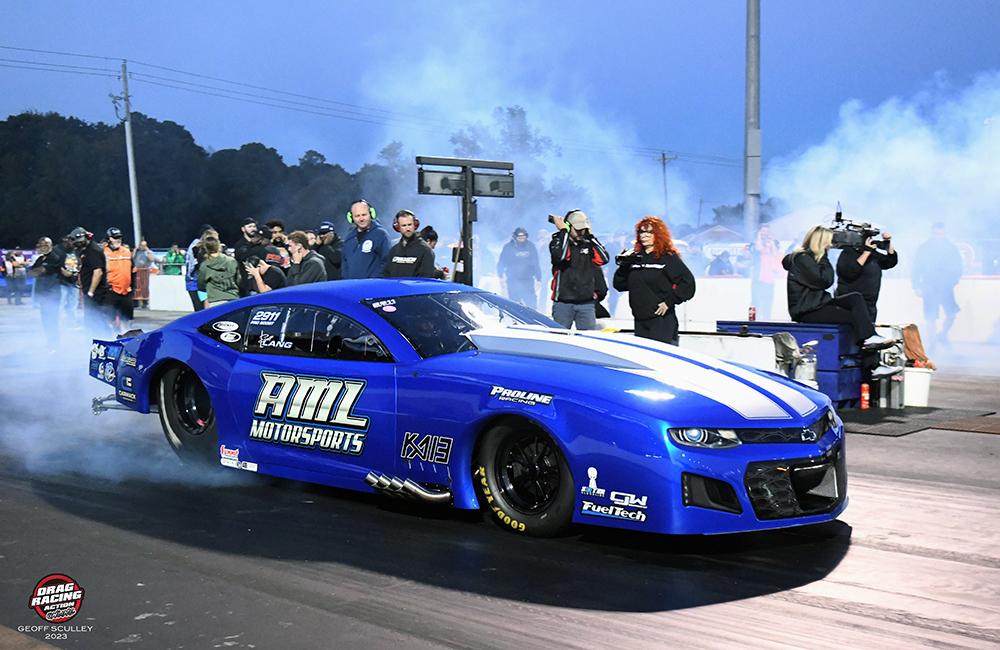 Lang was a 3.60-second player throughout eliminations, steadily improving on his way to the final round. He started with a 3.654 at 203.16 to beat a tire-shaking William Brown III. Second-round opponent Ken Quartuccio went red by .371 on a 3.661 pass, while Lang went .008 on the tree and recorded a 3.641 at 201.37 to move on to the semis. He was first off the line there, running a 3.621 at 205.76 over Kurt Steding, who lifted to a 4.304.
Harris, who padded his points lead with just one race left, kicked off race day as the No. 1 qualifier in his ProCharged "Party Time" '69 Camaro with a 3.639 at 207.05 over a red-lighting Josh Chester, who ran a career-best 3.708 after going red by .002 seconds. On a second-round bye, he fired off a 3.600 at 207.62 to earn lane choice in the semifinals. There, the North Carolina native set low E.T. with a 3.585 at 208.23 to drive around Travis "The Carolina Kid" Harvey and his 3.616, advancing to his third consecutive final round and fifth of the season.
EXTREME PRO STOCK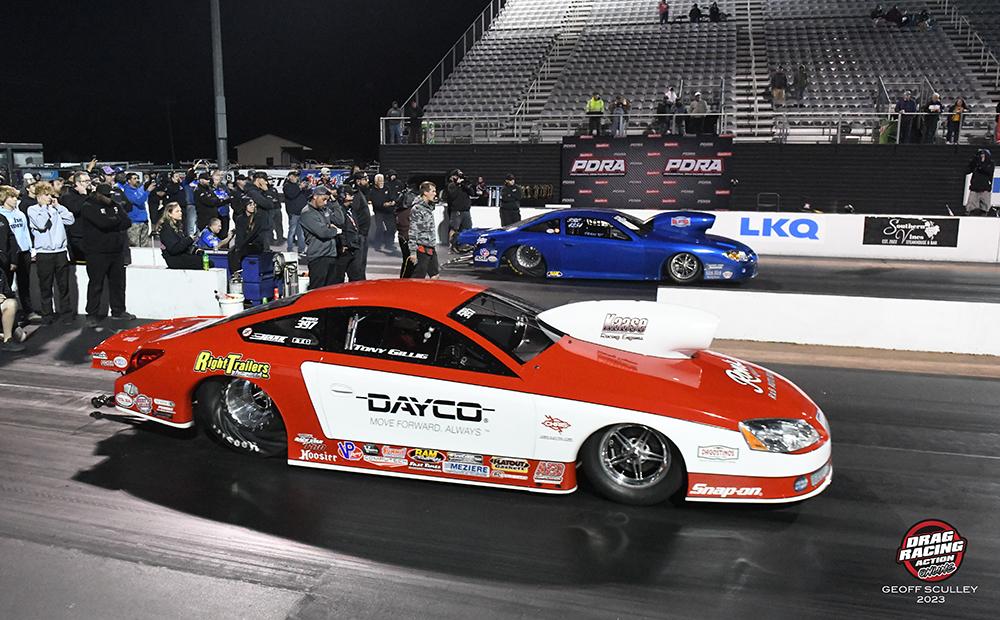 Gillig, near lane, defeated upstart Scott Benham in the finals of Extreme Pro Stock
Two years after winning DragWars in the debut of his family's Gillig-Wagner Motorsports '10 GXP, Mountain Motor Pro Stock veteran Tony Gillig added another DragWars title to his trophy case. It was Gillig's second Extreme Pro Stock win of the season, a career first for the driver of the Dayco-backed Pontiac. In the final round, Gillig posted a 4.086 at 178.57, while Scott Benham lost traction shortly after cutting a .008 reaction time.
"To come out and win it again here this year has been pretty cool," said Gillig, who dedicated the win to longtime family friend Gary Johnson, who recently lost his cancer battle. "Like everybody else in the pits, we made mistakes. We made good runs. It was gut-wrenching because all of a sudden, we've got a full field. We've got a DNQ list. Everyone's making great runs, everyone's going fast, and coming into eliminations today, it was like a battle. The field was tight, there were 16 cars within seven hundredths, and every round was just a dog fight. It was pretty cool to have that level of competition back in this class."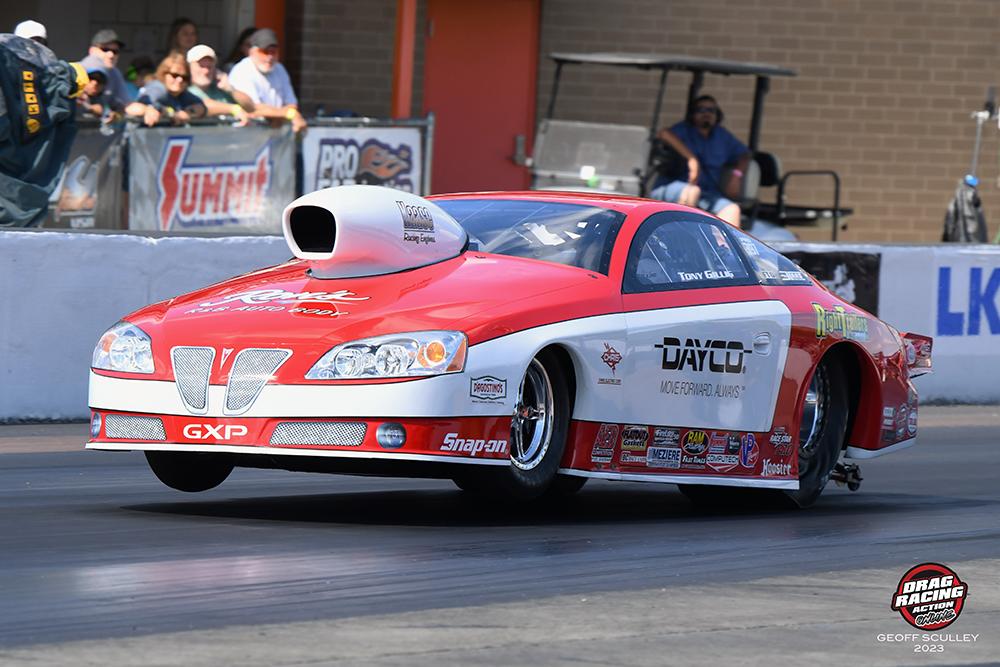 Gillig, who thanked his team and partners like Dayco, Right Trailers, Jon Kaase Racing Engines, Ram Clutches, Liberty's Gears, Jerry Haas Race Cars, Race Star Wheels, and Flatout Gaskets, started eliminations by getting around Dave Hughes' .004 reaction time with a 4.058 at 178.71 to Hughes' 4.115. It was Gillig's turn to cut a quick light in the second round, as he left with a .005 reaction time and ran a 4.065 at 179.21 to defeat young gun Jordan Ensslin and his 4.096. Gillig lined up against championship contender Alan Drinkwater in the semifinals, recording a weekend-best 4.032 at 179.14, while Drinkwater lost traction and coasted to a 6.202.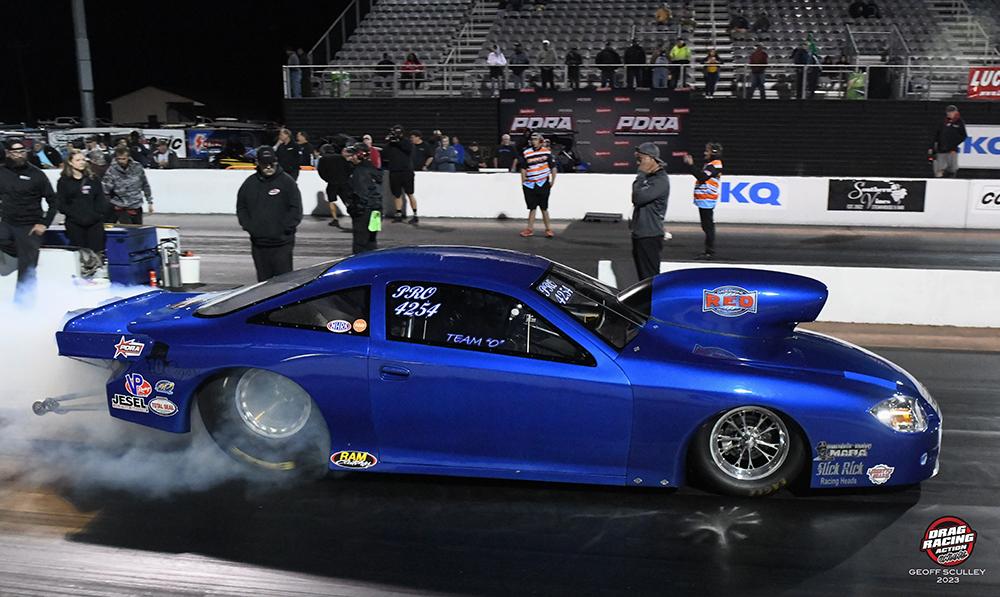 Racing from the bump spot, Benham in the Team O Motorsports Cobalt started his path to the final round with a 4.112 at 175.48 to move on past No. 1 qualifier Elijah Morton, who went red on a 4.06. He improved to a 4.085 at 176.14 next to class E.T. record holder John DeFlorian, who had to lift to a 5.448. The Texan driver caught a break in the semifinals when points leader Chris Powers went red by .031 on a 4.051, while Benham slowed to a 4.125 at 175.23.
PRO 632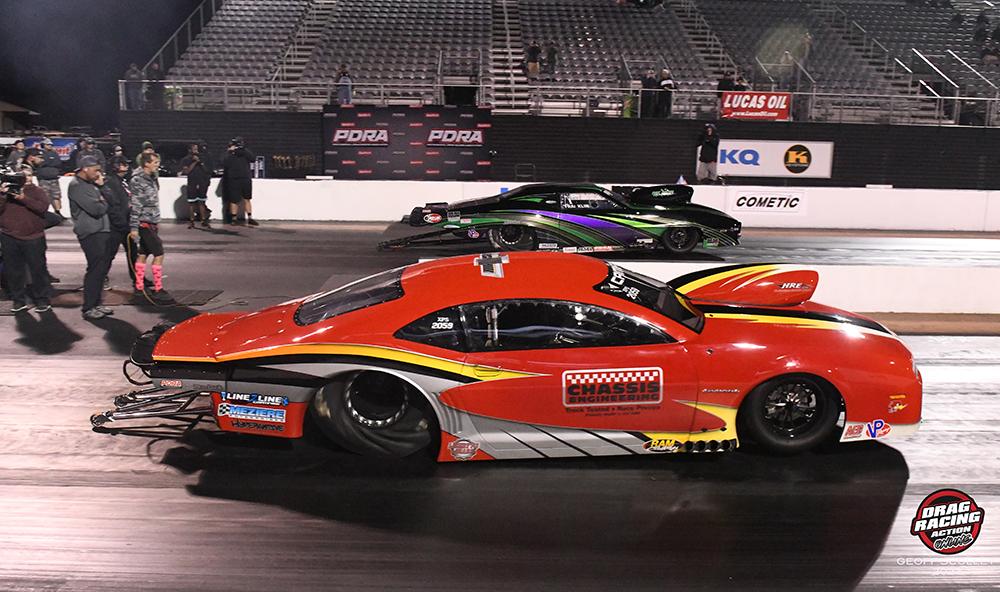 Amber Franklin, far lane, made it two for the family defeating Stewart for the PRO 632 win at GALOT
After watching her dad turn on the final-round win light in Pro Nitrous just a few pairs ahead of her, reigning Pro 632 world champion Amber Franklin knew it was up to her to seal the deal on a second Franklin family double-up. Even with the added pressure of facing No. 1 qualifier Daryl Stewart in the final round, Franklin kept her cool and delivered the win on a holeshot. She recorded a 4.156 at 170.56 in her Musi-powered "OG Jungle Rat" '69 Camaro to hold off Stewart's 4.109 at 174.35.
"This means everything," Franklin said. "We come out here as a family, and obviously the goal at the end of the weekend is to get as many win lights as possible. Being able to double up in this level of competition is hard. When we can pull it off, it's really special for us.
"I just want to thank everyone that's behind me," Franklin added. "Obviously, God first because without Him, I couldn't do any of this. My parents, Blake, Ashley, Chase – he's been helping me full time, Jeff Pierce, Sam Pierce, all of our guys, Pat Musi Racing Engines, Red Line Oil, and Hoosier Racing Tires. Everyone just does such a great job and I really can't thank everyone enough for it."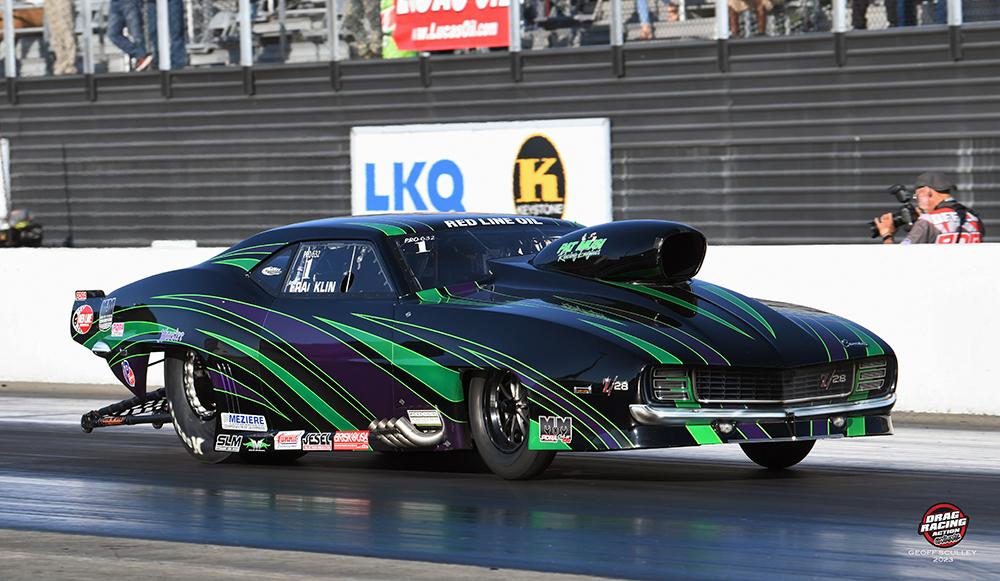 Franklin qualified second before starting eliminations with a 4.184 at 170.21 to beat J.C. Beattie Jr. and his 4.55. Her starting line prowess paid off in the second round as she and class newcomer Jayme Thompson recorded identical 4.168s, but Franklin was .008 quicker off the line for the win. She ended up with a single in the semis, choosing to break the stage beams and coast down the track.
Stewart qualified No. 1 for the second consecutive race in his HRE-powered Chassis Engineering '12 Camaro. He ran a 4.177 at 172.04 on a first-round single, then fired off a 4.165 at 172.54 to drive around the quicker reacting Lexi Tanner and her 4.322. The Florida-based driver tied the class E.T. record in the semifinals, running a 4.105 at 174.08 to knock out points leader Jeff Melnick and his 4.20.
PRO NITROUS MOTORCYCLE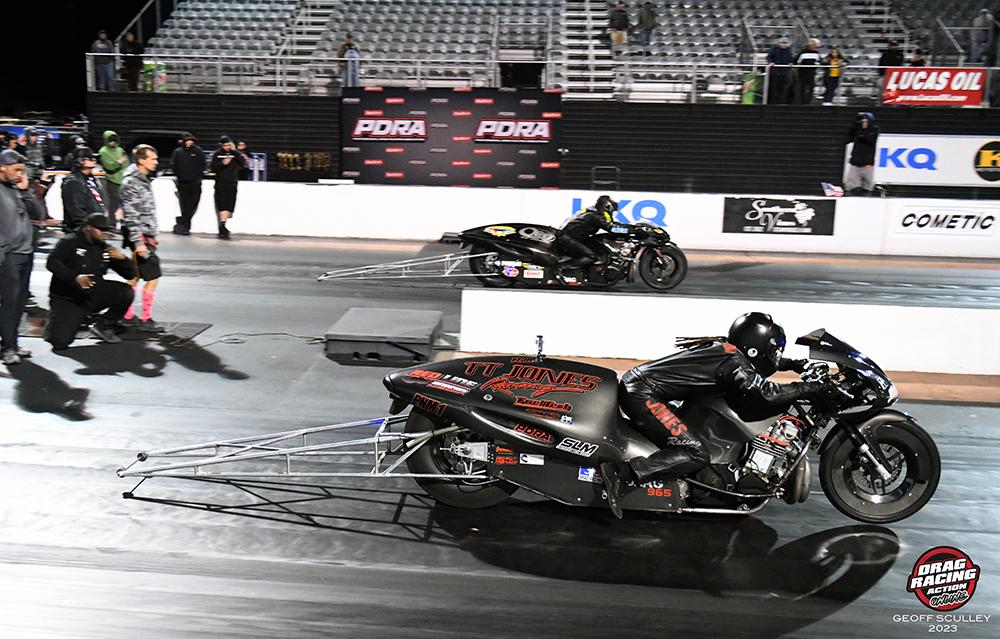 Kuwait-based Pro Nitrous Motorcycle rider Meshal Al-Saber has been chasing another win for several years after his last victory in 2016. Tuner Brad McCoy last won on the Q80 Racing Hayabusa at DragWars in 2017, so Saturday's win was a long time coming for both Al-Saber and McCoy. Al-Saber qualified No. 1, then raced to the final round, where he laid down a 4.012 at 176.10 to beat points leader Chris Garner-Jones. The 2021 world champion encountered problems on the starting line and coasted to an 8.358 at 52.30.
"I go to the finals a lot, but I lose in the final. Every time it's some little problem in the final," Al-Saber said. "Now, the team is coming back. We're pushing to come to the next race better than this race. I hope we can get the record. That would help the team also. I think Brad McCoy is the best tuner. He gives me the best bike and helps me lots. Thank you to the Q80 Racing team and the BMRC. They give me the support to come here to the States and win again. We want to go back-to-back at Virginia [at the World Finals]."
 Al-Saber started eliminations with a 4.041 at 175.46 over a red-lighting Terry Wynn. It was an all-Kuwait matchup in the semis, where Al-Saber ran a 4.032 at 175.50 to beat Mohammed Alawad, who slowed to a 6.168.
Garner-Jones qualified No. 2 on his T.T. Jones Racing Hayabusa before charging to his fourth final round in five races. He posted a 4.005 at 177.49 in the first round to beat class veteran Ashley Owens, who went red. The second-generation rider then knocked out title contender Brayden Davis on a holeshot in the semis, running a 4.031 at 173.96 to Davis' 3.988.
PRO STREET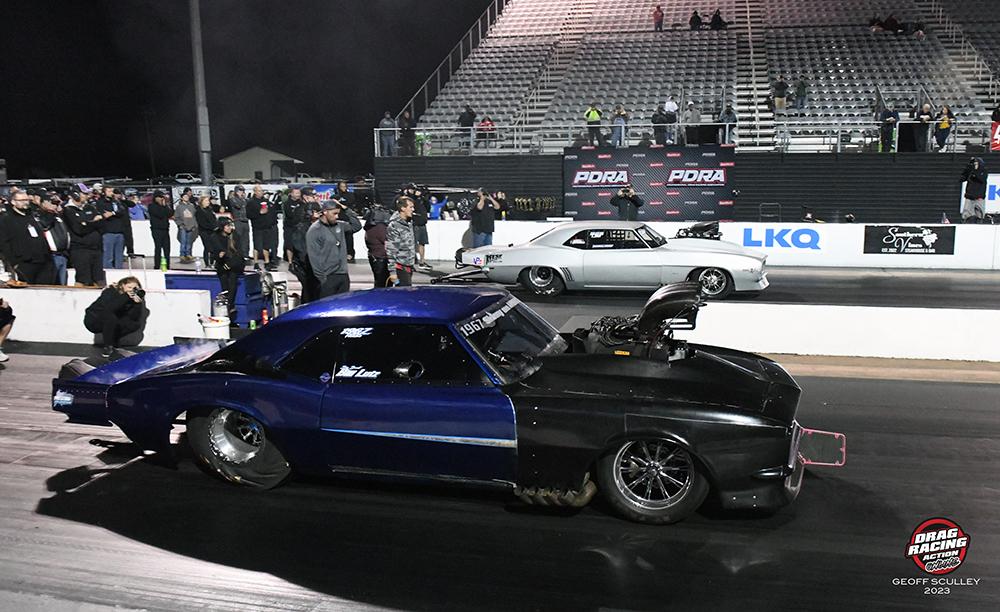 Kincaid, far lane, took  his beautiful blown Camaro to a Pro Street win
Pro Street rookie Scott Kincaid went into DragWars undefeated, as he won both of his prior appearances on the PDRA tour. It took a career-best E.T. and a holeshot advantage in the final round for Kincaid to maintain his perfect scorecard, adding a third win in as many races. Kincaid, who recently switched from a roots supercharger to a screw-type blower, recorded a 3.912 at 196.99 to beat Bill Lutz's quicker 3.897 at 197.54 in the final round.
"I'm normally not that good on the tree, so that made me feel pretty good," said Kincaid, 24. "We've had a fun time [in Pro Street]. We're going to try to run them all next year. We'll see how that works out. I'm excited about next year. Hopefully we'll have as good of luck as we did this year."
Kincaid qualified fourth, and when first-round opponent Chris Tuten couldn't make the call, he lifted to a 5.182 at 117.01. It was his only miss of the day, as he was .007 on the tree and ran a 4.017 at 193.54 to beat Joe Thomas and his 4.337 in the second round. The Tennessee-based driver left first again in the semis and dipped into the 3-second zone with a 3.985 at 194.10, finishing ahead of Joel Wensley Jr. and his 4.043.
Lutz, who appeared in his second consecutive final round, took over the points lead in his screw-blown "Big Boost" '68 Camaro. He qualified No. 2, and after a first-round pedal-fest with Jerry Morgano, he set low E.T. of the following three rounds. The Ohioan beat Ty Kasper's 4.061 with a 3.917 at 195.51 in the second round, then recorded a 3.969 at 197.45 to defeat Jesse Lambert and his 4.03 in the semis.
SUPER STREET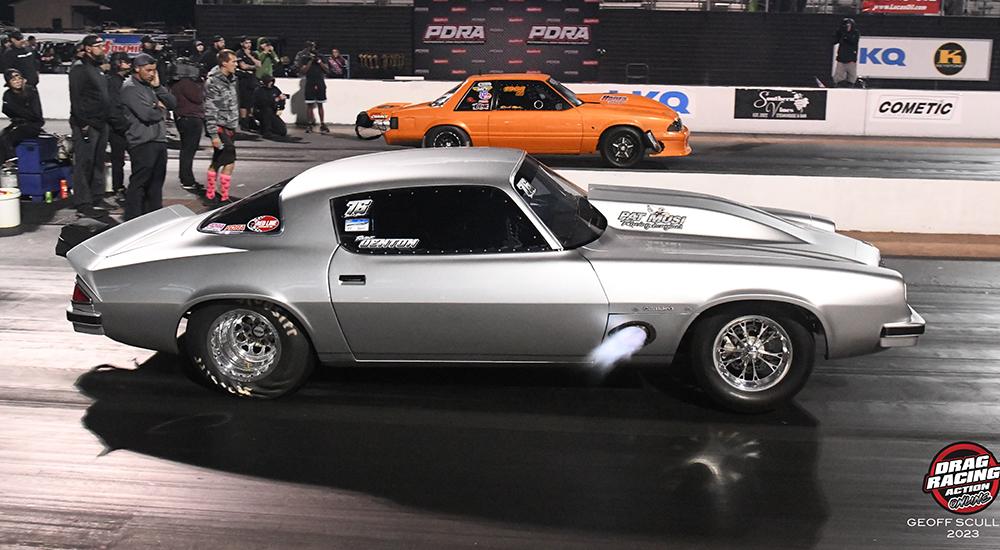 Mota, far lane was second off the line but drove around the Camaro of Denton
Derek Mota's Super Street championship pursuit received another influx of points, as he swept the weekend for the second consecutive race. The Massachusetts-based fabricator qualified No. 1, set a new class E.T. record, and won the event behind the wheel of his Jamie Miller-tuned, single-turbo Mustang. Final-round opponent and points leader Blake Denton left on Mota, but Mota drove past him with a 4.601 at 166.01. Denton recorded a weekend-best 4.725 at 156.05 in the runner-up effort.
 "Man, this one didn't come easy," said Mota, who started the weekend second in points. "We tore up some stuff in Q1 and we lost some valvetrain parts. My whole team stands behind me. We were here until 2 a.m., got everything finished, came out today, and the car was just on rails. I got to give it up to Jamie. He's got this thing on cruise control. My crew, my dad, my girlfriend at home – everybody just supported me. At this point in time, I wish we had more rounds to go today because of the last race coming up, but at least we got No. 1, the record, and the win. We should go in there and hopefully be able to wrap this thing up in Virginia."
Mota turned heads with his 4.599 at 165.68 in the first round, where he was supposed to face Kaitlin Quartuccio. It was the first pass in the 4.50-second zone in Super Street. He then ran a 4.615 at 164.91 in the semifinals to defeat Dan Whetstine, who lifted to a 5.739.
Denton qualified second in his nitrous-fed, Musi-powered '76 Camaro and won the first round with a 4.751 at 155.63 to Brad McBride's 5.411. He won his semifinal pairing with fellow young gun Connor McGee on a holeshot, running a 4.743 at 155.29 to McGee's 4.742.
TOP SPORTSMAN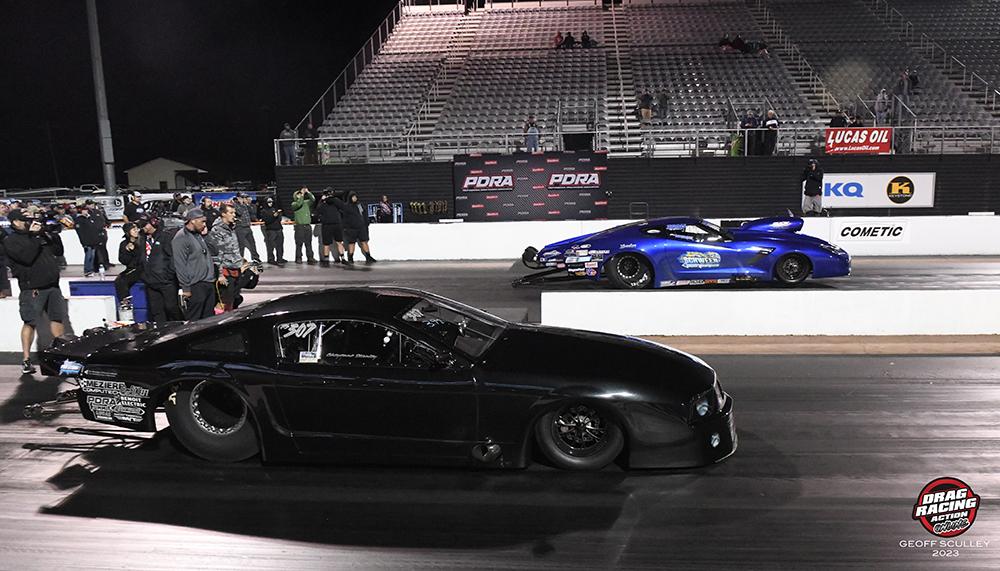 After three rounds of consistent performances, Elite Top Sportsman finalists Chris "Nitrous" Nyerges and Cheyenne Stanley slowed from their usual pace in the final. Nyerges was first off the line in Gary Schween's Buck-powered Schween Motorsports '20 Corvette, then posted a 3.878 on a 3.78 dial-in for the win. Stanley lifted to an 8.298 in his twin-turbo '08 Mustang.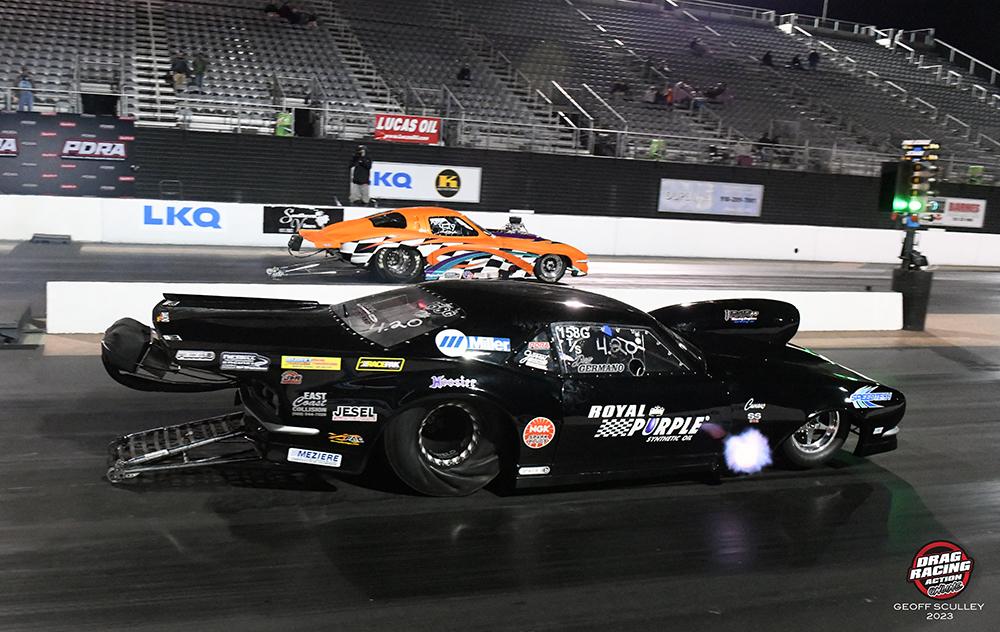 Championship contender Chad Traylor scored a timely win in Top Sportsman 32 when he was .011 total in the final round against Dan Germano. Driving his '63 Corvette, Traylor cut a .009 light and ran a 4.292 on a 4.29 dial-in to defeat Germano, who broke out with a 4.192 on a 4.20 dial-in in his nitrous-fed '68 Camaro.
TOP DRAGSTER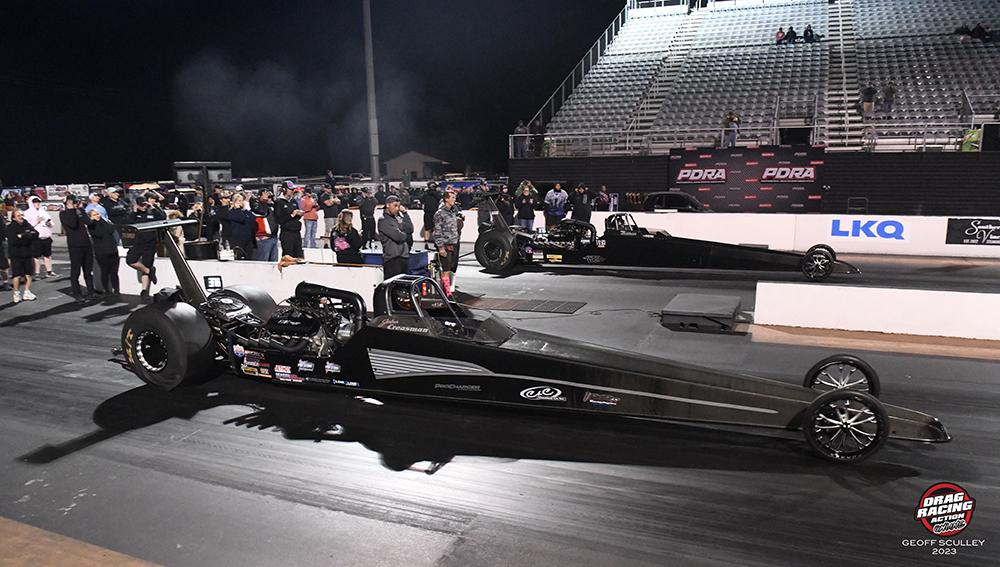 A pair of 3.78s popped up on the scoreboards in the Elite Top Dragster final round. Fortunately for Michael White, his 3.789 in his ProCharged '17 Maddox dragster was closer to his 3.78 dial-in. Brian Anderson was first off the starting line by a slight margin, but he slowed to a 3.787 on a 3.76 dial-in for the runner-up honors in his ProCharged '23 Race Tech dragster.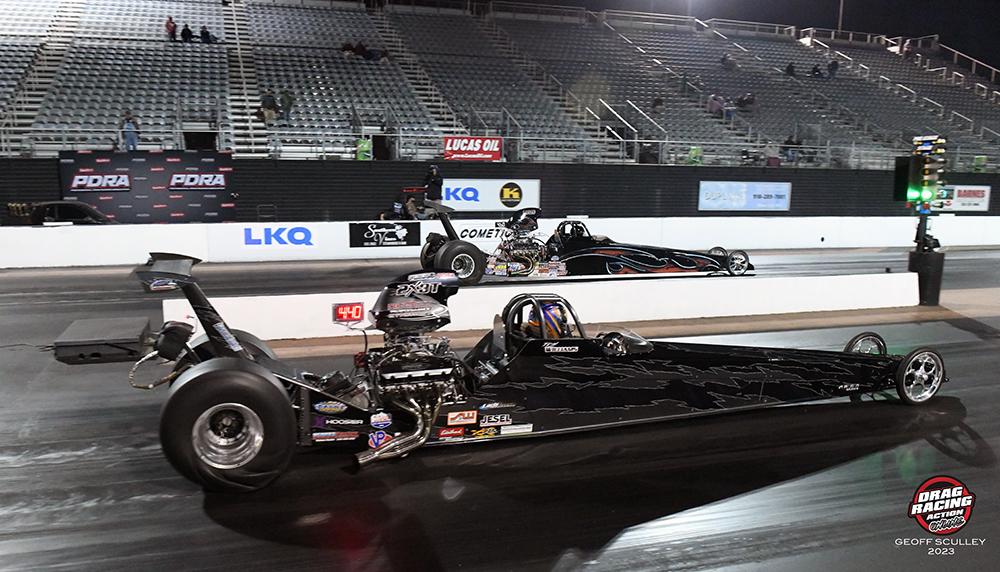 In Top Dragster 42, finalists Troy Williams and Zach Paap both cut .012 reaction times. Paap in his '10 American dragster broke out with a 4.58 on a 4.60 dial-in, while Williams ran a 4.403 on a 4.40 dial-in in his '10 Miller dragster to take the win back to Warrenton, Virginia.
JR DRAGSTER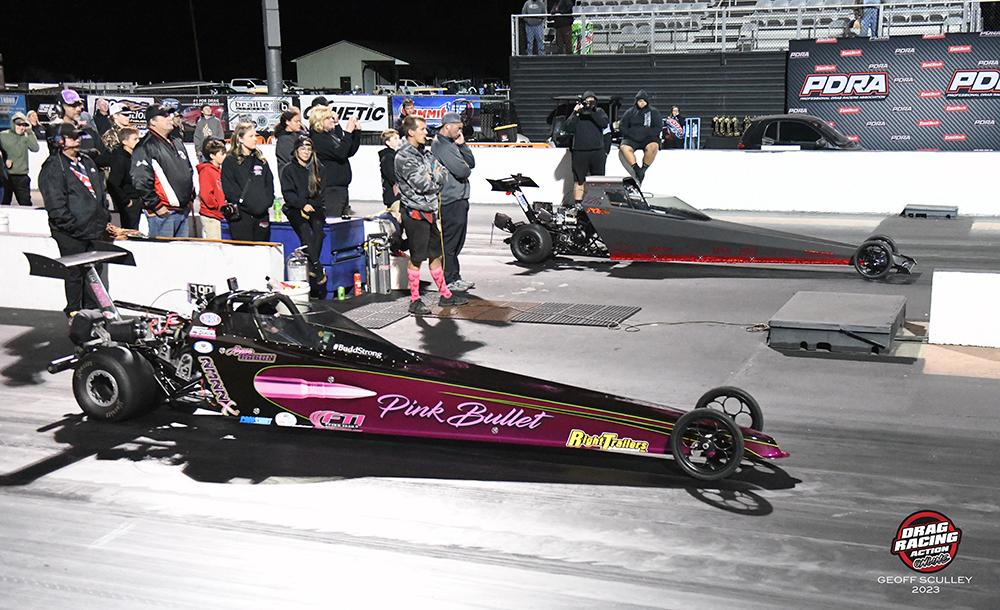 In the Jr. Dragster classes, Charlee O'Meara and TJ Harvey scored the 660 Man trophies in Coolshirt Systems Pro Jr. Dragster presented by PRP and Classic Graphix Top Jr. Dragster presented by PRP, respectively. O'Meara won on the starting line when final-round opponent Alyssa Rabon went red by .003 seconds, while O'Meara posted a 7.927-second pass on the 7.90 index.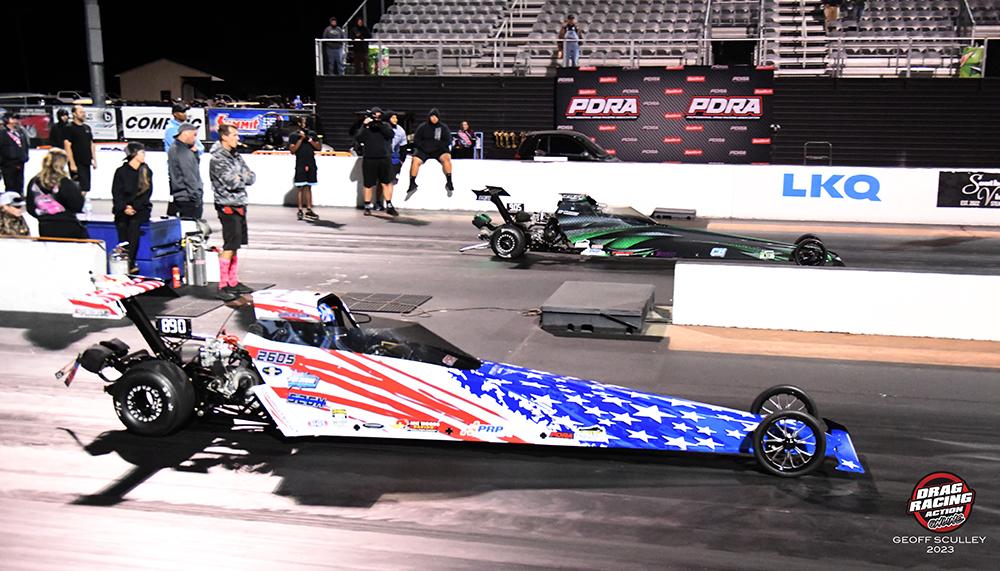 The Top Jr. Dragster final round was also decided on the starting line, as Carter Jackson was .013 red, allowing Harvey to win while breaking out with a 9.043 on a 9.05 dial-in.
The 2023 PDRA season will conclude Oct. 19-22 at the Pro Line Racing Brian Olson Memorial World Finals presented by ProCharger at Virginia Motorsports Park in Dinwiddie, Virginia.