Butner, Quartuccio And Nicholl Join Gillig, B. Davis, Kincaid And Denton As PDRA North Vs. South Shootout Winners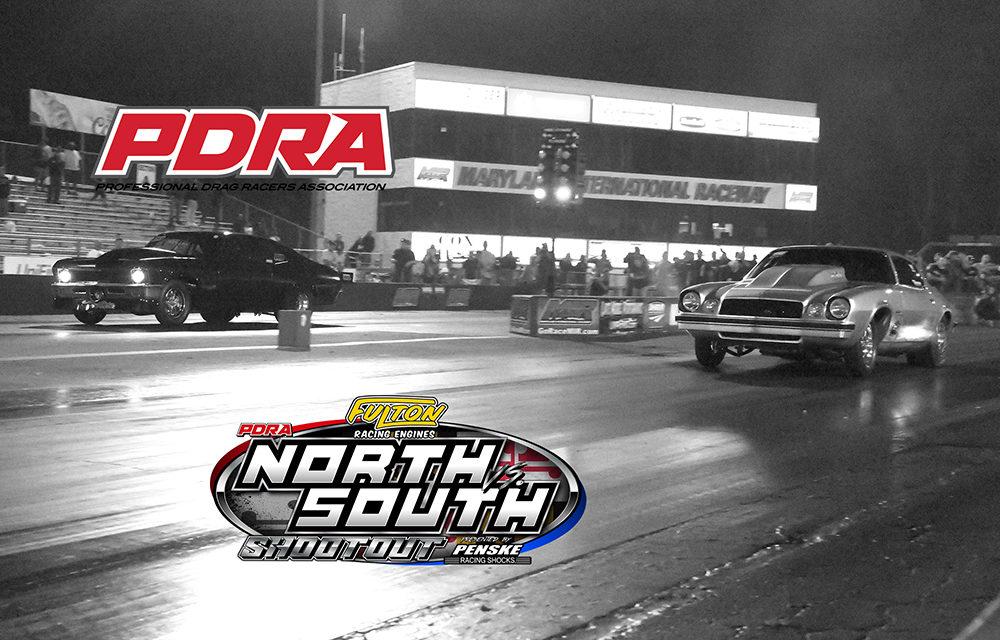 Courtesy Nate Van Wagnen/Drag Illustrated   Images: Phil Hutchison and Geoff Sculley
It was a race that featured upsets, first time winners, along with veterans at the PDRA North Vs. South Shootout at Maryland International Raceway in Budd's Creek MD.
PRO NITROUS
Switzer Dynamics Pro Nitrous young gun Marcus Butner defeated reigning world champion Jim Halsey in the final round of the PDRA Fulton Racing Engines North vs. South Shootout presented by Penske Racing Shocks to claim his first career win in the class Saturday night at Maryland International Raceway.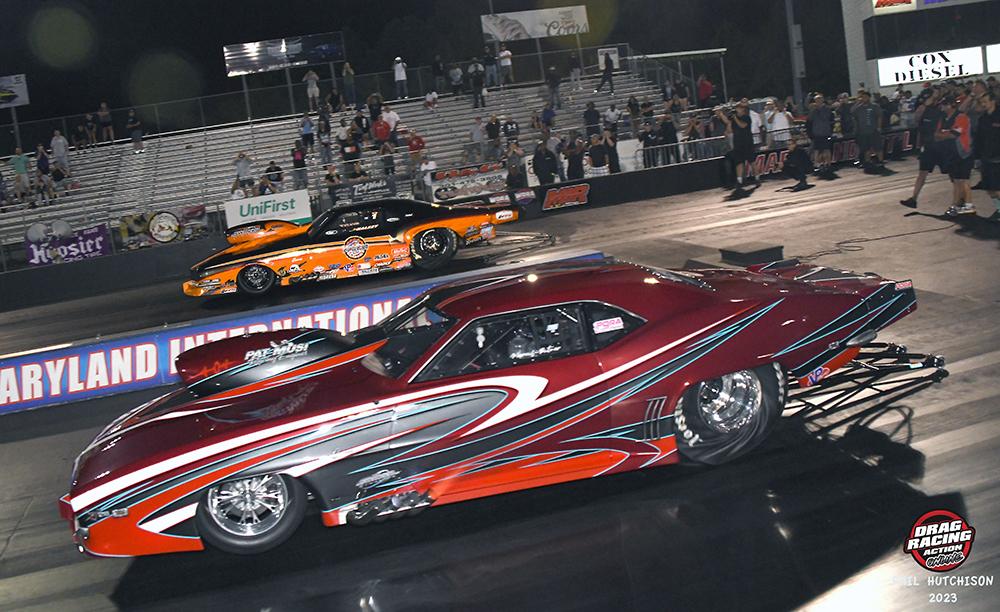 Butner, near lane, has let everybody know he's got a seat the at the table with a win at MIR
Marcus Butner proved that his runner-up finish at the last race on tour wasn't a fluke, going one step further by collecting his first career Pro Nitrous victory. The 29-year-old wheelman used consistent lights and strong passes in his Jay Cox-tuned, Musi-powered "Heartbreaker" '69 Camaro to reach the final round, where he met Jim Halsey, the four-time and reigning world champion. Butner left the line first with a .029 light to Halsey's .040, then he lit up the scoreboard first by just .001 seconds with his 3.64-second pass at 206.64 MPH to Halsey's 3.63 at 208.33.
"This means everything," Butner said. "You know how hard it is. You can't just buy this and hire him. You have to put in the work. We've faced plenty of challenges and we've done a lot of work and a lot of testing and we're gonna keep doing it. We're not gonna let off here."
That first Pro Nitrous win is a significant milestone, but earning it over Halsey added another layer to the accomplishment for Butner.
"Halsey's who we wanted," Butner said. "He sets the bar. He's the best in Pro Nitrous. That's who we wanted to beat. Everybody out here is an A player, but he's the best, and you feel like you actually did something when you can bring home a win."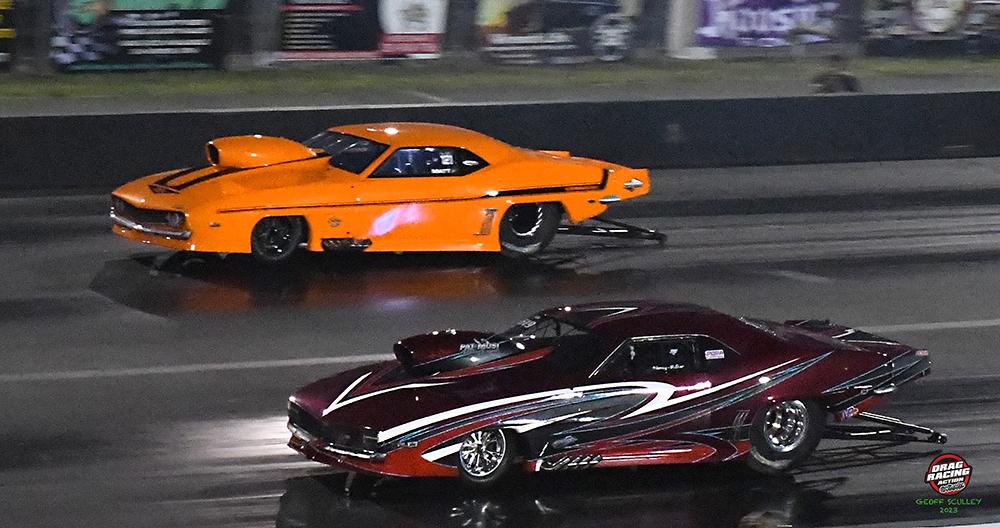 Butner put Deitsch out in the semis to get to the finals for the second time in a row
Butner opened eliminations with a .001 reaction time and a 3.713 at 204.85 to defeat Cam Clark and his 5.217. He drove around Ed Burnley's starting line advantage, winning with a 3.682 at 206.01 to Burnley's 3.719. Butner was first off the line again in the semis, then threw down a 3.655 at 205.94 to knock out Matt Deitsch and his 3.716, advancing to his second consecutive final round.
For the third time this season, Halsey started eliminations from the No. 1 spot in his Fulton-powered "Daddy Shark" '68 Camaro, then set low E.T. of every round. That started with a 3.694 at 206.86 over Dane Wood's 4.792 in the first round. In the biggest matchup of the race, Halsey paired up with two-time world champion Tommy Franklin for a side-by-side, 3.60-second race. Franklin grabbed a .002 head start, but Halsey was quicker at the finish line to win with a 3.641 at 208.33 to Franklin's 3.667. Halsey then lined up against Pro Modified legend "Tricky" Rickie Smith for a rematch of the Mid-Atlantic Showdown final round in the semis. Halsey won this one too, this time running a 3.64 at 208.20 next to Smith's 3.721.
PRO BOOST
Ken Quartuccio has secured trophies in numerous different classes, including PDRA Pro 632 and Outlaw 10.5, but he wasn't able to add a Pro Boost win to that tally until Saturday night at Maryland during the series' North vs. South Shootout at Maryland International Raceway. The Connecticut-based outlaw racing veteran outlasted an all-3.60-second field to line up against defending event champion Kurt Steding in the final round. Quartuccio's holeshot advantage made a difference at the finish line, as he won with a 3.613 at 208.52 in his Jamie Miller-tuned, ProCharger-boosted '69 Camaro over Steding's 3.612 at 209.39.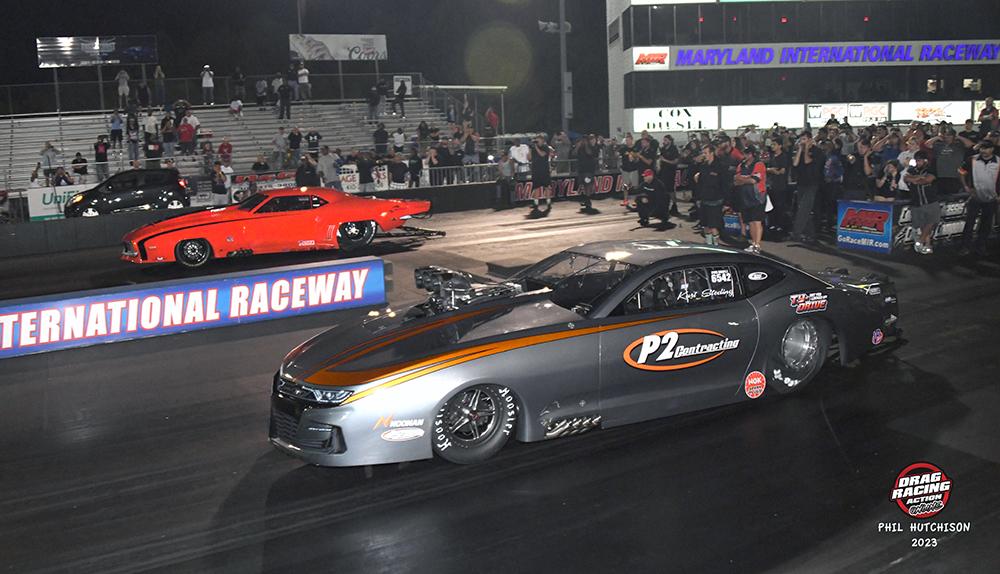 Quartuccio, far lane, made a lot of believers after his Pro Boost win in Maryland
 "I hate to say it – and I've probably won 100 races over my career in different classes – but this win is at the top," Quartuccio said. "PDRA to me was the pinnacle. These guys are the best. Every round is the hardest you ever have to race. I had to dig deep all day today because I was so afraid to let my guys down. We put a new motor in it and we worked for the last 48 hours nonstop – Johnny [Miller], Denny [Godbout], and me in the shop, just to get everything ready and get it loaded. I had a good feeling about it. I just had a good feeling this week."
Quartuccio made the third-quickest pass of the opening round, a 3.675 at 206.73, to beat Johnny Camp, who made his return after a crash earlier this season. Even with a strong .011 reaction time, he was second off the line against Chuck Ulsch in the second round, but Quartuccio's 3.642 at 207.69 was enough to get around Ulsch and his 3.804.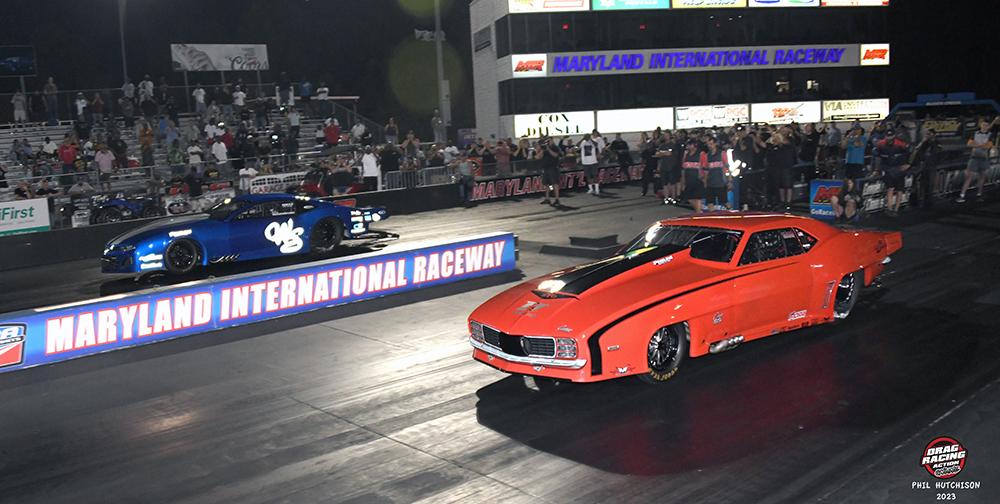 The margin of victory was just .002 when Quartuccio and his 3.641 beat Randy Weatherford and his 3.644 in the semis.
In a rematch of the World Series of Pro Mod final round, Steding set low E.T. of the first round with a 3.661 at 208.71 in his screw-blown P2 Contracting '20 Camaro to beat WSOPM winner Spencer Hyde and his 3.814. Steding had a bye run when opponent Tommy Gray couldn't make the call in the second round, but Steding still ran low E.T. of the round, a 3.626 at 209.14. He went even quicker in the semis, leaving first and running a 3.616 at 209.20 to finish ahead of Travis "The Carolina Kid" Harvey and his 3.622.
EXTREME PRO STOCK
Tony Gillig took home the win in Liberty's Gears Extreme Pro Stock presented by AED Competition during the PDRA North vs. South Shootout at Maryland International Raceway.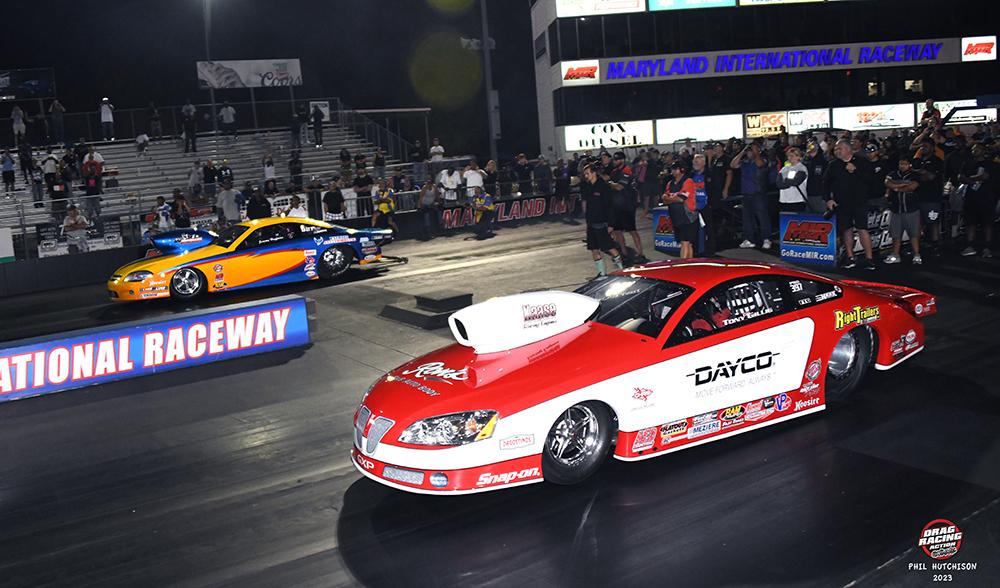 Gillig, near lane, left first and ran a 4.056 to take out Huffman's 4.156
Mountain Motor Pro Stock veteran Tony Gillig picked up his first low qualifier award in over 20 years at the last race on tour, then lost in the second round. He rebounded at Maryland, though, when he qualified No. 2 in his Kaase-powered Dayco/Gillig-Wagner Motorsports '10 GXP and drove it to victory over Jeremy Huffman, who appeared in his second consecutive final. Gillig cut a .005 reaction time and ran a 4.056 at 178.45 to reach the eighth-mile finish line before Huffman and his 4.156 at 173.21.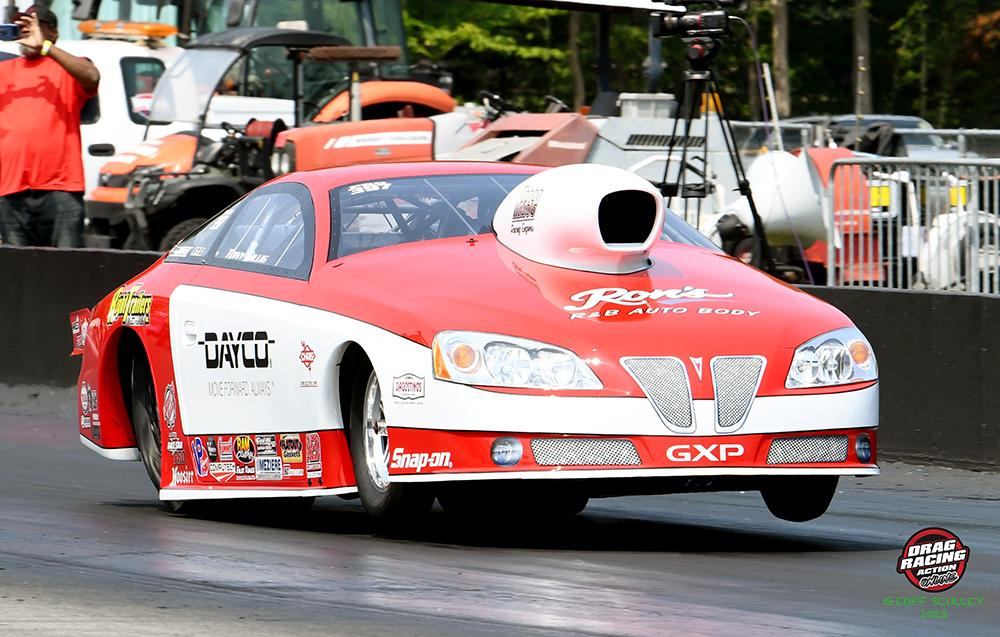 "Sometimes you get down on yourself and you start second guessing," said Gillig, who thanked his crew and partners like Dayco, Jon Kaase Racing Engines, Ram Clutches, Liberty's Gears, Right Trailers, Race Star Wheels, and Hoosier Tires. "You start thinking about stuff, and you think, 'Can we still do this?' The answer is yeah. You just have to dig deep. We prove that we can pull it off at some points here and there, and some points you don't. Norwalk was a classic example of we just messed up, and here, things went our way. In any race you can win, take it like it could be your last and enjoy it. My kids are here, my family is here, and it's Father's Day weekend. I couldn't be more ecstatic."
PRO 632
Doug Nicholl continues to experience a breakout season in Pro 632, where he qualified No. 1 and won after reaching the final round for the first time at the last race. The Dearborn, Michigan-based driver paired up with first-time finalist Mike Murphy, then used a .012 reaction time and a 4.128 at 172.47 in his Musi-powered '68 Camaro to win in decisive fashion. Murphy had to lift to a 9.774 at 43.95.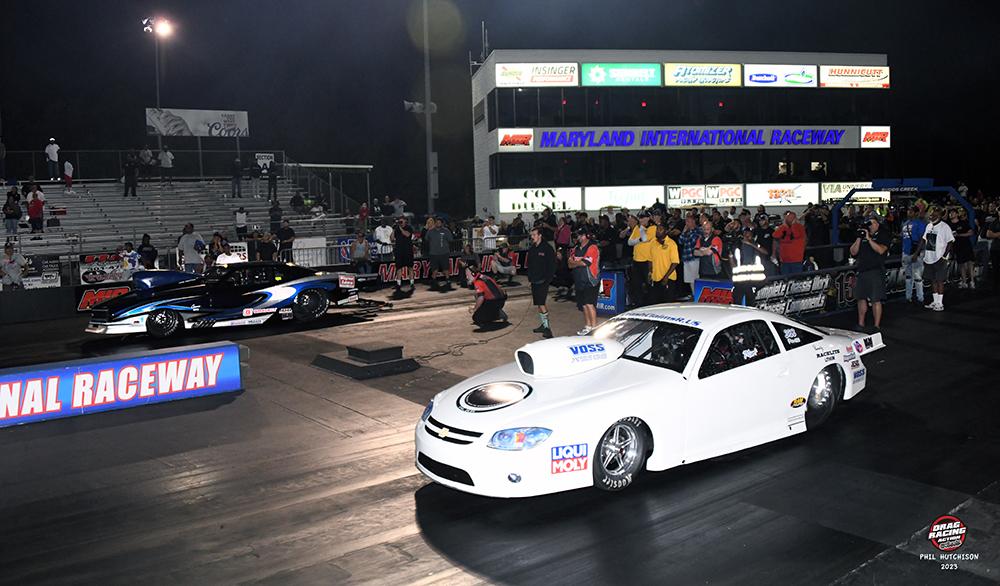 Nicholl, far lane, went to his second final in a row 
"This is my first big win in PDRA," Nicholl said. "I did not think I was going to win today. I was going into the third round and I was like, 'Oh man, this is it.' I've been struggling on the tree, and every round it's just improved. I was on it in the final. I was really nervous coming into this race because we had blown an engine [before Maryland]. We didn't have our spare, so if anything went wrong, we were screwed, but it all worked out. This is really cool."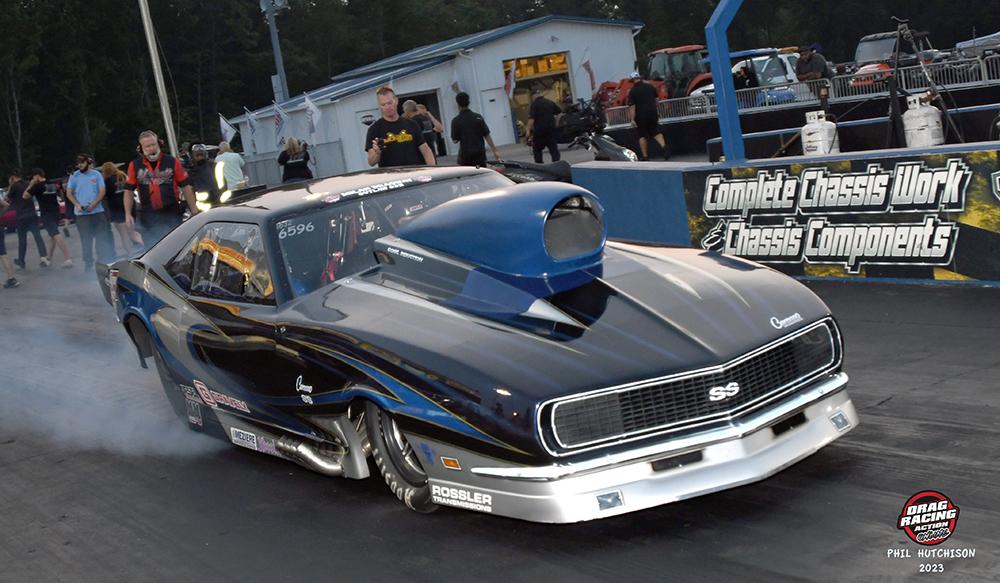 Nicholl earned a first-round bye when he qualified No. 1, and he used that free run into the next round to set low E.T. of the round, a 4.17 at 170.00. He was unopposed again in the second round, as points leader Jeff Melnick hurt his engine in the first round and couldn't make the call. Nicholl ripped off a 4.127 at 171.64, earning lane choice for the semis. His opponent there, Jason Ventura, went red on a 4.174-second pass, while Nicholl charged to a 4.134 at 172.30.
Murphy qualified No. 5 in the Voss family's '09 Cobalt, then used a 4.256 at 170.02 to defeat fellow Floridian Chris Holdorf and his 4.314 in the first round. His biggest moment of the weekend followed in the second round, where he cut a .003 light and ran a weekend-best 4.209 at 169.87 to win on a holeshot over defending world champion Amber Franklin and her 4.173. That round win came with a bye run in the semis, which saw Murphy post a 4.229 at 171.01.
PRO NITROUS MOTORCYCLE
Seventeen-year-old Brayden Davis made headlines at the season-opening East Coast Nationals when he became the first racer in PDRA history to double-up in a pro class and a Jr. Dragster class. It was his Pro Nitrous Motorcycle debut, and he warned the class that he's there to follow in the footsteps of his father, four-time world champion Travis Davis. He sent a reminder at Maryland, winning for the second time in three races. He also won in Pro Jr. Dragster again, which expanded to a 32-car field since his last win.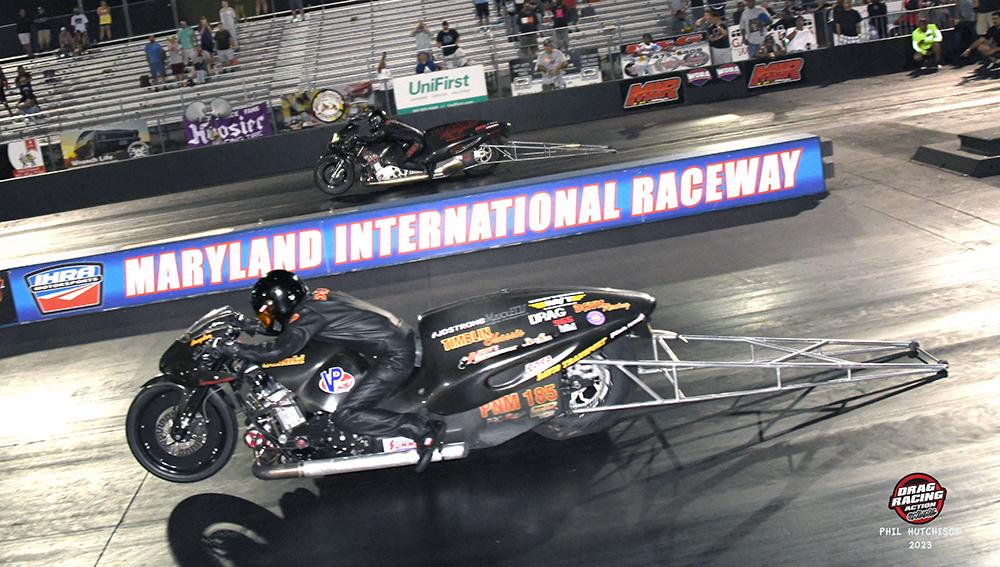 Davis, near lane, is having a dream season racing in the PDRA 
In the Pro Nitrous Motorcycle final round, Davis started with a .009 reaction time advantage over past world champion Chris Garner-Jones and followed through with a 3.976 at 176.37 to beat Garner-Jones' 3.989 at 165.21.
"This is better than the first one," said Davis, who thanked parents Travis and Brandy Davis, Stuart Crane with Warpspeed Racing, Timblin Chassis, Monster Race Products, Fast By Gast, Worldwide Bearings, and Perry's Performance. "The first one was really unbelievable for me, and then to come out here and do it again, it's hard to do it out here. The bike class is tough. The Jr. Dragster class is tough. I got the best of the best – my dad and my mom and the equipment we have. It's all on me. It's never on them. It's usually me that screws us up. We were fortunate enough to get it done here. It was kind of smooth sailing this weekend."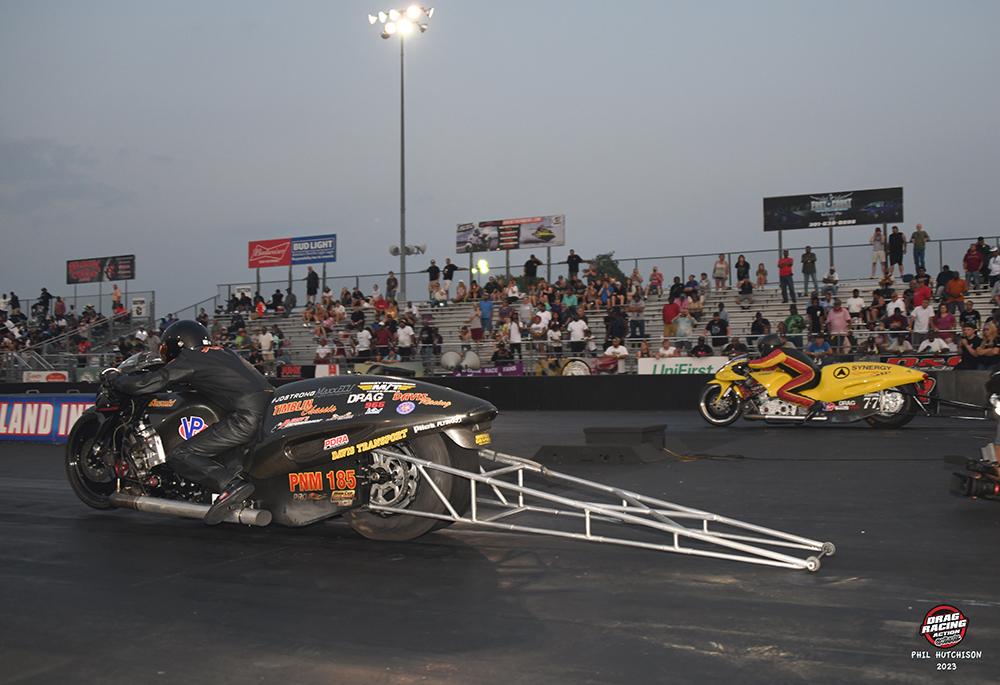 Davis took an easy win over the broke bike of Jay Fisher in R2
Davis started eliminations with a monster matchup against multi-time world champion Eric McKinney, leaving first and running a 4.022 at 175.68 to beat McKinney's 4.05. Second-round opponent Jay Fisher broke after leaving the starting line, while Davis stepped up to a 3.982 at 176.07 to earn lane choice in the semis. A consistent 3.983 at 176.42 gave him the win light over points leader Meshal Al-Saber and his 3.992.
Garner-Jones qualified No. 2 aboard his T.T. Jones Racing Hayabusa and used a 4.047 at 175.68 to beat Terry Wynn's 4.227 in the first round. He won a side-by-side race with Tyron Lemons, leading with a 4.008 at 177.86 to a 4.031. He used his semifinal bye run to record a 4.018 at 176.12.
PRO STREET
Small-tire racer Scott Kincaid snuck up on the Pro Street field when he won in his debut at Norwalk last month. He quietly pulled off another win at Maryland, qualifying No. 7 off just one pass and powering to another final round. His opponent, Jesse Lambert, had a slight advantage off the starting line, but Kincaid raced past in his roots-blown '69 Camaro to win with a 4.027 at 188.81. Lambert was right there with a 4.042 at 198.99, losing by just .008 seconds.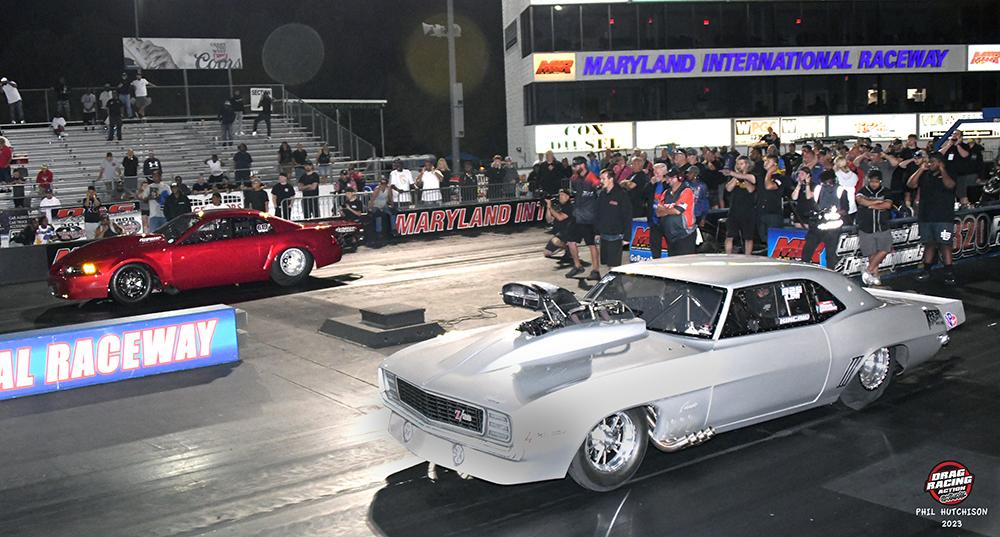 Kincaid, near lane, wasn't the quickest qualifier but turned it up in eliminations to take his second PDRA race in 2023
"This took a lot of luck, a couple lucky rounds," Kincaid said. "We didn't run too good. We just ran one round of qualifying and started the race this morning. First round was the first pass we actually made it down and it went 4.06, then we just kept going rounds. This tire is challenging. I believe it'll be all right. We're just figuring the car out as we go, too. We aren't where we need to be yet, but we're getting there."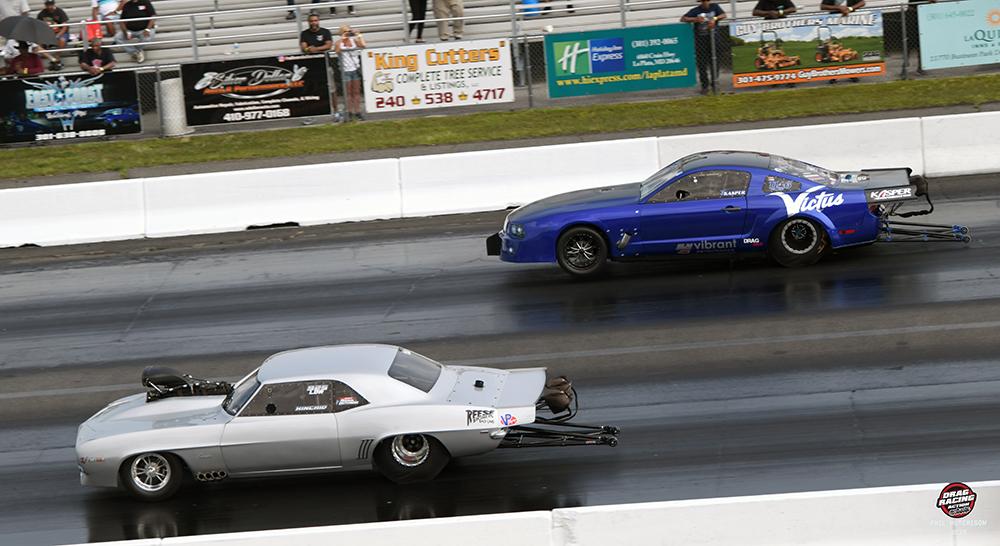 Kincaid left on defending event champion Ty Kasper in their opening round matchup and led to the finish line, winning with a 4.068 at 186.46 to Kasper's 4.07. He was first off the line against Jerry Morgano too, then improved to a 4.043 at 187.18 to beat Morgano's 4.116. Kincaid slowed in the semifinals, where he ran a 5.400 at 133.50 on a bye run.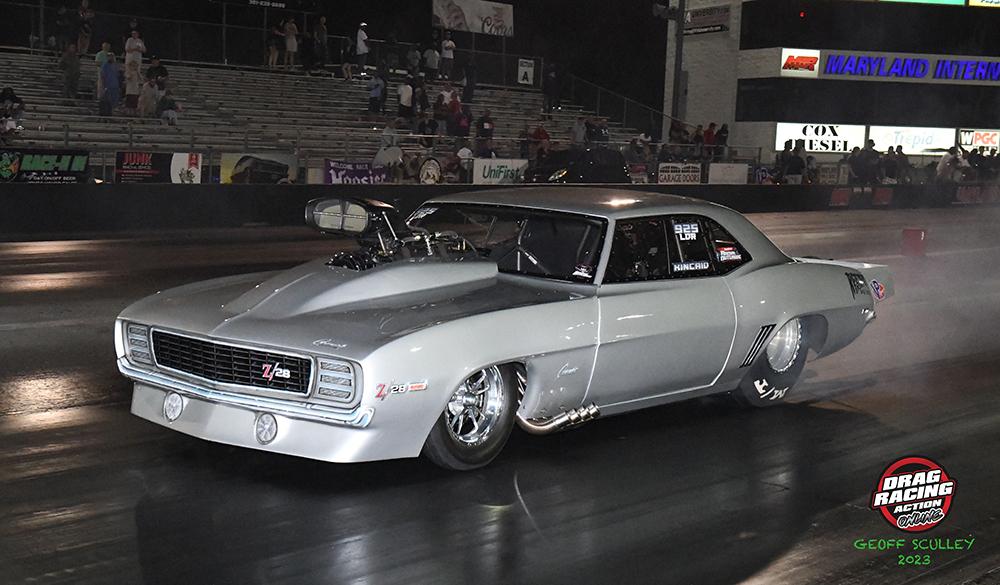 Lambert and first-round opponent Mike Jones both struggled to get down the track, but Lambert got to the finish line first with a 4.605 at 124.12 to Jones' 5.408. In a Virginia vs. Maryland pairing in the second round, Lambert recorded a 4.049 at 199.05 in his twin-turbocharged '04 Mustang to win on a holeshot over the defending world champion, home track hero Tim Essick, and his 4.02. Lambert was set to face fellow Virginian Ron Green in the semis, but Green's car went silent before staging. Lambert lifted to a 7.079 at 65.59.   
SUPER STREET
Blake Denton's hot streak in Super Street continued at Maryland, where he qualified No. 1 and raced to victory for the second consecutive race in PDRA competition and the third consecutive race overall. The former Jr. Dragster standout was first off the starting line in every round including the final, where he fired off a weekend-best 4.701 at 155.88 in his Musi-powered '76 Camaro. The run was quick enough to set the track record and defeat Paul Curry, who ran a 4.787 at 156.83.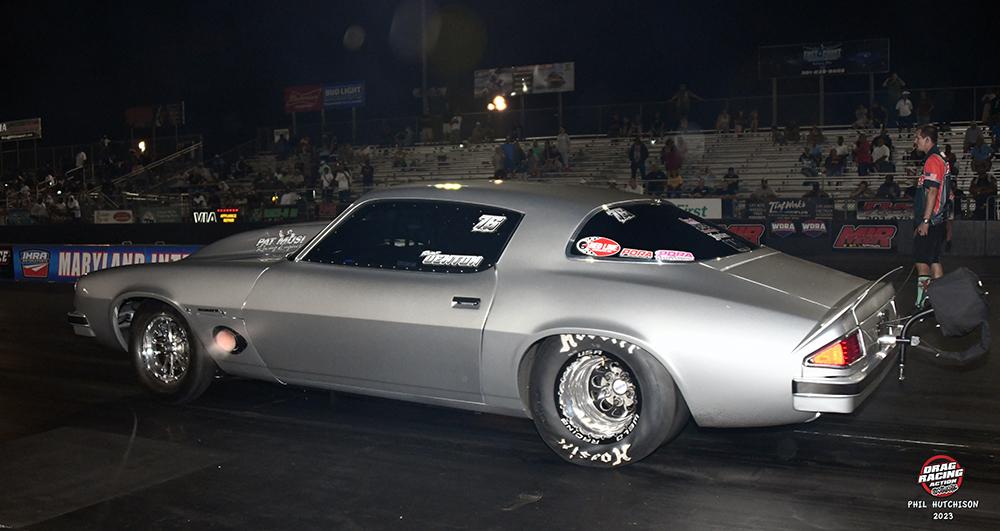 "To come out today and have good lights all day and the car just be deadly as always, it's just a good feeling," Denton said. "To do it on Father's Day weekend for my dad [Wesley] and my dad to be here and help me on the car is just even better. I just have to thank Pat Musi and Mark Micke and Hoosier and God and Tommy and Judy [Franklin] and Jeff [Pierce] and Austin and my girlfriend, Amber [Franklin]. It's a family deal and a team deal. We're trying to do the best we can."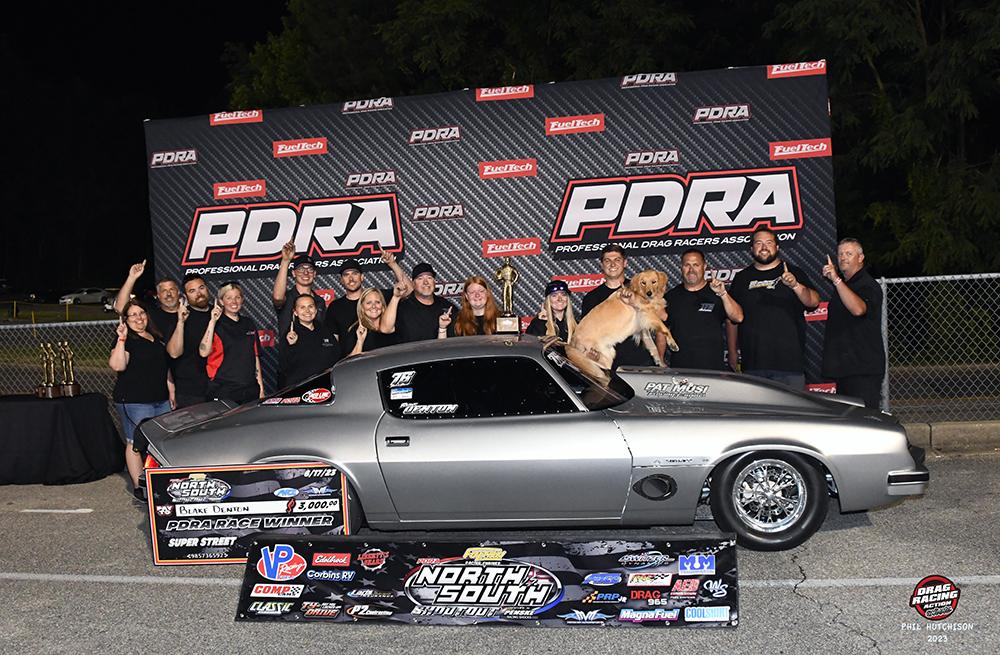 Denton went progressively quicker as eliminations went on, starting with a 4.735 at 155.67 next to Blake Molnar and his 5.562. Second-round opponent Brad Cox made a big step up to a 4.742, but Denton was ready with a 4.731 at 155.24. He used a semifinal bye run to post a 4.714 at 155.58.
Curry qualified No. 2 in his ProCharged Nova, then picked up round wins over CJ Cave, Matt Schalow, and Dan Whetstine to advance to his second final round of the season. His best run of the weekend was his 4.706 at 159.25 to beat Whetstine's 4.864 in the semis.
TOP SPORTSMAN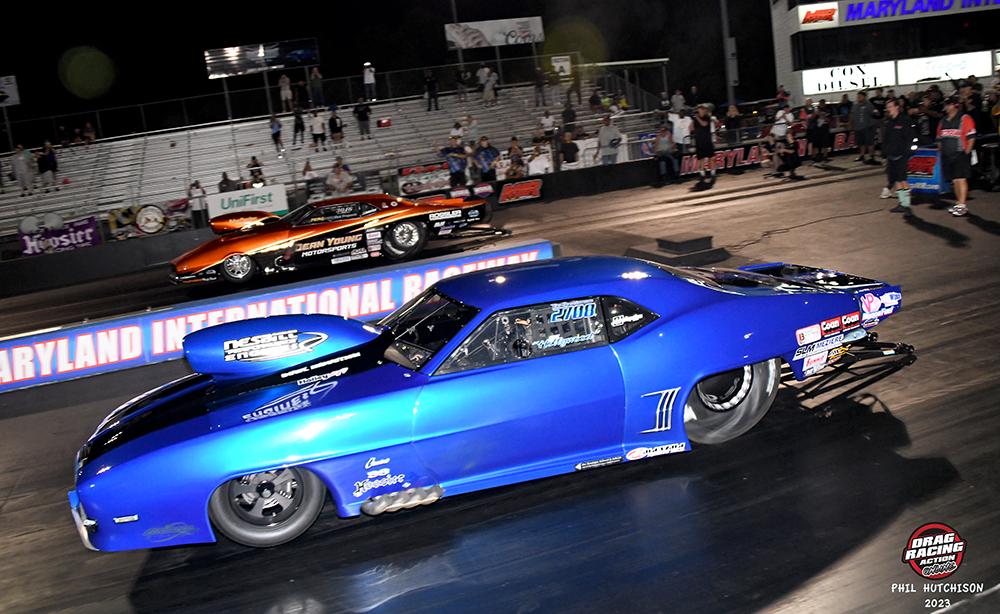 It was Ferguson, far lane, putting it to "Hollywood" in the finals of Elite Top Sportsman when Urban slowed
Past world champion Donny "Hollywood" Urban appeared to be on a path to his third consecutive win in Elite Top Sportsman until another past world champion, Dan Ferguson, put a stop to that in the final round. Urban had the starting line advantage in his Nesbitt-powered '69 Camaro, but he slowed to a 3.876 on a 3.79 dial-in. Driving Dean Young's Reher-Morrison-powered '68 Camaro, Ferguson laid down a 3.846 on a 3.84 dial-in to add another win to his tally.
A strong turnout in Top Sportsman resulted in a 48-car field behind the 16-car Elite field. Al Davidowski and Derrick Barnes raced through five rounds to reach the final round, where Barnes broke out with a 4.232 on a 4.24 dial-in in his Drayden, Maryland-based '99 S10. That gave the win to Davidowski, who went into the weekend second in points. He posted a 4.209 on a 4.18 dial-in in his '10 GXP for the win.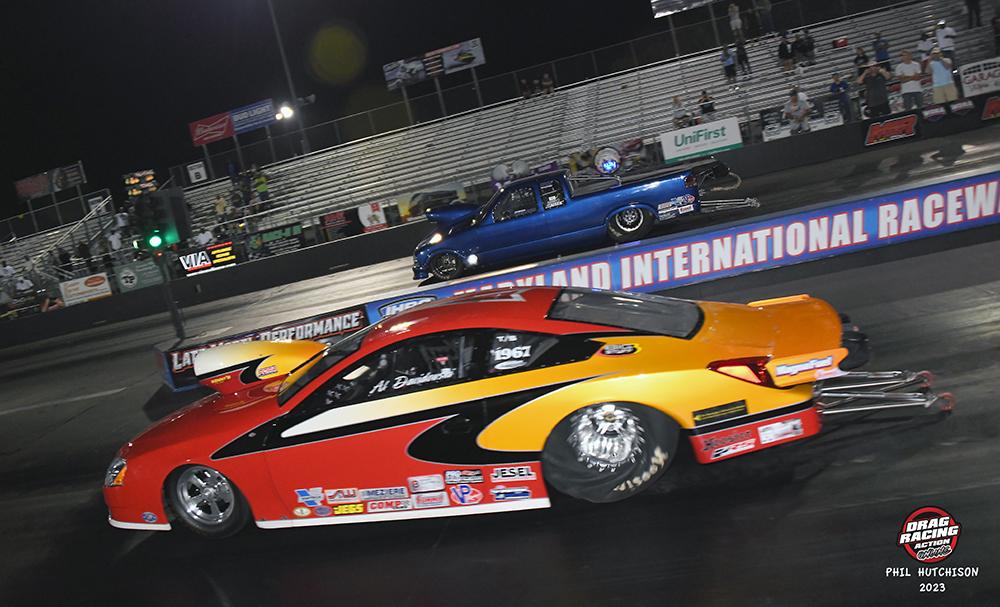 Davidowski, near lane, added to his PDRA tally with a win over Barne's S-10
TOP DRAGSTER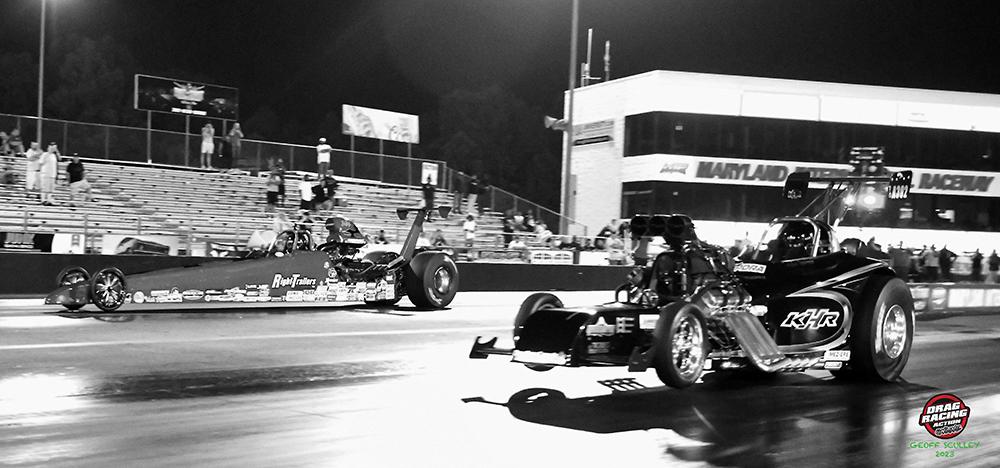 It's wheels up as Harris gets the jump on Furr in a wild final in Elite Top Dragster
After failing to qualify for the Elite Top Dragster field at the last race, Kyle Harris and Steve Furr bounced back by reaching the final round. Harris in his supercharged Altered used a .008 reaction time and a 3.829 on a 3.80 dial-in to defeat Furr, who won the first two races of the season. Furr ran a 3.819 on a 3.81 dial-in in his ProCharged Right Trailers '13 American dragster in the runner-up effort.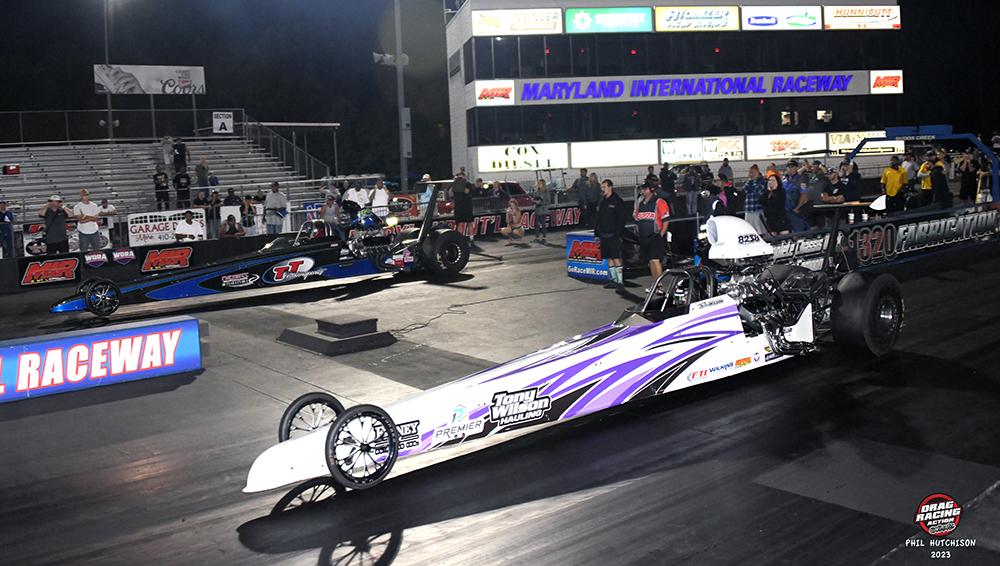 Meloni, far lane, had a great light but broke out, putting Wilson in the winner's circle
Two of the toughest competitors in Top Dragster, Tisha Wilson and Nick Meloni, squared off in the Top Dragster 32 final round. Wilson, the reigning world champion, raced to a 4.365 on a 4.36 dial-in in her Wilkins-powered '18 Race Tech dragster to get the win. Meloni left the line first in his TT Motorsports '16 Dan Page dragster before breaking out with a 4.267 on a 4.27 dial-in.

PRO JR DRAGSTER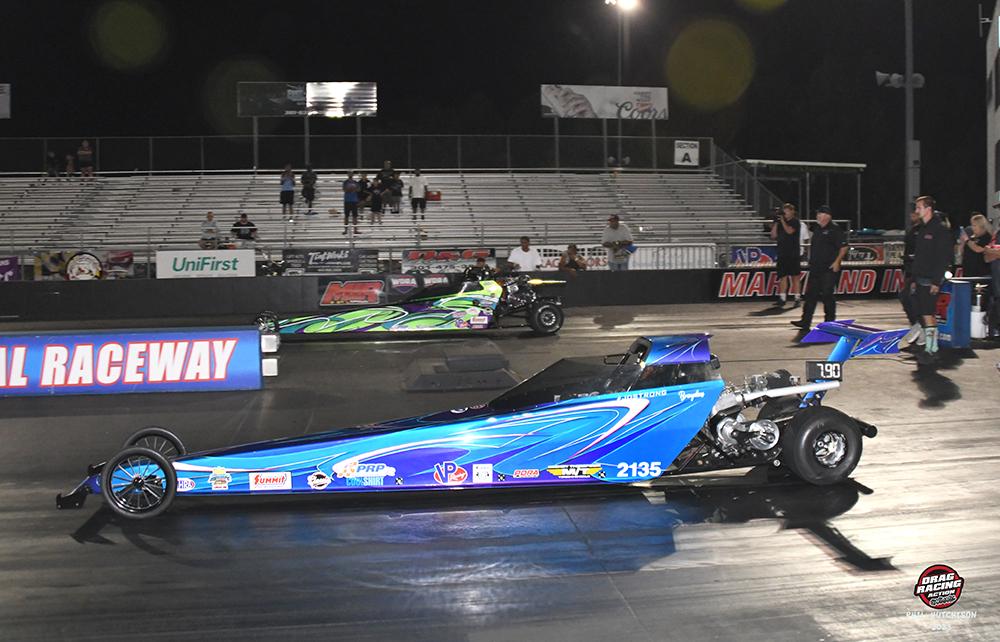 Brayden Davis, near lane, from Douglas GA. got the win as his competition, the '20 Halfscale car of Ashley Franklin from Fredericksburg VA.,   went red in the finals giving the win to Davis.
TOP JR DRAGSTER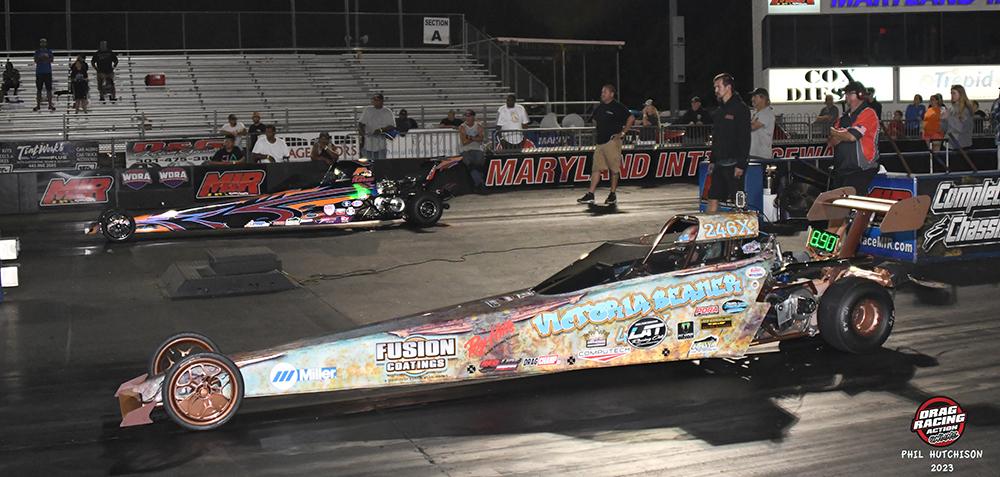 It was a battle between Florida and Virginia in the finals of Top Jr Dragster with Ayden Tilghman, far lane,  from Henrico VA. taking the win over Victoria Beaner from Labelle Fl. Both Ayden and Victoria got off the line evenly but the dragster of Tilghman ran closer to her 8.90 dial with a 9.003 to Victoria's close 9.017.
EDELBROCK BRACKET BASH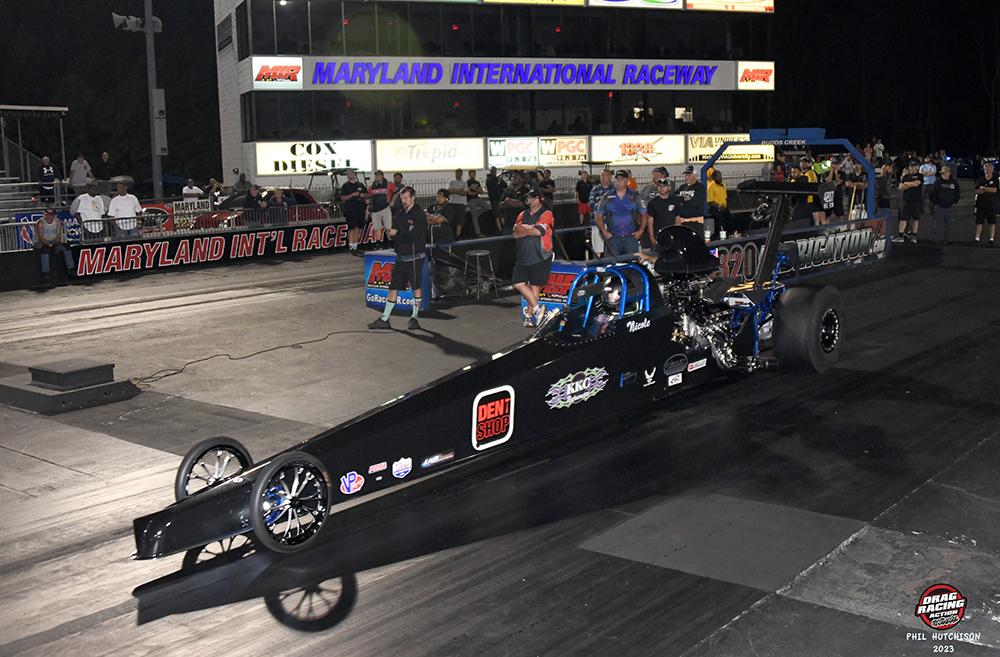 Nicole Zuccarelli drover her '21 KKC dragster to a win over the '57 Chevy of Tommy Muller. Zuccarelli had the better light and ran closer to her dial with a 4.569 on her 4.55 as Muller lost with a 6.023 on his 5.99 dial.
The next championship points-earning race on the 2023 PDRA schedule is the Northern Nationals presented by Talbert Manufacturing, August 3-5, at U.S. 131 Motorsports Park in Martin, Michigan. But first, qualified drivers will compete in the race-your-way-in Summit Racing Equipment PDRA ProStars race during Virginia Motorsports Park's Night of Fire on July 22.