ASHLEY, CAPPS, ENDERS AND JOHNSON PICK UP WINS AT NHRA THUNDER VALLEY NATIONALS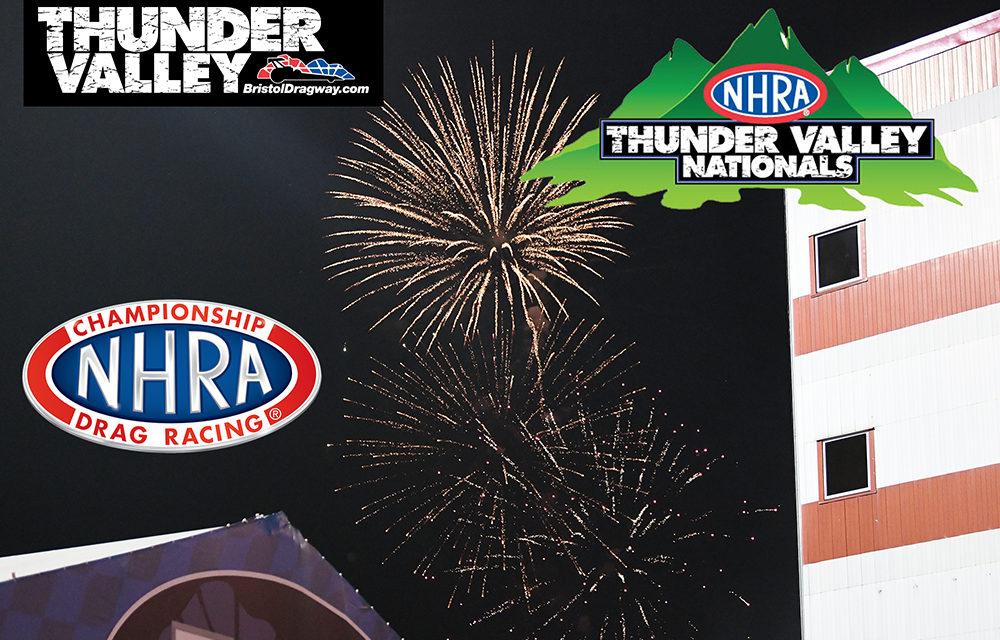 Drag Racing Action Online/ NHRA  Images: Phil Hutchison,Gary Nastase/Auto Imagery
BRISTOL, Tenn. (June 10, 2023) – Justin Ashley completed a doubleheader sweep at Bristol Dragway, powering to the Top Fuel win at the 22nd annual NHRA Thunder Valley Nationals on Sunday with a track speed record run in the final round, a day after winning the NHRA New England Nationals at Bristol.
Ron Capps (Funny Car), Erica Enders (Pro Stock) and Steve Johnson (Pro Stock Motorcycle) also won at the eighth of 21 races during the 2023 NHRA Camping World Drag Racing Series season.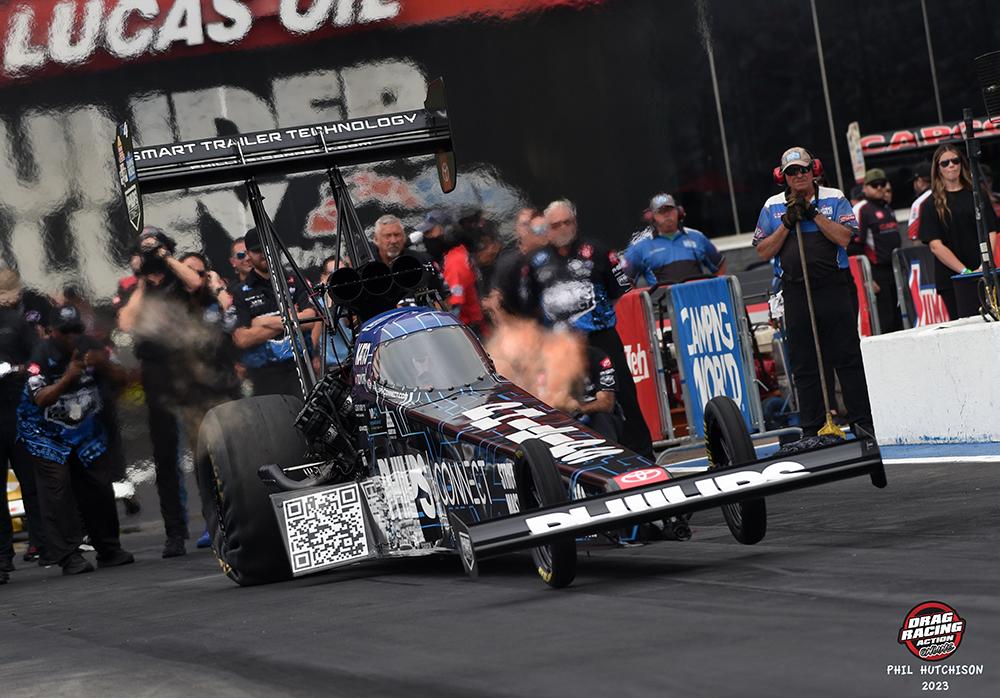 Ashley defended his Bristol event win on Sunday with a thrilling performance in the final round, going 3.718-seconds at a track record speed of 336.49 mph in his 11,000-horsepower Phillips Connect/Toyota dragster to defeat Antron Brown. It handed Ashley his second event win in two days – as well as the Mission #2Fast2Tasty NHRA Challenge victory – his fourth victory of the year and the ninth in his career, as well the points lead.
Ashley reached the final round with wins against Doug Foley, Josh Hart and Austin Prock before delivering another standout performance against Brown in the final round, capping off an unbelievable weekend.
"It's been a fantastic weekend, certainly, the best weekend of my racing career," Ashley said. "The key word for this weekend is team. It was a team effort to be able to throw out eight win lights in a row like that, and to leave one weekend with three victories is amazing, it's something I didn't know was possible.
"Just Mike Green, Tommy DeLago and the guys – all weekend they worked hard to make something happen. We came in with that objective, to leave with all the wins, and it's not an easy thing to accomplish. But we got it done today."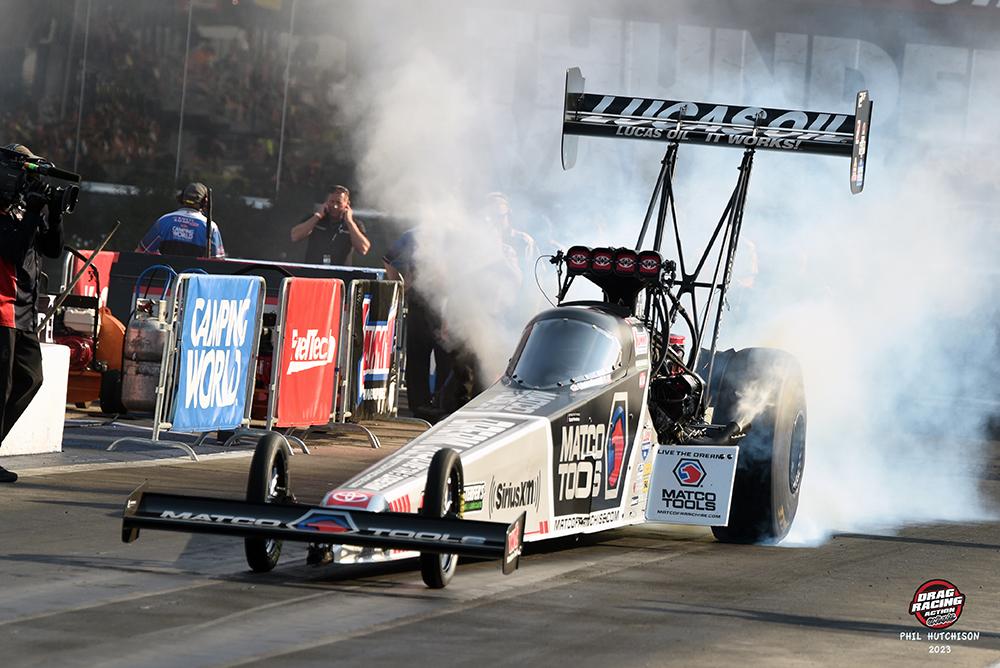 Brown reached the final round for the second time this season and the 132nd time in his career with round wins against defending world champion Brittany Force, Tony Schumacher and Doug Kalitta.
It was a monumental day for Capps in the Funny Car ranks as well, as the defending back-to-back world champion became the all-time wins leader at Bristol, picking up his seventh win at the track after going 3.998 at 325.45 in his 11,000-horsepower NAPA Auto Parts Toyota GR Supra in the final round against Alexis DeJoria. After three visits to the final round this season, it's the first victory of the season for Capps, who also moved into the points lead with the win.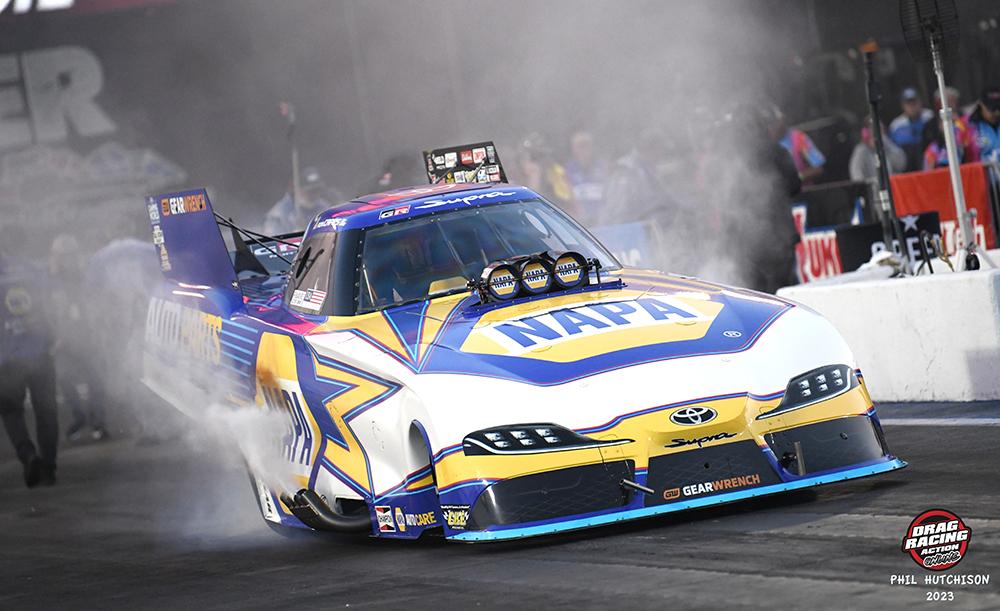 To reach the final round, Capps knocked off Dave Richards, John Force and Chad Green before coming up with his 74th career victory in impressive fashion.
"We kept at, we've been close – three final rounds – should have been a win already but this is probably the most demanding racetrack there is to drive a Funny Car and I think anybody will tell you that that drives one," Capps said. "I probably cost us a couple qualifying runs, I just couldn't hold onto it and keep it in the middle and thankfully I got my act together on Sunday. It's such a relief to see that Wally again. I honestly can tell people, you never know if you're going to see it again. That's how tough it is.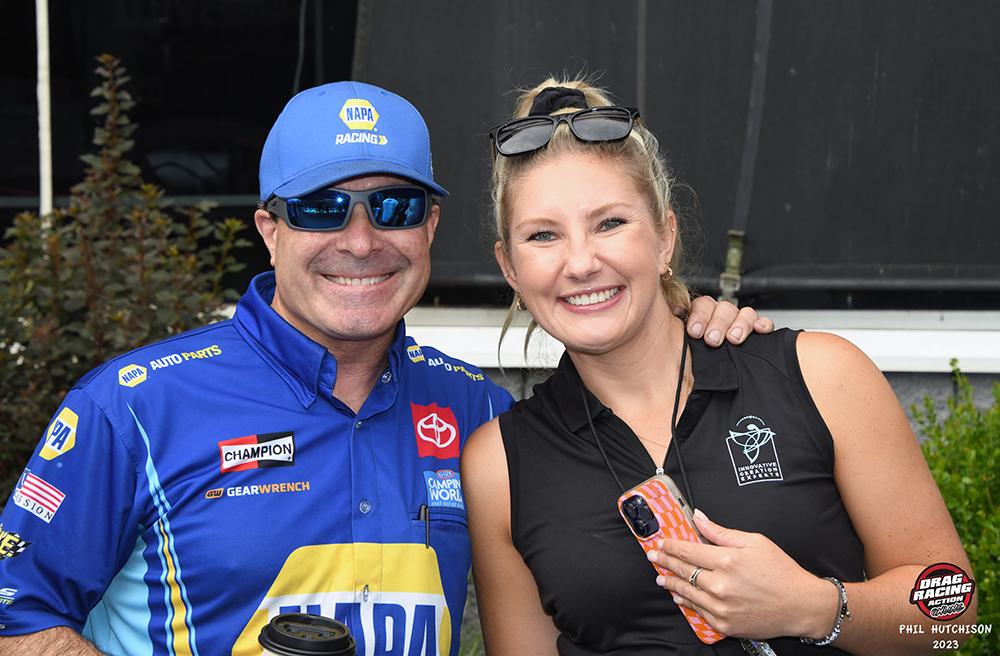 "I think any driver who has success somewhere will tell you, you just feel the mojo. It's hard to explain it, but I've won here with different crew chiefs, different sponsors, different owners. I can't really pinpoint it, I just know the very first year we ever came here, from the get-go it's been a love affair with this area. This feels like a second home."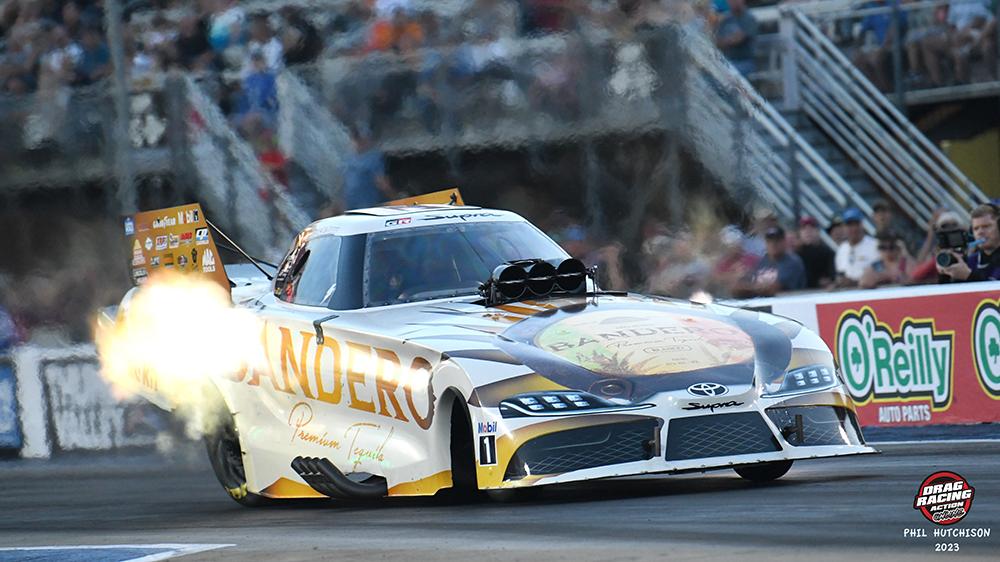 It's the second final round this year for DeJoria and the 14th in her career after she knocked off Cruz Pedregon, Bobby Bode and No. 1 qualifier Robert Hight.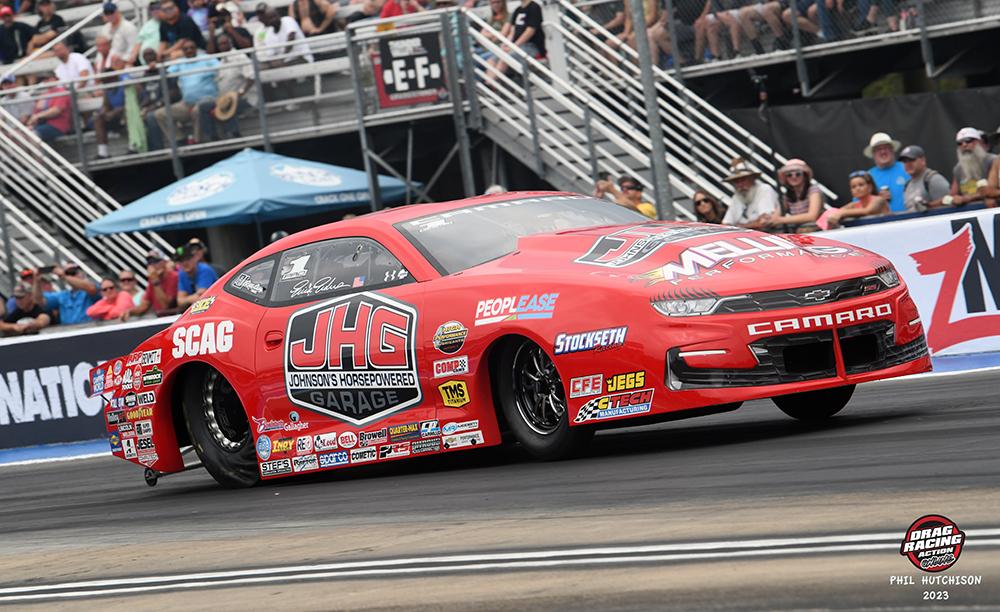 Enders put to rest her early-season struggles in Pro Stock in a major way this weekend in Bristol, capping off a stellar weekend with her first win of the season, which was clinched with a run of 6.680 at 204.08 in her Johnson's Horsepowered Garage/Melling Performance Chevrolet Camaro. Poised for a big turnaround, Enders and her team made a massive move in Thunder Valley, qualifying No. 1 and then earning her 44th career win and third at Bristol Dragway.
She advanced to the final round with victories against Mason McGaha, Kyle Koretsky and Greg Anderson. With the win, Enders moved up six places to eighth in points, signaling she may be back to her winning ways of 2022, when she picked up 10 victories and cruised to her fifth championship.
"This is super gratifying, and I don't know if people truly understand what it means," Enders said. "Yes, we've won a lot of races, but to finish the year we had last year in the fashion that we did and then to start the year as horribly as we did is a real gut-check. It's one of those things you have to battle through. Even though we go through these valleys, you just have to put your head down and go to work.
"We've struggled with our racecar, but I've struggled mentally as a driver as well. It definitely takes a toll on you, and you question a lot of things, and you lose your confidence and maybe a little of your swagger. But my dad told me to just put my head down and remember who I am, a five-time champion. It's refreshing to know that so many people believe in me, I just have to remember to believe in myself."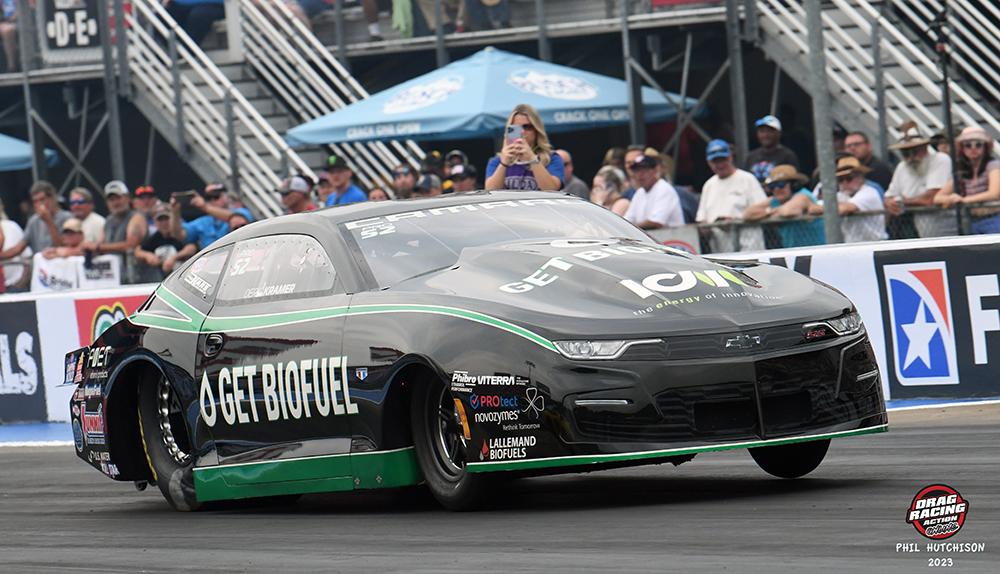 Kramer, who won in Charlotte, reached the final round for the fourth straight race and 11th time overall, beating Troy Coughlin Jr., No. 1 qualifier Aaron Stanfield, who won the Mission #2Fast2Tasty NHRA Challenge on Saturday, and Cristian Cuadra. Dallas Glenn maintained the points lead in the class, with Kramer moving up to second.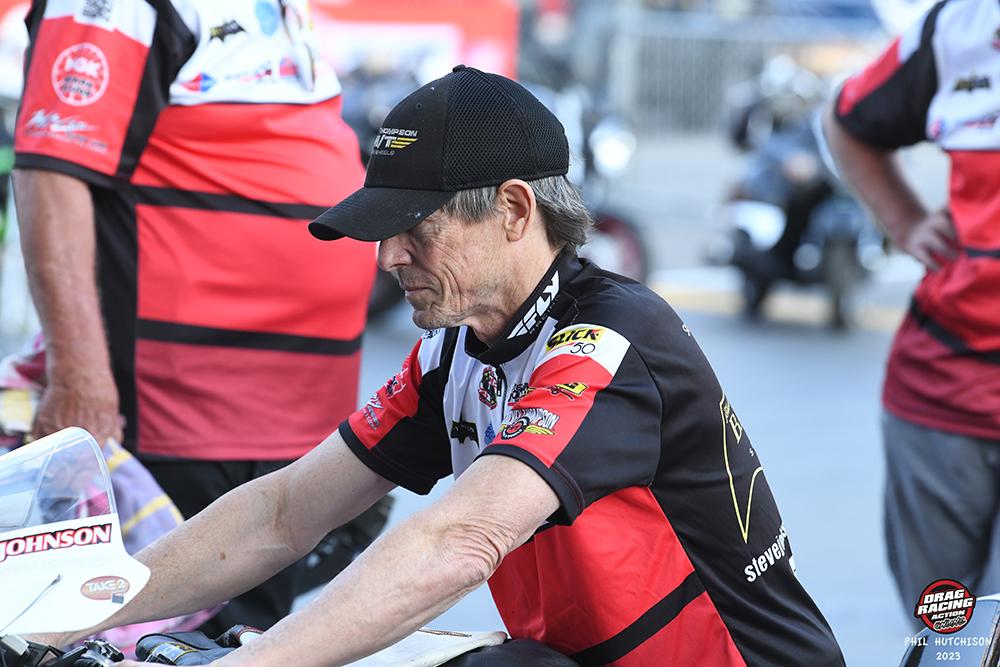 In a major upset in the Pro Stock Motorcycle ranks, Johnson won in the final when points leader Gaige Herrera went red and suffered his first loss of the season. Johnson went 7.174 at 158.63 on his to earn his 12th career win, denying Herrera his fourth straight victory to open the season. Herrera entered the championship round 14-0 in 2023, but he left too soon by .011, handing Johnson his first victory of the season and his first win at Bristol Dragway.
Johnson reached his first final round this season with victories against Joey Gladstone, Eddie Krawiec and Hector Arana Jr., setting up the win against a rider who had dominated in the class up until that point.
"The Suzuki Hayabusa Gen 3 body is the newest coolest thing in Pro Stock Motorcycle racing," Johnson said. "We got it, it's the 25th anniversary of Suzuki next year and we're really into trying to promote it. It's totally different. It looks the same, but the feel and how the motorcycle rides down the track it's totally different.
"In the finals racing Gaige, he's got a really, really fast Suzuki and I was like, okay, what do you want to do? We talked about timing, jetting, all these things, but it was like, we just have to throw the kitchen sink at it. But we didn't have one. So, we said we'll just do what we can. We did some stuff that probably wasn't right, but I looked up and saw our win light, and I let off to save the parts. I was pretty happy with it, but it's pretty shocking."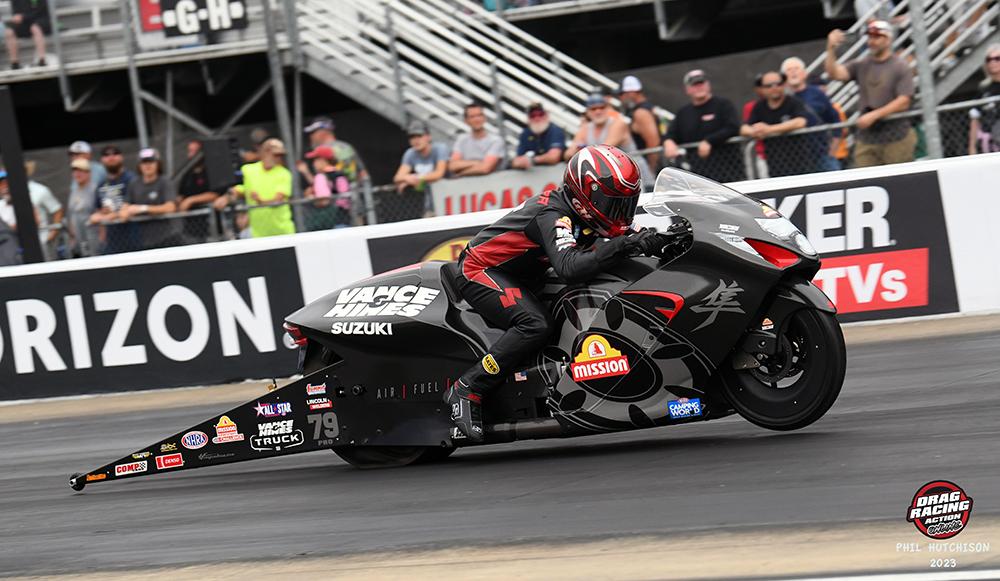 Herrera, who was the No. 1 qualifier, easily maintained the points lead, advancing to his fourth straight final round with wins against Ron Tornow, rookie Chase Van Sant and Angie Smith.
SPORTSMAN RESULTS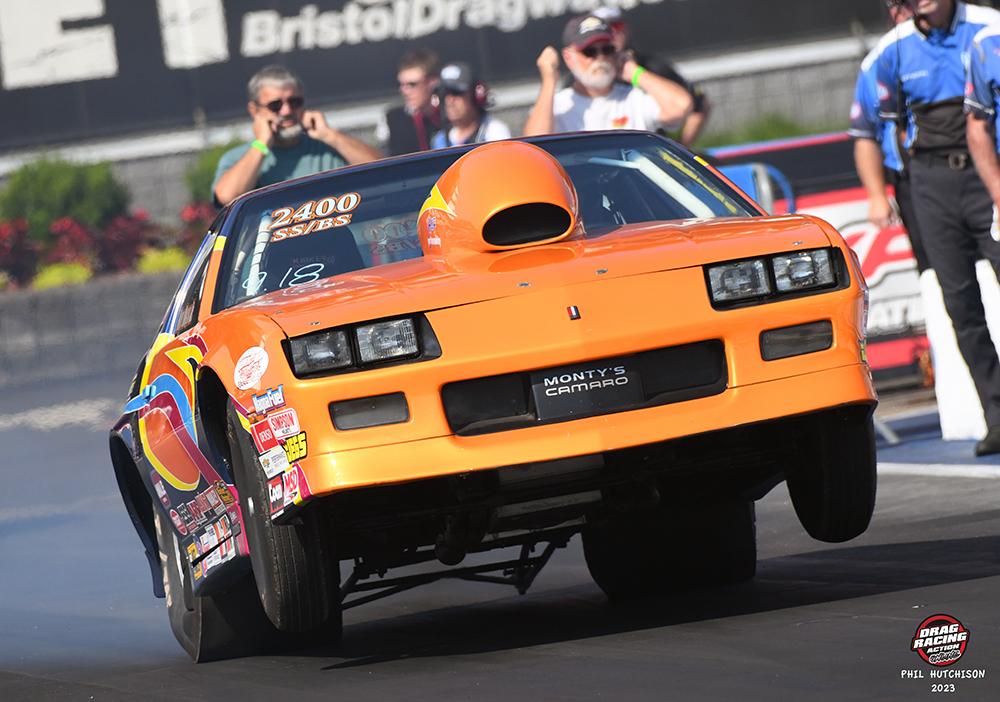 In Super Stock it was a battle of two of the best. Monty Bogan who has been an IHRA champ along with NHRA was up against multi time NHRA World Champ Dan Fletcher. Fletcher, who now calls Selma, NC. home was second off the line with a 0.054 light in his FTG/G Camaro to Bogan's crushing 0.002 RT in his SS/BS Camaro and Fletcher had little chances of holding off the Boiling Springs S.C. driver as Bogan took the win with a 9.24 on his 9.22 dial as Fletcher broke out losing with a 0.001 under 9.839 on his 9.84 dial. The win at Bristol was Bogan's 6th career NHRA Wally and his third of 2023.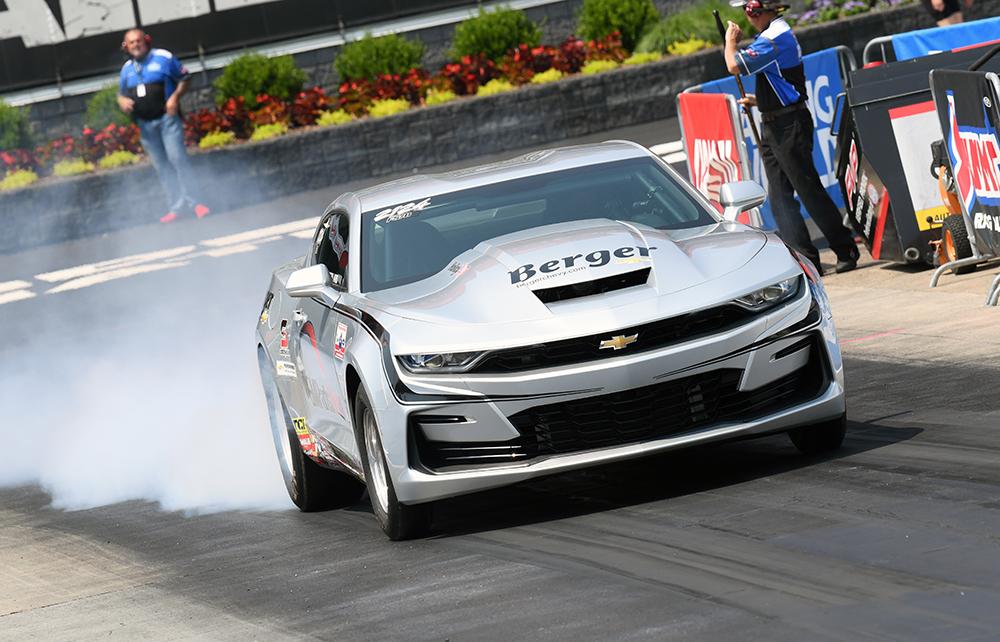 Former NHRA World Champ Jeff Strickland took his FS/B COPO Camaro to a Stock Eliminator win beating reigning NHRA World Champ Jimmy Hidalgo Jr in a double break out final round. Strickland from Red Bay AL ran a 9.297 on a 9.31 dial as Hidalgo who calls Donaldsonville LA home, ran a 10.972 on his 10.99 in his E/SA Pontiac GTO. The win at Bristol was Strickland's 21st career NHRA win.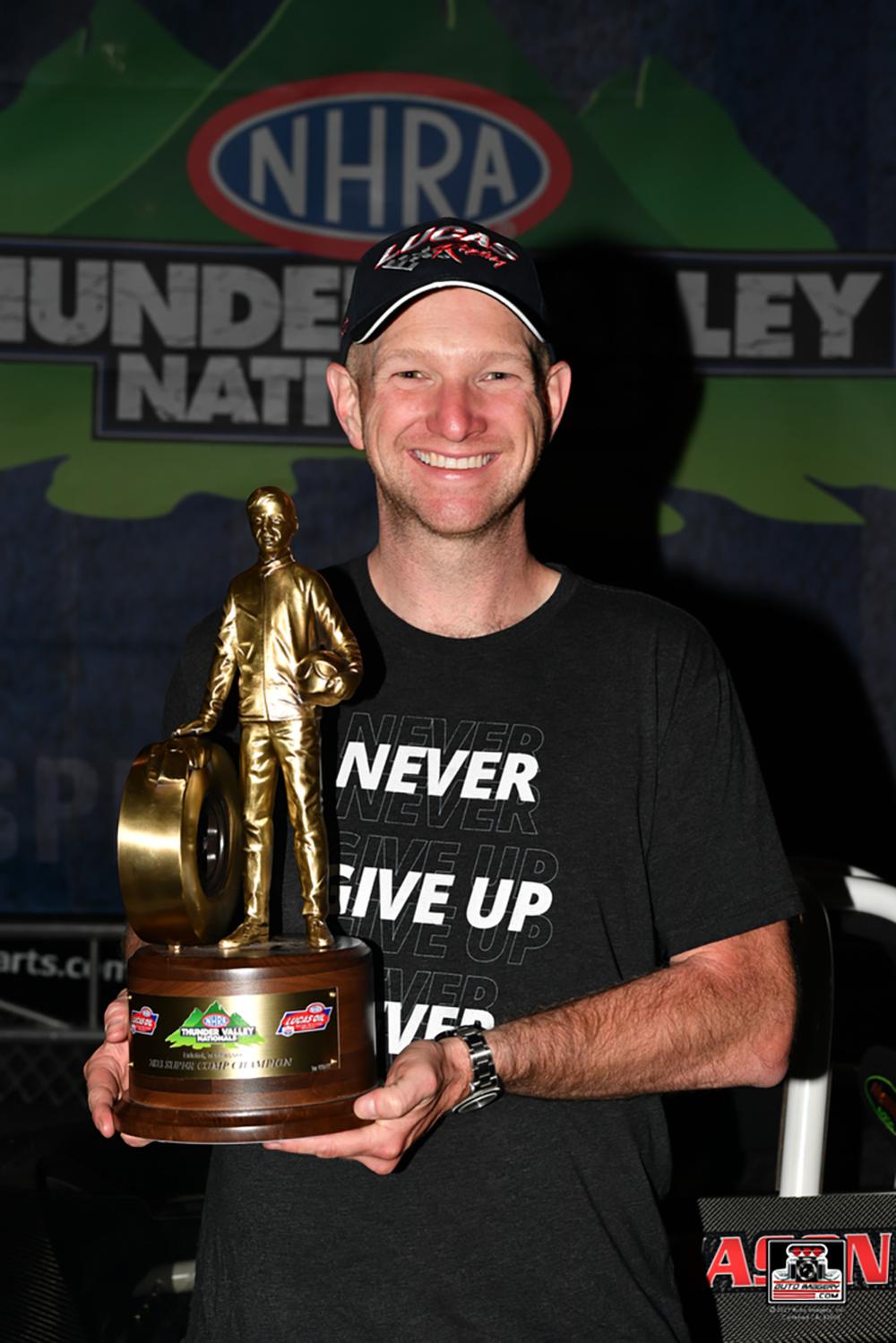 Division 3 racer and 2019 Super Gas NHRA Lucas Oil Champ Jeremy Mason from Richmond KY. got his 6thNHRA title at Bristol winning Super Comp over Michael Holcombe in the finals. Mason got the better light and held on with an 8.922 to Holcombe's better but later 8.916.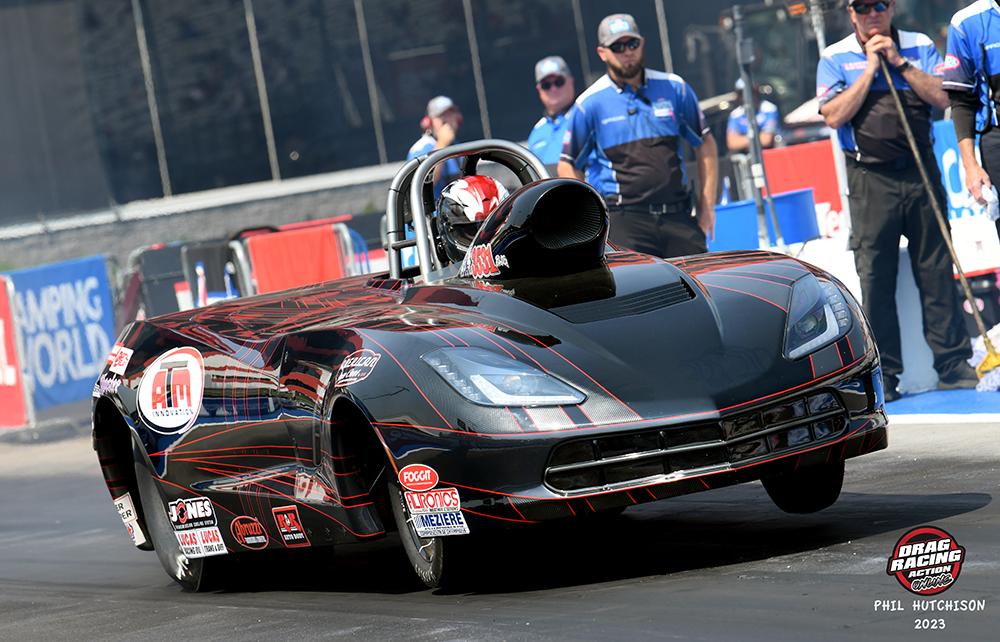 Jacob Elrod from Bufftin OH. drove his '19 Corvette to a win in Super Gas beating multi time champ John Labbous Jr. in the finals. Both drivers had identical 0.003 reaction times, but Labbous slowed to a 10.237 as Elrod posted a winning 9.987 for his fourth NHRA national event win.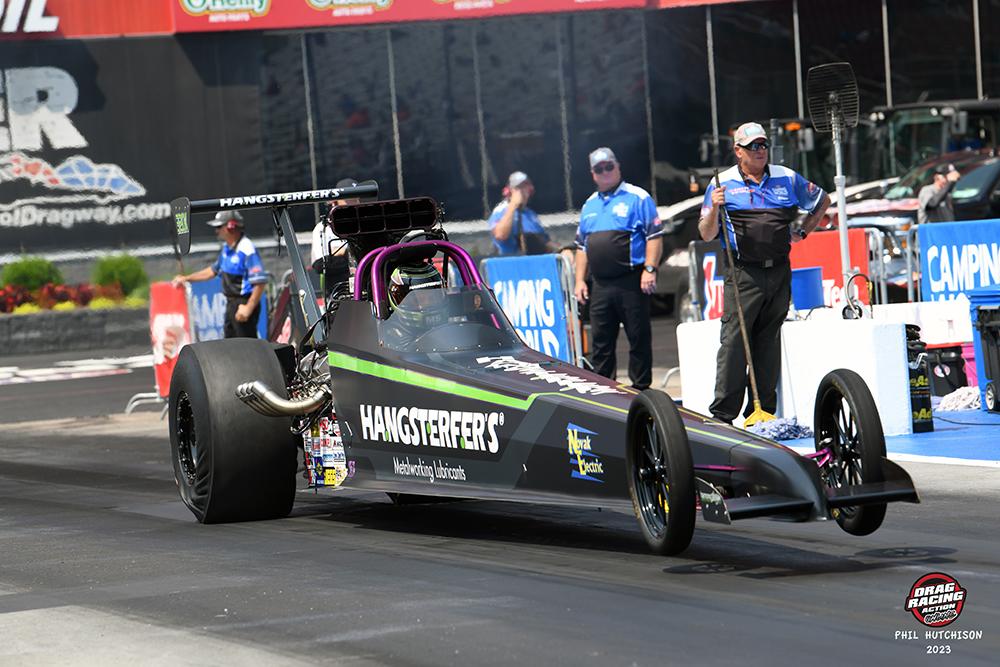 Knoxville TN. Racer Matt Sackman has had his potent blown Hangsterfer's dragster deep in Top Dragster eliminations, but it wasn't till the Thunder Valley Nationals that he got his first national event win. Sackman got the better light in the finals against Al Miller from Chester MD in the final and held on for the win with a 6.187 on his 6.17 dial to Miller's 6.991 on a 6.98.
The NHRA Camping World Drag Racing Series returns to action June 22-25 with the 17th annual Summit Racing Equipment NHRA Nationals at Summit Racing Motorsports Park in Norwalk, Ohio.