New Bride Brittany (Boltz) Daniels Joins Winners at Cecil County Lucas Divisional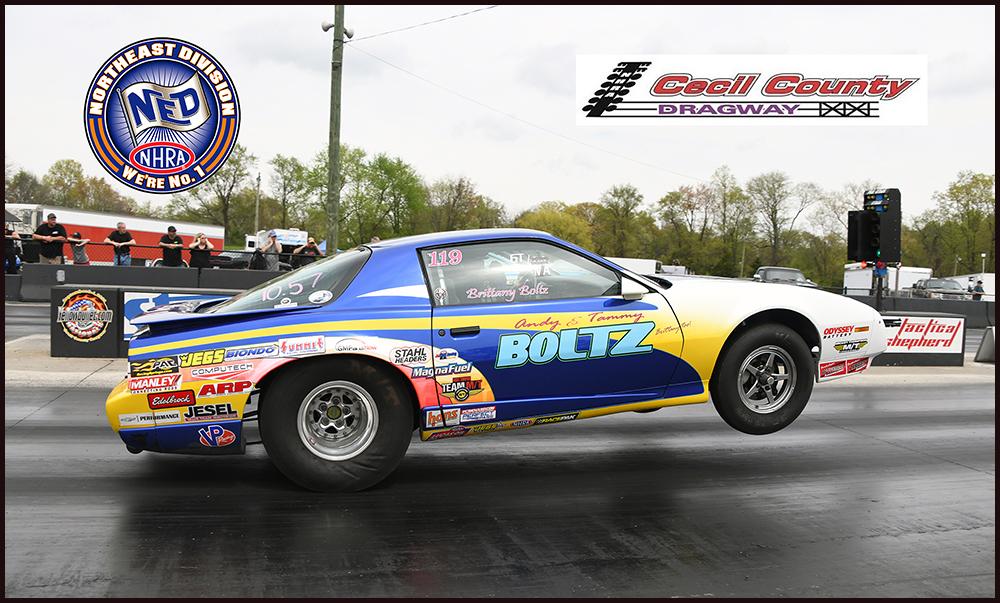 Drag Racing Action Online  Images: Phil Hutchison and Diane Kubicke
The seal is broken in the NHRA Division One 2023 season with the first Lucas Oil divisional of the year at Cecil County Dragway in Rising Sun Maryland.
After a beautiful day of qualifying on Friday, Saturday's first rounds of eliminations were hampered by a passing thunder shower canceling the remainder of the race until Sunday. Early morning fog pushed the start of racing until late morning but by 5 o'clock, all the winners were crowned, and the celebrations began.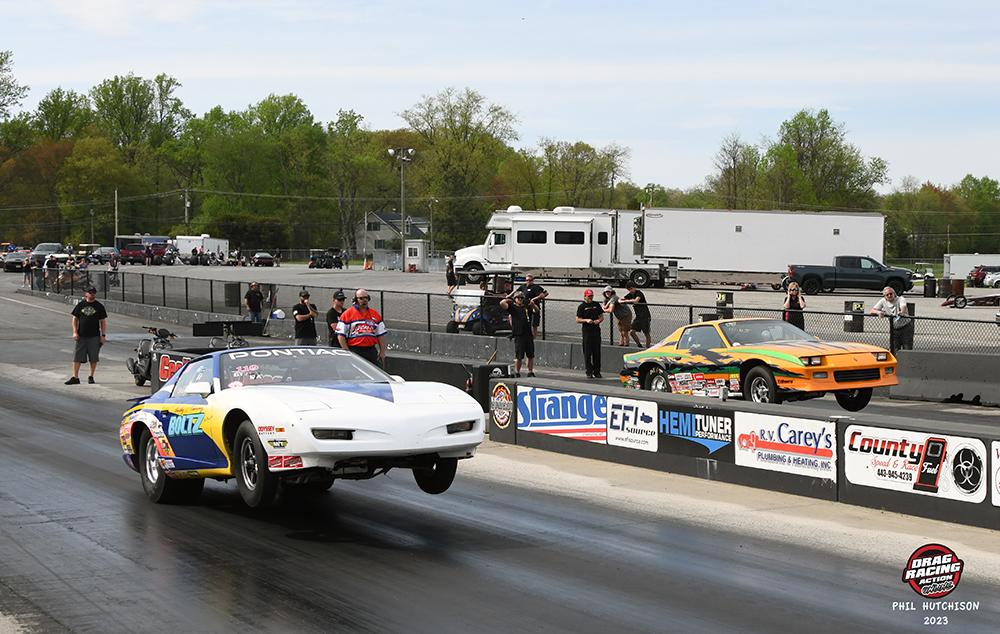 Drag racing is a family affair and at Cecil County, recent newlyweds Jimmy and Brittany (Boltz) Daniels, almost pulled off a double. Brittany, who got her start in the Jr. Dragsters, finally won her first ever Lucas event at Cecil winning Super Stock in the Boltz Family GT/NA Firebird while Jimmy, who has multiple NHRA wins in the Hemi Shootout with the family SS/AH Dart,  had to settle for a runner up in Stock Eliminator.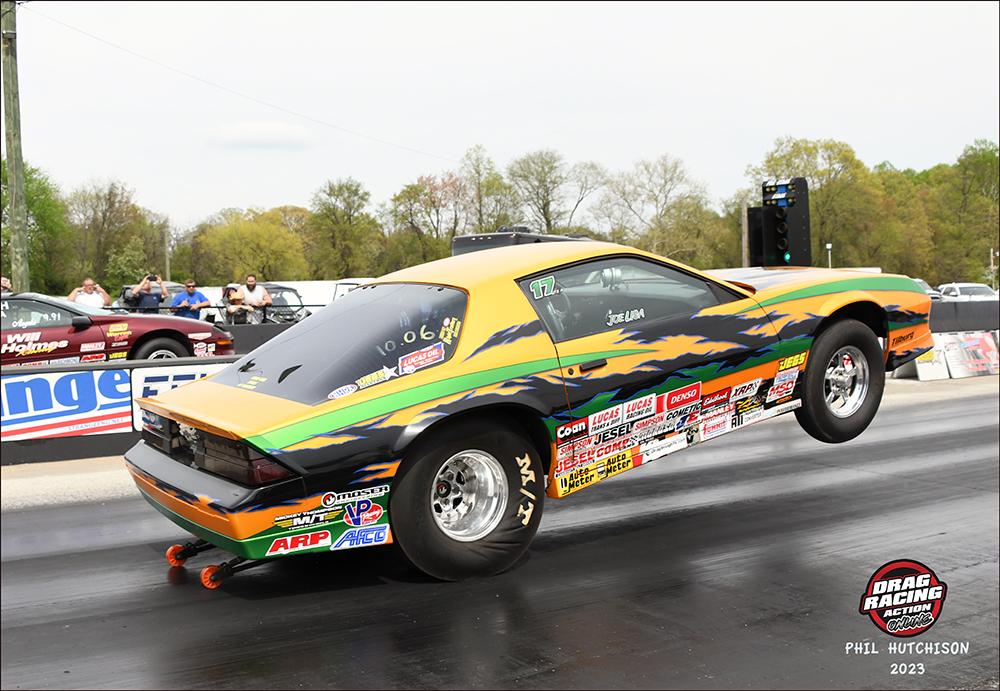 In the finals of Super Stock, Brittany had a tough racer in the other lane with multi time champ Joe Lisa from Vernon N.J behind the wheel of his GT/IA '87 Camaro looking to ruin her day.
Brittany, who calls Bristol Pa. home, was second off the line with a 0.068 light to Lisa's better 0.049 but she ran closer to her 10.57 dial with a 10.594  to a losing 10.101 on a 10.05 dial of Lisa.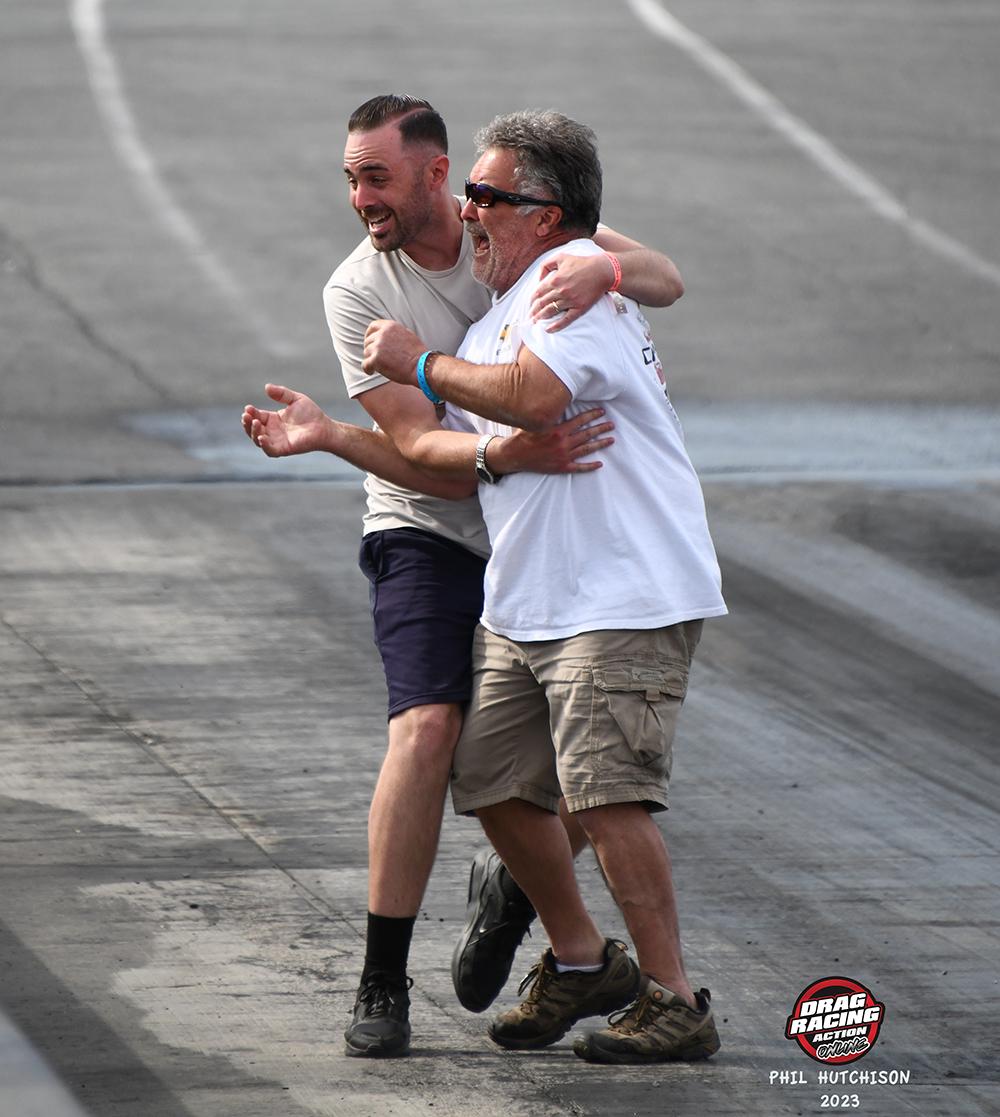 Doug Fellenbaum, Brittany's high school friend and fellow Jr Dragster competitor, and her dad, Andy Boltz, celebrate the win light coming on in Brittany's lane.
Earlier in eliminations Brittany defeated former NHRA World Champ Byron Worner in round four and reigning NHRA Lucas Super Stock champion, Pete D'Agnolo in the semi final round when he broke a valve giving Brittany the bye to the final. Lisa made it to the finals beating Doug Linke and NHRA Factory Stock champ David Barton in earlier rounds.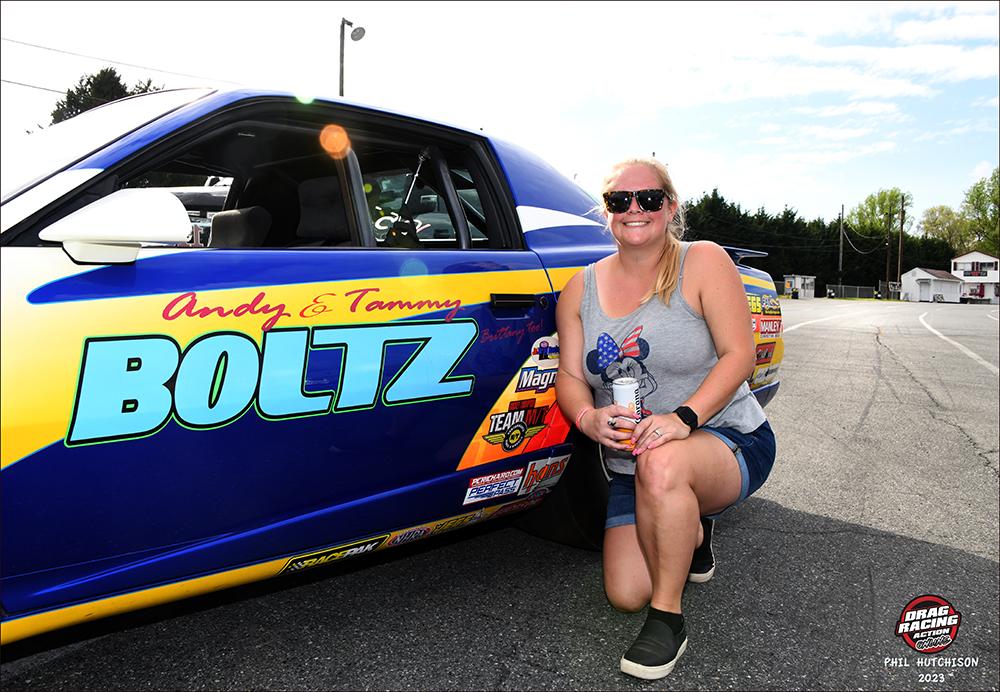 Brittany wins her first!
After her emotional win, Brittany said, "Despite having won races in juniors and a couple of Dave Ley's East Coast Stock/Super Stock races, this was my first Wally and was obviously a big win for me. It was even more special that my husband Jimmy was able to make it to the final. Even though he came up a little short, it was great to share the winner's circle with him."
She added, "I can't thank my parents enough for giving me a great car and for Matt Ciarfello and Mark Osterbye's hard work on my motor amongst the support of numerous other family and friends. Hopefully the monkey is off my back now after driving this car for 10 years and another Wally isn't far behind."
When asked about putting two Lucas World Champs on the trailer, Brittany replied, "I never take anyone for granted in racing because some of my closest races over the years haven't always been against "champs." Everyone always says, 'you take a win any way you can get one' but I love racing the successful drivers. It makes you a better driver at the end of the day and I was looking forward to running D'Agnolo because of that."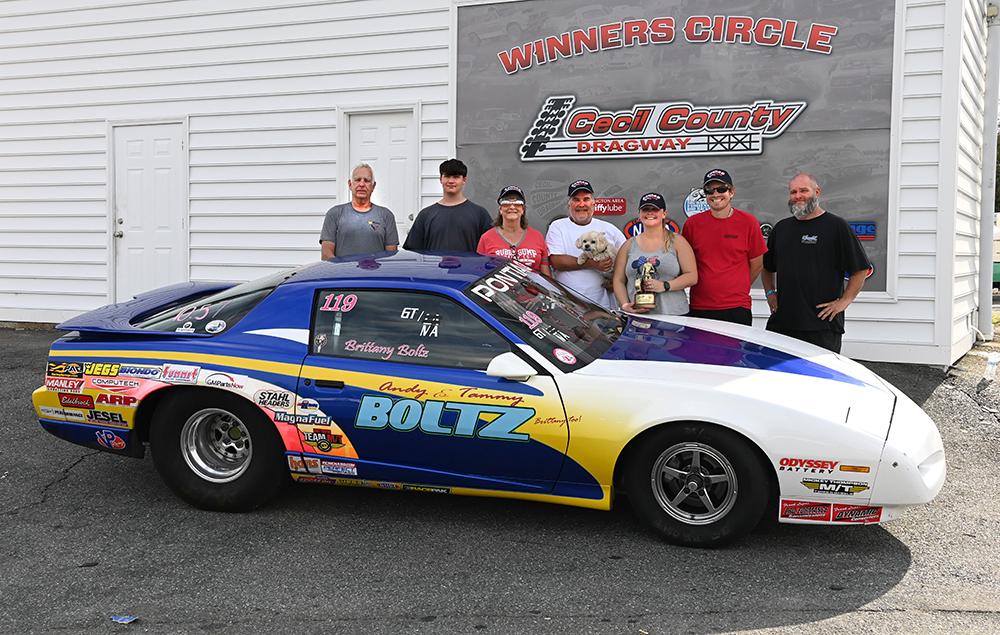 Brittany's dad and crew chief Andy Boltz said after his daughters win at Cecil, "Brittany was successful in Junior Dragster and I knew she could win races in the big car.  She just needed a little luck on her side. She's been down to the semifinals a couple times at the Gators and Reading, and just needed a little bit of luck to go along with her good driving and a great car."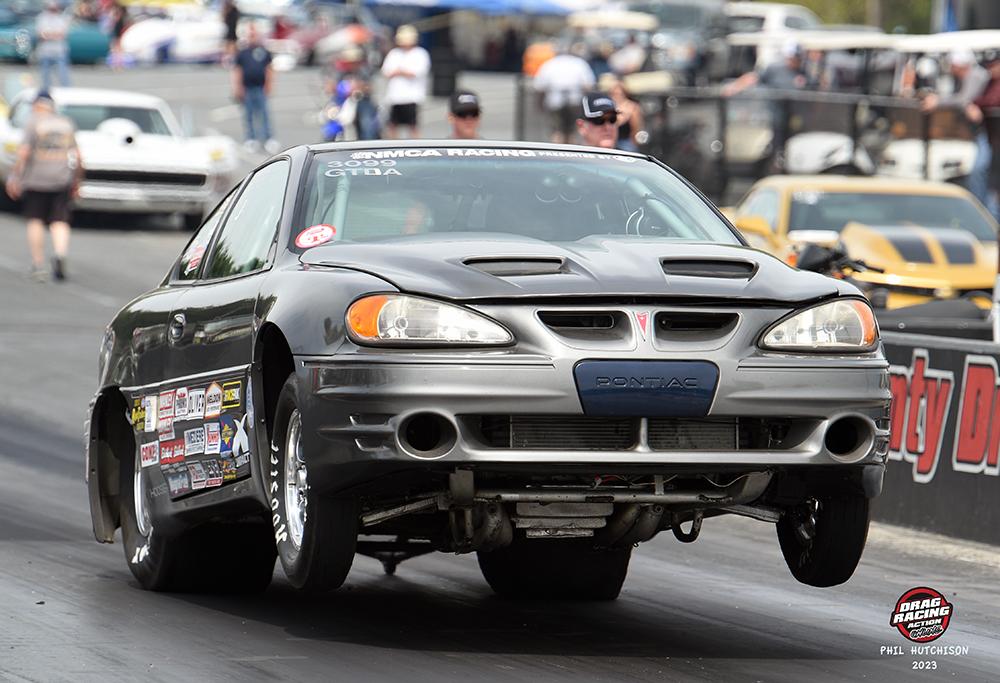 Low Qualifier in Super Stock went to Indianapolis racer Stacy McCarty  with a -1.014 under 8.986 in his GT/DA Grand Am. McCarty lost in R2.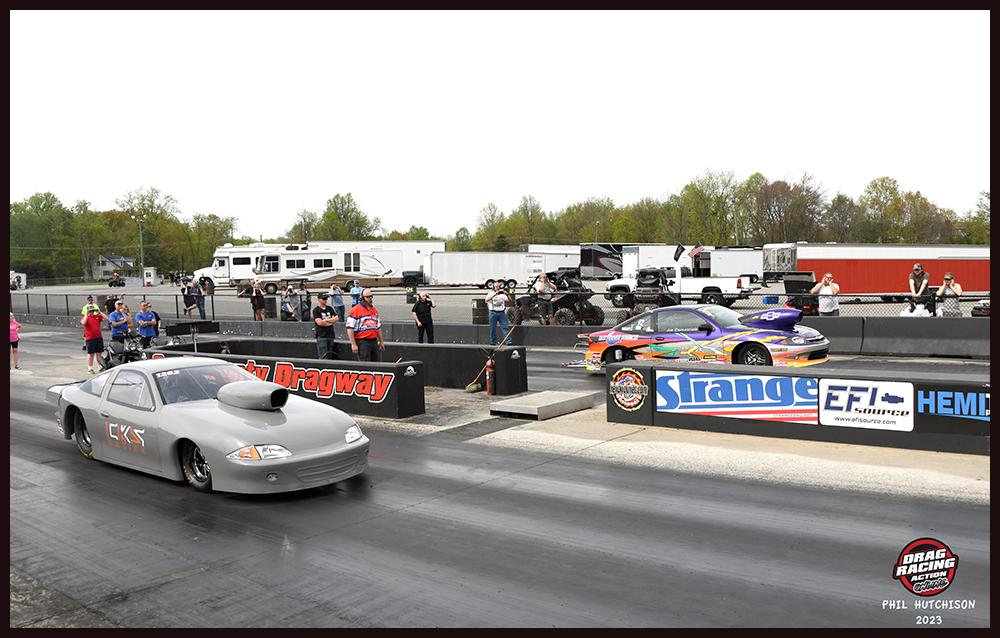 Kevin Houghtaling from Henrico Virginia wheeled his '02 Chevy Cavalier G/A to a win in Competition eliminator defeating low qualifier Joe Carnasciale's I/SM Cavalier in the finals.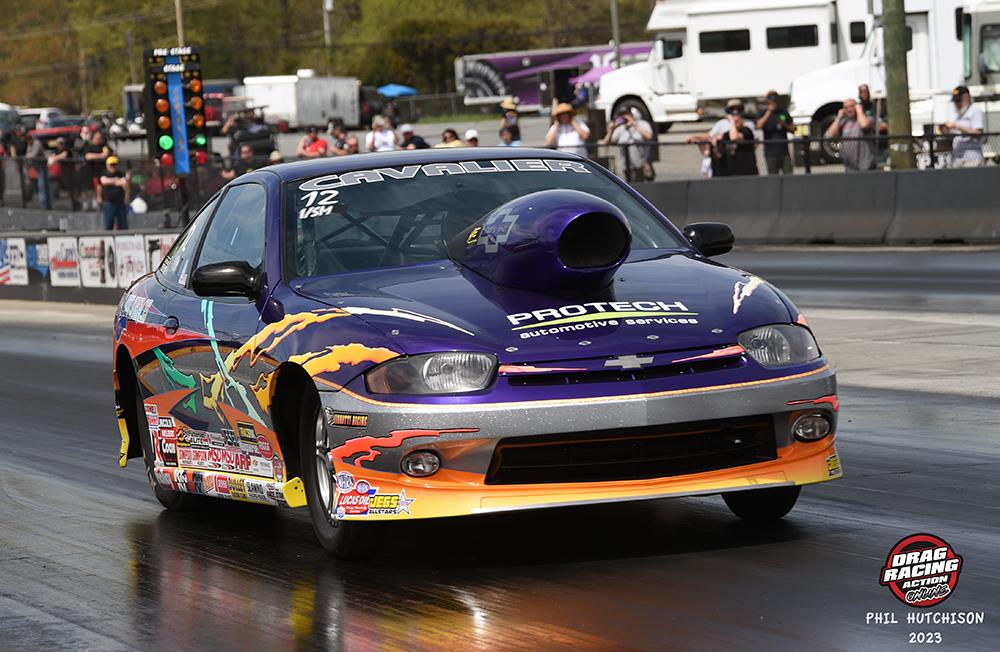 Carnasciale from Ashaway R.I. put his Chevy in the #1 spot with a 0.698 under 8.832 and was hit with a CIC infraction during eliminations as was Houghtaling. Carnasciale started eliminations with a 9.53 index as Houghtaling was running of a nine flat index. By the time the finals rolled around Houghtaling's index was down to an 8.91 as Carnasciale's index was at a 9.47.
At the green, Carnasciale ripped off a 0.019 light as Houghtaling had a 0.045 light, and the Virginia driver caught the I/SM of Carnasciale winning with a 0.516 under 8.394 to Carnasicale's slowing 0.464 under 9.006.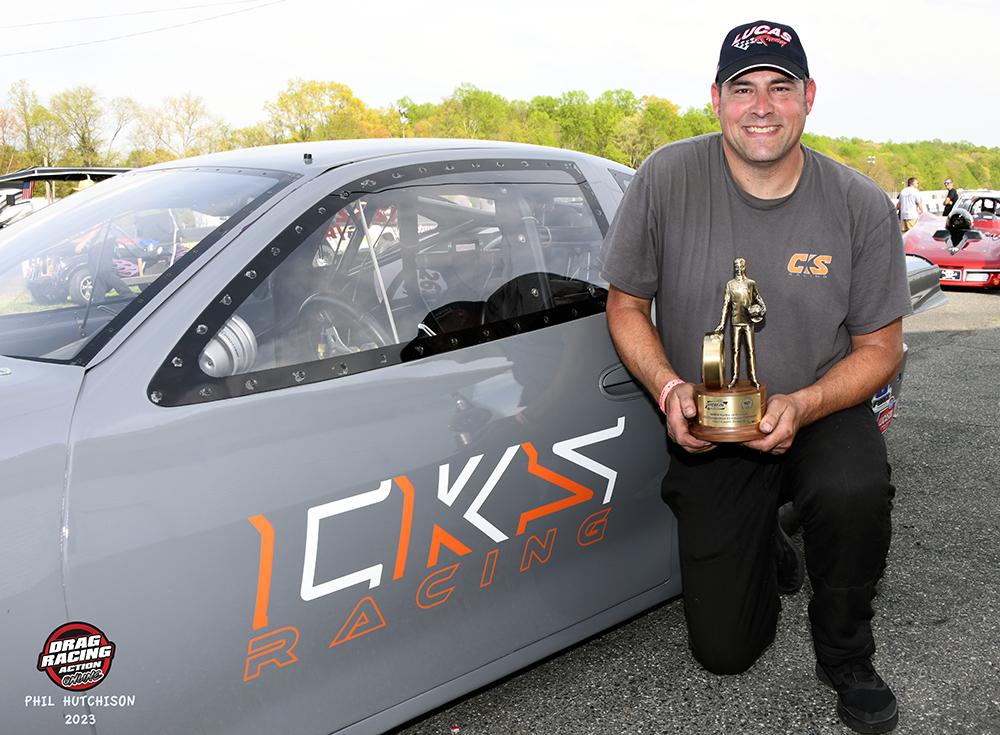 Earlier in the semi finals Houghtaling defeated the C/DA of Don Eckel while Carnasciale put the I/A of Jay Schonberger on the trailer to set up the final. The win at Cecil was Houghtaling's second career NHRA Wally.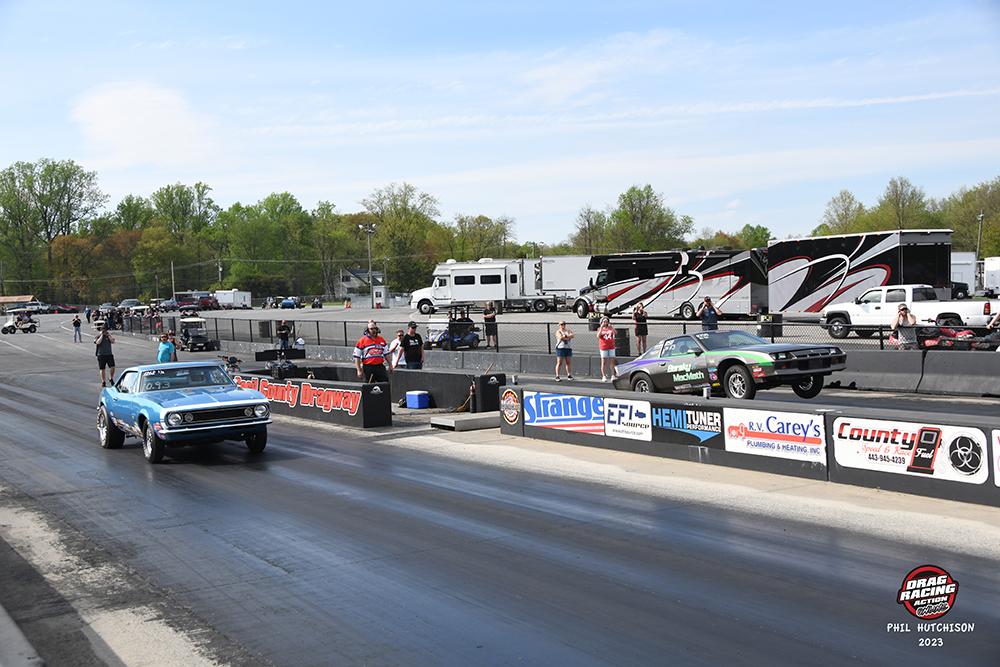 Brittany Daniels' husband, Jimmy came so close to joining his wife in the winner's circle losing in the finals of Stock Eliminator to the E/SA '67 Camaro of long time NED racer Ken Robinson from Toms River N.J. Daniels driving the former Barsky and MacMath H/SA Camaro left way too soon with a -0.062 red light giving Robinson his second career NHRA win and his first in over a decade.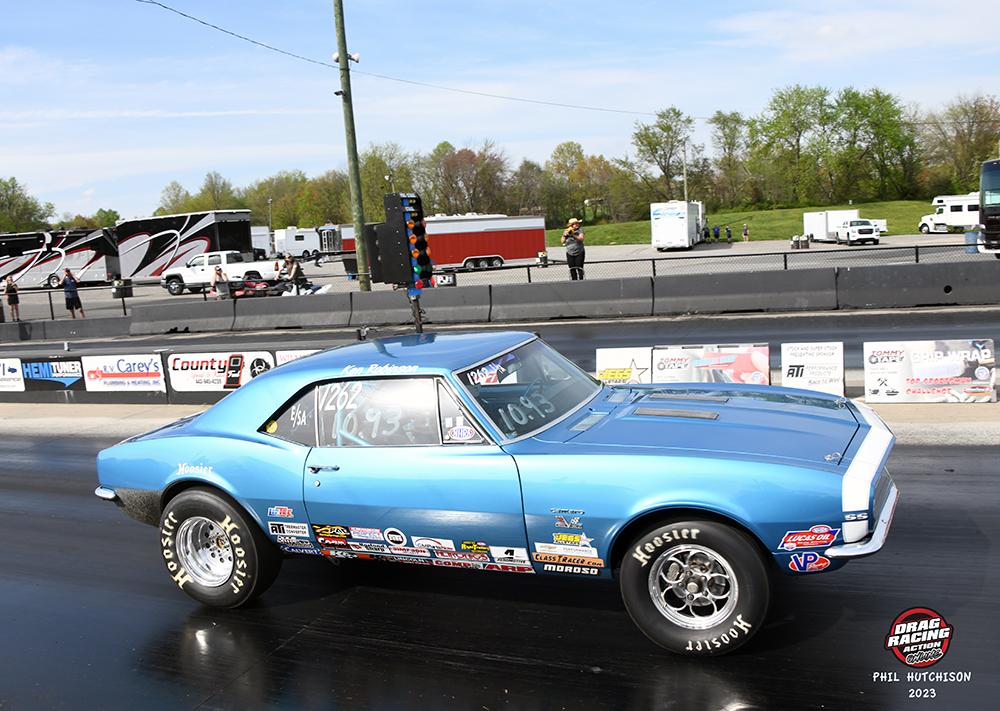 Robinson earlier defeated Mike Bolton and Bob Bender to make the final as Daniels took out Dominique Desjardins and Bob Conway.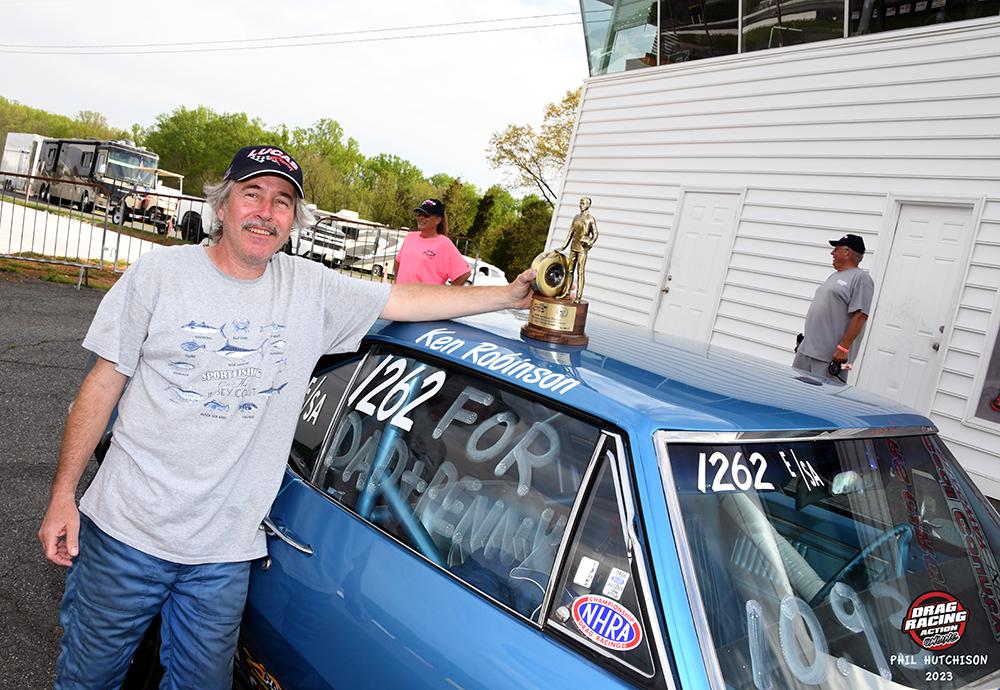 Ken Robinson dedicated his win to his Dad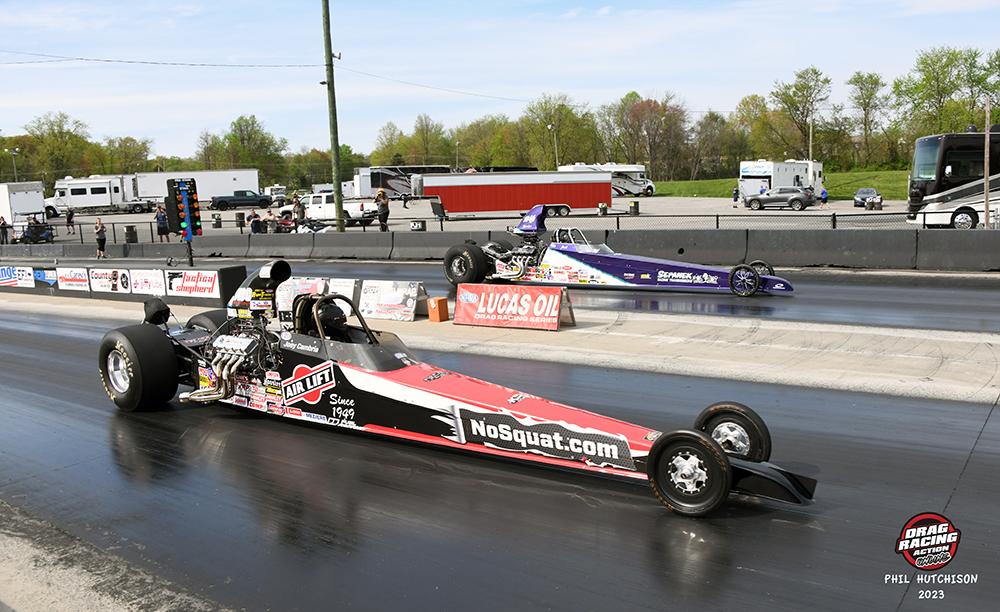 Reading Pa. racer Joey Cambria took his Air Lift sponsored dragster to a Super Comp win over transmission specialist Jack Sepanek from Moosic Pa. Sepanek had the better light with a 0.011 to Cambria's 0.047 but Cambria ran closer to the 8.90 index winning with a nearly right on 8.908 to Sepanek's losing 8.948.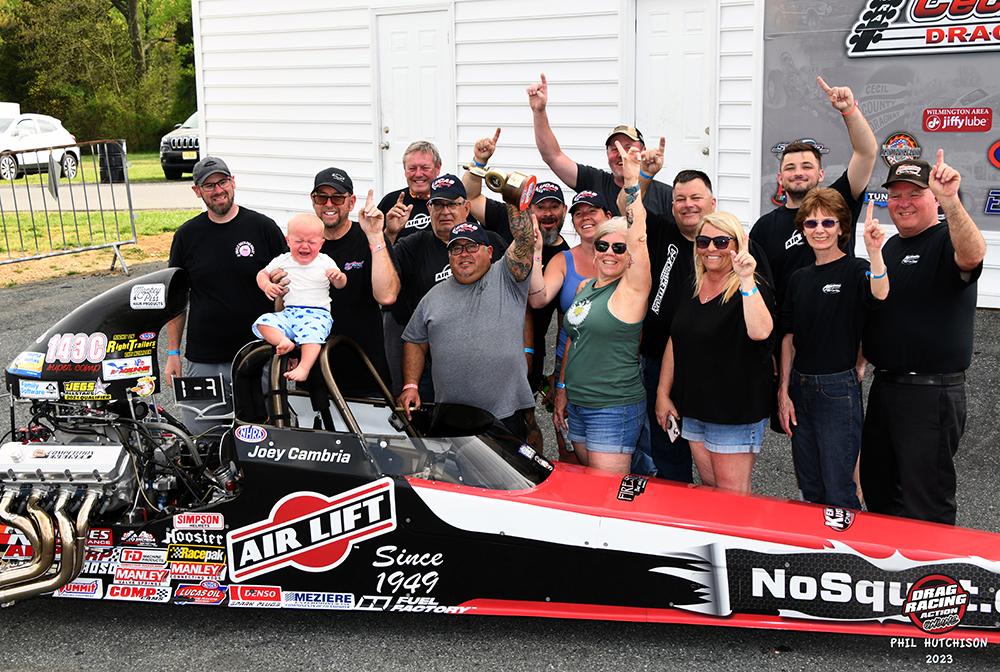 The win at Cecil was Cambria's fifth career NHRA Lucas win.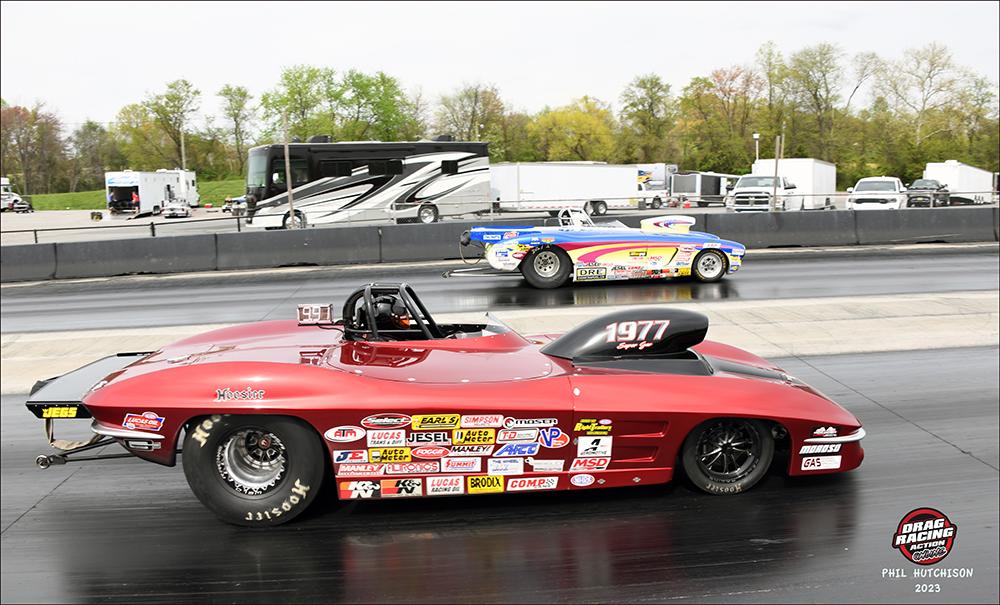 Canadian racer Charlie Kenopic loves Cecil County. The track was the site of his last pre COVID win in 2019 and the Renfrew Ont. driver did the deed again defeating the '57 Corvette of Ken Bowers.  In the finals Bowers, from Port St. Lucie Fla. left too soon giving the win to the '63 Corvette of Kenopic. Seeing Bowers' red light Kenopic legged it to a 9.877.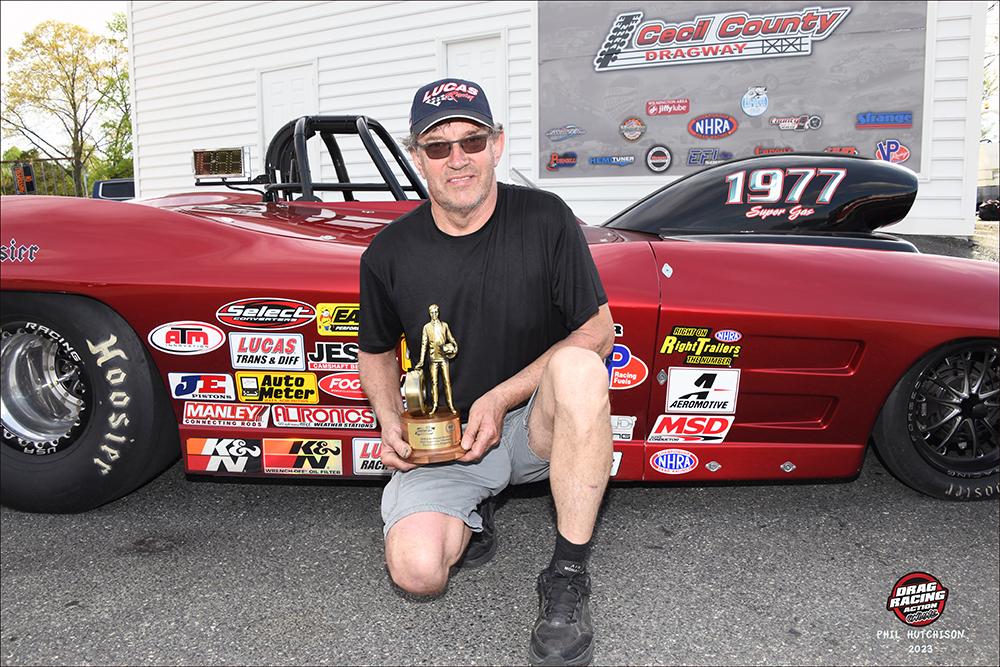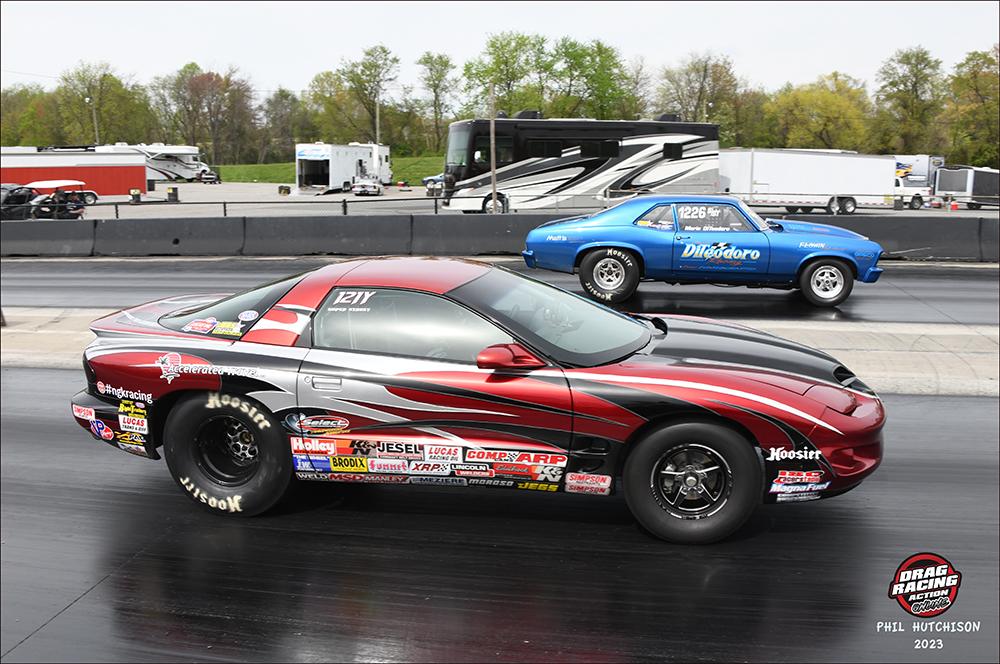 Middletown Del. racer Mario Diteodoro drove his '69 Nova to a win in Super Street defeating Flemington N.J. racer Shawn Fricke in the finals. Both racers had nearly identical reaction times as Diteodoro posted a 10.919 to beat Fricke's 10.949. The win for Diteodoro was his first NHRA Lucas win in his second final round appearance.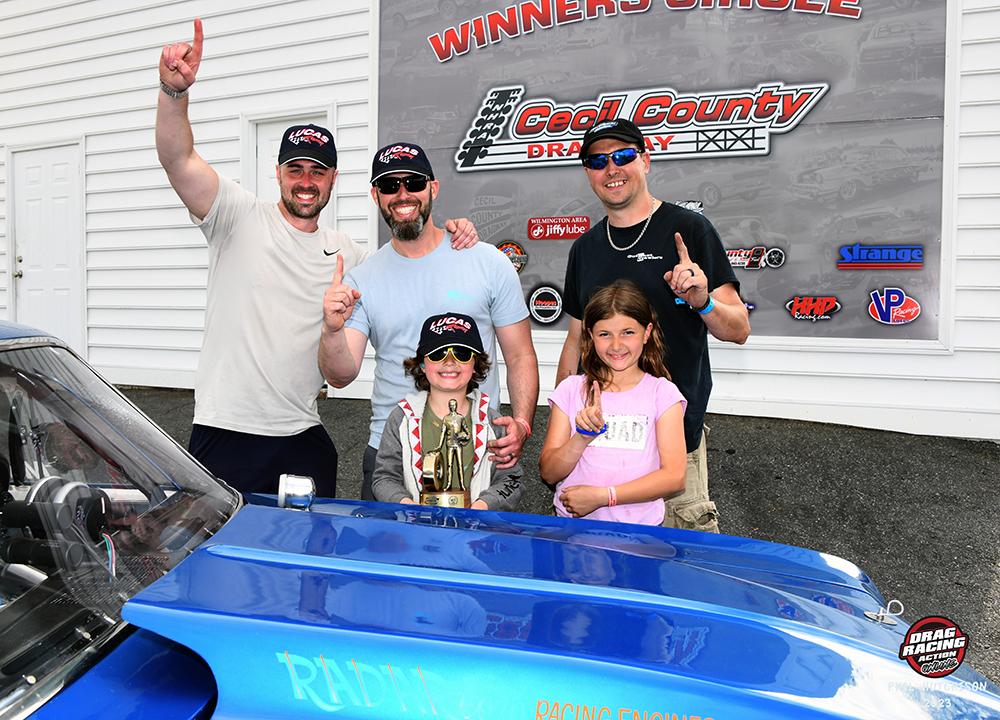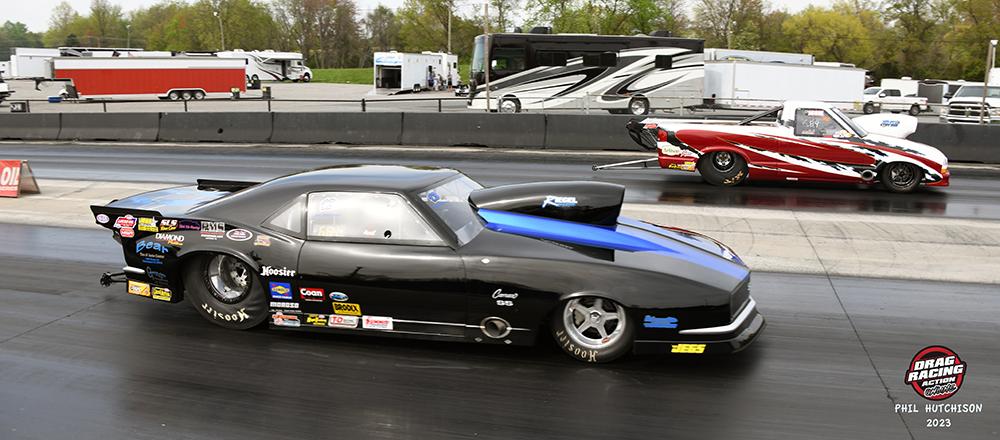 Connecticut racer Brandon Miller, no stranger to the winner's circle, drove his 2000 S-10 to a win in Tommy Tape Top Sportsman Presented by Select Performance. Miller who has won before in Top Dragster, won for the first time in Tommy Tape Top Sportsman defeating the '68 Camaro of Fairless Hills Pa. racer Ron Riegel in the finals.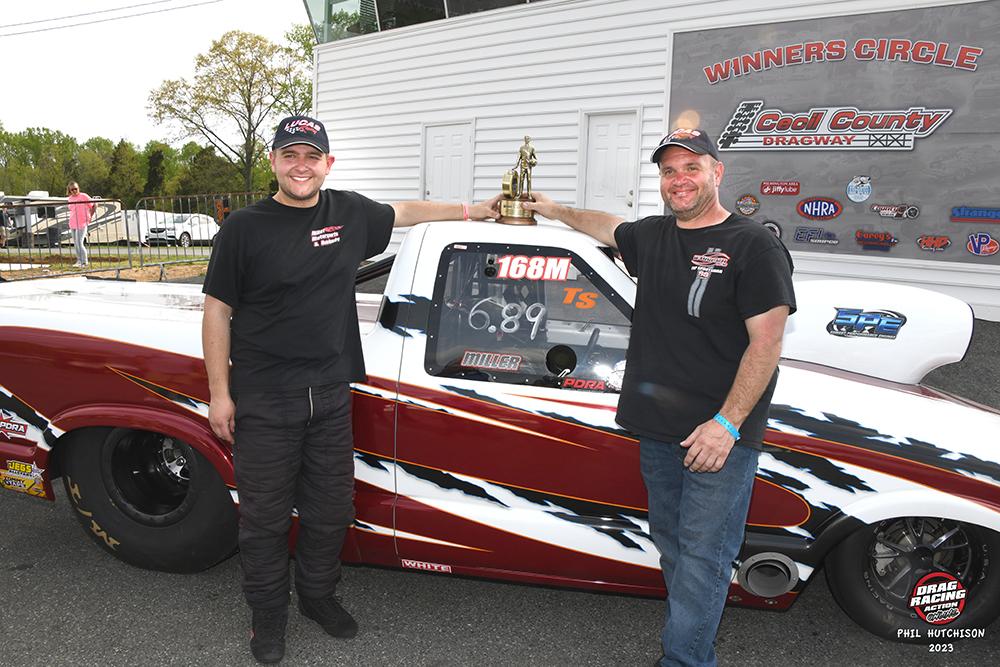 Miller crushed the tree with a 0.006 reaction time and cruised to a 6.914 on a 6.89 dial win. Riegel who was off the line second with a 0.054 light, ran a breaking out 6.834 on his 6.84 dial in the loss.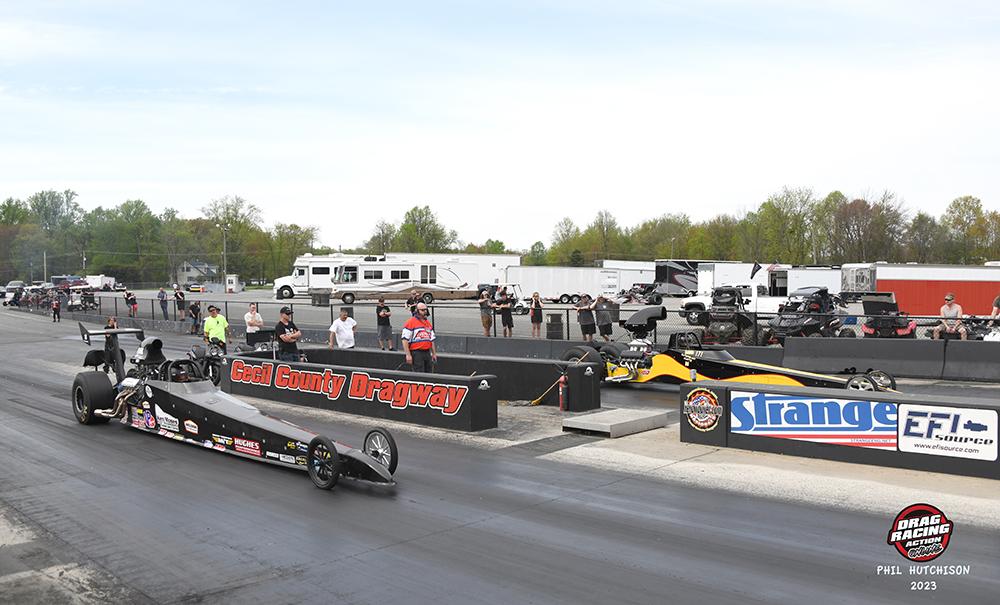 Dave Batchelor from Lebanon Pa. drove his dragster to the Tommy Tape Top Dragster Presented by Select Performance win over Ken Moses From Colonia N.J.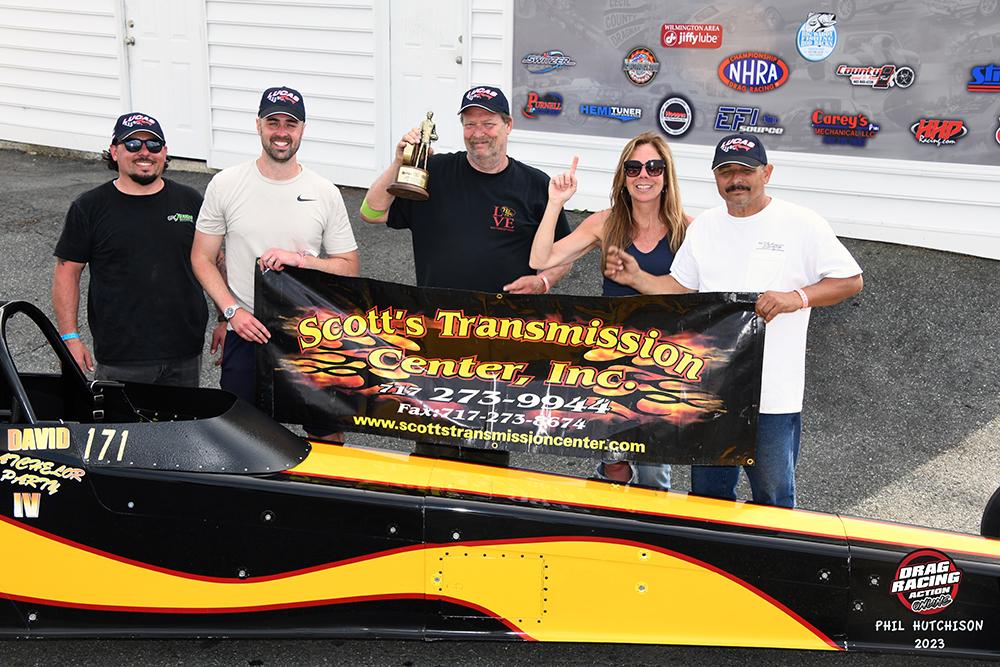 In winning his first ever NHRA Lucas event Batchelor pulled a "James Bond" on the starting line cutting a .007 light to Moses' good 0.016 but the great light of Batchelor made all the difference on the top end as he ran a 7.363 on a 7.33 dial as Moses trailed with a 6.585 on a 6.56 dial.
In Junior Dragster 13-17 Emily Stalba won her third Cecil title defeating Charlie Blittersdorf' in the final.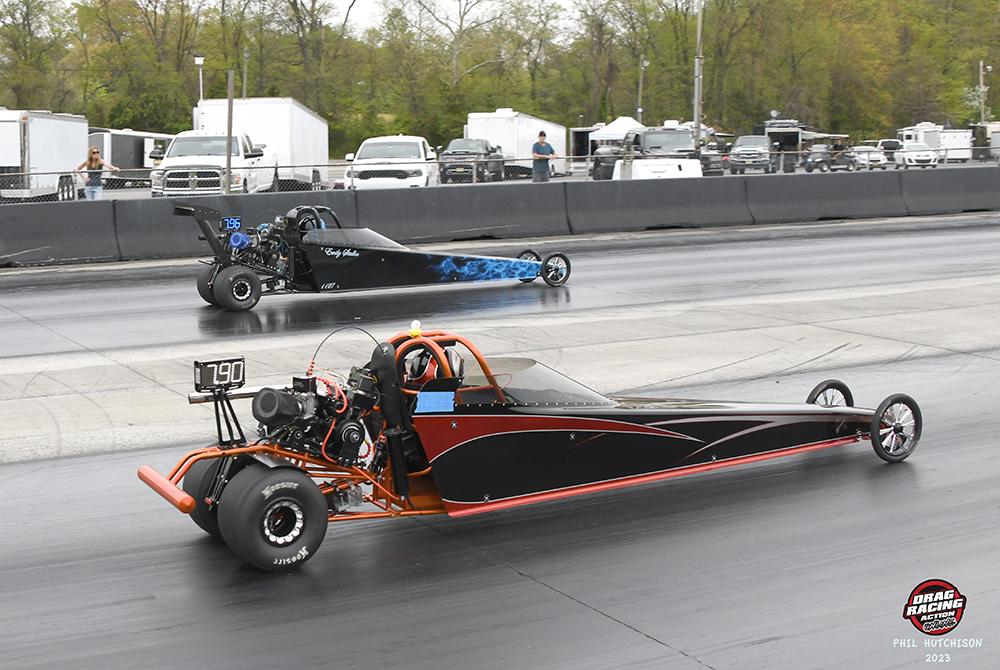 In winning Junior Dragster 13-17, Emily joined her mom Karen as a three-time champ at Cecil County.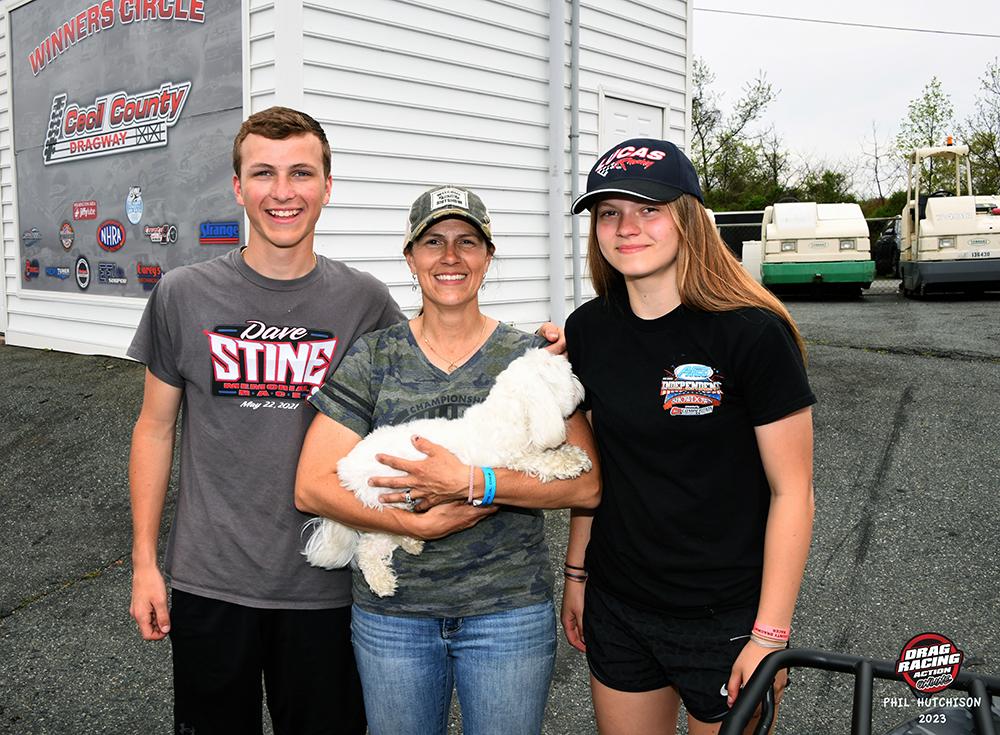 Paul Stalba, mom Karen, Auggie the dog, and Emily celebrate her third Cecil win
The South New Jersey racer had a 0.091 light to her competition, Charlie Blittersdorf's 0.122 and ran a 7.967 to take the win over Blittersdorf's better but later 7.284.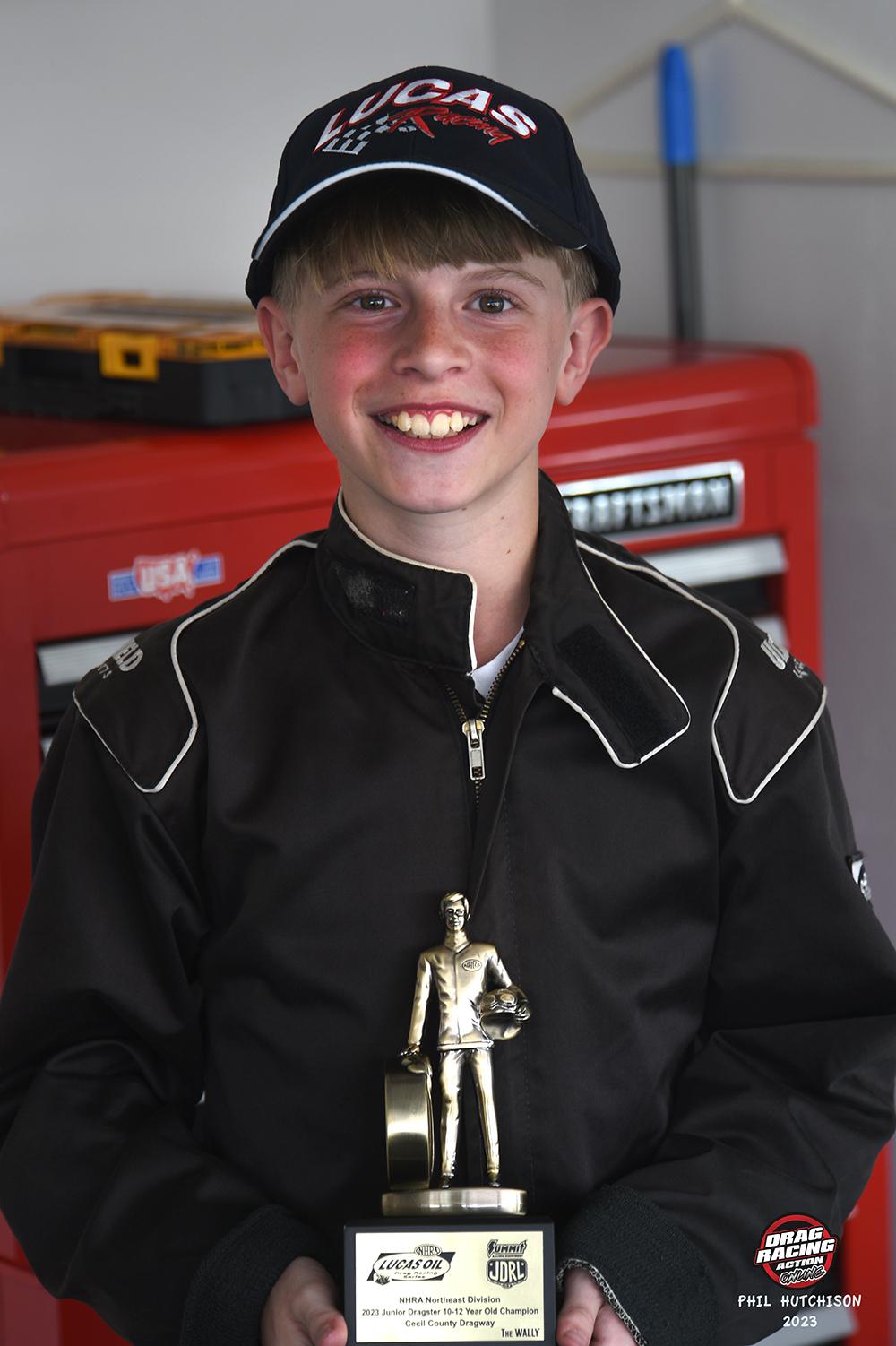 In Junior Dragster 10-12 it was Christopher Orsini from Forest Hills Md. defeating Landen Kennedy from Wilkes Barre Pa. Orsini had the better light with a 0.020 to Kennedy's 0.087 and hung on for the win with a 10.975 on a 10.95 dial as Kennedy ran an off pace 9.366 on a 9.05 dial
Finally, it was Edison N.J. racer Christian Handwerk taking the 6-9 class with a breaking out 12.070 on his 12.30 dial over the red lighting Austin Busher from Howell Township N.J.
For more images from the Cecil County Lucas Event, Click On the logo below: