Halsey, Harvey, Powers, A. Franklin, Garner-Jones, Riddle, And Mota Secure Victories At PDRA Mid-Atlantic Showdown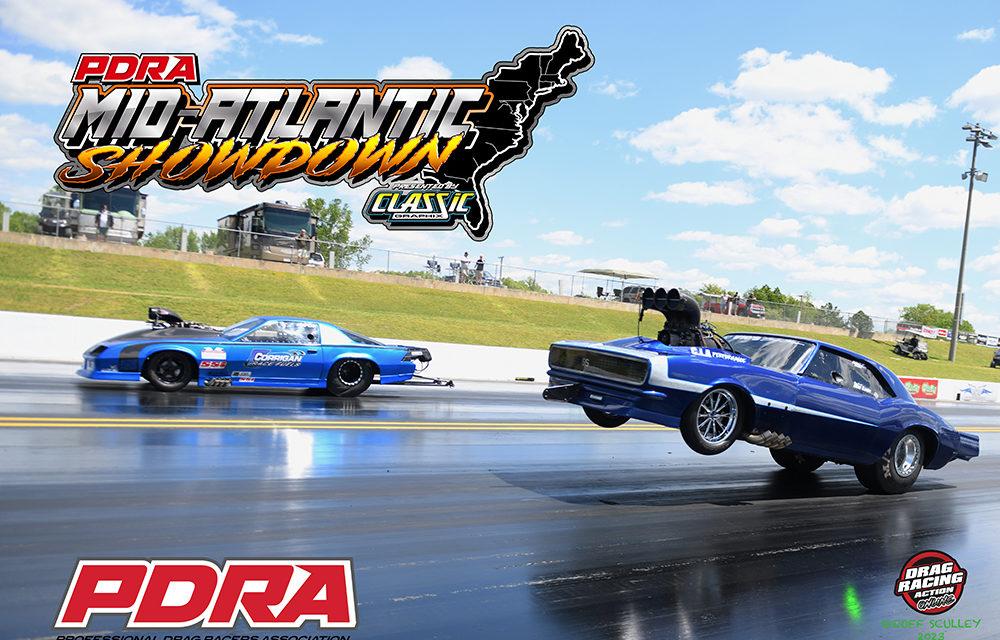 Courtesy Nate Van Wagnen/Drag Illustrated  Images: Geoff Sculley
Two of the most prolific drivers in nitrous Pro Modified racing, Jim Halsey and "Tricky" Rickie Smith, squared off in the Switzer Dynamics Pro Nitrous final round Sunday afternoon at the Professional Drag Racers Association (PDRA) Mid-Atlantic Showdown presented by Classic Graphix. Racing at Virginia Motorsports Park, Halsey won when Smith went red. Halsey recorded a weekend-best 3.646-second pass to go back-to-back at the second stop on the 2023 PDRA tour.
The professional class winners also included Travis Harvey in WS Construction Pro Boost presented by P2 Contracting and Ty-Drive, Chris Powers in Liberty's Gears Extreme Pro Stock presented by AED Competition, Amber Franklin in M&M Transmission Pro 632, Chris Garner-Jones in Drag 965 Pro Nitrous Motorcycle, Bill Riddle in Menscer Motorsports Pro Street presented by Afco, and Derek Mota in Afco Super Street presented by Menscer Motorsports.
The sportsman winners were Donny Urban in MagnaFuel Elite Top Sportsman presented by PAR Racing Engines, Steve Furr in Laris Motorsports Insurance Elite Top Dragster, Chad Traylor in MagnaFuel Top Sportsman presented by Corbin's RV, and TG Paschal in Laris Motorsports Insurance Top Dragster. Rick Hustwayte picked up the win in Edelbrock Bracket Bash presented by COMP Cams.
PRO NITROUS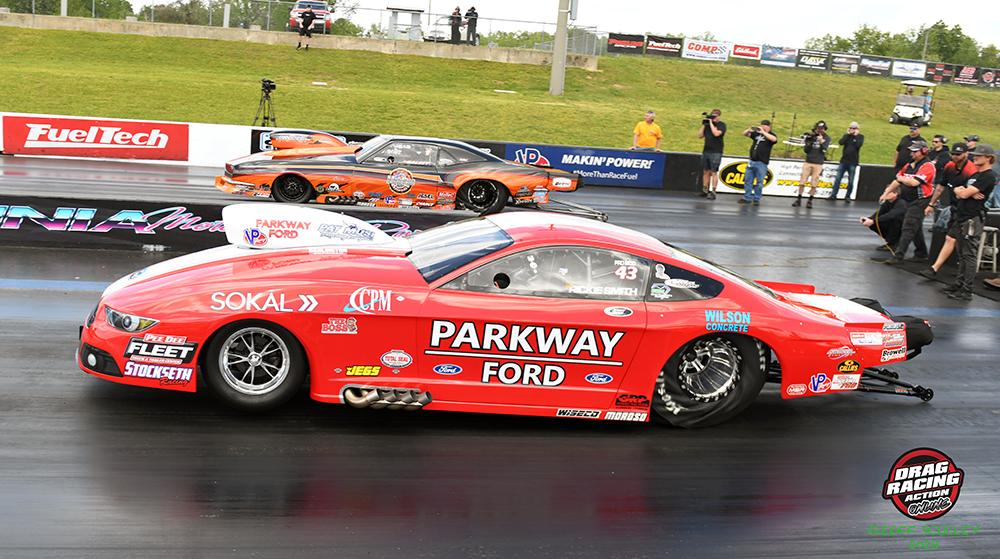 Halsey (far lane) was already the winner in the finals of Pro Nitrous as Rickie Smith went red.
Four-time and defending Pro Nitrous world champion Jim Halsey won the season-opening East Coast Nationals, but it wasn't a smooth and easy victory. This weekend, he and his tight-knit team battled back from the struggles they faced at the season opener, claiming a second consecutive win in the process. Facing "Tricky" Rickie Smith in the final round, Halsey recorded a 3.646 at 206.32 in his Fulton-powered "Daddy Shark" '68 Camaro. The win light came on in Halsey's lane when Smith went .012 red on his 3.663-second pass.
"It's nerve-racking," Halsey said of facing Smith. "You know he's good – a good driver and a good tuner. He does everything right. You have to be on your A-game, and we didn't take him lightly, that's for sure."
Halsey is now tied with two-time world champion Tommy Franklin as the winningest drivers in PDRA Pro Nitrous history.
"After what happened at the last race, we put in a lot of hard work between the races," said Halsey, who credited tuner Brandon Switzer, wife Cathy, crew chief Eric Davis, and crew members Michael McMillan and Brian Chin. "It took a lot of thought and a lot of hard work and going back to what we know works best for us. I have the best crew there is in the world, there's no doubt about that.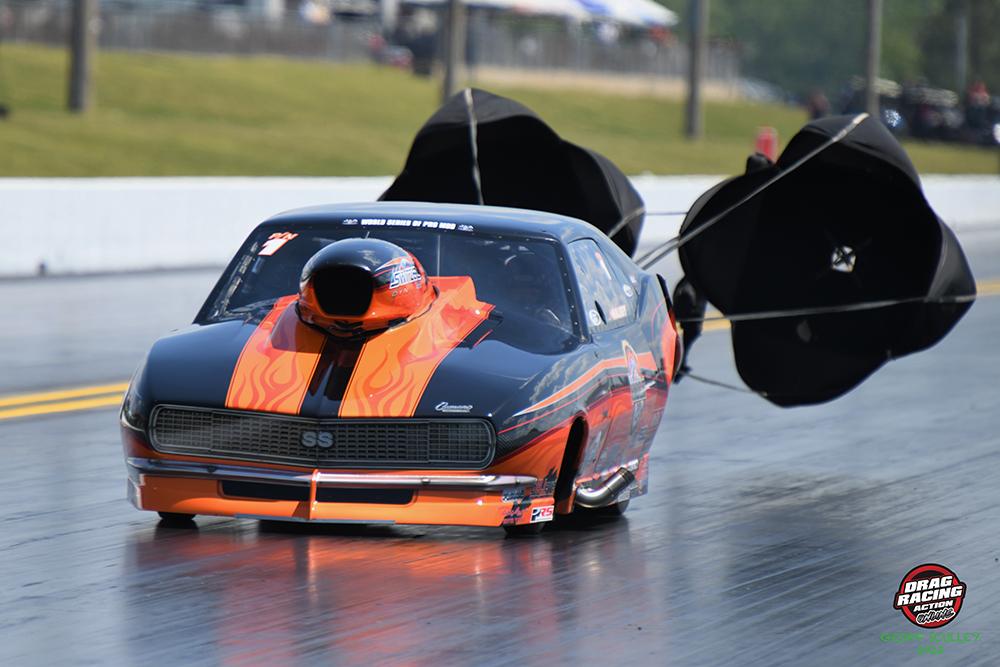 "Gene [Fulton] pretty much closed the shop down for the last week and a half to get my stuff back together," Halsey added. "Eric spent the last week and a half down there with Stacy [Hall] getting everything together. These guys deserve all the credit. I'm just the one that gets to drive it."
Halsey qualified No. 1 before using a 3.665 at 206.01 to beat Blake Housley in the first round of eliminations on Friday night. He ran a 3.686 at 204.54 in Saturday's second round to knock out Mike Achenbach, who slowed to a 5.084. A 3.656 at 206.57 over Jay Cox's 3.921 sent Halsey to the final round on Sunday.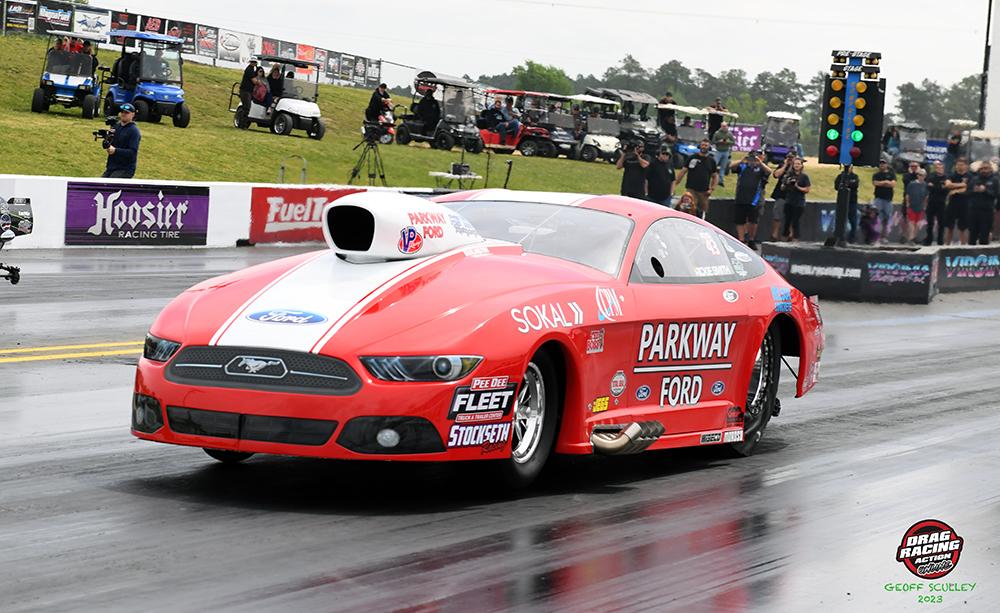 Smith, the 2015 Pro Nitrous world champion, qualified third in his Musi-powered Parkway Ford '22 Mustang. He started eliminations with a 3.684 at 204.54 victory over Cam Clark, then ran a consistent 3.683 at 206.54 to beat Tommy Franklin. The King, North Carolina-based driver stepped up to a weekend-best 3.654 at 206.67 to finish ahead of Fredy Scriba's 3.696, earning lane choice for the final in the process.
PRO BOOST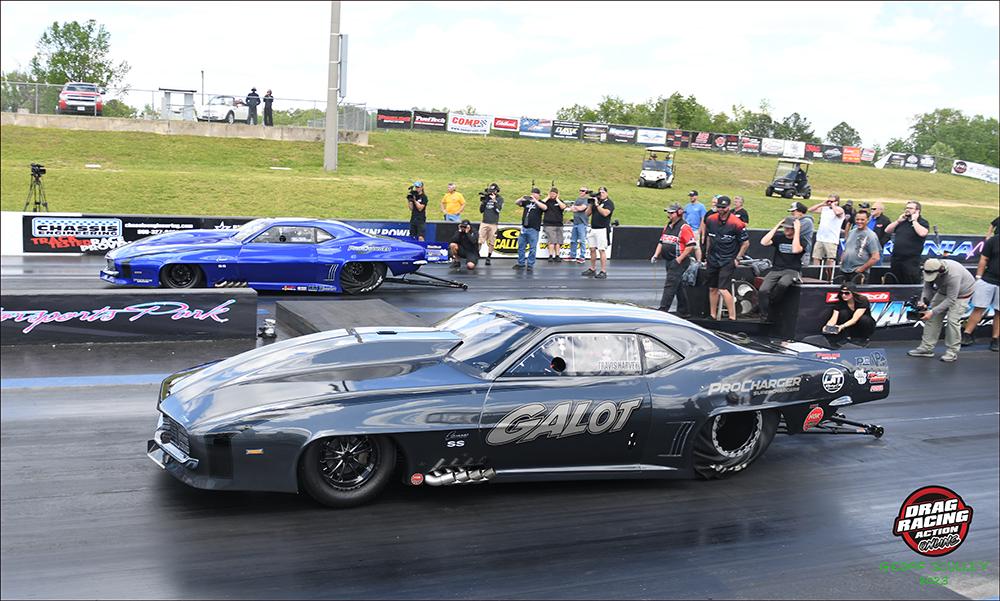 Travis Harvey (near lane) used a hole shot to take the Pro Boost title at VMP
Another ultra-competitive weekend in Pro Boost ended with a final round between two Big Dog Shootout veterans, Travis "The Carolina Kid" Harvey and Jason "Party Time" Harris. The two drivers were quick on the starting line and at the finish line throughout eliminations, and the final round was no different. Harvey cut a perfect .000 reaction time in his ProCharged GALOT Motorsports '69 Camaro and ran a 3.592 at 209.88 to win on a holeshot. Harris was no slouch with a .017 light, but his 3.586 at 208.65 wasn't quick enough to get around Harvey.
"I just want to thank God first of all for giving me this opportunity," Harvey said. "Racing against Jason, I've been racing him all my life and I know he's a great competitor. I knew I had to do my job, and I'm sure he felt the same way. Everything just lined out and worked well, from coming off the trailer to the end. It's been a great car. I just want to thank GALOT Motorsports, Pro Line Racing, [tuner] Steve Petty, and Vaughn Miles and Eric Holland for giving me the opportunity to drive this hot rod."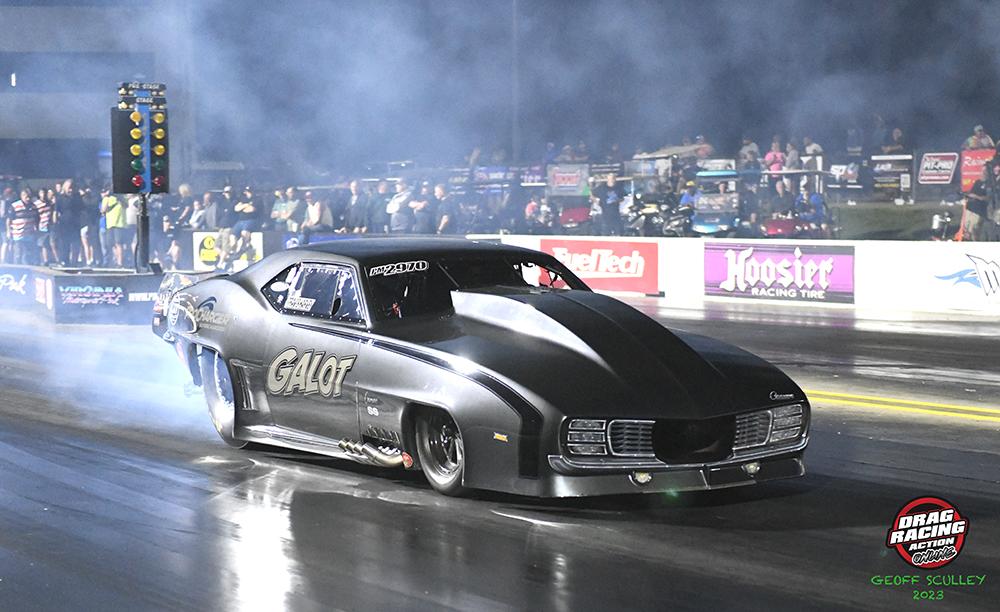 Harvey, who reached the semifinals at the season opener, is looking to become the fourth different driver to win a Pro Boost world championship with GALOT Motorsports.
"This just puts us in a great position," Harvey said. "If we can keep this thing healthy and don't have any parts issues, I think we'll be a big threat come the end of the year."
Harvey picked up his first No. 1 qualifier award on Friday before beating James Beadling's 3.771 with a 3.617 in the opening round. He ran a 3.634 at 207.98 to move past Scott Lang in the second round, then won his semifinal pairing with Ken Quartuccio on a holeshot. Harvey's 3.616 beat Quartuccio's 3.591 by a .001 margin.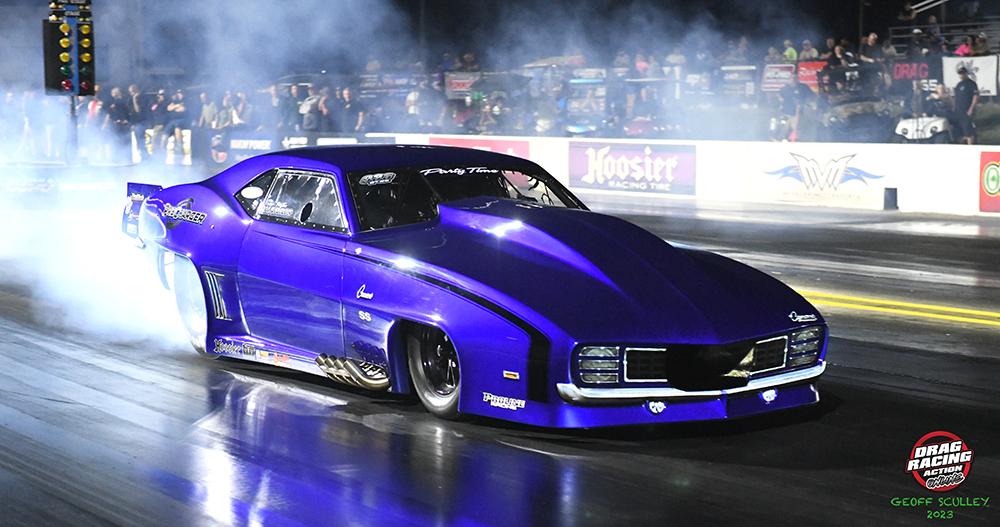 Harris qualified third in his ProCharger-boosted "Party Time" '69 Camaro, then ran a 3.624 at 207.30 to defeat Rob Cox. A close race followed in the second round, where Harris used a .002 reaction time to leave first on "Nova Joe" Albrecht and his .005 light. Harris was first to the finish line with a 3.643 to Albrecht's 3.669 in Fletcher Cox's '69 Camaro. A holeshot advantage also helped Harris get the semifinal win over Johnny Camp, as he ran a 3.611 over Camp's 3.583, which was low E.T. of the event.
EXTREME PRO STOCK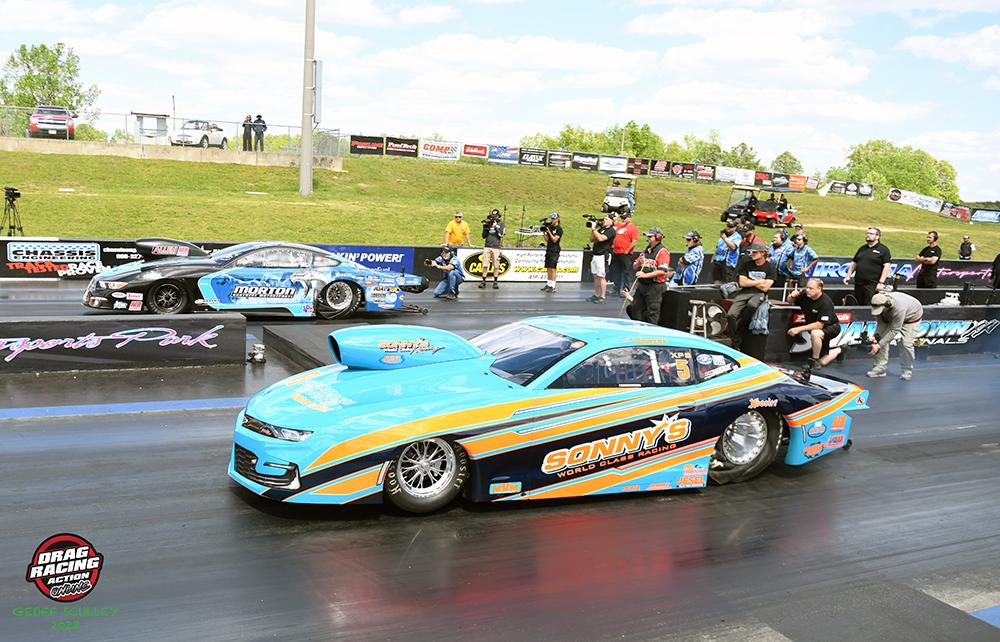 Chris Powers (near lane) won Extreme Pro Stock over a red lighting Elijah Morton
After qualifying No. 1 and losing in the second round at the East Coast Nationals, Chris Powers was determined to get back into the late rounds at Virginia. He steadily worked his way through eliminations in his Sonny's Racing Engines '21 Camaro before capitalizing on final-round opponent Elijah Morton's untimely red light. Powers lifted shortly after leaving the starting line, while Morton laid down a 4.053 after going red by .035.
"This feels really good," said Powers, the 2021 world champion. "We had a good car at GALOT. I couldn't see out of the front of the car, so we chopped the scoop down and did a little work to it. We're back right where we want to be. The car's definitely bad fast. Chuck's got it figured out, for sure."
VMP is the home track for Sonny's Racing Engines and the late Sonny Leonard, adding another layer of importance to Powers' win.
"I gotta thank Sonny's," Powers said. "They're working nonstop seven days a week on these engines. That's a brand-new engine we put in the car at GALOT. We're really impressed with the performance of it. Thanks to ATI Performance for everything they do. MVM Wheelie Bars, Chuck Samuel, Rob Bealko, my wife, my son, and my daughters that help. It means a lot."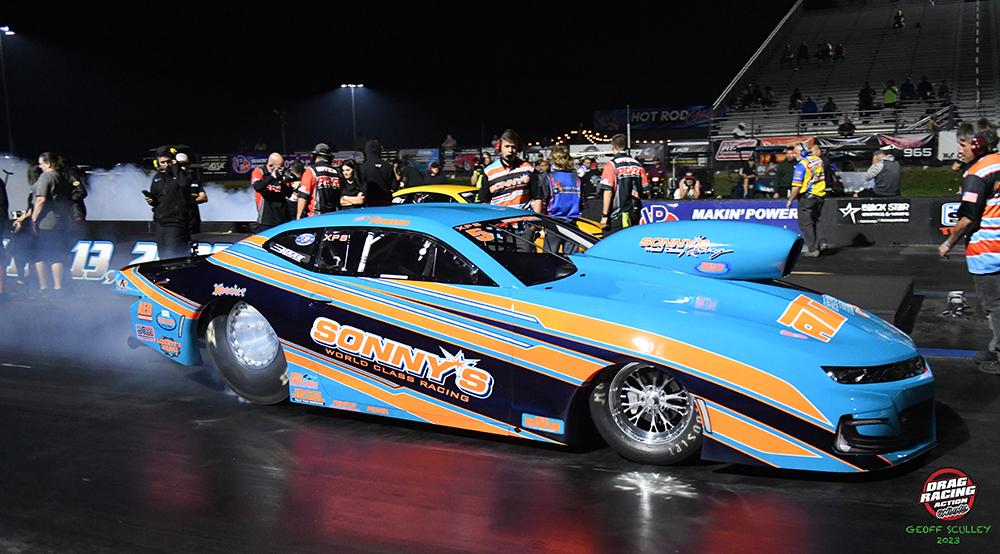 Powers qualified No. 5 before using a 4.068 to get past Jeremy Huffman and his 4.134. A consistent 4.069 eliminated John Montecalvo's 4.099 in the second round. In a semifinal race between the two most recent world champions, Powers cut a .001 reaction time and laid down a 4.050 to beat Johnny Pluchino's 4.067.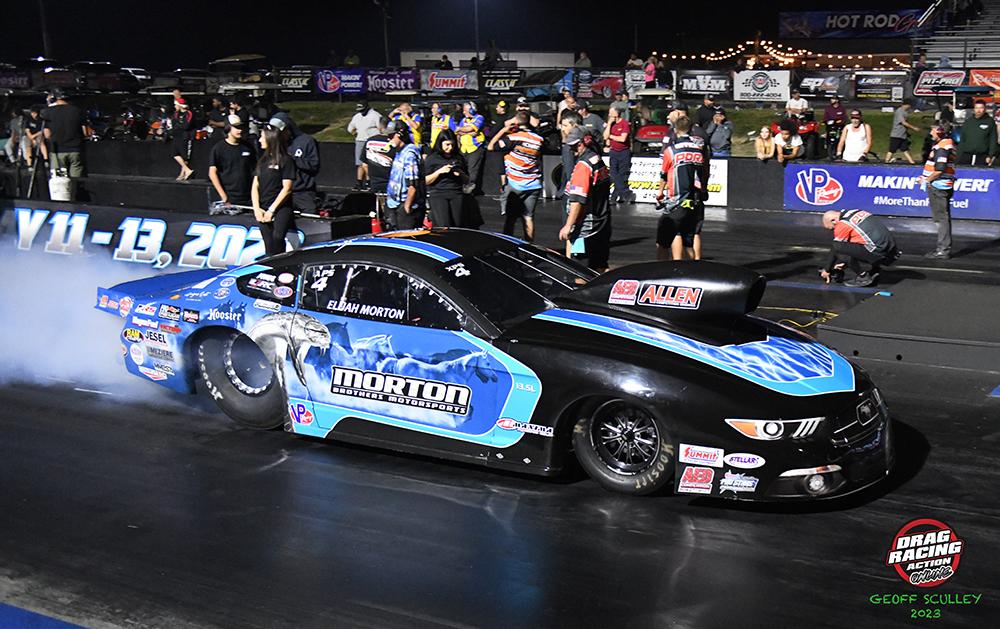 Morton, who qualified second in his Allen-powered Morton Brothers Motorsports '19 Mustang, opened eliminations with a 4.083 over rookie Daryl Stewart's 4.086. Second-round opponent Dillon Voss couldn't make the call, and Morton lifted to an 8.235. He then ran a 4.05 to win over Alan Drinkwater's 4.058 in the semifinals.
PRO 632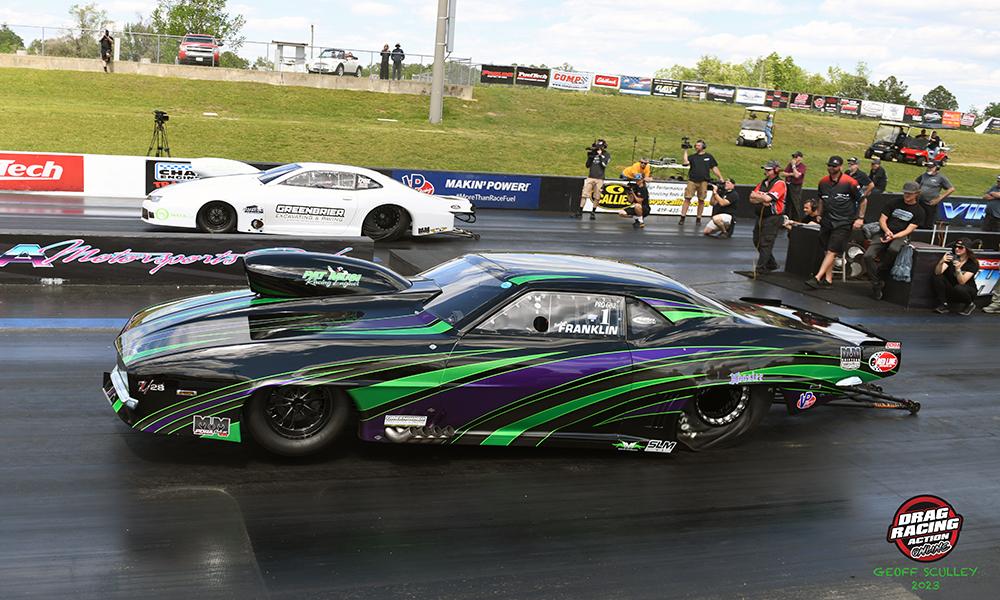 Amber Franklin (near lane) won her first race of 2023 over Jeff Melnick
For the second race in a row, reigning Pro 632 world champion Amber Franklin faced off with class newcomer Jeff Melnick in the final round. Melnick won their first match, but Franklin got him back with a holeshot win in her Musi-powered "OG Jungle Rat" '69 Camaro. With a .005 reaction time, Franklin recorded a 4.155 at 171.60 to hold off Melnick's 4.141 at 177.42.
"Any time you can get a win on a holeshot, you feel really good as a driver," Franklin said. "Jeff Melnick and that whole O'Brien team are great, and I knew going into the final that I had to do my part. They've got a fast car and Jeff's a great driver. Losing in the final round at GALOT, we knew we had to get after it. Getting the win here feels good. I know we have a lot of momentum, and hopefully we can defend that number one on the door."
It was an especially meaningful home track win for Franklin, who dedicated her win to numerous peopl"This one's definitely for Lizzy [Musi] and [Red Line Oil's] Mark Beatty's dad," Franklin said. "This is my first win since my grandpa passed away. I just want to thank God, my family, Red Line Oil, Pat Musi Racing Engines, Jerry Bickel – this one's also for him – Hoosier Racing Tires, Menscer Motorsports, and Jeff and Sam Pierce."
Franklin, who now has two low qualifier awards to start the season, made her best pass of the event, a 4.131 at 176.10, to beat Mike Murphy and his 4.202. She defeated Walter Lannigan Jr. with a 4.169 at 174.84 in the second round. She had a bye run in the semis, using it to prepare for the final round with a 4.141 at 172.96.
Melnick qualified No. 4 driving Alan O'Brien's small-block AMC-powered Greenbrier Paving & Excavating '20 Camaro before running a 4.152 over Gary Hood in the first round. He followed that up with a 4.154 to knock out Alan Drinkwater. He fired off low E.T. of the event, 4.121 at 178.83, to beat Doug Nicholl's 4.20 in the semifinals.
PRO NITROUS MOTORCYCLE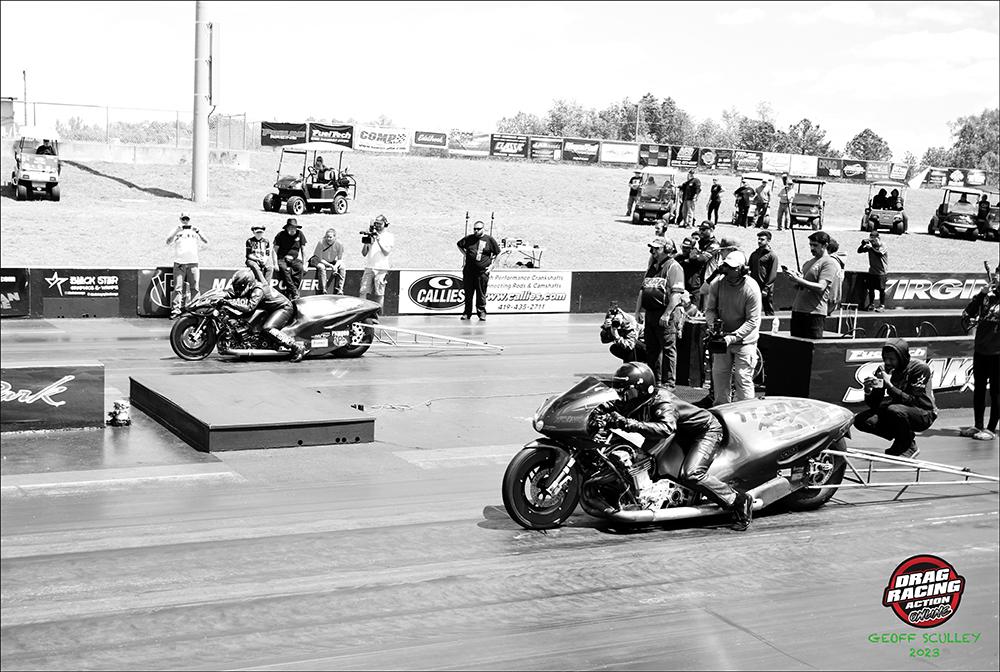 Past Pro Nitrous Motorcycle world champion Chris Garner-Jones bounced back from an early exit at the season opener by riding his T.T. Jones Racing Hayabusa to the win after qualifying No. 1. He went down the track on a single in the final round, as opponent Meshal Al-Saber's Q80 Racing Hayabusa shut off as he was staging. Garner-Jones laid down a 3.982 at 176.79 for the win.
"This win feels great, especially after our first outing," said Garner-Jones, who thanked his brother and tuner, William, as well as Red Line Motorsports Media, FuelTech, and PDRA. "We're not making excuses, but we ran good once we put the right combination in the bike. It was just a round too late. I feel like we could've won that race. But we came out here and ran some stout numbers from testing all the way to the final round. We didn't go in the fours all weekend. Every pass was three-ninety-something. It feels great."
In the first round of eliminations on Friday night, Garner-Jones set low E.T. of the event with a 3.952 on a single. He lined up against rookie Brayden Davis in the semifinal, but the race was over on the starting line when Davis went red by .014 on a 3.984-second pass. Garner-Jones was ready with a 3.996 at 177.53.
Al-Saber, who also reached the final round at the season opener, qualified No. 2 on the Brad McCoy-tuned Q80 Racing entry. He ran a 3.985 on a first-round single when Gerald Smith couldn't make the run. The Kuwait-based rider made his best run of the weekend, a 3.963, on a single in the semifinals.
PRO STREET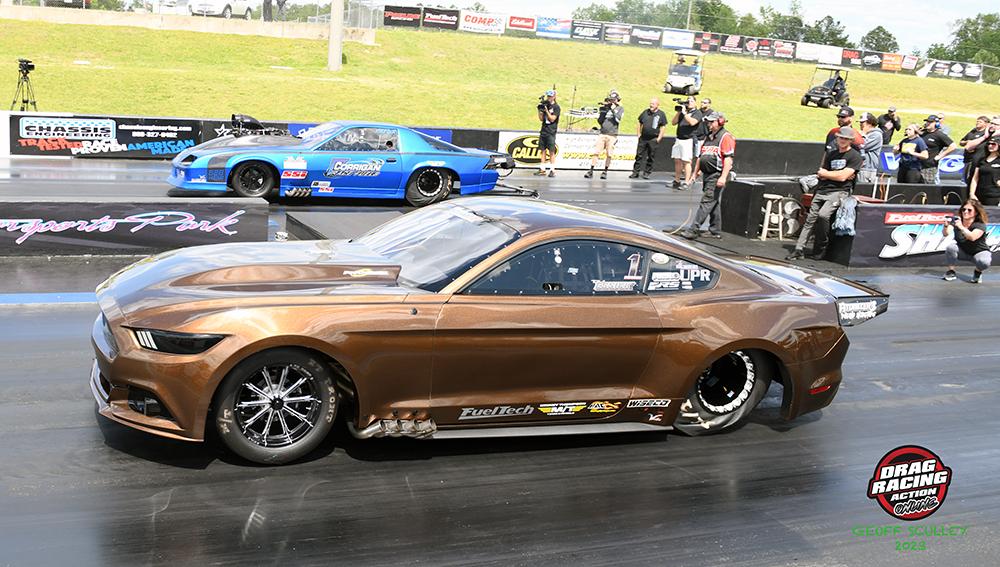 Bill Riddle (far lane) took advantage of Tim Essick's red light in the finals of Pro Street 
Like Pro 632, the Pro Street final round was a rematch of the final round from the season opener. The top two qualifiers, Tim Essick and Bill Riddle, lined up for a 3-second battle between Essick's ProCharged "Brown Sugar" '18 Mustang and Riddle's roots-blown Corrigan Race Fuels '89 Camaro. The race was over on the starting line, as Essick left too soon on a 3.954-second pass. In the other lane, Riddle fired off a 3.939 at 188.94 to tie the 2023 score between the two standouts.
"We kind of struggled [in qualifying]," said Riddle, who thanked Corrigan Race Fuels, Mickey Thompson Tires, Motorsports Unlimited, SSI Superchargers, and his wife. With the hot track, I wasn't sure what to do, what the track would take. We just started inching up on it. Today against Tim I knew I had to put one on it, so that's what we did. The competition this year is absolutely awesome. We're starting to get some full fields. It's only a matter of time until these other guys are right there. It's pretty good this year. I like it."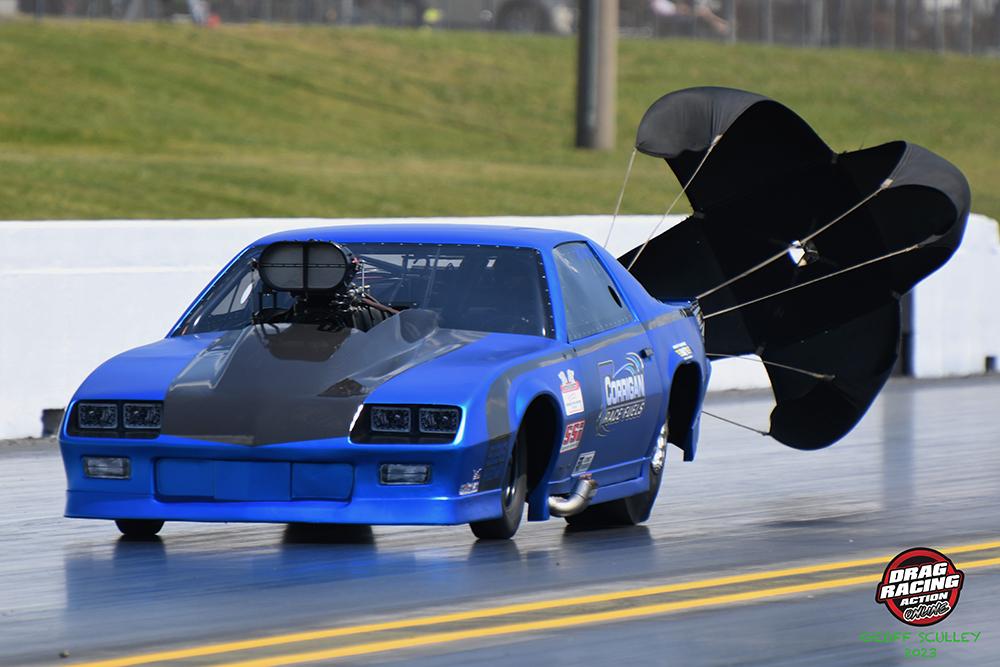 Riddle qualified second in his Michigan-based Camaro, then ran a 4.014 to take out Chris Tuten and his 4.356 in the first round. He dipped into the 3-second zone with a 3.998 on a second-round bye run, earning lane choice for the semifinals over Bill Lutz. He then took a slight holeshot advantage over Lutz and followed through with a 3.95, while Lutz had to lift after hiking up the front end.
Essick earned his first low qualifier award of the season, taking home the special Victus Sports baseball bat trophy. His path to the final round started with a 3.991-second bye run, the quickest pass of the opening round. He then ran a 4.023 to beat Carmen Damiani's 4.172. The reigning world champion was unopposed for his 3.966 in the semifinals, as Nick Agostino couldn't make the call.
SUPER STREET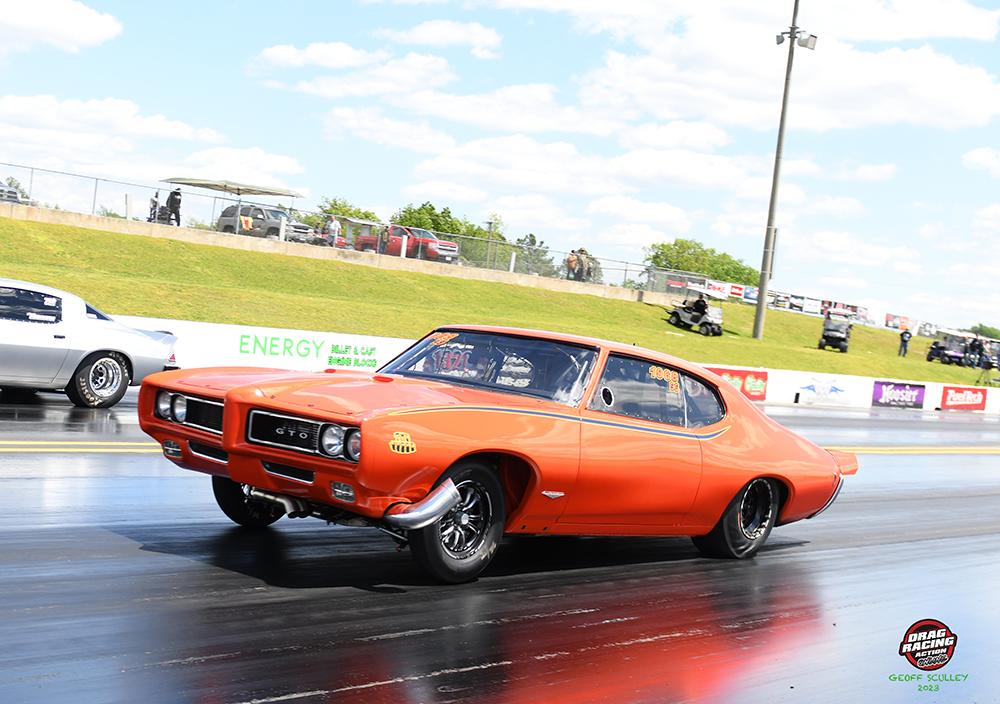 Super Street saw different winners at each of the three races the class completed in 2022, and that diversity continued when Derek Mota scored the win in his Super Street debut. Using consistent low 4.70-second passes, he reached the final round to face Paul Curry. Curry wasn't able to start his '70 Nova, while Mota drove Dave Mancini's turbocharged '68 GTO to a 4.888 at 158.87 to collect the fourth win in the young history of the class.
"This win means everything," said Mota, who built the car at his own shop, Mota Racing Fabrication. "We struggled with the car in testing. We only had six runs on it coming into here. We got here, used the test sessions to our advantage, then Jamie [Miller, tuner] found some stuff with the four-link and made changes. We went out there in E1 and went a .73, then we backed it up with a .74, then we went a .72 in the semis, then [Curry] couldn't start. We gave him as much time as PDRA would allow him. I don't like to win like that, but they make the rules, not me."
After a trial period last season, Super Street will run six of the eight PDRA points races to compete for a world championship this season.
"We are going to run for the championship," Mota confirmed. "This sets us up in a good spot. We should be sitting No. 1 right now with a brand-new car. We learned a lot this weekend. We got a lot of good data going home. We're just going to try to progress from here."
Mota qualified fourth, then ran a 4.731 to beat JC Beattie's 5.056 in round one. His 4.741 was enough to beat past winner Wes Ervin and his 4.852. A holeshot advantage paired with a 4.729 helped Mota knock out No. 1 qualifier Blake Denton and his 4.727 in the semifinals.
Curry, the No. 2 qualifier, was consistent in the first two rounds with a 4.753 over Don Barnett and a 4.757 to beat Matt Schalow. He stepped up to a 4.715 on a semifinal bye run to earn lane choice for the final.
TOP SPORTSMAN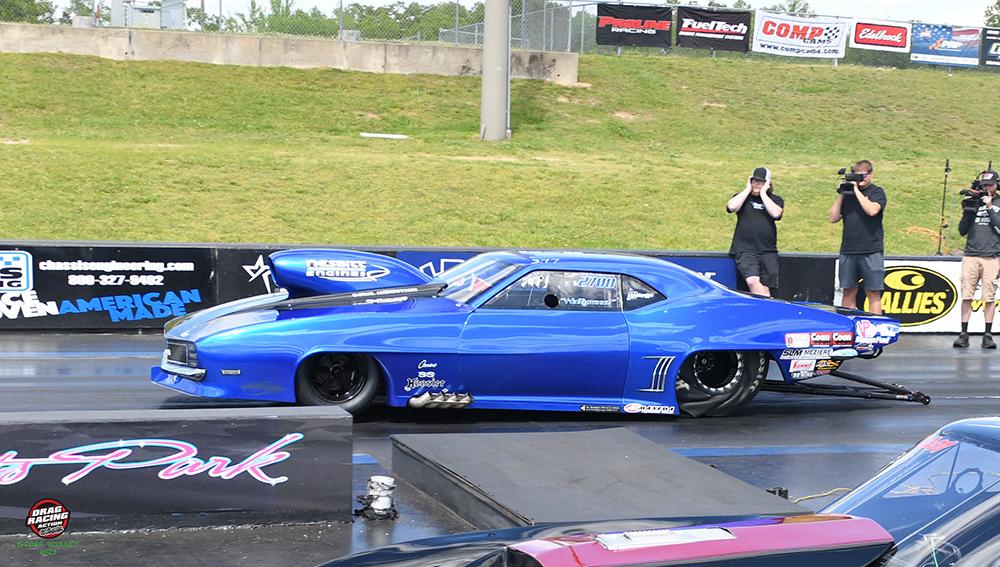 Two quick nitrous-fed Chevrolets were set to meet in the Elite Top Sportsman final round, but Chris "Nitrous" Nyerges and the Schween Motorsports team weren't able to finish repairs to their Buck-powered '20 Corvette in time. That allowed another past world champion, Donny "Hollywood" Urban, to close out a solid weekend of racing with the win. He broke the staging beams in his '69 Camaro to get the win.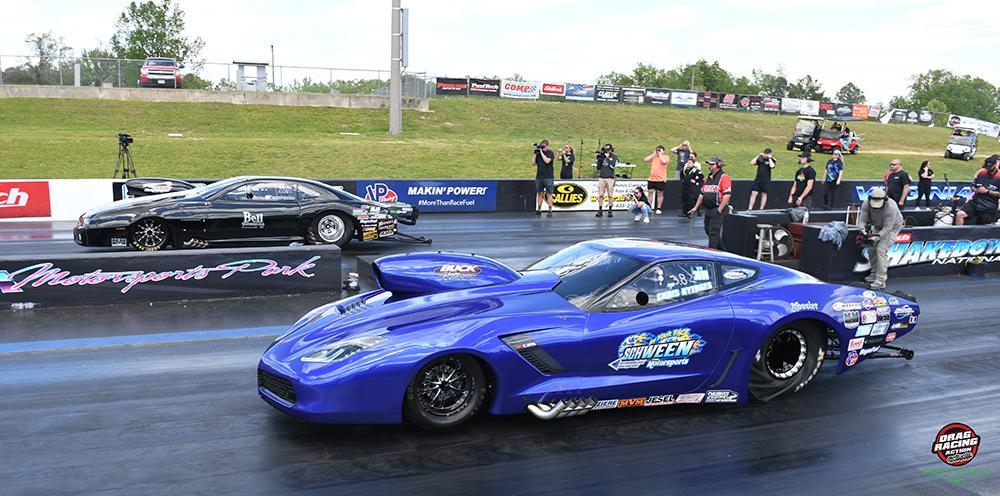 Chris "Nitrous" Nyerges (near lane) lived up to his name blowing the top end of his engine off in a spectacular explosion in his semi final win over a the breaking out Tim Lawrence in the far lane. Nyerges was unable to repair the damage for his date with Urban in the finals.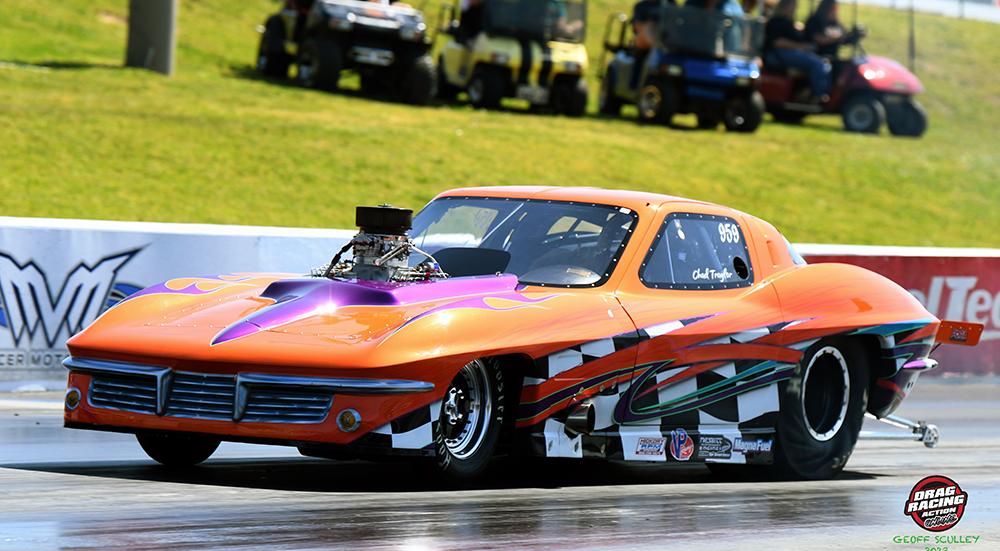 Six rounds of Top Sportsman competition came to a close when Virginia's own Chad Traylor and Connecticutt's Brandon Miller met in the final round. Traylor was off the starting line first in his '63 Corvette and ran 4.442 on a 4.43 dial-in to get the win over Miller, who broke out with a 4.379 on a 4.39 dial-in in his 2000 Chevy S-10.
TOP DRAGSTER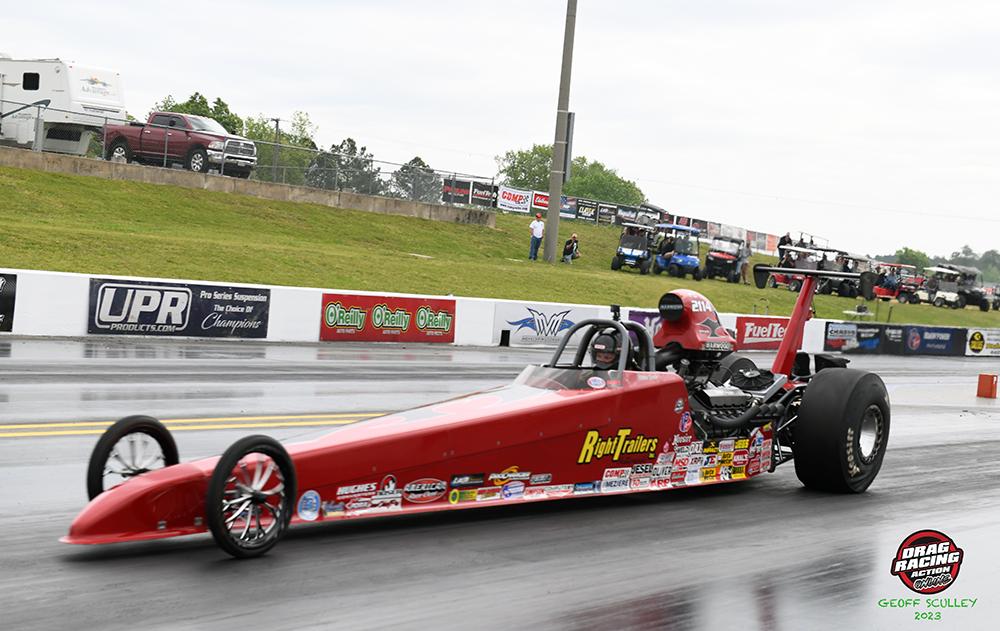 Past world champions Steve Furr and Kellan Farmer raced through three rounds of Elite Top Dragster competition to meet in an all-North Carolina final round. With a .009 light and a 3.866 on a 3.85 dial-in, Furr picked up his second consecutive win in his Right Trailers '13 American dragster. Farmer was closer to his 3.87 dial-in with a 3.875 in his '20 Race Tech dragster, but he was behind off the starting line with a .042.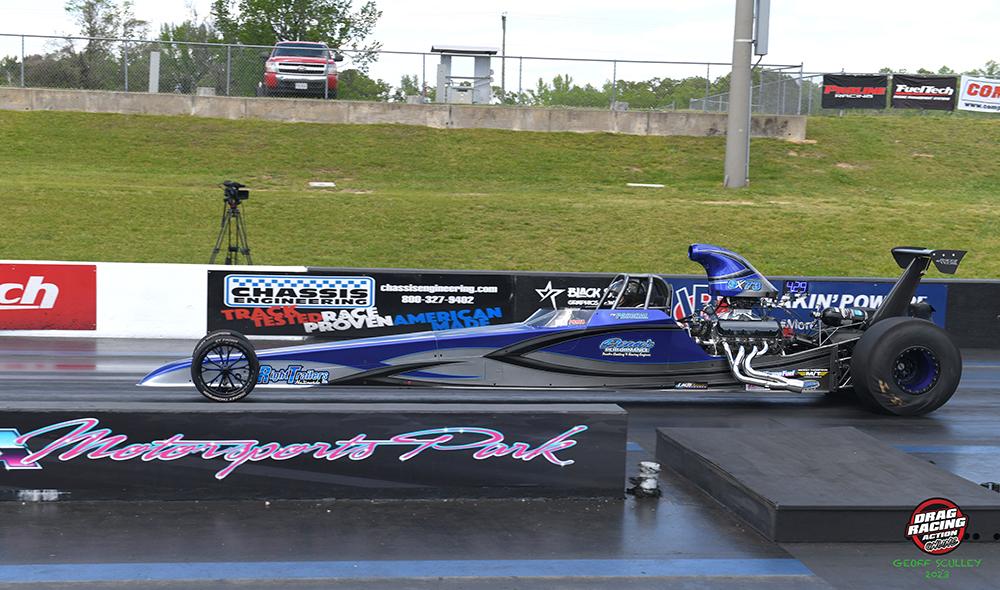 Past Top Dragster world champion TG Paschal found himself back in the winner's circle after defeating Ken Batchelor in the six and final round. Both drivers left with .009 reaction times, but Batchelor broke out with a 4.309 on a 4.31 dial-in in his '18 Mullis dragster, while Paschal ran a 4.306 on a 4.29 dial-in for the win in his '12 Race Tech entry.
JR DRAGSTER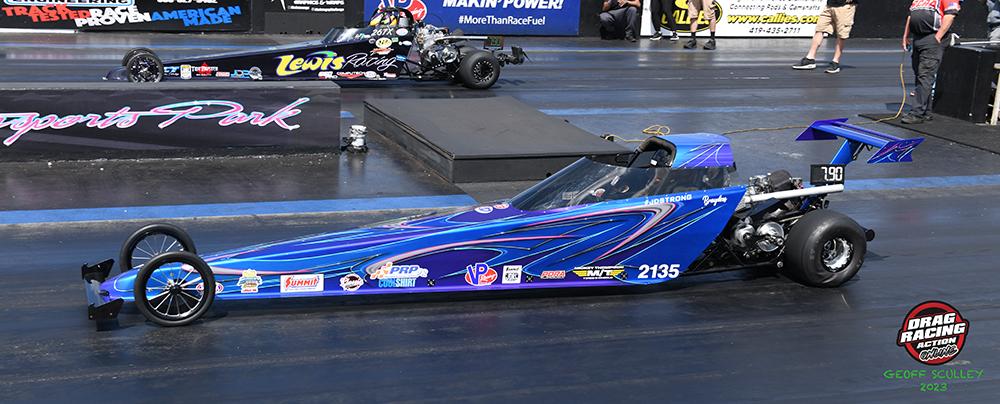 The Jr. Dragster wins went to Brayden Davis in Coolshirt Systems Pro Jr. Dragster presented by PRP and Gavin Wood in Classic Graphix Top Jr. Dragster presented by PRP. Davis, who won in Pro Nitrous Motorcycle and Pro Jr. Dragster at the season opener, collected his second consecutive win by defeating No. 1 qualifier LJ Lewis in the final round. Davis ran 7.906, while Lewis broke out with a 7.873, both on a 7.90 index.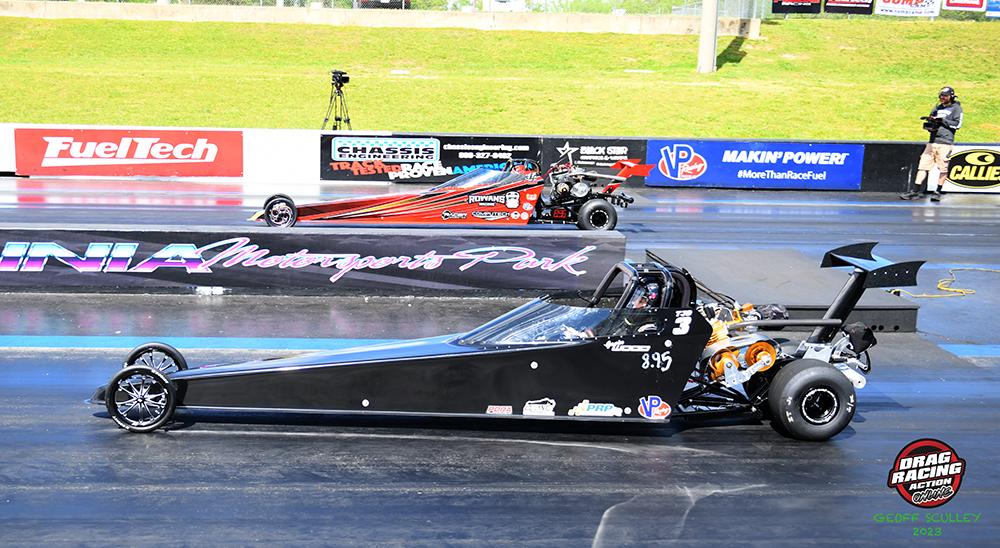 Wood, who calls VMP his home track, was victorious over past world champion Rowan Parlett in the final round. Wood was first off the line and ran 8.963 on an 8.95 dial-in to Parlett's too-quick 8.927 on an 8.96 dial-in.
The next race on the 2023 PDRA schedule is the DeCerbo Construction American Doorslammer Challenge presented by Callies Performance, May 25-27, at Summit Motorsports Park in Norwalk, Ohio.