Six Inducted Into the Eastern Museum of Motor Racing Legion of Honor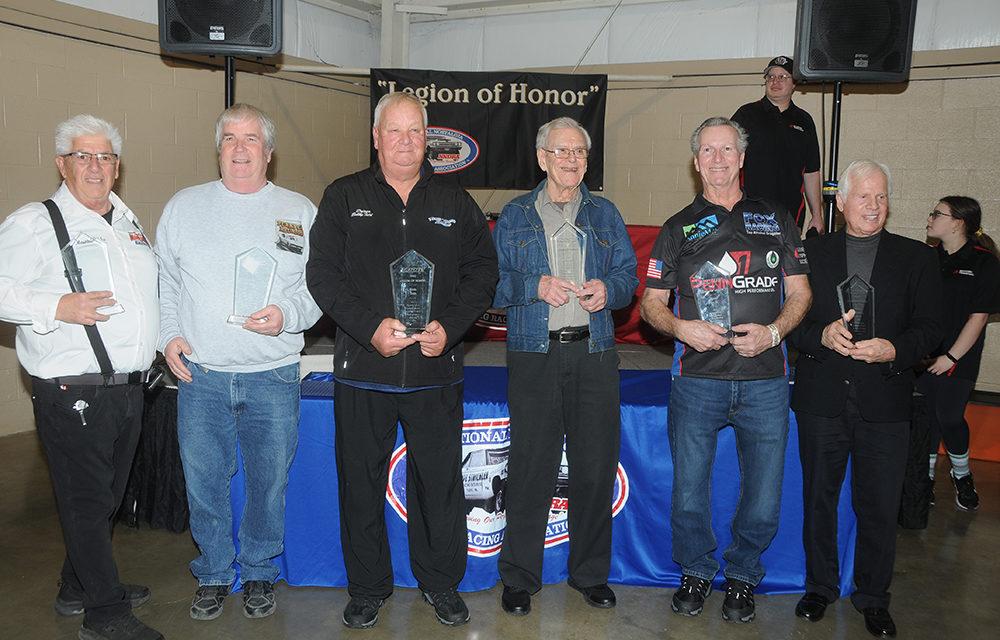 Drag Racing Action Online  Images  Mashie Mihalko and John McCartney
During the recent Dragfest at the Lebanon Valley Exposition Center and Fairgrounds located in Lebanon, PA. in addition to the cars on display, six individuals were elected into the Darwin Doll Legion of Honor. The Legion, a brainchild of former NHRA Division One director Darwin Doll, celebrates the accomplishments of racers, builders, and crew from all walks of drag life that have made an impact on the sport of drag racing. This year, six more individuals were added to the list. They are:
Steve Bell:  Steve, known for his years as track photographer at Englishtown Raceway Park and starting Bell Designs said after his entry into the Legion of Honor. "I started going to the drags in 1968 and in 1975 started taking photos trackside at E Town. I addition to taking photos I also edited Raceway News. I also freelanced graphic work for Maple Grove thru managers Mike Lewis, George Case and finally Lex Dudas. I was lucky enough to also work with New England Dragway, MIR and currently working with Numidia Dragway and as Island Dragway as track photographer."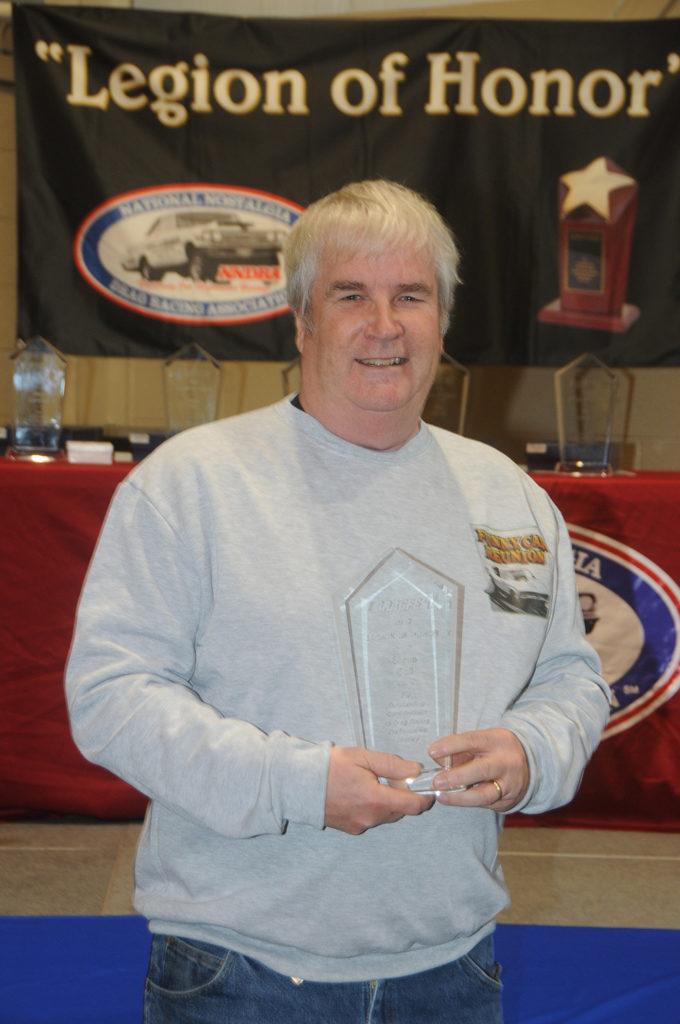 Steve's biggest claim to fame in addition to his prize winning photography and design, was to create the Funny Car Reunion at Englishtown.
The Reunion brought together the best Nostalgia Funny Cars on the East Coast for a day of fuel and alcohol floppers reliving the days of Jungle Jim, and cars that made Funny Car what it is. Steve said, "In 2002 I started the Funny Car Reunion which ran for about 10 years. It's flattering and I am honored to be recognized for my contributions to drag racing community and have my name listed with the legends of the sport."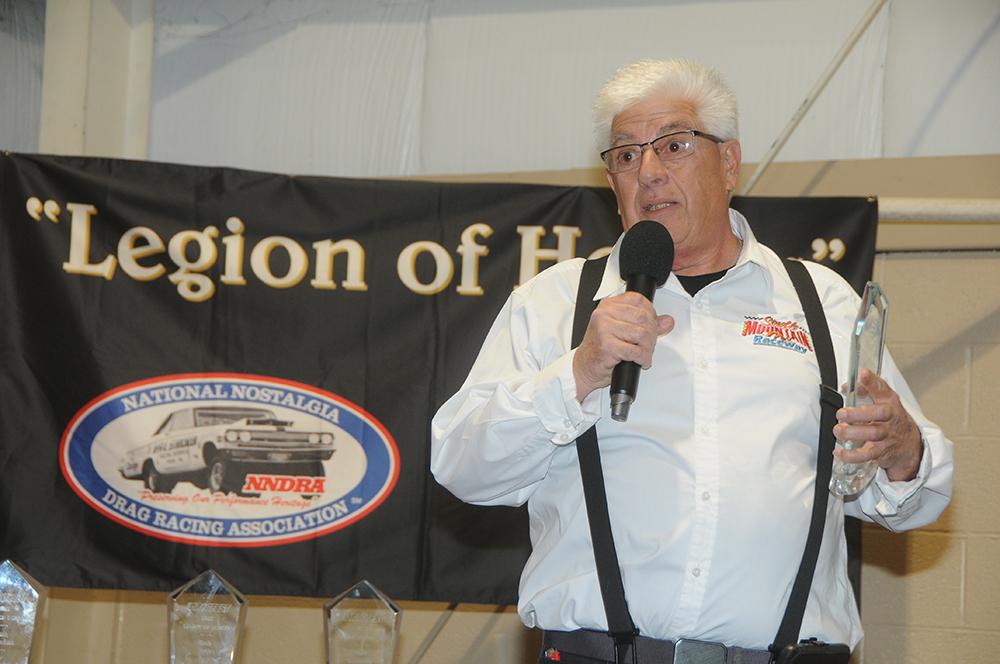 Mike Natoli: Long Island racer Mike Natoli started is career in the fast lane driving a Soap Box Derby car to victory when he was a young man. In between his Derby exploits and his current ownership of South Mountain Dragway in Pennsylvania, Mike worked at local speed shops, crewed on one of the last Chevy powered Funny Cars along with a life devoted to drag racing.
Mike said, "Eight years ago I bought South Mountain. It was like an episode of Bar Rescue as the place needed so much work. The starting line was in good shape, but the rest of the place was a mess. Now we have the track in great condition.
"The community around the track is very supportive and we always welcome them to come visit the track to walk, ride a bike, walk the dog, whatever. The track is a little piece of Americana."
Mike adds, "When I was accepting the award I could only think of Darwin Doll when he told me 'Mountain Mike, you have to keep the Nostalgia stuff alive'. And I promised him I would do everything I could to keep his dream alive."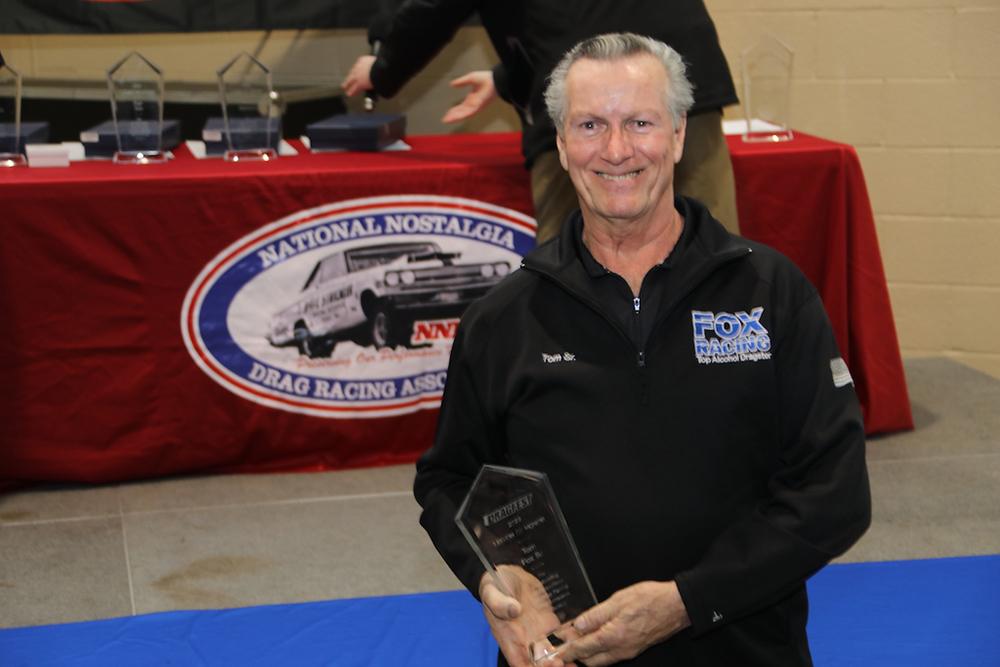 Tom Fox Sr: Tom has been involved with drag racing for 60 years in a career that spans owning and building some of the quickest cars on the East Coast including his own car, the High Roller Top Fueler.   Fox said after his induction, "I worked on some of the best cars on the East Coast. I tuned for Fox and Rivero back in the day and later bought their K&G 554 Fuel Coupe that I set records in. I also got to help with a lot of the Nostalgia Funny Cars on the East Coast. I did not expect to have this honor. It was great that so many people came out to see me."
Currently Fox Sr. owns and is turning the wrenches on the Top Alcohol Dragster that his son Tom Jr drove to a Top 5 finish in the NHRA Eastern Region and set a personal best of 5.19 seconds in the quarter mile.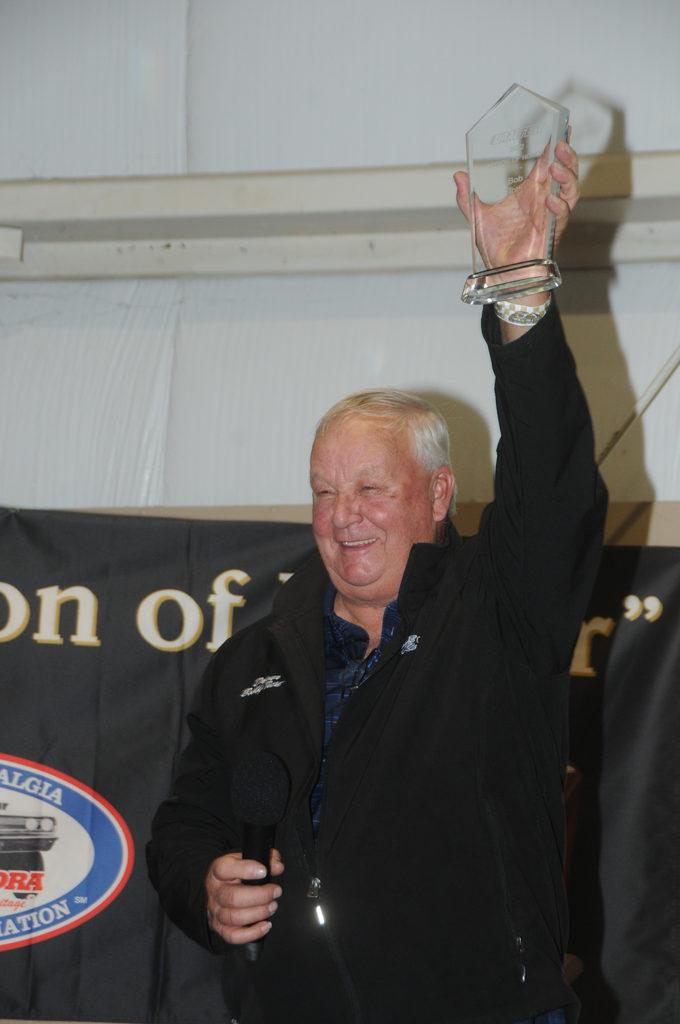 Bob Toth:  Bobby Toth had a long history of driving cars on the East Coast such as the Keystone Cuda, the Trail Blazer Challenger Funny Car, the Outer Limits Top Fuel car, and the Prime Rib dragster that was one of the first injected fuel cars in Pro Comp. It all came to an end in 1978 when family came first and racing took a back seat.
It all changed in 2002 when by chance Toth's older brother took him to the Funny Car Reunion as Bob was looking for the Trail Blazer car and thought it might be part of the swap meet going on in conjunction with the Reunion.
As Toth tells it, "I got my start with Roger Toth (no relation) when he was driving the Hemi Hunter Top Fueler. He was one of my early mentors and he's one who got me behind the wheel of the Outer Limits car. After the Outer Limits Fueler, I went out west and bought the Trail Blazer and we were sponsored by a camper company from Linden New Jersey, hence the name. We ran the car for a while.
"It was at the 2002 Funny Car reunion that I met Lou Sgro and Bob Rosetti from Bob Rosetti's Funny Car Farm. In 2003 I actually went to a race in St Louis to watch them and ended up helping wrench the car. From there I crewed on the Black Magic car and helped Rosetti with the Rollin' Stoned car that the original owner and driver Joe Jacono drove. From that I got to drive the Tweety's Rat car. It was the first car I drove since I quit racing in 1978. By then my kids were grown and it was time to get back behind the wheel.
"Rocky Roxlau, who owned the Time Bomb Vega along with Steve Musser, and I were friends since high school and when his driver Keith Davidson vacated the seat, I got the chance to drive the Vega and I still drive it. Since I came back to racing, I have had the chance to help a lot of drivers and teams with either driving or tuning.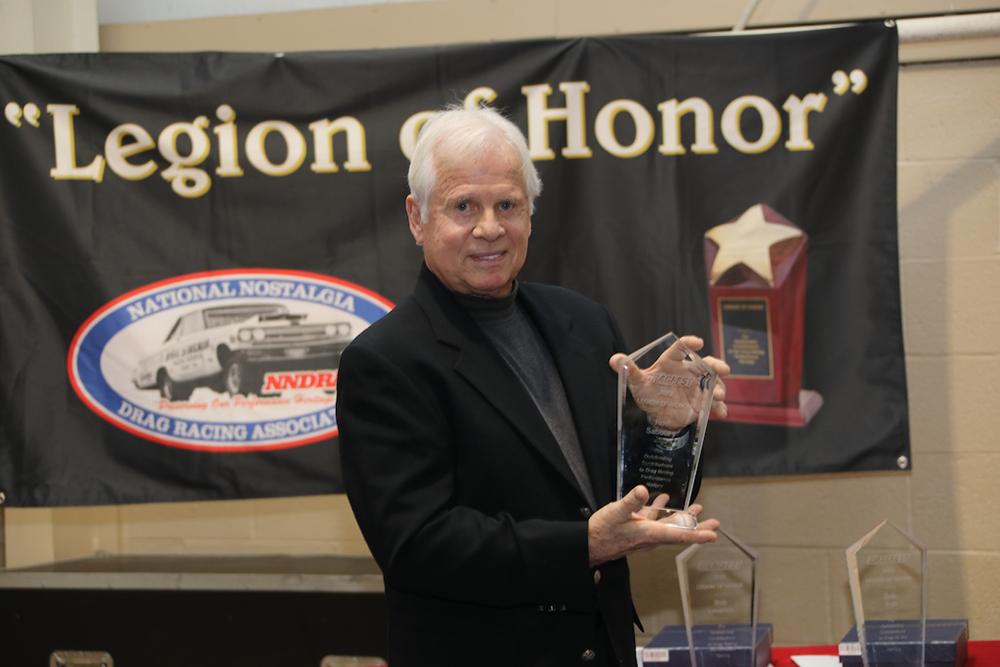 Better known as Mr. Corvette, Rod Saboury started racing in the 60's and mainly raced 1954, 1957 & 1963 Corvettes.  He Even raced a 1969 Camaro at one point.  But in 1998 he started to race in the street outlaw series.  He then built a 1963 Corvette for street and strip that was certified by NHRA and IHRA as a Pro-Mod.  He drove it on the strip and everywhere in between.  It was listed as the first street legal car where he could go to the strip, turn time of 6 seconds at 210mph pushing 2600hp and drive home.  Rod was also an ambassador for drag racing at SEMA.  He also did a few select ISCA car shows along the way with a few outlaw events too.  Rod's career of racing ended when medical reasons caused him to have to use a lighter foot on the pedal.  But to this day he is still building super cars and representing the sport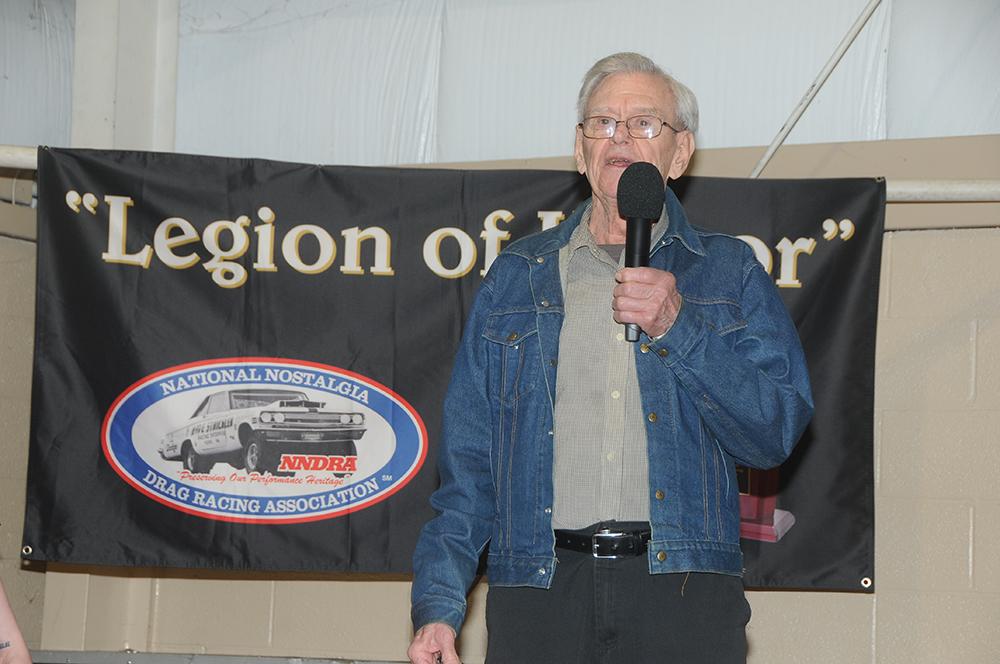 Bob Leverich:  Mr. Bob Leverich started racing in 1959 and is a multi-time event winner and was an AHRA national event winner in the Jr Fuel class in 1967 at Detroit Dragway.  For years he campaigned small block Chevy powered dragsters on injected nitro and supercharged alcohol competing in AHRA/NHRA Pro Comp and NHRA's Top Alcohol Dragster class.  In 2002 he made the switch to an injected nitro Hemi competing in the NHRA Top Alcohol Dragster class.  2008 was Bob's first year in IHRA Top Fuel with a blown nitro Hemi.  Bob retired from driving but with Smax Smith at the wheel his team finished 7th in points in the 2009 IHRA Nitro Jam Series in Top Fuel.  His team's first year in NHRA Top Fuel was 2015: He has licensed three NHRA Top Fuel drivers: Smax Smith, Audrey Worm, and Joe Morrison. In addition to being inducted into the Legion of Honor, Leverich was chosen to be awarded a rare Darwin Doll designed watch that only one honoree a year receives.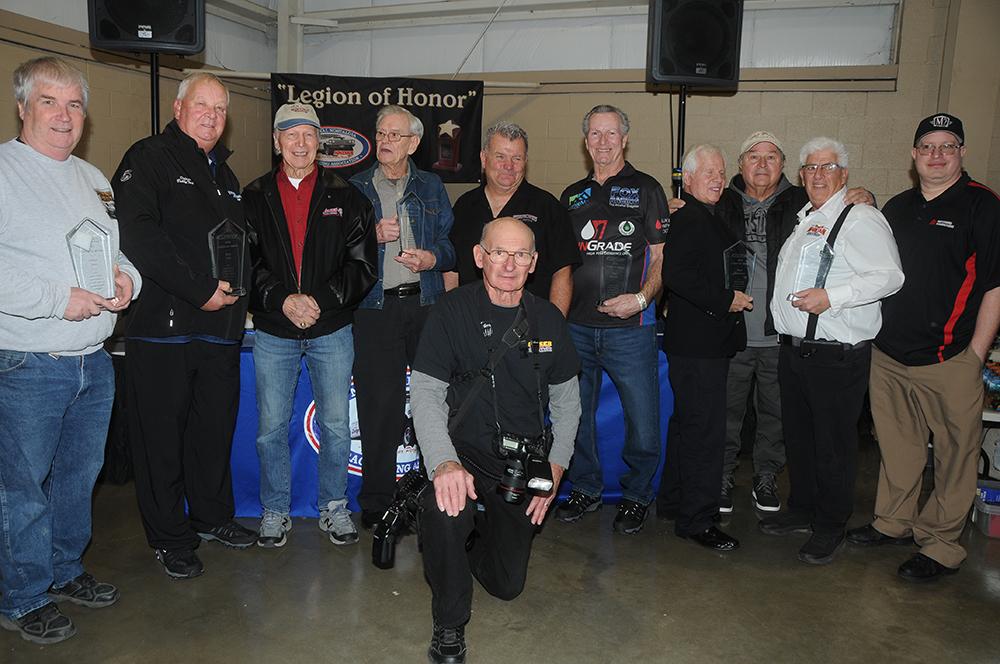 Bruce Larson and Mashie M join the Legion for a photo opt