Eaton, Worner, and Longhany lead Sportsman champs at NHRA Virginia Nationals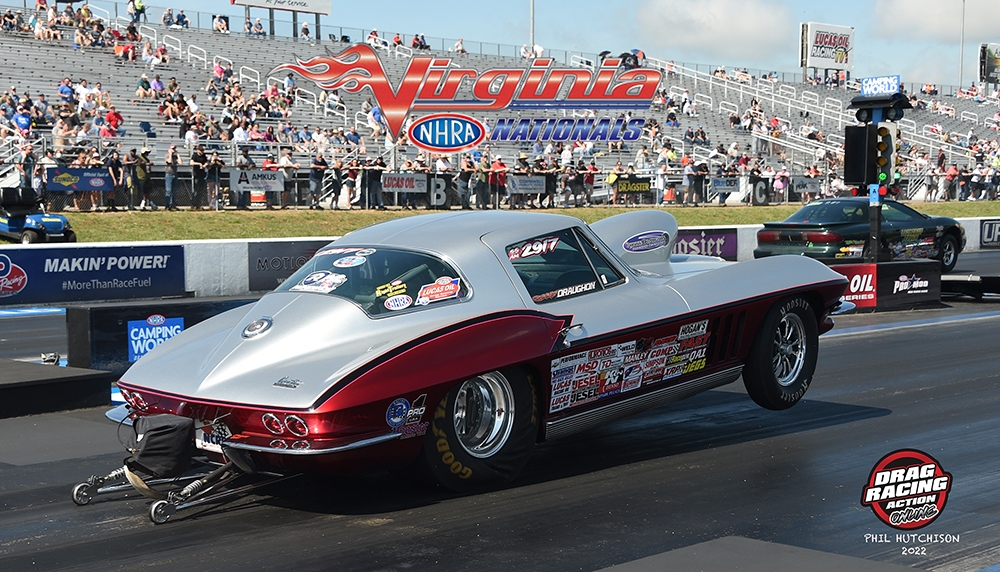 Story/Images Phil Hutchison
Despite rain, schedule changes, and a finicky timing system, NHRA Lucas Oil Sportsman champs were crowned at the 3rd annual NHRA Virginia Nationals at Virginia Motorsport Park in Dinwiddie Va.
Rain throughout Friday only allowed the racers one shot down the track to get ready for Saturday's first round. Saturday didn't start great as after one round of Stock and a few Super Comp cars, the rain returned. Eliminations were rescheduled for Sunday morning but instead of rain, it was timing system issues and the scheduled first round of the NHRA pros pushing the Sportsman back once again after one full round of eliminations in all classes.
Winning Competition Eliminator was Merrit Island Fla. Racer David Eaton in his '32 Bantam A/AP. Eaton, who already won the Gatornationals in March, defeated the B/DA of William Scott from Glen Allen Va.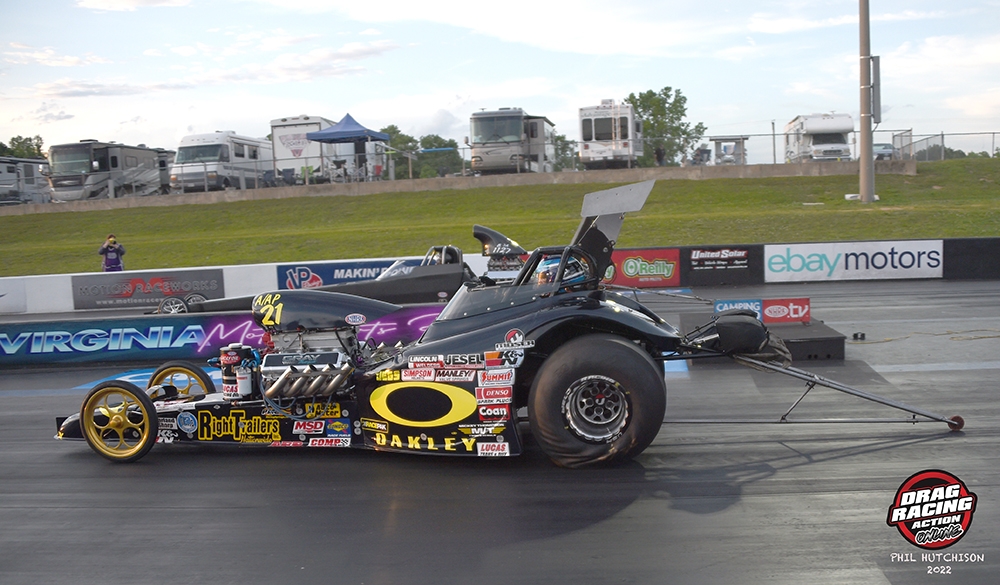 The Spitzer chassis dragster of Scott was quicker of the line but didn't have the power to keep the altered of Eaton from passing him for the win. Eaton ran a 6.805 on a 7.23 index for his fourth career NHRA win.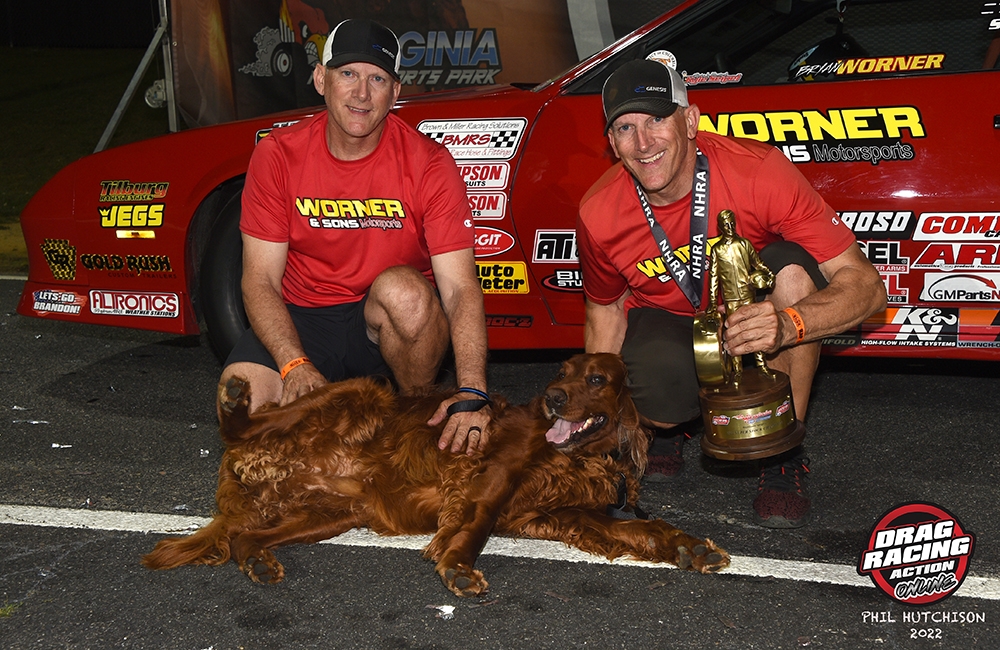 The Worner brothers from Duncannon PA brought their Super Stock Camaros to one the team's luckiest tracks hoping to take home another Wally. Byron Warner qualified his SS/IA '95 Camaro on the pole and Bryan in his SS/JA '88 Camaro grabbed the #3 spot.
If the ladder worked to their advantage the brothers would meet in R4 and the winner would get the bye to the finals. Byron lost in his third round race against the '66 Corvette SS/AM of Robbie Draughon while Bryan defeated Draughon's Vette in the quarterfinals so he got the bye run to the finals.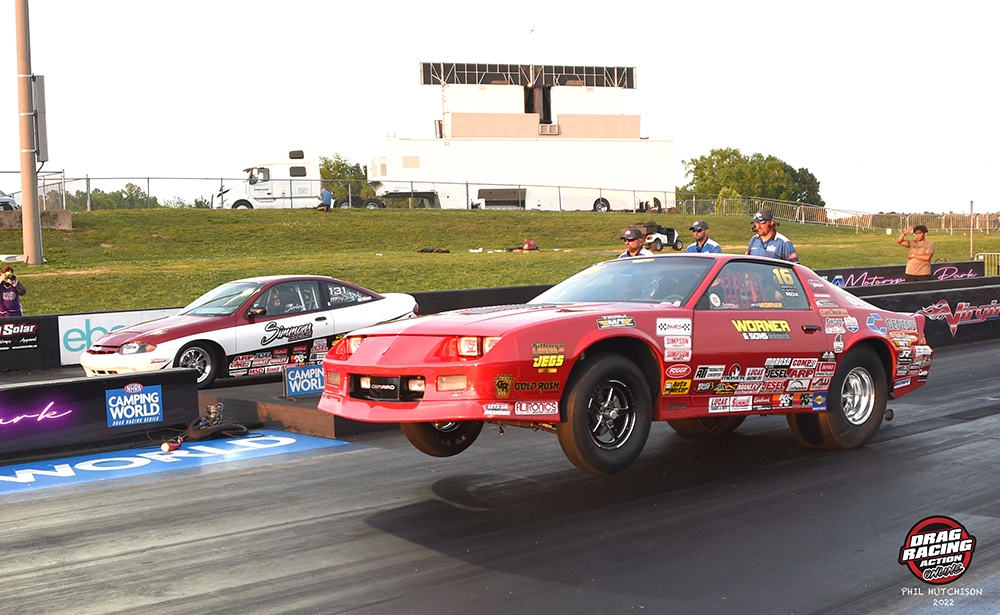 In the other lane for the Super Stock title was the GT/FA '05 Cavalier of Sterling Simmons from nearby Chesterfield Va. Simmons had been on a tear throughout eliminations defeating NHRA hitters Anthony Bertozzi and recent 4 Wide champ Joe Lisa on his way to the finals.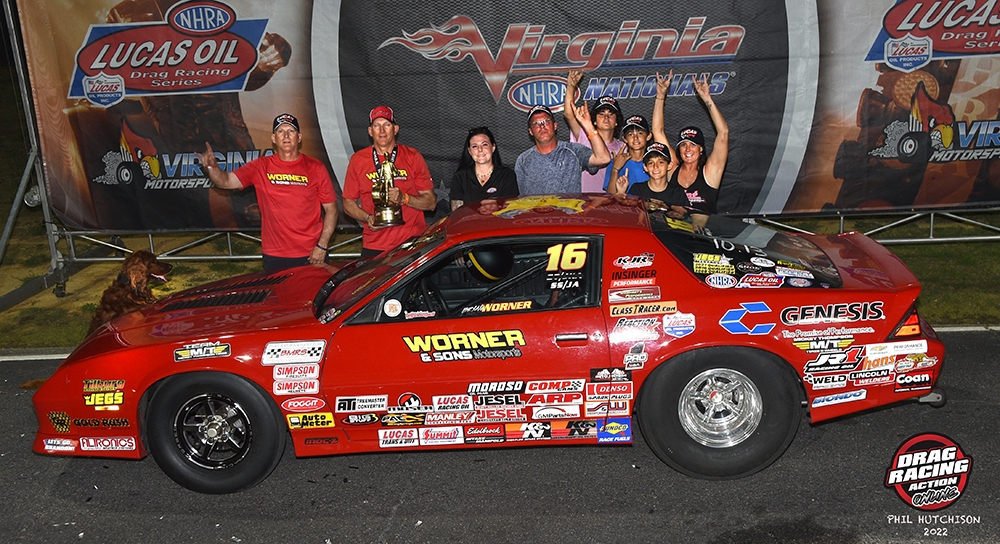 At the green, Worner was off the line a tick before Simmons and won running a 10.15 on his 10.13 dial as Simmons pushed his Chevy too far breaking out with a 9.456 on his 9.46 dial. The win at VMP was Worner's 7th career national win.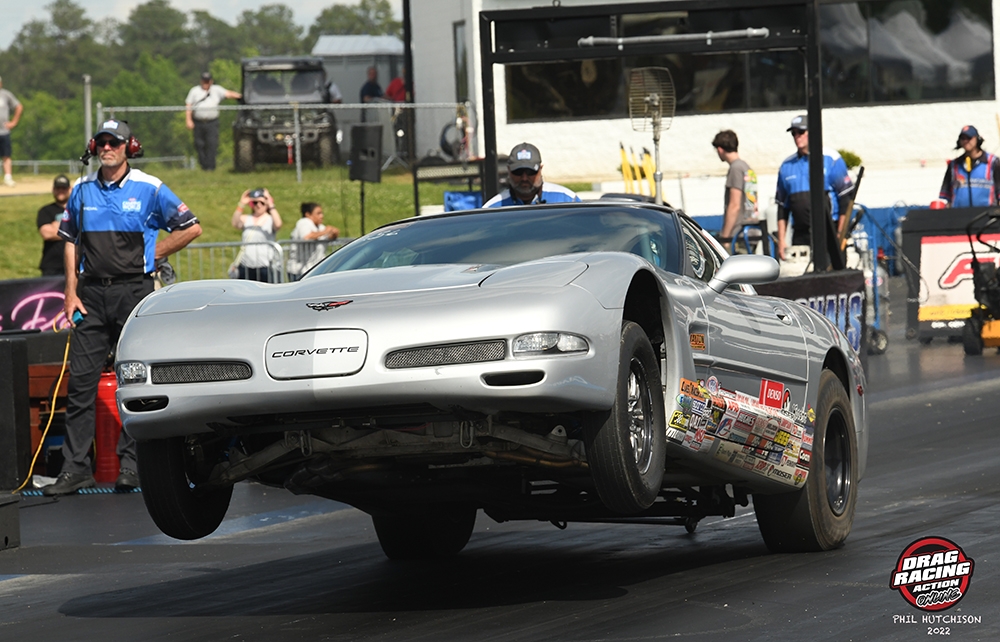 Jeff Longhany from Wade N.C. drove his B/SA '00 Corvette to his first ever NHRA win beating former Virginia winner Wallace "Pie" Dent in the finals of Stock Eliminator.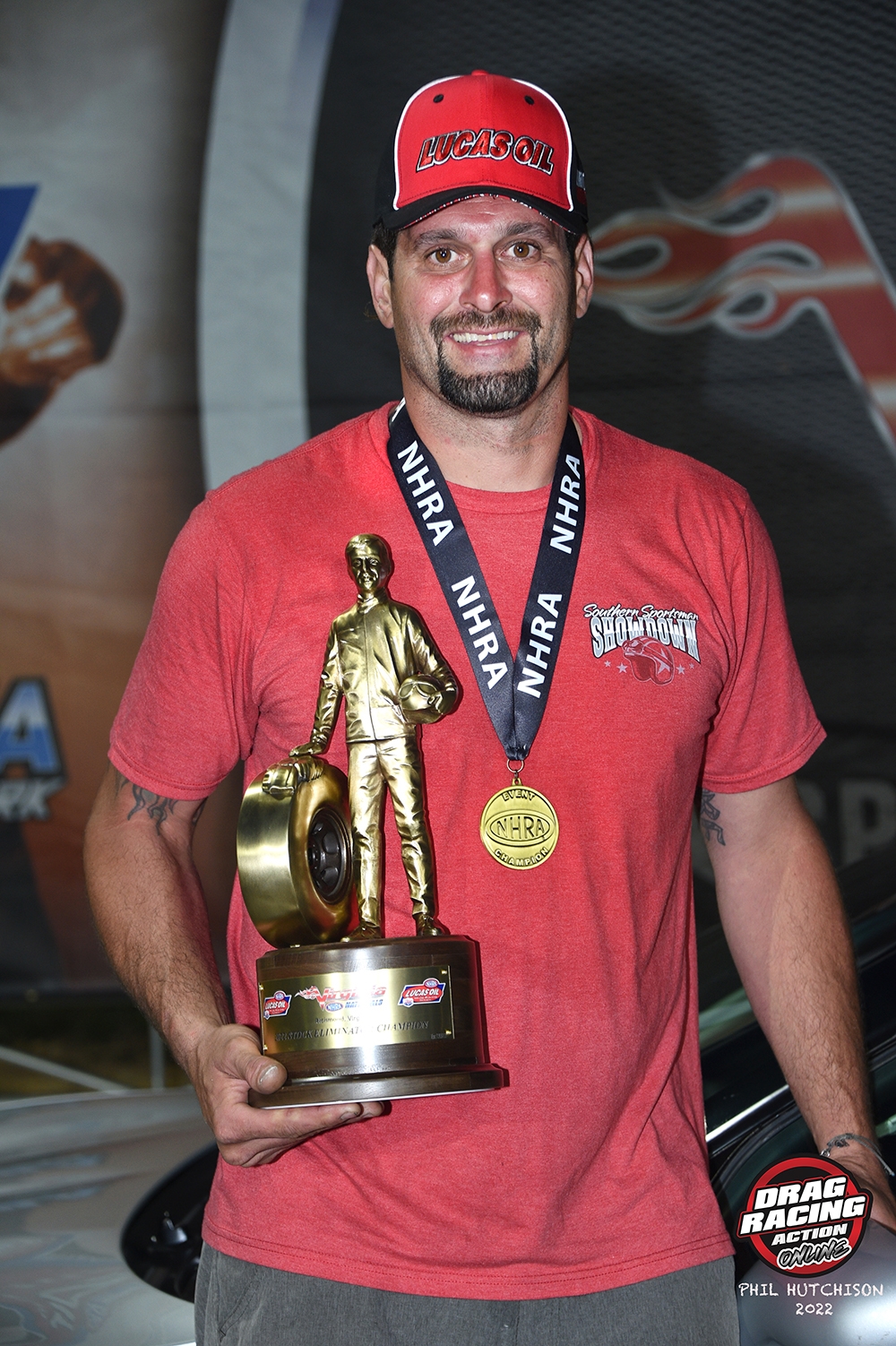 Longhany's Vette got the better light against the C/SA '98 Camaro of Dent and caught the Charlotte Hall Md. driver running a 10.516 on his 10.48 dial to the better but losing 10.70 on a 10.68 dial.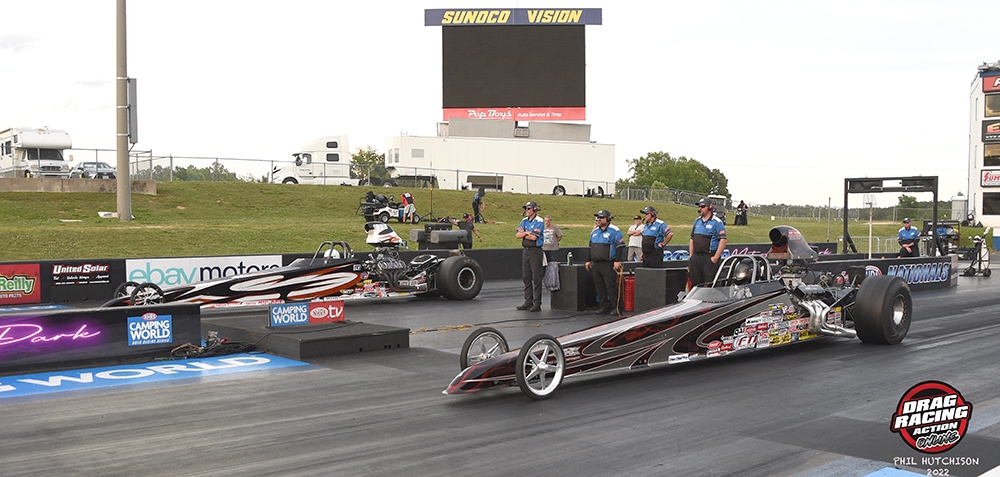 Multi time champ John Labbous from Goodlettsville Tenn. took his Race Tech dragster to a Super Comp win beating Deb Moses from Colonia N.J.
Moses got the better light but took too much stripe breaking out with an 8.897 to Labbous' 8.934. The win was Labbous' 10th NHRA career win.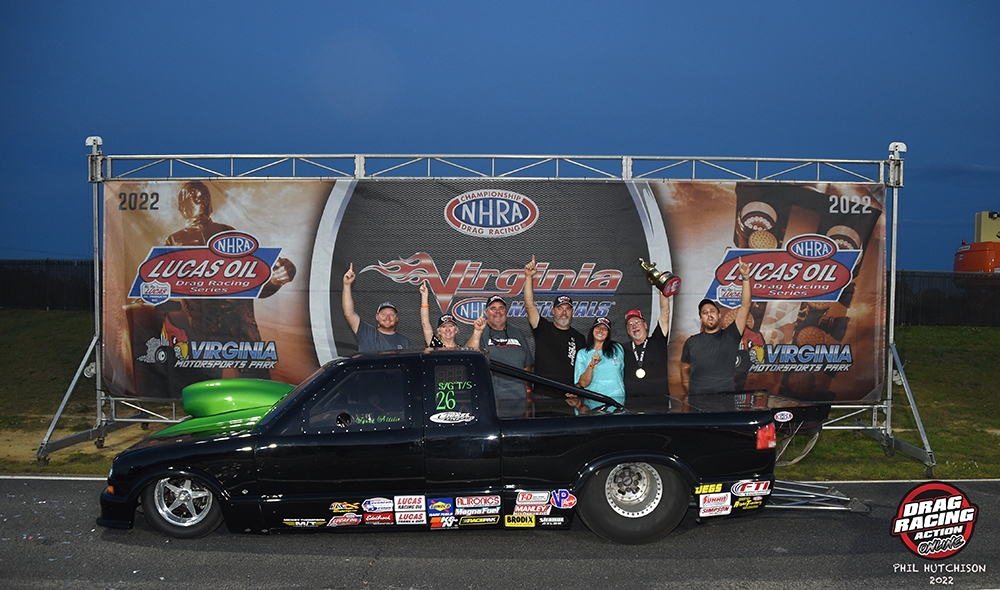 Division Two racer Frank Altilio from Longwood Fla took his S-10 Chevy truck to the Super Gas title beating a redlighting Jerry Heffelfinger from Wesley Chapel Fla. in the finals.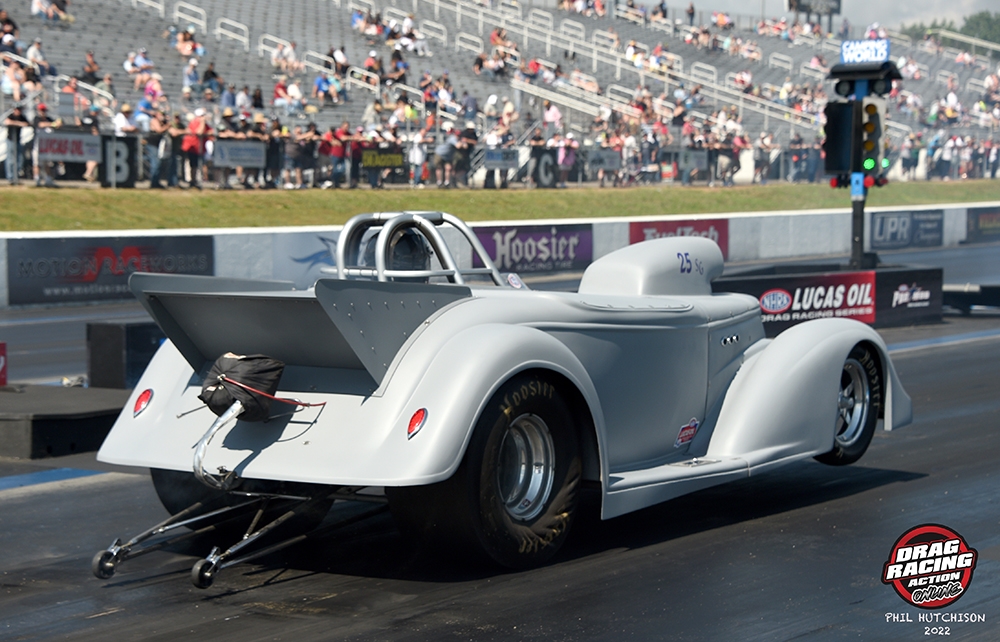 Heffelfinger earlier defeated former Lucas champ Steve Furr in the semifinals as Altilio beat Rusty Cook to earn his shot in the finals.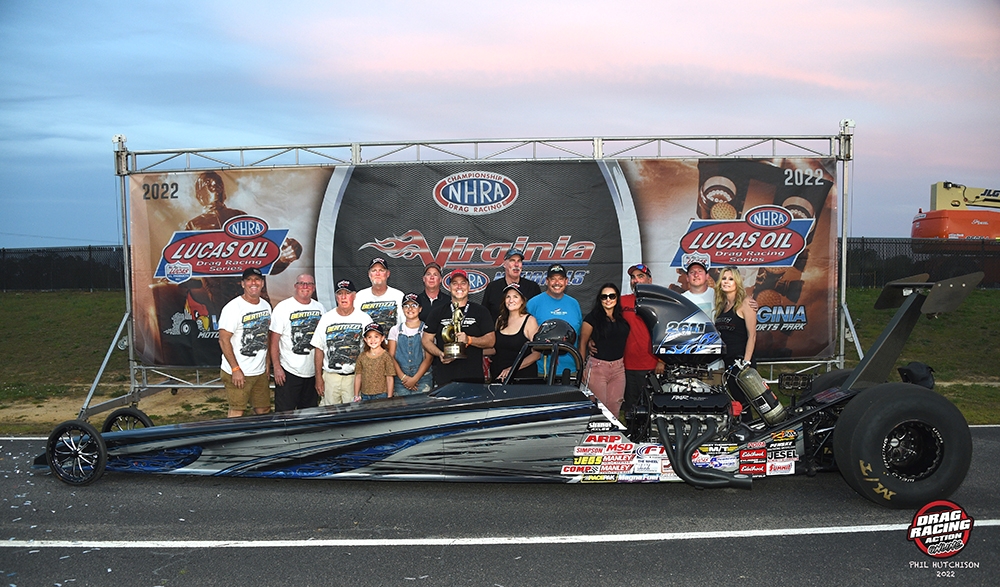 Top Dragster presented by Vortech Superchargers went to local racer Chad Traylor from Providence Forge in a double breakout final beating Robert Houston from Newland NC. Traylor, dialed in a 7.04 and ran a 7.029 to Houston's 7.123 on his 7.15 dial. The win was Traylor second both coming the Virginia facility.