JASMINE SALINAS SNAGS FIRST TAD WIN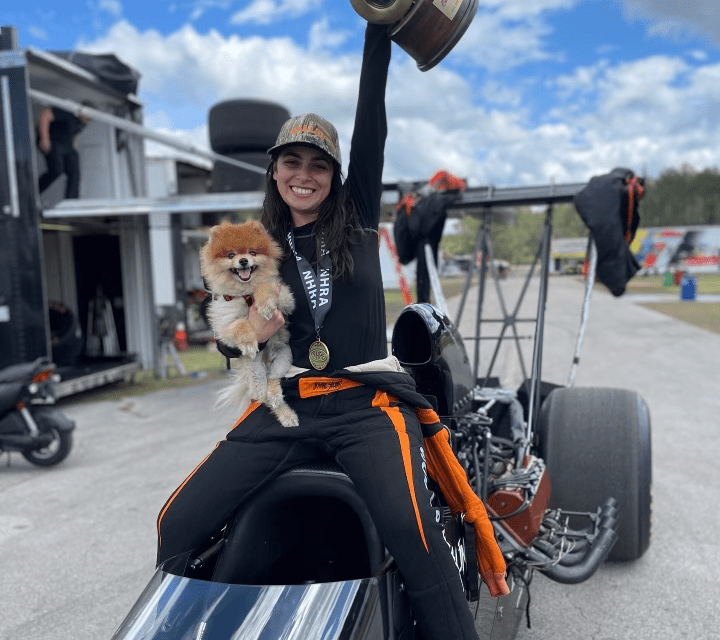 GAINESVILLE, Fla. (March 14, 2022) – NHRA Lucas Oil Drag Racing Series Top Alcohol Dragster driver Jasmine Salinas walked away with her first national event win today at the 53rd annual Amalie Motor Oil NHRA Gatornationals, one of the most iconic races on the NHRA tour. Due to a weekend of inclement weather, sportsman racing wrapped up on Monday, but that did not deter J. Salinas. Nor did she let a little tire shake stand in her way as she pedaled her way down the track to secure her win.
J. Salinas faced challenging pairings in each round of eliminations but her Scrappers Racing Dragster remained consistent time and time again. She powered her way to the final round with wins against Megan Smith, Tom Fox Jr. and Karen Stalba. Leaving the starting line with a stellar reaction time of .028-seconds, she defeated Julie Nataas in the finals with a pass of 5.598-seconds at 271.02 MPH.
"If there was one national event that I wanted to win, the Gatornationals at Gainesville was it," said J. Salinas. "This track has had so many monumental moments for me: my licensing in Super Comp, my first national event race, my crash in Gainesville in 2021, and now, my first national event win just one year later.
"I want to thank Scrappers Racing, Pep Boys and Valley Services. I'm grateful for Pops (Rich McPhillips Sr.), Richie McPhillips Jr., Andrew Waits, Chris Kirvan, Chris Foster and Jared Parker. These guys gave me a consistent car all weekend and we took each round one run at a time. I'm proud to be a part of this team and get some redemption from last year's race here."