LOTTIG, BARTON AND UNITED SITES SERVICES CLEAN UP AT THE GATORS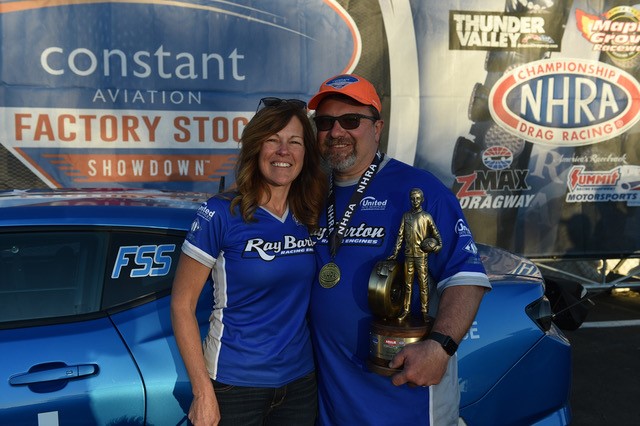 (03-14-2022) This past weekend, Gainesville, FL – Constant Aviation Factory Stock Showdown Finals at the NHRA Gatornationals included similar characteristics for the finalists. Blue GM COPO'S, Ray Barton Engine's, holeshot victories to advance, and so on until the Final Round. Everything changed for Meyersdale, Pennsylvania's Leonard Lottig as he left first and never looked back to pick up his first NHRA National Event Wally in only his second final round.
"I made it to the finals in St Louis last year and didn't see a win light; this time it was a great feeling to see it come on in my lane, for everything that my wife Linda and the Barton Team put into our cars, to race Tater (Anthony Troyer) a Barton Camp car, it just could not have played out better," smiled Lottig.
Leonard Lottig, who is referred to as simply "Lenny" by those close to him, and his wife Linda owns ITI Truck Manufacturing in Meyersdale. ITI supplies equipment to fantastic companies like United Site Services on COPOs in the Double L Motorsports Camp.
"It was a tough week, sitting through the rain and being a little bored; however, we made the best of the time, completely overwhelmed by the fans, the companies that support us during the week, and here at the track," Lottig stated.
The Barton Camp had 3 Cars in the Semifinals, with David Barton not answering the call against Troyer and Warren Welcher not answering the call against Lottig, making all Barton Engine Finals. On top of the All-Barton Finals, Troyer also picked up the $2000.00 Bounty for taking out 2021 Champion Aaron Stanfield in round number 1.
"The first event of the year for our camp, we had a scorecard that does not look horrible going into Charlotte; Troyer grabbed the bounty that was good. However, we do not want any of our cars not to be racing on Sundays, so we will get back to work and be ready for Charlotte," Barton stated.