Record Turnout Shows Up at Maple Grove for the 3rd Annual Dave Stine Memorial Race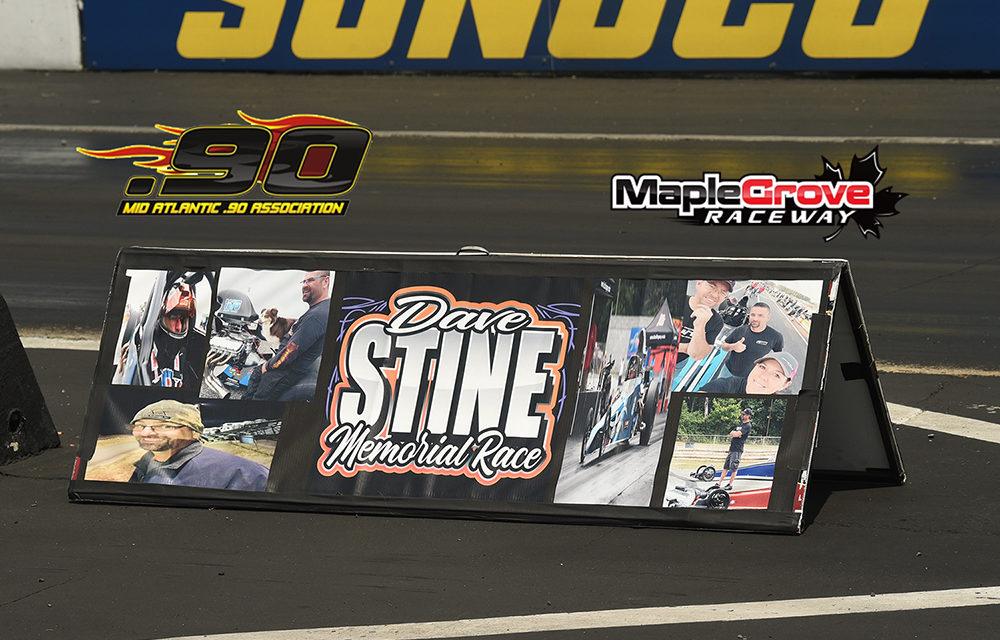 Drag Racing Action Online
Images: David Smith/Diane Kubicke, Phil Hutchison and Rob Keister
Emotions ran high at the 3rd Annual Dave Stine Memorial race held at Maple Grove Dragway in Mohnton Pa. Earlier in the week, Atco Dragway, a long-time dragstrip in New Jersey, announced the immediate closing of the track. A track that hosts the Mid Atlantic series added to the strain for event organizer and Mid Atlantic series president Rob Keister. Add to the mix, the purpose of the event. A memorial for Super Comp racer and Mid Atlantic .90 Association supporter Dave Stine who lost his life in a tragic accident in January of 2021. Dave's memory was on everyone's mind through eliminations. The event, the brainchild of Keister and Stine's father-in-law Jeff Stickler has become one of the "must race" event on the Northeast .90 racers schedule.
After Dave's passing," said Keister, "Kara's father Jeff called and inquired as to what it would take to have the largest paying race for Super Comp cars. Dave was an avid Super Comp racer and the family felt it would be a fitting tribute to Dave."
Keister's worries about the event and the future of the series were put to bed early with a record turnout of racers on hand to battle for bragging rights over the course of two days of eliminations. And adding to the good vibe was the announcement that Maple Grove will add the canceled Atco event to their 2023 schedule.
"With almost 700 combined cars total for the 3rd Annual Dave Stine Memorial this was a record, not only for this event, but also for the Mid Atlantic Super Series," Keister said. "We know a lot of factors happened over this week leading up to the event with the closing of Atco.  My team of Dana Leone, Ashley Kubicke, Dave Nahill & NHRA D1 Starter Jared Artus were up to the task to make the racers feel welcomed and even though their home might no longer be there we will always welcome them with open arms to our events and welcome them in as family."
Saturday's action featured all the Mid Atlantic series racers and also showcased the Top Dragster and Top Sportsman along with local Super Pro and Pro brackets.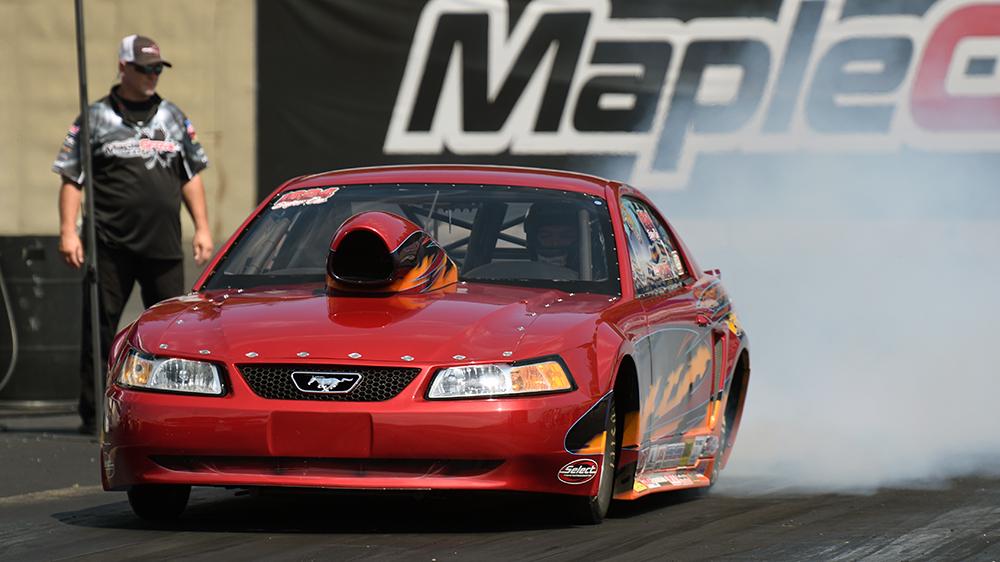 Winning Super Gas on Saturday was Poughkeepsie NY racer Nick Volpe in the family '02 Mustang beating series regular Bob Phillips from Oley Pa in his Mopar '03 Neon.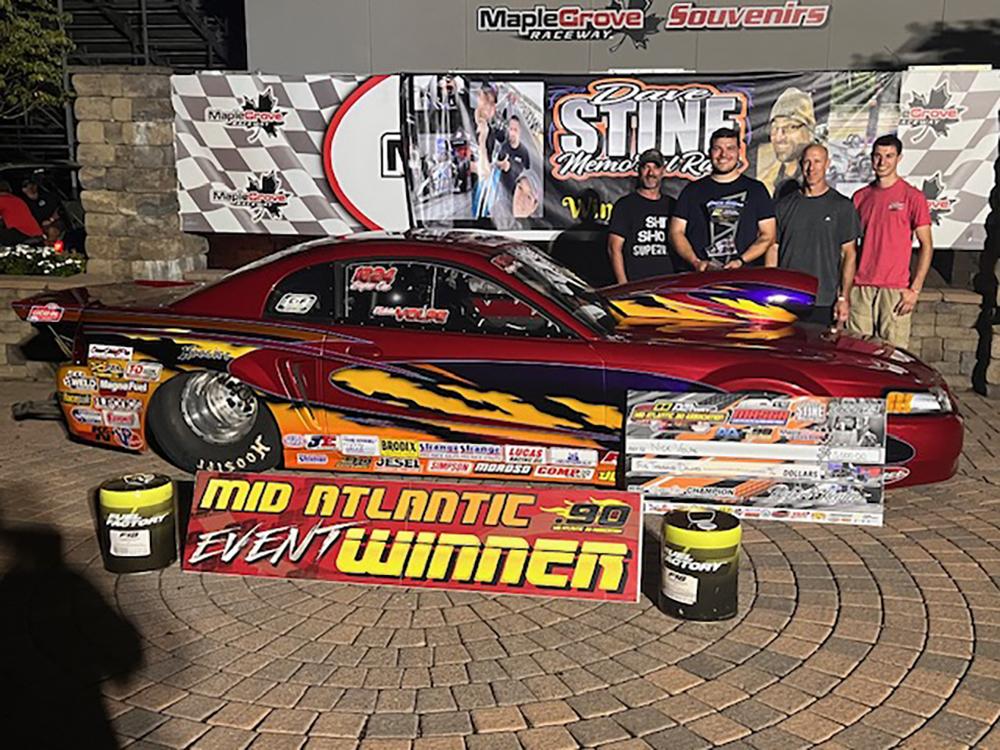 Volpe was second off the line with a 0.081 RT to a 0.046 of Phillips but on the top end, Volpe ran a 9.992 to Phillips' off pace 10.040.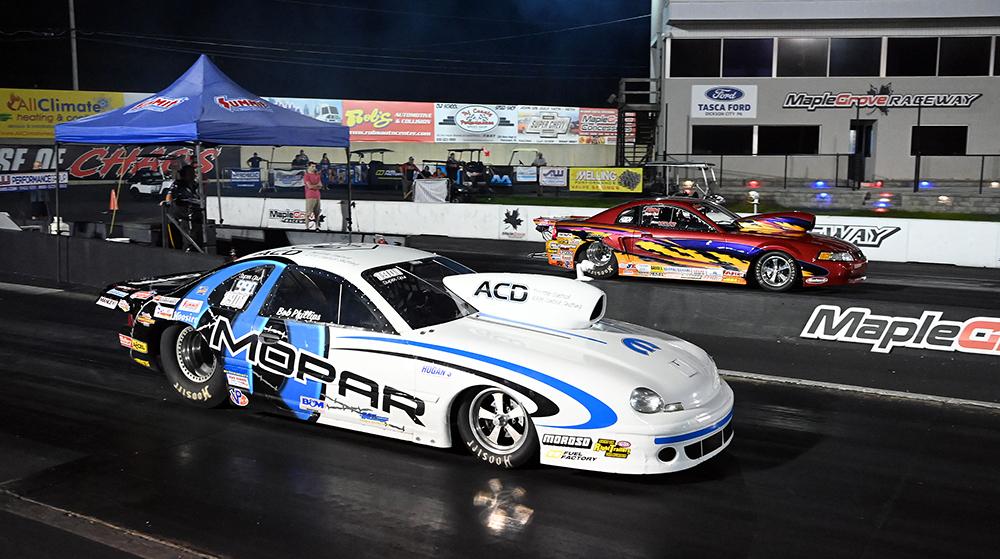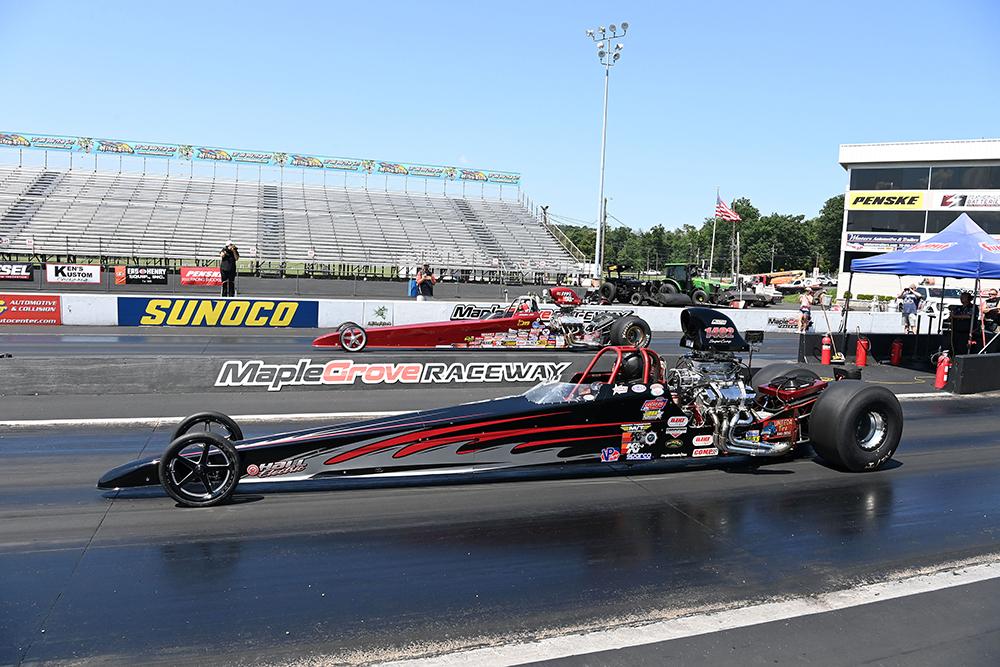 Saturday's Super Comp champ was Dave Markle in his '06 Diamond car from North Chili NY over '09 Mulis chassis car of Walter Olt from Medford NJ. Markle got the better light with a 0.019 RT to Olt's 0.023 and ran a 8.922 to Olt's close 8.928 for the win.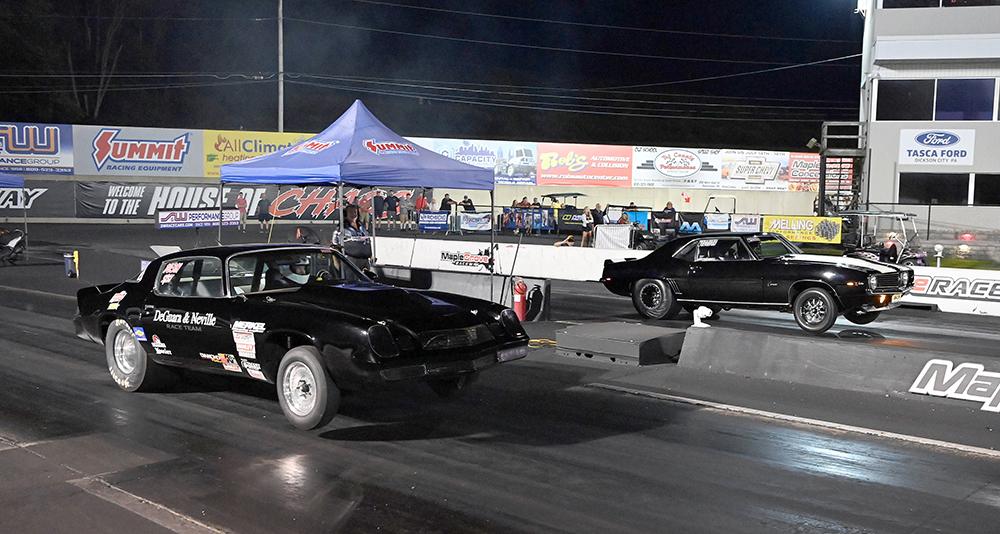 Super Street winner Jay Neville from Franklinville NJ., no stranger to the Maple Grove winner's circle having won the Spring Lucas event, used a 0.022 light in his '79 Camaro to Wes Siegel's close 0.026 for the win. Neville ran 10.938 to the breaking out 10.882 of Siegel's '69 Camaro.
In the combination final of the two quick classes, Top Sportsman winner Dan Hill from Thomaston CT faced off against Top Dragster winner Dave Petrofske from Lititz Pa. for the Mid Atlantic Top 32 Challenge title.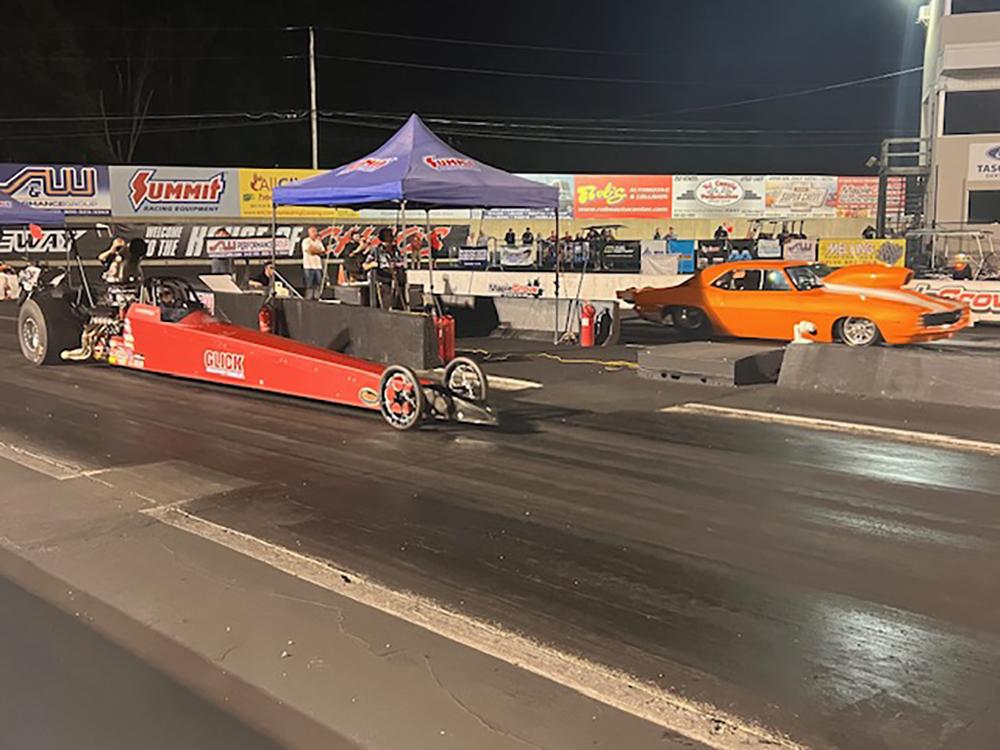 Hill's '69 Camaro was dialed in at a 4.28 and ran a nearly right on 4.282 to a breaking out 4.178 on a 4.22 dial of Petrofske.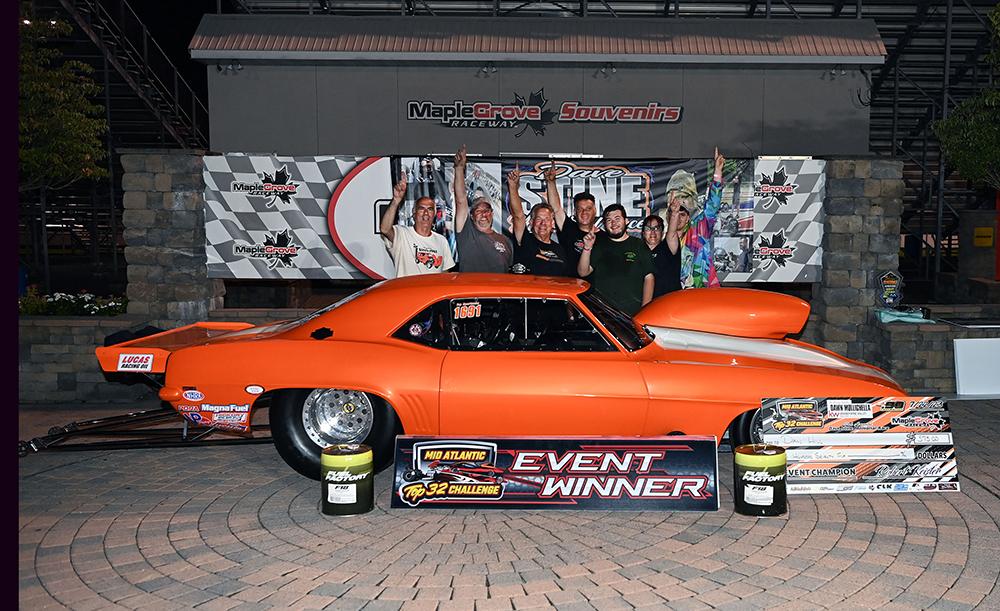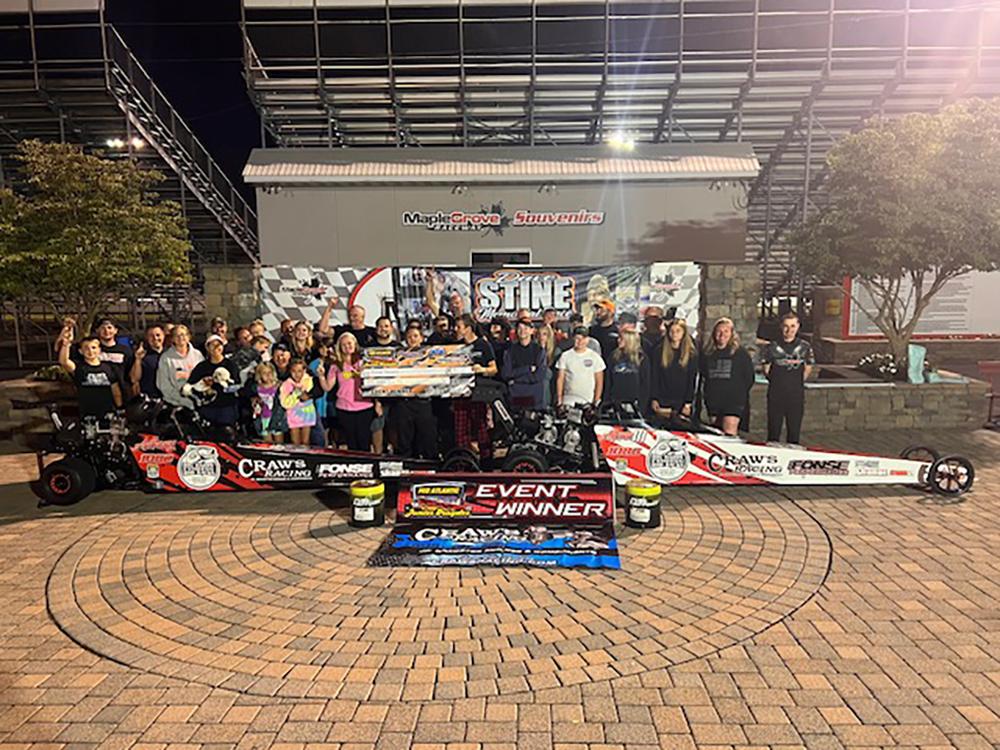 Winning Jr Dragster 13+ in an all Magliocco brothers final was Alfonse treeing his brother Anthony with a 0.017 light and taking his dragster to the win running a 7.979 on a 7.94 dial as Anthony who was second off the line with a 0.084 RT lost with a better but later 7.921 on a 7.92 dial.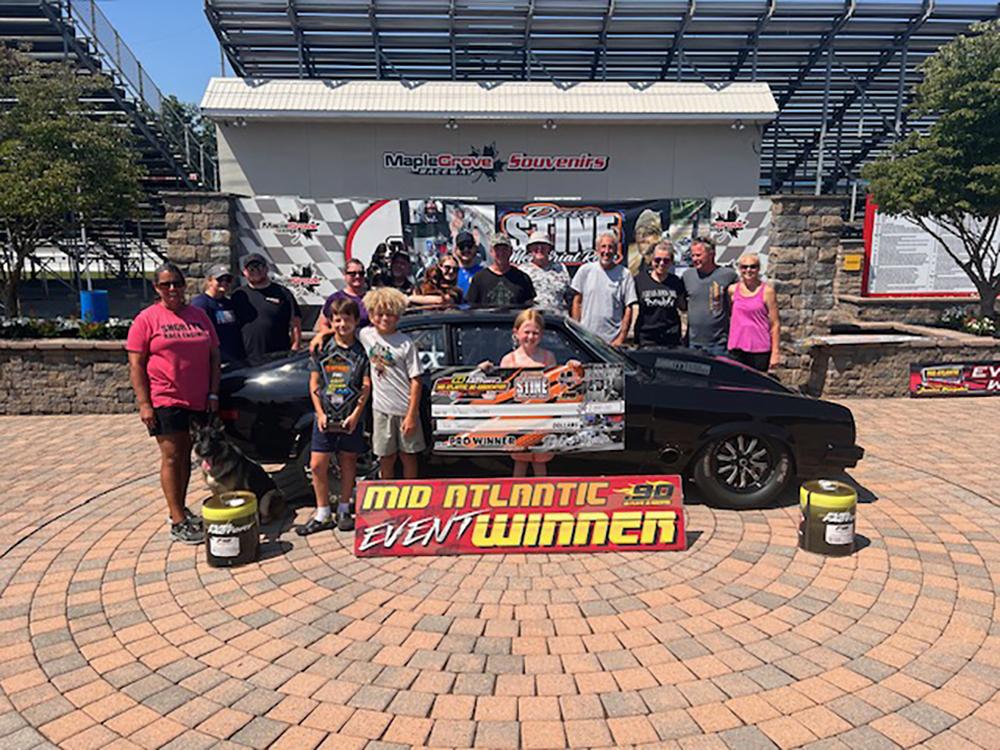 Pro Eliminator went to Maple Grove local and former track champ Paul Thimm in his Vega after his competition, Greg Harnesberger in his '69 Camaro went red.  The Super Pro final was up against the curfew and the decision was made to split the purse between finalists Barry Sauder and Mike Hoff.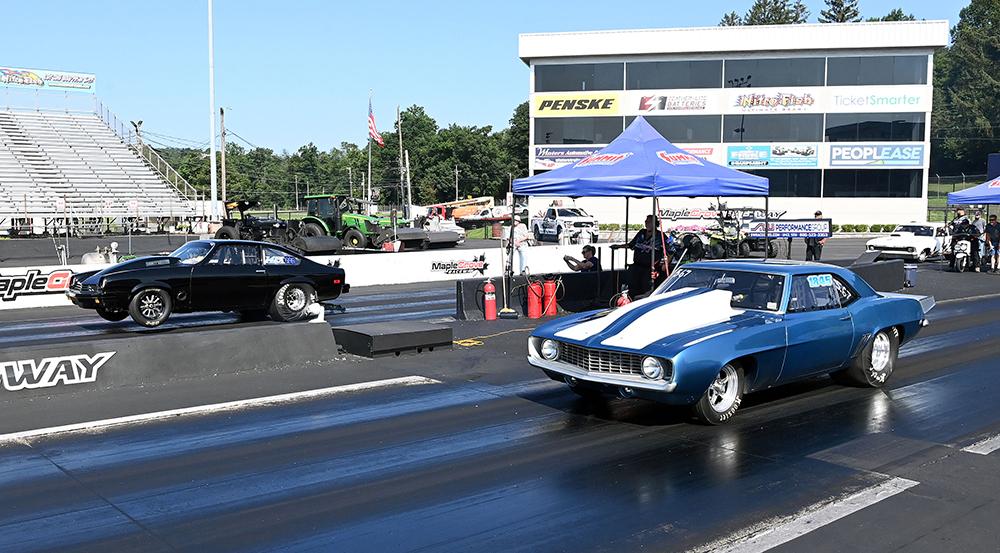 After a Saturday night party featuring music from rock band Misbehavin courtesy of Super Comp racer Joey Cambria and a BBQ supplied by the Stine family.  Sunday's action picked up from Saturdays with new winners being crowned.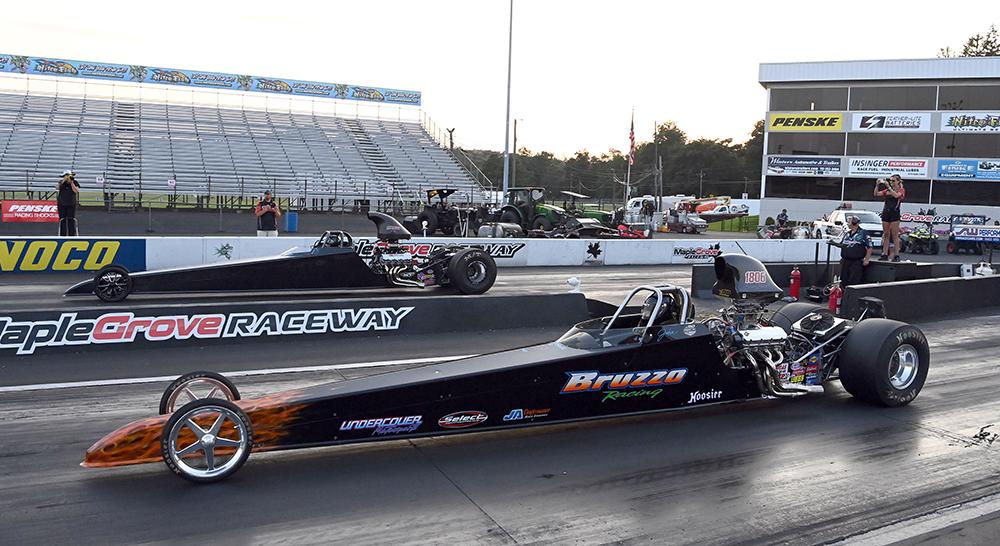 Winning the Super Comp title on Sunday was the all black American dragster of Lee Ream from Narvon Pa. Ream crushed the tree with a 0.002 light to his competition, the Undercover dragster of John Bruzzo's 0.046. On the top end Ream's 8.910 beat the better but later 8.90 of Bruzzo.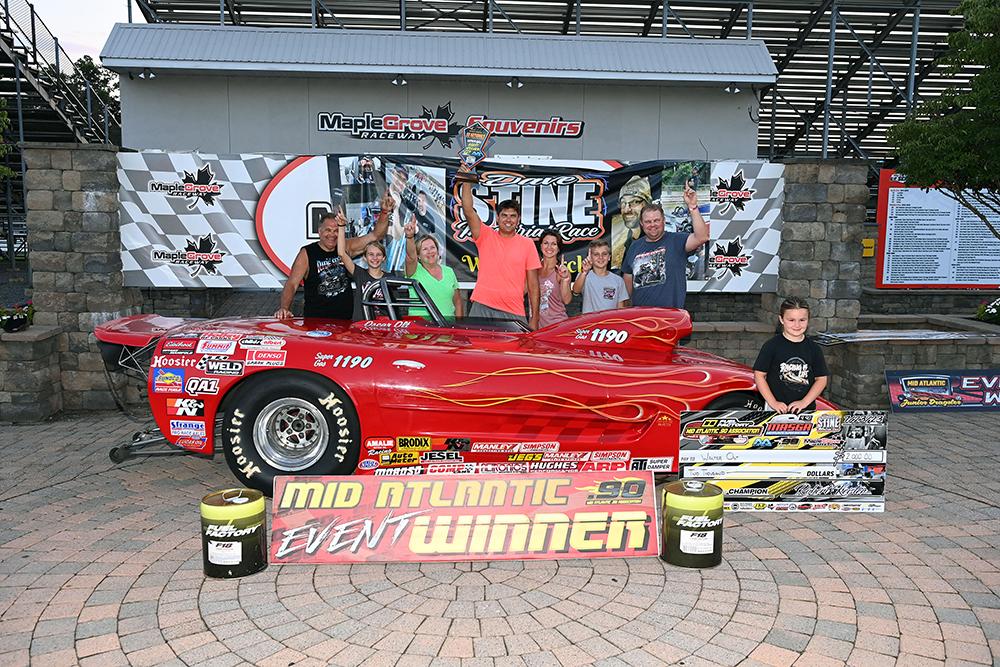 Sunday's Super Gas champ Walter Olt made up for his Saturday loss in Super Comp with a win over local racer Kevin Robb from Denver Pa. Olt was the recipient of a red light from Robb putting the Medford NJ. racer in the winner's circle.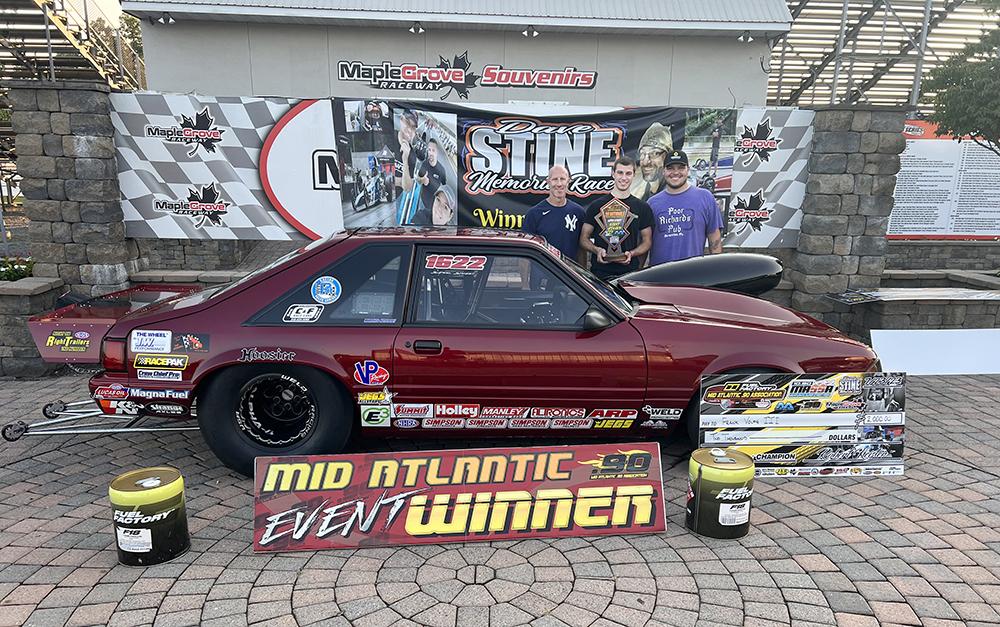 Super Street went to another one of the Volpe clan, this time it was Frank III winning in the family Mustang over Saturday's winner Jay Neville. Volpe was second off the line with a 0.027 to Neville's better 0.016 but ran right on with a five with a 10.905 to Neville's losing 10.923.
Sunday's Top Sportsman crown went to Mike Grafas' sharp '63 Corvette out of Brick NJ. over the '68 Camaro of Ron Riegel from Fairless Hills Pa. Grafas had a near perfect run in the finals with a 0.000 light and a 4.645 on his 4.64 dial. Riegel 4.562 on his 4.56 dial but his slower RT cost him the win at Maple.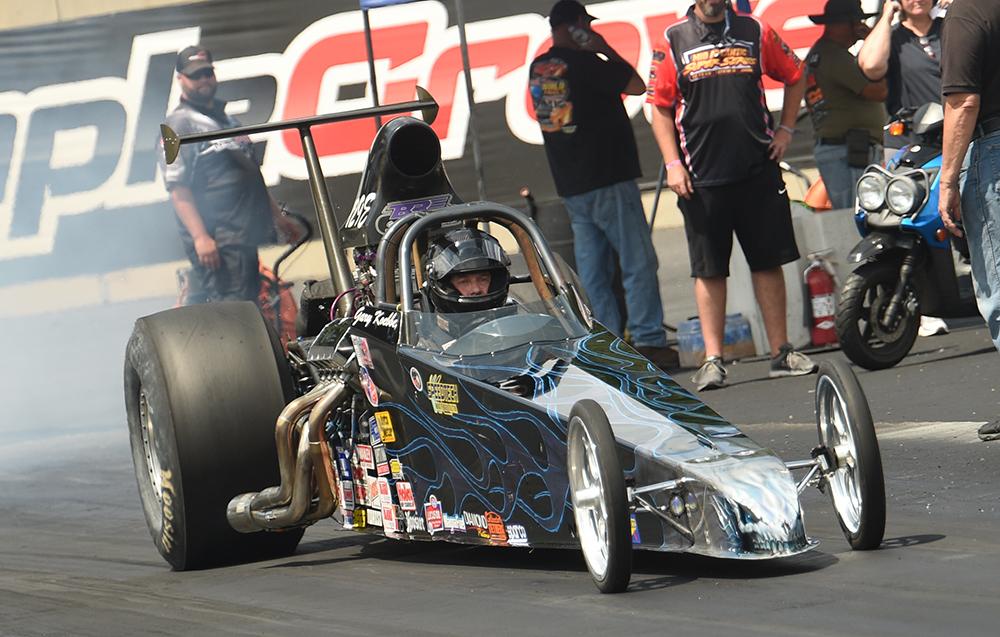 Top Dragster went to Gary Koebbe beating Northeast MD. racer Jason Barrow in the finals. Koebbe from Fairfield CT. was off with a 0.010 light to Barrow's 0.025 and won the title with a 4.512 on a 4.50 dial as Barrow lost with a 4.456 on his 4.44 dial.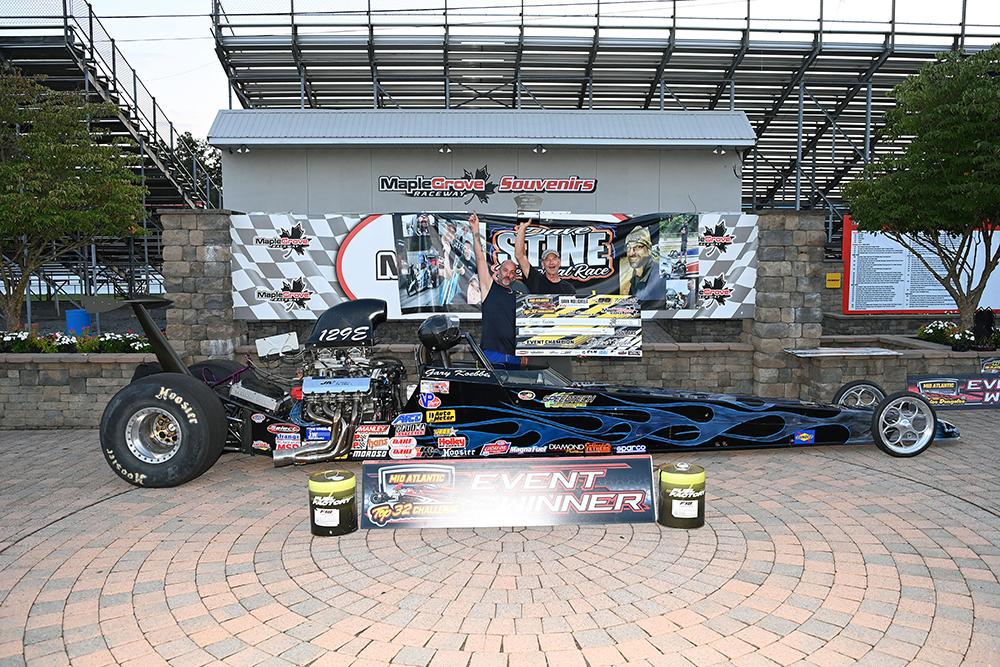 Grafas and Koebbe met in the combo final to decide who was the Mid Atlantic Top 32 Challenge winner. It was Koebbe with a 0.003 RT making the difference as Grafas was second off the line with a 0.024 and again, it was a case of who got off the line first won the race. Koebbe ran a 4.499 on his 4.49 dial as Grafas lost with a better 4.623 on a 4.62 dial in.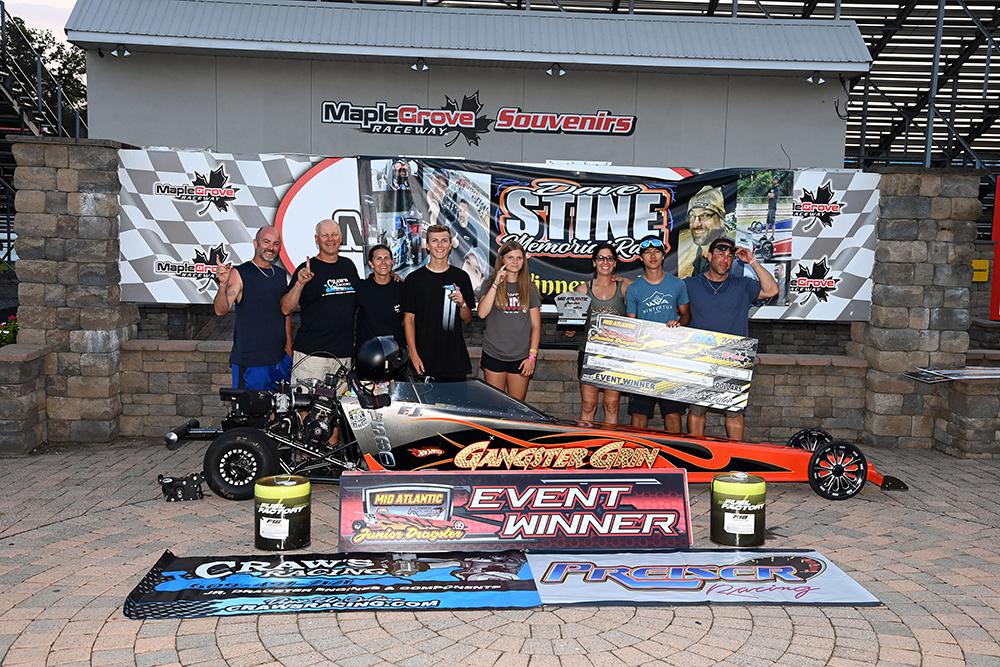 Jr Dragster champ Francis Visnola was second off the line in the finals against Madeline Torchia with a 0.029 to Torchia's better 0.016 but ran 7.981 on a 7.95 dial as Torchia ran too quick breaking out with a 8.053 on her 8.08 dial.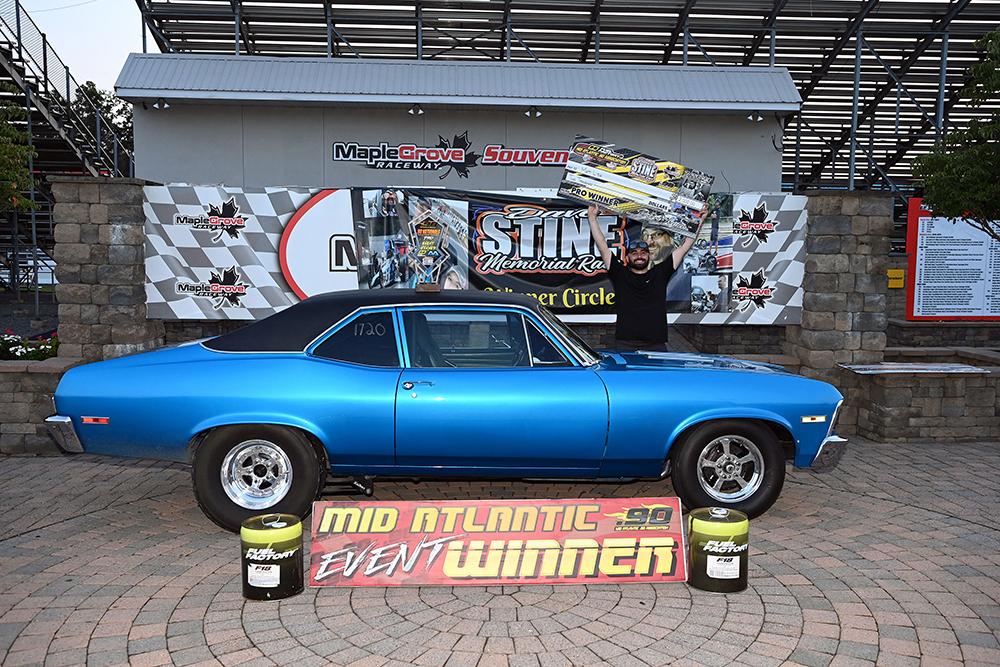 Sundays's Pro winner was NHRA regular Matt Lisa in his Chevy Nova over the '76 Vega of local racer and former track champ Paul Thimm Jr. Lisa got the easy win when Thimm went red.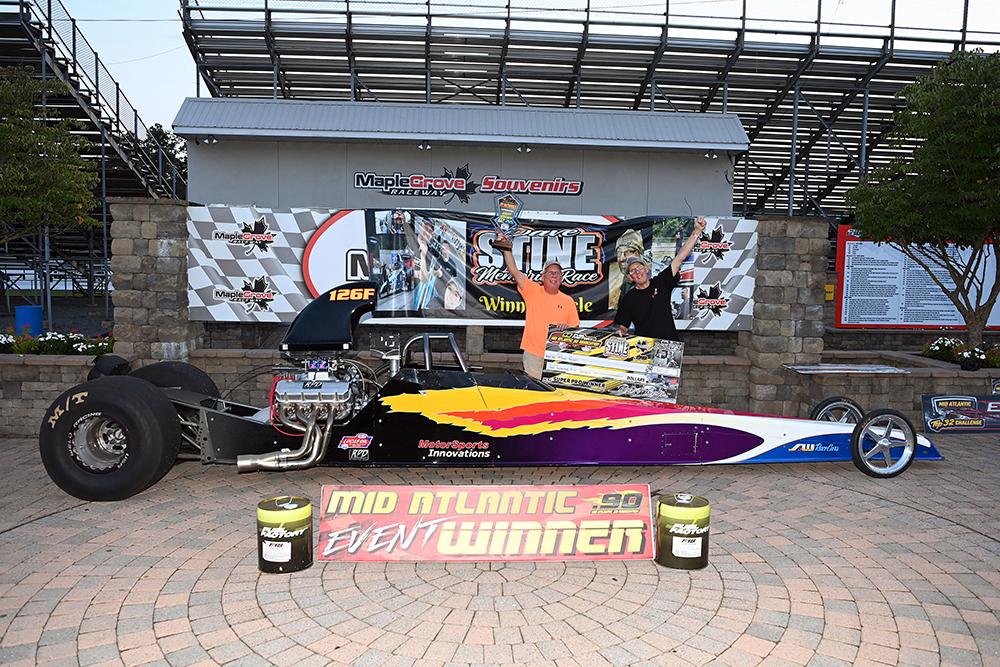 Super Pro winner Paul Kelley driving his S&W dragster from Shamong NJ.  was the recipient of a red light from his competition, the Quay chassis car of local racer Zach Rothenberger.
Keister said after the event, "It was a long weekend, and it went by in a blur. It was a lot of hustling, keeping the lanes full, getting the cars down the track, and trying to beat the curfew but, in the end all but one final was completed when the racers decided to split in the finals.
"I am proud of my team, the Maple Grove Staff & the racers for working with us to get the races completed. I don't know what the future of the Dave Stine event might entail but, I know I have a great team and great sponsors behind us to support us through years to come."
For more Images from the event, go to: