STRASSWEG TOWS PARTNERS TO WINNER'S CIRCLE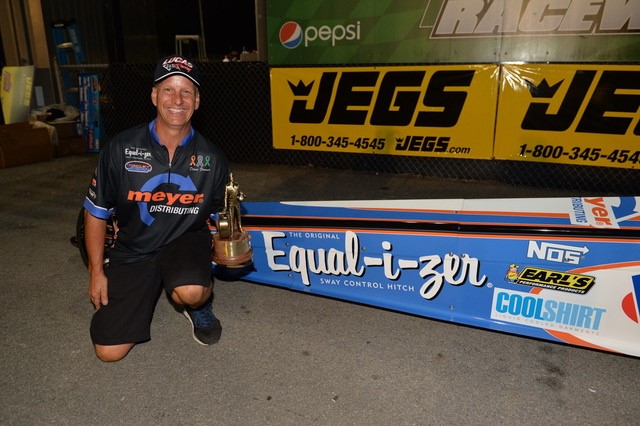 (08-10-21) Evansville, IN – JB Strassweg drives to the Winner's Circle at Columbus during the NHRA North Central Division Event at National Trail Raceway, next race a Runner-Up during the Indianapolis Divisional. Flying the Colors of Meyer Distributing and Equal-i-zer Hitch.
"Starting the year with solid outings has positioned us with opportunities to finish the year strong again in the standings," Strassweg continued, "Being able to find the winner's circle early on with our team of partners is always great," Strassweg stated.
JB Strassweg, CEO of Basden's American RV, spends weekends traveling across the country driving his Meyer Distributing Top Dragster at over 210 miles per hour. Strassweg's 2020 Miller stands out as one of the quickest and fastest Nitrous cars in the country for Top Dragster. Adding the Equal-i-zer livery with the Meyer Distributing colors will make one eye-catching ride chasing a National Championship in the Camping World NHRA Series.
"We have been selling hitches at the track and educating along the way to ensure racers know what they need to protect their investments and, more importantly, their loved ones as they travel," Strassweg concluded.
Strassweg will continue to chase round wins while carrying the flag for Meyer and Equal-i-zer during the NHRA Nationals in Topeka this weekend. Follow along on NHRA.TV.