Torrence, Hagan, Anderson, and Herrera lead early qualifying at In-N-Out Burger NHRA Finals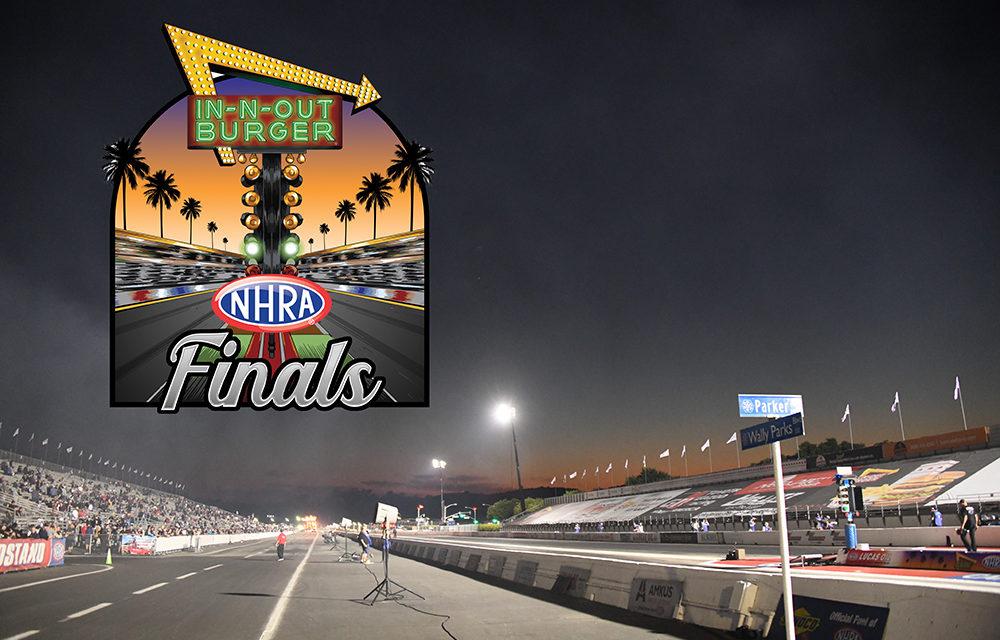 Courtesy NHRA Communications
Images: Phil Hutchison Dave DeAngelis
After two rounds of professional qualifying, championship contenders nitro points leaders Steve Torrence and Matt Hagan, Greg Anderson, and Gaige Herrera are the provisional leaders at the season-ending In-N-Out Burger NHRA Finals.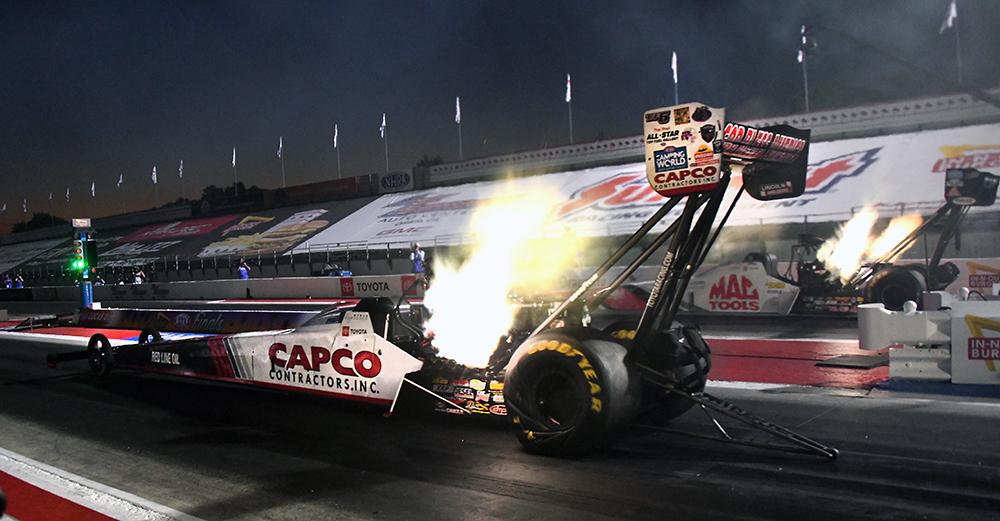 Top Fuel points leader Torrence, a four-time world champ, looked like both of those with a strong 3.641 to grab the No. 1 qualifying spot after an off-pace opening lap.
"We missed it out there in Q1. but there was only one car that went down the lane better than us so we ended up in the second to last pair in the night session, which gave us a great vantage point to see what the cars did in front of us and let the track get cooler and get the conditions better," he explained.
"The car has been really good and just getting better and better. We took a year and developed what we're doing maybe a year and a half to develop what we're doing. We were always the car that ran well in mediocre hot conditions and tricky racetracks, but not powerful enough, strong enough to go .64-.65. It took a lot of it took a lot of time and effort to get there. and I feel very confident now that when conditions are like they are right now we've got one of the strongest if not the strongest car at the racetrack."
Doug Kalitta had the second-best run of both sessions, including a 3.671 in Q2 behind Torrence, and picked up sixth bonus points to Torrence's' four, meaning he cut Torrence's lead from 15 to 13 tallies, but it's doubtful he can get past him with the few bonus points remaining in the final two sessions Saturday.
After a so-so opening qualifying session for the fuel dragsters, Pomona fans saw magic under the lights as Austin Prock's field-leading 3.721 in Q1 was bettered 11 times under the lights.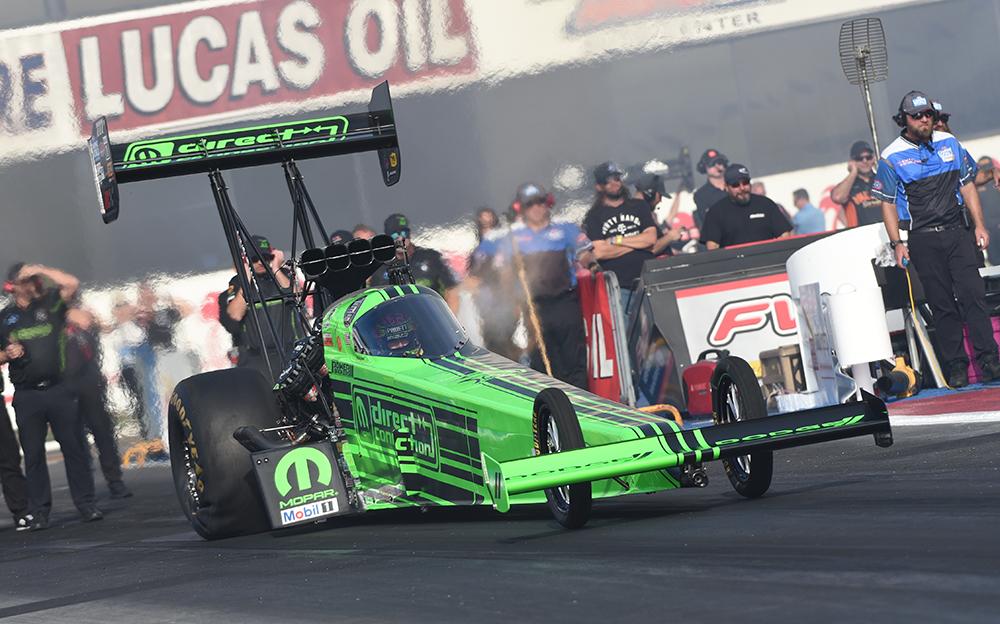 Championship contender Leah Pruett recovered from an off-pace opening lap to blast to a 3.676 for the No. 3 spot but lost points ground to both Torrence and Kalitta.
Billy Torrence, Justin Ashley, and reigning world champ Brittany Force all 3.682 for spots four through six but Torrence's Capco Contractors car got the higher position based on a better speed, 336.74 to Ashley's 334.73 to Force's 328.14.
Antron Brown (3.689), Prock (3.696), and Tony Schumacher (3.705) round out the quick eight. Josh Hart sits in the final spot in the field with a 4/873 best after a pair of aborted passes today.
Funny Car points leader Hagan finished the day atop the Funny Car field and in the process added one more point to his lead over Bob Tasca, pushing his lead to 16. Tasca had been No. 1 in the first session with a 3.911 to Hagan's second-best 3.933 and Tasca ran 3.880 in Q2 but was trumped by Hagan's blistering 3.869 in the Dodge Power Brokers Charger.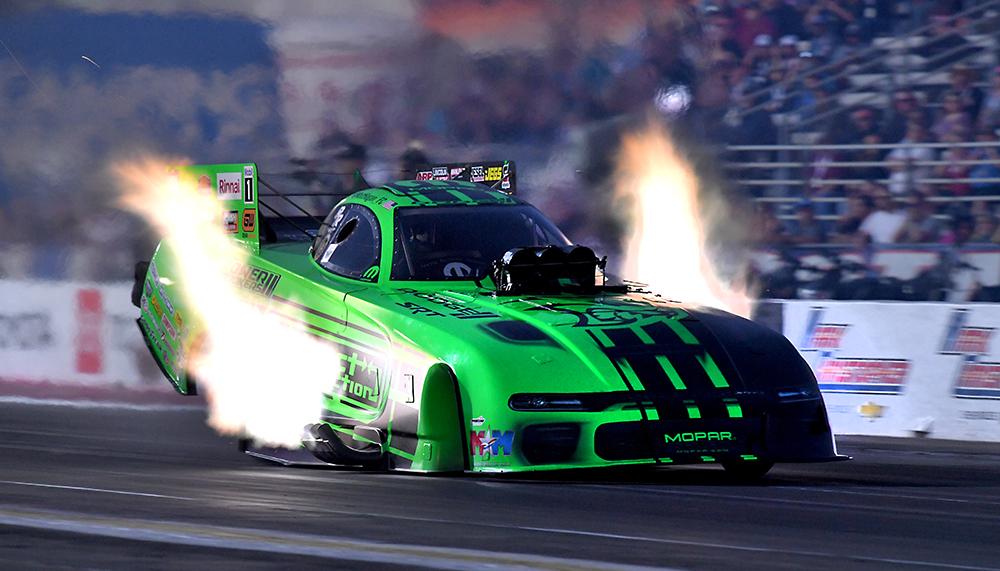 "Two great runs and some great data for us, but at the end of the day, there's a lot of heavy hitters out there, and it's still gonna be a dogfight," Hagan said. "We definitely have had two opportunities to go out there and swing and we connected, so I think that that builds confidence in our crew chief and assistant crew chief and all the guys that are working on the car.
"Now you've got to turn that into momentum and rising to the occasion. There's three cars here [in the championship hunt], but it's not even just the three cars that you think about or talk about. There's just no easy hitters out here in Funny Car and, but, you know, that's why we do it. That's why I truly love pulling the helmet on and being able to have an opponent beside me that just makes me rise to the occasion."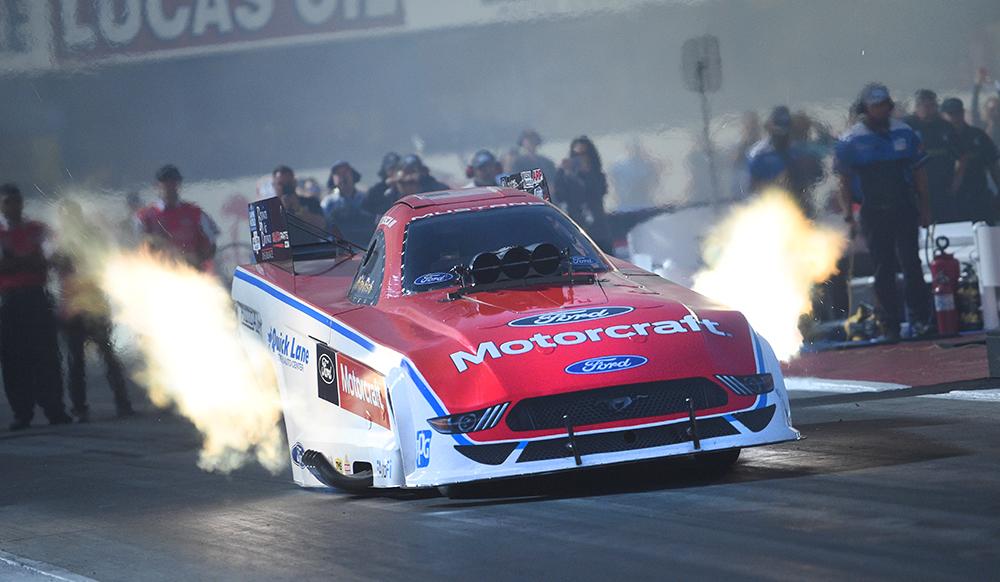 Privateer Paul Lee actually ended up No. 2 between Hagan and Tasca with a career-best 3.875 with Robert Hight, the other championship challenger, sitting fourth with a 3.898 that was the fourth best run of Q2 and earned him a bonus point but he still fell on the day from 17 to 23 points behind Hagan.
J.R. Todd (3.904), Ron Capps (3.908), local favorite Steven Densham (a career-best 3.949), and defending event champ Cruz Pedregon (3.961) round out the top eight.
Eleven drivers qualified in the three-second zone with John Force (3.967), Blake Alexander (3.981), and Bobby Bode (3.995) all covering the 1,000-foot distance in less than four seconds.
Del Worsham, one of just three drivers to win championships in both Top Fuel and Funny Car, is doing double duty with his regular gig as crew chief for Alexis DeJoria and a secondary job wheeling a Toyota Funny Car for CP-Carrillo. Worsham the driver sits on the bump with an off-pace 5.09 one spot ahead of DeJoria, with two more shots remaining Saturday for both to improve.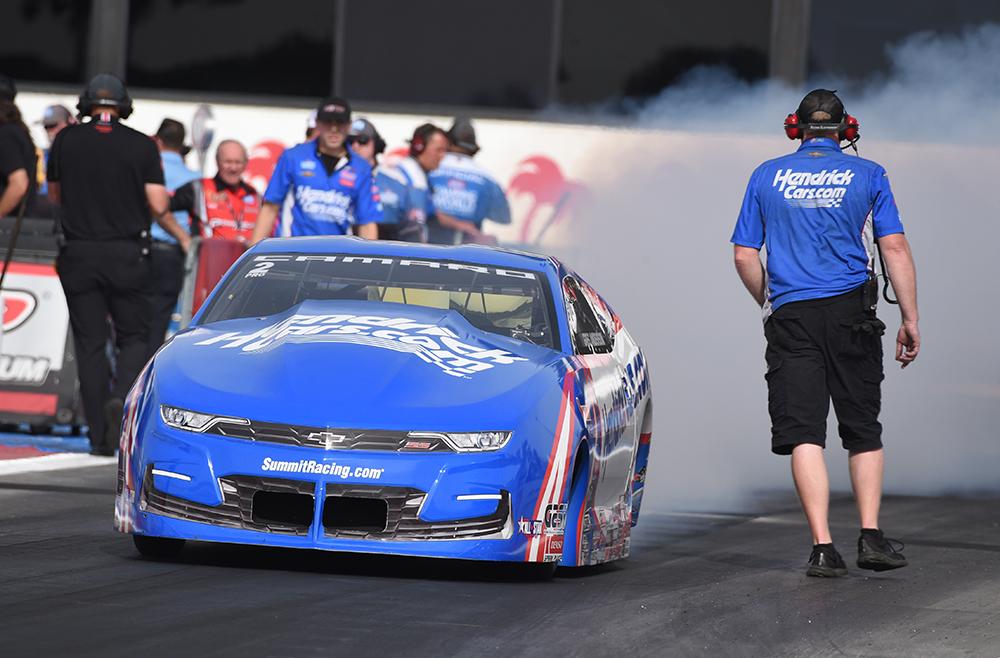 Anderson, hanging on by a thread in his quest to win a sixth championship, went to the top of the Pro Stock field after Q2 with a 6.5495 in his HendrickCars.com Camaro but he has plenty of company as the entire field is tightly bunched. With 23 cars attempting to qualify, It didn't take long for the Pro Stock bump to approach record territory as it took a 6.546 to make the 16-car field.
Anderson was able to shave two points off Erica Ender's lead, which is now 112-points. There are 120 points available during Sunday's final eliminations.
"I need a lot of help. I need lighting to strike," Anderson laughed when asked about his title hopes. "At least we didn't lose bonus points. That's good but the pole isn't set yet. All we can do is just worry about each session. We're trying to get through qualifying without losing points. Then, we need a lot of help on Sunday. Until they tell me you don't have a chance, I'm going to keep going. We're going to do everything we can possibly do. We'll keep swinging until it's over.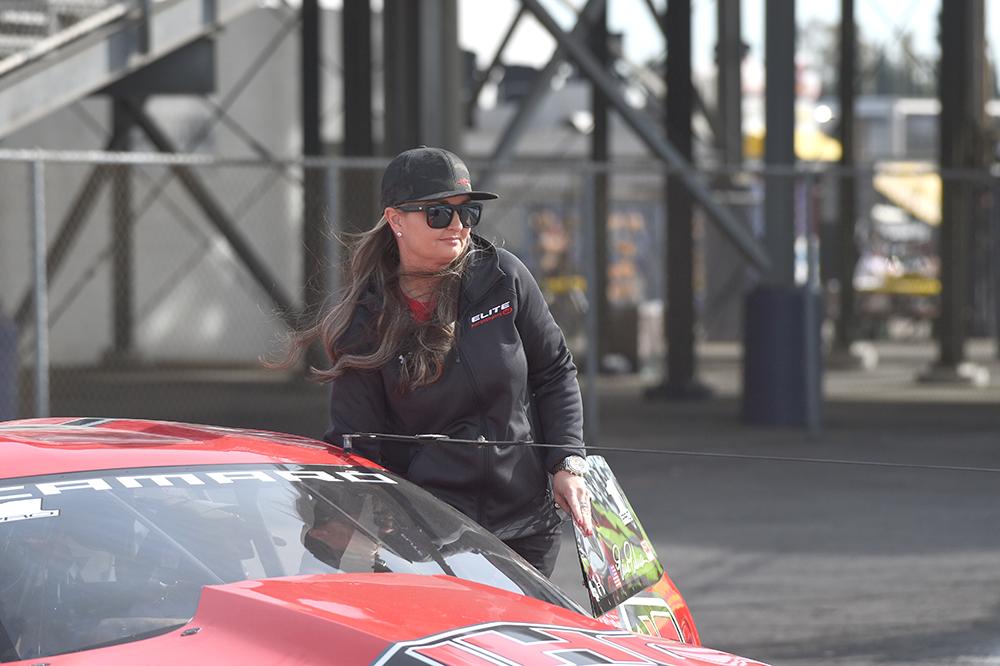 "Our goal on that run was to be in the 6.40s. It was a really nice run and as Pro Stock racers we don't say that very often but we got all of it," Anderson said.
Anderson is the only car in the 6.4s but championship leader Enders is close behind at 6.500 in her Johnson's Horsepowered Garage Camaro while her Elite teammate, Troy Coughlin Jr. also ran a 6.500 in his JEGS.com Camaro, albeit at a slightly slower speed.
 Aaron Stanfield, Bo Butner, Matt Hartford, Kyle Koretsky and Camrie Caruso round out the top half of the field. There is just .051 second separating the entire 16 car field as Dallas Glenn holds down the bump spot with his RAD Torque Systems Camaro.
The biggest surprise from Friday's first Pro Stock Motorcycle qualifying session is that Gaige Herrera was not the low qualifier. Herrera, who has qualified in the top spot in all but one event this season, was on his way to a solid run when his Vance & Hines Suzuki wounded an engine half track. That left Hector Arana Jr. as the provisional low qualifier with a 6.728 on his GETTRX Buell.
Herrera quickly made amends with a 6.721 to take the top spot and bump Arana to No. 2. If it holds through tomorrow's final two qualifying rounds, Herrera will have qualified No. 1 in 14 of 15 events this season. The lone exception was the Denver race, where he was the No. 3 seed.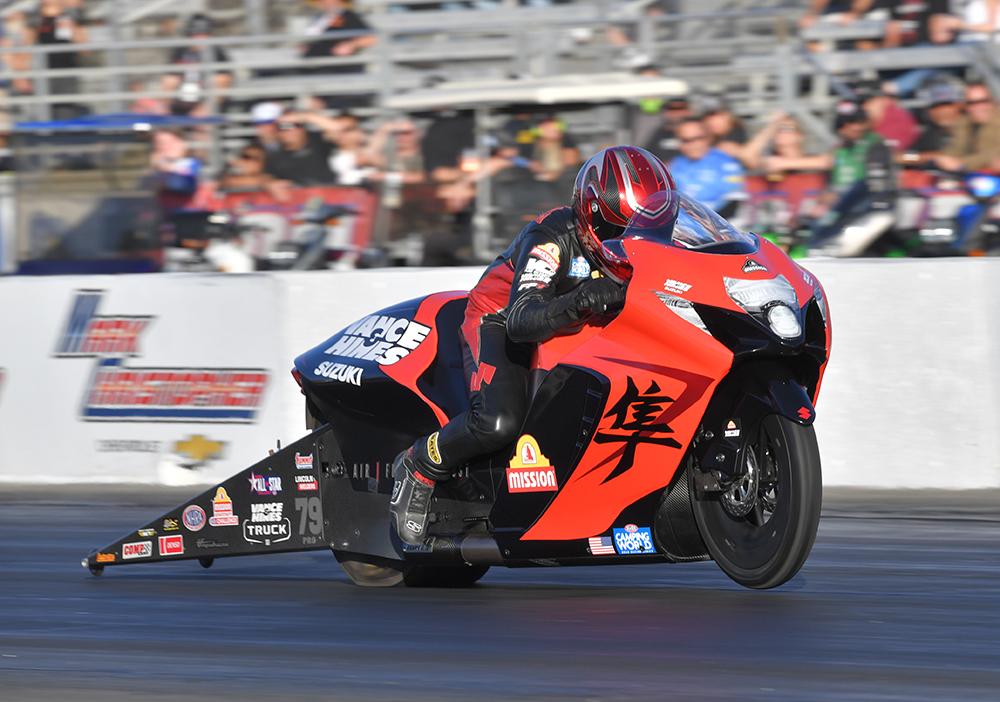 Herrera should be feeling little pressure this weekend as he just needs to qualify in order to wrap up his first Camping World NHRA series championship and the 14th for the Vance & Hines team.
"As far as the championship, I'm trying not to think about that now," said Herrera. "We're just out here to do what we can to win this race. We had a failure [in Q1] but that's just a part of it. Overall, we made a great run in Q2 and that was good for the whole Vance & Hines team.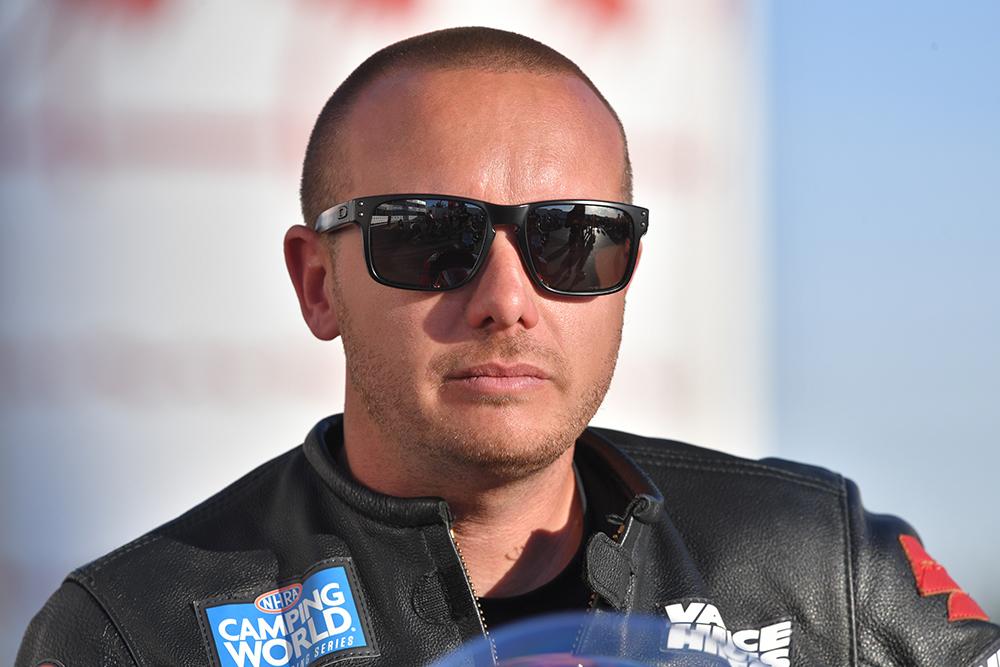 "It still hasn't set in that [the championship] is going to happen. It's a lot to take in. Coming into this year, even though I knew I was joining the best team, you just can't ever expect to have a season like this. It's been a dream come true."
After Herrera and Arana, the rest of the field is quick with the top eight bikes all in the 6.7-second range. Eddie Krawiec, Kelly Clontz, Steve Johnson, Jianna Evaristo, Mark Ingwersen, and Jerry Savoie round out the quick half of the field.
One of the more impressive performances of the day came from Angie Smith, who is continuing to recover from injuries she suffered in an on-track accident in St. Louis. Smith, who idled down the track in Las Vegas in order to earn qualifying points, made a 1,000 foot run and delivered a 7.02 that is currently the bump spot.