Green takes first NHRA win at In-N-Out Burger NHRA Finals. Bellemeur and VanPaepeghem also take wins in Pomona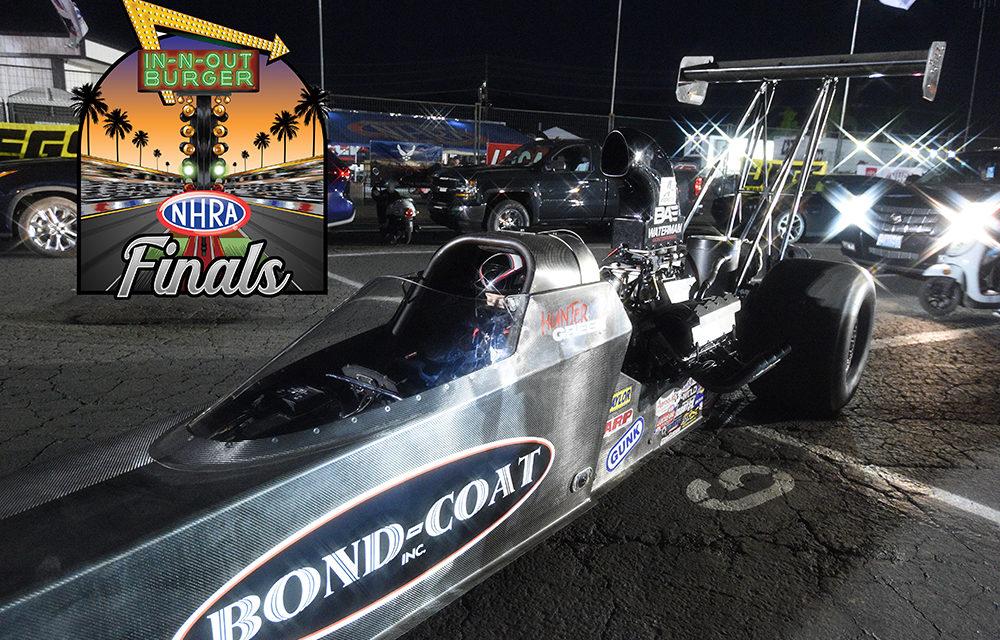 Drag Racing Action Online
Images: Phil Hutchison
Second generation racer Hunter Green joined his dad, Chad Green, Funny Car champ,in the winner's circle at the season ending In-N-Out Burger NHRA Finals at Pomona Dragstrip in Southern California.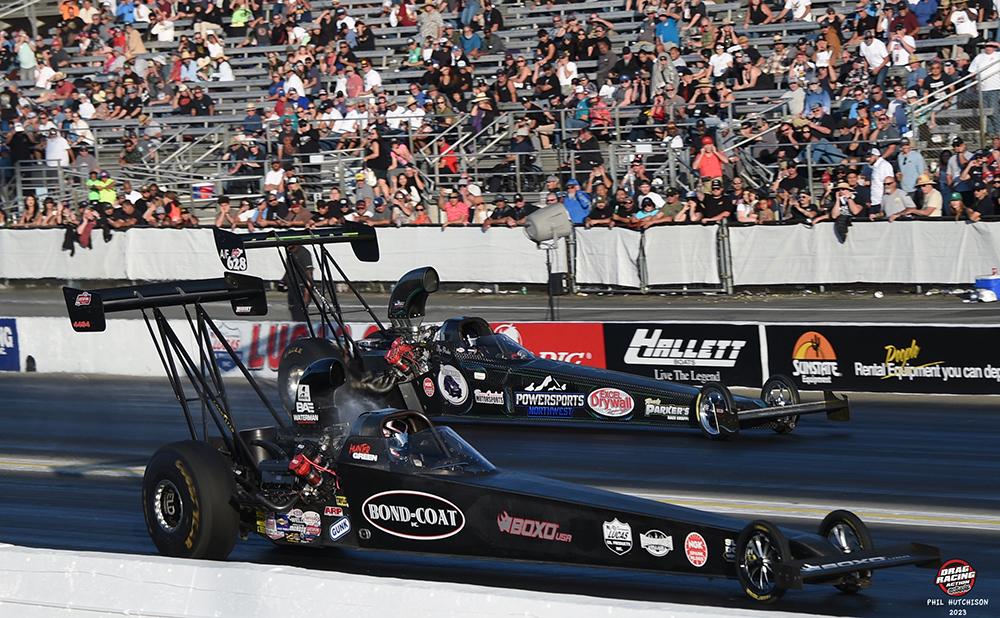 The Texas native drove the Randy Meyer Racing Bond Coat A/FD to the Top Alcohol Dragster win over D6 driver, Kim Parker. Green in his second full season competing in the always tough NHRA T/AD class, was first off the line with a 0.038 light and never looked back putting a 5.193 on the board to Parker's losing 5.440.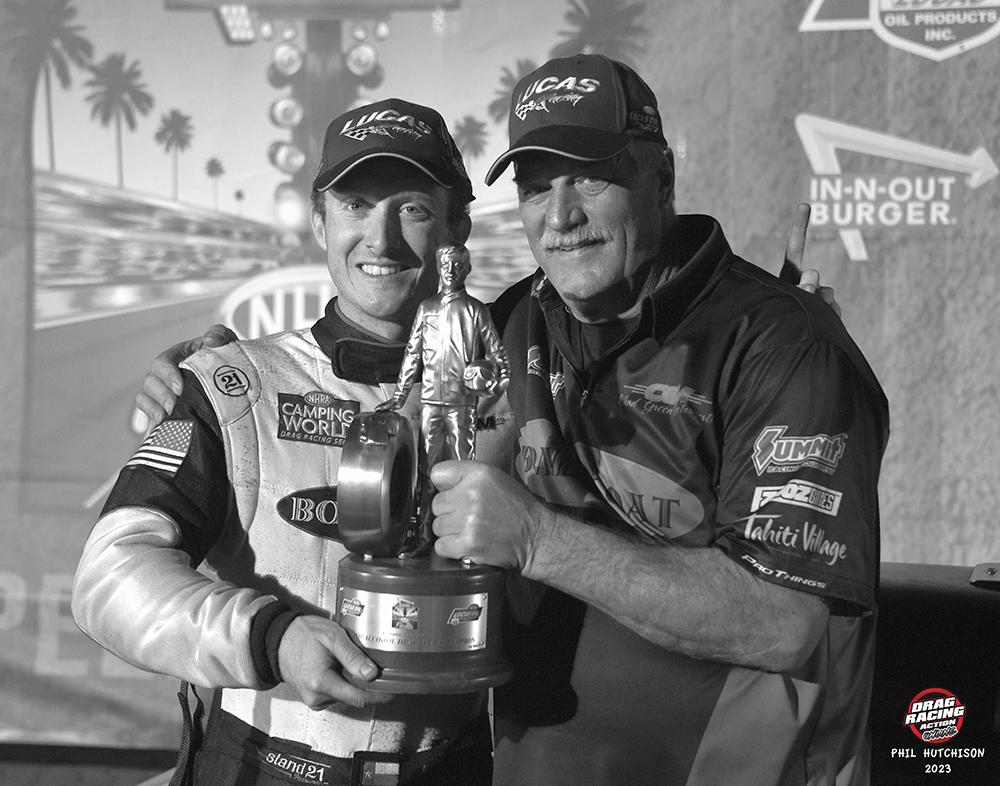 Hunter Green and tuner Randy Meyer, celebrate his first ever NHRA win at Pomona 
Green qualified the dragster in the #11 spot in a record setting quickest NHRA show in history, with a 5.270 and defeated Angelle Sampey, Joey Severance, and Garrett Bateman to make it to the finals.
Parker put her Washington based car #5 and earlier beat James Stevens, Taylor Vetter and the Low Qualifier blown dragster of Shawn Cowie in her semifinal race. Cowie who led the record field with a 5.162 had nothing but problems in his race with Parker leaving late and going up in smoke putting Parker in the finals.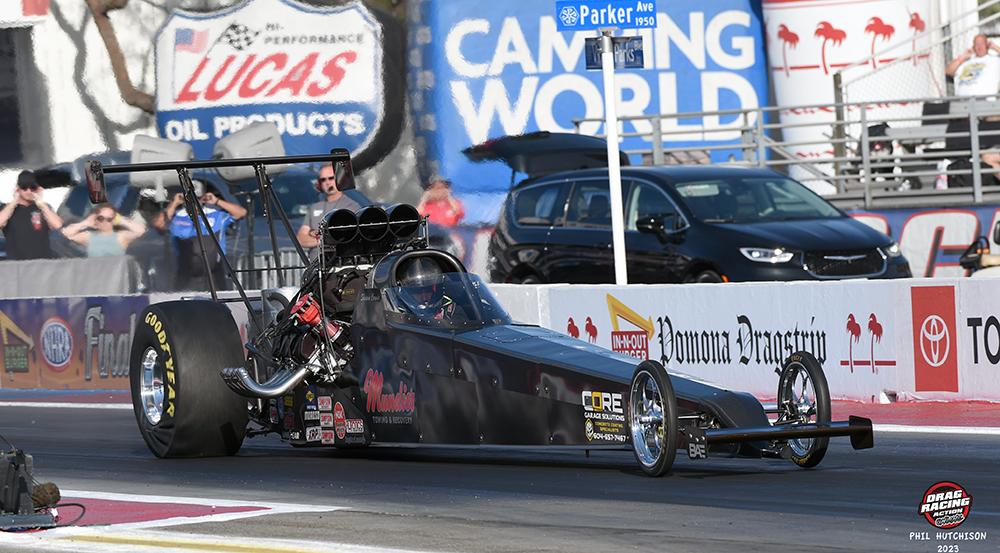 Low Qualifier with a 5.162, Shawn Cowie shook bad in the semifinals bowing out to Parker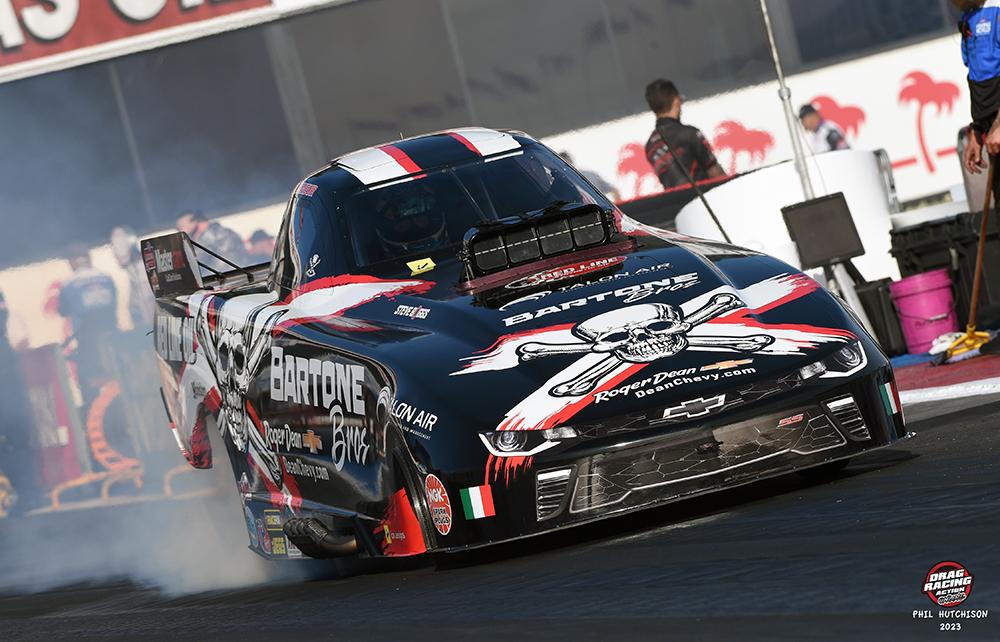 Five-time NHRA Lucas World Champ Sean Bellemeur from Placentia CA, ended his 2023 season with a win in Alcohol Funny Car taking the Bartone Brothers, Steve Boggs tuned Camaro to a win over fellow Californian Shane Westerfield racing out of Fullerton.
Bellemeur, who qualified the Camaro #1 with a 5.398 and took out Ulf Leanders and Jim Whiteley to get to the finals. Westerfield who qualified the Rick Jackson Motorsports Camaro fourth, beat Mike Doushgounian and Brian Hough in earlier rounds.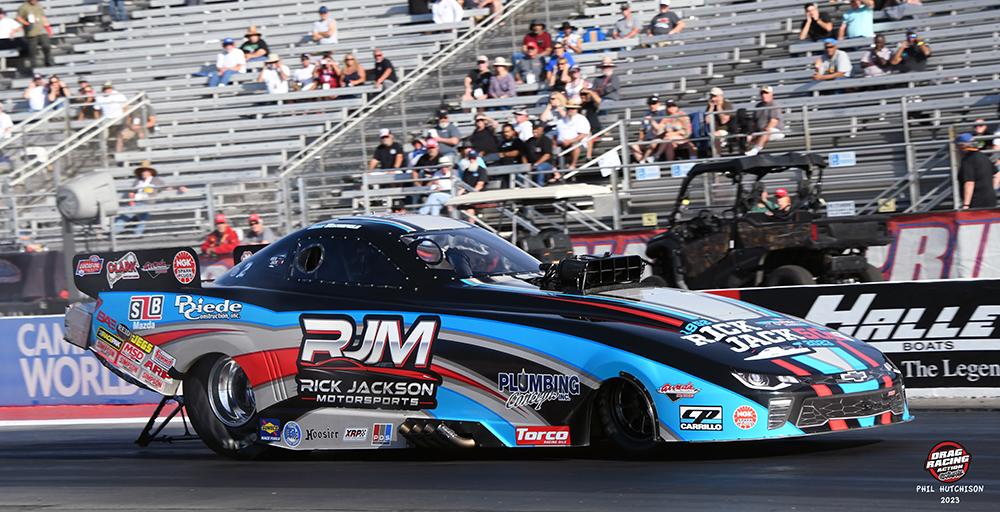 Westerfield never was in the race as his car had nothing but traction problems slowing to a high eight second run as Bellemeur cruised to a 5.454 win.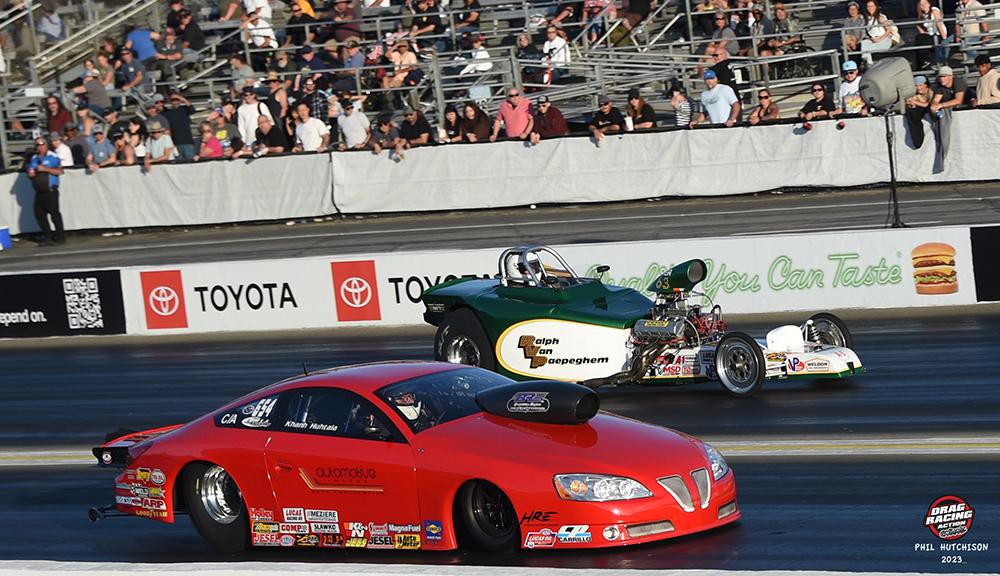 VanPaepegham, far lane, got the break he needed when Huhtala got loose in the finals allowing VanPaepaghem to slip by 
In Competition Eliminator it was ageless Ralph VanPaepeghem taking his A/EA to an upset win in the finals. His competition, the C/A GXP of Brandon Huhtala, who had the higher qualified car, got off the line first and was heading to an easy win when the Pontiac got sideways and Huhtala had to lift letting VanPaepeghem to drive by for the win with a 7.369 on a 7.80 index.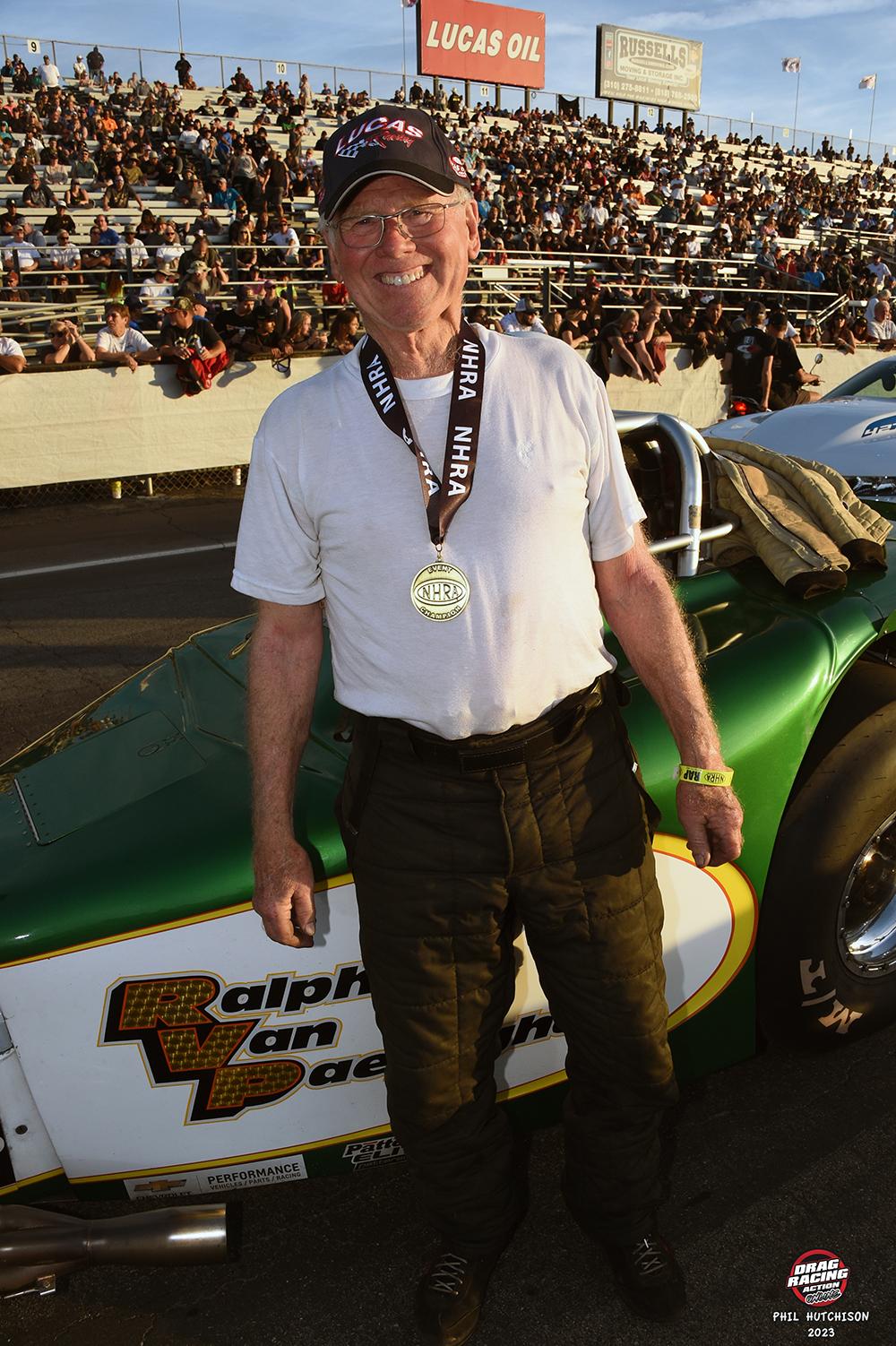 NHRA World Finals Super Stock Champ Wyatt Wagner had already captured the Lucas championship by the time he made it to the finals but the Kansas City Kan. driver put the cherry on top of a great 2023 season by taking the last race of the year.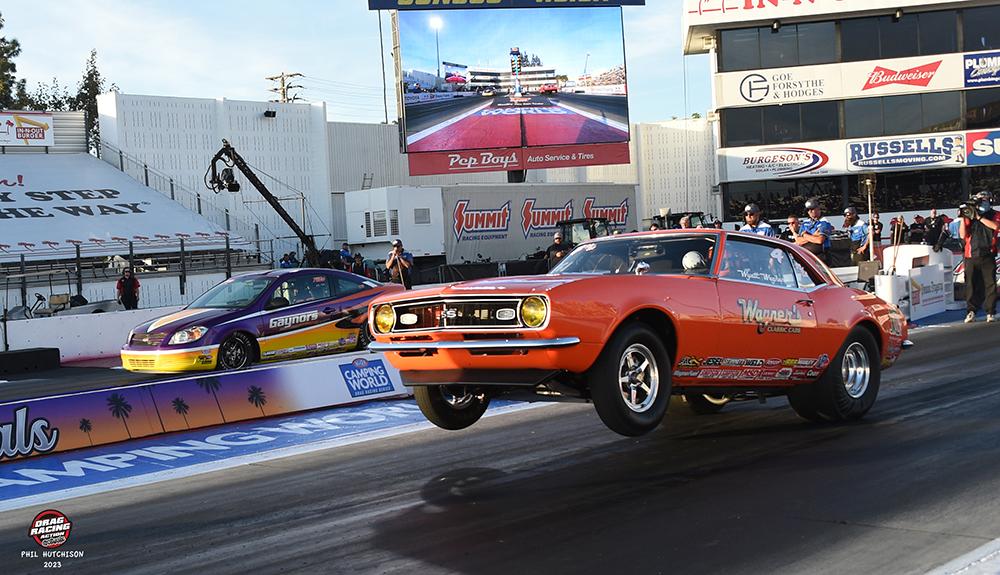 Wagner, near lane, is off and running as his competition, Rizzoli sat on the starting line with a broken car
Wagner, whose SS/GA '68 Camaro had already won the US Nationals and the Nevada Nationals qualified his Chevy in the #2 spot and beat the Emmons brothers, Gary and Terry on his way to the finals had 2023 Stock champ Kyle Rizzoli in the other lane in the finals. Rizzoli, who finished third in Super Stock in 2023, didn't do a big burnout and quickly staged his GT/CA '08 Cobalt and when the tree came down backed out and drove away apparently broken. Wagner still ran a competitive 9.698 on a 9.61 dial for the win.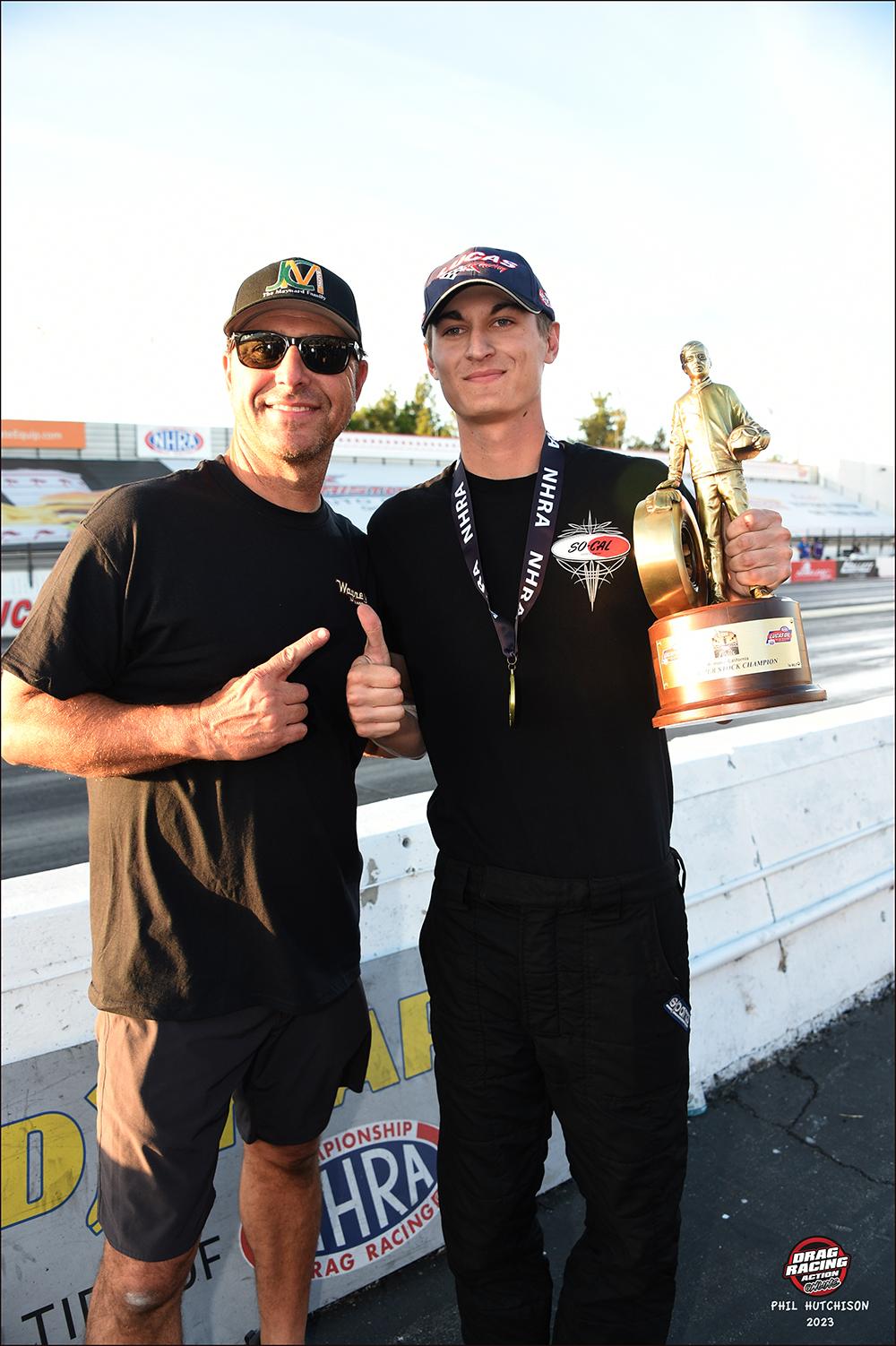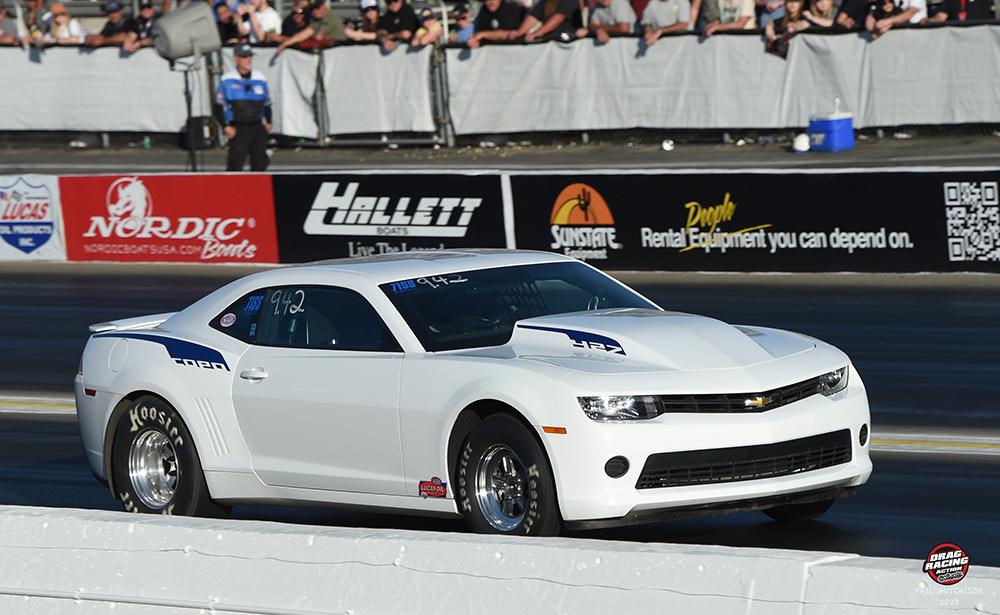 Local racer Leo Glasbrenner from nearby Murrieta Calif, drove his FS/C COPO Camaro to an easy win in Stock Eliminator when his competition, the A/SA '69 Camaro of fellow Southern California racer, Cliff Hanson from Huntington Beach. Glasbrenner was first off the line with a 0.031 reaction time to Hanson's 0.066 and took the easy win with a 9.581 on his 9.42 dial as Hanson slowed with a 10.856 on his 10.25 dial.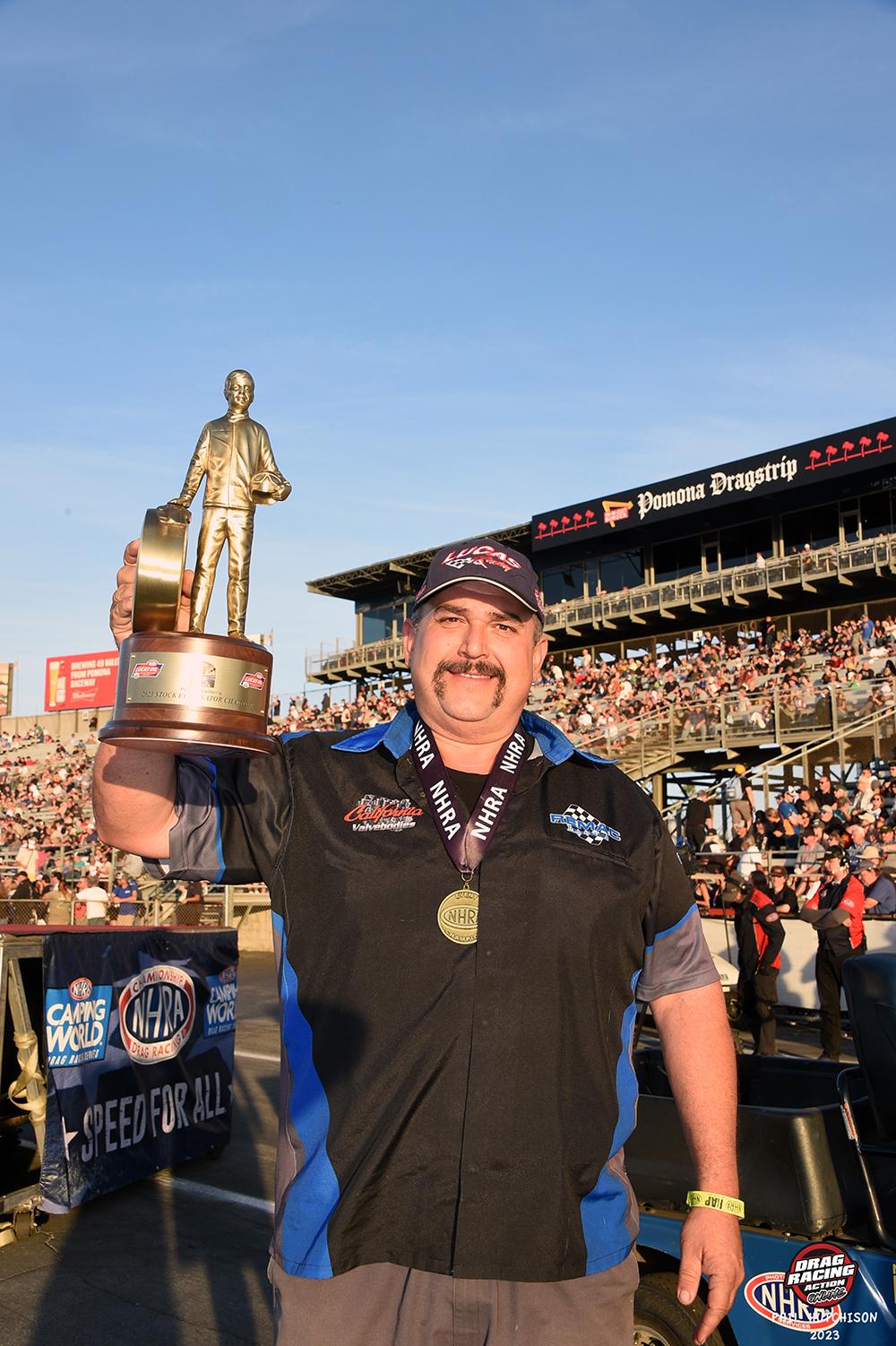 The win at Pomona put Glasbrenner in the #4 spot in the 2023 Lucas Oil Stock championship.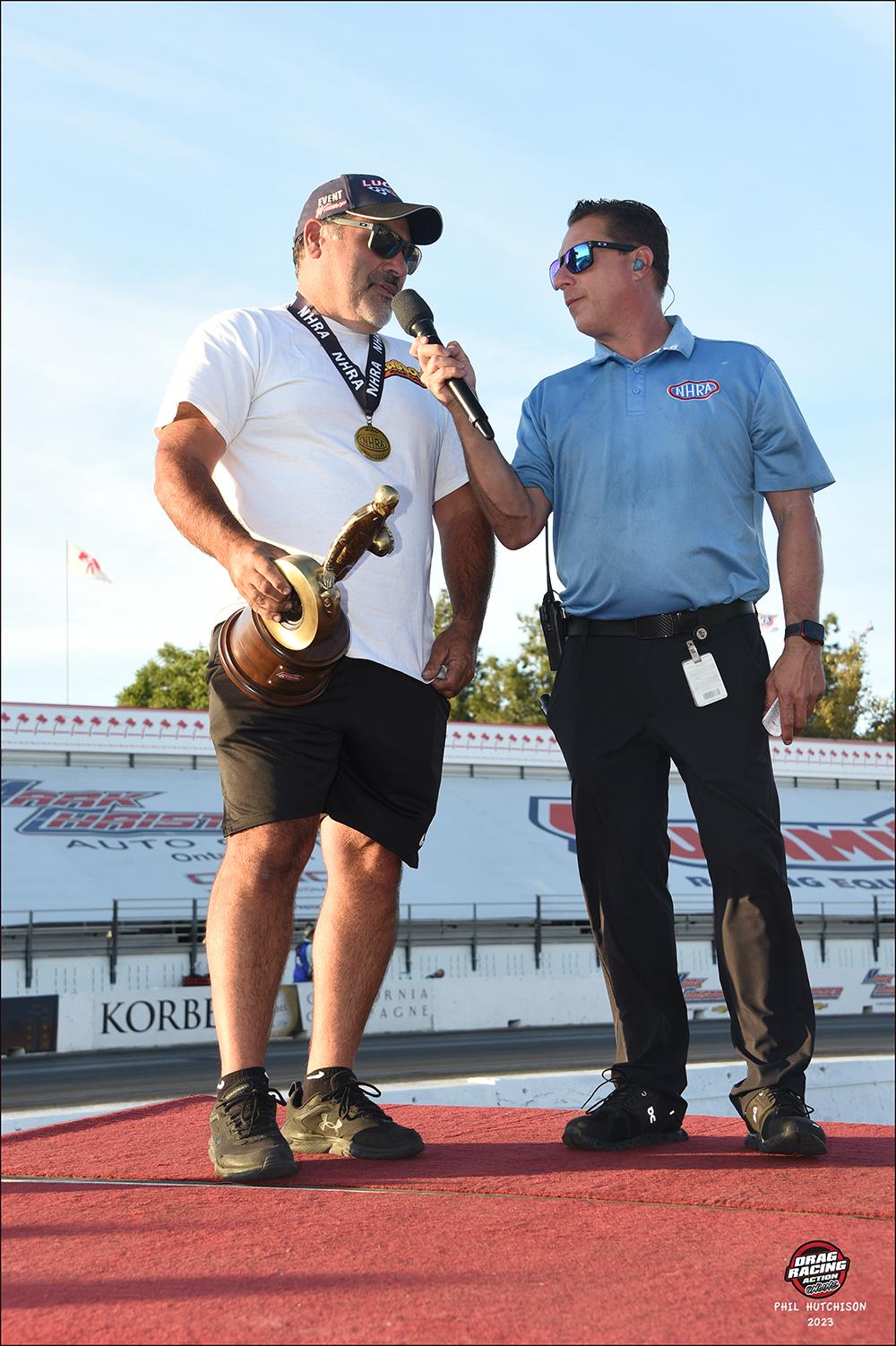 2023 Super Comp champ John Labbous had run out of events to claim by the time he pulled into the gate at Pomona but that didn't stop the Tennessee driver from taking the World Finals Super Comp Wally  back home. His competition in the final, division six racer Cooper Chun from Vancouver Wash. was in the hunt for the Lucas Championship  in 2023 but had no realistic chance of passing Labbous but both racers put on a race for the fans.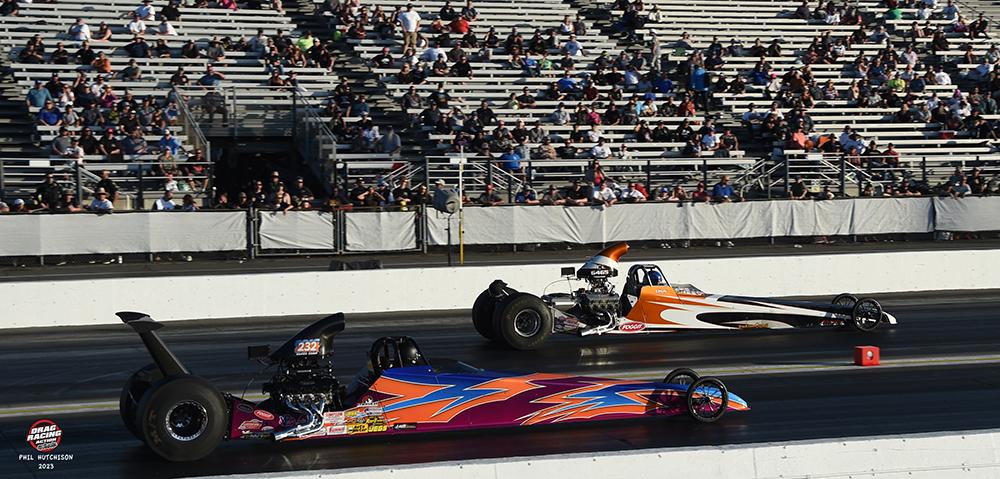 Labbous, near lane, had a nearly perfect run in the finals for the Pomona win
At the green, Labbous basically shut Chun out of any chance of a win with a perfect 0.000 light and ran an 8.907 as Chun pushed his dragster out losing with an 8.899.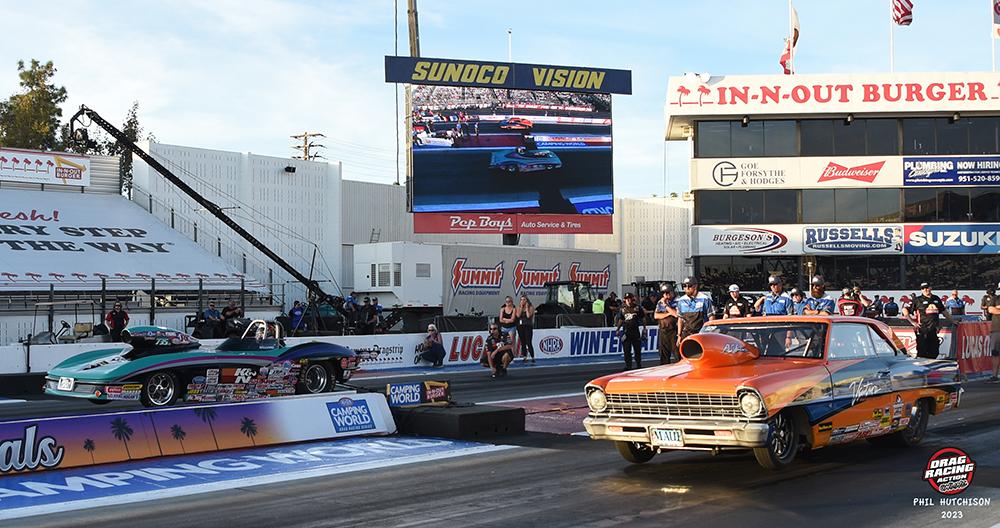 Multi time champ Steve Williams, far lane, took a close win in Super Gas
The finals of Super Gas featured two of the best racers in the class with Greg Ventura from Corona Calif.  facing Beaumont Calif.  Racer Steve Williams.
Both racers had nearly identical reaction times with Ventura a tick better with a 0.014 light to Williams' 0.015. On the top end Williams' dead on with a nine, 9.909 edged out Ventura's 9.915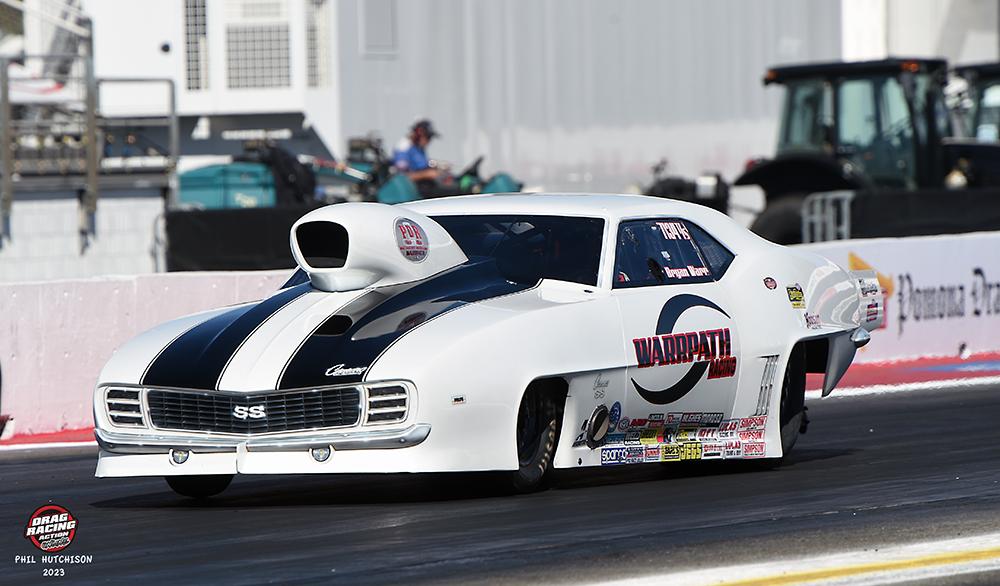 If the finals of Super Gas were close, Top Sportsman was right there with another razon thin win. Bryan Warr from Riverton Utah driving his '69 Camaro defeated local racer Richard Okerman from Torrance Calif with a breaking out 6.779  on his 6.79 dial as Okerman pushed his '89 Beretta to a 0.016 under 7.054 on his 7.07 dial. Both racers had nearly identical reaction times so it went down to who ran closer to their dial.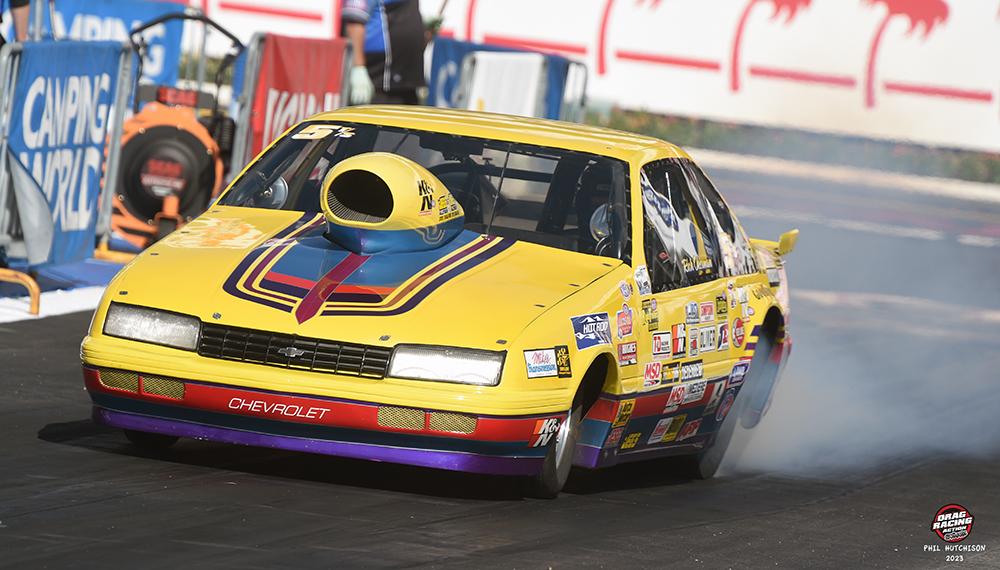 The win at Pomona put Warr in the #3 spot in the Lucas World Championship while Okerman finished fifth in the 2023 Lucas Oil chase.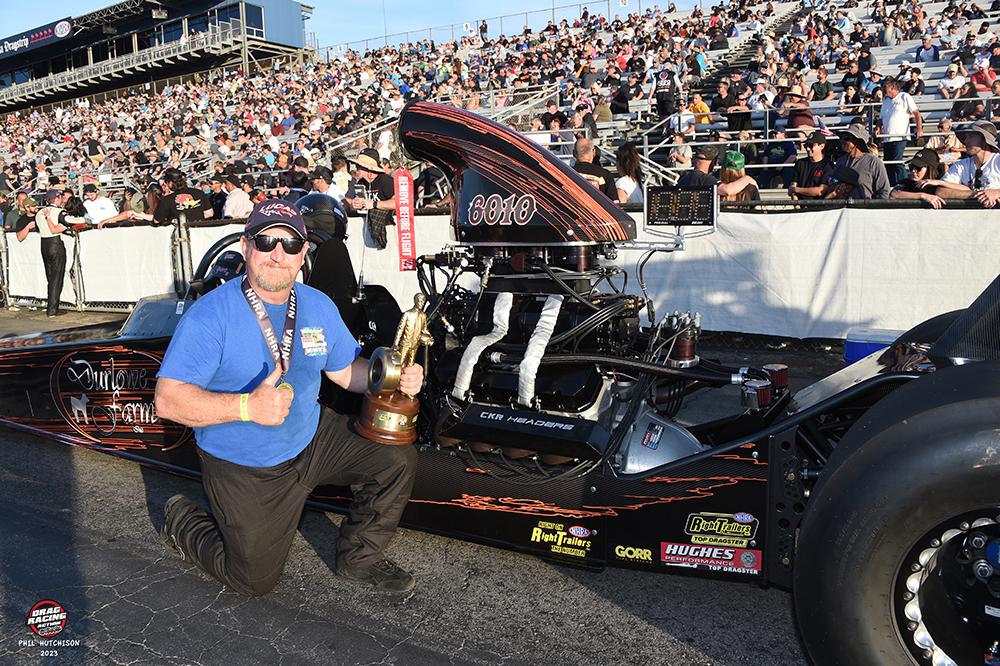 Top Dragster had two Canadians in the final with former Lucas champ Al Kenny from D1 up against Grant Durie from Vegreville Alberta. Kenny who now calls Florida home, was off the line first with a great 0.002 light but couldn't run the number losing with a 6.235 on his 6.18 dial as Durie posted a 6.543 on a 6.52 dial for the win.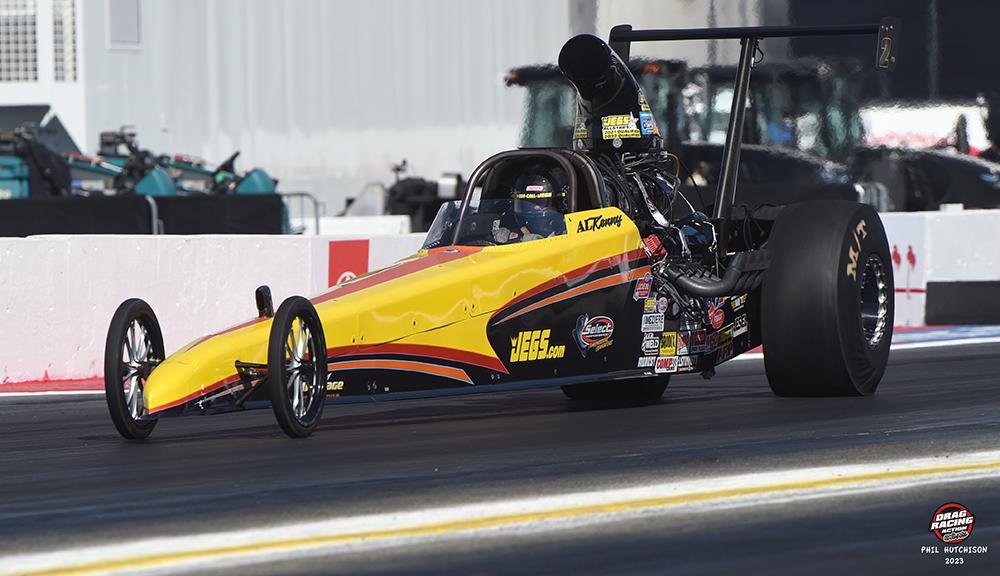 With the runner up, Kenny ended up tenth in the Lucas World Championship
An eight race Summit Junior Dragster Shootout was also featured at the In-N-Out NHRA Finals with 2023 Division Seven 15-17 champ Katelyn Torres racing fellow D7 racer Kashen Frye in the finals.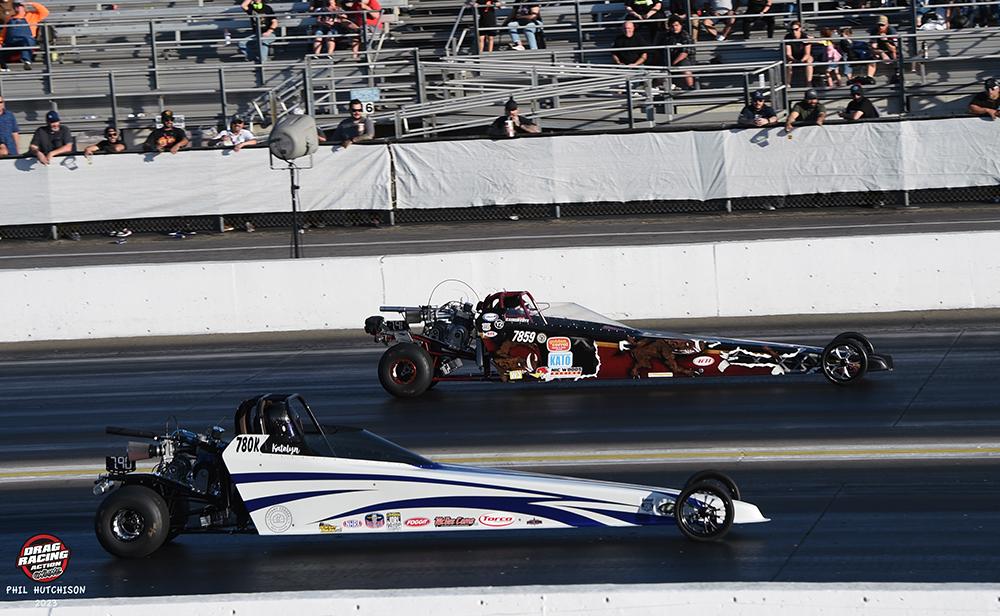 Torres, near lane, ran closer to her dial but her late light cost her the race to Frye
Frye was off the line first with a 0.028 light to Katelyn's later 0.054 and although Torres ran closer to her 7.90 dial with a 7.907 to Frye's 7.923 on his 7.91, the race was won at the starting line putting Frye in the winner's circle.