Cox, Harris, Montecalvo, Stewart, Gast, Kincaid And Mota Claim Season-Ending Victories At PDRA World Finals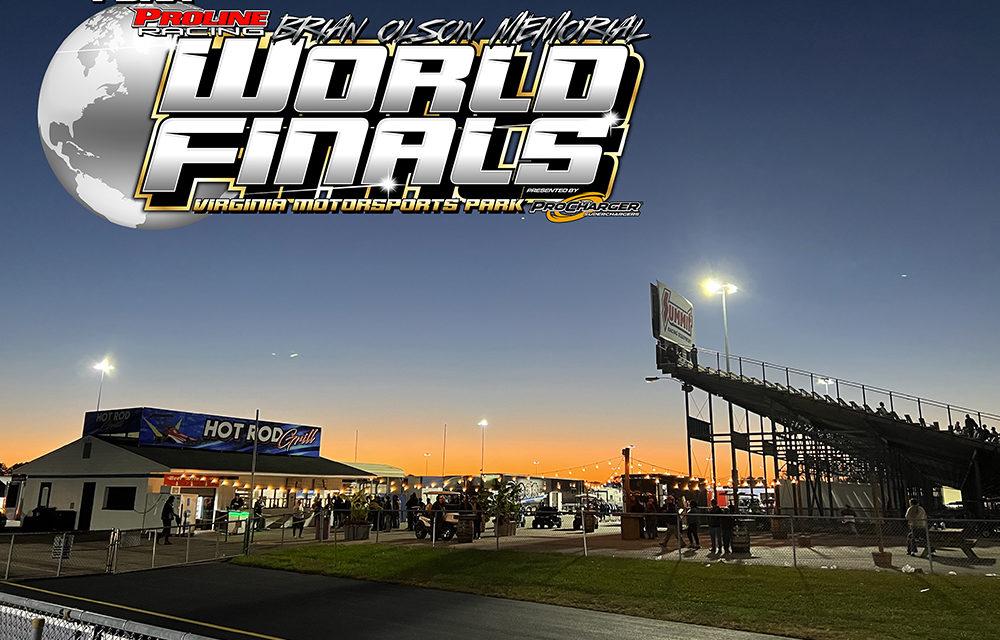 Courtesy Drag Illustrated and Nate  Van  Wagnen
Images: Phil Hutchison & Geoff Sculley
Newly crowned Pro Boost world champion Jason Harris closed out his third Professional Drag Racers Association (PDRA) world championship season with a victory at the Pro Line Racing Brian Olson Memorial World Finals presented by ProCharger Sunday night at Virginia Motorsports Park. Harris, who's also won two titles in Switzer Dynamics Pro Nitrous, defeated Virginia's own Randy Weatherford in the WS Construction Pro Boost presented by P2 Contracting and Ty-Drive final round to claim his third win of the PDRA's 10th season.
Pro class victories also went to Jay Cox in Pro Nitrous, John Montecalvo in Liberty's Gears Extreme Pro Stock presented by AED Competition, Daryl Stewart in M&M Transmission Pro 632, Paul Gast in Drag 965 Pro Nitrous Motorcycle, Scott Kincaid in Menscer Motorsports Pro Street presented by Afco Racing, and Derek Mota in Afco Racing Super Street presented by Menscer Motorsports.
The sportsman winners were Tim Molnar in MagnaFuel Elite Top Sportsman presented by PAR Racing Engines, Steve Furr in Laris Motorsports Insurance Elite Top Dragster, Mark Payne in MagnaFuel Top Sportsman 48 presented by Corbin's RV, and Ken Batchelor in Laris Motorsports Insurance Top Dragster 48. Local racers Lee Dixon and Bootie Harris squared off in the final round of Edelbrock Bracket Bash presented by COMP Cams, with Dixon's 4.378 on a 4.36 dial-in beating Harris and his 4.903 on a 4.90 dial-in.
Along with Harris, the 2023 PDRA world champions are Tommy Franklin in Pro Nitrous, Alan Drinkwater in Extreme Pro Stock, Jeff Melnick in Pro 632, Chris Garner-Jones in Pro Nitrous Motorcycle, Bill Riddle in Pro Street, Blake Denton in Super Street, Donny Urban in Elite Top Sportsman, Steve Furr in Elite Top Dragster, Chad Traylor in Top Sportsman, TG Paschal in Top Dragster, Brayden Davis in Pro Jr. Dragster, and Wyatt Stanley in Top Jr. Dragster.
PRO NITROUS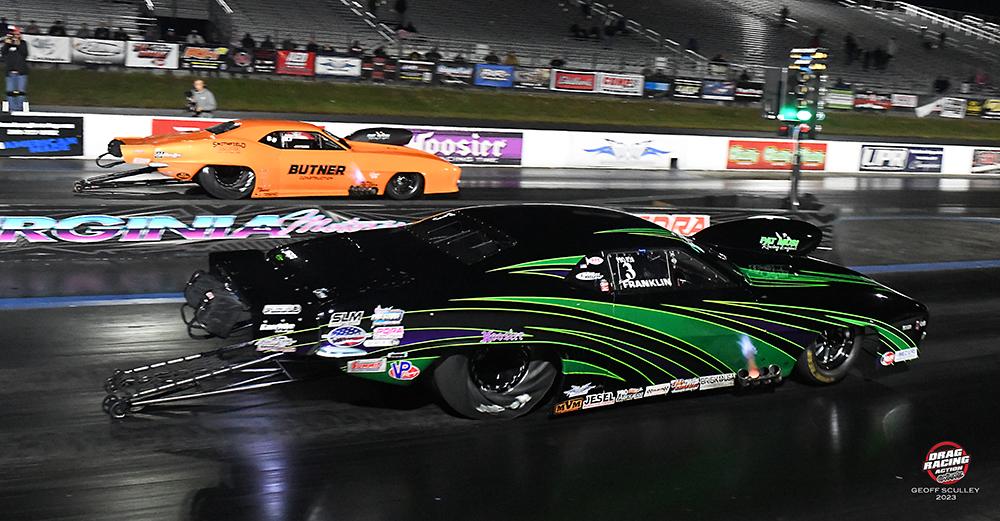 Cox, far lane, made the best of his last career PDRA Pro Nitrous race by beating 2023 PDRA World Champ Tommy Franklin in the finals at VMP
For the third time in as many races, Pro Nitrous veterans Tommy Franklin and Jay Cox met up in the final round. Franklin won the last two meetings to help secure his third world championship, but this final edition of the Franklin vs. Cox match went Cox's way. It came at the perfect time, as Cox is stepping away from driving duties to spend more time with his family. Cox left on Franklin and posted a 3.643 at 206.54 in his Musi-powered Butner Construction "Pumpkin" '69 Camaro, while Franklin went towards the right-side wall and lifted to a 3.785 at 163.04.
"It's like old times," said Cox, referencing his final-round battles with Franklin in the first few years of his Pro Nitrous career. "It was always me and him or Stevie [Jackson] in the finals. It felt like every weekend. It's good, man. If I never sit in another car, Tommy is who I want to race my final round with. I've got the utmost respect for him as a driver, as a family man, and as a businessperson. If I never sit in one of these things ever again, I want to go out racing him."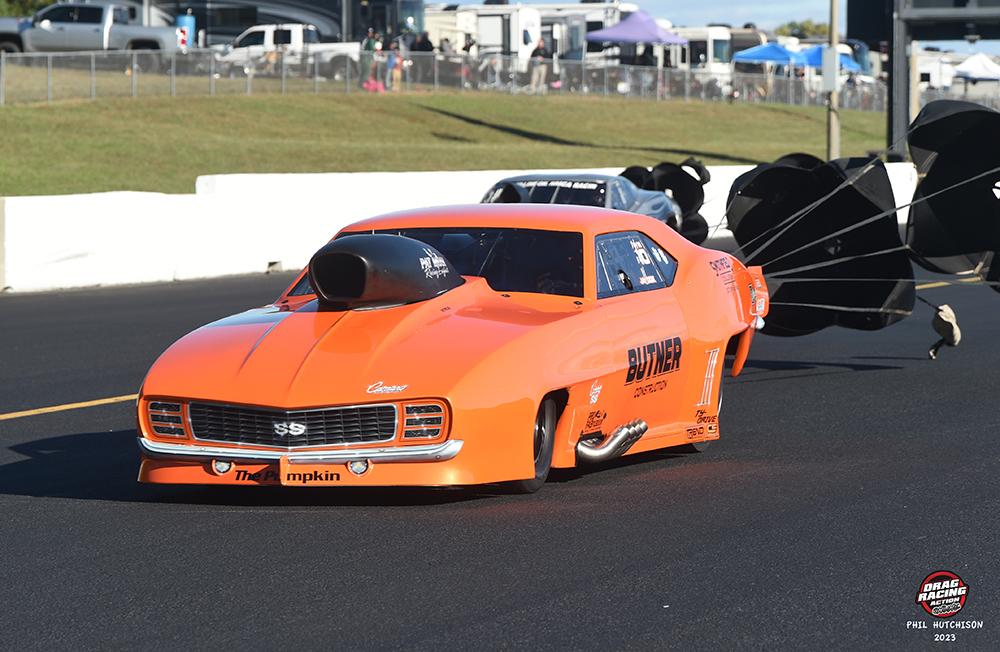 Before Sunday, Cox earned 10 victories since making his Pro Nitrous debut in 2015. His most recent win came at the second race of the 2021 season, though he also tuned teammate Marcus Butner to his first career win at Maryland earlier this year. Cox plans to continue tuning Butner's car in 2024.
"This means everything to me for my guys," said Cox, who also credited Rick and Rickie Jones of RJ Race Cars for their years of support, as well as engine builder Pat Musi. "It's hard on me. I think it's a lot tougher for them. They've sacrificed a lot to be with me over the years. I would be nothing without them and I just didn't want to let them down up there. I knew Tommy would probably try to lower the record a little bit, and I told Dad [Lloyd] we just got to get in there and pick a good spot and race him. It was tight. We were dead-even at the 330 when he started getting over there to the wall. I'm just happy I could get it done for my guys. The last four or five races, man, we've been right there every time and it is a good feeling to go out like that."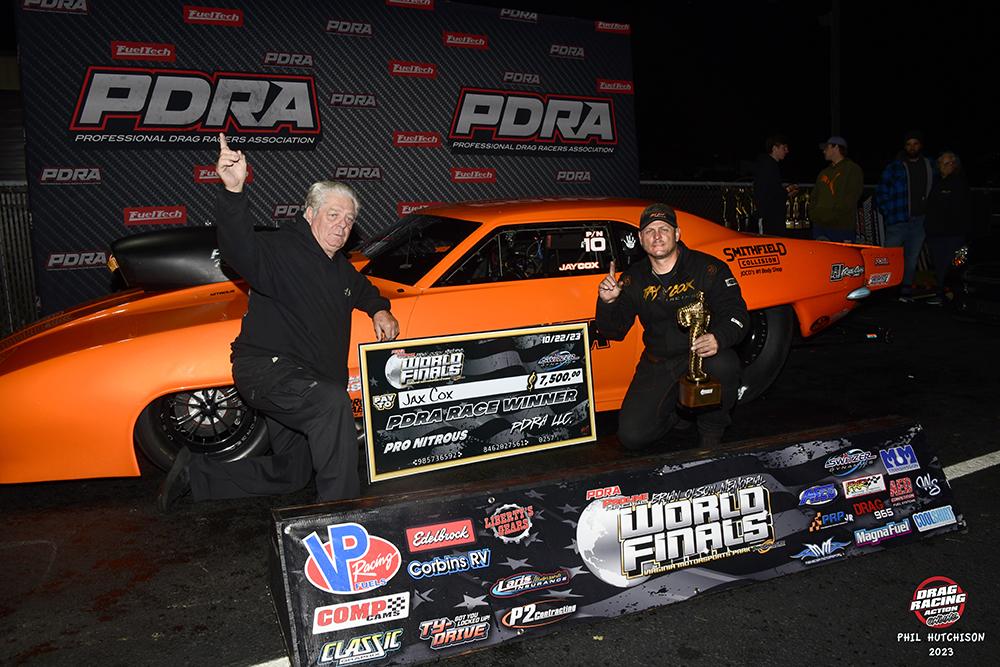 Cox qualified third and was the second-quickest driver of each round before the final, beginning with his 3.66 at 206.01 to beat Chris Rini's 3.724. He ran a 3.641 at 206.35 to defeat Travis Harvey and his 6.218 in the second round, then laid down a 3.636 at 206.76 to knock out Billy "The Kid" Albert and his 3.677 in the semis.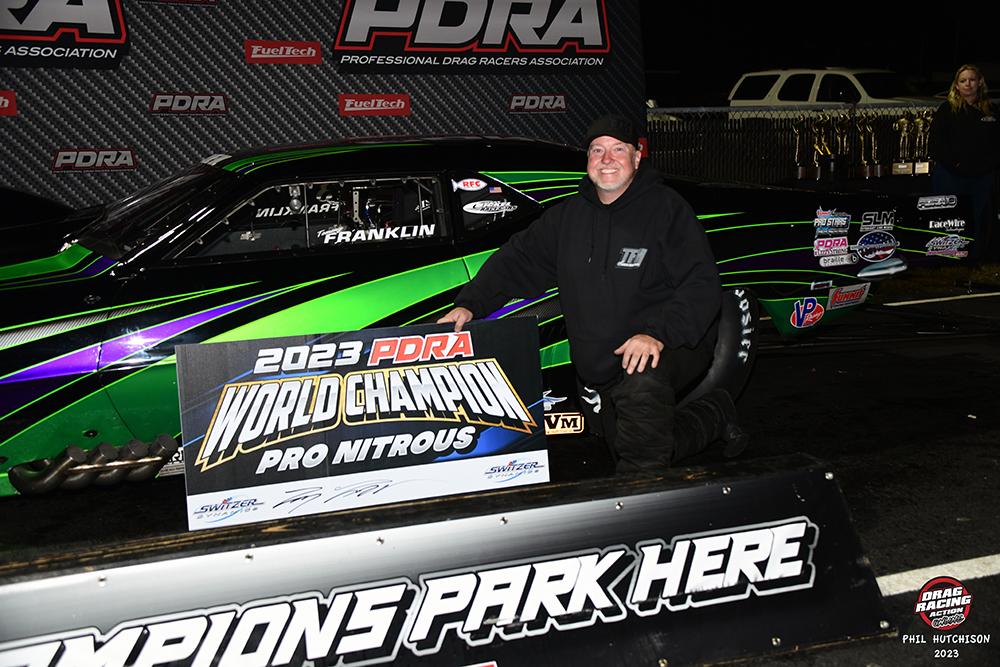 Franklin was the No. 1 qualifier for the second consecutive race in his Musi-powered "Jungle Rat" '69 Camaro. He clinched the 2023 world championship when four-time and reigning world champ Jim Halsey lost in the first round just one pair before Franklin won with a 3.652 at 205.60 over John Vergotz's 3.91. Franklin and opponent Jim Widener both went red in the second round, but Widener's .025 was worse than Franklin's .005. Franklin moved on with his 3.634 at 205.69, which was quickly topped in the semis by his 3.619 at 207.21 over Fredy Scriba and his 4.566.
PRO BOOST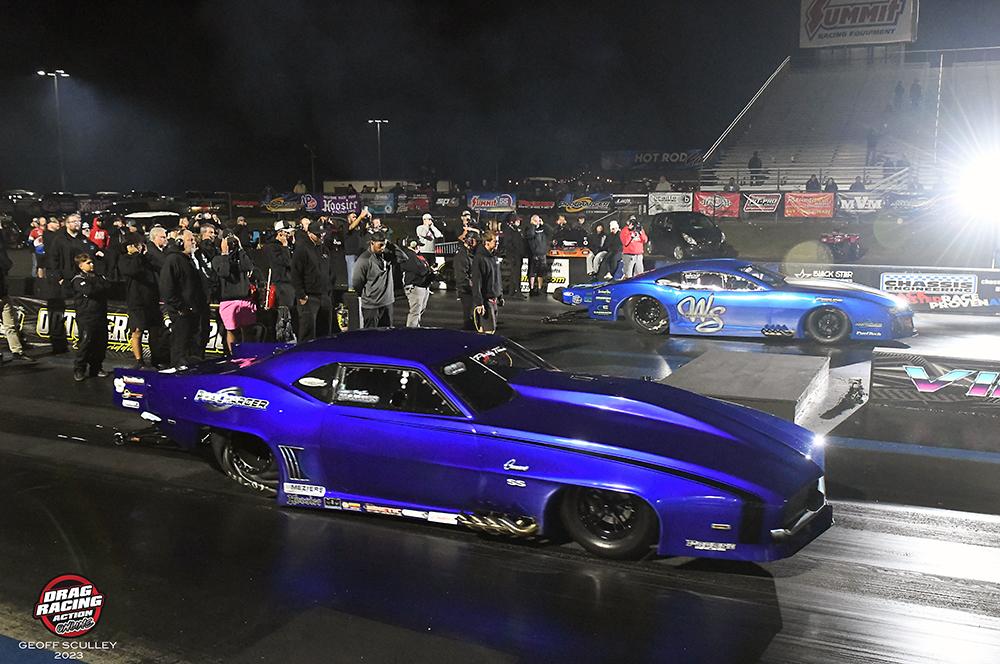 Though Jason Harris went into the World Finals with the Pro Boost world championship clinched, he took a victory lap by claiming his third win in six final-round appearances. Harris in his ProCharged "Party Time" '69 Camaro lined up against Danville, Virginia's Randy Weatherford in the final round, which was decided by just .0002 seconds. Weatherford grabbed a holeshot advantage, but Harris drove around him and recorded a 3.581 at 208.36 to Weatherford's 3.60 at 209.46. Harris also won the World Finals in 2014 and 2018 when he won his two Pro Nitrous championships.
"Randy and I have been racing for years and I grew up watching him run Quick 8," said Harris, who credited Jack Gaddy, Hoosier Racing Tires, M&M Transmission, Michael Bunton, and everyone else who supported his championship campaign. "It didn't look that tight down there, but evidently it was. He did his job on the starting line and thank goodness my car pulled me through. It wasn't like I was late, but I still wasn't as good as he was. The car's been flawless since we brought it out. This car is just a freak of nature right now. We brought it out at the World Series of Pro Mod and it seems to find round wins whether I'm good or it's good, either one. When you get a great combination and a great crew, you can't ask for anything better than that."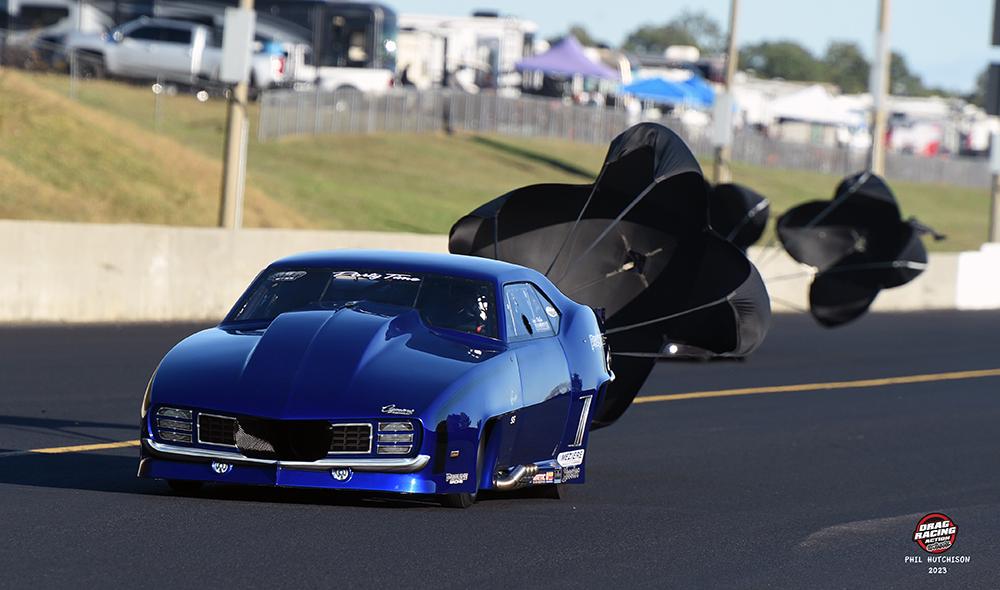 Racing out of the No. 4 spot in the second-quickest Pro Boost field ever, Harris ran a 3.603 at 207.82 to finish ahead of Isaias Rojas and his 3.638 in the first round. His 3.60 at 207.69 in the second round beat Dustin Nesloney and his 3.635. Semifinal opponent "Nova Joe" Albrecht cut a .001 light, but slowed to a 4.263 while Harris earned lane choice for the final with his 3.58 at 208.81.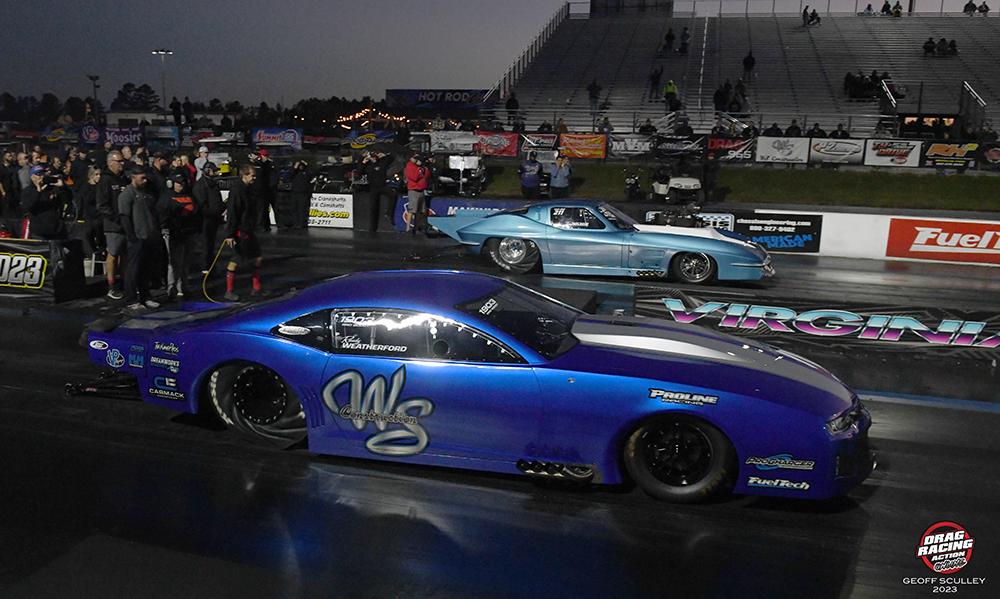 Weatherford qualified No. 11 in his ProCharged WS Construction '21 Camaro before winning the opening round on a holeshot over Travis "The Carolina Kid" Harvey in a 3.618-to-3.617 race. He cut a .009 light in the second round and ran a 3.622 at 208.07 next to Melanie Salemi, who had a supercharger backfire on the starting line. Weatherford then made his best run of the weekend, a 3.607 at 208.23, to knock out Tony Wilson and his 4.089 in the semis.
EXTREME PRO STOCK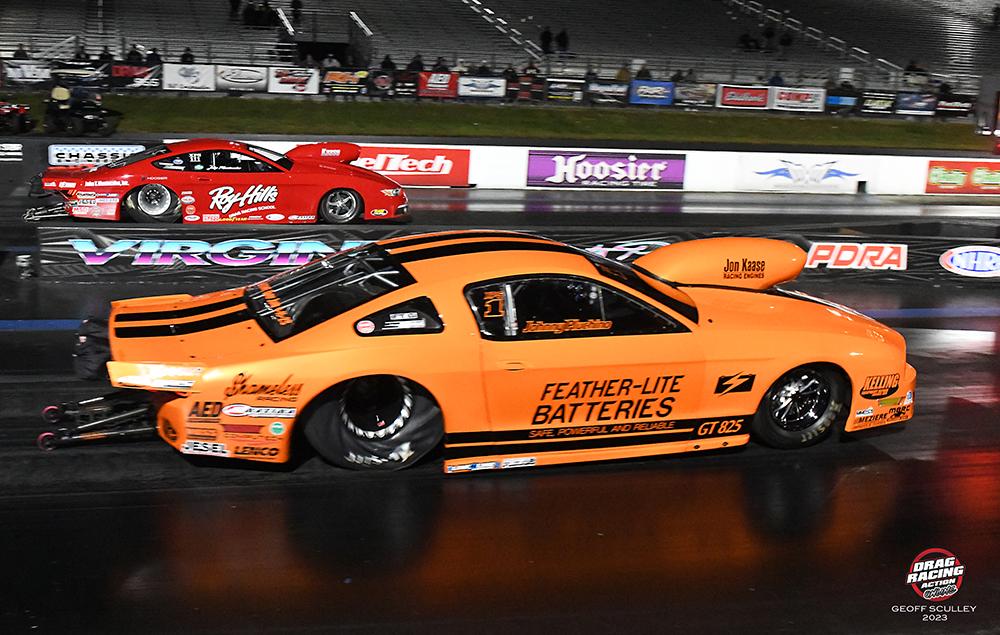 Pluchino, near lane, turned on the red light putting Montecalvo in the winner's circle
Extreme Pro Stock veteran John Montecalvo started the 2023 season with a big-money win at the inaugural Mountain Motor Pro Stock Invitational, kick-starting a campaign that he bookended with the World Finals win in his Kaase-powered Roy Hill's Drag Racing School '21 Mustang. Montecalvo won in the final round over fellow Long Islander Johnny Pluchino, who went red by .006 seconds and lifted to a 5.737 at 83.78. Montecalvo cruised to his second-quickest pass of race day, a 4.055 at 178.40, for the win.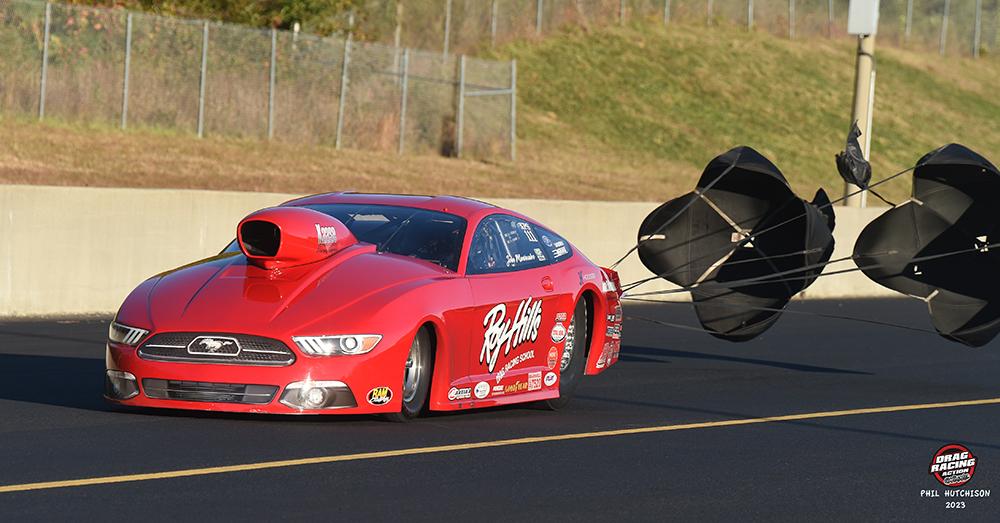 "This World Finals here is a tough race," said Montecalvo, who thanked wife Lois Anne, crew members Doug, William, and Justin, and crew chief Brian "Lump" Self. "Look at the competitors I had today. It was a tough day. I'm elated. It's been a struggle all day long. We got stuck in the left lane. We didn't have lane choice. The left lane wasn't the preferred lane, especially for me. I can't see [the tree] in the left lane. I can see maybe a quarter of the top bulb – that's about it. I'm trying to lean over and look at the bulb and drive the car at the same time. But hey, we got to run my friends, the Pluchinos, in the final. We're all good buddies and we live 30 minutes apart from one another. We hang out with one another. Nothing better than to run Johnny in the final."
Montecalvo qualified sixth out of 20 cars before leaving first against the most recent winner on tour, Tony Gillig, who shook the tires and lifted to a 12.386 while Montecalvo ran a 4.063 at 178.10. It was Montecalvo's turn to experience traction issues in the second round, where he was supposed to face No. 3 qualifier Elijah Morton. Montecalvo bounced back in the semifinals, using a 4.049 at 178.50 to beat John DeFlorian's 4.048 on a holeshot by just .008 seconds.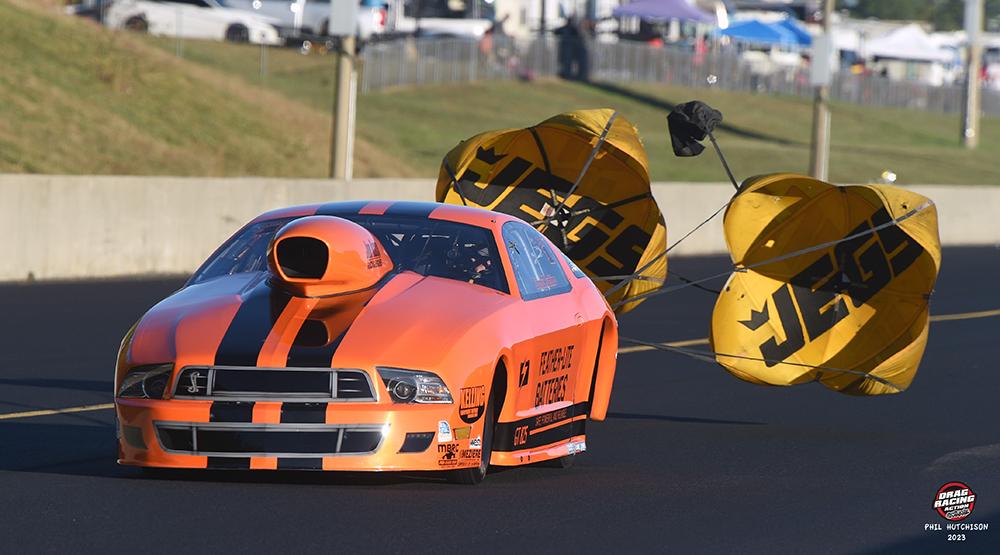 Pluchino, the two-time and outgoing world champion, qualified No. 9 in his Kaase-powered Feather-Lite Batteries '13 Mustang, setting up a first-round match with former Pro 632 rival Dillon Voss. Pluchino left first and won with a 4.065 at 178.17 to Voss' 4.067. He left on No. 1 qualifier Steven Boone in the second round to beat Boone's quicker 4.05 with a 4.061 at 178.28. In the semis, Pluchino lined up against newly crowned world champion and teammate Alan Drinkwater, who he tuned to two wins this season. Pluchino was quicker at the starting line and quicker at the finish line, winning with a 4.037 at 179.86 to Drinkwater's 4.053.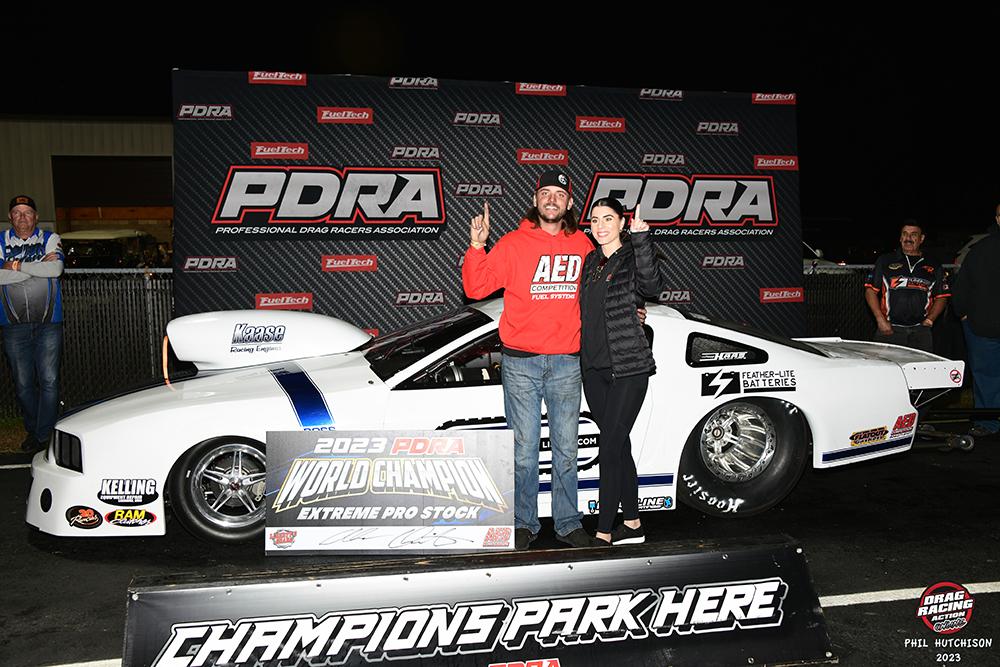 Alan Drinkwater 2023 PDRA Extreme Pro Stock Champion
PRO 632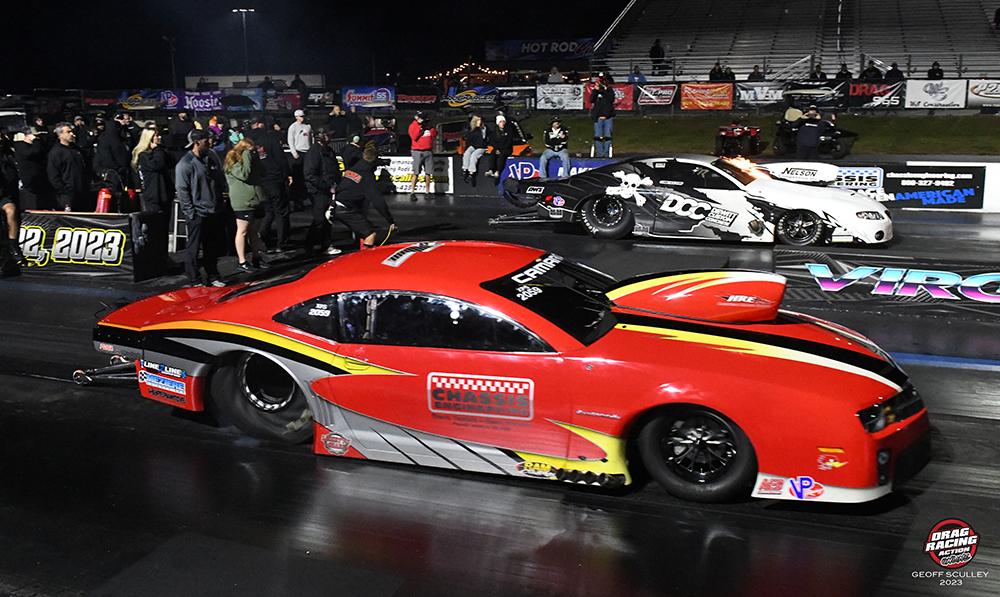 Flames come out from the hood of Holdorf's car, far lane, after leaving too soon giving the win to Stewart's Camaro
After starting the season in Extreme Pro Stock, four-time Pro 632 winner Daryl Stewart returned to the class for the final three races of the season. The former bracket racer is planning to return to Extreme Pro Stock, but not before getting one last win in Pro 632. He lined up against fellow Floridian Chris Holdorf in the final round, where Holdorf went red by .150 and broke right after launching. Meanwhile, Stewart lost traction almost immediately and coasted through to an 11.995 at 34.83 in his nitrous-fed, clutch-equipped Chassis Engineering '12 Camaro.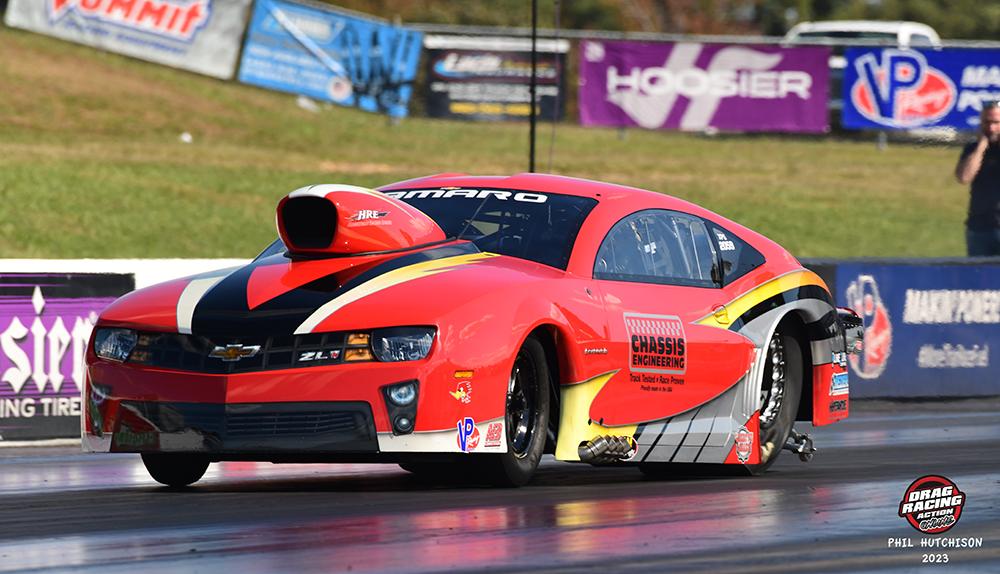 "Oh man, this win was the best, especially with us trying to go to Pro Stock next year," said Stewart, who thanked tuner Clayton Murphy, crew members Chris and Johnny, Hameetman Racing Engines, Pat Norcia of Ram Clutches, and Joe Oplawski with Hyperaktive Performance Solutions. "We love Virginia, first of all. This is our favorite track by far out of all the tracks we race at, so we had that going for us. We just had a little bit of luck there in the final because Clayton was trying to go for a record and had it way too hopped up. It got too cold and all the stars lined up for that not to happen. But it was all good. To go out in 632 like this, I'm super excited.
"We're excited to get ready for Pro Stock, and that's going to be a giant challenge," Stewart added. "There's really a bunch of nice people over there, so I'm looking forward to all that."
Stewart qualified No. 1, which gave him a first-round bye, where he recorded a 4.17 at 171.73. He came within three thousandths of the class E.T. record in the second round with his 4.108 at 173.92, which knocked out Darlington winner Brian Clauss and his 4.372. He set low E.T. of the round again in the semis, a 4.144 at 172.74, to beat championship contender Doug Nicholl and his 4.20.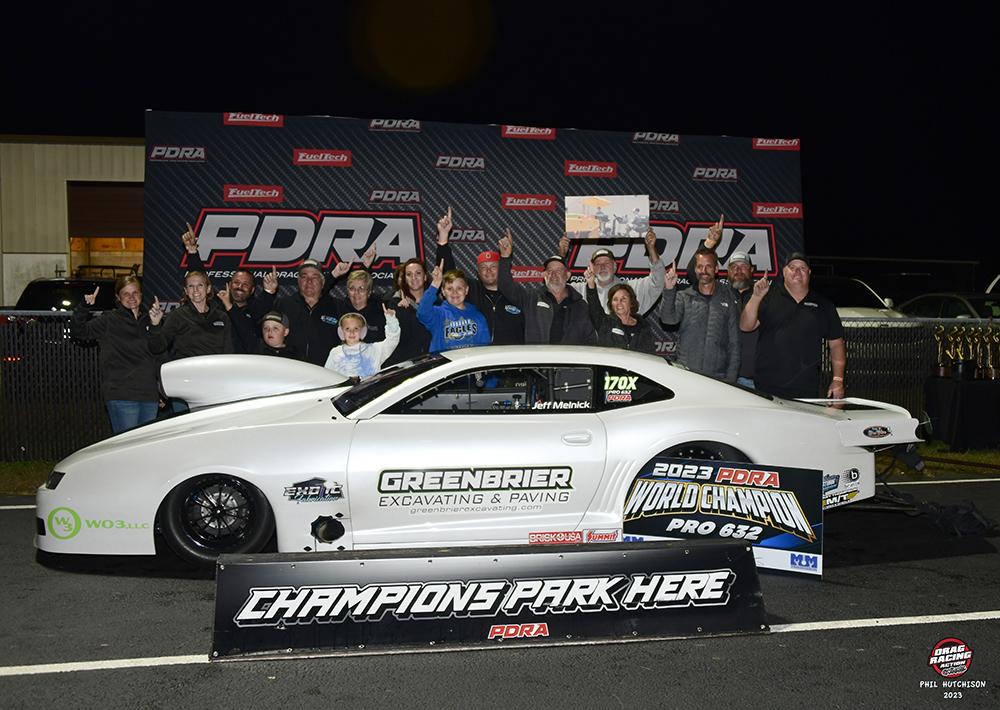 Although he lost in the semis, Jeff Melnick is the 2023 PDRA Pro 632 champ
Holdorf qualified sixth in his nitrous-fed Dewitt Custom Concrete '06 GTO and used a 4.228 at 169.93 to defeat Gary Hood and his 4.437 in the opening round. He then ran a 4.206 at 168.75 to eliminate 2022 world champion Amber Franklin, who slowed to a 4.454. Semifinal opponent and newly crowned world champion Jeff Melnick was uncharacteristically red in the semifinals, while Holdorf reacted to Melnick's early launch with a .012 red light of his own, winning with a 4.184 at 172.94.
PRO NITROUS MOTORCYCLE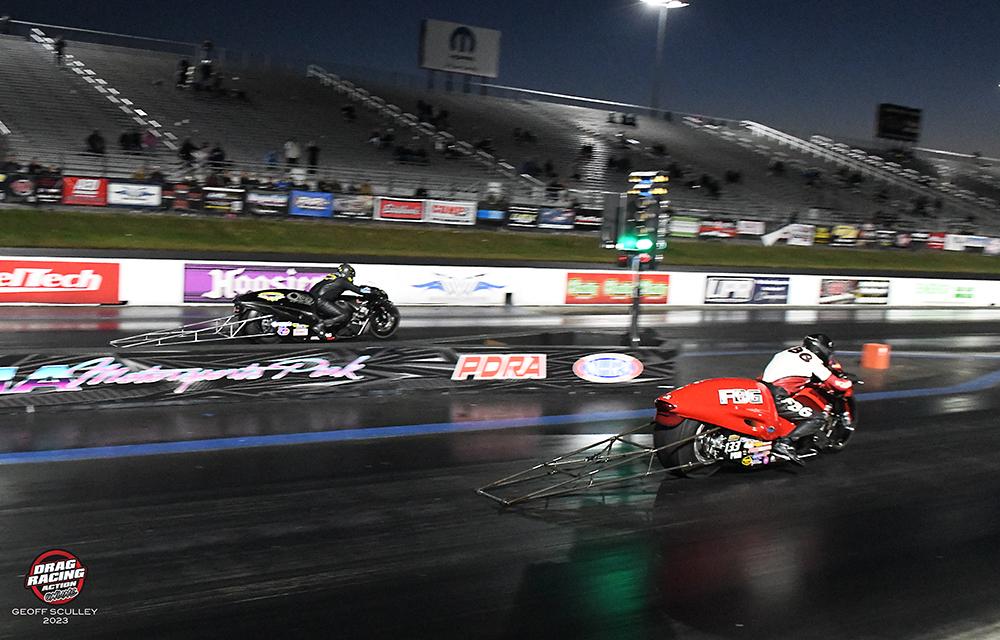 Paul Gast only attends a few Pro Nitrous Motorcycle events per season, but he makes the most of his occasional appearances. In just his second PDRA race of the year, Gast qualified No. 2 and raced to victory aboard his Fast By Gast Hayabusa. The final round was decided by five thousandths of a second, as Gast and Kuwait's Meshal Al-Saber left the starting line with identical .034 reaction times and Gast ran a 4.002 to Al-Saber's 4.007.
"Well, it was a race of attrition because a lot of guys were having trouble with engine parts in the bike class and I think I was hearing a little bit of that going on in the car classes," said Gast, who thanked crew chief John Schwartz and the Fast By Gast employees. "I had trouble figuring it out, but this motor here seemed to hold up really nice all throughout race day. That was a nice plus so we could focus on tuning. I think I rode it pretty good actually too because I was hitting the tree really nice. I'll tell you what, these guys, even though they were fighting through some problems, they're fast out there and Meshal showed it in the final."
Gast started race day with a 4.004 at 170.86 over Tyron Lemons and his 4.079 at 171.03. He set low E.T. of race day in the semis, running a 3.989 at 176.33 to beat rookie Brayden Davis and his 4.044.
l-Saber, who won the last race on tour, qualified No. 4 on the Brad McCoy-tuned Q80 Racing/BMRC Hayabusa. He ran a 4.002 at 176.01 to defeat Jeff House's 4.084 in the first round, then coasted to a 5.102 at 107.99 in the semifinals after newly crowned champion Chris Garner-Jones had trouble on the starting line.
PRO STREET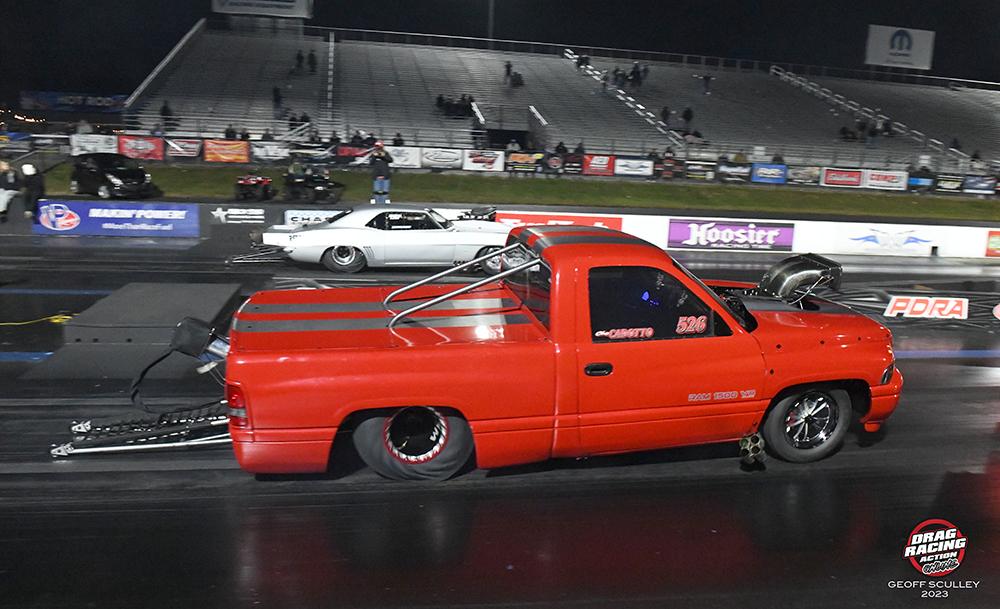 Cadotto, near lane, went red in his pick up giving Kincaid the win at VMP
Young gun Scott Kincaid rolled into the World Finals undefeated after winning his only three appearances on the seven-race Pro Street schedule. Driving his father's screw-blown '69 Camaro, the 24-year-old Tennessean kept his streak alive with a fourth win. Final-round opponent Chris Cadotto went red by .017 seconds and lifted to a 6.571 at 70.29, while Kincaid recorded a weekend-best 3.915 at 197.51.
"We were just going to go as fast as we could go and try to get him on the tree. We were just hoping for the best, hoping the blower stayed on it to the finish line," said Kincaid, who dedicated his win to the late father of his teammate, Richard Reagan. "It's unbelievable, really. A lot of people haven't won four of these their whole life and we've done it in one year. That's just unreal, really. I doubt we're going to have as much luck next year as we did this year, but we're going to try."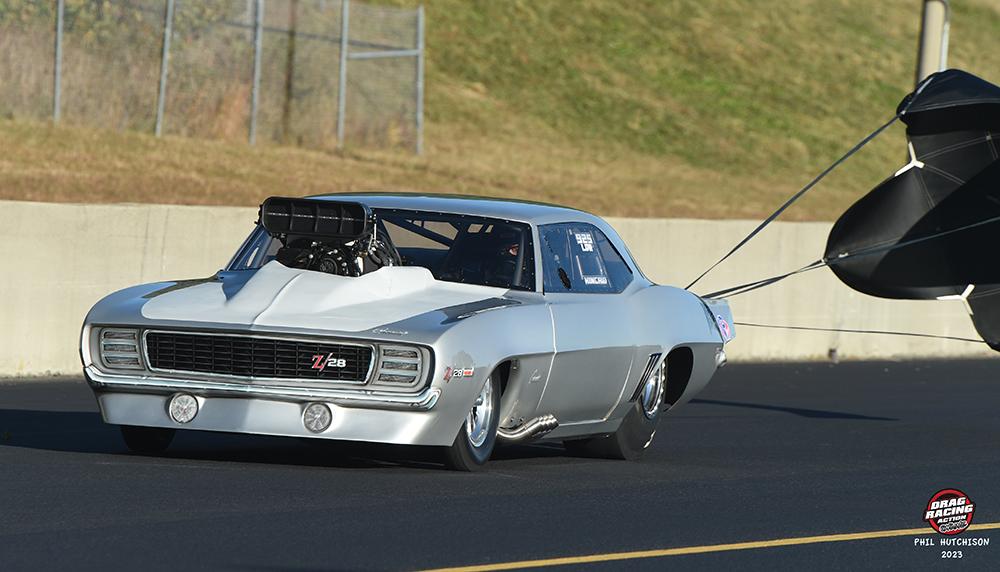 Kincaid, who plans to run the full Pro Street schedule in 2024, qualified fifth and opened eliminations with a 3.991 at 195.31 over Randy Lambert's 6.367. He knocked off 2022 world champion and 2023 contender Tim Essick in the second round, running a 3.94 at 196.50 to Essick's 3.976. Kincaid went quicker again in the semis with his 3.929 at 196.27 to defeat fellow young gun Joel Wensley Jr. and his 4.089.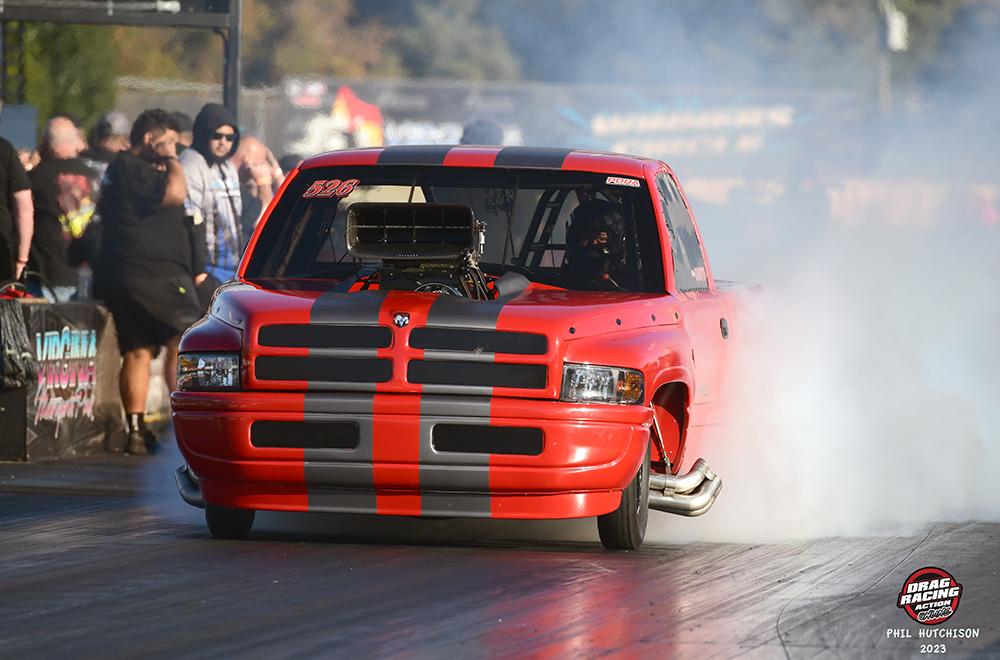 Cadotto, who was also undefeated going into the final round after winning his only 2023 appearance at his home race in Martin, Michigan, qualified No. 2 in his screw-blown '97 Dodge Ram known as "The Brick." He laid down a 3.964 at 192.60 in the first round to beat Chris Tuten, who made his best run in Pro Street trim with a 4.018 at 200.00. Cadotto had a bye run in the second round, where he lifted to a 5.841. His 3.889 at 195.25 in the semifinals beat newly crowned world champion Bill Riddle's off-pace 5.216, set low E.T. of the event, and sent Cadotto into the final round with lane choice.
SUPER STREET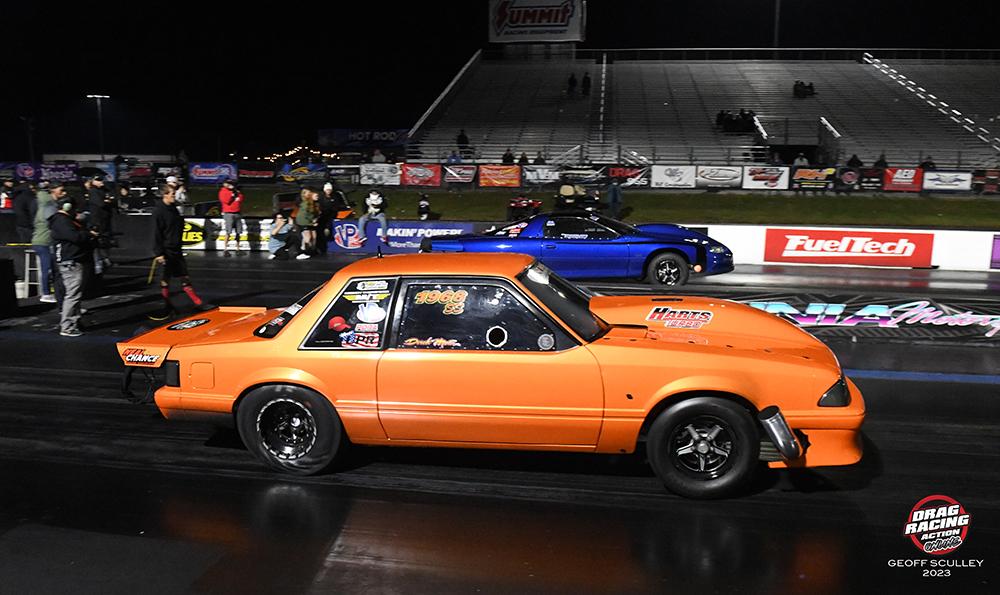 Mota, near lane, had a great end to his season winning the PDRA World Finals at VMP
Though Derek Mota came up short to Blake Denton in the Super Street world championship chase, the Massachusetts native did close out the season with his fourth win of the year. Mota qualified No. 1 and raced to the final round, where he made the quickest pass in the young history of the class, a 4.576 at 166.11, to beat Virginia Beach's Matt Schalow and his 4.683 at 153.75. Mota won the season opener at Virginia before breaking a crankshaft at the second race, which forced him to miss the third race, ultimately costing him the championship despite clean sweeps at the final three races.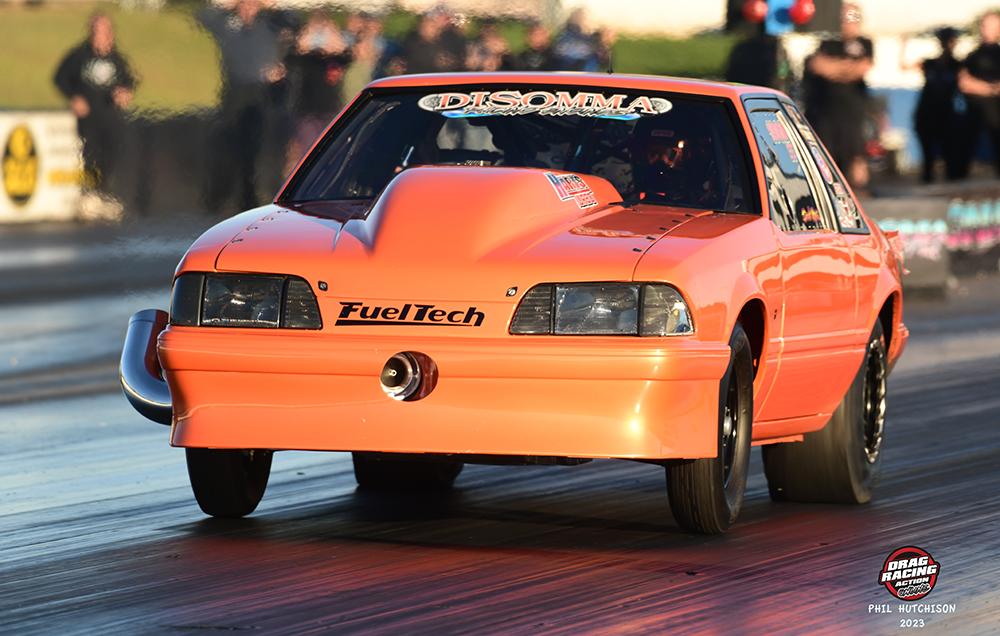 "To us, it's a win," Mota said of his World Finals performance. "We were low of every round for the last three races. We set a record every race. We won every race. We did everything we could to get back into this points championship, and we missed it by probably 60 points. But coming off how we came back, this is still a win for us and everybody that stands behind me – Jamie Miller as the tuner, Harts Turbos, DiSomma Race Engines, Neal Chance Converters, Lonnie at Extreme Automatics. We put this back together and came out here and I think we just dominated and we made a point to say 'we're back.' We'll see everybody next year and we'll be back at this championship hunt."
On his first-round bye run, Mota ran a 4.604 at 164.75, then improved to a 4.588 at 165.13 to defeat Blake Molnar and his 4.800 in the second round. Semifinal opponent Connor McGee couldn't make the call after damaging his engine in the prior round, though Mota was ready with his 4.579 at 165.78.\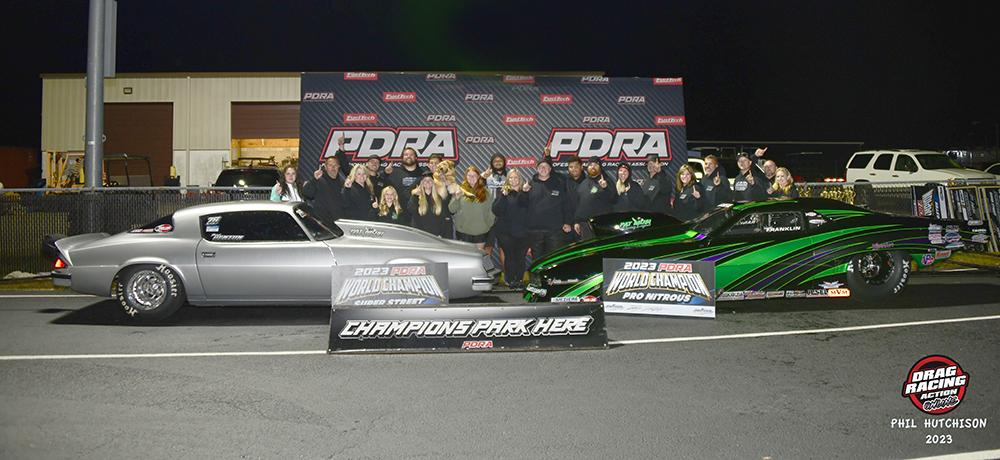 Blake Denton and his friends and team celebrate his 2023 PDRA World Championship with Tommy Franklin's team 
Schalow had his best weekend in Super Street competition, qualifying third in his nitrous-fed '00 Camaro. He posted a 4.821 at 149.68 in the first round over Kaitlin Quartuccio, who came to a stop after leaving the line. He stepped up to a 4.788 at 151.54 to beat David Knight and his 6.547 in the second round. Schalow then used a holeshot advantage and a 4.724 at 152.21 to stop Denton and his quicker 4.711.
TOP SPORTSMAN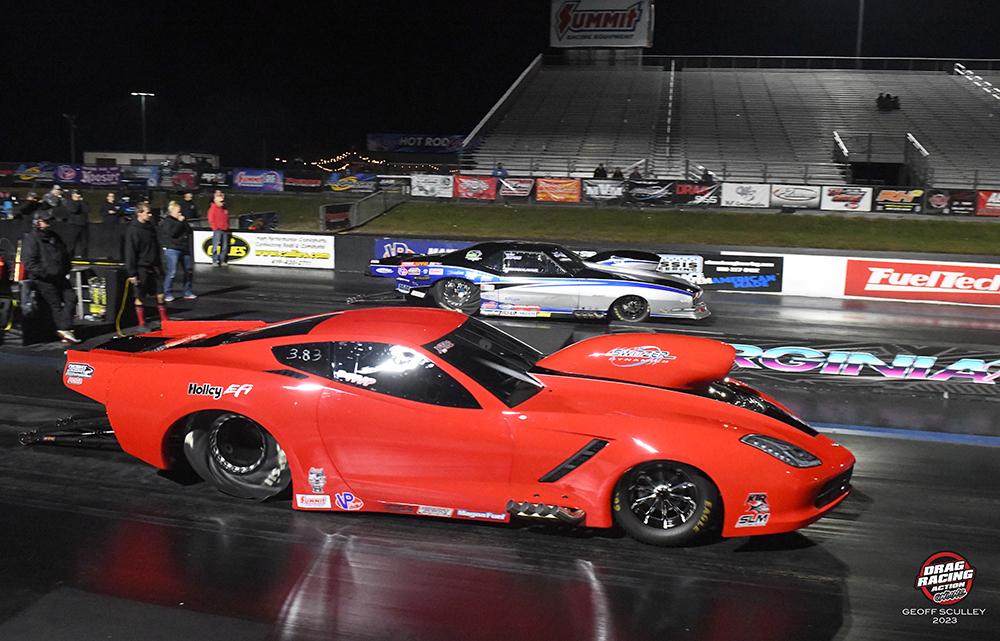 A pair of nitrous-assisted entries lined up in the Elite Top Sportsman final round. Tim Molnar and Tim Paap left the line with nearly identical reaction times, but Molnar was better at the finish line in his '68 Camaro with a 3.777 on a 3.77 dial-in to get the win. Paap slowed to a 3.935 on a 3.83 dial-in in his '16 Corvette.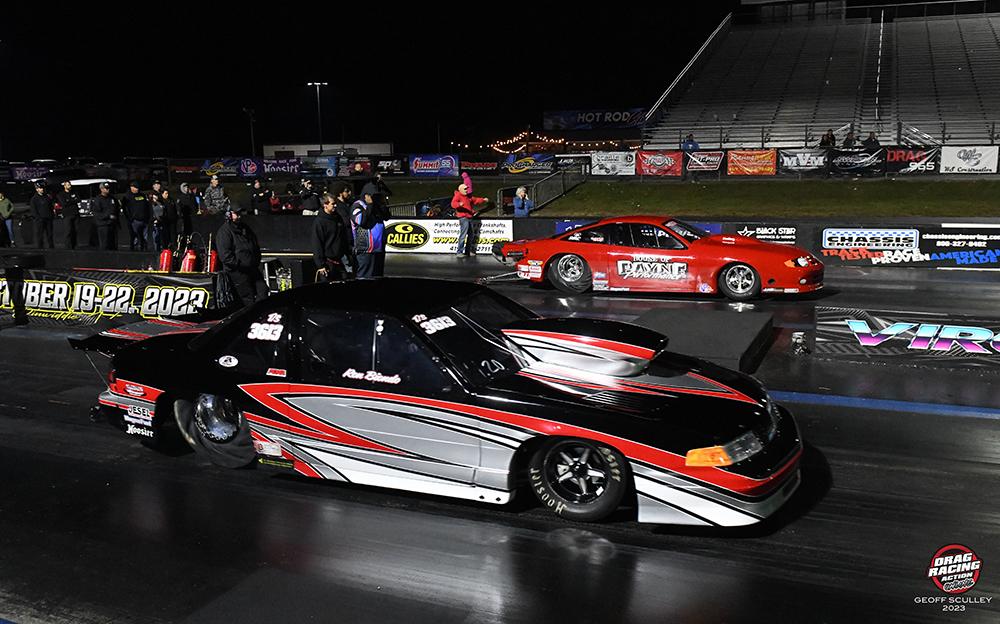 Mark Payne and Ron Biondo survived five rounds of eliminations in Top Sportsman 48 to reach the final round, where past world champion Payne used a holeshot advantage and a 4.125 on a 4.11 dial-in in his '06 Cavalier to defeat Biondo and his 4.215 on a 4.20 dial-in in his '94 Lumina.
TOP DRAGSTER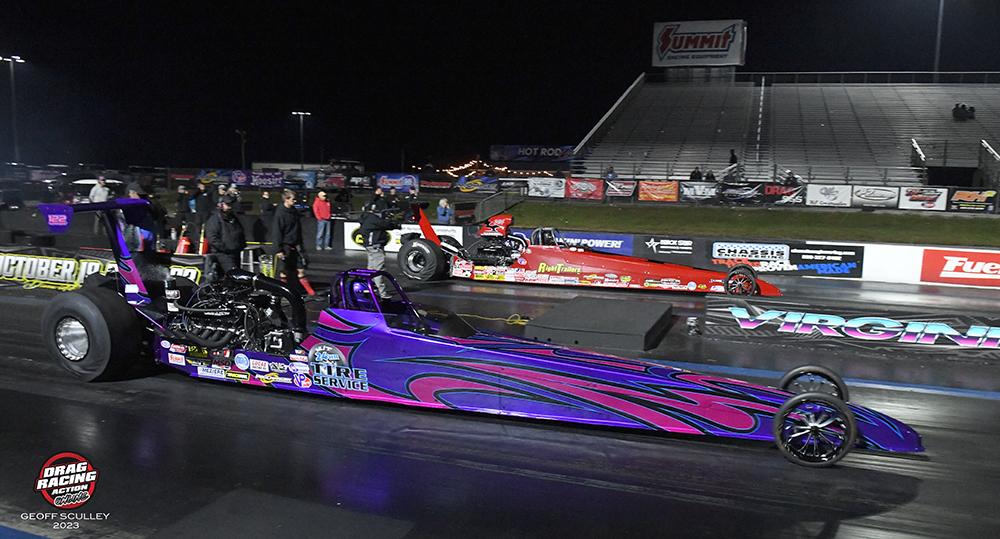 Past Elite Top Dragster world champion Steve Furr wrapped up his second championship season with one final win in his ProCharged Right Trailers '13 American dragster. In the final round, he left first and ran a 3.861 on a 3.78 dial-in, while Michael Kalin in his '08 Mullis dragster broke out with a 3.843 on a 3.86 dial-in.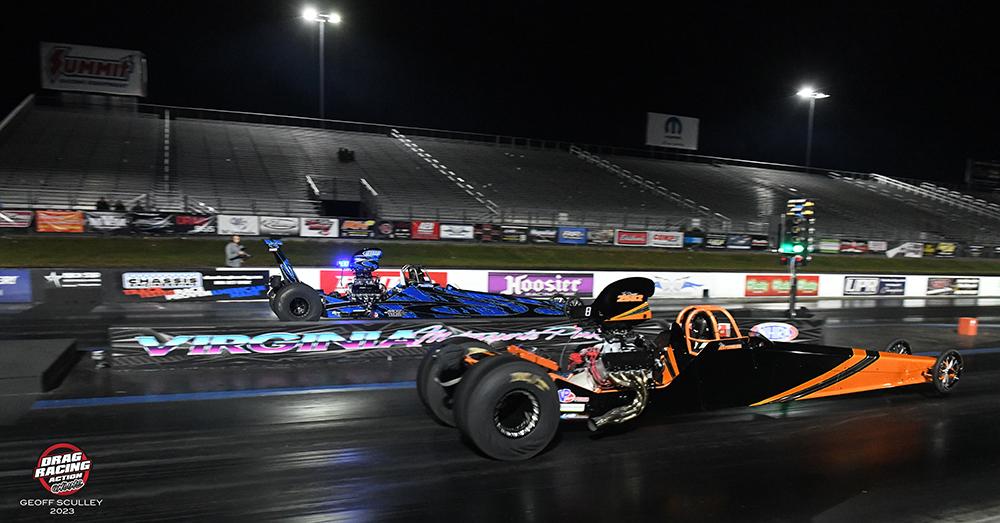 In the final round of Top Dragster 48, Ken Batchelor cut a .003 reaction time and ran a 4.297 on a 4.28 dial-in in his '18 Mullis dragster to get the win over TJ Harper, who laid down a 4.302 on a 4.30 dial-in but had a .040 reaction time in his '18 Race Tech dragster.
EDELBROCK BRACKET BASH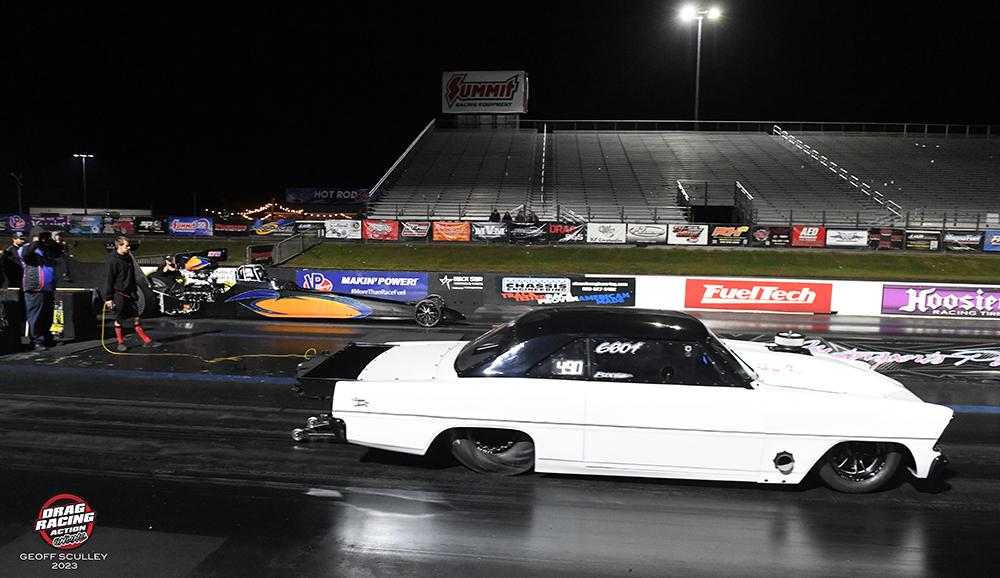 Lee Dixon from nearby Chesterfield VA. drove his '22 Racetech dragster to the win over another local, Bootie Harris from Colonial Heights in his '67 Chevy II. Dixon, dialed in with a 4.36 had a o.oo8 light coupled with a 4.378 to beat Harris who lost with a better 4.903 on his 4.90 dial but his 0.027 cost him the race.
JR DRAGSTER
In the Jr. Dragster categories, Brooks McMath won in Coolshirt Systems Pro Jr. Dragster presented by PRP and Carter Jackson was victorious in Classic Graphix Top Jr. Dragster presented by PRP. McMath and newly crowned champion Brayden Davis left the starting line together in the final round, but Davis broke out with a 7.893 to McMath's 7.931, both on a 7.90 index. Jackson and fellow Virginia-based driver Gavin Wood met up in the final, where Wood went red by .006 seconds, while Jackson ran a 9.292 on an 8.90 dial-in.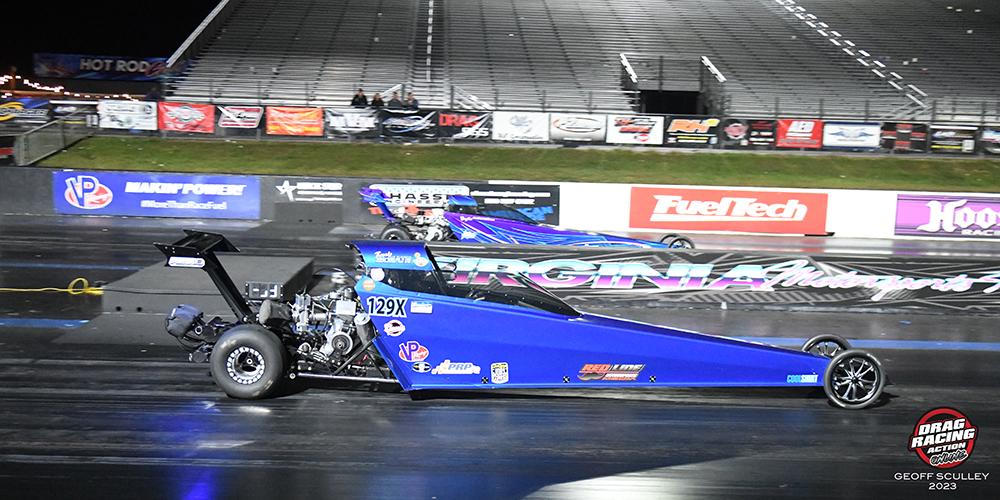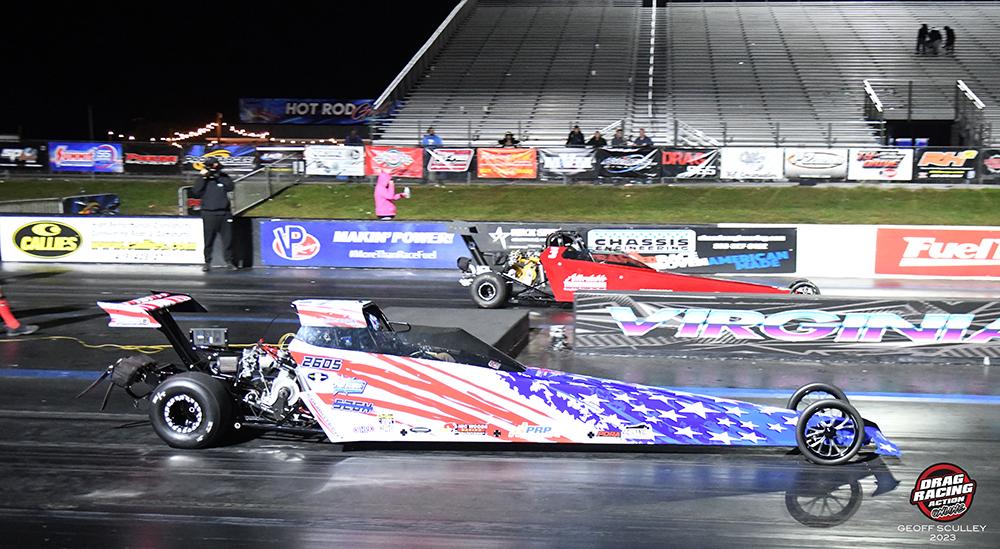 The PDRA will celebrate its 2023 world champions during the annual PDRA Championship Awards Banquet on Friday, Dec. 9 in Indianapolis.