Maple Grove Raceway Lucas Oil Series Event Huge Success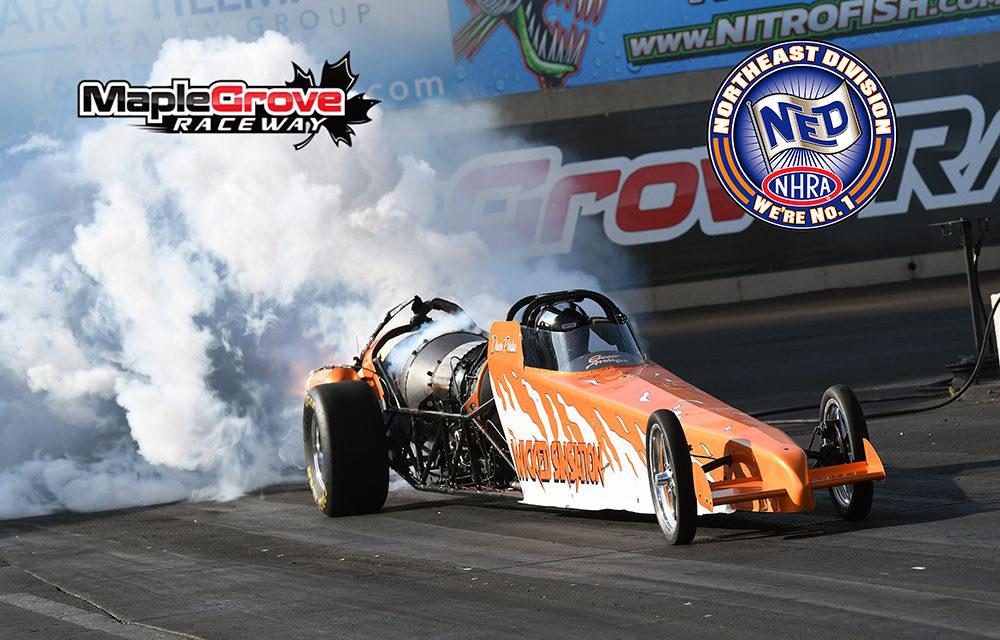 Drag Racing Action Online  Photos: Phil Hutchison
 It was a perfect weekend for racing at Maple Grove Raceway for the NHRA Northeast Lucas Oil divisional. Nearly 550 racers pulled into the Pennsylvania facility for the second NED Lucas Oil Divisional of 2023.
The race had something for everyone. Huge fields of NHRA Sportsman racers, jet cars, Hemi Shootout, and to end Saturday's racing action, a fireworks show putting a cap on the Night of Chaos.
Taking the Alcohol titles were a pair of Matts. Matt Cummings took the McPhillips A/FD to a win in Top Alcohol Dragster and Matt Gill drove the Moduline Cabinets '16 Camaro to a Top Alcohol Funny car title.
Just qualifying in T/AD was brutal. Eighteen dragsters were on hand to try and wedge into an 8-car show. Leading the charge was eventual winner Cummings from Delray Beach FL. with a 5.169 @279.27. Right behind Cummings was 2022 East Region champion Jackie Frick with a 5.218 in the Finke Racing A/FD.
Not making the field was a who's who of the class. Former winner Jeff Veale, NED hitters Tom Fox and Richard Bourke were spectators on Saturday after their best shots fell short of the 5.326 bump of Harrisburg PA. racer John Ausherman.
The finals went true to form with the top qualified cars of Cummings and Fricke meeting to settle who had the better car.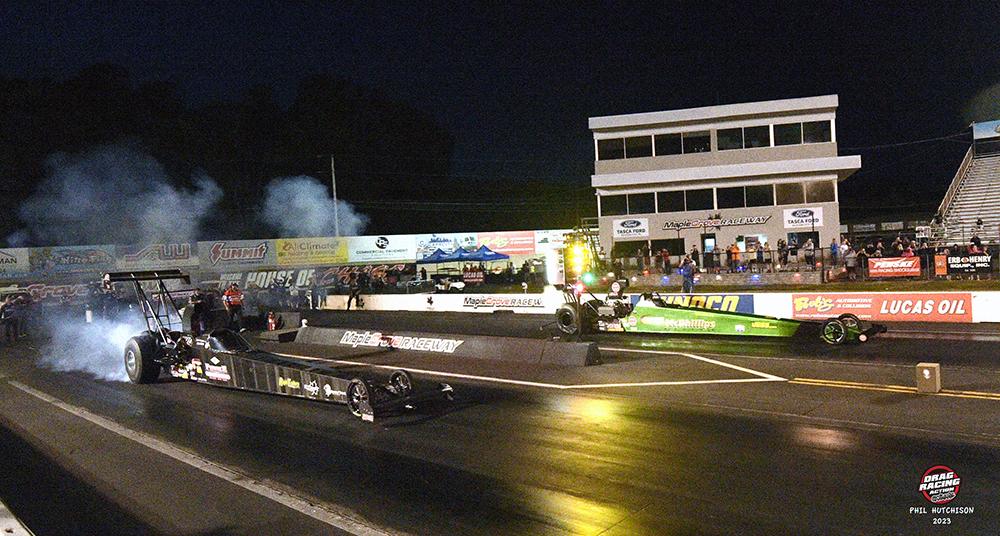 Unfortunately the race was over at the green, or in Fricke's case, the lack of it. Fricke went 0.002 red and then overpowered the track giving Cummings his third Lucas win and his second consecutive Maple Grove regional win. Cummings was no slouch in his win, running Low ET of Eliminations with a 5.175 @ 280.37.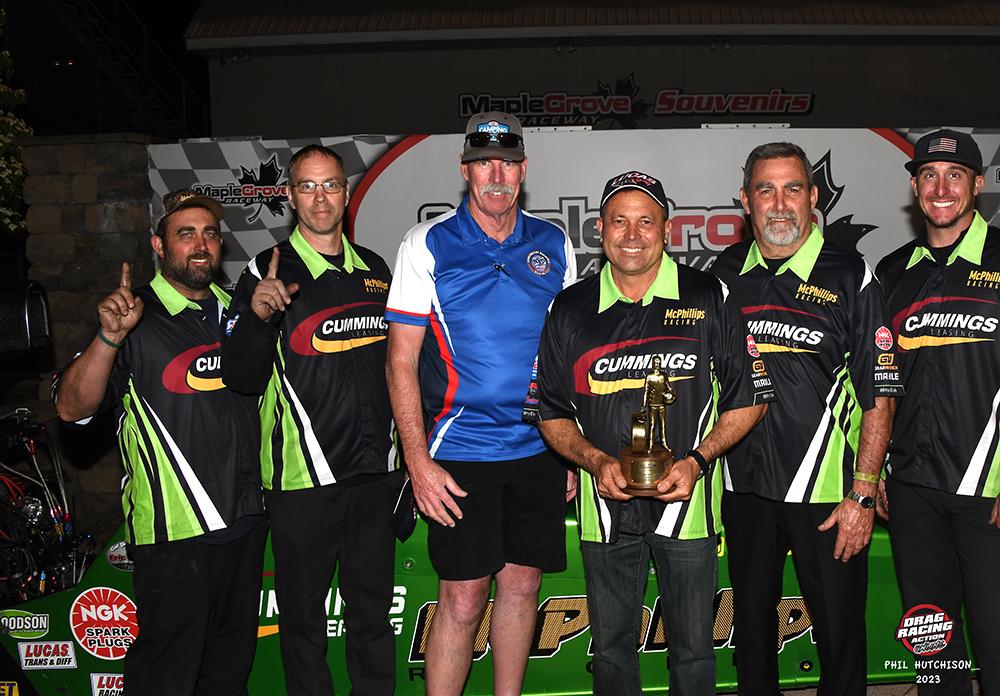 NHRA announcer Alan Reinhart congratulates the winning team of McPhillips and Matt Cummings
Alcohol Funny Car, while not having a onslaught of racers on hand like the dragsters, made up for it with some great racing and upsets throughout eliminations. 2022 East Regional champ DJ Cox led the field with a 5.457 in his '19 DXI Construction Camaro with eventual winner Gill a tick behind with a 5.474.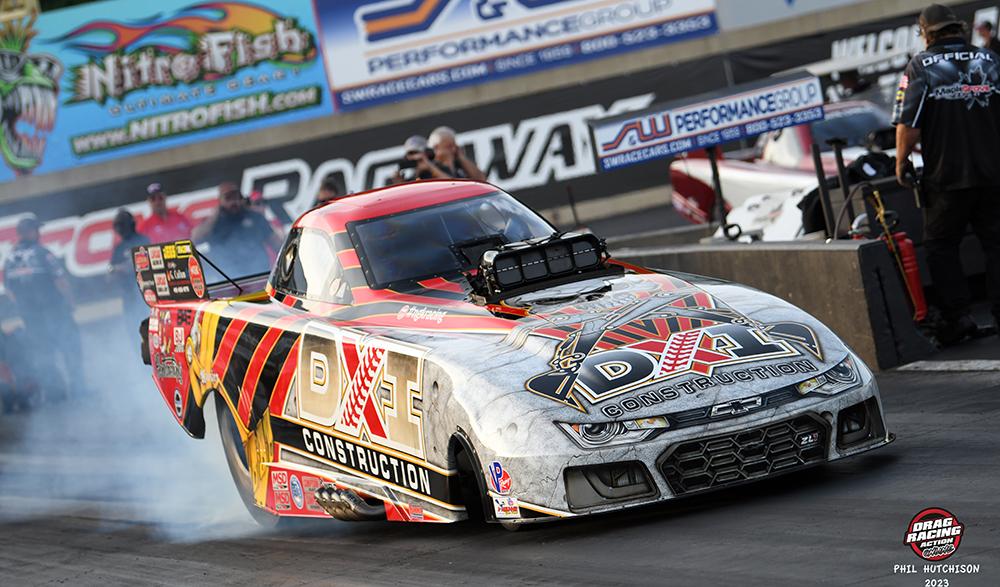 Low Qualifier DJ Cox had a forgettable weekend hurting his motor in the second round
Cox had problems in his second round matchup with Wayne Morris and lost to the Lincoln University PA. with an off pace 6.728 after the motor went south in the car. Gill got around the '19 Camaro of Brian Gawlik with a 5.504 to Gawlik's close 5.589 to set up the final. It was a David vs. Goliath as Gill had the quicker car throughout eliminations but Morris had luck on his side.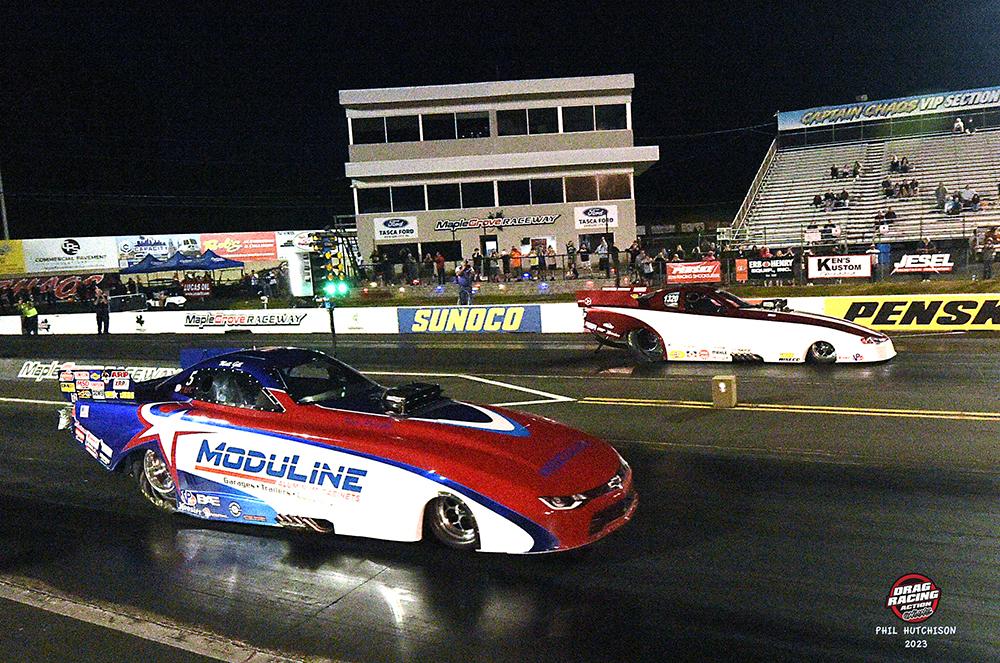 At the green Morris got a great light over Gill but the Massachusetts driver easily reeled in Morris running a 5.488 to Morris' slowing 6.296. The win was Gill's 14th career Lucas win and his second of the 2023 season. The win also puts distance between him and second in points DJ Cox, as his 170 points leads the 75 points of Cox. Brian Gawlik is also tied for second with 75 points.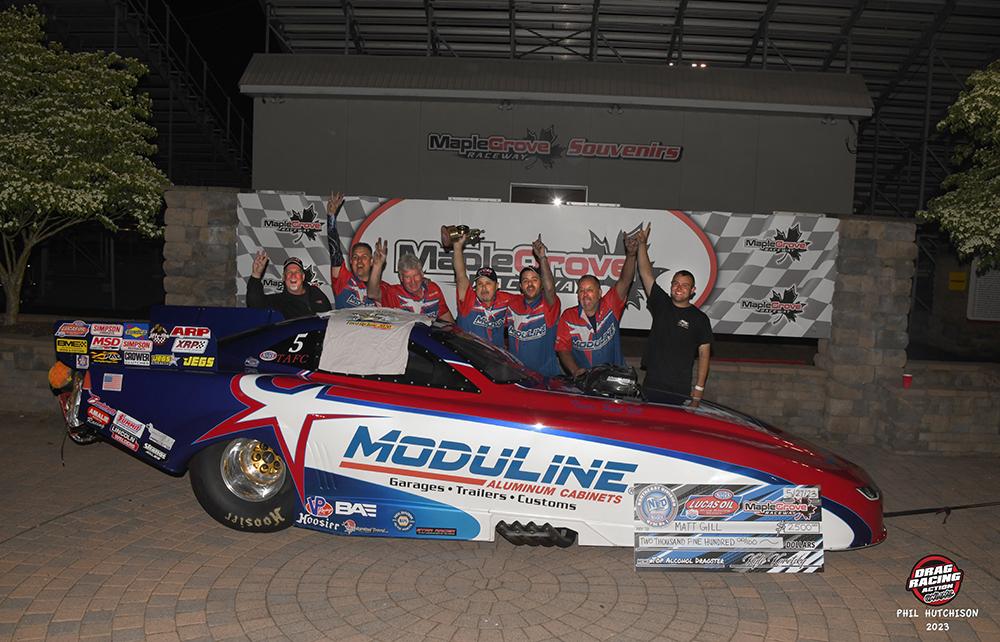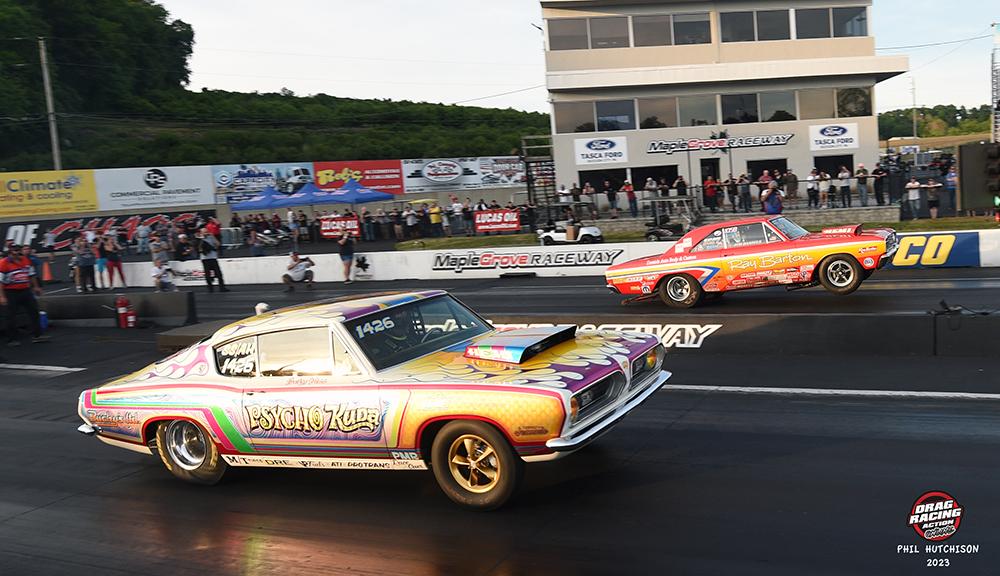 Jimmy Daniels, far lane, took out Bucky Hess in Hemi Shootout final on Saturday
In addition to the Alcohol classes being decided on Saturday, a special four car Hemi Shootout was contested with two of the best in the finals. Multi time Indy Hemi Challenge winner Jimmy Daniels was up against the "King" of the Hemi Cudas, Bucky Hess in the finals.  Daniels Dodge Dart was off the line first and never looked back running a 8.353 to Hess' closes 8.428.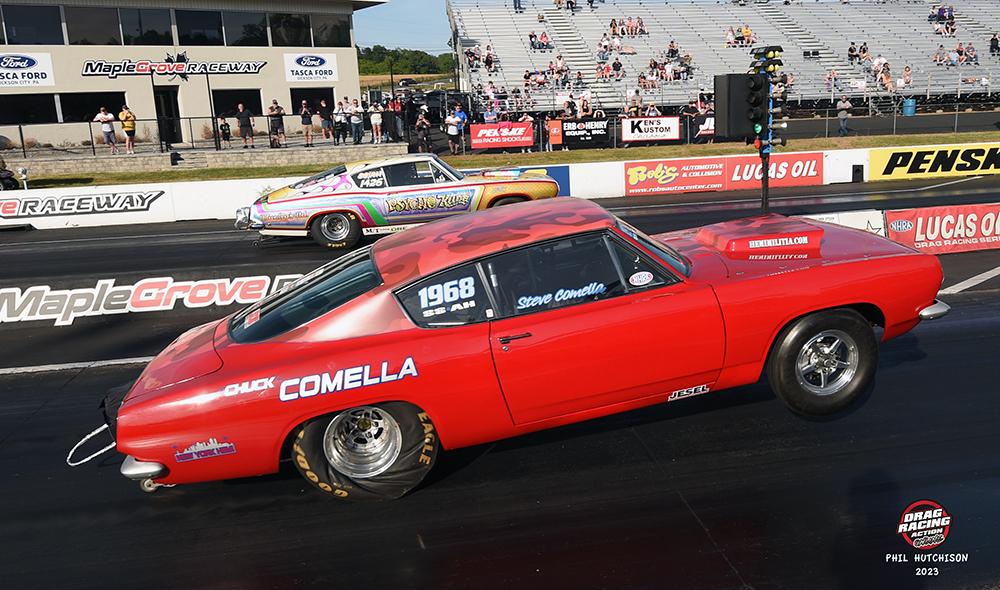 Low qualifier was defending Indy Hemi Challenge winner Steve Comella, near lane,  in his '68 Cuda at a 8.282. Comella slowed to a 8.675 in round one losing to Bucky's 8.466.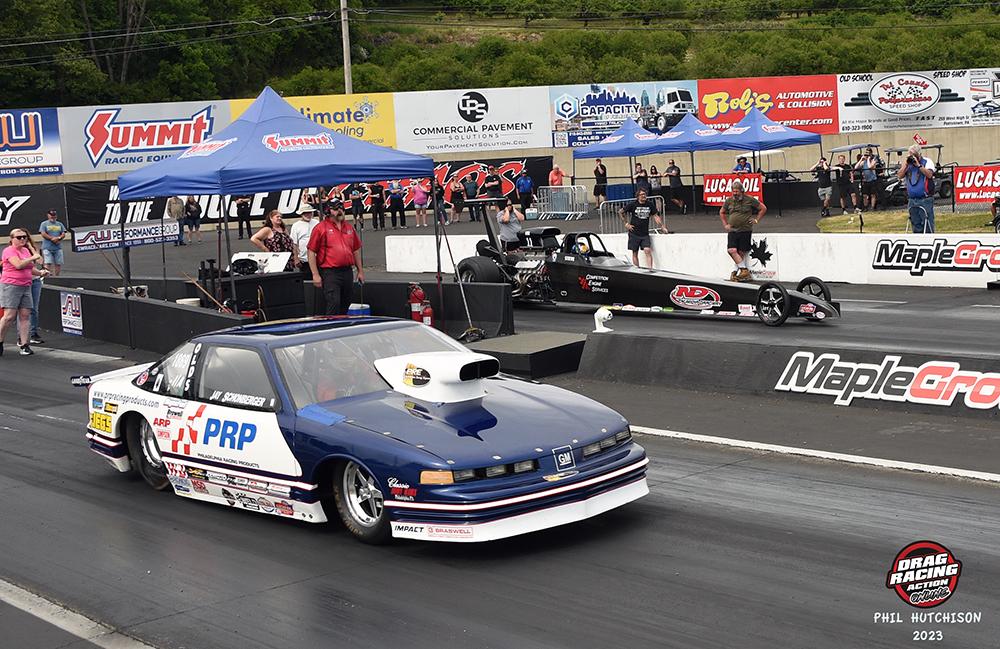 2022 Division One Competition Eliminator champ Steve Szupka repeated as Maple Grove winner driving the Mike and Pam Miskovsky's C/DA. Szupka, who used two back-to-back wins to start 2022 to springboard him to the Comp title, faced the I/A Olds Cutlass of Jay Schonberger in the finals. Both drivers were on their reaction time game as Schonberger was off first with a0.012 light to Szupka's close 0.019.  Szupka, who had a colossal race in his semi final round against fellow C/DA driver Don Eckel, ran a 0.525 under 6.975 to Schonberger's losing 0.415 under 8.225. The win was Szupka's sixth Lucas win.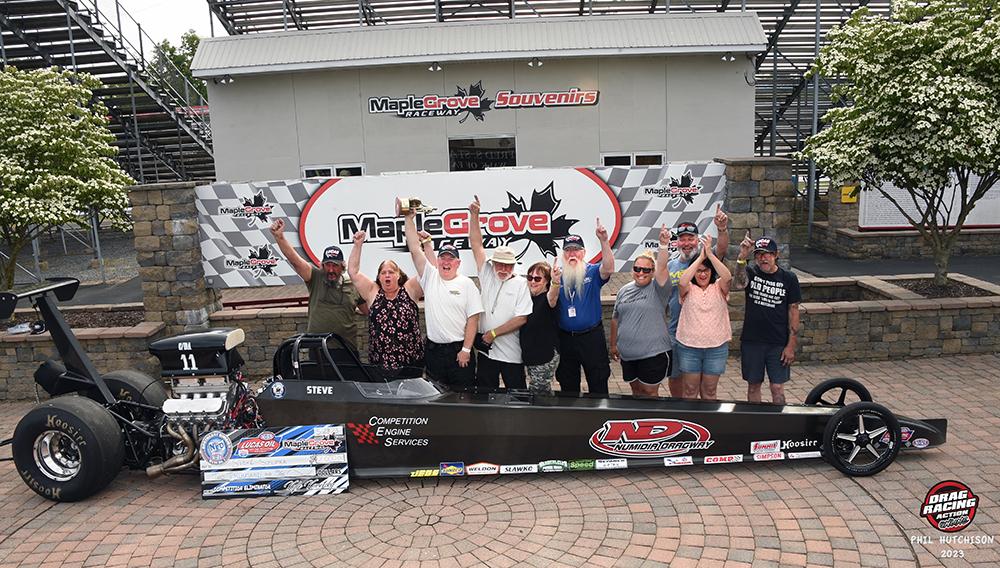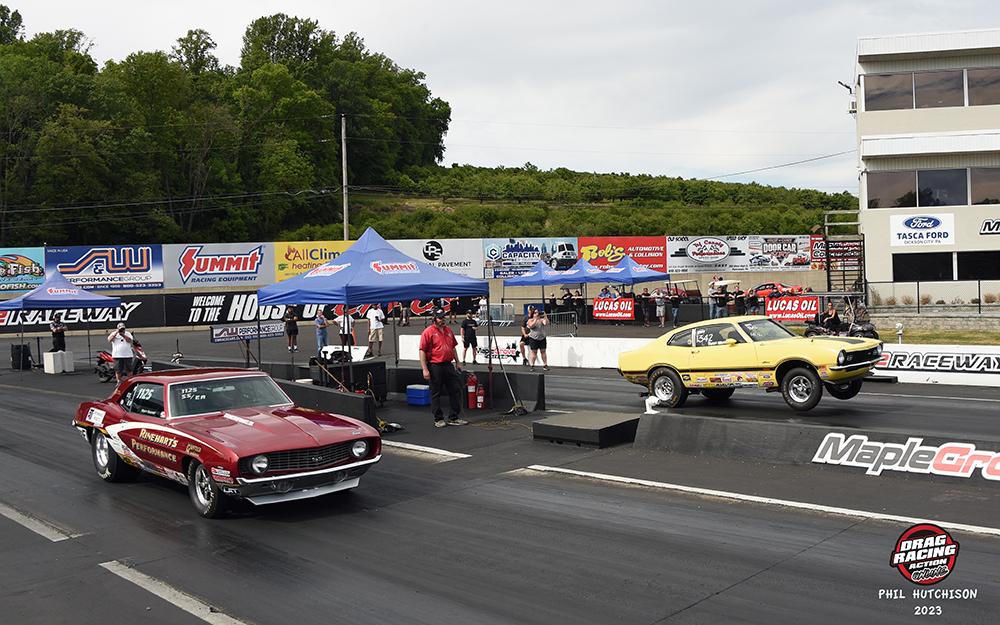 Thomasville PA. driver Marty Rinehart drove his SS/EA '69 Camaro to the Super Stock title beating the '71 Maverick of Duane Hoven. Hoven's GT/PA Ford was off the line with a telepathic 0.005 RT to Rinehart's equally impressive 0.008 light.  At the stripe Rinehart pushed Hoven a little too much as Hoven, from Monroe Twp. NJ broke out with a 10.674 on his 10.71 dial as Rinehart took the win with a dead on eight, 9.838 on a 9.83 dial.  The win at Maple was Rinehart's second career Lucas win.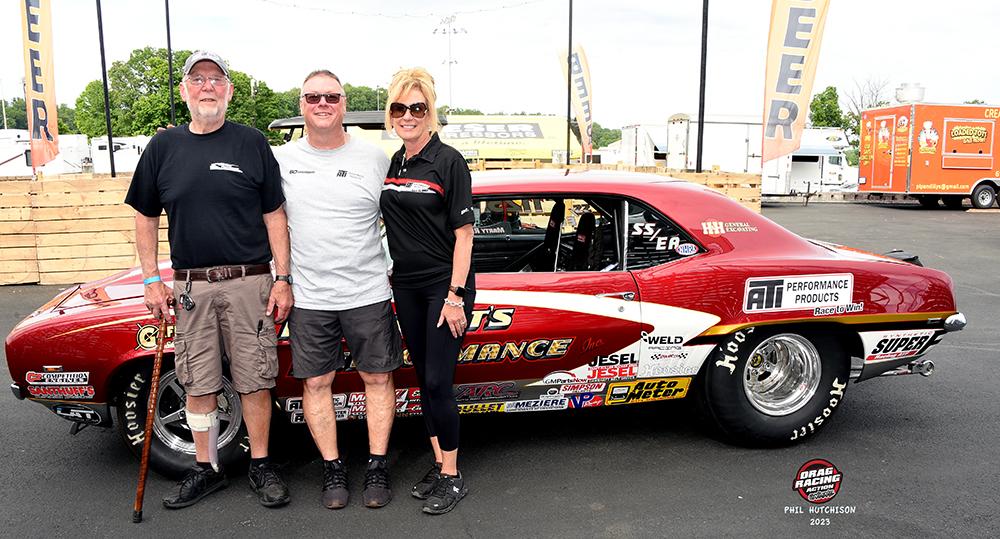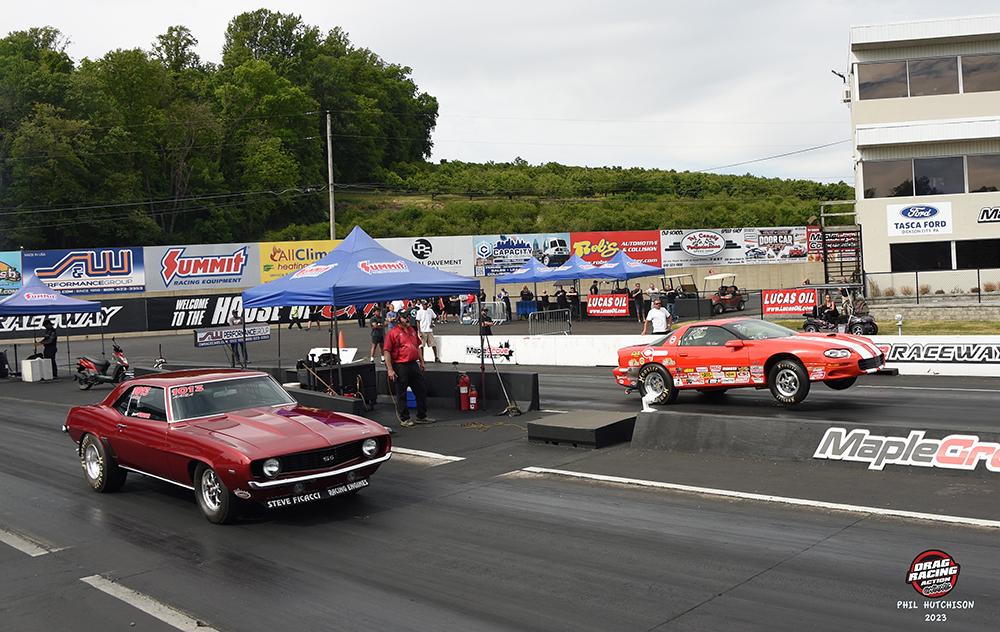 "Pie" Dent, far lane,  took out Dave Ficacci in the finals of Stock
It was "Pie" time in Stock Eliminator as Charlotte Hall MD. racer Wallace "Pie" Dent won his fifth Lucas Oil Drag Racing series Wally.  Dent, driving his C/SA '98 Camaro defeated the '69 Camaro AA/SA of Dave Ficacci from Randolph NJ. for the win. Ficacci had the better RT but had traction woes and could not chase down Dent's 10.743 on his 10.64 dial in.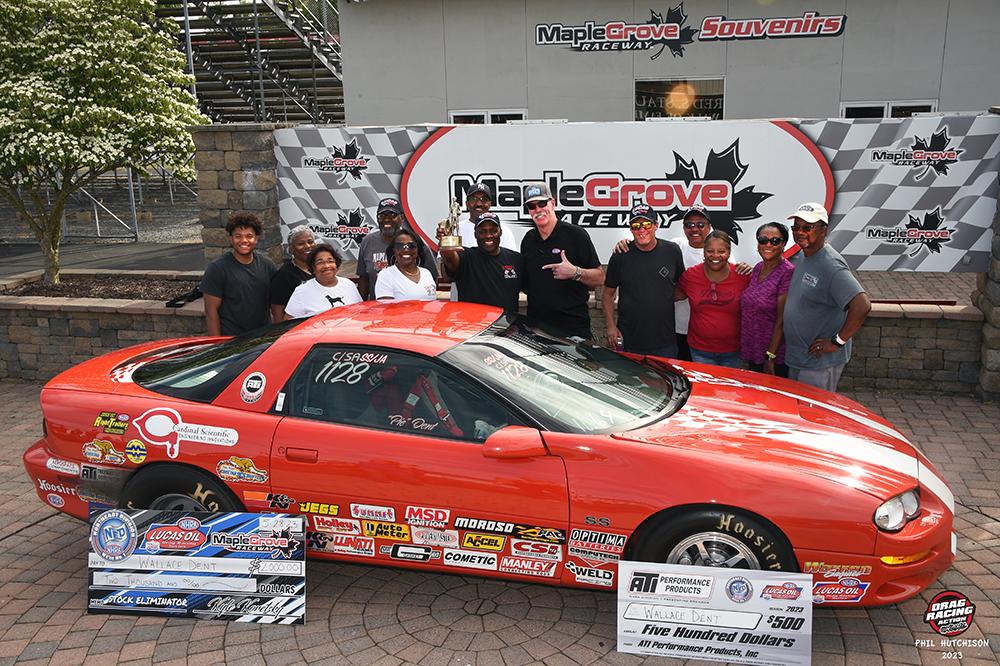 Stock Eliminator featured the largest field at Maple Grove with 118 cars on hand to battle it out. Low qualifier was Duncannon PA. driver Bryan Worner in '15 COPO Camaro of Jim Boburka. Worner got the Camaro to the third round losing to the Camaro of Frank Maiolo.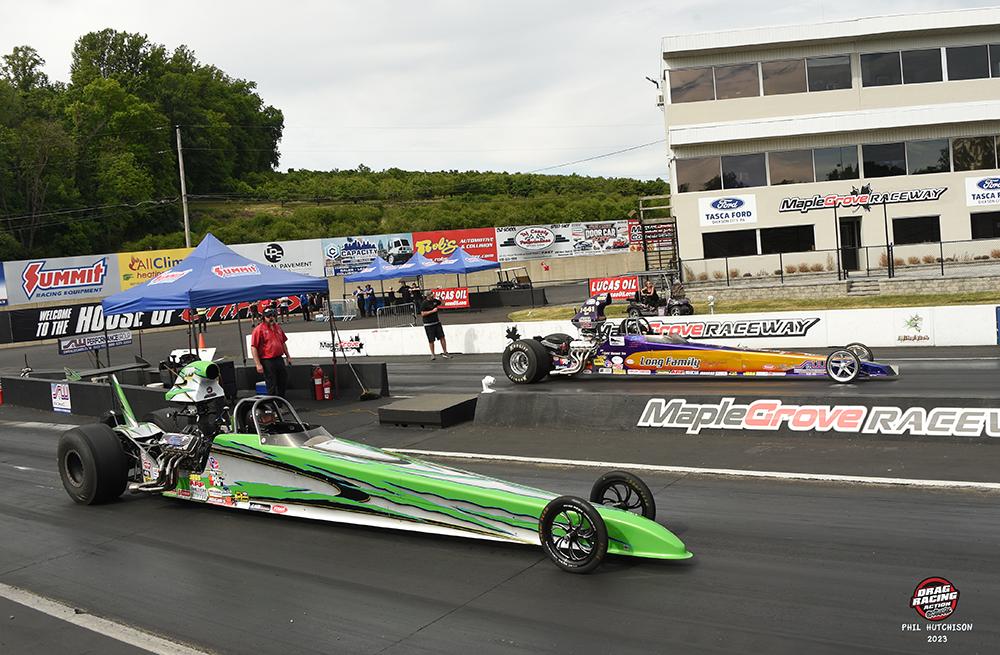 Wallingford PA. Super Comp racer Dave Long, far lane,  drove his dragster to a win defeating transmission specialist Ken Moses in the finals. Unfortunately for Moses from Colonia NJ, the race was over at the starting line as Moses went 0.015 red giving Long his 4th Lucas win.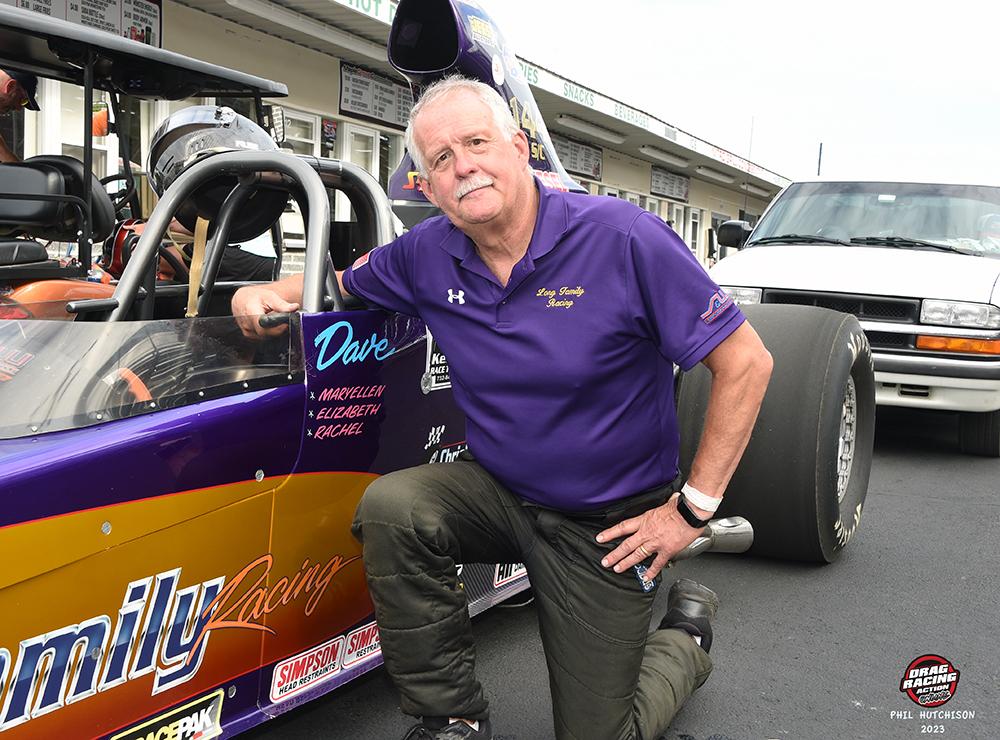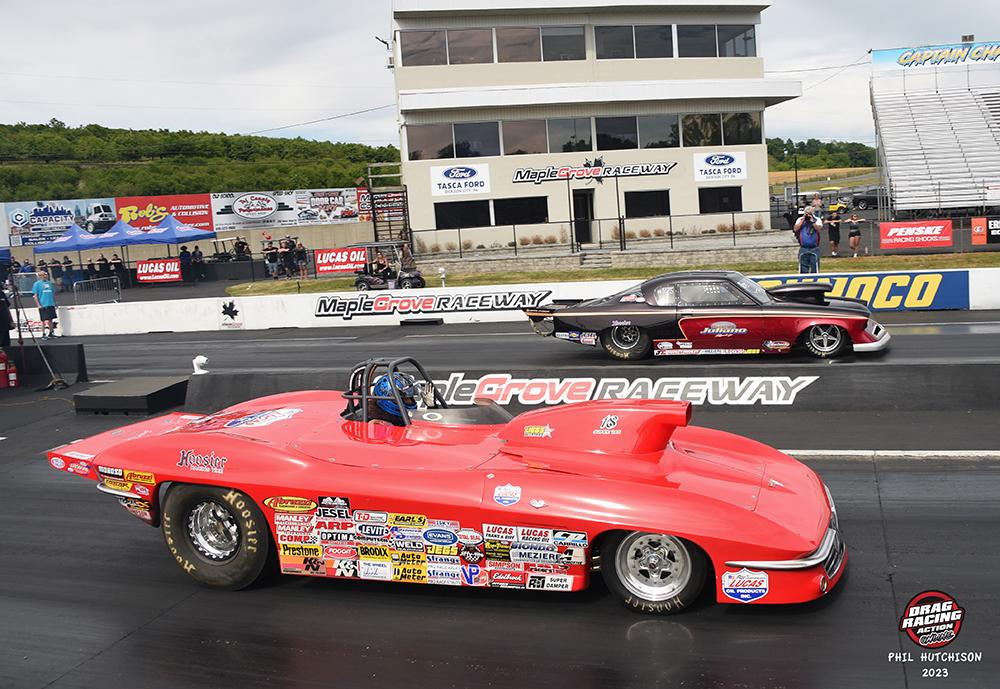 Tom Stalba from Hammonton NJ. has a history winning in his Super Gas Corvette roadster. Maple Grove continued that trend as Stalba beat the unique '53 Commander of Carl Juliano in the finals.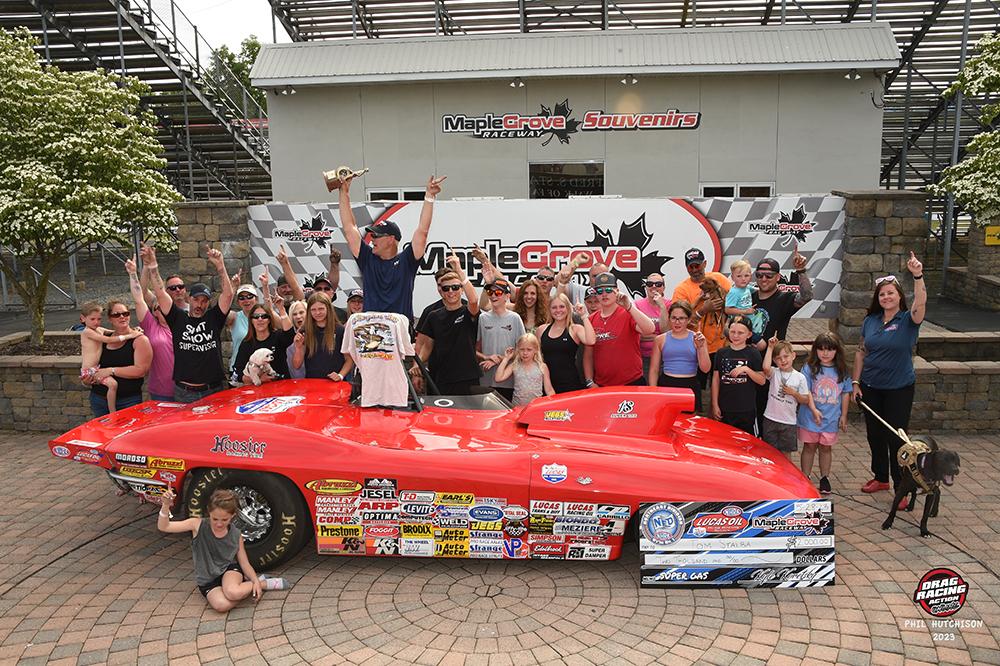 Juliano got the better light with a 0.013 to Stalba's 0.026 but the Jersey driver ran closer to the 9.90 index with a 9.914 to Juliano's losing 9.945. The win added #28 to Stalba's trophy cabinet and was his 15th in Super Gas.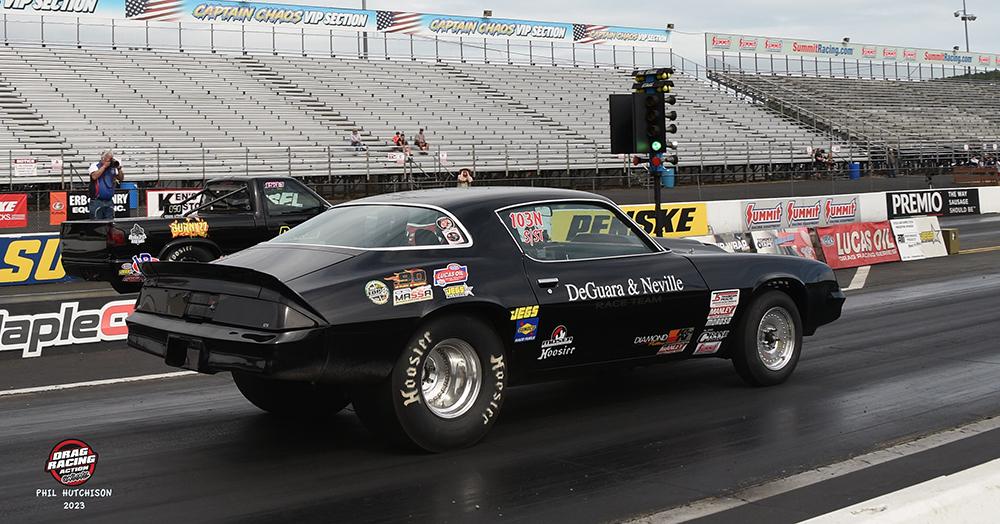 Jay Neville, near lane, had the RT he needed to take the Super Street win at MG
It was a long time between wins for Super Street winner Jay Neville from Franklinville NJ. Neville, driving his '79 Camaro was up against third generation racer Taylor Nobile in her '99 S-10 truck.
Neville crushed the tree with a 0.005 RT and essentially locked out Nobile's chance of a win with a 10.914 to Nobile's breaking out 10.893.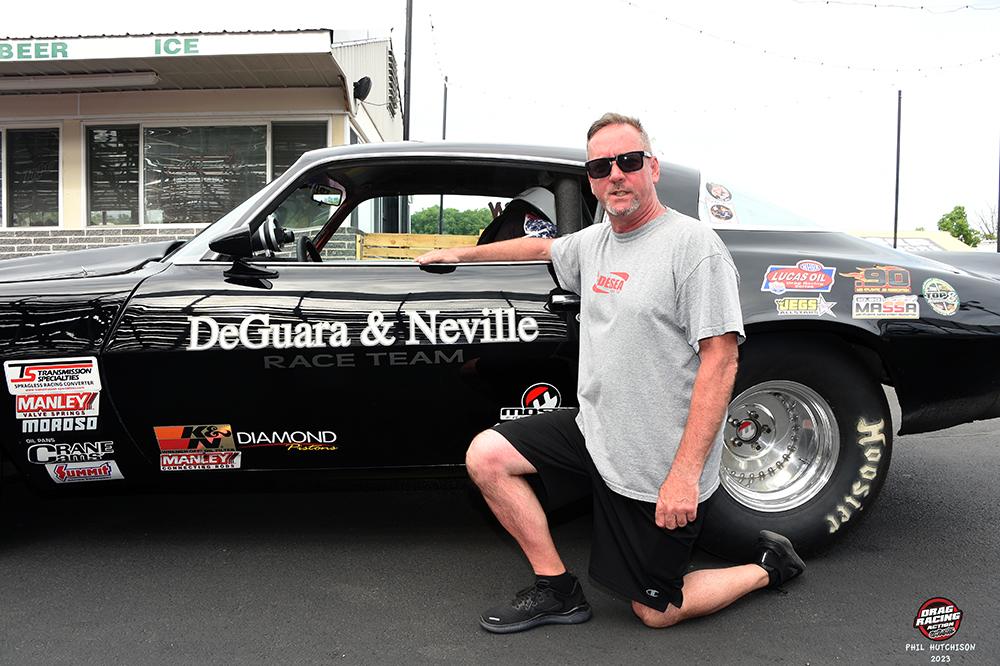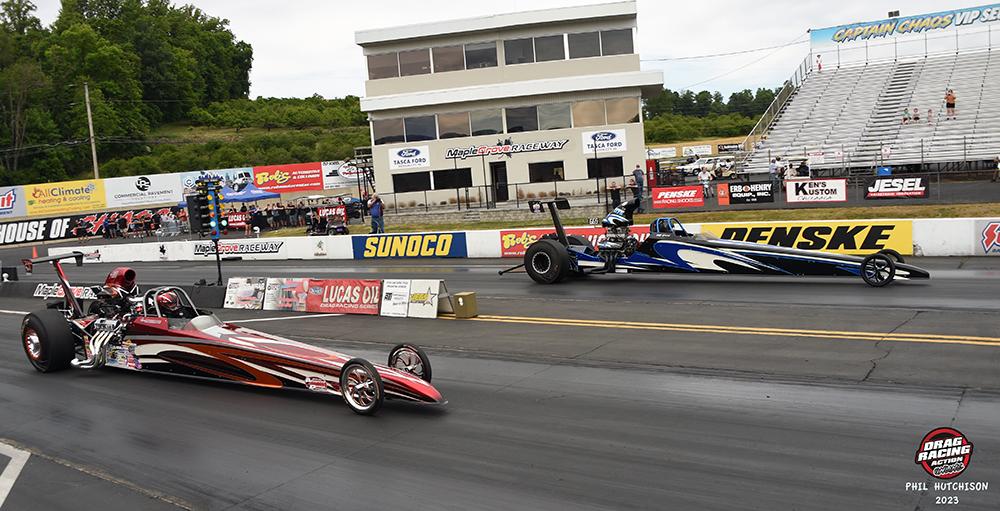 Vince Musolino, near lane, used a starting line advantage to snag the win in Top Dragster
Tommy Tape Top Dragster presented by Select Performance champ Vince Musolino from Bridgeport NY had a tight final against the dragster of Eric Khoury from North Salem NH. Musolino got the better light with a 0.012 to a 0.044 of Khoury and held on for the win with a 6.591 on his 6.56 dial. Khoury was close with a 6.696 on his 6.69 dial but the difference at the starting line made all the difference at the stripe giving Musolino his sixth Lucas win.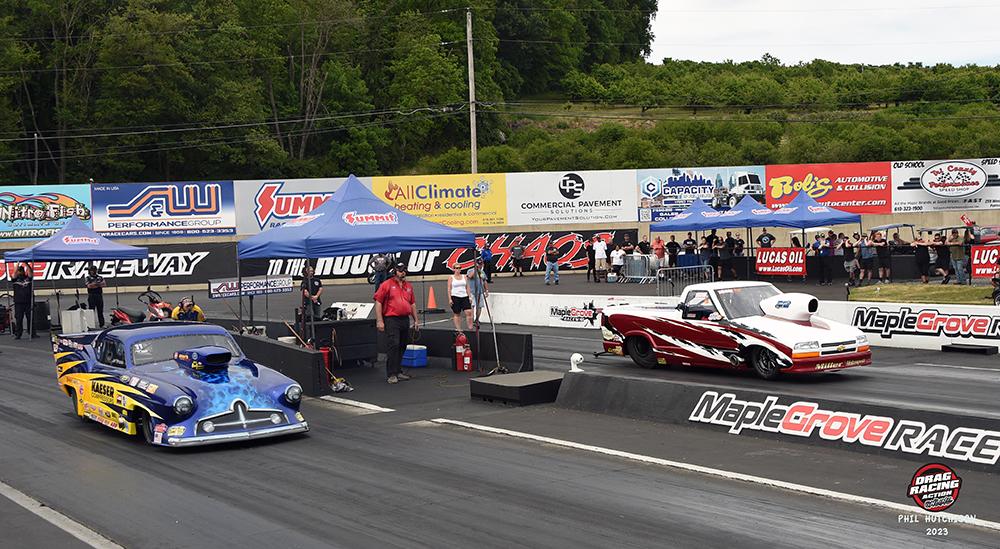 Brandon Miller. is on a tear in 2023. After winning the NED opener at Cecil a few weeks ago, Miller, from Canterbury CT, took the Tommy Tape Top Sportsman presented by Select Performance Wally back to Connecticut for the second year in a row.
Miller's final round opponent, the Low ET '51 Henry J of Jeff Brooks ran a dead on 6.46 but it was Miller's reaction time that made the difference. Miller had a 0.016 and ran a dead on three 6.883 in his '00 S-10 pickup for his second Lucas win of the year and his fifth career win.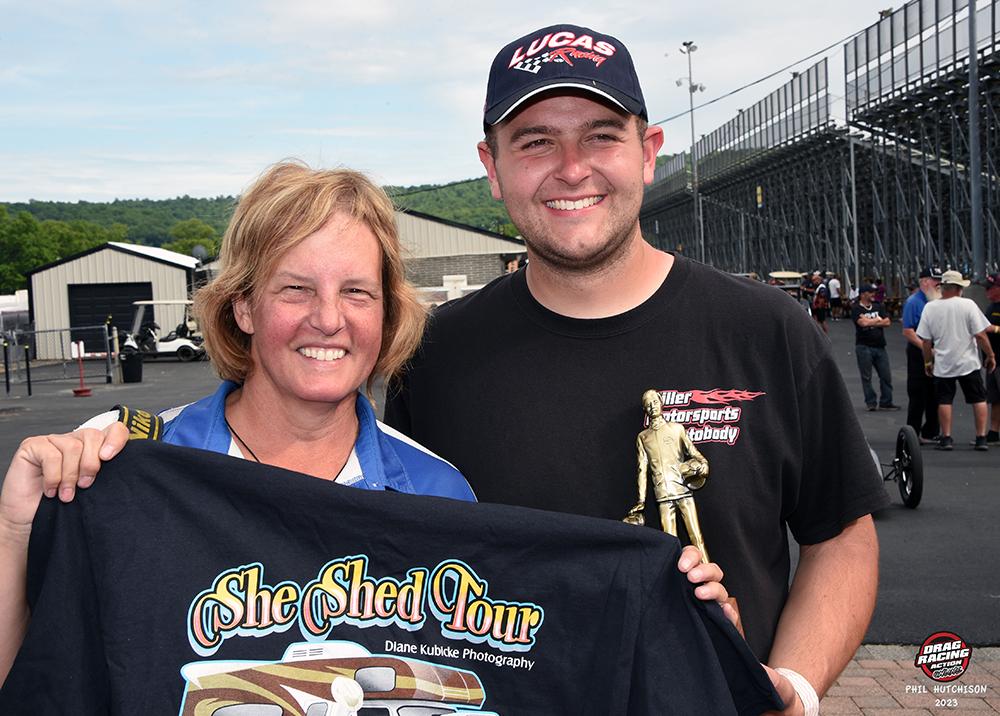 NHRA Division One Photographer Diane Kubicke presents Brandon with his Wally and her famous "She Shed Tour" T Shirt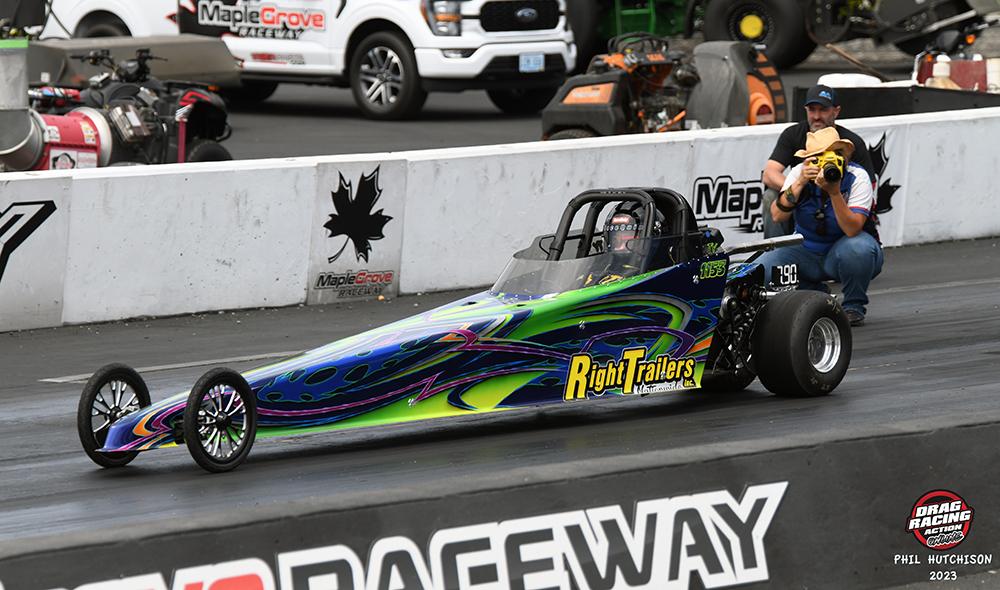 Third generation racer Tyler Depascale won Jr Dragster 13-18 defeating Charlie "Cue Ball" Blittersdorf who went red giving Depascale the win.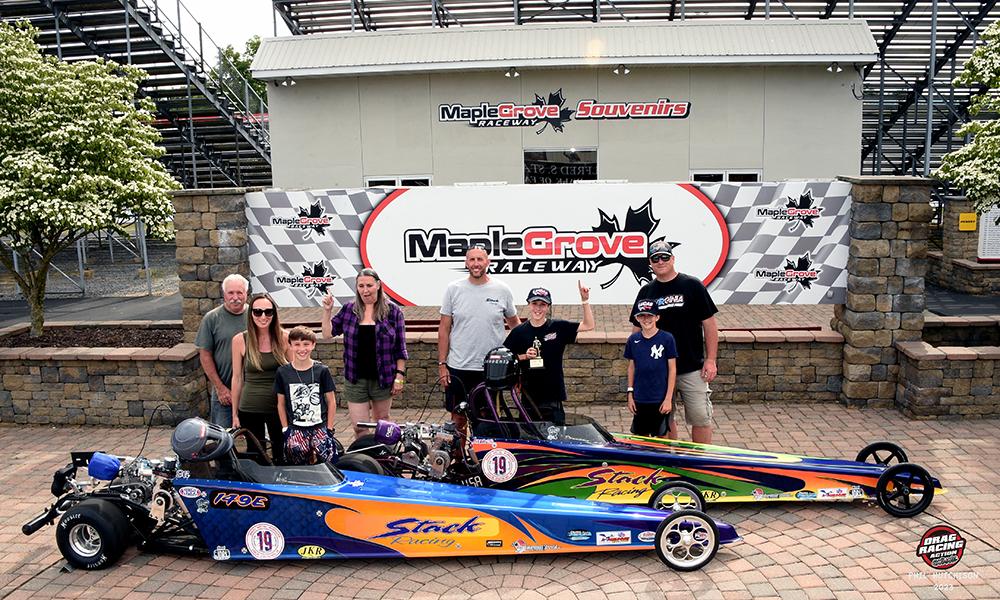 In Jr Dragster 10-12 it was a pair of brothers facing each other for bragging rights. Third generation racer James Stack Jr. was up against his brother Eli for the title and James had the better light running a 8.91 on his 8.90 dial to his brother's breaking out 8.889 on his 8.90 dial.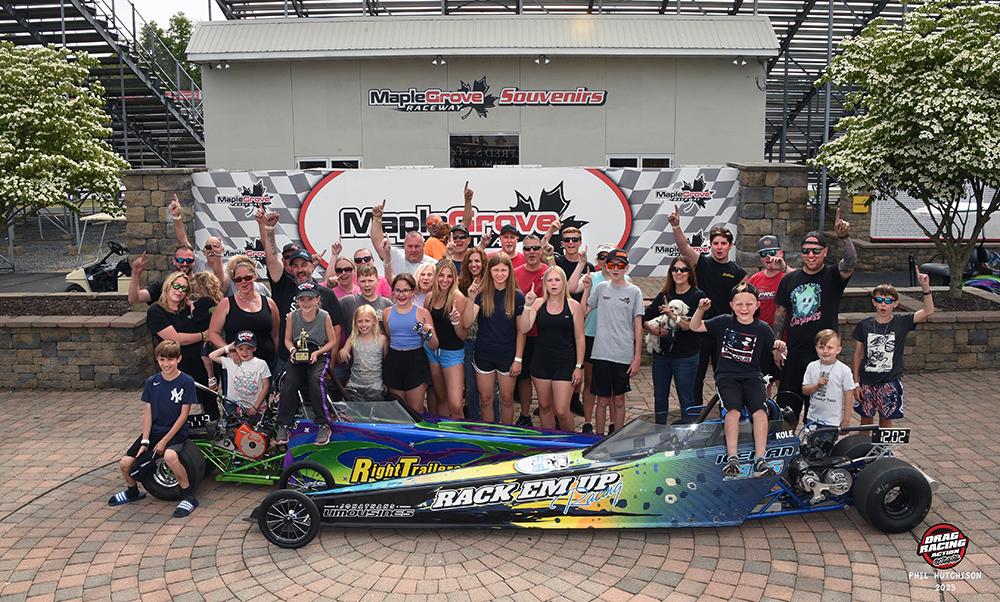 Jr Dragster 6-9 went to Tyler Depascale's sister Aleiya making it two out of three for the Depascale family. Aleiya took out Kole "Ice Man" Paone in the finals. Aleiya was sleeping on the tree with a 0.247 RT to Paone's better 0.079 but Paone blew through his dial running a 11.947 on his 12.02 dial as Depascale won with a 12.248 on her 12.20 dial in.
The next NHRA Division One event is June 9-11 at Lebanon Valley Dragway in West Lebanon NY.
For more images from the event go to: