Lenny Lottig Sweeps Flexjet Factory Stock Showdown with Victory Sunday at NHRA Four-Wide Nationals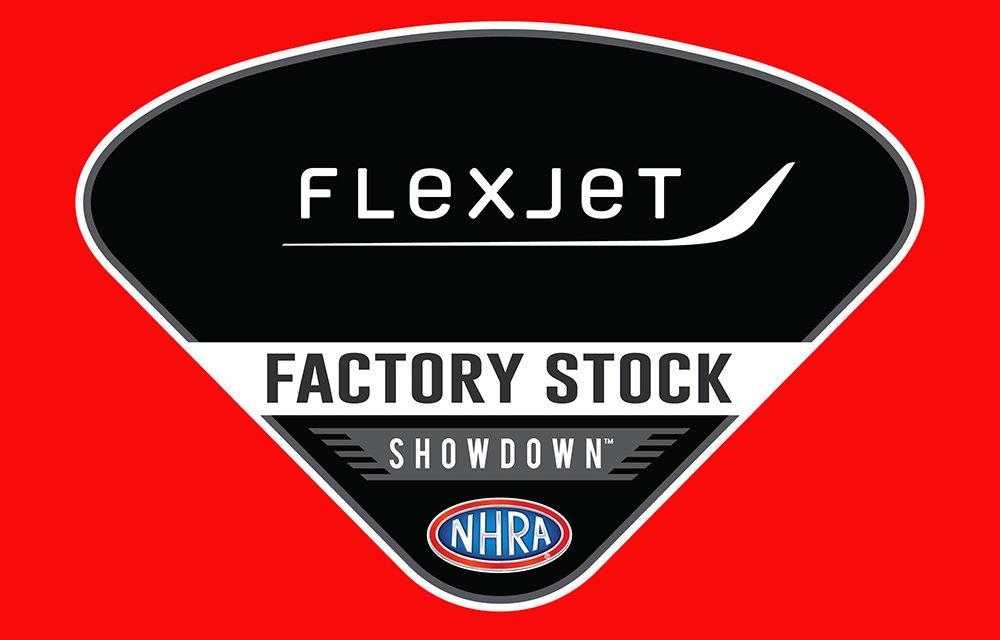 Courtesy Elon Werner  Images: Gary Nastase/Auto Imagery and Phil Hutchison
CONCORD, N.C. (April 30, 2023) – After securing the first No. 1 qualifying position of his career on Saturday, Lenny Lottig and his ITI Trailers and Truck Bodies Chevrolet COPO Camaro would rally to win his first win of the season and third of his career on Sunday at the Circle K NHRA Four-Wide Nationals at zMAX Dragway.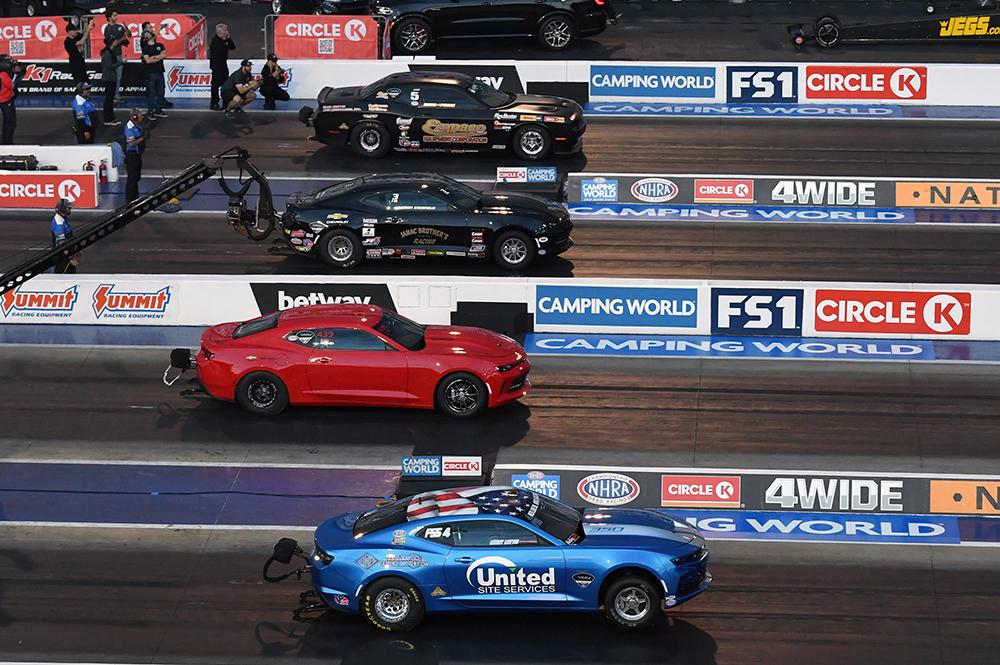 In the final quad of eliminations, Lottig would have a .344-second reaction time combined with an 8.059-second pass at 176.59 mph to defeat runner-up Aaron Stanfield's .719 reaction with a 7.701 pass at 178.26 and Stephen Bell's 8.312 run at 151.60. Mark Pawuk would time out on the starting line and not make a run.
"It's been a great weekend, we were low qualifier and to get the win at the end is great. We had to hurry up at the end. We got up here in 12 minutes.  It was the typical hurry up and wait game, which was a little bit stressful. I guess Pawuk timed out and then we unload with a pretty big wheel stand. We'll take the win on a dream weekend. Our confidence has been just great because we have a car and team that is competitive," said Lottig, who last won at the Gatornationals in March 2022. "I have to thank the crew and we surround ourselves with great people. We've got a great team and we're just having so much fun. It's been a fabulous weekend. It will be fun to celebrate with all the local people from back home who are here with us."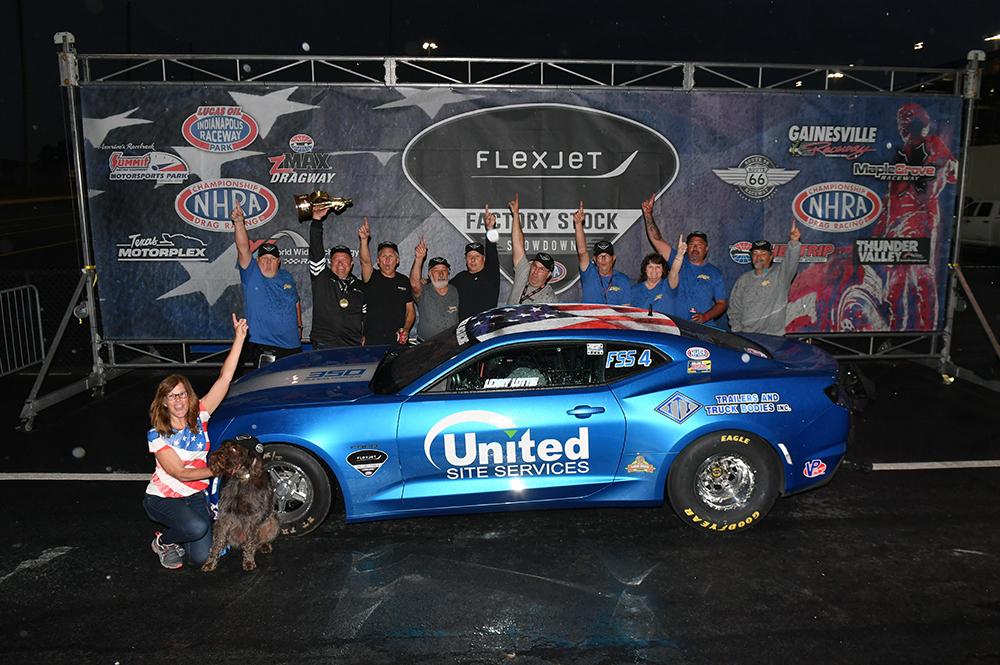 With a bye run to start the day, Lenny Lottig would run a 7.712-second pass at 176.77 mph and Anthony Berge would go 7.784 at 180.69 for automatic advancement to the third round. In another bye, Stanfield had a 7.746 pass at 178.26 to advance along with David Davies' 7.760 at 179.56 automatically take them to the third round.
Lottig made it to the final quad on a holeshot when he had a .052 reaction time combined with a 7.685-second pass at 179.18 mph to send AJ Berge home. Lottig would advance with Stephen Bell and his 7.663 at 179.47 while also sending home reigning champ David Barton.
With the victory, Lottig also picks up a target on his back through the Flexjet Factory Stock Showdown Bounty Program. Whoever ends his win streak will collect $1,000.
"I want to carry that bounty for a while. I want to build up so if and when someone gets it there is a big payday," Lottig said.
The Flexjet Factory Stock Showdown will next head to the Route 66 NHRA Nationals at Route 66 Raceway in Joliet, Illinois just outside of Chicago on May 19-21.
Top Ten Points Standings
Aaron Stanfield           235

Lenny Lottig                168

Joseph Welch              167

David Davies III           162

Jesse Alexandra          147

AJ Berge                      145

Stephen Bell               130

David Barton               130

Mark Pawuk                130

Doug Hamp                 106

About Flexjet
 
If maintaining performance vehicles is your passion – translate those skills into becoming a Flexjet aircraft maintenance technician (AMT). Explore a career with the world-class Flexjet Maintenance group today.
Flexjet, Inc., a global leader in subscription-based private aviation, first entered the fractional jet ownership market in 1995. Flexjet offers fractional jet ownership and leasing and is the first in the world to be recognized as achieving the Air Charter Safety Foundation's Industry Audit Standard, is the first and only company to be honored with 24 FAA Diamond Awards for Excellence, upholds an ARG/US Platinum Safety Rating, a 4AIR Bronze Sustainable Rating and is IS-BAO compliant at Level 2. Red Label by Flexjet, a market differentiator, which features the most modern fleet in the industry, flight crews dedicated to a single aircraft and the LXi Cabin Collection of interiors. To date there are more than 40 different interior designs across its fleet, which includes the Embraer Phenom 300 and Praetor 500, Bombardier Challenger 350, the Gulfstream G450 and G650. Flexjet's European fleet includes the Embraer Praetor 600 and the Gulfstream G650. Flexjet's helicopter division sells fractional, lease, and on-demand charter access to its fleet of owned, operated and maintained Sikorsky S-76 helicopters which boast 55,000 hours of safe flying certified by Wyvern and ARG/US and serving locations throughout the northeastern United States, United Kingdom, and southern Florida. Flexjet is a member of the Directional Aviation family of companies. For more details on innovative programs and flexible offerings, visit www.flexjet.com or follow us on Instagram @FlexjetInc.
Media Contact: Elon Werner, 214-244-1184, elon@elonwerner.com
Elon Werner
Founder
M: 214-244-1184
Twitter: @elonwer