NHRA Division One Take JEGS Allstars Title At Indy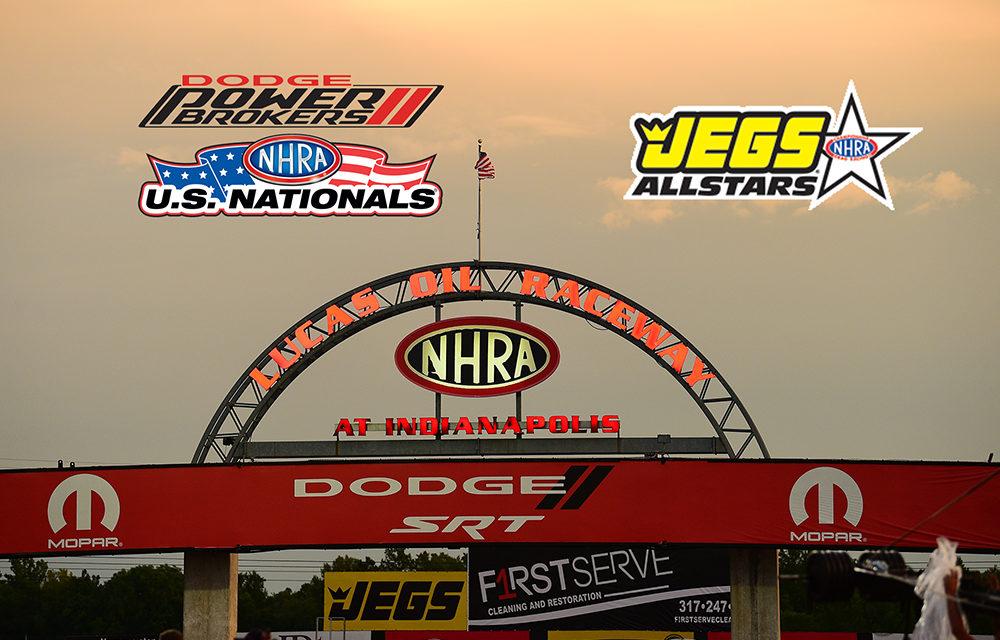 Story Drag Racing Action Online and courtesy NHRA
Images Phil Hutchison
After the first round of the JEGS Allstars on Saturday of the US Nationals, it didn't look good for the NHRA Northeast Division. After over a decade of not winning the prestigious JEGS title, it looked like a replay of the past 10 years with D1 being an also ran again.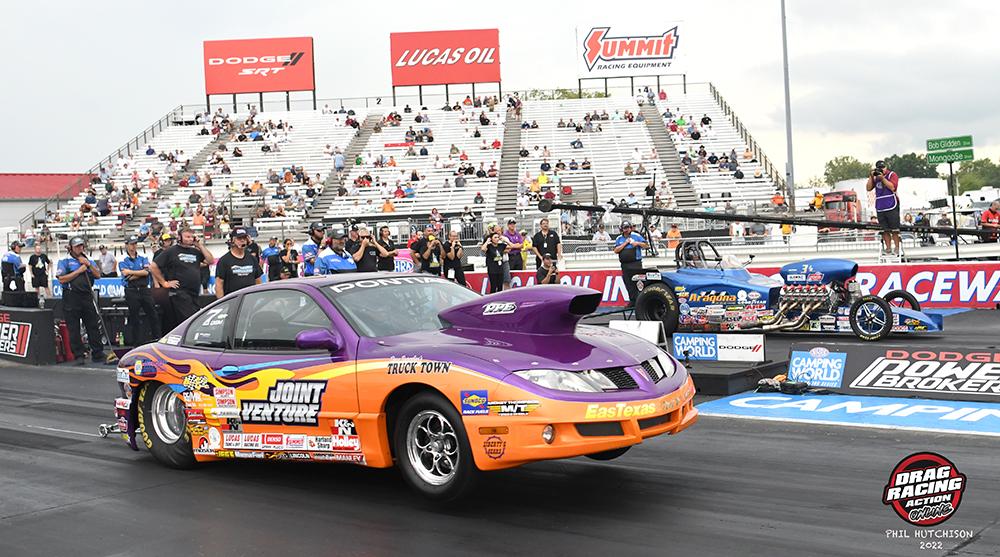 NHRA Sportsman stars Joe Santangelo and Frank Aragona Jr both went out in the opening round which didn't spell a good finish for the D1 team.  Aragona and Santangelo were instrumental in the division's last win in Chicago in 2010 but now sitting on the sidelines.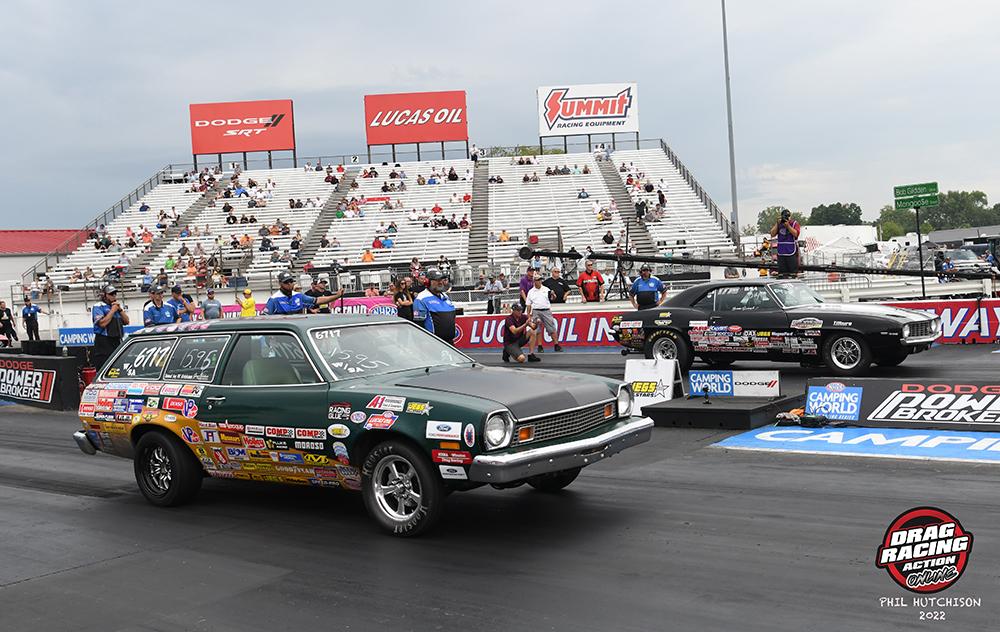 Santangelo's B/SA Camaro lost to Division 6 representative Darrick Ellam's W/SA Pinto Wagon and Aragona's normally quick J/AA clicked it off early against the D/SM Pontiac of D6 racer Ryan Warter.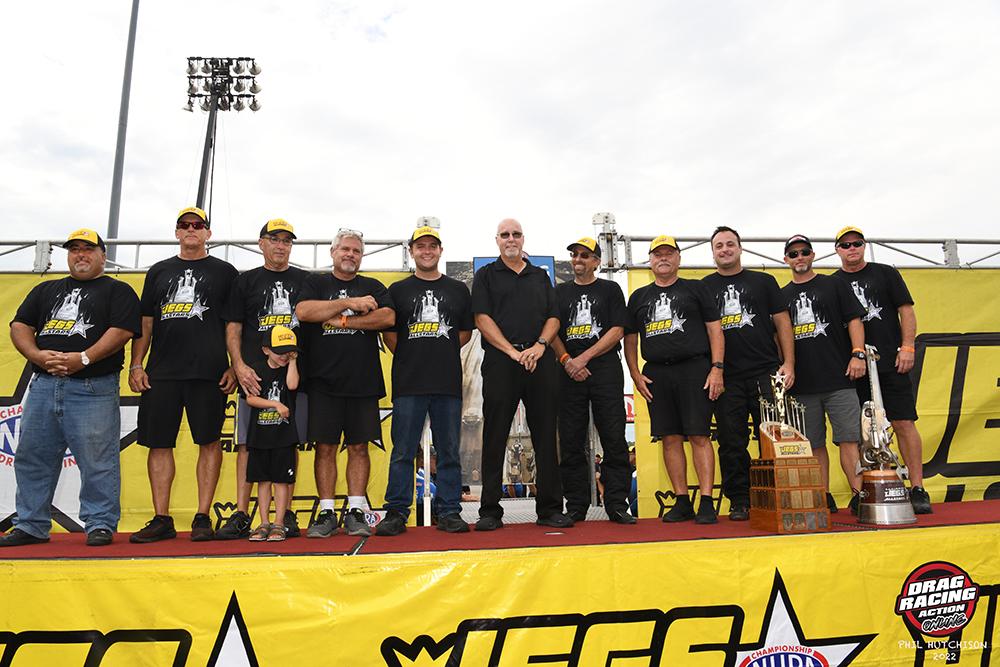 Adding to the team's woes were Herbie Null and Bryan Worner's early exits in Super Stock.  Luckily, Super Street rep Keith Mayers, Top Dragster's Brandon Miller along with blocker Al Kenny, Bobby Fortuna in Top Sportsman, Michael Handras in Super Gas, and Mike Robilotto in Super Comp all advanced to round two. Keith Mayer's Porsche won his second round race against local racer Ryan Locke as did Fortuna, Kenny, and Miller. Robilotto and Handras both bowed out in R2.  D1 was in the hunt going into the finals but nothing was certain. Mayer lost a close one in Super Street but Miller and Fortuna both won putting the NED in the winner's circle once again.
The JEGS win was especially poignant for NED division director Dave Mohn.  After years of service, Dave has decided to make 2022 his last year as director.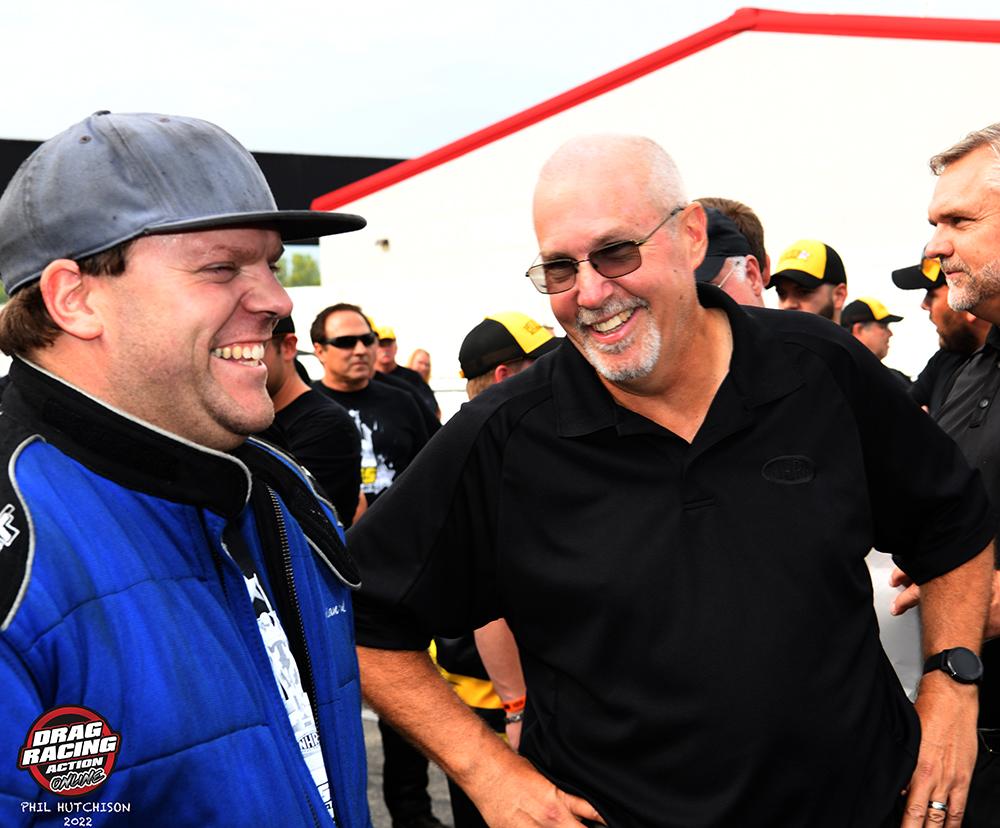 NED Division Director Dave Mohn is all smiles before the start of eliminations
The following recap of the JEGS Allstars is courtesy of NHRA and Kevin McKenna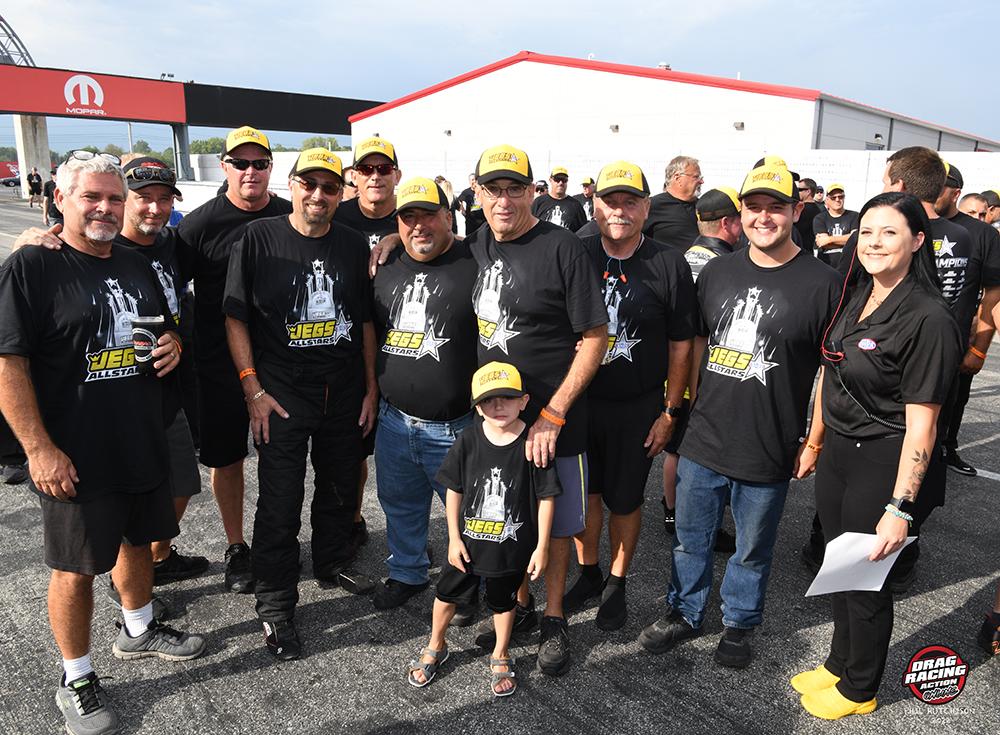 The team from the Northeast Division put two of their racers in the winner's circle to claim their eighth overall team title in the prestigious JEGS Allstars event, held on Saturday during the Dodge Power Brokers NHRA U.S. Nationals at Indy. Brandon Miller won in Top Dragster while Robert Fortuna won in Top Sportsman to put the D1 team over the top. The final tally had the Northeast Division with 1,000 points, holding off the team from Division 2 that finished with 900 points. Divisions 3 and 7 were also in the mix with 800 points each. The teams from the Northeast, Southeast, and North Central Divisions now have eight JEGS Allstars wins apiece.
The JEGS Allstars is a unique competition that showcases the best Lucas Oil Series sportsman racers from each of NHRA's seven geographic divisions. The West Region also won the JEGS Allstars team title for racers in Top Alcohol Dragster and Top Alcohol Funny Car.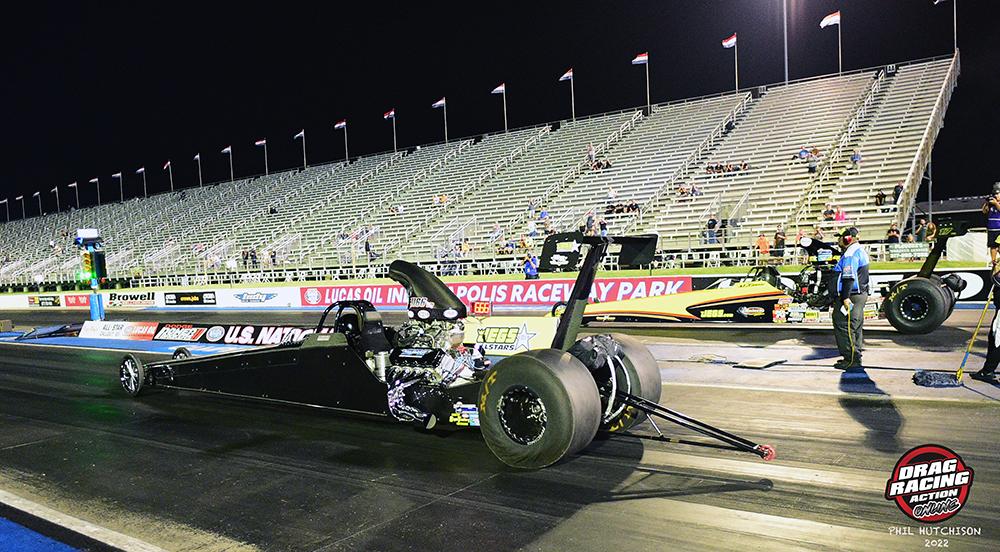 Miller (near lane) beat teammate Kenny for the JEGS Top Dragster title
Leading the charge for the Northeast Division team was Miller, who at 19 became one of the youngest winners in JEGS Allstars competition. Miller was nearly perfect on both ends of the track with a .009 light and a 6.662 on his 6.66 dial to stop defending event winner Al Kenny, who broke out by a hundredth of a second.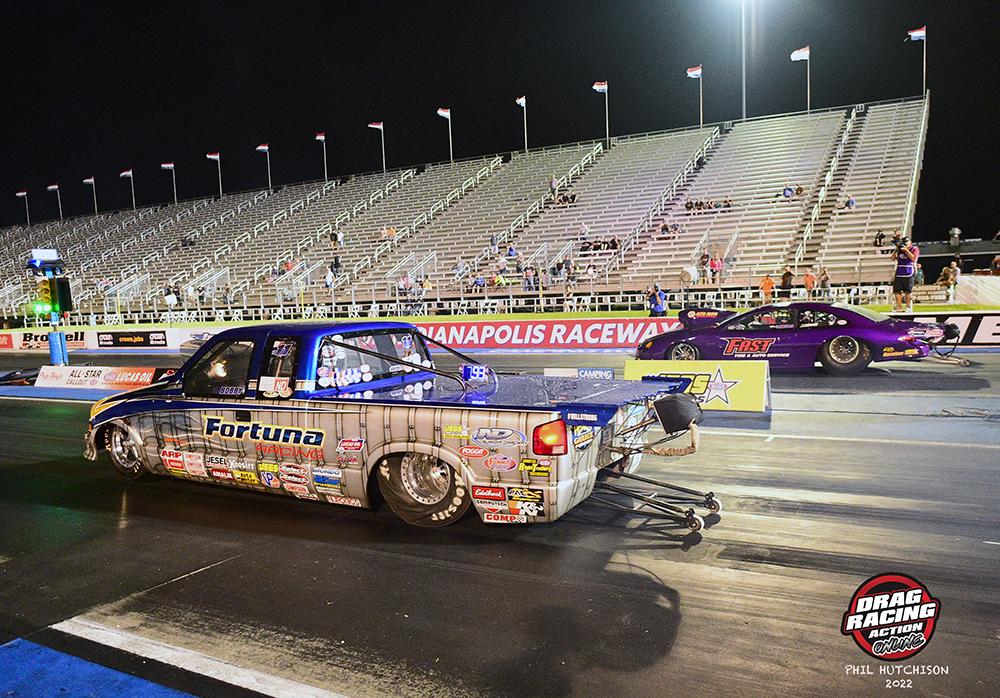 Fortuna (near lane) took his S-10 to a JEGS Top Sportsman victory
Miller's teammate, Fortuna, followed by beating Division 7 rep Paul Mitsos in the Top Sportsman final. Fortuna won on a double breakout with a 7.927 on his 7.93 prediction after Mitsos ran .005-second under his dial. Fortuna and Miller combined to score 600 points for the winning team, whose members shared a $20,000 point bonus.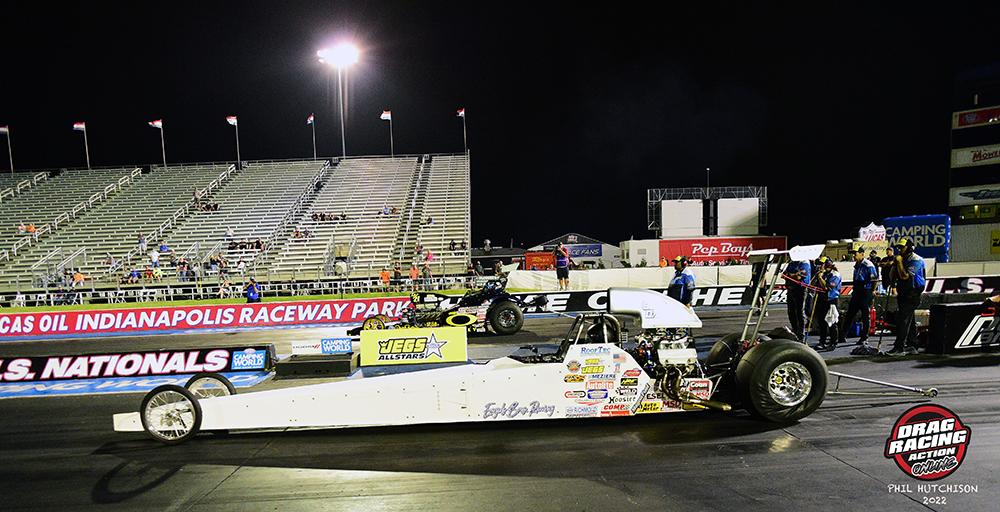 David Eaton (far lane) drove his Bantam to a Comp win at the Allstars
Division 2 racer David Eaton, one of the leading contenders for the Comp world championship, won the Allstars title after stopping defending event champ Doug Engels in the final. Eaton drove his A/AP Bantam to a coasting 6.799 for the win after Engels shut off early. Eaton made it to the final by beating David Billingsley and Scott Linder.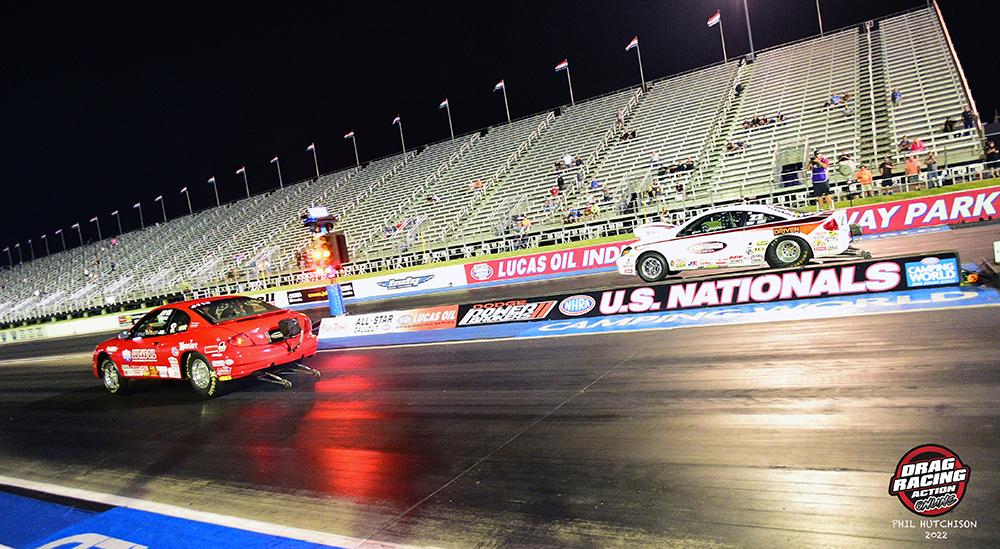 Pete Perry (near lane) relighted his chances away in the finals of Super Stock
Mike Crutchfield won his fourth JEGS Allstars title for the Southeast Division team when he defeated Pete Peery of Division 4 in the final round. The race was decided early when Peery turned on the red-light. Crutchfield's path to the final included wins against Wyatt Wagner of Division 5 and five-time world champ Jimmy DeFrank of Division 7.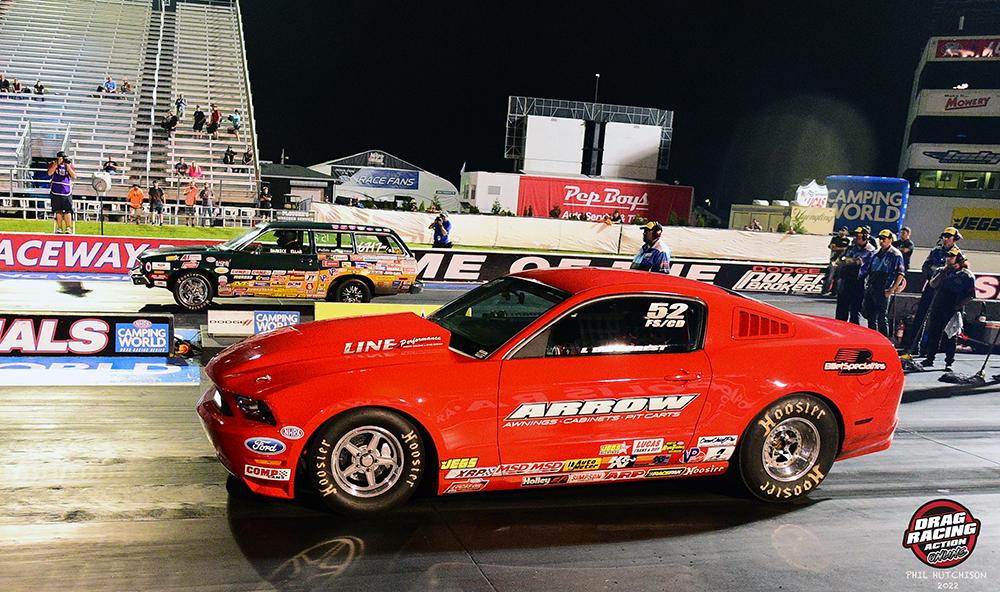 Larry DeForrest (near lane) defeated the pesky Pinto Wagon of Ellam in the finals of Stock
The Stock final featured the slowest car in the field vs. the fastest as Division 6 rep Darrick Ellam took on Division 5's Larry DeForrest. Ellam got a headstart of more than six seconds in his four-cylinder Ford Pinto but couldn't hold off DeForrest who had a much quicker reaction time and won with a 9.596 on his 9.59 dial. DeForrest drove his Cobra Jet Mustang past Division 3's Travis Buth and Division 7's Ryan Mangus to make the final round.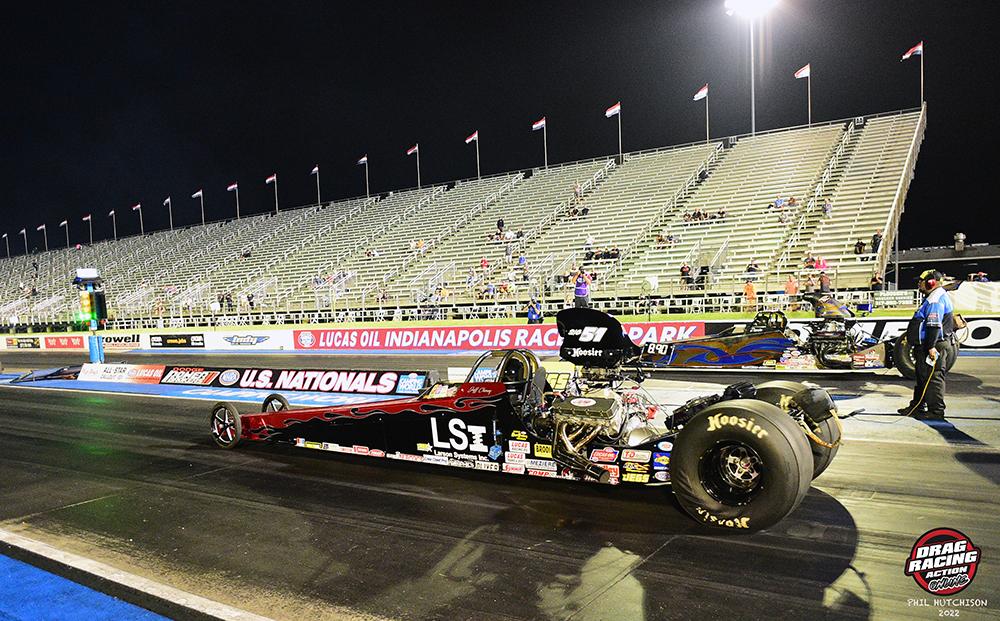 Isenhower (far lane) beat Cheney in the finals of Super Comp
Devin Isenhower got his start racing at Lucas Oil Indianapolis Raceway Park and he won the Dodge Power Brokers NHRA U.S. Nationals in 2018 and now he can add a JEGS Allstars win to his resumé after topping Division 5's Jeff Cheney in the Super Comp final. Isenhower, from the host Division 3 team, won the double-breakout battle, 8.893 to 8.892. Earlier, he got past Tom Clark and Ray Miller III to reach the final.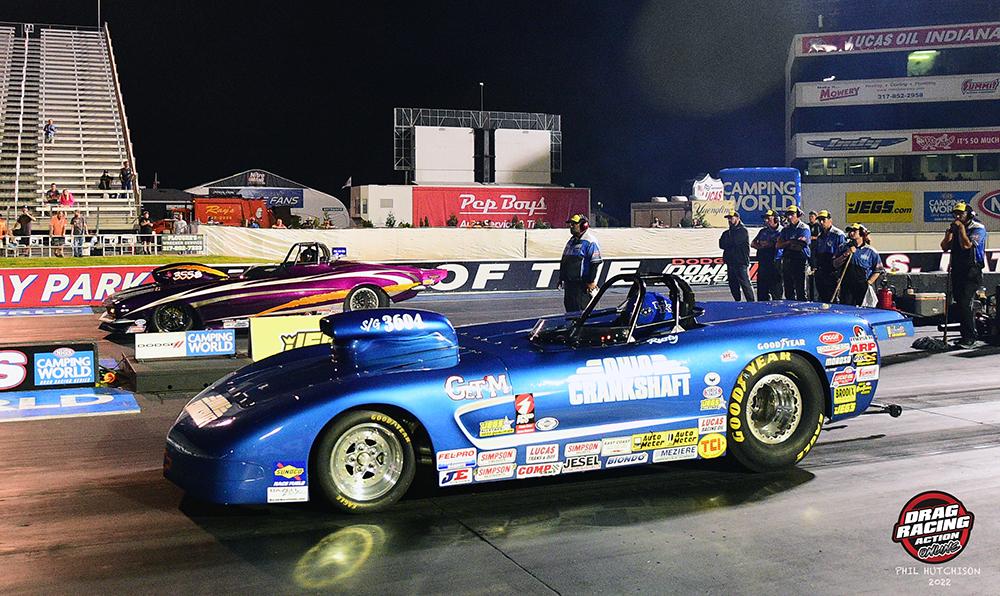 Rusty Cook successfully defended his title in Super Gas and he did it with style with an almost unbeatable run to take out Division 3's Rob Kropfeld. Cook drove his Ohio Crankshaft Corvette to a 9.917 after a perfect .000 reaction time to seal the victory. Kropfeld was not far behind after a .014 light and a 9.921.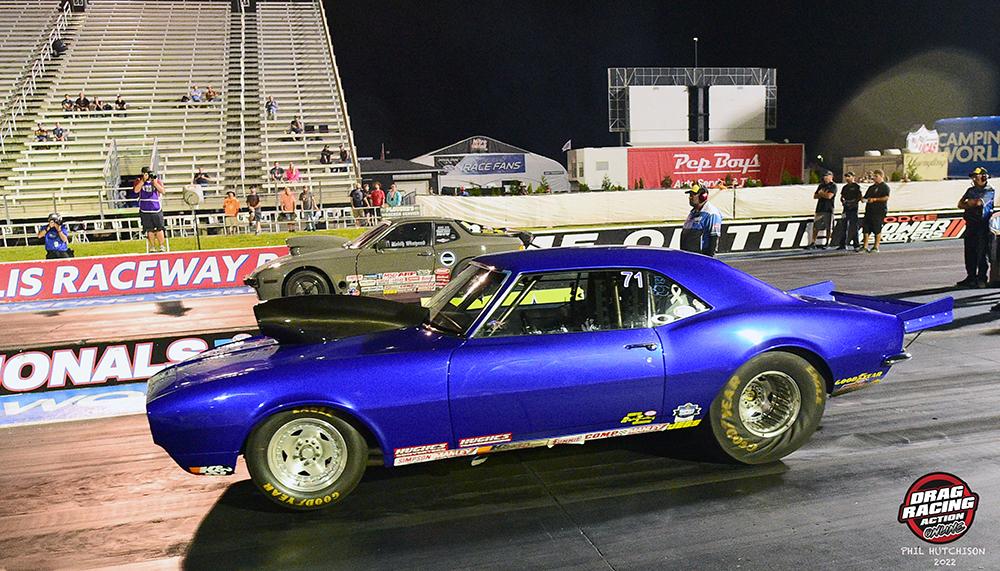 Dexter (near lane) defeated the Porsche of Mayers in the finals of Super Street
John Dexter, the defending Division 7 Super Street champ, made the long trip from Arizona to Indy pay off when he beat Division 1 ace Keith Mayers in the final round. Dexter knew he needed a strong performance and he got one with a .015 reaction time and a perfect 10.900 to turn on the win light.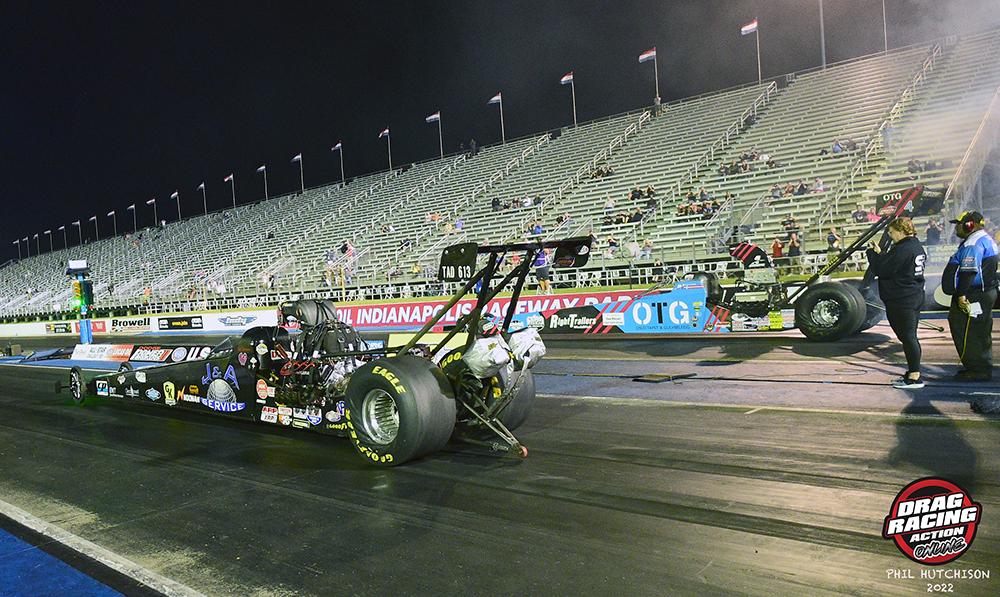 Julie Nataas successfully defended her title in Top Alcohol Dragster and the final round was nothing short of spectacular. Nataas, racing for the North Central Division, shook the tires in her Randy Meyer-tuned dragster but managed to hold on to beat four-time world champ Joey Severance, who also shut off early.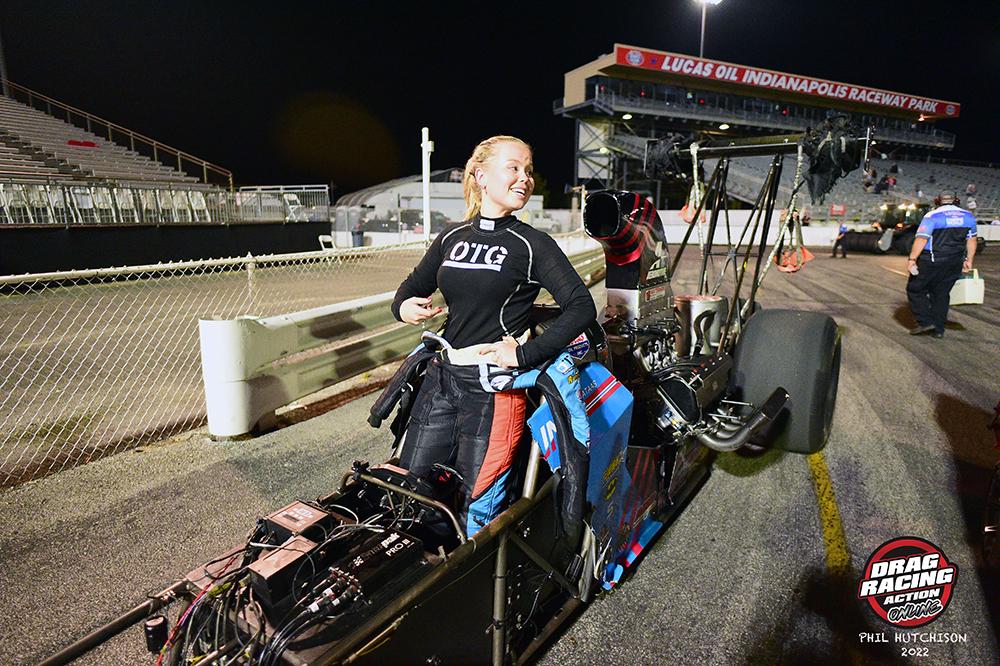 Nataas had a scary moment when the body panels flew off in the finals against Severance
The parachute deployed early on Nataas' entry and the car eventually shed most of its body panels before coming to a stop. Nataas registered a 5.586 for the win. Despite the loss, Severance helped clinch the overall team total for the West Region.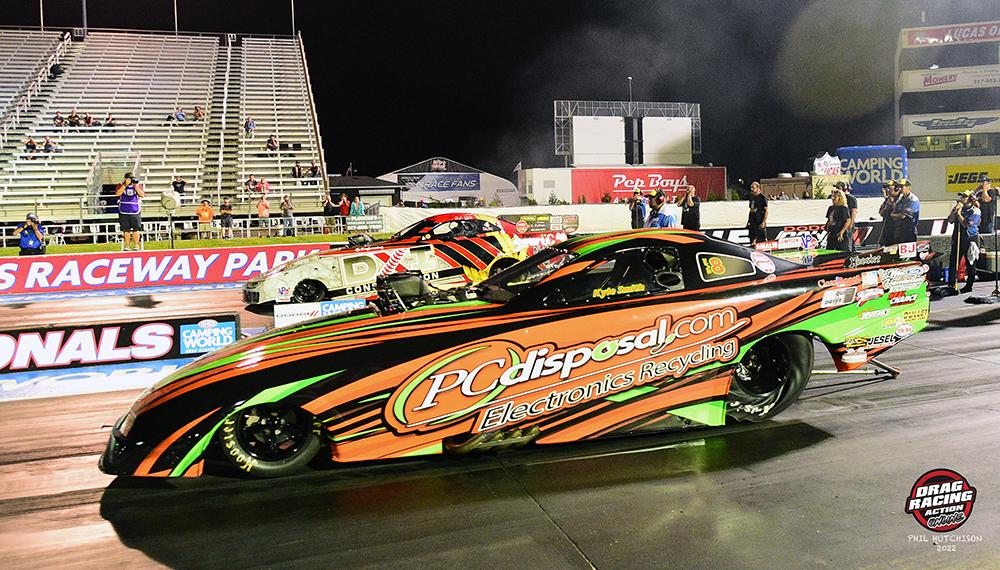 Smith (near lane) took out D1 racer D.J. Cox in the finals of Top Alcohol Funny Car
The Central Division also got on the scoreboard when Kyle Smith drove to the Top Alcohol Funny Car title when he stopped the East Region's D.J. Cox, 5.507 to 5.571. Smith, whose car is equipped with a torque converter, defeated Chris Foster and Nick Januik on his way to the final round.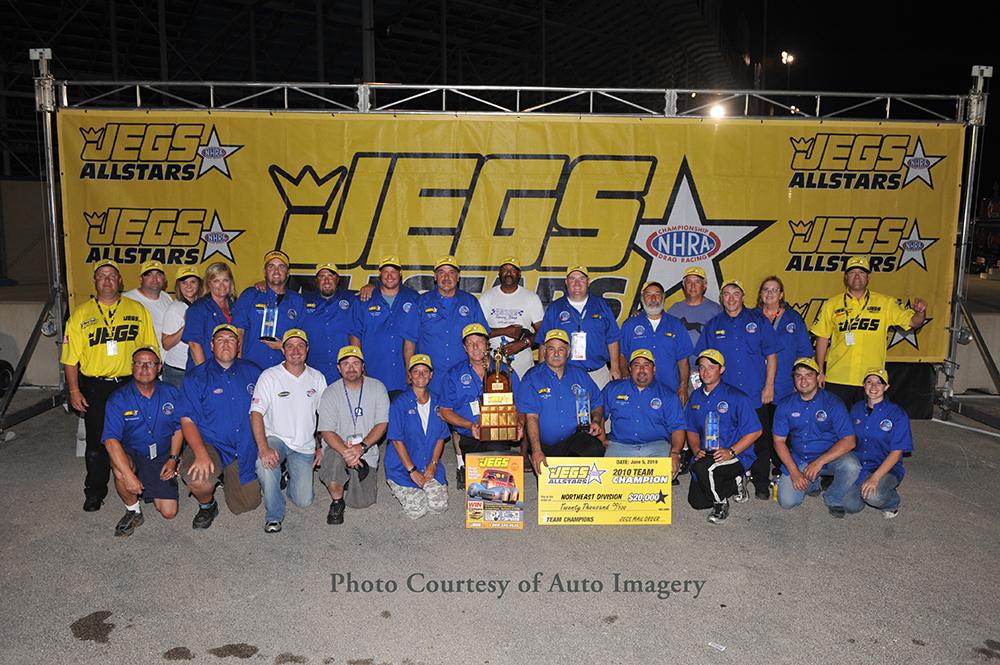 The 2010 JEGS Allstar winners at Chicago