Davidowski wins first National Event at Maple Grove PDRA race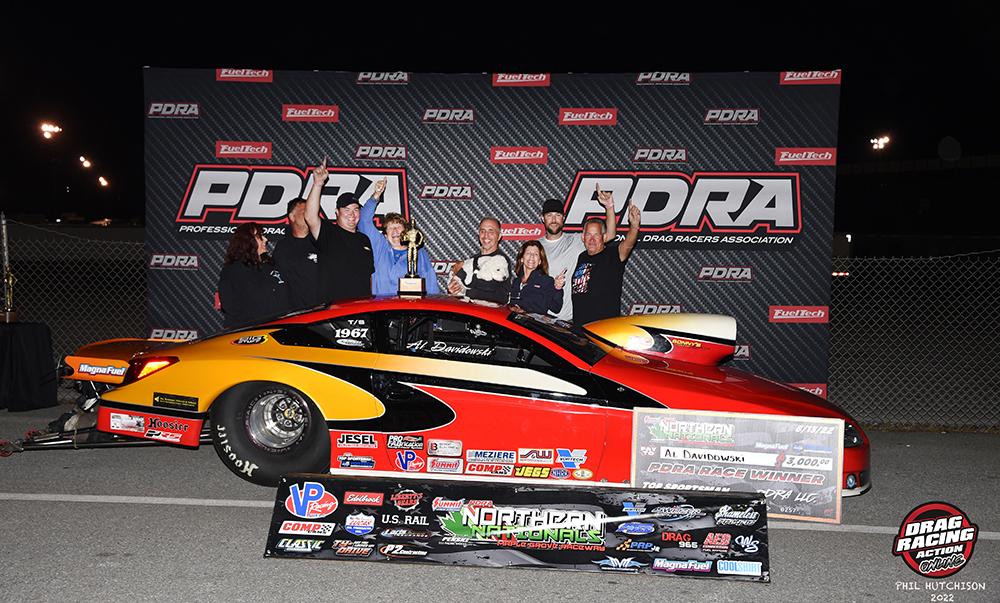 Story DragRacingActionOnline  Images: Phil Hutchison,Geoff Sculley, and courtesy Al Davidowski
Al Davidowski's recent Magna Fuel Top Sportsman win at the PDRA Summit Northern Nationals presented by Penske at Maple Grove Dragway wasn't too much of a surprise. Davidowski had been in the winner's circle before. His 8.50 Chevelle won the NHRA Northeast Division title in 2014 and his Pontiac GXP has won on the NED divisional level and gone deep into rounds at the PDRA events. But the win at Maple Grove was Davidowski's first national win over a stellar field of PDRA Top Sportsman racers.
Top Sportsman and Top Dragster are the quickest form of bracket racing in drag racing. Cars capable of six-second times in the quarter mile and high three and low four second runs in the 1/8-mile are considered normal. Now add dialing in a number that the driver can reproduce on the track consistently with varying track and air conditions and you have one of the toughest classes in Sportsman racing.
Davidowski's win at Maple Grove was part of the Sonny's Racing Engines onslaught at the event with fellow Sonny's racers Joe Roubicek, Vonnie Mills, and Pro Stock racer Chris Powers either taking home "Iron Men" or a runner up.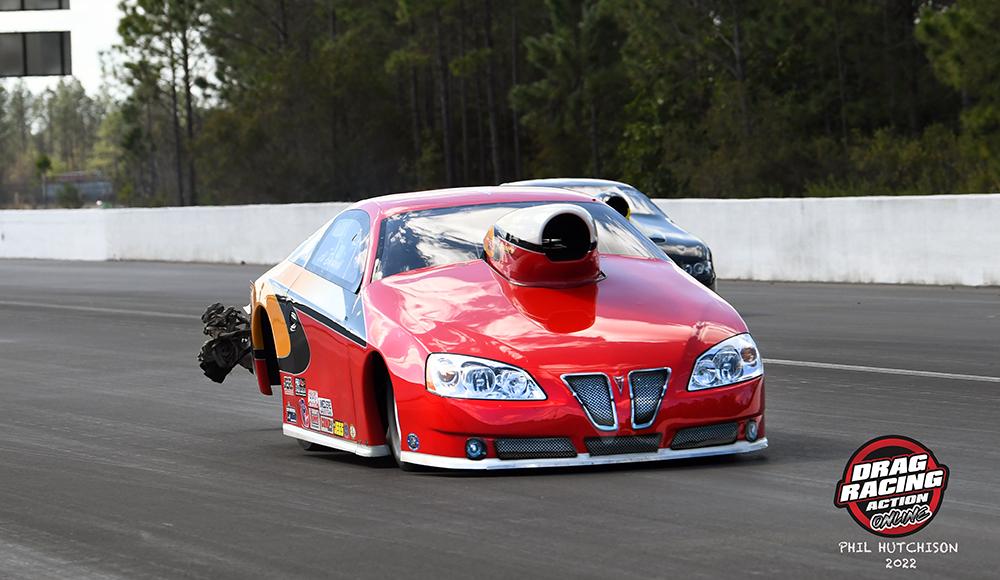 Davidowski, a contractor from Columbus N.J. said the Lynchburg Va. racing components manufacturer had quite a lot to do with his win. As Davidowski tells it, "I ran the NHRA 8.50 index class for about four years. I won a Wally at Maple Grove and in 2014 the NED actually had a point series that we won on the strength of a win and some good finishes. I got to go to the banquet at Hershey that year."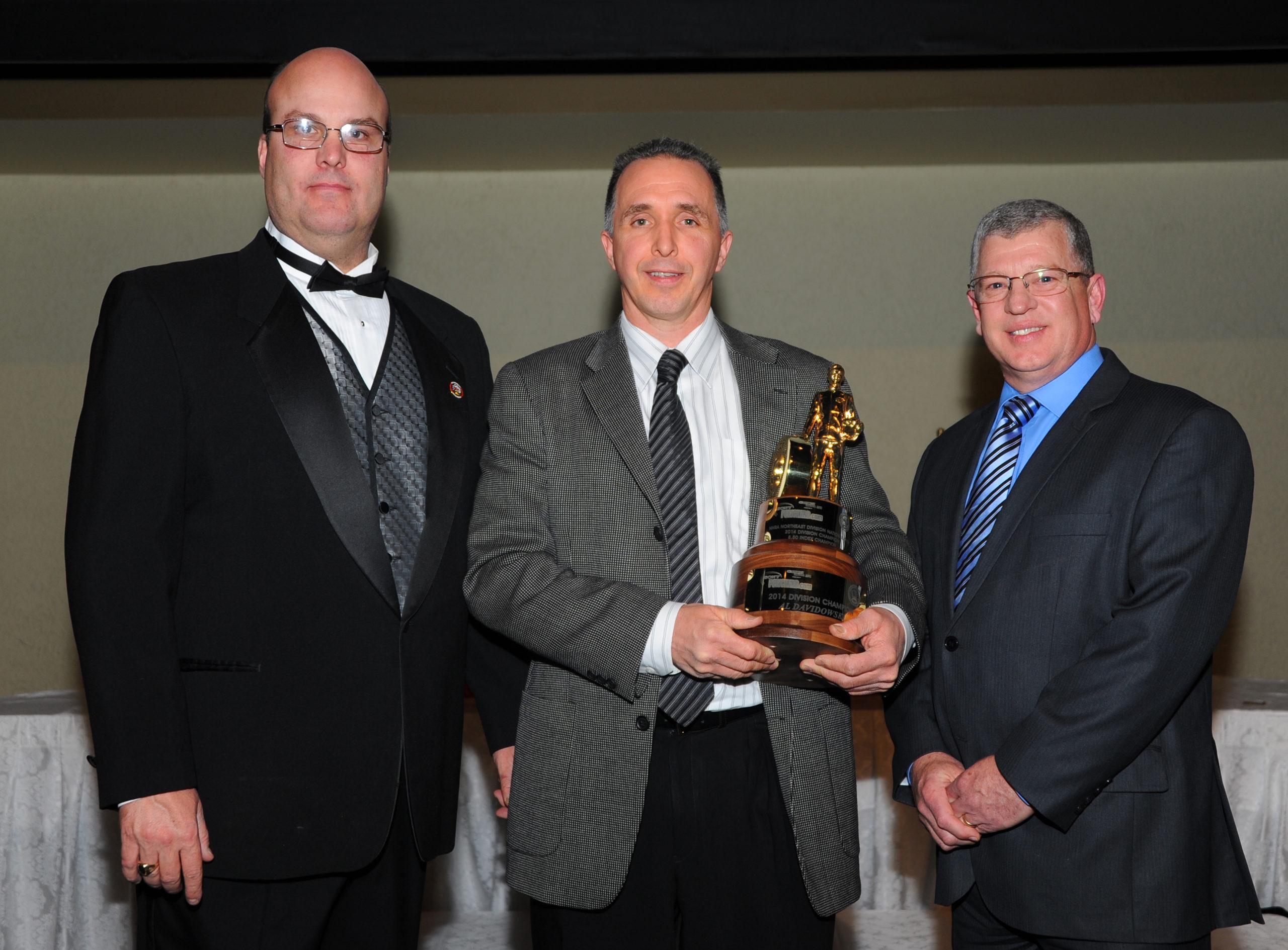 Davidowski celebrates his D1 Championship at Hershey Pa. 
"The 8.50 car was a 1966 Chevelle that I had Sonny's build a 632 cubic inch motor for. We immediately realized that the car was too fast with such a beast of a motor. We were clicking off low eight second runs even with taking some timing out of the car, it was still too quick!  I called Todd Hoerner at Sonny's and asked how we could slow the car down. Todd told me it was the first time someone called Sonny's to find out how to slow their car down!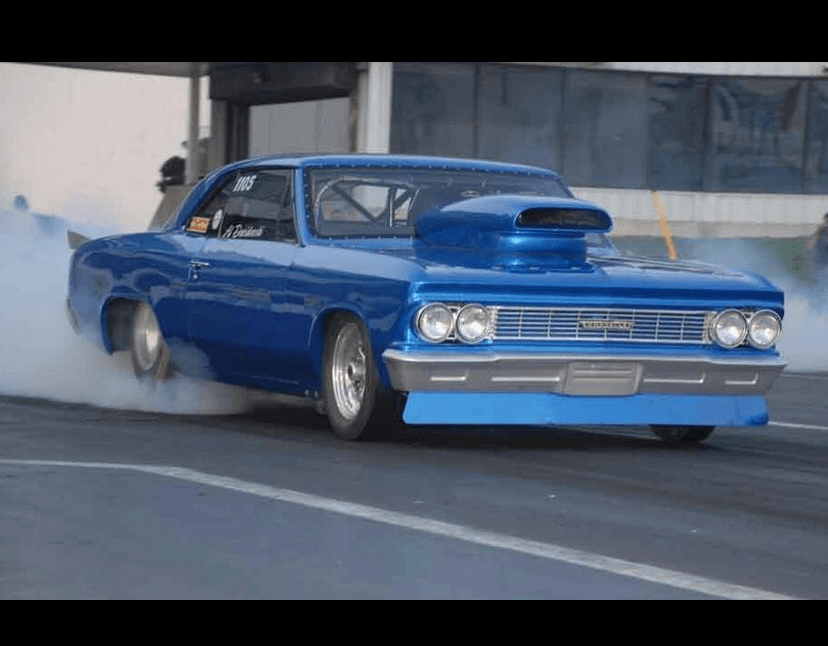 Davidowski's winning 8.50 Chevelle at E Town
"Later I saw an ad in National Dragster for restrictor plates that would cut down on horsepower and installed them so we could run the 8.50 time
"After the Chevelle, I decided I wanted to go faster and Top Sportsman was my choice. Todd at Sonny's had a GXP built new by Jerry Bickel and ran it in the NHRA and PDRA but was now owned by Kamron and Glenn Wright in Texas. I called Todd and asked him if he thought Kamron would be interested in selling the GXP. At the time Kamron said no that they were having a good time racing the car.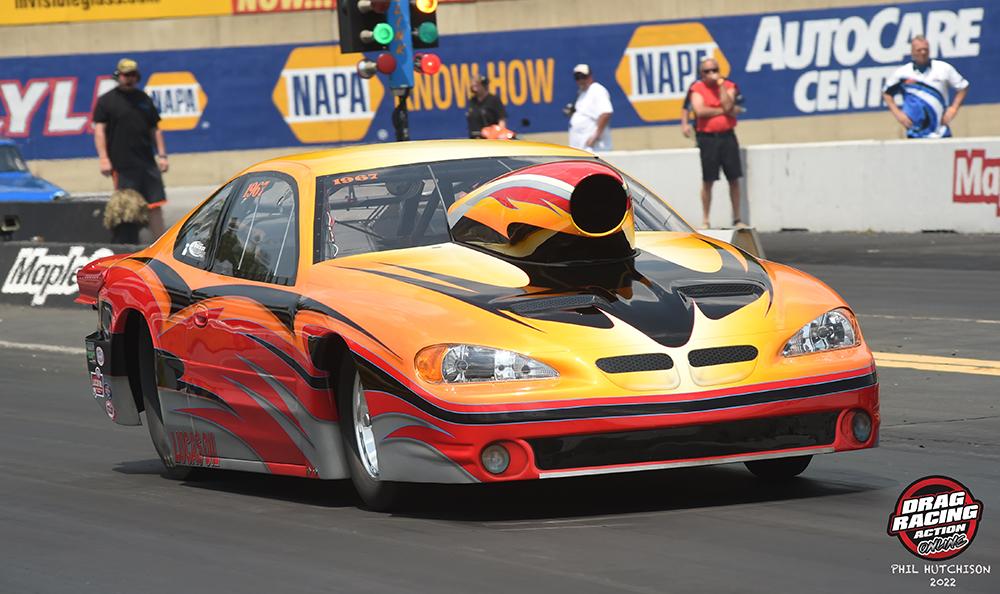 Davidowski's first Top Sportsman ride
"Time went on and I had talked to Bickel about a car I could race and he had a trade in Grand Am that was perfect. I put the 632 from the Chevelle in the Grand Am and then had Sonny's build us an injected 674 hemi head motor. We raced that car for about a year and a half and now John Asta is running it in Super Gas.
"Right about that time Kamron put the GXP up for sale on Racing Junk. We worked out a deal and I met the Wrights at Topeka at the NHRA event and picked up the car there. Since it was a roller, we put the new 674 Hemi in the GXP once we got it home. We won our first NHRA divisional with the car in 2020.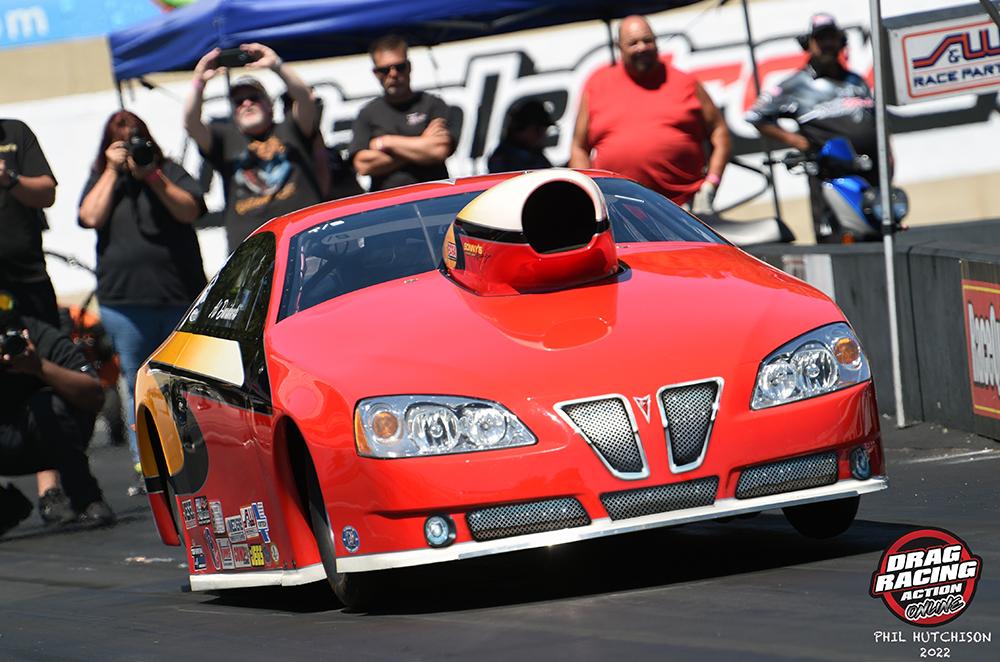 "The track was a little tricky at Maple Grove. Even during qualifying about a second a half out the track was threw us a curve. The car would move to the right shaking the tires. We started pulling some power out of the car to calm it down."
After qualifying at Maple Grove Davidowski was #1 in Magna Fuel Top Sportsman with a 4.217 @ 168.81.  With an odd # of entries, Davidowski got the first round bye. Davidowski added, "With all the problems with the track during qualifying we needed the bye and decided to run a full pass."
Davidowski ran a 4.248 on a 4.21 dial and got a good baseline for round 2.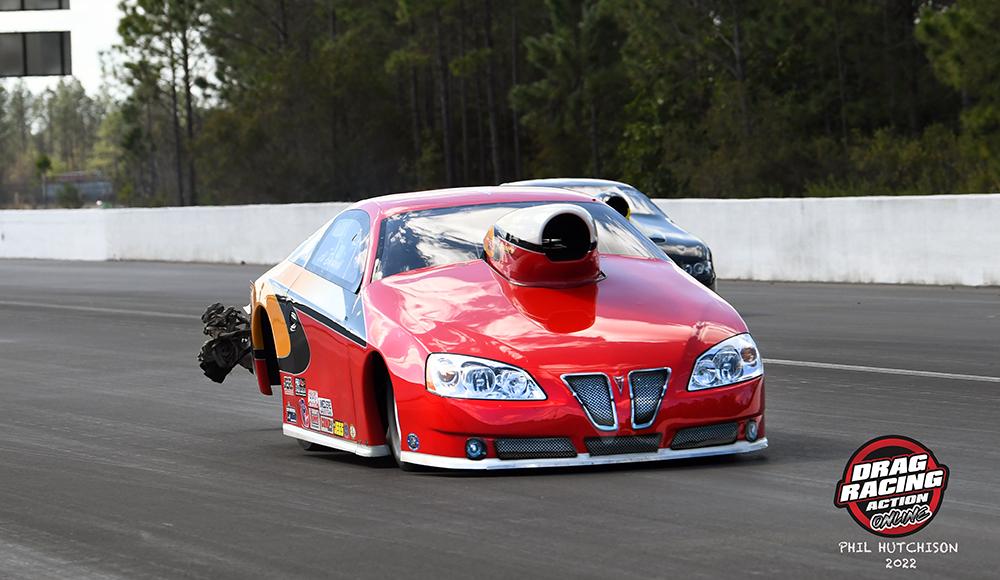 In round two Davidowski was racing the '08 Mustang of Mark Reese from Disputana Va. and Davidowski won with a 4.274 on a 4.23 dial as Reese lost with a 4.543 on a 4.33 dial.
As Davidowski tells it," After round two Mark and I were talking and he told me he got a little bit out of shape in the middle. He didn't want to risk it and slowed down."
Round three Davidowski had Travis Butler's Corvette in the other lane and left first with a 0.013 RT to Butler's 0.016 and won with a right on 4.229 on a 4.22 dial.
In the semifinals, Davidowski dropped his dial to a 4.21 against the Cutlass of Robbie Crenshaw. "The track was improving and we thought the car would run a little better as the sun was going down."
The GXP of Davidowski had it a little easier as Crenshaw couldn't run his number giving Davidowski a final round berth. Davidowski ran a 4.308 to Crenshaw's 4.579 on a 4.35 dial.  "Crenshaw had trouble too in the middle of the track and shut off. I saw him slow and I clicked it early hence my slow time."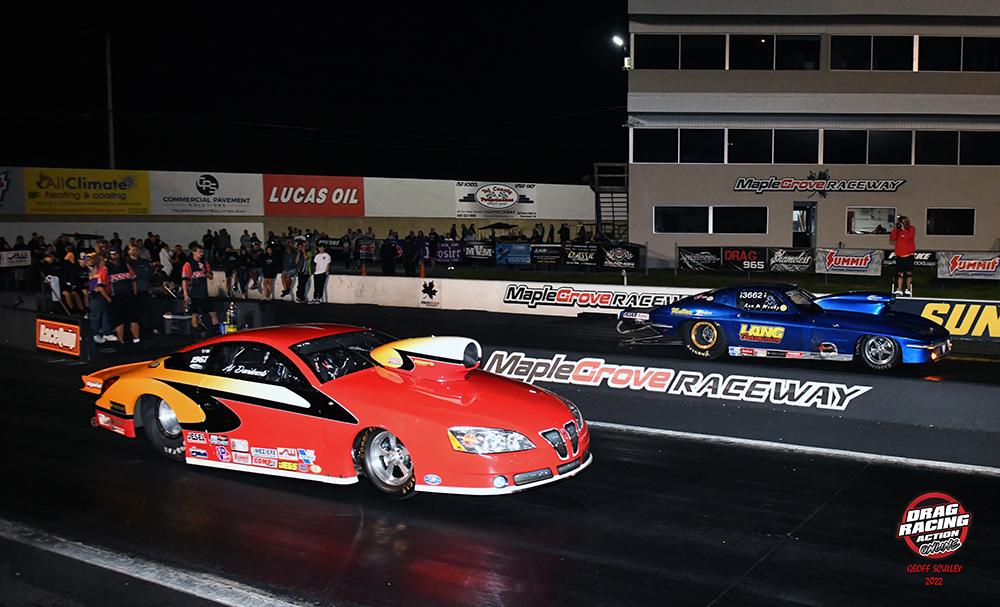 In the finals against the '63' Corvette of Michigan racer Ken Langlois, the race was over on the starting line as Langlois went 0.001 red giving Davidowski his first PDRA win.
"We had some good lights up to then and the car was super consistent. In two of the rounds we slowed down knowing we won the race so for the finals we based our dial on the 330-foot times. For some reason in the finals the lights on the tree seemed brighter than usual. Once I left the line I looked up and saw I had won the race and decided to see how well she would run and it ran a 4.19 on a 4.20 dial. It could have been the time of day but I thought I got a good light and later found out I also left too soon but in drag racing the slower car that red lights loses. I have been on the receiving end myself of having a slower car and both go red."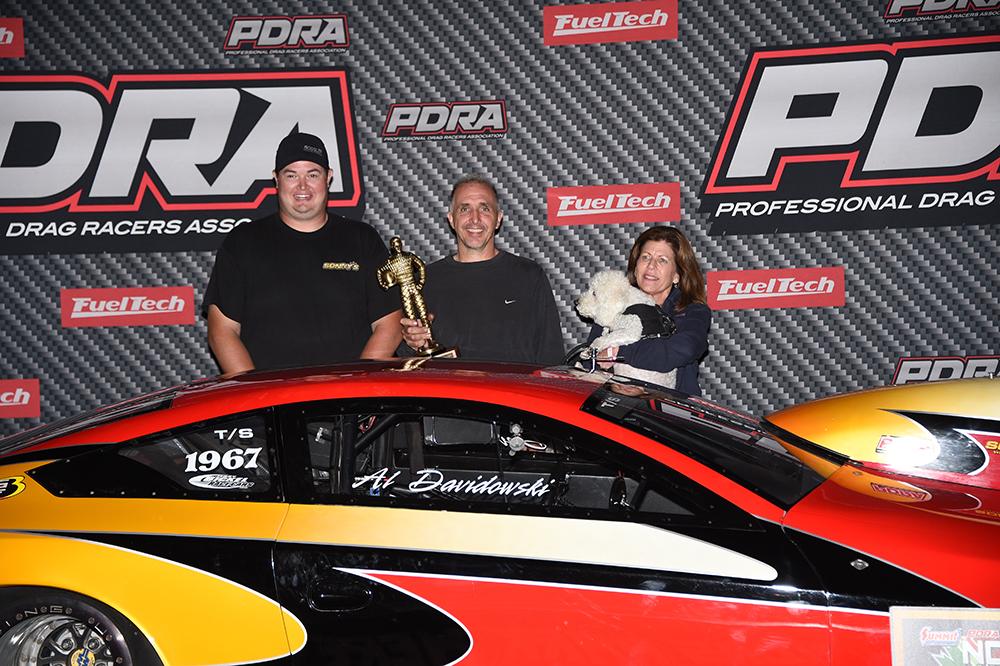 Bo, Al, Oliver, and Lisa celebrate the victory at Maple Grove
"We run a Sonny's 828 at the PDRA events and with the tuneup we run right where we want in the mid teens.
Davidowski continues, " The car has a Rossler three speed trans with a Coan convertor.  We run BigStuff3 injection with help from Ben Davidow. PRS shocks from Adam Lambert and we use Crewchief Pro software supplied by Don Higgins."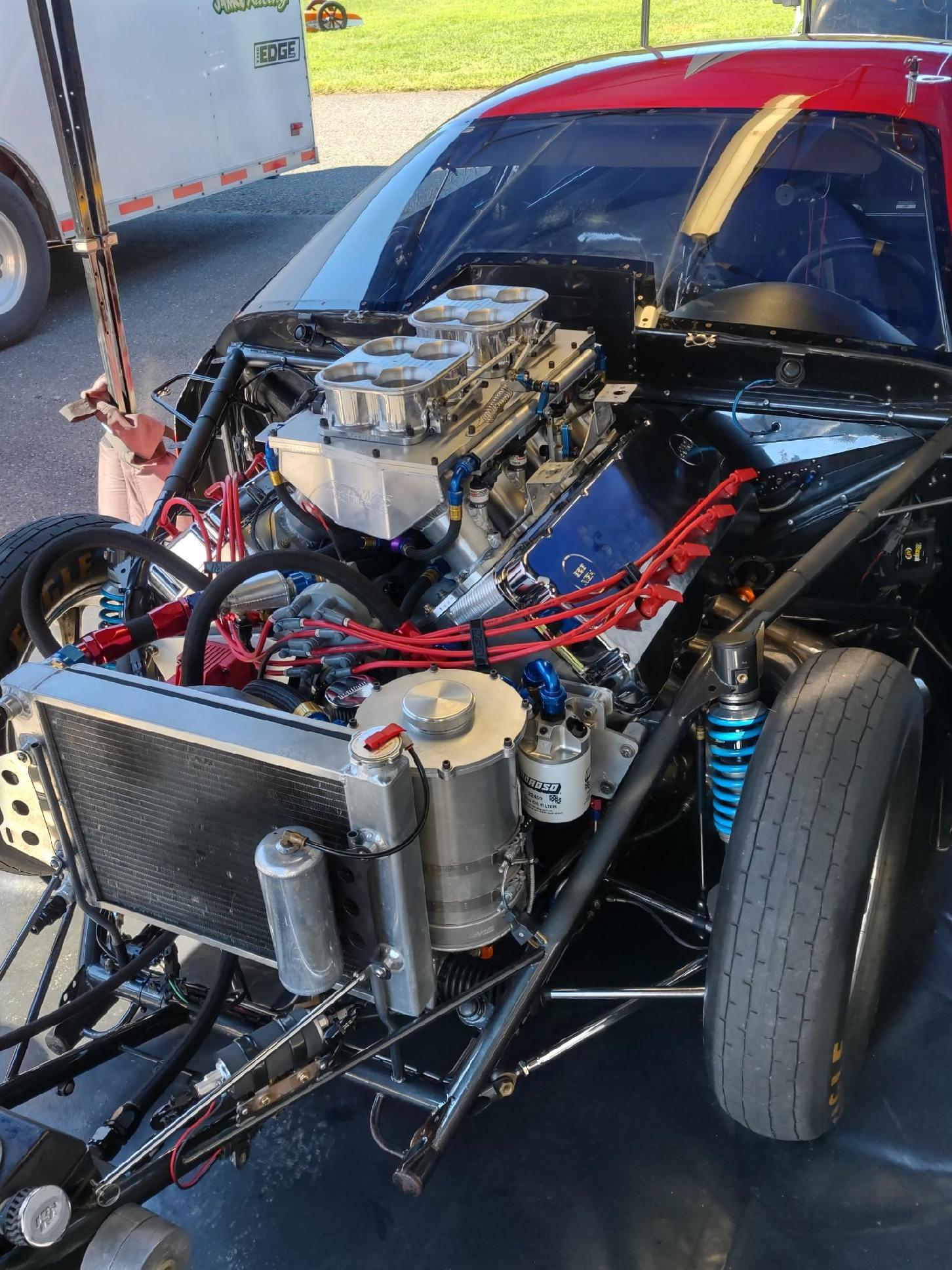 "Bo Smith is my crewchief and lives next door to me in Jersey. He's a full time firefighter in Bordentown and his mom Barb is a retired schoolteacher and tries to go to as many races as she can.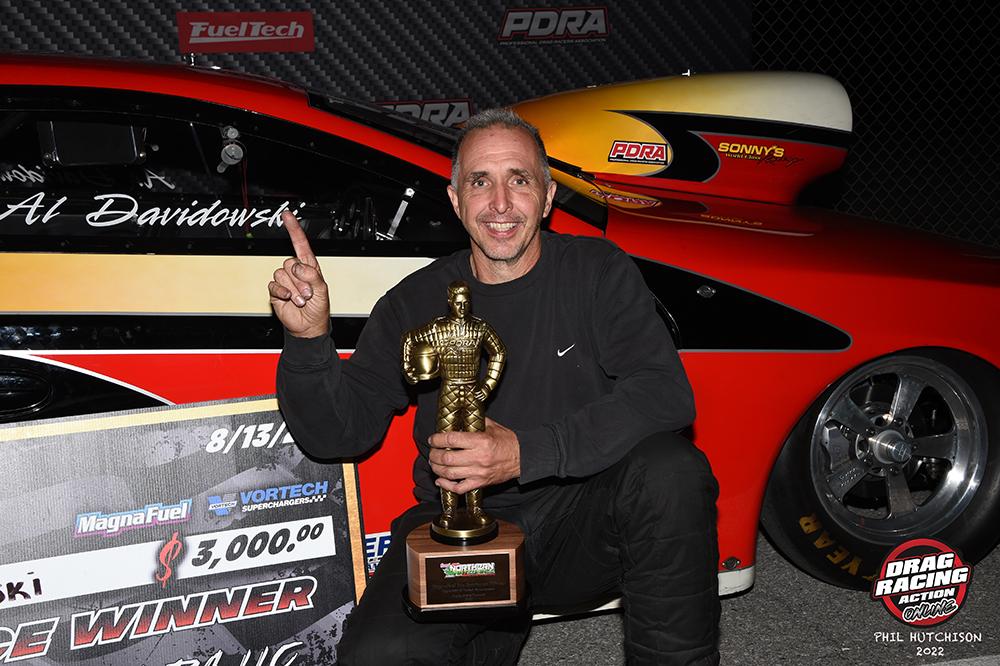 "I have to really thank my wife Lisa for all she does and our puppy, Oliver the dog. Oliver is great. He loves riding on the golf cart and loves his picture taken. I also need to thank Roger Purdy from Pro Street Chassis, Kelly and JR Ward at Sonny's and Chris English who handles my Social Media."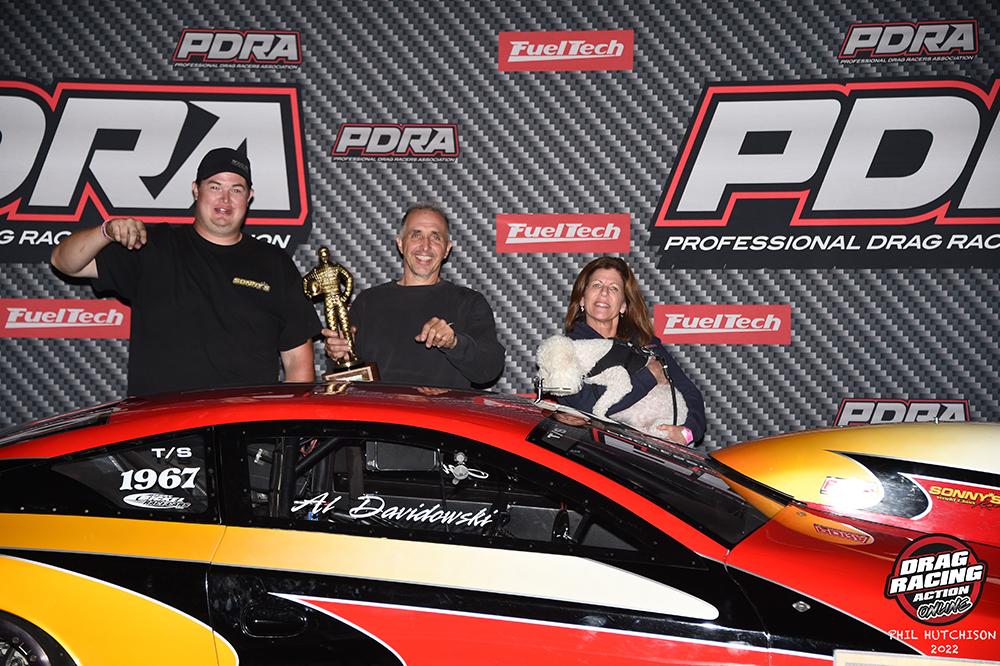 Currently I am in 10th in MagnaFuel Top Sportsman points chase and I am planning on attending Drag Wars at Galot and the PDRA World Finals and I would love to get a 2022 Top Five finish.