Words and Photos: Phil Hutchison
Saturday at Gainesville Raceway featured the East Region's first event in Top Alcohol Dragster and Funny Car at the NHRA Lucas Oil Drag Racing Series, Southeast Division.
Alabama racer Will Smith from Northport, drove the Samsel Family Racing dragster to a convincing victory beating the Randy Meyer tuned car of Julie Nataas in a close final. Both drivers were off the line together with Smith with a slight advantage having a 0.067 light to Nataas' 0.075 and built on the lead running a 5.232 @ 276.63 MPH to the 5.284 @ 268.38 of Nataas.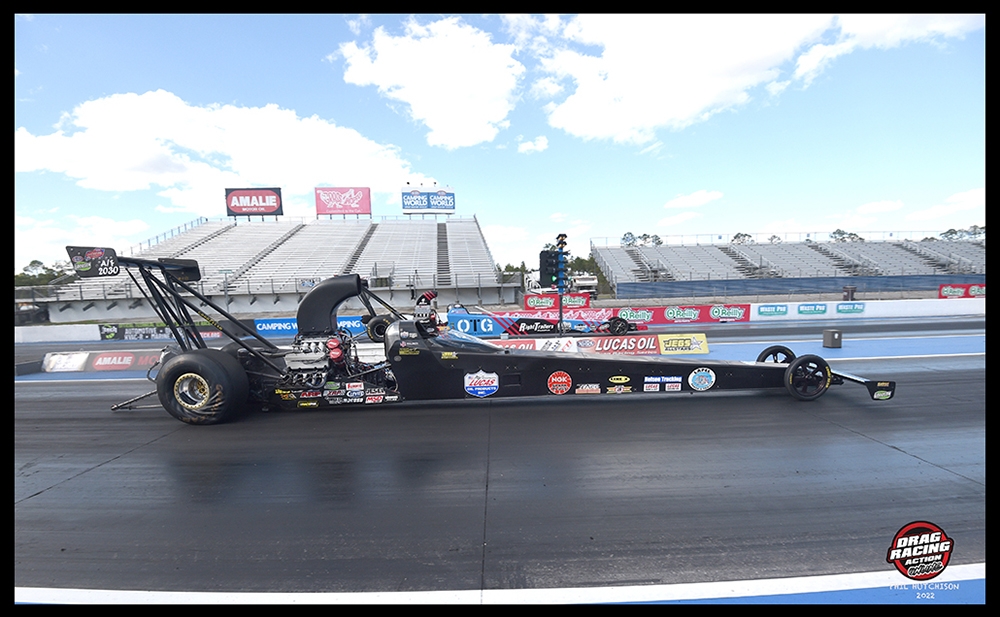 Smith, who has seen the winner's circle before in Lucas Oil Regional in Alcohol Dragster, was #2 qualifier in a very competitive field with a 5.202 ET, defeated Matt Sackman with low ET of the event with a 5.197 in round one and Mike Coughlin in the semis on his way to the finals.
Nataas who was #4 in the Lucas Top Alcohol Dragster chase in 2021, qualified her dragster in the #4 spot with a 5.263 @ 277.49. The Norway born racer defeated Canadians Jeff Veale and  Jeff Chatterson to get her chance to face Smith.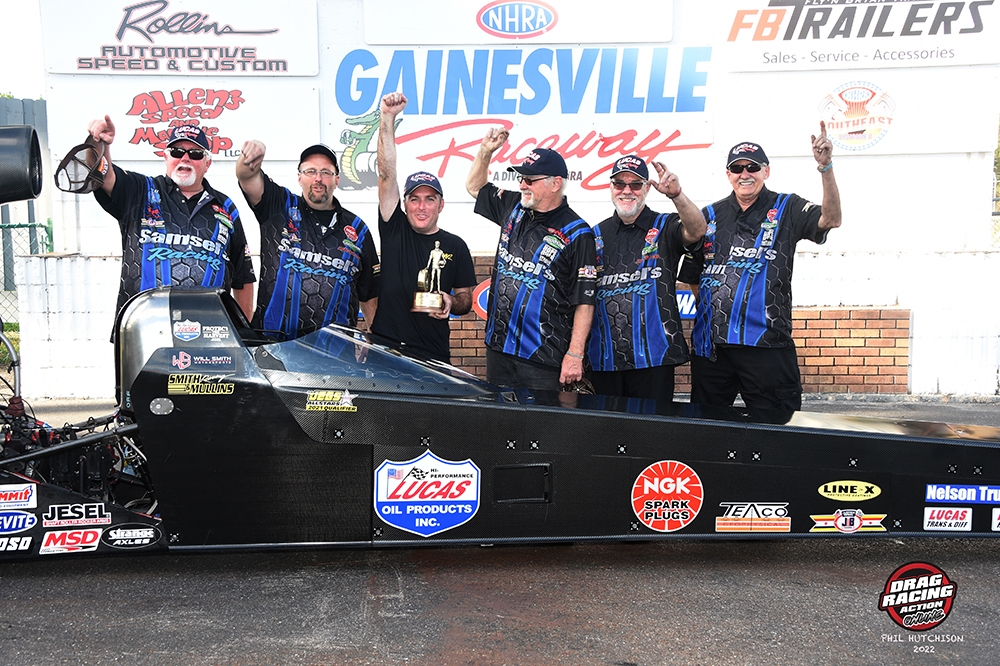 After the win at the Baby Gators Smith said, "I knew the Samsel family through racing in the class for the past few years in the Hirata car and became good friends and the opportunity opened up for me to race the car at this particular event. The car already was running great and I couldn't say no. I scrounged around and found some sponsorship and made it here. Mark Teague from TeaCo Geophysical jumped in with some assistance and I threw in some money too. I am serious about running this class and possibly moving up to a Top Fuel car and I wanted to keep my name out there and let people know that I am a quality driver."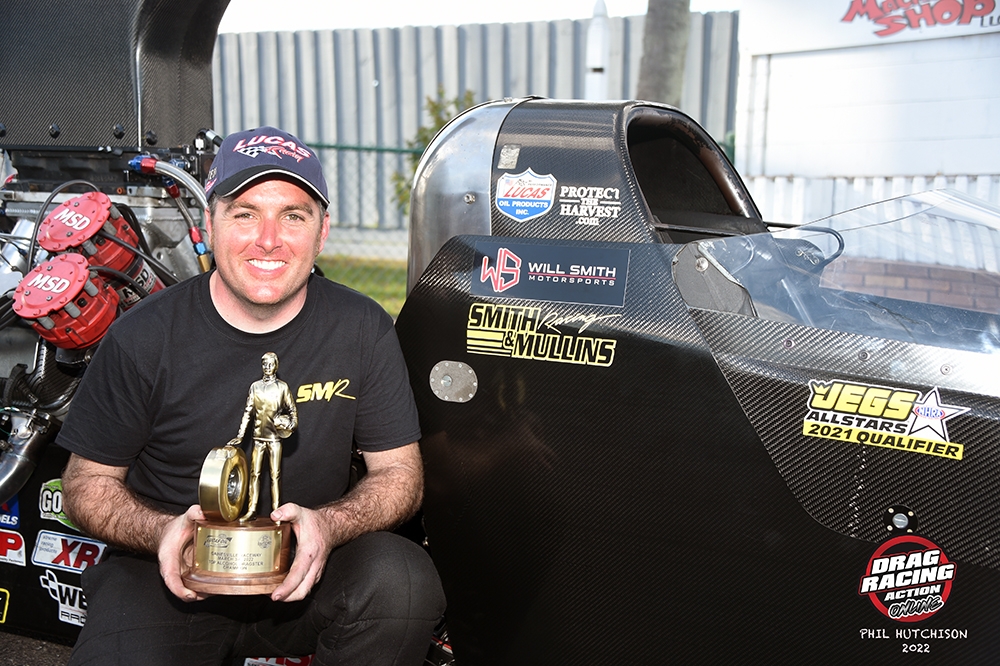 Smith continued, " I have to thanks so many people to thank for this opportunity starting with the good lord who has been so good to me, my parents, Dave Hirata and the Hirata Motorsports team who I drove for the last few years, and Tommy and Judy Franklin from the PDRA. And of course, Mark Teague, along with Tony and Robin Samsel."
Low Qualifier, Karen Stalba had issues with her AA Auto Salvage dragster in the first round smoking the tires against Chatterson ending her weekend prematurely.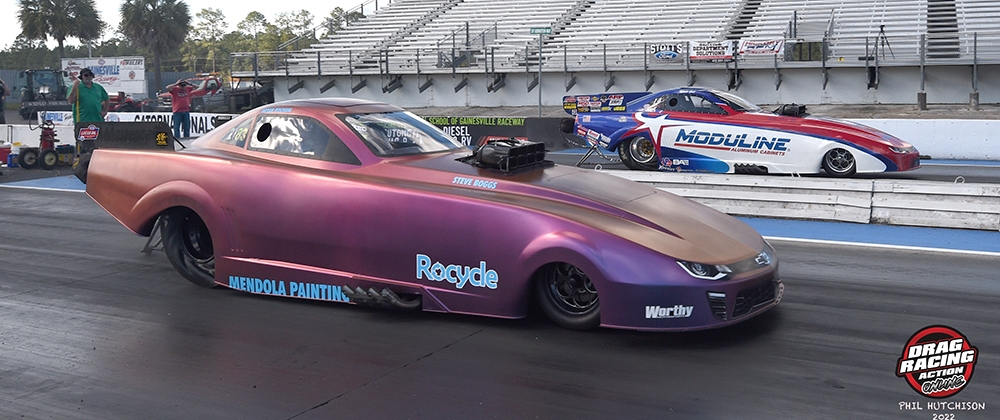 Gill, far lane defeats Rochon in the finals of Alcohol Funny Car
Bridgewater Mass. racer Matt Gill drove the Moduline Aluminum Cabinets Camaro to a victory in Lucas Oil Top Alcohol Funny car taking out the '18 Camaro of Aryan Rochon from Dade City Fla. in the finals 5.554 267.80 to a slowing 7.239 143.78 of Rochon.
After qualifying #1 with a 5.455, Gill beat Ryan Stack in Round One and got the bye in the semifinal. Rochon's car got by Kris Hool and Ulf Leanders to meet Gill in the finals.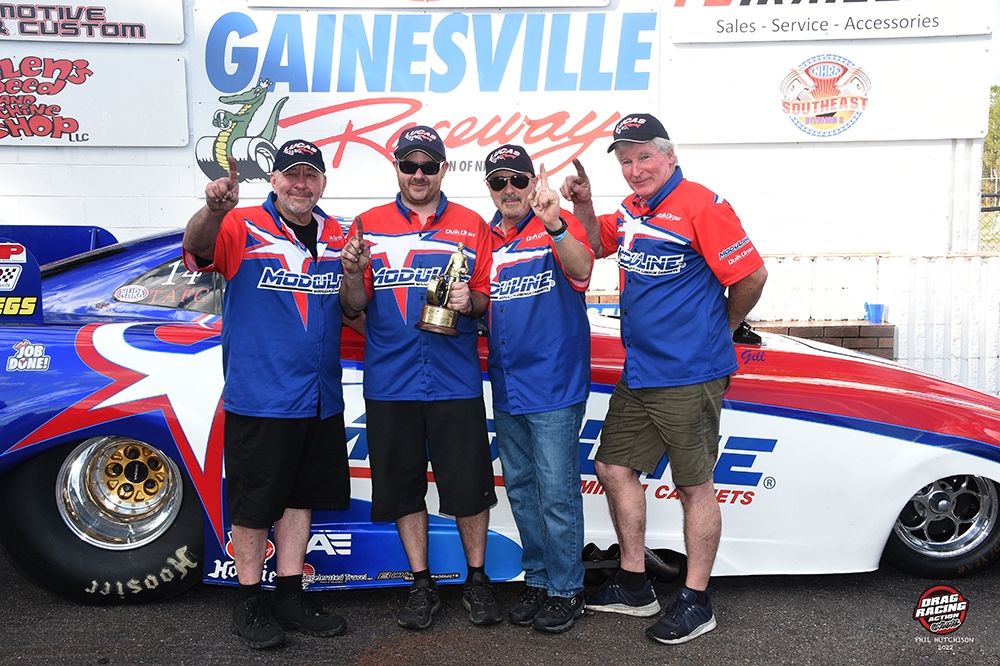 Gill who has won 11 Lucas Oil division Wally's had this to say after his win at Gainesville, "The car is where we want it with a best of 5.45 @ 271 MPH and we are ready for next week. I want to thanks my wife Danielle and my kids Kadence, Landon, and Alyssa and Moduline Cabinets and my dad Paul Gill for giving me the chance to race."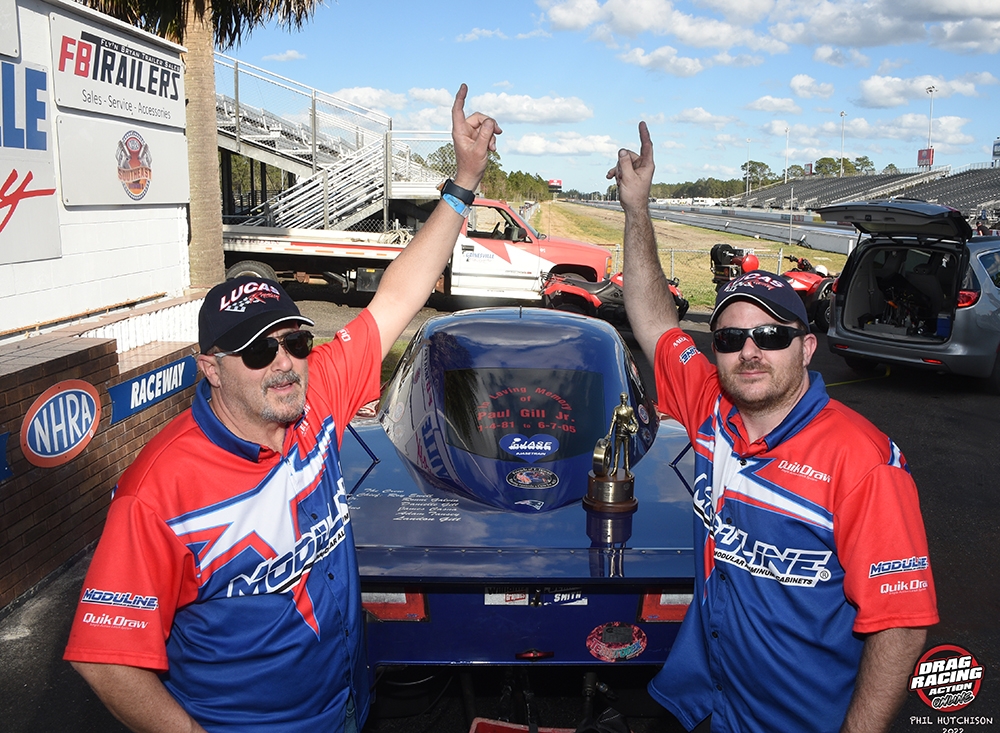 Matt's dad, Paul Gill and Matt pay respects to their long lost son and brother Paul Gill Jr. 
Eliminations continue Sunday with the remainder of the Lucas Oil series categories with all the Baby Gators champs crowned.