BO BUTNER BACK IN COMP FOR THE U.S. NATIONALS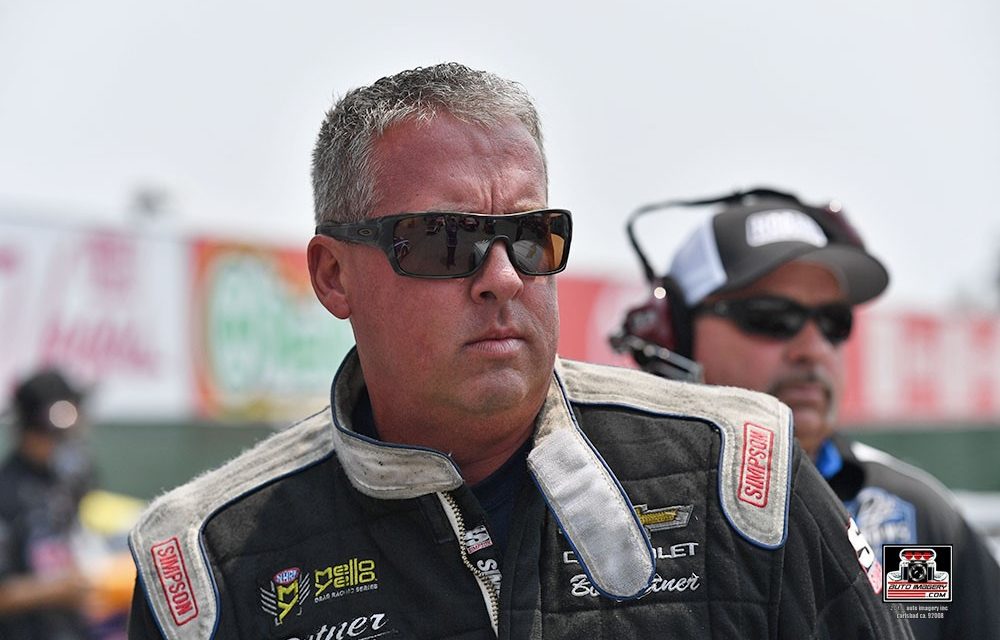 FLOYDS KNOBS, Ind. (August 24, 2021) – When Bo Butner exited Pro Stock at the conclusion of the 2020 season, he made it perfectly clear that he had no intention of "retiring" from driving. In fact, he was planning to get back to his Sportsman racing roots and compete when and where it made sense for his hectic work schedule at his family's used vehicle dealership in Clarksville, Indiana, Jim Butner Auto Group (JBA).
Since that time, Butner has been as active as ever at both the dealership and on the dragstrip, and at the upcoming Dodge // SRT NHRA U.S. Nationals in Indianapolis, he'll be rolling a Competition Eliminator Pontiac G5 out of the trailer to compete in the category in which he has thus far claimed six national event wins and the 2006 Lucas Oil Drag Racing Series championship.
"Lee Sharp approached me and asked if I'd like to run his Comp car at the U.S. Nationals, and it just felt right," explained Butner, the 2017 NHRA Pro Stock world champ. "We've actually been racing a lot this year, and it's been great. I got to jump back in a Comp car in Topeka a couple of weeks ago for Richard Freeman, and it was a lot of fun. I got to race against my buddy Bruno Massel in the second round, and we used each other up. It felt like home, in a way, getting back in a car like that, so I'm looking forward to this race – for more reason than one."
Butner has been 1/8-mile bracket racing all season long in his JBA-branded dragster, and he stepped up to Top Dragster early this year with his comfortable ride in NHRA's North Central Division 3. Butner was the No. 1 qualifier and runner-up at the Indianapolis event in May, then he took his trusty rail to Summit Motorsports Park on the 4th of July holiday weekend.
Butner has a history of jumping in a new car in a new category and winning early – he's done it in the Factory Stock Showdown (2012), Super Street (2014), and Super Gas (2019), and he reached the final round in his Pro Mod debut at Indy in 2020.
In true Bo Butner style, he won Top Dragster at the Division 3 event on Independence Day in just his second final round in the category.
"Division 3 has always been home for me, so getting back out there was another situation where it felt like racing at home," said Butner. "Everyone was very welcoming and as competitive against me as ever, and that's what you want. It's been very enjoyable, and I'm looking forward to more."
The Top Dragster entry won't sit idle with Butner racing Comp at the U.S. Nationals; Cody Webber, the 2020 JEGS Allstars Top Dragster winner, will be keeping the seat warm as he looks to block for his division and chase another Allstars title.
Randi Lyn Shipp, Butner's fiancée and a seven-time Stock Eliminator event champion, will also be competing at the event. Not only will she be racing her sleek '67 Pontiac in Stock Eliminator, but she will also be representing Division 3 in the JEGS Allstars.
"We've got a lot going on, and it's all good. I knew I wasn't retiring from racing when I stepped away from Pro Stock at the end of last year, but I never dreamed we would get to race so much this year, or that it would be this much fun," said Butner. "I think it'll be even more fun this weekend with our friend Jason Johnson from Johnson's Horsepowered Garage there. He was with us in Indy last year, and we hit it off right away. Racing is always better when you can share it with people who love it as much as you do.
"We're just having the best time right now, and it makes you appreciate every opportunity that you've been given."