Aragona, Simmons, and Barton Victorious at ATCO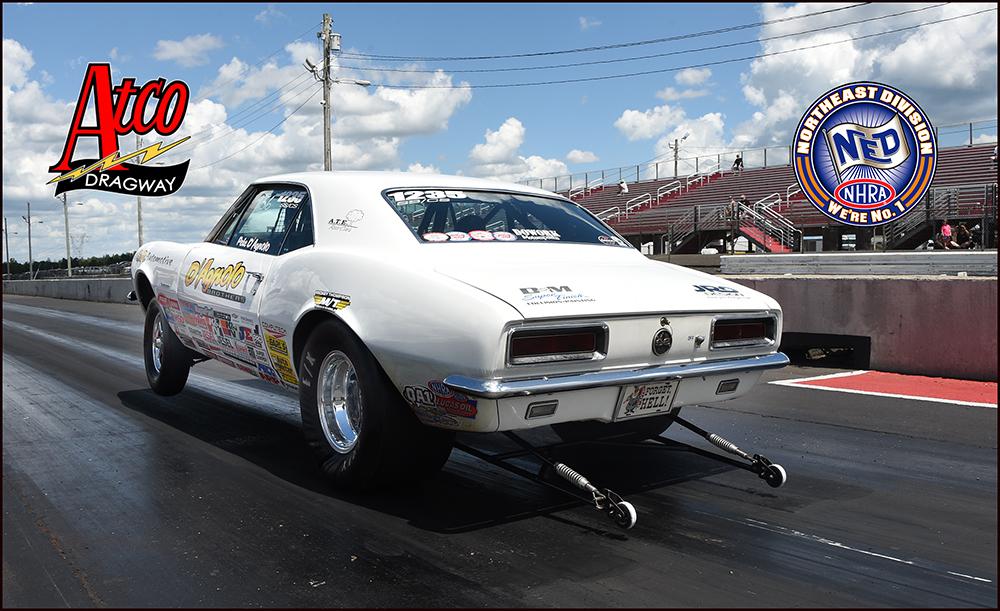 DragRacingActionOnline  Images: Phil Hutchison, Dave Milcarek, and Diane Kubicke
Atco New Jersey (August 5-7 2022)
Three time NHRA Lucas Oil champion Frank Aragona Jr found his way back to the winner's circle at the Northeast Lucas Oil Divisional at Atco Dragway winning Competition Eliminator.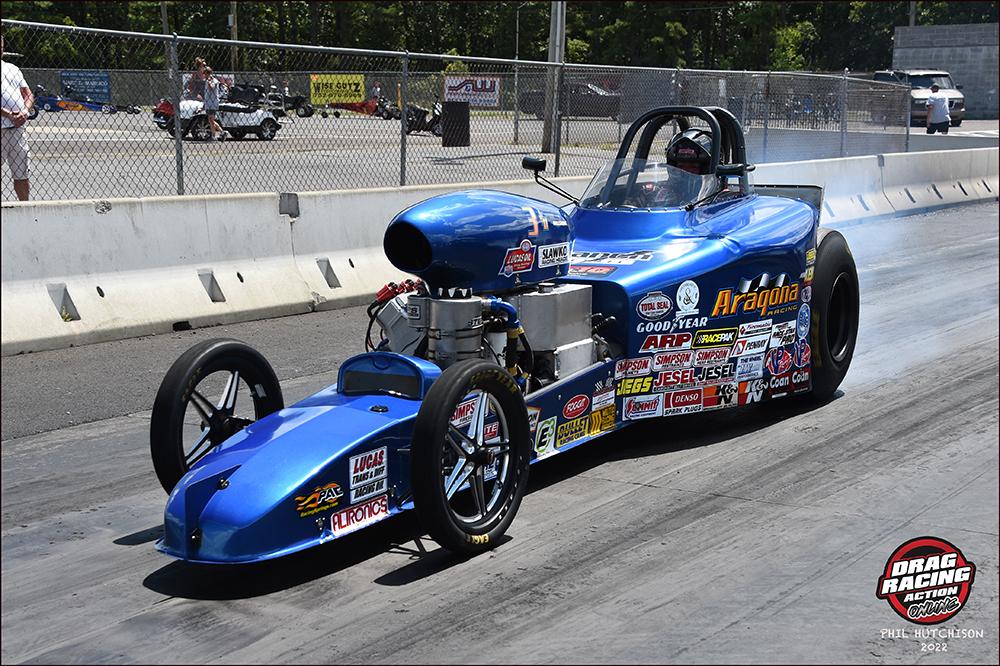 The Freehold N.J. racer had been winless since his last victory at Charlotte in 2021. A lack of trying was not the reason for the dry spell as the former champ had been diagnosed with a rare from of cancer in late 2021. Luckily, Aragona's health has returned and he's right back where he should be, winning races.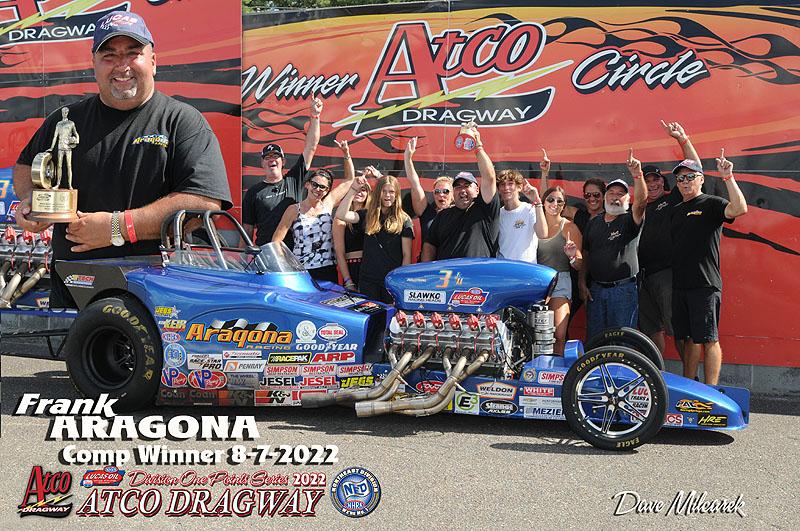 "It feels really good to get this first win after going through fighting cancer and not really sure at one point, if I ever would be racing again," The former champ said. "It was amazing to be able to get the win an share it with my family and friends. They were all there for me throughout my battle and always are. It's great to be surrounded with such wonderful people."
Aragona's six cylinder J/AA Bantam qualified in the #1 spot with a 0.657 under 7.343 and he defeated current NED point leader Santo Volpe and Joe Carnasciale to get to the final. His opponent for the trophy, the F/DA of Rich Preiser, qualified #9 and took out Michele Costa, Chris Piston, and Todd Logan in earlier rounds.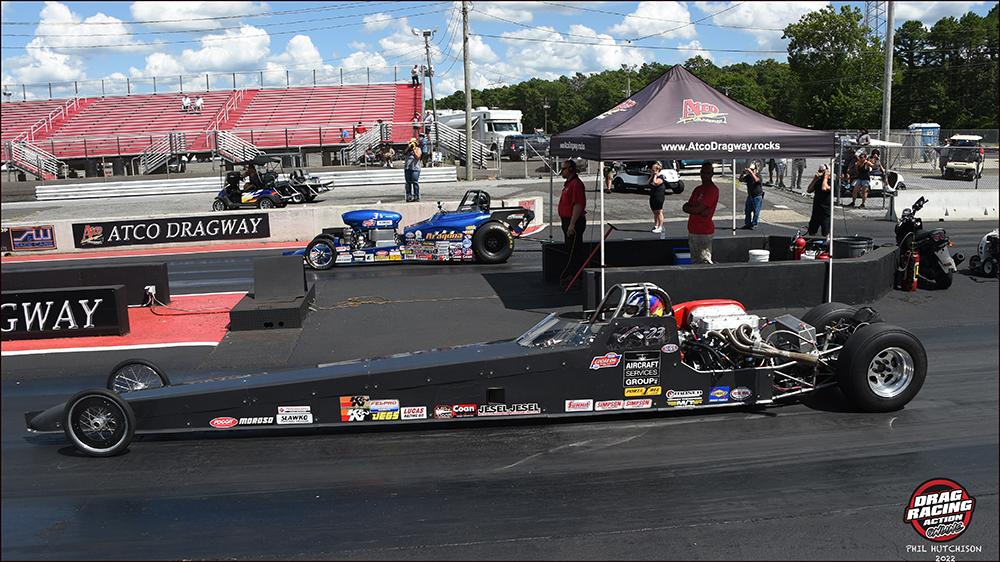 Preiser had the better reaction time in the final with a 0.025 light to Aragona's 0.036 but the altered of Aragona caught the Jackson N.J. driver on the top end winning with a 0.482 under 7.408 to Preiser's losing 0.457 under 8.283. The Atco win was an astounding 40th Lucas series Wally.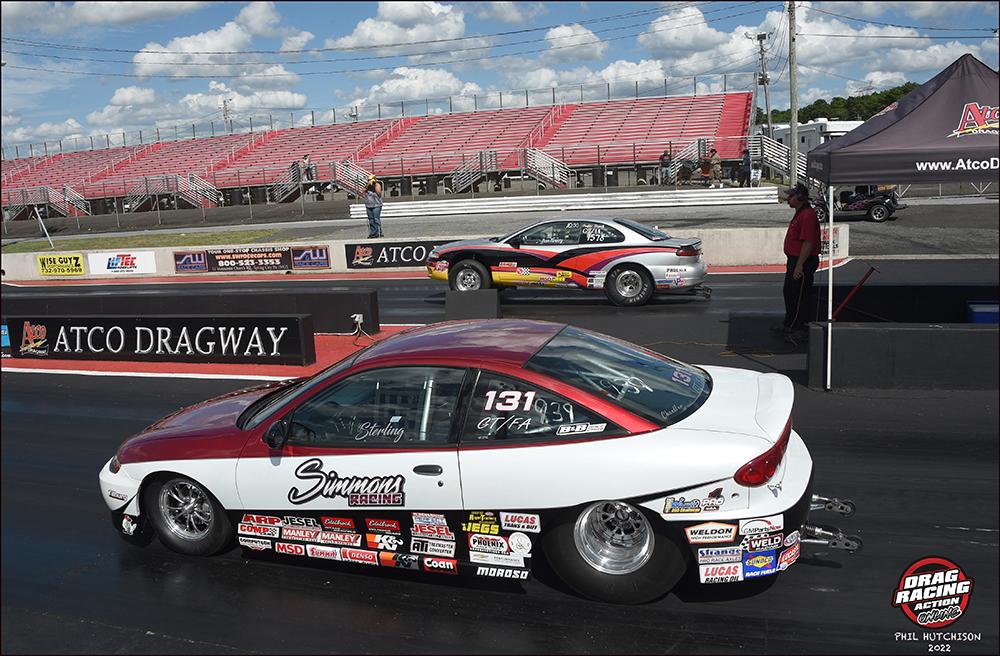 Super Stock champ Sterling Simmons from Chesterfield Va. had been sharp on the tree all throughout eliminations  but in the finals Simmons had his worse light of the day. Up against the '96 Dodge Avenger GT/IA of Dean Mowery, Simmons had a 0.066 RT to Mowery's 0.021 and it didn't look good. Somebody was looking out for Simmons as Mowery took too much stripe breaking out with a 0.021 under 9.979 on his 10.00 dial putting the GT/FA Cavalier of Simmons in the winner's circle.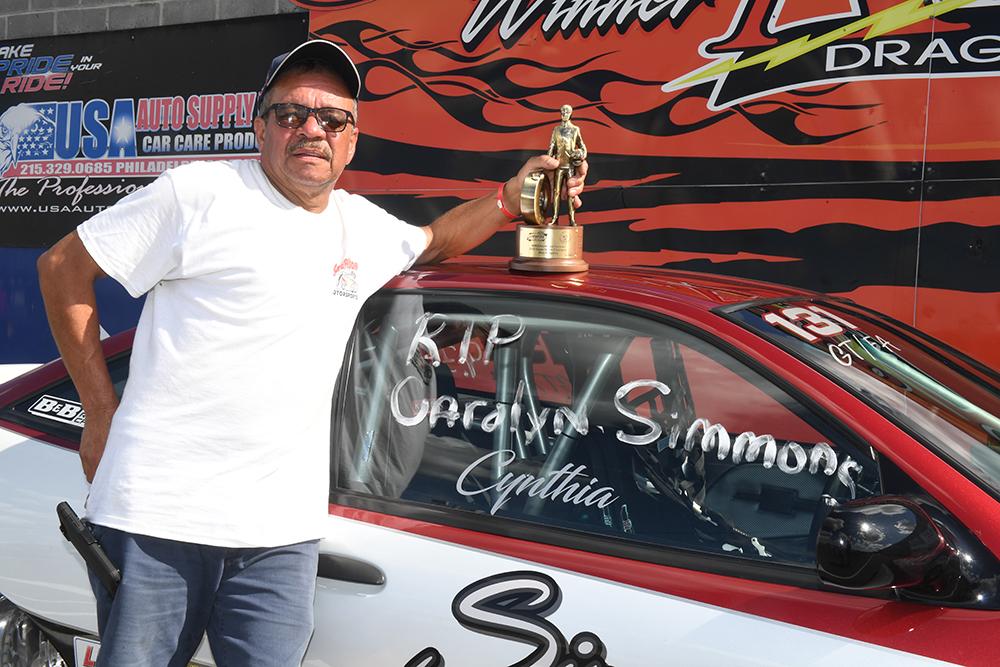 The victory, Simmons' first win in four years, was very personal for the Virginia racer. "I wasn't even sure if I was going to Atco this weekend," Simmons said after his win. "I lost my sister Carolyn recently and her service was Thursday before the race. The family insisted I go, as that is what she would have wanted. So after the service I went home and packed up the car and headed to New Jersey. This win is dedicated to her memory."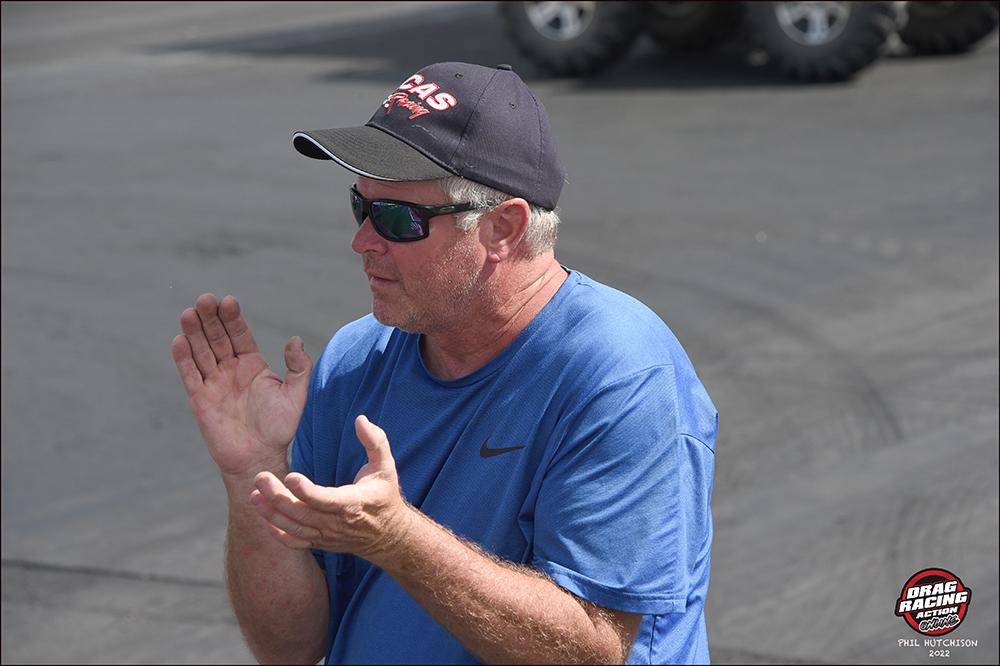 Herbie Null had Simmons' back throughout eliminations
Simmons added, "If it wasn't for Herbie Null I would not have won. Herbie lost earlier in eliminations and was in my corner the rest of the weekend. Herbie told me I had the winning car! He spotted for me every round cause there were some bald spots on the track. He checked out the starting line and put me right where I needed to be."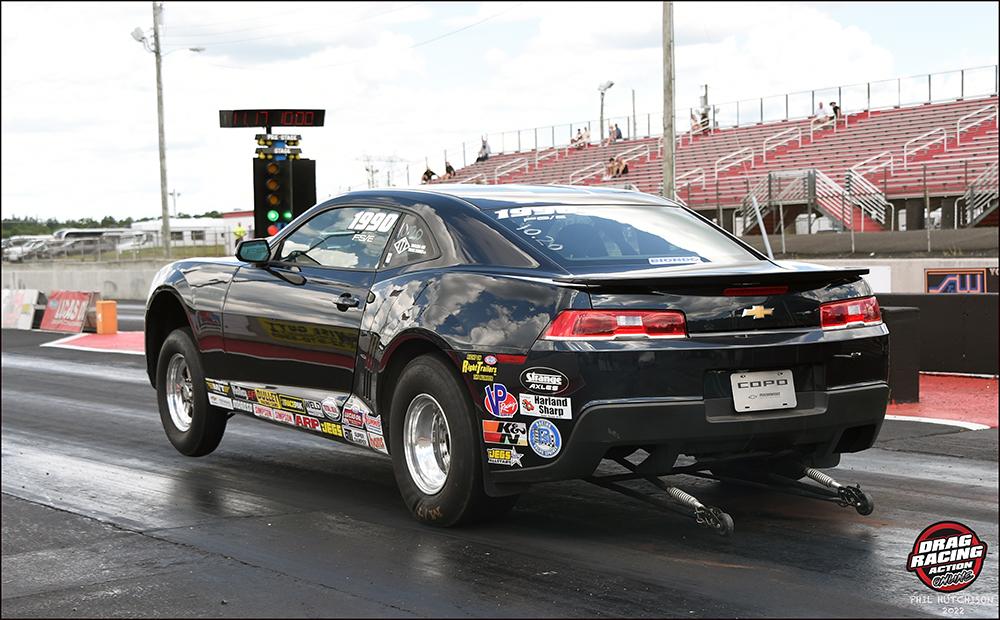 Constant Aviation NHRA Factory Stock Showdown champion David Barton took a weekend off from his seven second COPO Camaro to drive the Barton family FS/E Camaro to a win in Stock Eliminator at Atco. Barton from Robesonia Pa.rolled through eliminations to meet Tom's River N.J. racer Ken Robinson's D/SA '68 Camaro in the finals. Barton had an excellent RT (0.009) forcing Robinson, who had a 0.078 light, to push his Camaro a little too hard breaking out with a 10.773 on his 10.79 as Barton's '14 Camaro cruised to a 10.209 on a 10.17 dial victory.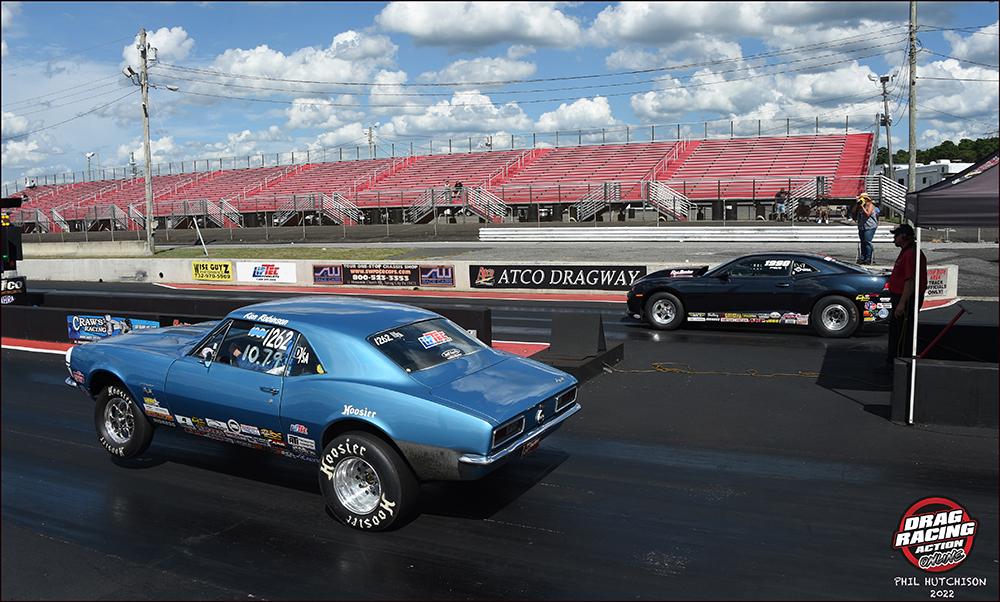 Robinson (near lane) broke out in the finals of Stock 
I bought the Camaro for myself so I can go racing with my kids," Barton said "My daughter Felicity is 19 so I've been trying to get her into the driver's seat with something simple to start. I think she'd be really competitive.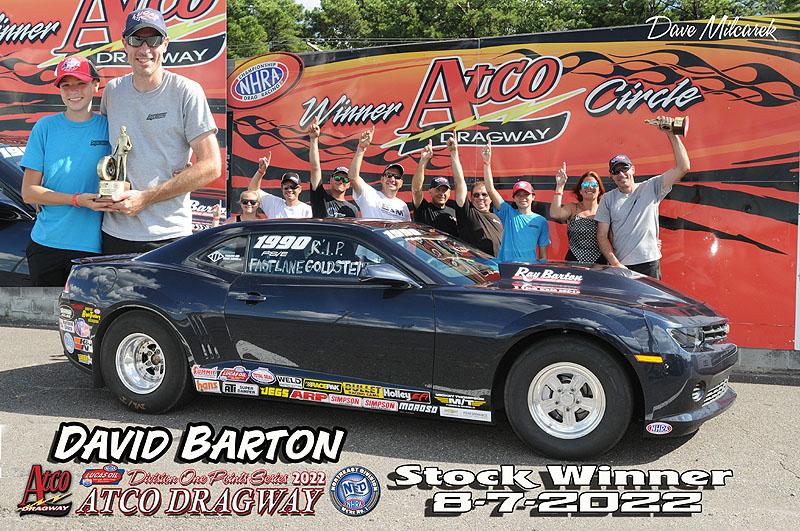 My son, Jax who was runner up in his class Sunday, started racing Jimmy Daniels Jr Dragster last year so I also wanted something to play with if I'm bringing him to NHRA points races. It's a 350 naturally aspirated car, so it's a lot less maintenance compared to what I am used to working on. But that was the whole point. I wanted to prove to myself I can win some bracket races too and then pass it onto my kids if they wanted to jump in the seat."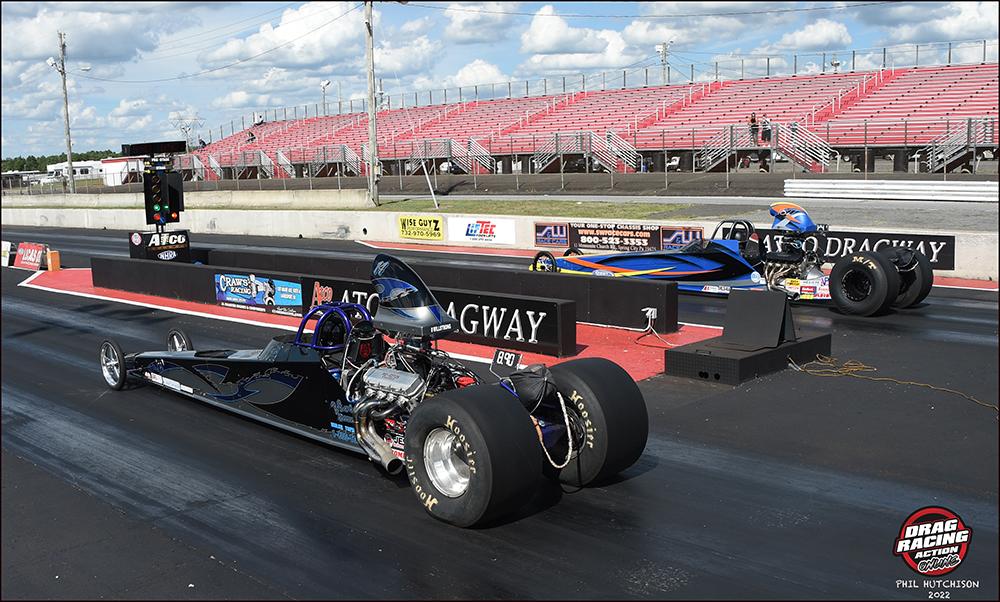 Bangs (near lane) took the Super Comp win at Atco
For Super Comp winner Don Bangs it was a long time between drinks of water as the Southampton Pa. racer has not seen the winner's circle for nearly two decades but at Atco all was good with the world. Bangs defeated the always tough dragster of Tom Hunter in the finals as Hunter left 0.003 seconds too soon giving Bangs his second career Lucas win.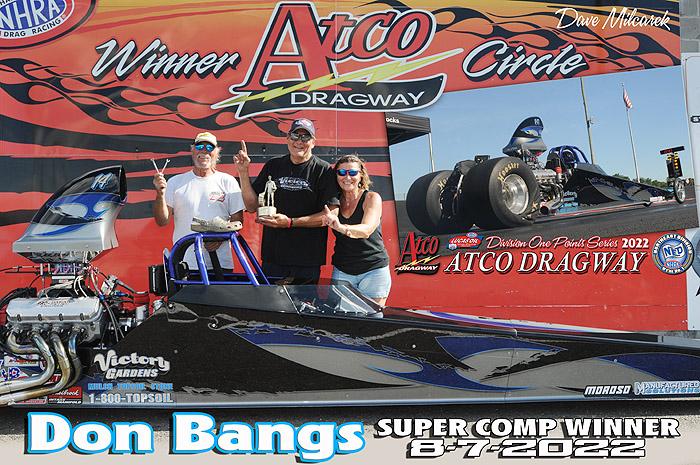 Bangs said after his win. "It took us 18 years for to get #2 since 2004 at Maple Grove in the old car with AMC power. I couldn't keep doing this without the ongoing support of my wife Beth Anne, our four sons and collectively the rest of our racing family who are always there for each other, on and off the track.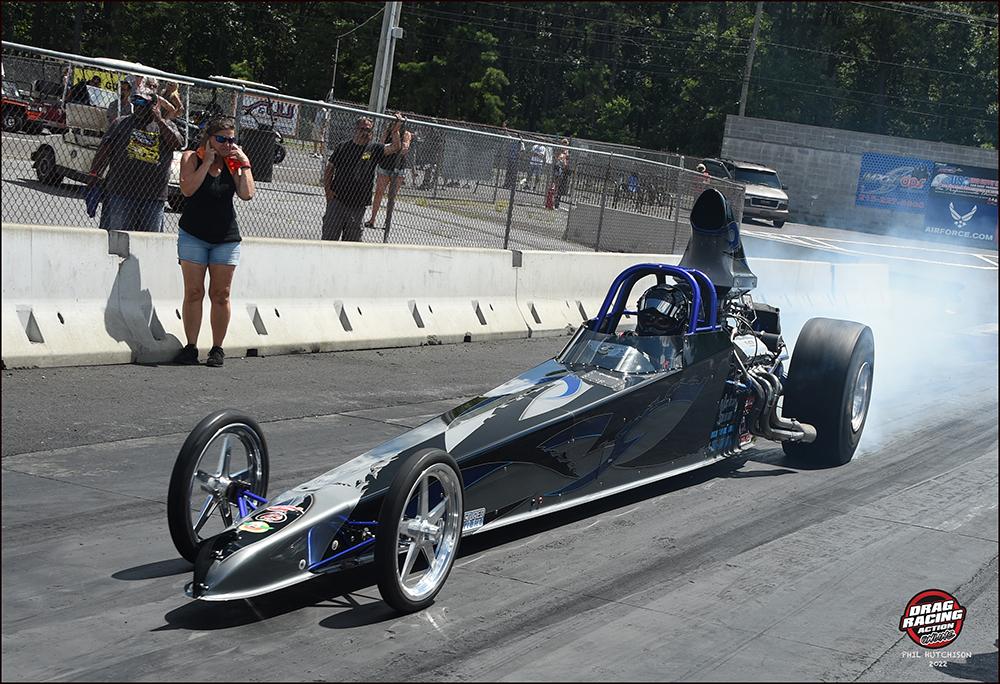 Thanks to Mike, Becky and Justin Butler at Victory Gardens, Doug at Moroso, the "Eddies" at Select for all their support, Jeff at Road Runner Race Fuels and to Lee Ream at C2 for pulling me out of the fire just in time to start the season. Can't forget our sons Donnie at PSI PROFORMANCE and Corey at Manufactured Solutions and of course Tom Goldman for always being "on call."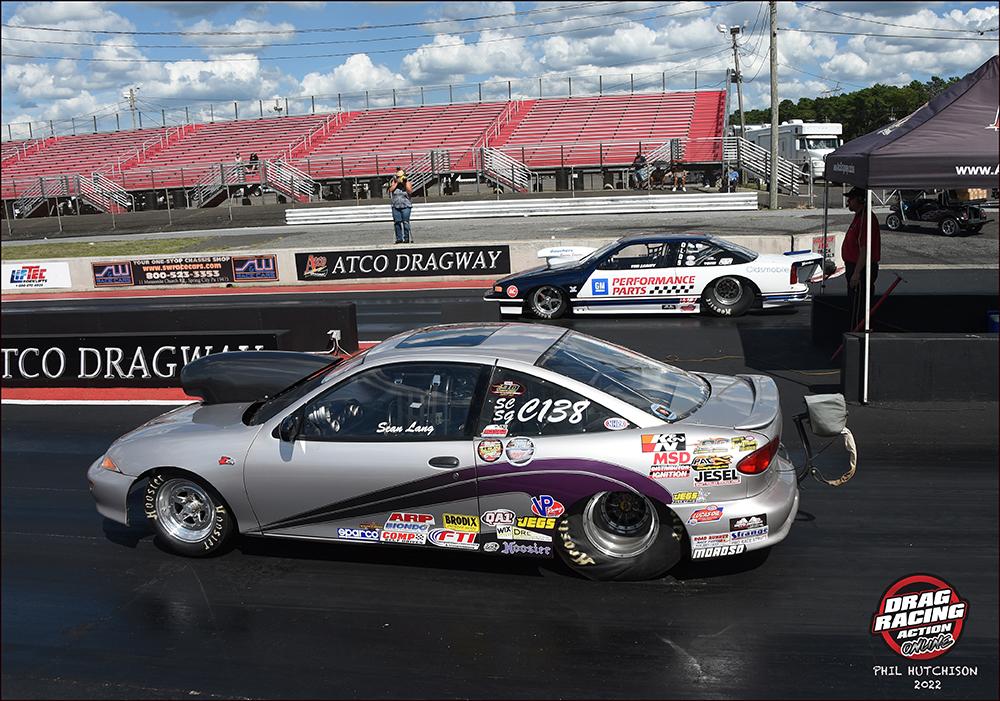 Ted Leahy from Jefferson Mass. drove his '91 Cutlass to a Super Gas win as his competition, the '95 Cavalier of Sean Lang from Coopersburg Pa. fouled out any chances of a victory.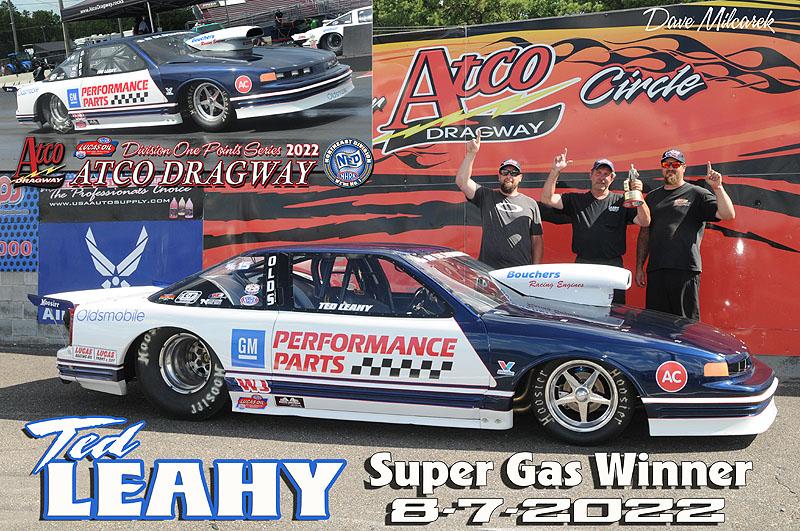 Leahy, who won the NHRA New England Nationals in June was behind the wheel of the ex Warren Johnson Cutlass that carried the Pro Stock great to five wins. The win at Atco was Leahy's first ever Lucas Oil win in his first ever final round.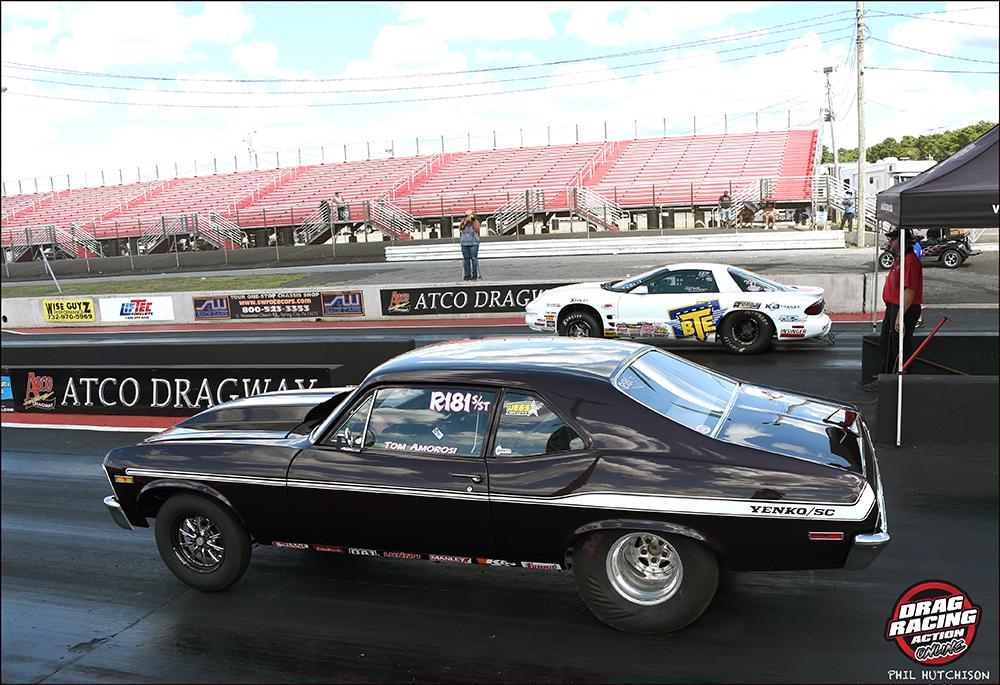 It was a double breakout in the finals of Super Street and who ran less under was the winner. Kyle Bigley from West Milford N.J. got the win as his 10.889 was less egregious than his competition, Tom Amorosi's quicker 10.872.  Bigley killed the tree in his  '02 Firebird grabbing a 0.008 light to Amorosi's decent 0.014 but it went down to who ran closer to the index.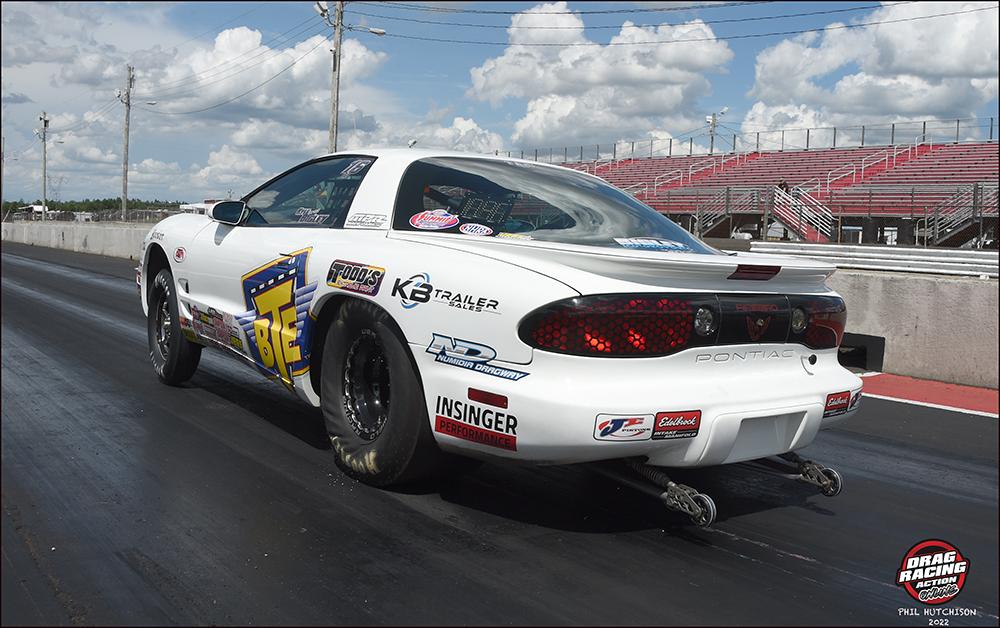 "I would say the biggest highlight was in the final round I heard an issue with the shift where the car nosed over for a split second, Kyle said, " So naturally I felt I had to throw out my game plan and improvise on the fly, taking him deep before letting him go, luckily I was on the winning end of a double breakout.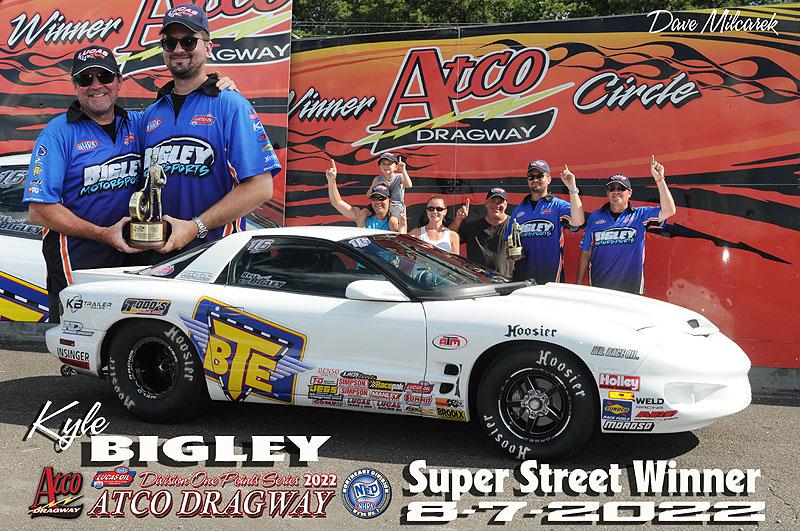 "Aside from that, this was my first divisional win in SST, at a track I've struggled at in the past which is always nice to get that monkey off my back. Coming off a win in the dragster for $50k just two weeks before, felt good to swap from bracket to class racing and back to back wins
Kyle finished with, " I definitely want to thank our sponsors, BTE, KB Trailer Sales, TxtCart, Numidia Dragway, Hoosier Tire, PAR, ATM, Mr. Race Oil, K&N, Todd's Extreme Paint and the Division 1 staff."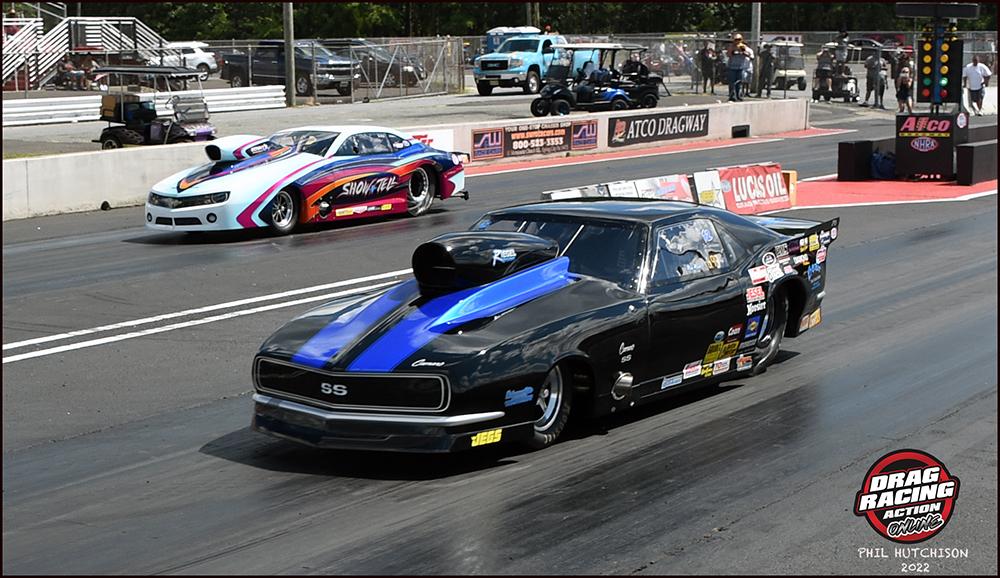 Tommy Tape Top Sportsman Presented by Select Performance had long time Pa. racer Ron Riegel from Fairless Hills taking his '68 Camaro to his 4th career Lucas win over the '13 Camaro of Vonnie Mills from Kennedyville Md.  Riegel dialed in at a 6.93 and ran a 6.94 to Vonnie's 6.684 on a 6.66 dial.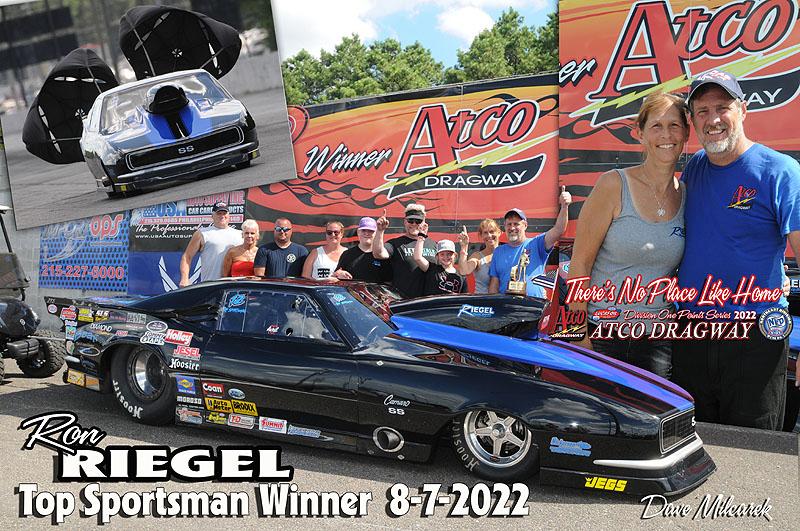 Earlier in the semifinals, Riegel beat Bob Fortuna, who was leading the division coming into Atco and with the win, Riegel moved into first place in the NED Tommy Tape points lead.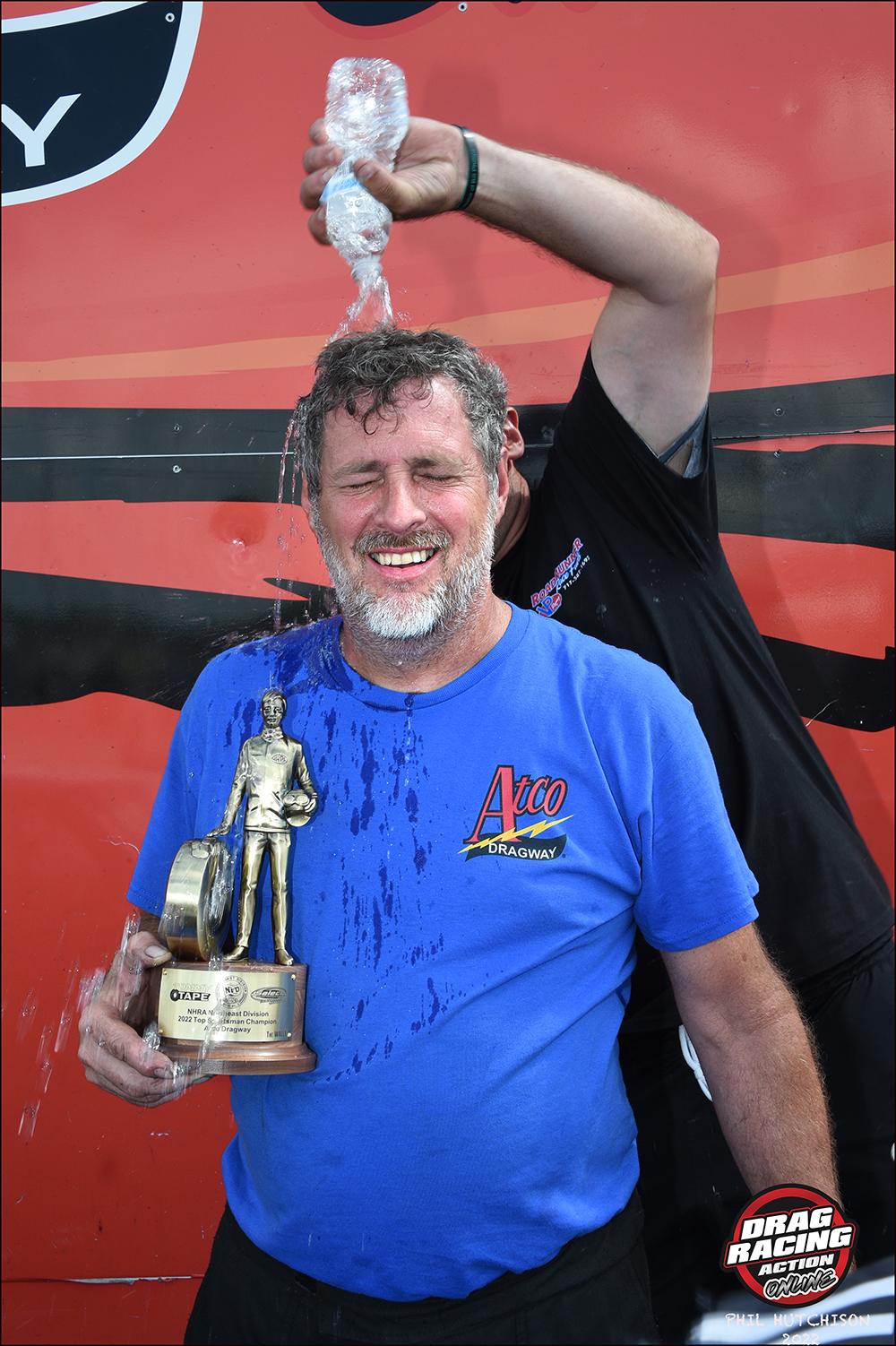 Riegel gets a ice water bath after his win at Atco
"This weekend's race at Atco not only put me in the points lead but it meant a lot to me because it was at my home track," Riegel said, "Atco is where I started racing 40 years ago. .I couldn't have done it with out the help of the best crew Avril, Billy, and John, the best fan club, my family."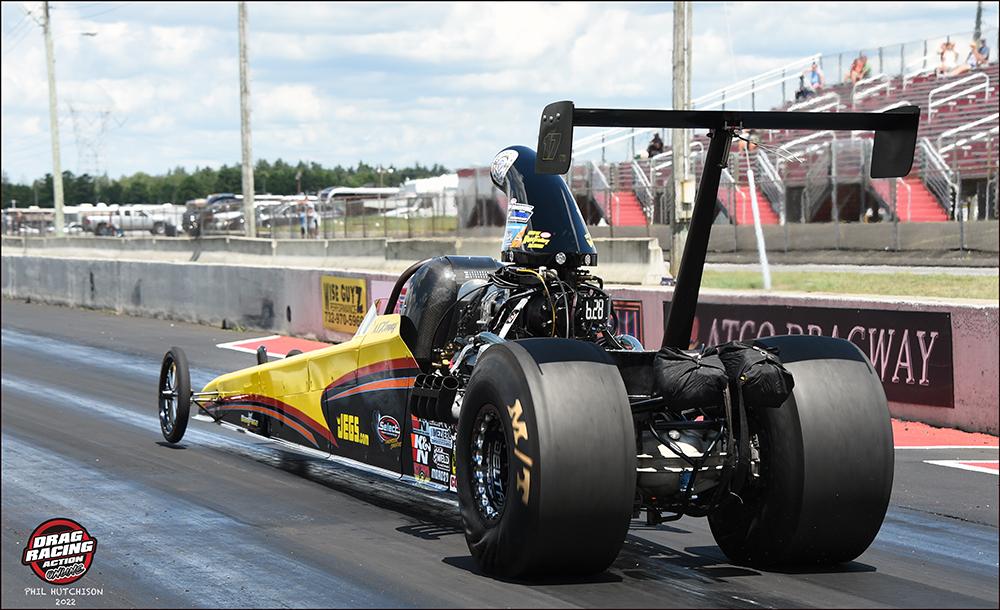 Al Kenny winning Tommy Tape Top Dragster is nothing new as Kenny is one of the best racers in the class. Coming into the Atco race, he had 10 Lucas wins. But Kenny had to adjust his program for the hot temperatures at Atco.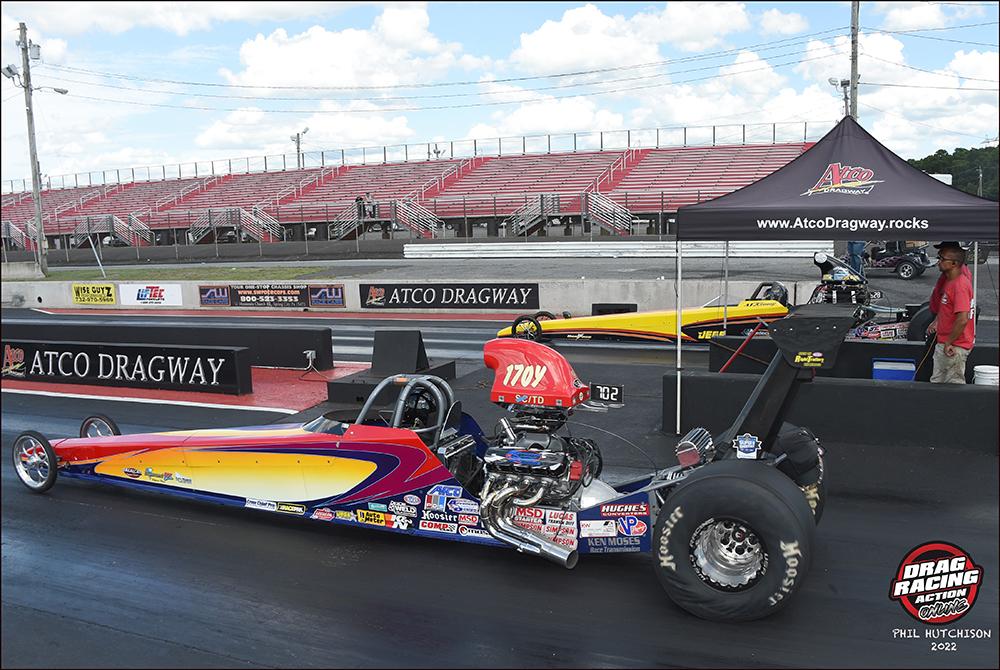 Al Kenny (far lane) took out Chuck Krepela in the finals of Tommy Tape Top Dragster
In the finals Kenny had a 0.019 light as his completion, the dragster of Chuck Krepela out of West Springfield Mass. was right there with a 0.048 RT but Kenny was not to be denied winning with a 6.323 on a 6.28 dial to Krepela's 7.042 on a 7.02 dial. The slight hole shot by Kenny made the difference on the top end.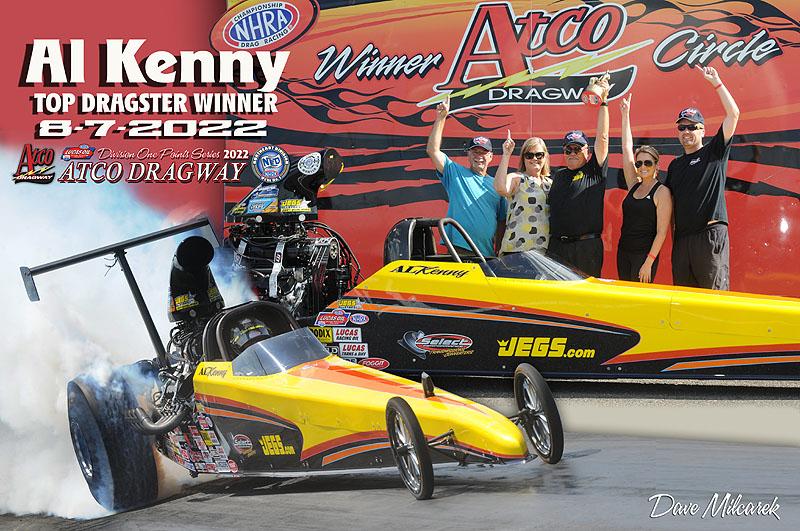 Kenny said after his win, "After smoking the tires in the Numidia final we went to Atco determined to find a "Hot, greasy track' set-up. Mother nature obliged with a brutal hot and humid weekend. Track temps reached 137! Good news is the Hot Track tune-up worked. No shake, no tire smoke. This made the car very dial-able, which helped. Probably toughest race was R1 against Joey Dipasquale. Ended up winning by .002.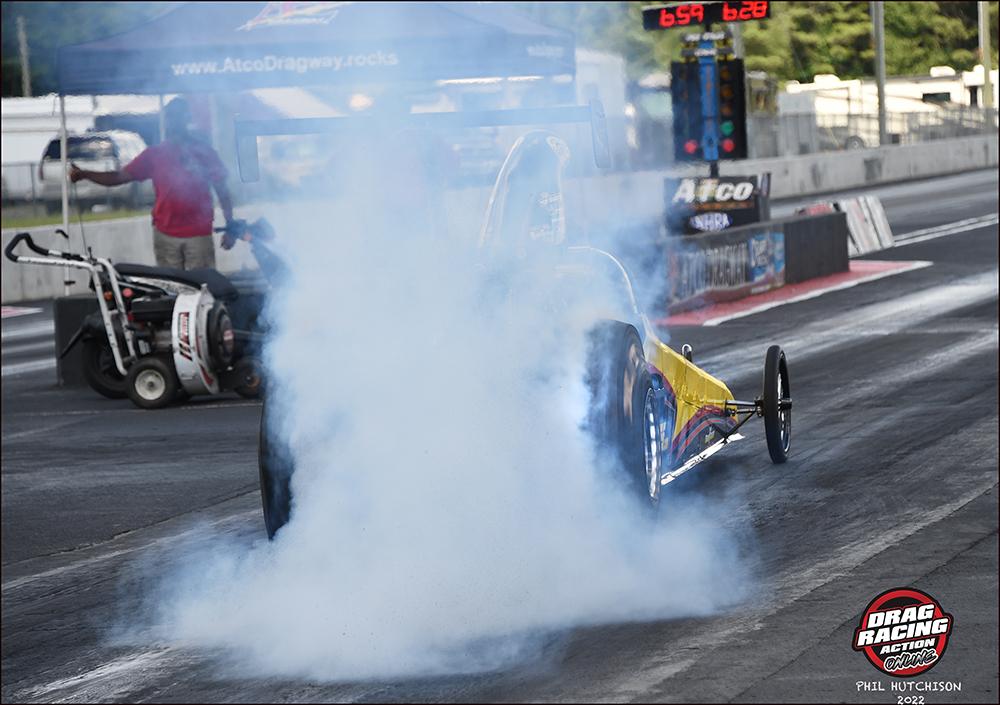 "The highlight of the weekend was the final running against my good friend Chuck Krepela. Chuck helps me with blown car and is an invaluable crew member and very knowledgeable.
Kenny adds, "Of course, thanks to my wife Carol, Ashley and Jason. We all were very busy on a brutally hot weekend!! We wounded 2 pistons on Q2 Friday. Not totally burnt, just 60-70% leak rate. So we backed it down a little and it ran fine for Q3 on Saturday. We'll change the 2 pistons here in the (air-conditioned) shop this week."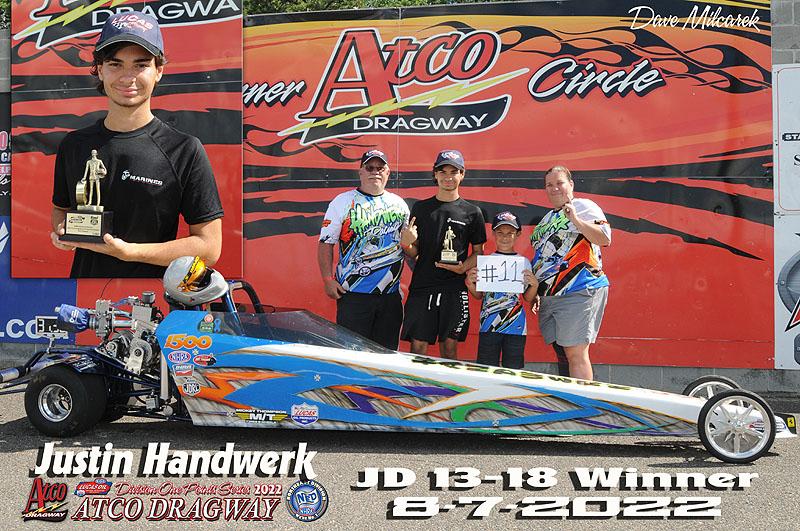 Justin Handwerk from Edison N.J. won the Junior Dragster 13-18 class beating  Jax Barton from Sinking Spring Pa in the finals.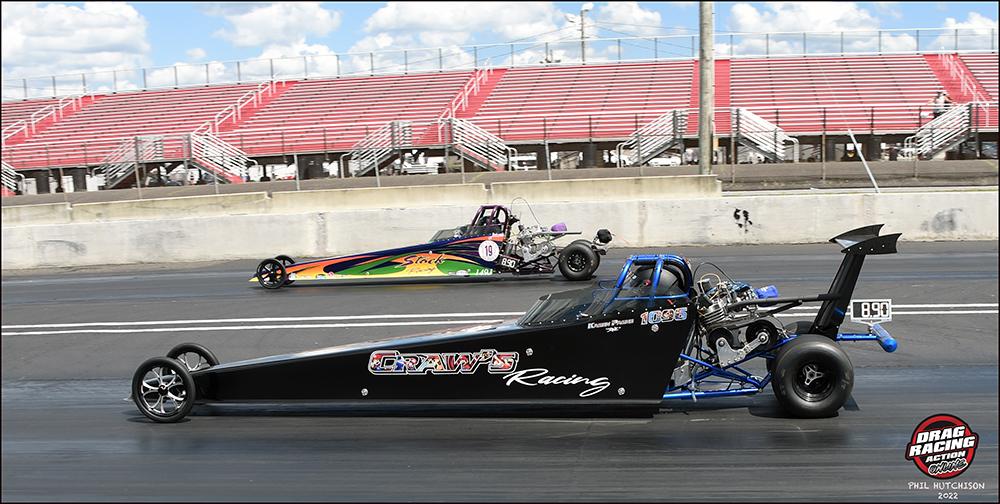 Junior Dragster 10-12 went to James Stack Jr. from Yorktown Heights, N.Y. over Kaden Paone from Galloway, N.J.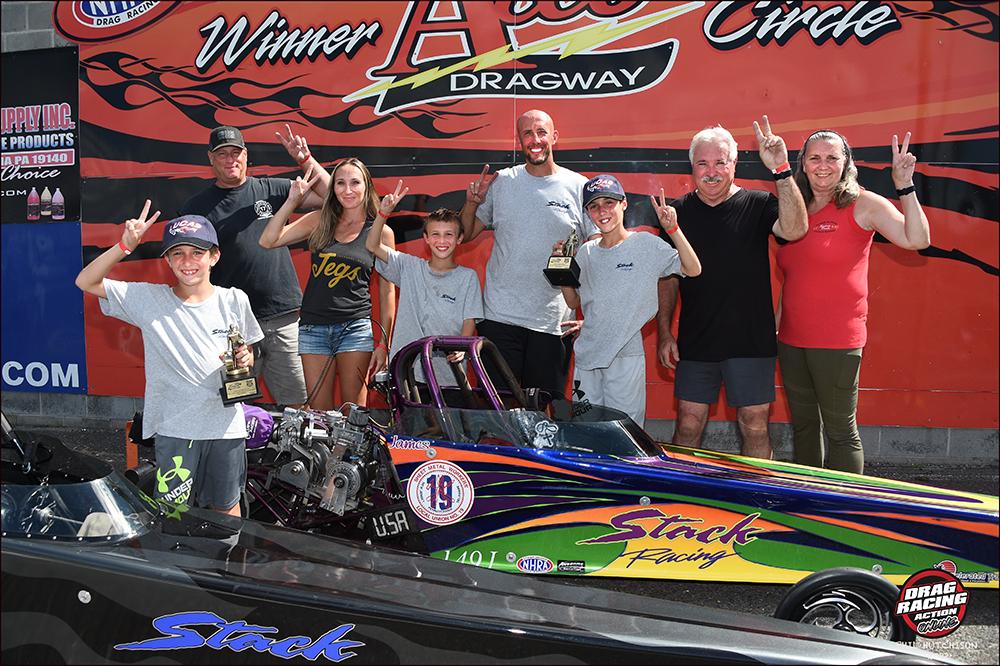 James Stack Jr's brother Evan won Junior Dragster 6.9 beating local racer Natalie Olt from Atco N.J.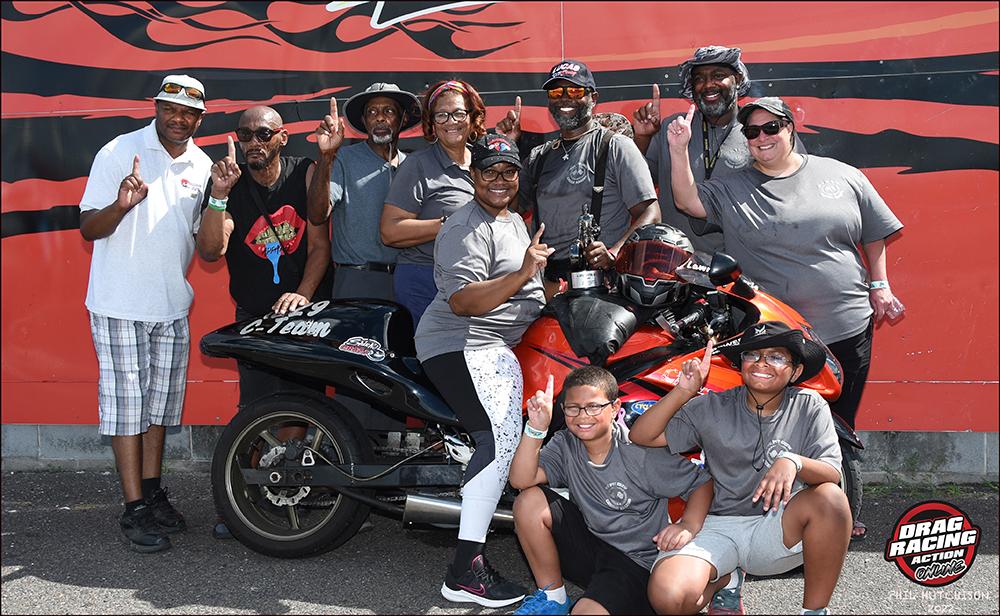 Lawrence Currie from Philadelphia, Pa.  Took his '08 Hayabusa to a win in Sportsman Motorcycle defeating the '08 Suzuki of Vanderbilt Boyce from Neptune N.J. in the finals.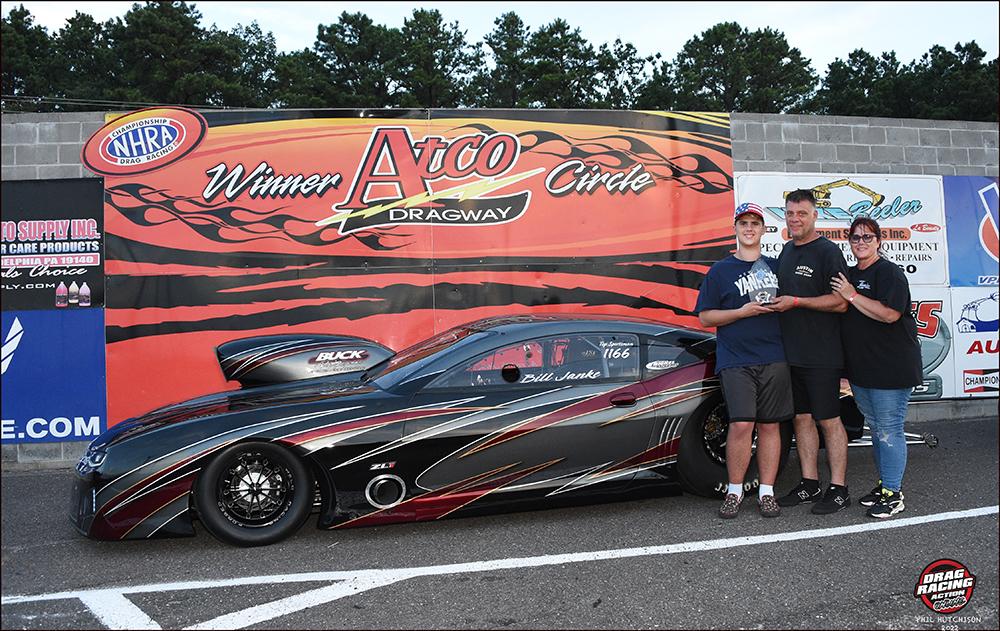 Bill Janke's Top Sportsman entry won Hoopes Fire Prevention Best Engineered award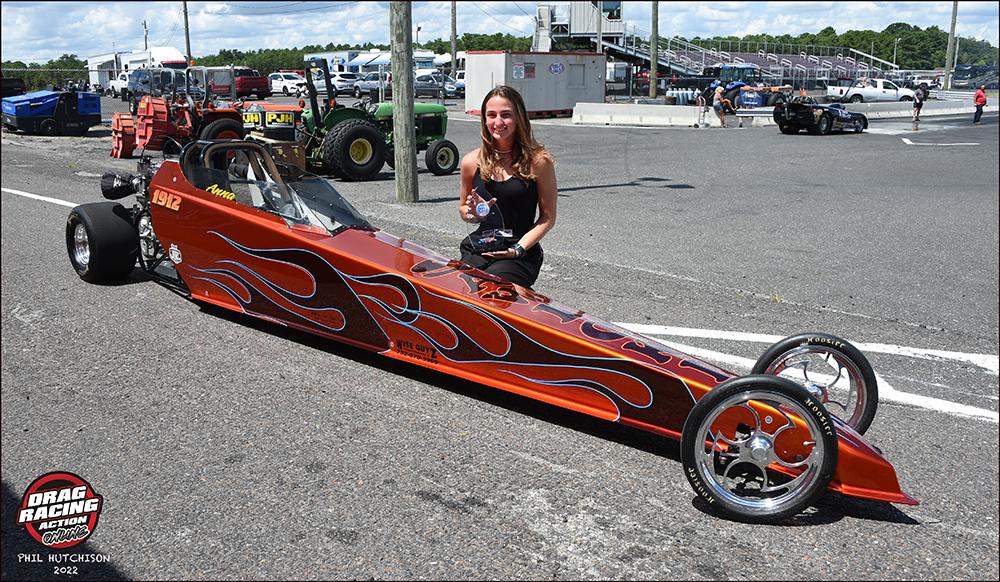 Anna Sawicki's Jr Dragster was awarded Custom Auto Body Best Appearing
For more images from the Atco NED Lucas Oil Divisional go to: