Atco Dragway PC Richard.com National Open Series Kicks off D1 Season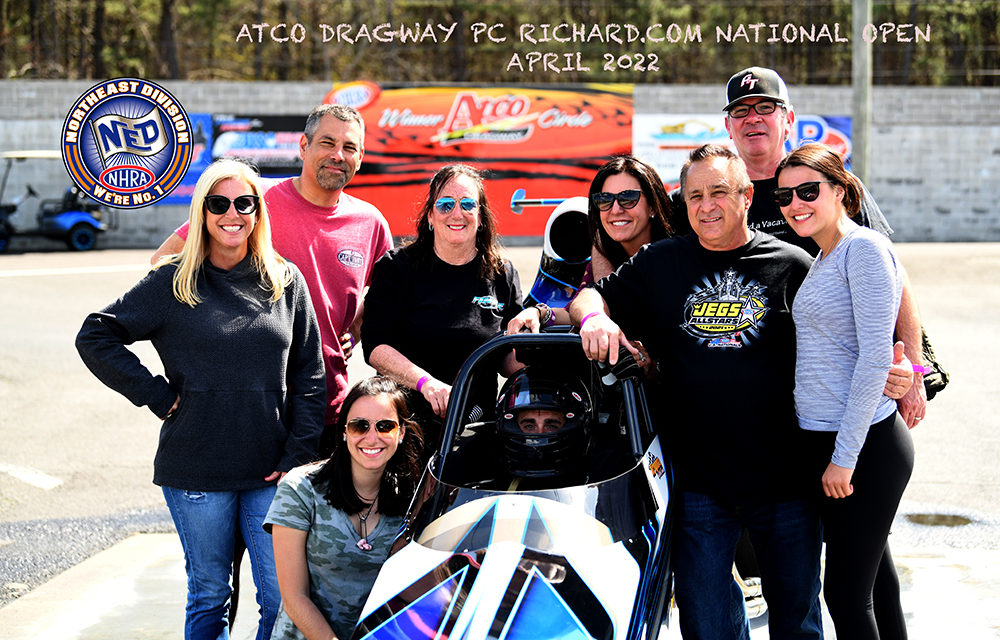 Images: David Smith, Dave Milcarek, Diane Kubicke and Phil Hutchison
The 2022 NHRA Northeast Division One (NED) season is on with the completion of the first race of the year held at Atco Dragway in New Jersey.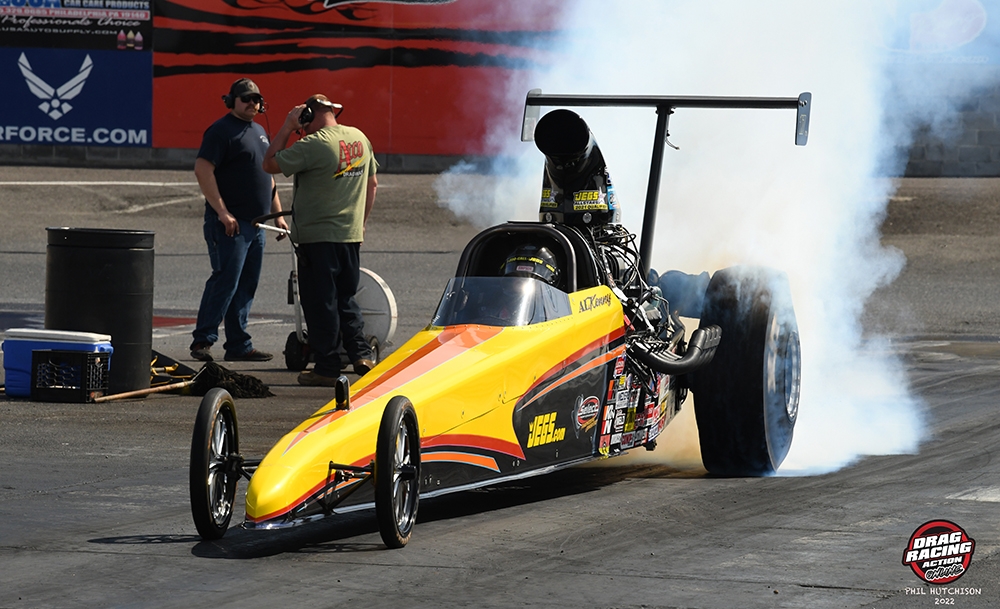 Winning his first Top Dragster race of the year was multi time NHRA champ Al Kenny. Kenny behind the wheel of his blown Dan Page built dragster defeated Glenn Flack in the finals after tattooing the Del Haven N.J. dragster of Flack with a 0.009 light and running a 6.189 on his 6.17 dial to Flack's better 6.898 on a 6.89 dial but Flack's slower 0.034 RT made all the difference at the finish line.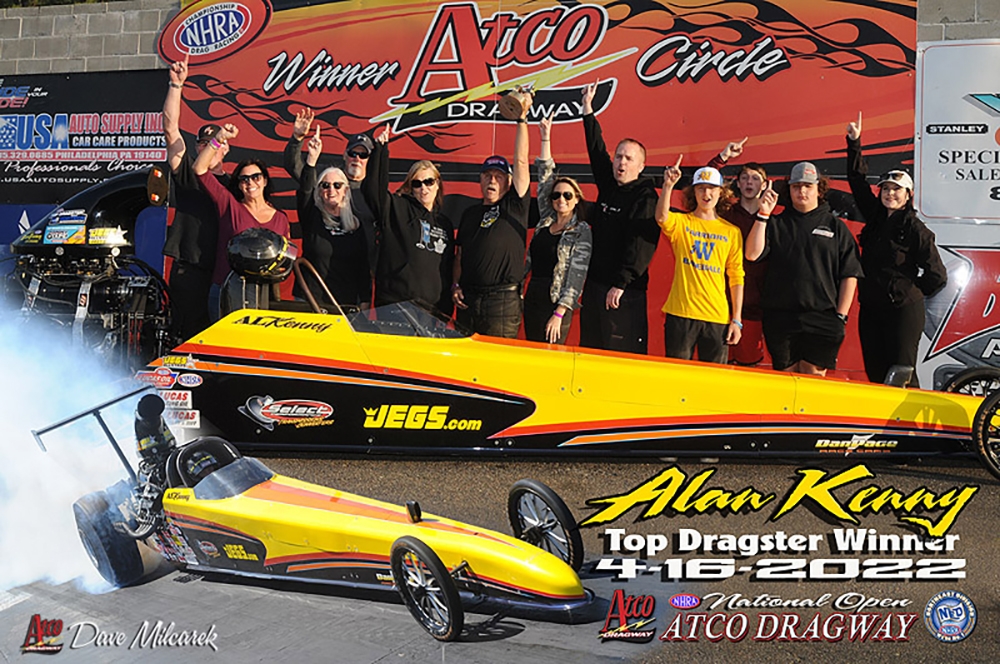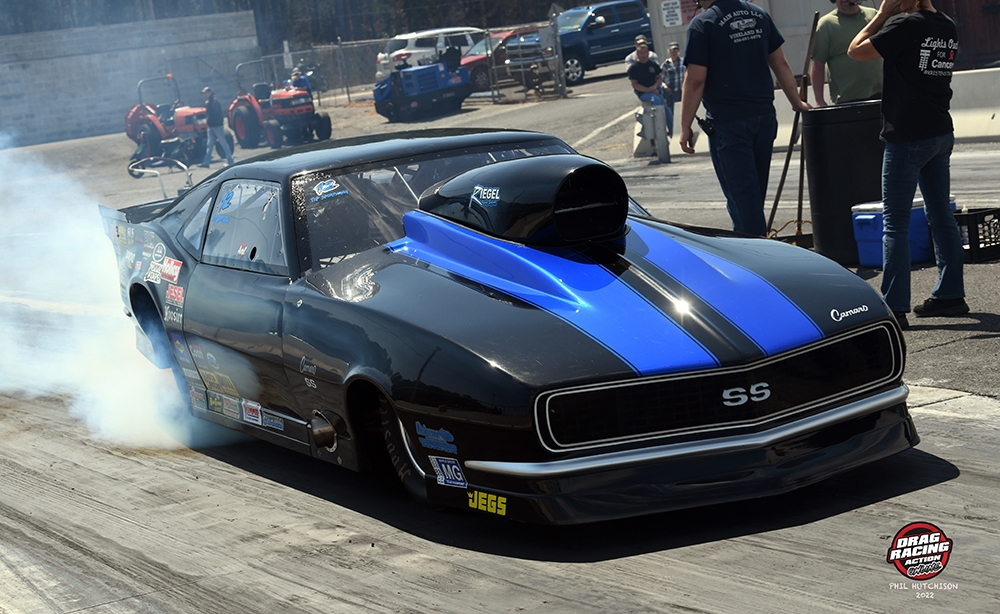 Top Sportsman went to Fairless Hills Pa. racer Ron Riegel in his '68 Camaro over the '94 Beretta of Brian Moody from Old Bridge N.J. Riegel was second off the line with a 0.043 light to Moody's better 0.008 but Moody pushed it too hard on the top end breaking out with a 7.694 on his 7.72 dial putting Riegel in the winner's circle at Atco.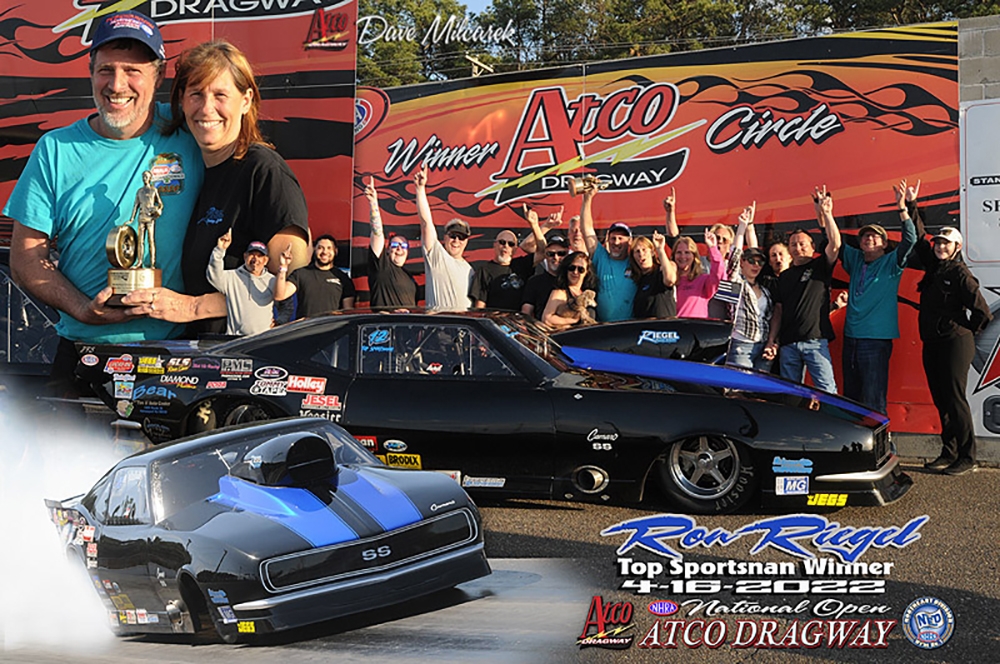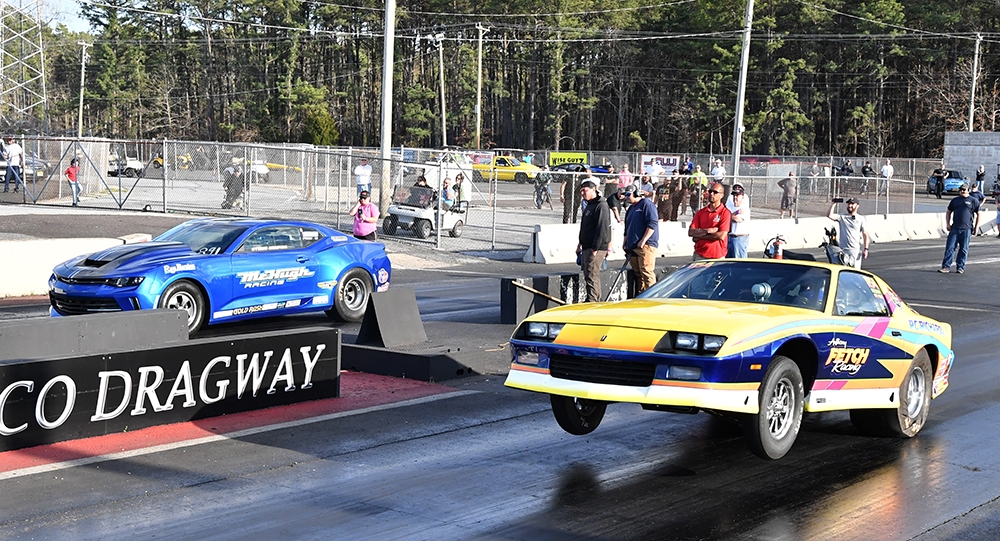 Anthony Fetch from Colonia N.J. wheeled his GT/KA '92 Camaro to a Super Stock win defeating the FSS/D of Steve Szupka from Northampton Pa. who went red by just 0.007.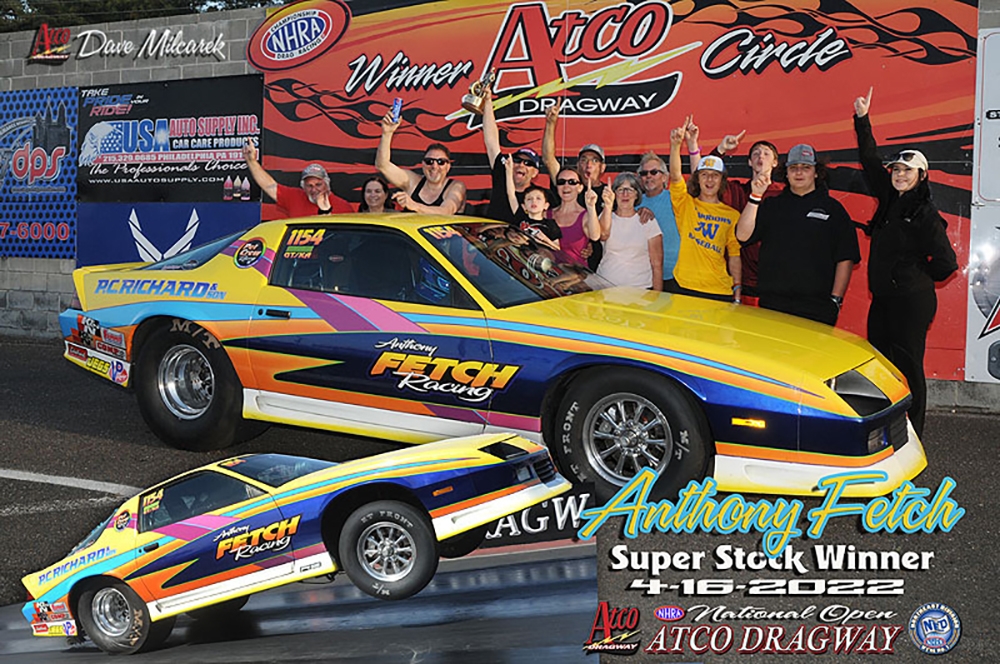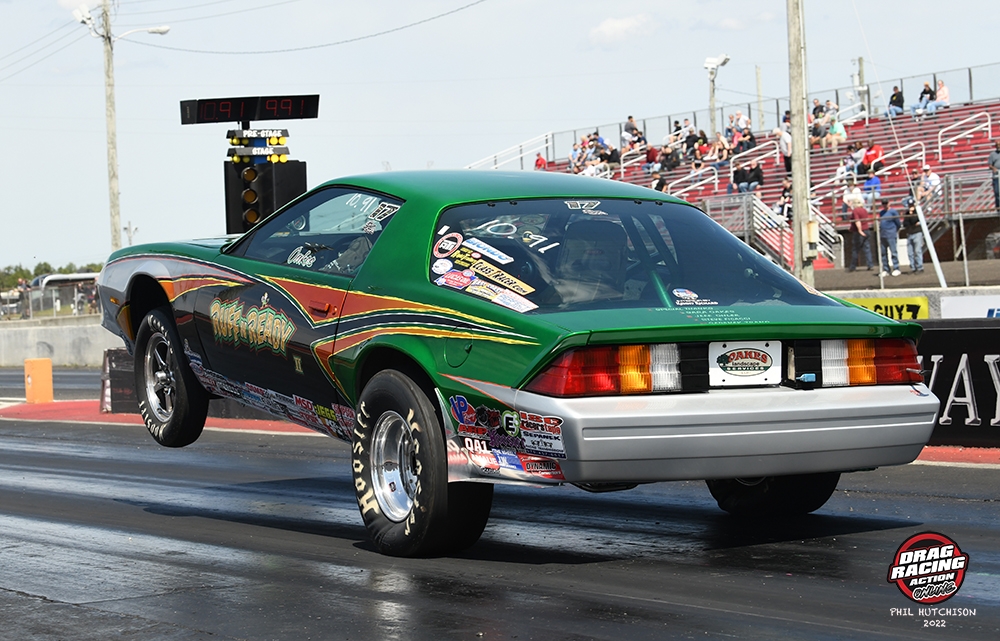 Former Keystone Nationals winner Shane Oakes from Ottsville Pa. won Stock Eliminator in his G/SA '83 Camaro defeating the L/SA Camaro of Joe Mocci from Ocean N.J. in the finals. Oakes was nearly perfect running a 10.933 on a 10.93 dial as Mocci went to quick with a breaking out 11.941 on his 11.97 dial.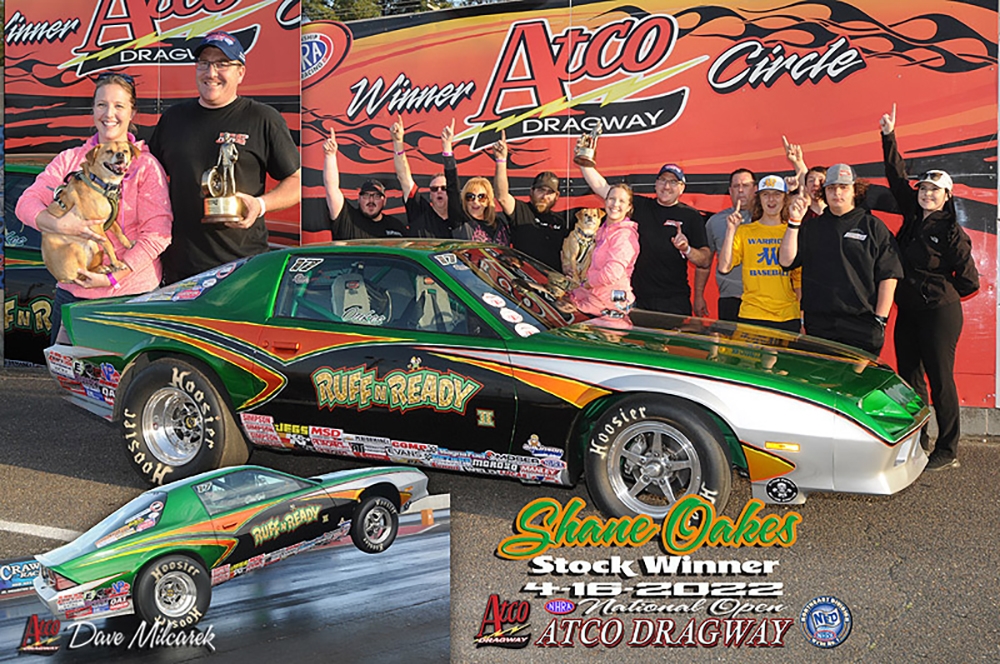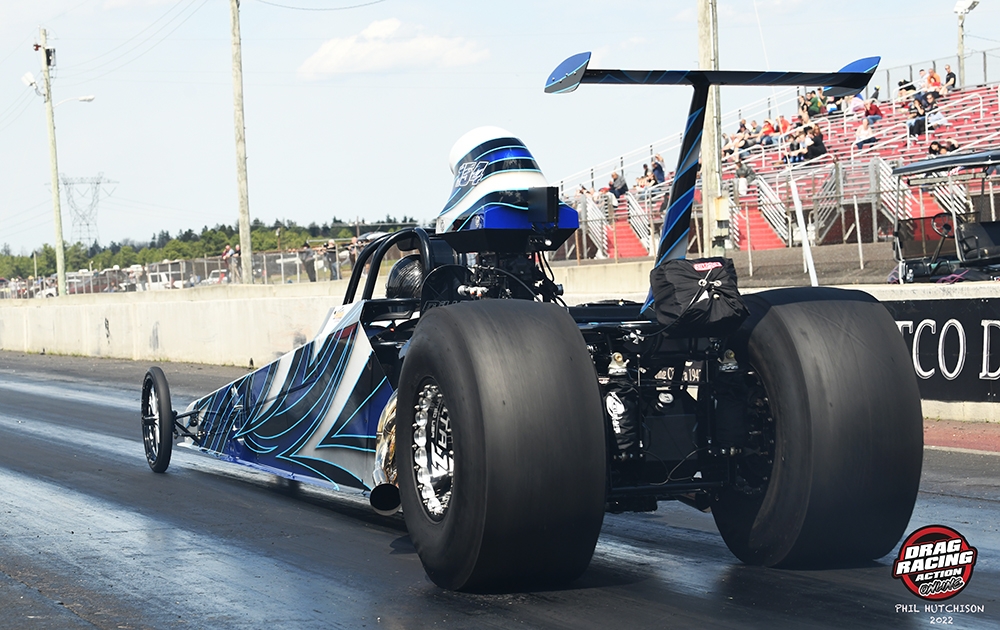 Vincent Nobile driving his new Miller built dragster, took the Super Comp title back to his home town of Commack N.Y after he defeated Greg Hays from York Pa. in the finals. The former NHRA Pro Stock driver had a great 0.005 reaction time in the finals to Hays' 0.048 and it was the difference as Hays pushed his dragster to a breaking out 8.888 to Nobile's winning 8.93.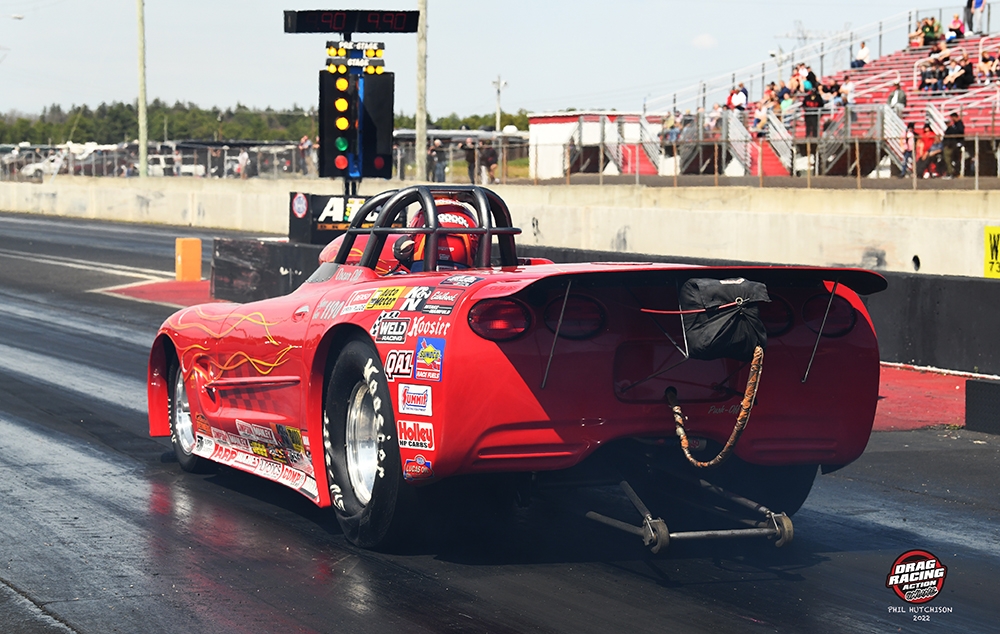 Local racer Nick Olt put his '03 Corvette roadster in the winner's circle defeating the '69 Camaro of Dave Muller in the finals of Super Gas. Muller from Pennington N.J. had the better light but could not run the number losing to Olt's 9.903 to his 9.927.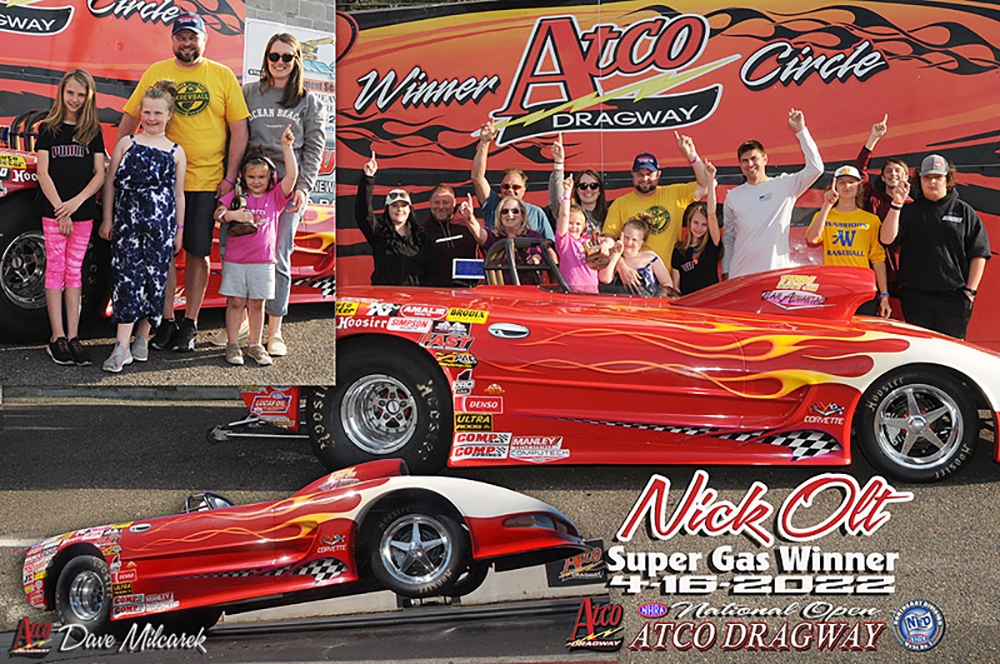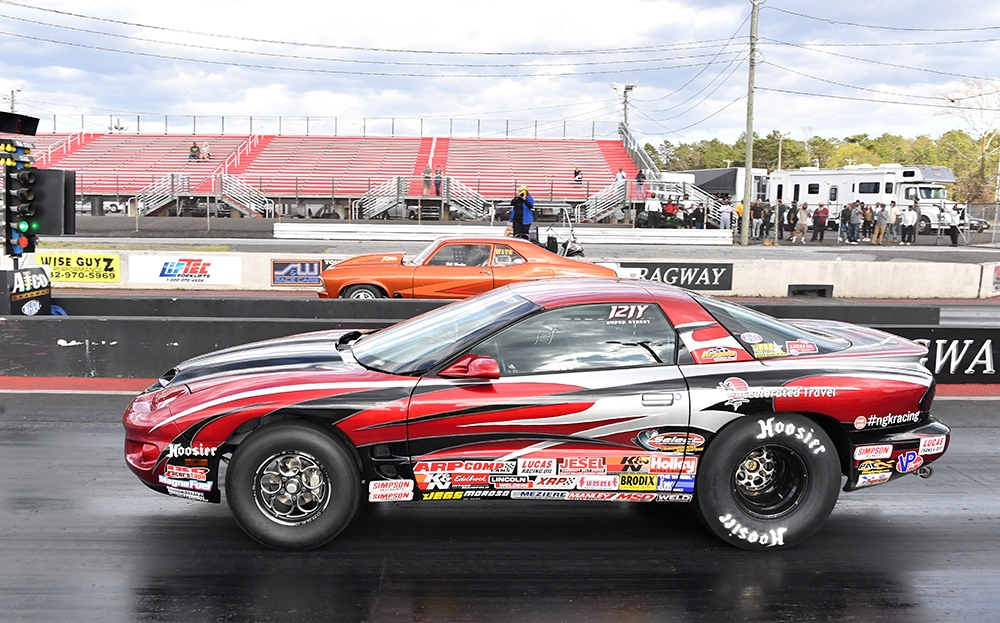 Shawn Fricke from Flemington N.J. was the winner in Super Street in his '02 Firebird as his competition; the '70 Nova of Bill Hacker from Fairless Hills Pa. was to quick running below the 10.90 index with a 10.889 to Fricke's winning 10.905.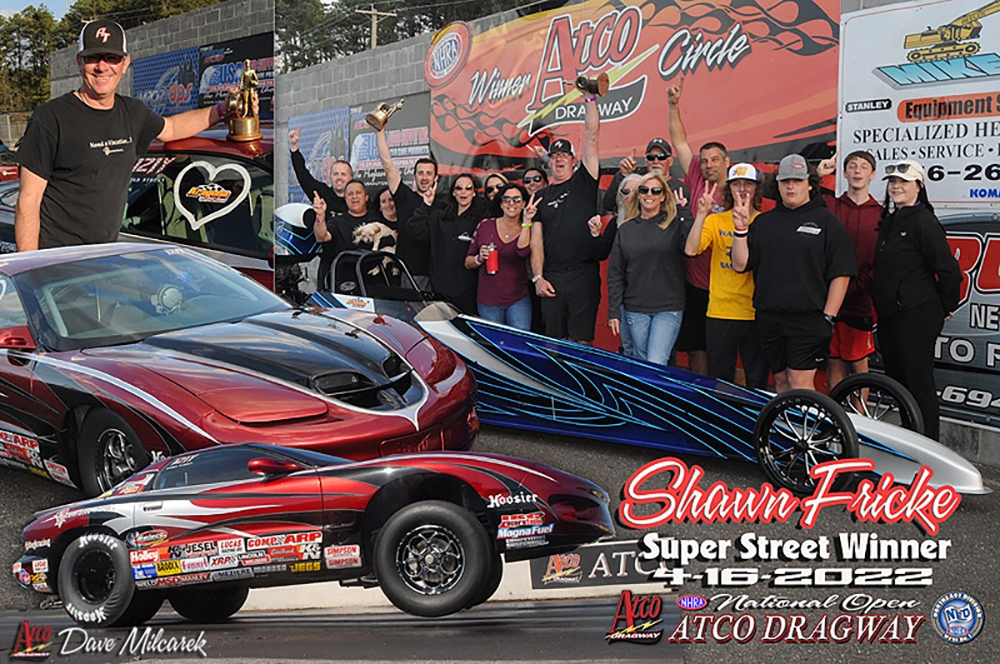 In addition to the NHRA eliminators, three Index classes were contested at Atco.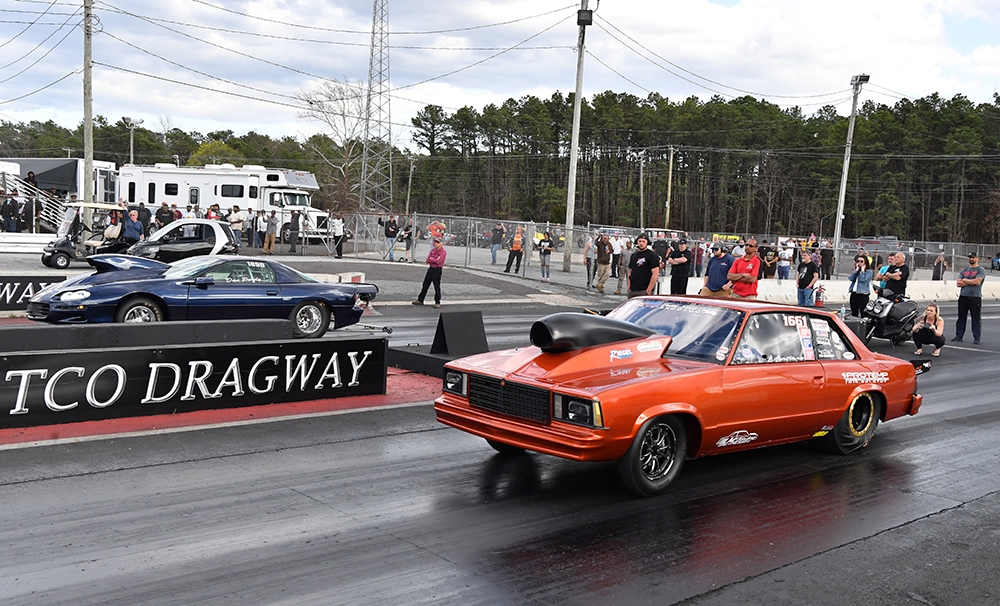 Winning the 8.50 Index class was the '02 Camaro of Dan Purdy from Bordentown N.J. Purdy defeated the '78 Malibu of Jonathon Dela Rosa from Philadelphia P.A. with a nearly right on 8.501 to Dela Rosa's 8.524.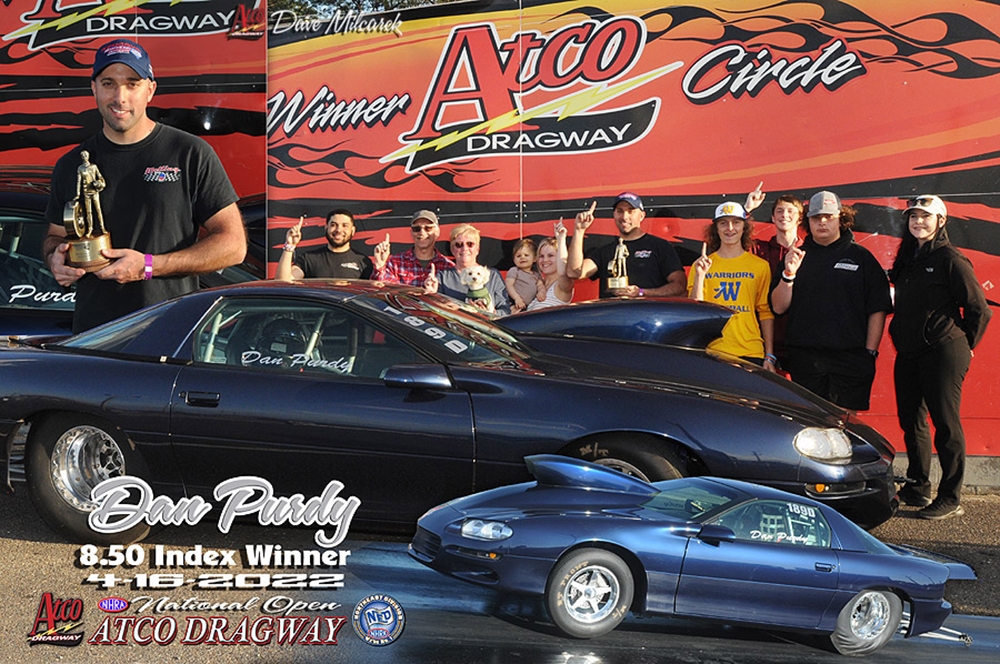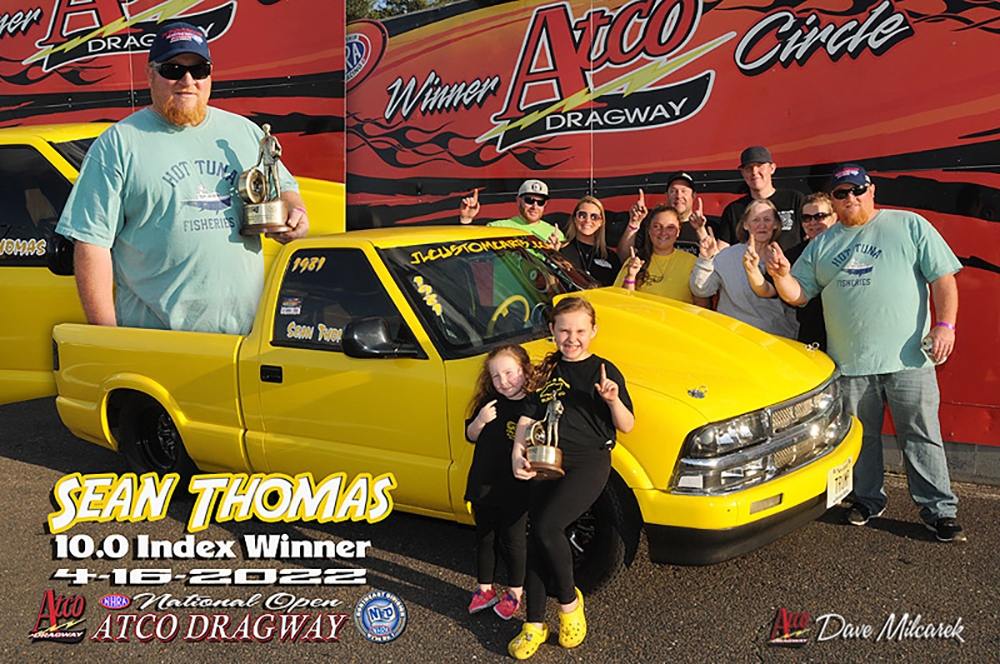 The 10.0 Index winner was the '94 S-10 truck of Sean Thomas from West Deptford N.J. defeating the '00 Pontiac of Dana Loffredo in a double breakout final. Thomas' 9.95 run in the finals was less of an infraction as Loffredo's 9.918.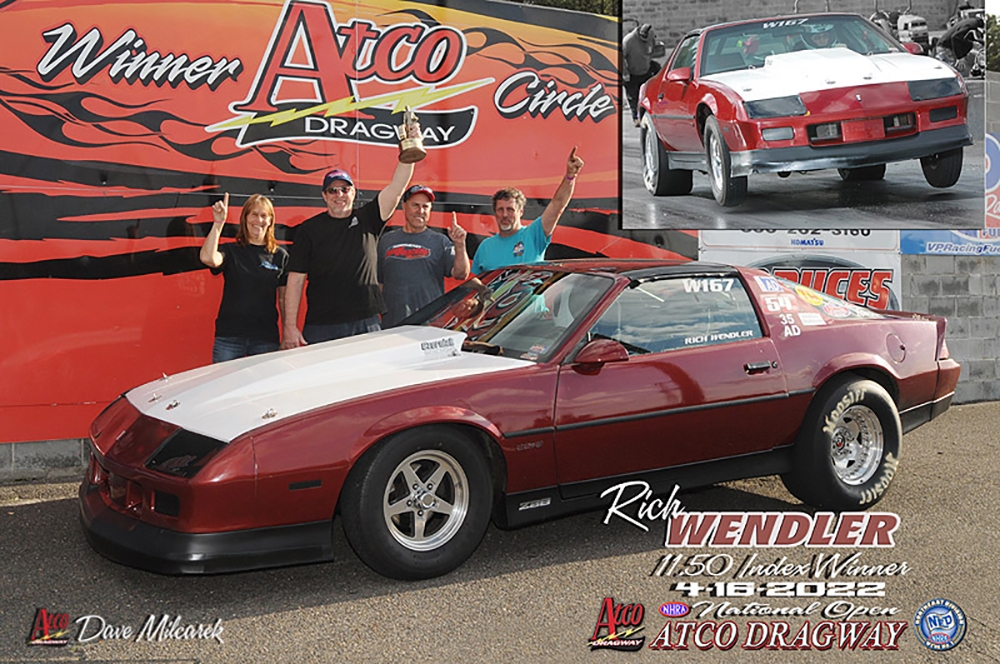 Richard Wendler from Bensalem P.A. driving his '86 Camaro beat the '69 Nova of Avril Krieg from Fairless Hills Pa. in the finals of the 11.50 Index class. Wendler ran an 11.506 in the win as Krieg had the better light but could only muster an 11.598 in the loss.
The racing NHRA Division One continues this weekend at Atco as first Lucas Oil Racing Series divisional of the year will be held April 21-24.
To view more of Dave Milcarek's images go to: http://davemilcarek.com
To view more of David Smith and Diane Kubicke's images from the event, go to https://www.division1photos.com