Musi Racing Starts 2022 No Prep Kings Season with a Runner-Up Finish

(April 18, 2022) MOORESVILLE, NC — The 2022 season in the Street Outlaws: No Prep Kings series is off and running, and the opener couldn't have gone much better for Lizzy Musi and Musi Racing.
Facing off against the top competition in the series, Musi advanced to the final round in her Edelbrock and Lucas Oil-powered "Bonnie" Camaro at Palm Beach International Raceway in Jupiter, Fla., continuing the momentum the team built with a pair of late-season wins last year.
But that wasn't the only measure of success for the Musi Racing team, as they called the shots for David Gates' impressive win the Future Street Outlaws class. Gates borrowed Musi's "Aftershock" Camaro and with the guidance of the Musi Racing team, he rolled to the victory to finish off a majorly impressive opening weekend for everyone involved.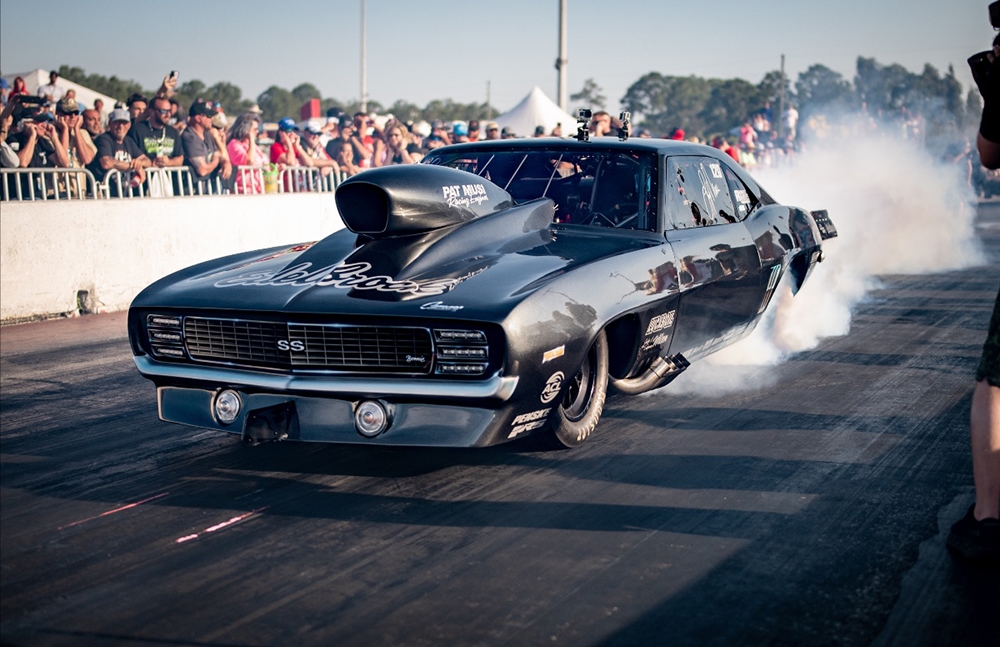 "We would have liked to win with Lizzy, but we just missed it a little in the final," Pat Musi said. "But everyone here is running good and we had to take out three hitters just to make the final. We've done a lot of work on the car and everything is going pretty good. As for David, he needed a car and we came up with the plan. We finally got that car figured out a little bit and it showed in that class, so that was pretty exciting as well."
It was the ideal start for the Musi Racing team, especially after their strong finish in 2021. Musi was a top performer late in the season, giving the team confidence it could compete for a championship in 2022. That provided plenty of motivation in the off-season, too, as the team worked diligently to find areas of improvement in the car.
That time in the shop paid off immediately and Musi also impressed behind the wheel, putting together what could be a strong combination throughout a rigorous 15-race schedule in the Street Outlaws: No Prep Kings ranks. Musi and company proved to be ready for the challenge and they don't plan to let up.
"All the guys are tough to deal with, but we think we've got something for them," Musi said. "We don't hold back on anything and we don't take anything for granted, but we're slowly sneaking up on it. Lizzy didn't have any easy rounds, but we're here to win a championship, make no mistake about that. We've got a ton of equipment and we're going to put the hammer down. We've got everything we need to compete for a championship, Lizzy is driving great and we couldn't ask for anything more."
The team returns to action next weekend at Virginia Motorsports Park in Petersburg, Va. for the second race of the season, which also leads right into a major event for Musi Racing and Pat Musi Racing Engines. They will celebrate the grand opening of their new race building with a special open house at the facility on Saturday, April 30.
With a large crowd expected for the event, excitement continues to grow for an open house that will feature a variety of happenings. Along with cars and race trailers on display, as well as Lizzy signing autographs from 1-3 p.m., sponsors like Edelbrock, SRI and Stock Car Steel will have staff on-site. Fans will be able to tour the new facility and purchase merchandise as well.
The open house will also mark the launch of Musi Muscle, Pat's new resto-mod business. The first car from the new venture, a '69 Camaro with an Edelbrock/Musi 555 crate engine and several other upgrades, will be presented to the owner at the event.
"We're really pumped up for the open house," Musi said. "Hopefully we can come back to the shop with a win in Virginia and go right into the open house. That would be a good accomplishment for us."
About Pat Musi Racing Engines
Based in Mooresville, North Carolina, Pat Musi Racing Engines is a one-stop shop for sportsman engines with a Pro Mod pedigree. Pat Musi Racing Engines controls every component of the engine, from in-house manifolds to custom cylinder heads. Pat Musi has been at the forefront of electronic fuel injection (EFI) technology for over two decades, and that experience is available to every customer with custom-designed EFI systems, exclusive software and individualized tuning. Whether going rounds in Super Comp or setting records in Pro Nitrous, each customer receives the same quality and workmanship Pat Musi Racing Engines is known for worldwide. For more info, please visit www.musiracing.com.
About Edelbrock
Founded in 1938, Edelbrock, LLC is recognized as one of the nation's premier designers, manufacturers and distributors of performance replacement parts for the automotive aftermarket. Edelbrock produces their core products in the United States of America using state-of-the-art equipment in their world-class manufacturing facilities. Edelbrock encompasses multiple locations including headquarters, manufacturing and distribution in Olive Branch, MS; R&D in Cerritos, CA; casting foundries in San Jacinto, CA; carburetor manufacturing in Sanford, NC; and the Edelbrock Race Center in Mooresville, NC. For more information, visit www.edelbrock.com.
About Lucas Oil
Forrest and Charlotte Lucas started Lucas Oil Products with the simple philosophy of producing only the best line of lubricants and additives available anywhere. Lucas Oil has long been directly involved in the American racing industry through multiple vehicle sponsorships and racing event promotions, at all levels. Seeing a need for better lubricants in this industry, the Lucas people went to work. The end result being a line of high performance engine oils and gear oils that are second-to-none in the racing industry. For more information, visit www.lucasoil.com.
Photo by Courtney Paulshock