Story Phil Hutchison Images Courtesy Rhonda Hogue McCole/Auto Imagery 
Rhonda Hogue McCole's journey to current NHRA Lucas Oil Drag Racing Series Division 2 Photographer along with her on-track presence for Auto Imagery could be described in a variety of ways. One was a chance visit to zMAX Dragway, or another possibility was a co-worker who was playing matchmaker introducing Rhonda to his son, Pete, who she eventually married.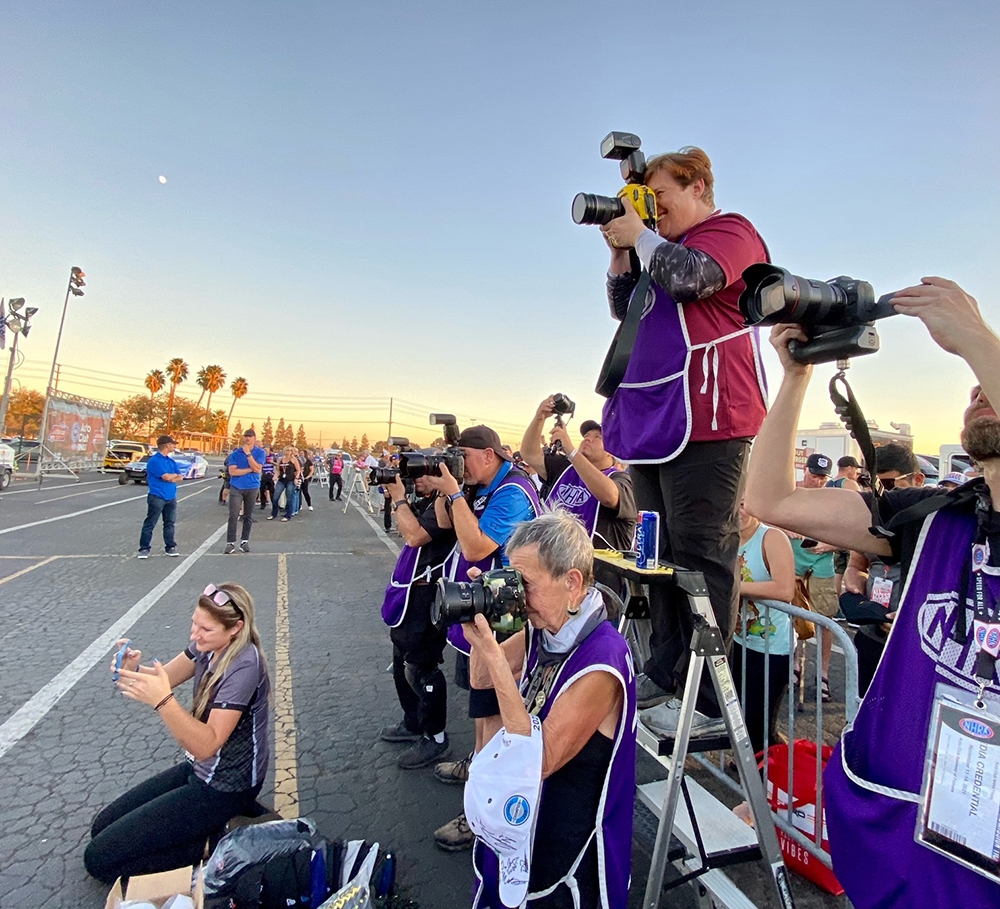 In either case the NHRA, racers and fans have benefited from Rhonda's skill behind the lens and her love for the sport of drag racing.
"When my husband Pete, who was not my husband at the time," says Rhonda, "moved to Charlotte, there wasn't a professional football team in town yet so he started covering NASCAR. He would go up to the shops and take photos of the teams and cars. A website in New Hampshire saw his work and asked if they could use his photos. From there Pete started covering the races."
But we're getting a little ahead of ourselves, so let's go back to how Rhonda and Pete met.
I was working for a company in Charlotte as an accountant and Pete's father Jack was a consultant for the same company," Rhonda says. "He saw my cubicle at work and it was covered with hero cards and photos of NASCAR racers and he said, 'You'd be perfect for my son.' Well, it must have worked out as Pete and I have been married for 18 years.
"Pete continued to cover the NASCAR scene and he bought me a little point and shoot camera that I took with me when we travelled. Pete was high up enough to get us both media credentials and when zMAX was built in 2008 we said, 'Let's go see what this drag racing stuff is all about.' We had no exposure to the sport at all up to this point. Using our NASCAR contacts, we got credentials to the inaugural event at zMAX.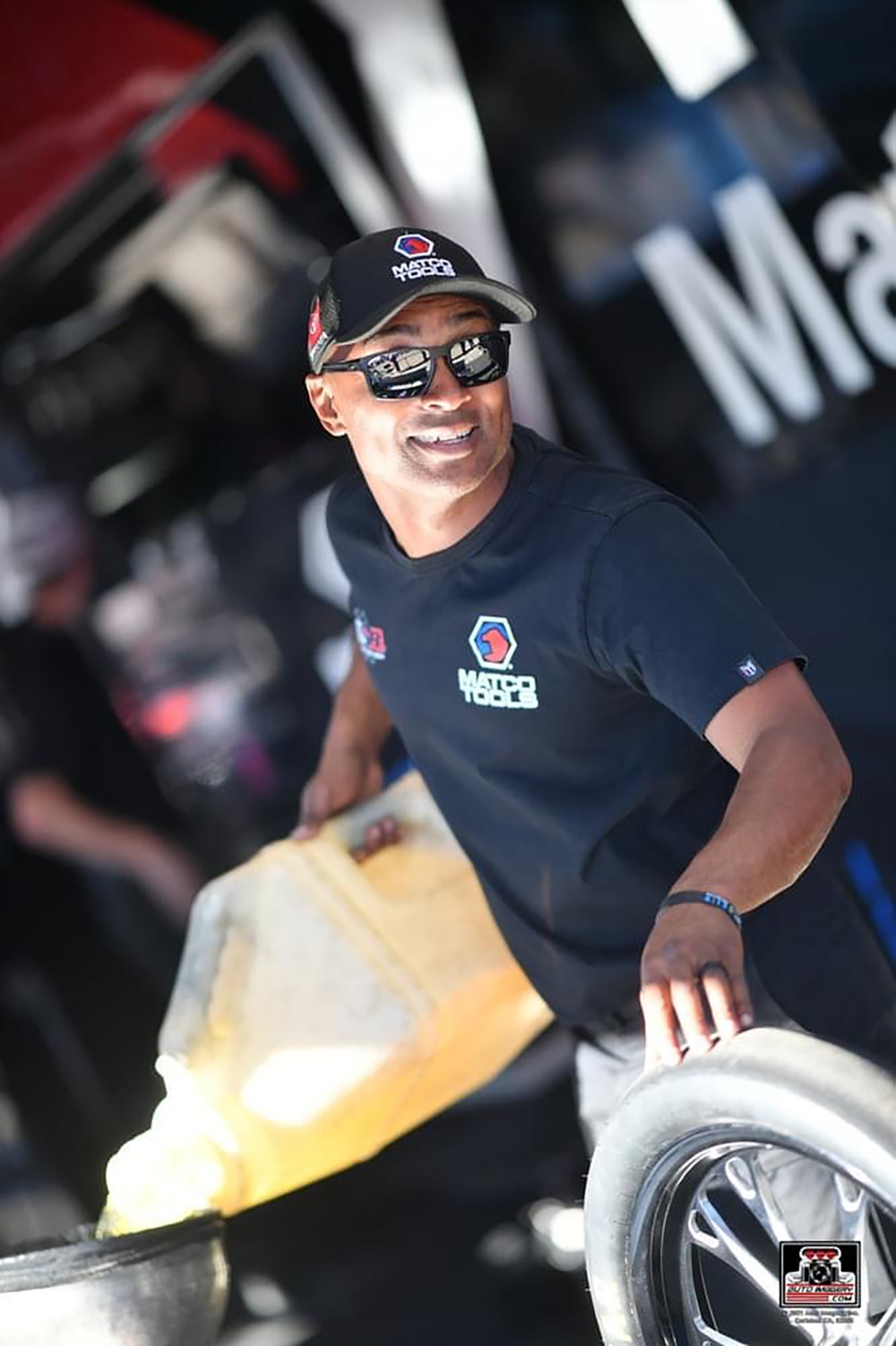 "This started my fascination with drag racing. Walking around the pits you could get close to the cars and the drivers without a special pass, which you need for NASCAR," she adds. "The drivers were very accessible instead of hiding in their trailers. Pete was working part time for Speed Sport News at the time and he gave them a few of my images from the race.  It was the first time my photos were published. Sheena Baker, who was an editor and writer for the paper suggested we start going to drag races together. My first race with her was Atlanta in 2009. We did some local stuff, as I was not getting paid other than getting credentials. By then Pete had bought a Canon digital camera that I was using but later moved on to Nikon equipment.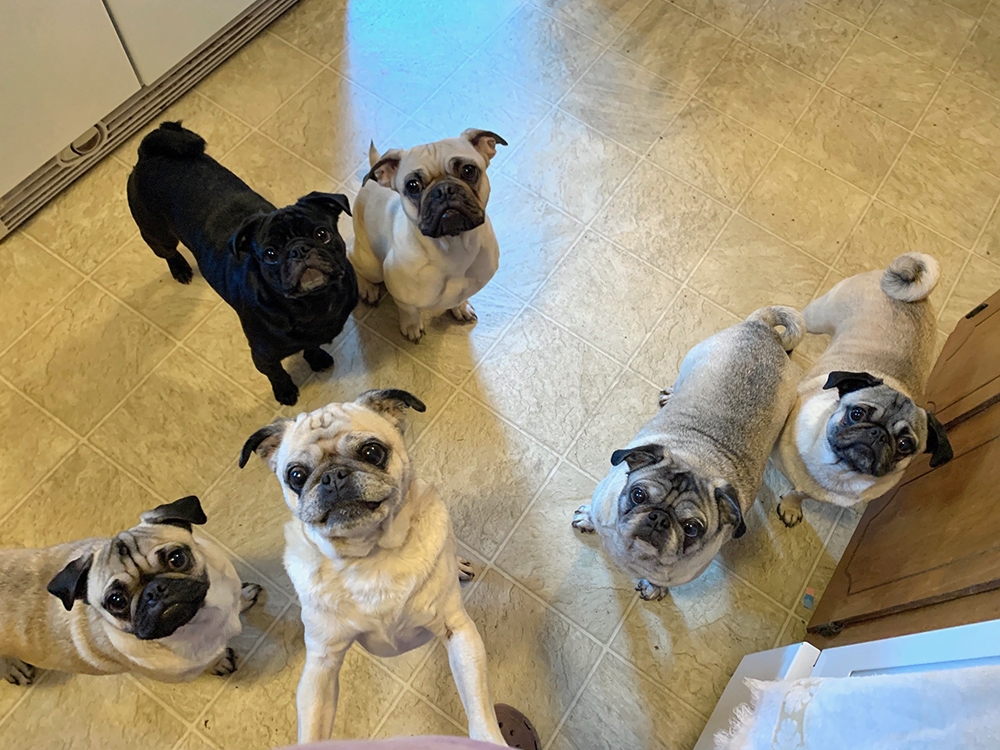 Rhonda is heavily into "Pug" life
"At one of the races I met Roger Richards and the one thing that cemented our friendship was that he had a pug and I had a pug. All of us pug people are in our own little cult! I started working with Roger and he would send my stuff to Bobby Bennett at CompetitionPlus.com.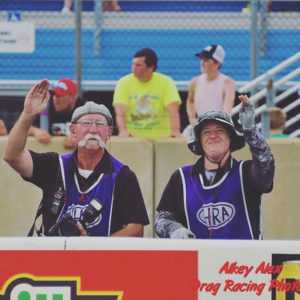 "If I recall," says Roger, "the first time I met Rhonda was around the opening of zMAX in Charlotte. She was kinda visiting drag racing since she had been a NASCAR shooter previously. We talked and hung out together and I introduced her to shooting drag racing. It wasn't long before her passion for racing morphed from roundy-round to drag racing. Now she rarely if ever attends a NASCAR race. We joined together and did Competition Plus shooting for a year or so. Eventually she became friends with a ton of racers and took over the D2 photographer's job.
"Along the way she also became part of the Auto Imagery crew," Richards adds, "and now that Richard Shute has retired from shooting on the road, Rhonda has pretty much assumed command of the road crew. She loves her Nikons and Margaritas along with hitting the road. When in Georgia with her friends she terrorizes the beaches with her 'Mermaids' club…. I don't know exactly what they do, but it scares me when I hear the rumors."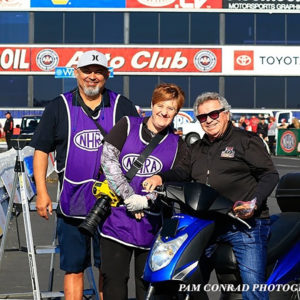 "Later on, I started shooting by myself for Competition Plus," Rhonda continues. "After a while I got to know everybody, Richard Shute, Dave Kommel, Teresa Long and the rest of the traveling NHRA shooters. Soon after, Richard Shute asked me to help out shooting some races, not all of them, but a few to start. After Kommel retired, I took over as second camera for Auto Imagery."
"The main thing about Rhonda is this," says Auto Imagery founder and President Richard Shute, "Out of the many, many people I have worked to help over the 50 years of doing this, she is one of the few that wanted to learn. Rhonda had access to the races through Competition Plus, however she yearned to be better, she wanted knowledge and took over from there. She took what she had been told and honed her skills. She has been a shining example of what you can become if you listen."
"One of Rhonda's major strengths is her 'Get it done' attitude," Shute adds. "She takes on a project or photo shoot as though she, herself, had made the promise, regardless if it comes through a client request of Auto Imagery. Rhonda takes pride in her work and it shows to those around her. Good enough is not in her vocabulary."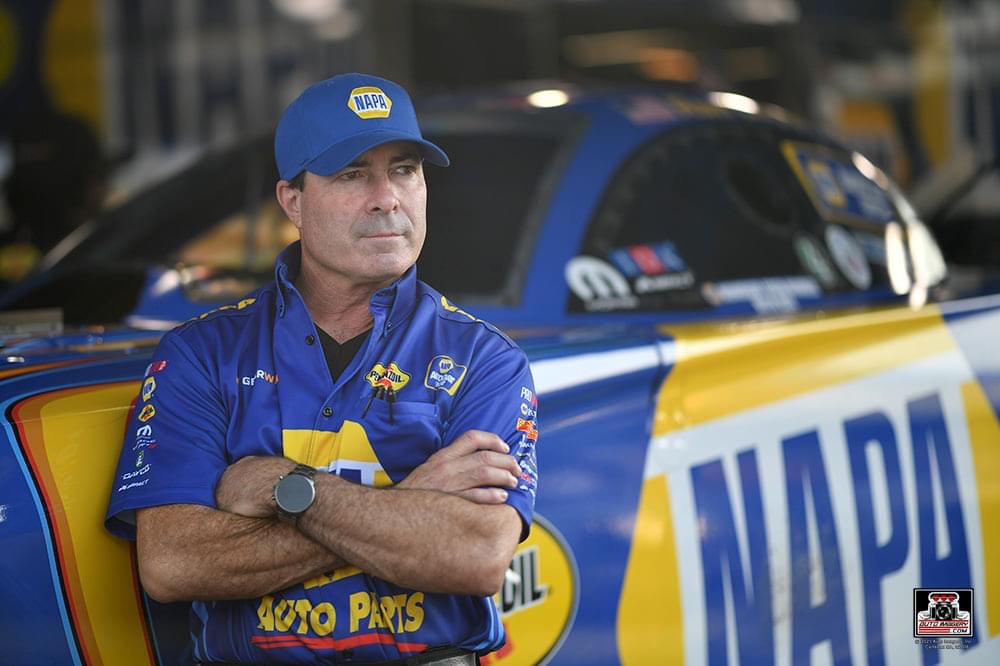 When asked how she started shooting Division 2 events, Rhonda explained, "When Brian Epps decided to give up shooting the division in 2015, Teresa Long, who was photo editor at National Dragster along with her lead photographer Jerry Foss, asked me if I would be interested in taking over. Living in the south and most of the tracks being within eight hours of my house I jumped at the chance. Working with Division Director Rich Schaefer and now Cody Savage, I love it. I've had a great time with great people.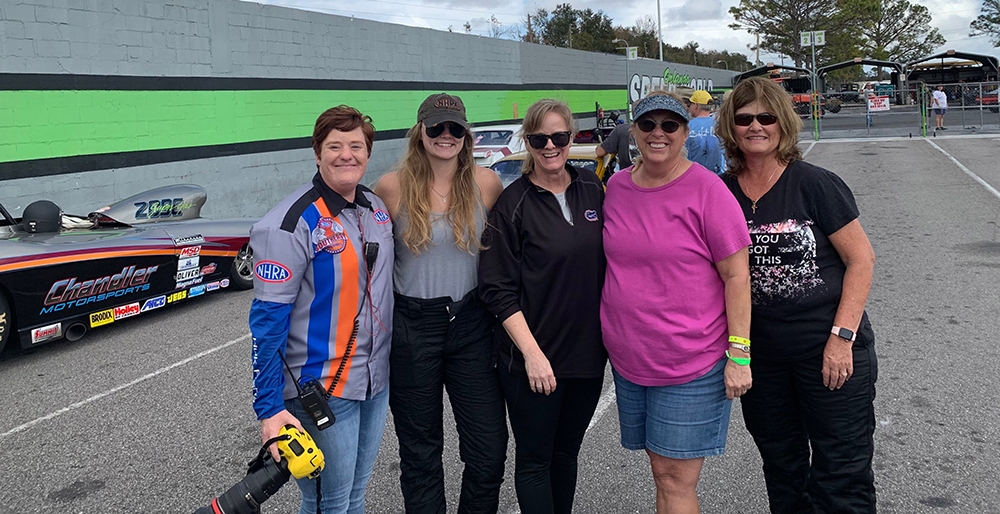 "I have to thank Rich Schaefer for getting me involved in the people and getting me to understand that it's not about the money, or the cars, it's about people and family and friends. Drag racers are unique people. I absolutely love the sportsman racers and their families.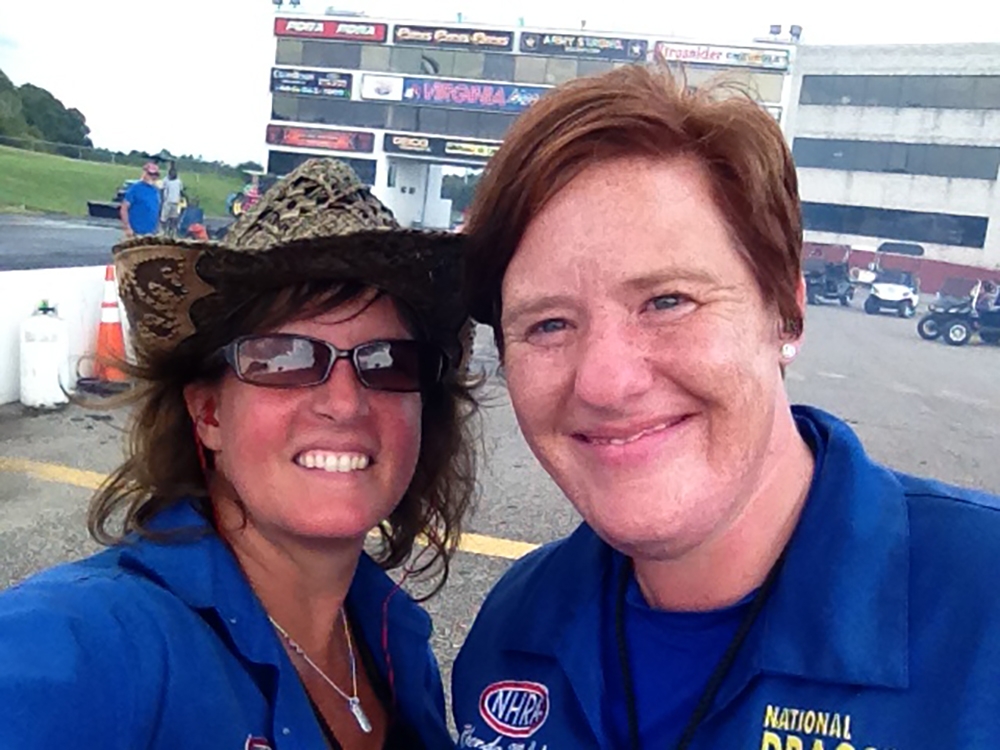 Rhonda with one of her "Besties" D1 Photographer Diane Kubicke
"With the pro racers, it's about the team. If it weren't for the team, the pros wouldn't make it down the track. That is why I try and give the crew the recognition they deserve. I'm fortunate enough to have made friends with the crews and their families.
"I'm a people person and I got that from my daddy, Ronnie Hogue," Rhonda says. "He used to say 'If I don't know you, I'm going to in the next five minutes.' My dad has so much of an effect on me. Even now, Pete and I will discuss things with Dad, as he is the voice of reason to me."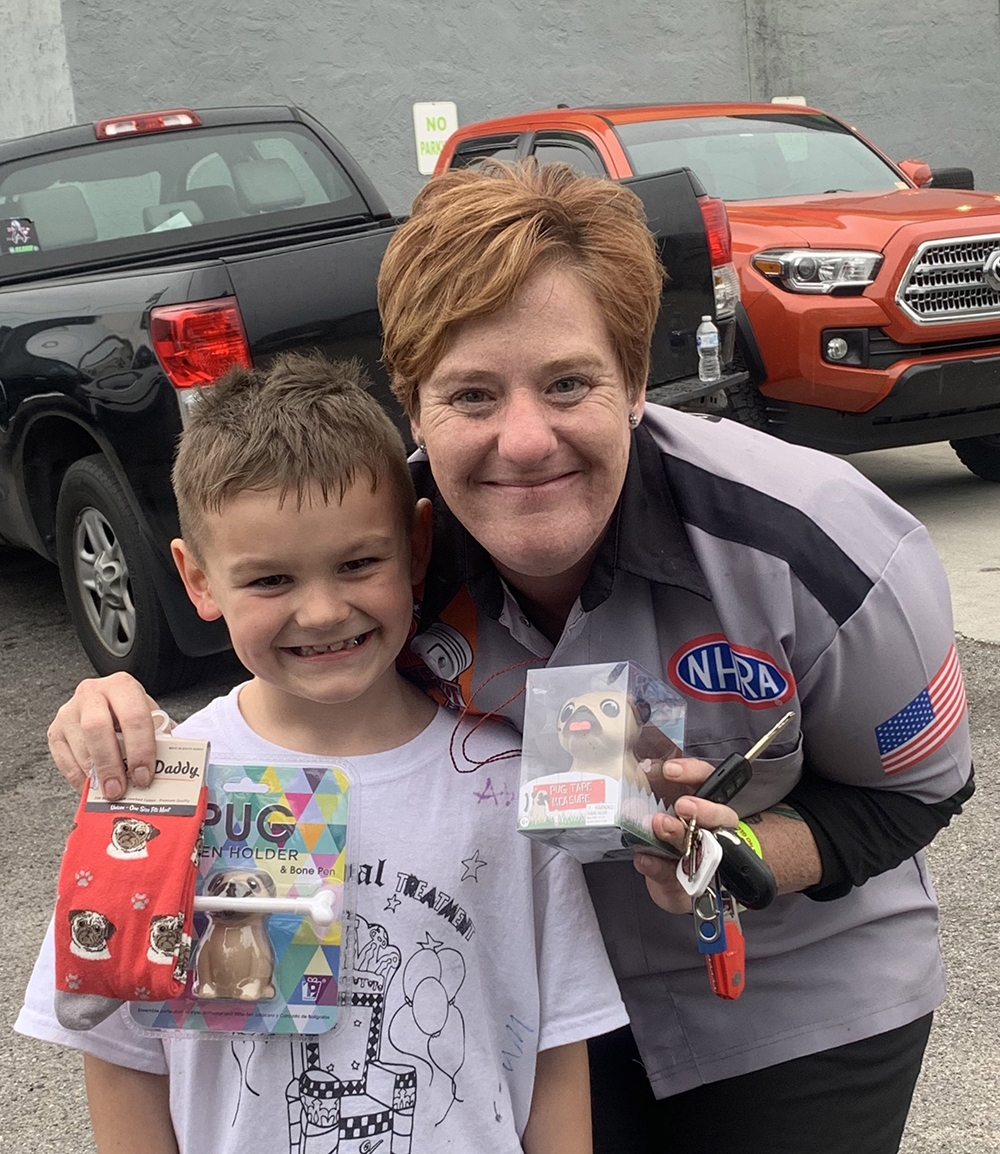 Asked about how it feels to be one of the few women shooting photos at the races Rhonda said, "NHRA is very inclusive. Women are accepted but there have been times when it's been hard to be a woman out there. But I held on. Paid my dues and now Richard has enough confidence in me to handle things at the track to keep his business going. He has been training me for this day for ten years."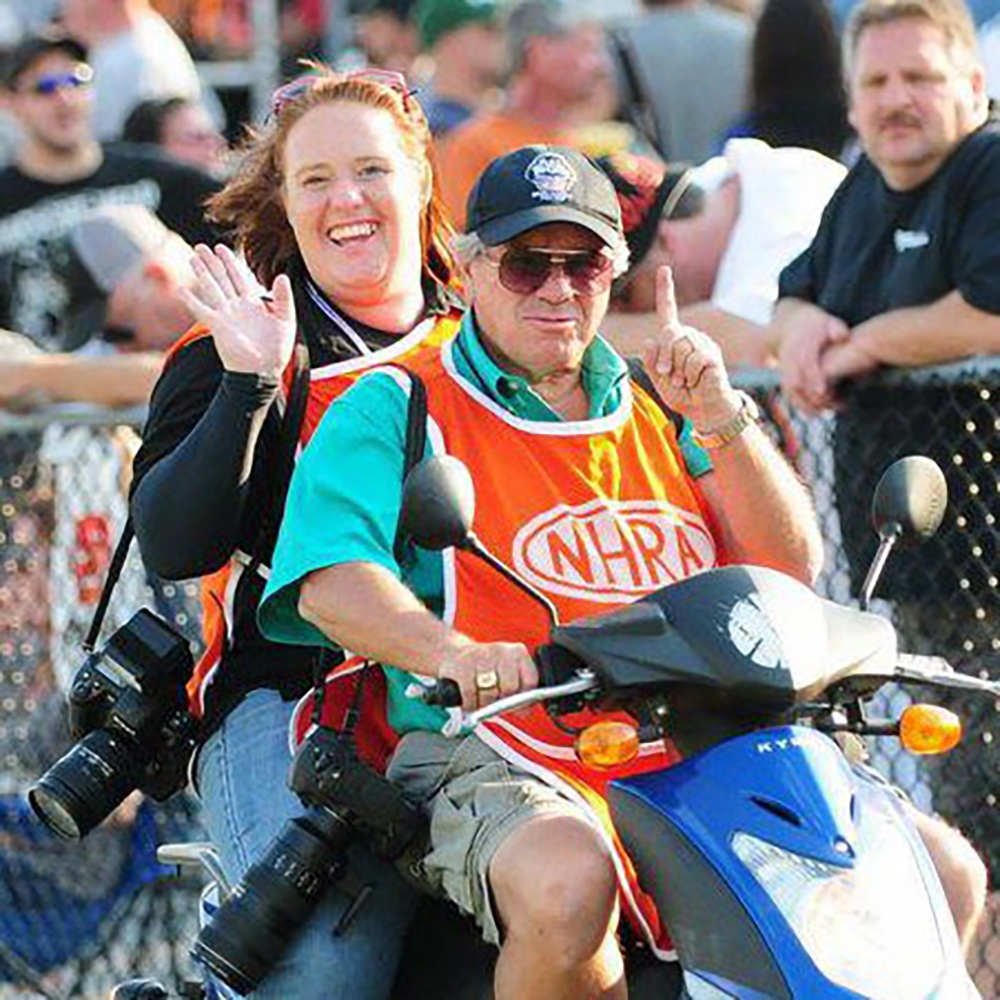 "At home, she is the Crazy Pug Lady," Roger Richards adds. "She is always on the lookout to rescue one that may need a home. Rhonda has also taken the opportunities provided by traveling to tracks across the country to visit all the places that interest her. Her favorites are old covered bridges, antique shops and of course, lighthouses.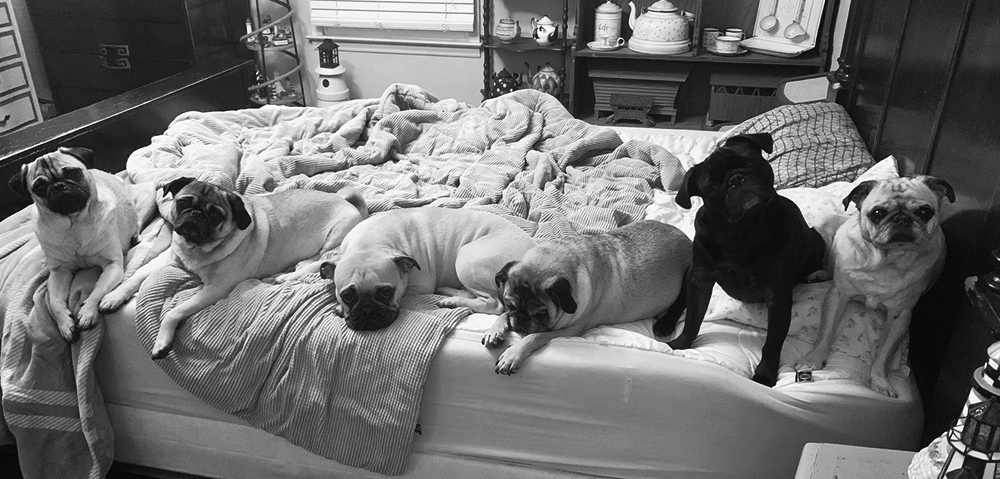 Rhonda's Pug Posse: Elwood, Jake, Dexter, Daisy, Vader, and Flossie 
"I do have a small issue concerning Rhonda," Richards laughingly added. "Stay on her good side and do not under any circumstances provoke her into the 'Flying Redheaded.' It could become a problem for you."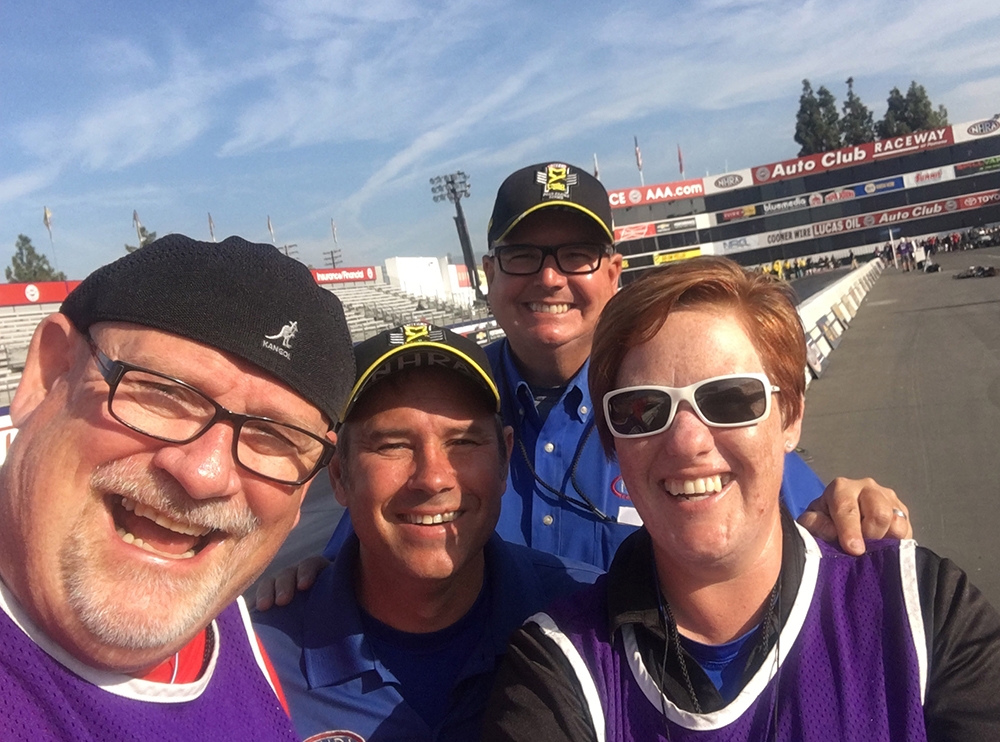 Rhonda with the  National Dragster crew Randy Anderson, Marc Gewertz, and Jerry Foss
Rhonda's season starts in South Georgia this weekend with a NHRA Division Two Lucas Oil event and will be on the road for a month with her partner in crime, Alex Owens.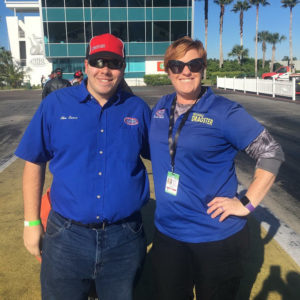 "The 2022 season is starting off with a bang," she says. "Five events in a row. It's going to be crazy. But I am super excited to get back to the track with my Auto Imagery team.