DOOR CARS TO THE FRONT WITH A 20K BARBER WIN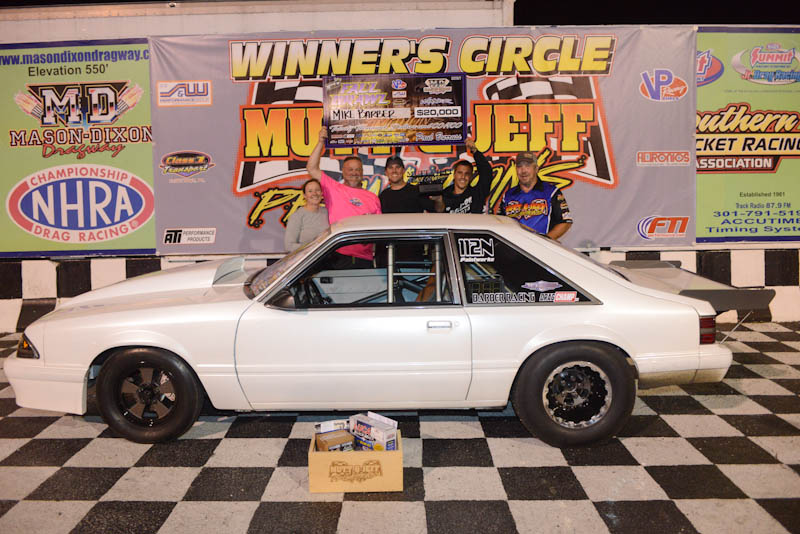 In the infancy of Mutt & Jeff Promotions, their version of high dollar bracket racing involved three events held at Mason Dixon Dragway in Maryland before moved slightly north to Pennsylvania's Beaver Spring Dragway.
For 2021 and Mutt & Jeff's second event of the year returns to Mason Dixon Dragway for the appropriately named the Fall Brawl. A pre-entered and limited field of over 250 of the toughest bracket racers made their way down Highway 40 to enter the track to battle for some big money.
The original plan was for three days of $10k-$20k-$10k to win races held with the first of the two $10k beginning today. Plans sometimes go awry especially with incoming weather, and it was decided by Mutt & Jeff officials, Plan B would include running the $20k race on Friday. The announcement was released officially the day before in order to make everyone aware of the change. And so Friday began with a single time run followed by eliminations.
In addition to the actual race purse, thousands of dollars in prizes and awards for various things were handed out thanks to dozens of sponsoring companies, and will continue all weekend long.
With two different classes run; Box and No Box, both competing for same big prize; the concept is to keep the No Box door cars separate until a winner is crowned after which that person is fed into the following round of the Box; or Super Pro; class. In the final round of No Box, there remained Travis Hill and Jason Deavers with Deavers taking the win by use of a .014 package.
In the ladder round, the remaining players were Russ Hill, Bobby Dunn, Steve Harvey, Frank Falter IV, Randy Kraus, Andy Dolan, Mike Barber and R. Eagan. Survivors from that round were Hill, Dunn, Falter IV, Barber and Harvey. Footbrake winner Deaver will join them in round seven to fill out the field.
Dragsters may be the best tool for bracket racing, but don't tell the three remaining door car racers; Hill, Barber and No Box winner Deaver still hanging tough. In the semifinals, it was Barber with the odd car bye to the big final, and Hill and Deaver facing off. Deaver picked a bad time to miss the 'Tree and it moved Hill to the final against Barber where Barber scored yet another win for him this year.
As we mentioned earlier, plans can go awry with more impending weather on tap for Sunday. As a result, with two $10K-to-win races left, officials have chosen to combine the two and race for $20K-to-win on Saturday, with all the round money and prizes doubled.
All the action this weekend will be streamed live by MotorManiaTV thanks to VP Racing Fuels and S&W Race Cars. For more information, results and rules, visit www.muttandjeffpromotions.com. For directions and race track information, visit www.masondixondragway.com.