Camrie Caruso Completes Phoenix Pre Season testing. Season Opening Pomona Winternationals Next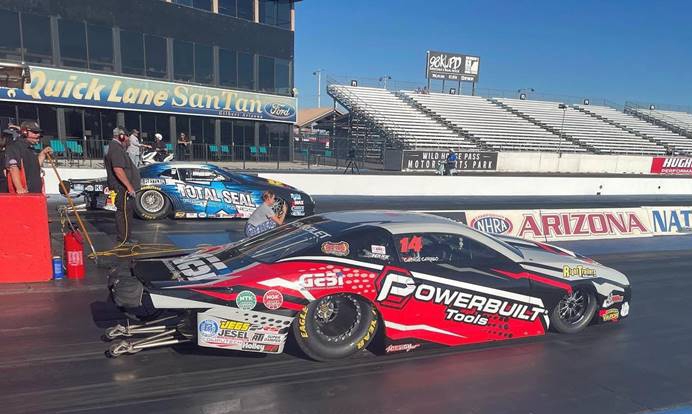 Courtesy Elon Werner
NHRA Pro Stock rookie Camrie Caruso will be making her NHRA Camping World Drag Racing Series debut at the NHRA Winternationals, February 18-20 in Pomona, California driving the Powerbuilt Tools Chevrolet Camaro. In advance of that event the young driver who lives in Denver, NC, participated in several pre-season test sessions, most recently the PRO Nitro Spring Training event at Wild Horse Pass Motorsports Park outside of Phoenix last weekend. Caruso is a third generation NHRA competitor who began her career behind the wheel of a junior dragster and has won in Top Alcohol Dragster.
Q: You are days away from your professional Pro Stock debut on a scale of 1-10 what is your excitement level?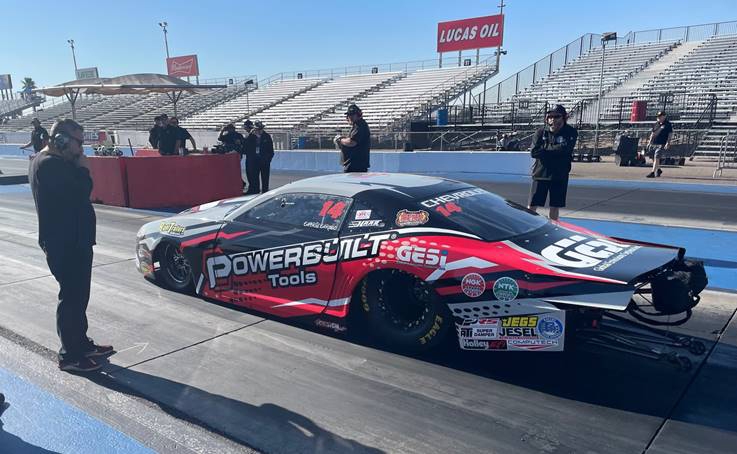 Camrie Caruso: I am super excited; I would say it's definitely a ten! 
Q: You had a couple test sessions in January, how was that experience?
CC: Being able to test for a few weeks prior to going out west and testing in Phoenix has been so awesome. I have really had a chance to get 100% comfy in the car and the team has been able to get into a routine with each other.
Q: In Phoenix you made side-by-side passes against some of your new competitors. What was that like?
CC: It was good to get used to running beside other Pro Stock competitors before the Winternationals. You don't want that completely new experience at your first race.
Q: You brought on Jim Yates as your crew chief so how is that going?
CC: Jim is awesome. He's driven, tuned, won, and lost. He has all the experiences that I don't have in Pro Stock yet which makes our team that much stronger. 
Q: How have you been balancing getting ready for the season with your responsibilities at Titan Racing Engines?
CC: It has been crazy busy but I'm thankful to be able to work with Titan Racing Engines during this time in my racing career because it all ties into each other
Q: What are you most looking forward to at the Winternationals?
CC: I am looking forward to proving all the haters wrong that said we wouldn't make it to Pomona. I am excited to enter a class that has so many amazing competitors, no matter who I line up against in the first round it will be such a huge memory for me. 
Q: You are on a family run team, how much input, encouragement or advice are you getting from your dad and/or grandfather?
CC: My dad and my Papa are the absolute best, included in that support system my mom has been a huge support to all this as well. My dad and my Papa just want me to do my best and they are there every time I need encouragement.
Q: What are 2-3 of your goals, big or small, for this season?
CC: I have big goals. First goal is to win five races, my second goal is to finish Top 3 in points and my third goal is I would like to get at least one No. 1 qualifier.