MOVING ON UP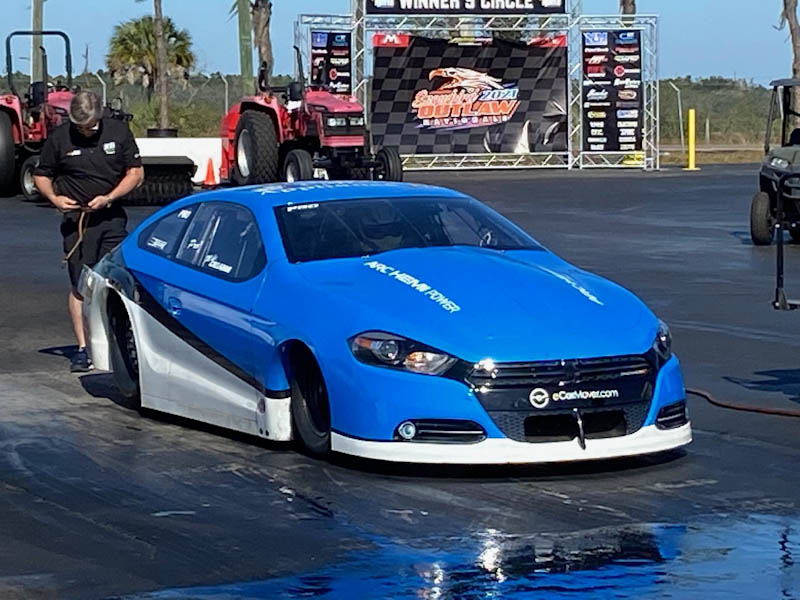 Rich Preiser Is Now A Licensed Pro Stock Driver
Richard Preiser Jr. may try to blame his obsession with drag racing on his father, Rich Sr., but the truth is Dad may have given his son a start, but it is junior's own diligence for his rise through the sport's classes as he now sits with a Pro Stock license after successful runs in Florida testing.
"My father used to take me to the Summernationals in Englishtown every year and I guess that's where I got hooked," says Rich Jr. "Dad built me a go kart and a minibike and we'd take it to local parking lots and he'd have me drive it around, but I'd always ask him to make it faster."
"Faster" is a sort of relative term, one that all drag racers seem to share, which has since taken Preiser to a mid-six-second time slip behind the wheel of Alan Prusiensky's Pro Stock car with assistance from Artisan Coffee's Ron Capossella and Kenny Delco.
"I've always been interested in going faster," says Preiser, "starting with my first runs down a race track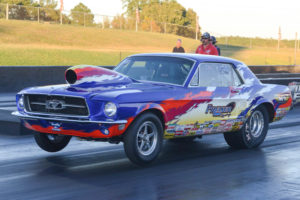 when I rented an Oldsmobile Calais. I made some runs at E-Town that weekend and then returned the car on Monday. That was my 'fast' 18-second ride down the track. Eventually I had borrowed $300 from a friend while I was in college and purchased a '67 Mustang; a car I still race with today in Super Stock.
"But I started out in Super Street with that car," he added, "and have just kept graduating up in classes since then."
In the early days of the sport, one could envision themselves sooner or later graduating up into a professional class. It's a lot different today, and while there are some fortunate few who have made the jump from a sportsman level class to the pros, it's a lot harder to accomplish that step now. The reason? More than anything else, it comes down to finances.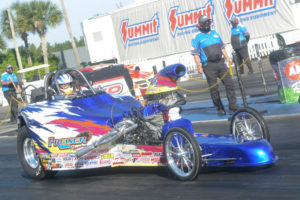 "I've been fortunate in that every step I've made in classes; from Super Street to Super Stock, Super Comp, Comp, whatever; has been because of the success I've had financially," he says. "Every step up in class has been based on how my life has progressed from a financial standpoint."
As the COO of AAD Construction in New York City, Preiser's responsibility in the business is for the building of residential housing in Manhattan. "The company is owned by a group who I've been friends with for a long time," Preiser said. "I've been with them for 22 years and the company has grown ever since."
Back to Pro Stock… "Like a lot of us," he says, "I've always wanted to run Pro Stock since the days of me watching guys like Bob Glidden, Warren Johnson and others. I liked the days when they were shifting the Lencos along with whole technology in the class. I was never really into the fuel cars but enjoyed the class where the cars looked like real cars. I knew back then I could never really afford it, so I did the next best thing at the time and eventually purchased a Comp car.
"As my finances grew, the thought of actually racing Pro Stock started to become more of a reality for me, but I didn't really know anyone in the class," Preiser says.
Flash back to the Gatornationals in 2021, Preiser met up with fellow New Yorker Gary Federico. Federico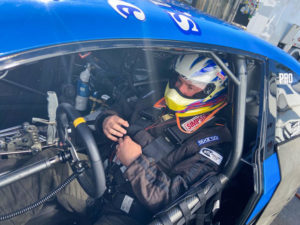 is a long-time friend of Ron Capossella and Kenny Delco. Hanging around Delco's Pro Stock pit area, Federico introduced Preiser to Capossella and Delco and the ensuing talk came around to Preiser's dream of driving a Pro Stock car.
"I didn't know Rich but I did know of his background as far as racing was concerned," says Capossella. "The more we talked about his dream, I suggested him driving one of our cars to get his license."
The deal was made so they say, and it came down to waiting for a time frame and the logistics to open up. Earlier this month, Preiser traveled to Florida for his shot at becoming a licensed Pro Stock driver.
Despite his extensive experience as a driver, driving a Pro Stock car has its own set of challenges. "My Stocker is a stick shift so adapting to getting the tires spinning and shifting during the burnout wasn't really that hard for me to acclimate to," Preiser said.
Capossella and Delco have both worked closely with Prusiensky over the years and between the three, felt it prudent to place Preiser behind the wheel of one of Prusiensky's cars with an older Hemi engine. "Alan is such a great teacher," said Capossella, "so it just made sense to do it in this fashion."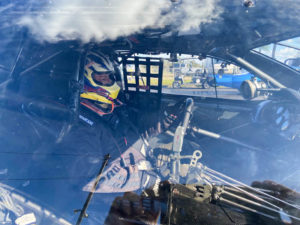 "Alan first explained to me in great detail everything which had to be done," says Preiser, "first stating he would explain it as if I knew nothing at all and that I could just filter out what I felt was necessary. That worked out very well. I had really made something I think like 500 runs in my head, between watching in-car cameras and in person, so I was pretty aware of what had to happen. However, actually sitting in the car and doing it can be two different things.
"One of the things which I guess I was a little surprised about," Preiser explained, "was how reactive the engine was. For a big inch motor, the rpms really come up fast and the gas pedal was very touchy for me. Alan and the team made some adjustments to that, but it was just a matter of me getting used to it.
"The first time in the car may have been a little intimidating but I quickly realized something," he added. "I always wondered why the drivers need someone to line them up to the stage beams. If you don't know where your front tires are, maybe you shouldn't be in the car. But sit in a Pro Stock car and you quickly find out just how hard it is to see, from sitting really low in the car, to the hood being so high; you have a hard time 'seeing' where the front tires are. That was a big wake up.
"The next thing I had to get used to was the clutch. When you push on the clutch pedal, there really is no movement. It's either in or out with very little travel. And the rpms rise pretty quick so making sure you hit the shift points correctly is key. I'm actually pretty hard on myself, but Alan was very helpful."
Once Preiser got used to the little ideocracies of the car, the rest of the puzzle came easily. "I made three short runs per Alan's instructions before he suggested me taking it as far as I felt comfortable," said Preiser.
"I was pretty impressed at how smooth the car was and on my fourth run, I took it right to the finish line, running a 6.798 at over 194 mph. That was also the first run I used the parachute and that hits just as hard as when you leave the starting line only opposite. I think my eyeballs fell out of my head when I hit it the 'chute.
"Overall, Alan and Kenny both signed my license and they were impressed that I didn't hurt the clutch nor over-revved the engine. Part of that was I have driven so many different types of cars and made a bunch of runs down the track, so I was careful."
With a successful outing, Preiser is now ready for the next step, that being to run a couple of events. "I still need to make more passes to get comfortable before I go into competition," he notes, "but getting this step out of the way was huge for me."