GOOD NEWS OF GREAT JOY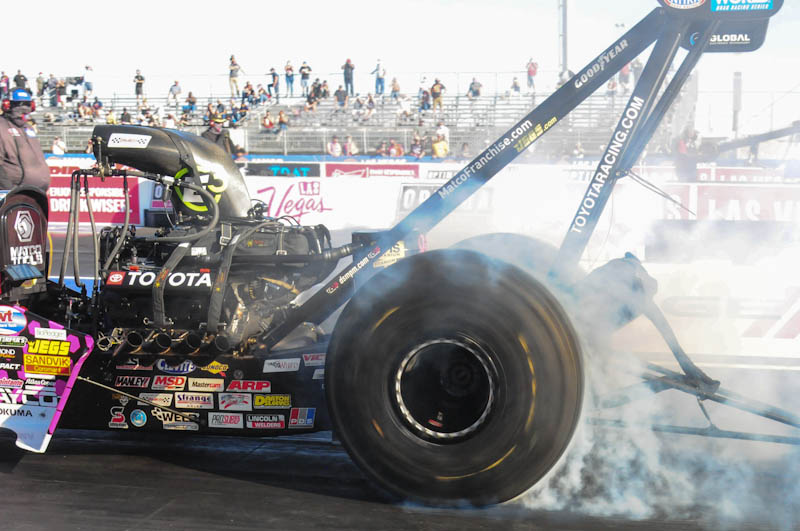 Jim Jack has been a chaplain for Racers For Christ for… let's just say… a long time. He writes a monthly column and we're honored to now publish it on our website. For more info on Racers For Christ, visit their website – www.teamrfc.org.
It's good news to live in America. It's good news to be an American. It's really good news to have all the fabulous freedoms Americans have. And for many of us, the incredible sport of drag racing is just plain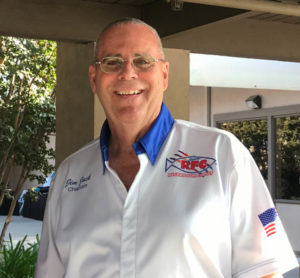 good news…it should always get lots of good reviews…they get to race in twos…as a young boy I remember hearing them a few times from Pomona, CA church pews…they are adorned in many beautiful hues…there's no reason for racers to sing the blues…simply remember God Himself paid all of your and my dues.
I've been alive for more than seven decades, six of those decades going to the drag races across the country, and I've heard thousands of comments, stories, and testimonies at the race track that we can identify as good news. I've also witnessed plenty splendid moments of great joy too…some possibly concerning you…some old and some new…it's always a great view…proclaiming our Savior, Christ the Lord loves everyone not just a few!
Our pastor preached a sermon and I've taken a few things I wrote down from his teaching lesson on the "Good News of Great Joy" and have turned it into a discourse about drag racing. Communicating what we learn, and then relating it to others is the way to share good news of great joy…boy-oh-boy…it's not a ploy…no time to be coy…when it's ship ahoy.
There are so many great things about the sport of drag racing any of us could write a lengthy book on the subject. I suppose if I combined my twenty three years of writing a monthly column for the Drag Boat Review, it could become a book. What a novel idea.
Drag racing—in particular Top Fuel Dragsters—was my god for thirty years until I received the real God into my life on February 5, 1988, Christ Jesus the Lord. Drag racing shares its good news in many ways as it brings joy to untold numbers of people. Once you've witnessed two nitro burning machines thundering down the track, most people will want to share the good news about these fearless pilots who drive at speeds we can only dream or scream about!
The sport of drag racing is positive: Great people have emerged from their everyday life to become drivers, crewmen, race winners, and even world champions. The racing industry has transpired man and machine into something worthwhile for thousands of people, and extremely meaningful to millions of spectators. It's all good in the eyes of those who love motorsports.
The sport of drag racing is personal: Individuals can excel as they delve into areas where they are physically and mentally gifted as to where they can personally create some excitement of good news of great joy for themselves as well as for followers of the sport. It's all good in the hearts of many of us who love motorsports.
The sport of drag racing is powerful: A beautifully designed, built, and well crafted machine combined with a super high-horsepower engine that propels a driver to incredible speeds is good news for the people who love to see, hear, smell, and experience a powerful display of ten thousand horses unleashed over a one thousand foot drag strip. It's all good to feel the power in our body for many of us who love motorsports.
The sport of drag racing is for people: All those that love drag racing and all those who can afford to race and do what they love to do. There are those who choose to become a sponsor, contributing to help those become a part of a great sport. And there are those who choose to be a spectator simply because they love motorsports. They love to hang out at the track; they love conversing with their friends, and enjoy seeing great runs and great side-by-side drag racing.
You, my dear friends are extremely good news in my life and you also bring a tremendous amount great joy to me whether at the drag races or wherever I may be. Being a chaplain—a pastor of the good news—brings an abundance of joy whether at the track, praying for you trackside, praying for you at your home, performing a wedding, even doing a memorial service gives me the chance to share the Good News.
Sharing the Good News concerning what we are passionate about is the way we communicate our hearts desire. The Bible says in Psalm 37:4 "Delight yourself in the Lord and he will give you the desires of your heart." Drag racing is the desire for hundreds of thousands of people, and God has gifted thousands of those people to share their gifts, whether verbally or by demonstrating it out on the racetrack.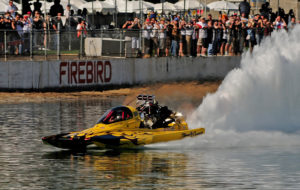 In reality, a drag boat, or for that matter, any kind of drag racing machine brings great joy to all of those who crave the need for speed. Fellowship on and off the track…communication on and off the track…praying on and off the track…social time on and off the track…and keeping your mind on track…can keep you on the right track…as you pursue heaven's eternal track.
That bestselling book ever, the Bible, contains not only really Good News; it contains The Best News in the universe. Nothing else in the universe can give you and me more joy than to hear what Almighty God has to say to all people. He came to earth in the form of the incarnate Jesus Christ to bring the "Good News of Great Joy for All People!" Read the Christmas story for yourself in the book of Luke in the New Testament. You'll realize it's for you!
The "Drag Boat Review" brings good news with every issue. Good news of those drivers and teams who won at races all around this great nation we live in. Good news by writers who want to inform you about the great joy racers experienced at a race by competing and by winning. Good news, there are people competing for a prize: A trophy, a winner's check, a few points, a chance to win a championship, and a possible cover shot on the "Drag Boat Review."
The Good News from A to Z is what life is all about. The Good News of Genesis to Revelation is what the Bible is all about. The Good News from physical birth to graduation to heaven is what eternal life is all about.
If you weigh all the good in your life, in your family, and in your racing program, I'm sure it will greatly outweigh the bad. Being born in the USA is good news. Having a family is good news. Be a drag racer is good news. Winning a race is good news. Having the best friends at the track is good news. "How beautiful are the feet of those who bring good news," (Romans 10:15).
Linda and I met up with good friends and drag racers, Jim & Annie Whiteley at a drag boat race in Parker, AZ a few years ago and they said "Instead of staying…and paying at a hotel, why don't you stay at our house when you attend the ADBA races in Parker?" We said, "Okay, we would love it." They said, "We will give you all the code numbers and you can use it anytime." Wow, what a blessing!
We've been blessed to stay at their beautiful home whenever we attend the races in Parker, AZ, or go there for a mini-vacation. Therefore a huge shout-out and a big thank you Jim and Annie…the house is far from being uncanny…built for a big family and maybe even a granny…it makes us want to have a hootenanny…while enjoying every nook and cranny.
The good news of great joy comes in all shapes and sizes and situations. It may be a fast machine, or a slow dance. It may be a promotion or an early-out retirement. It may be the birth of a child or the graduation of a loved one heading to heaven. It may be winning a race or discovering a problem with your hot rod that would have resulted in a disaster. It may be your new found faith in Jesus or the least admired person in your life asking if they could go to the races with you because they wanted to attend an RFC chapel service!
The Good News is truly for everyone as it brings great joy…for every girl and every boy…it's definitely not a ploy…so please don't be coy…you can't get help from the Lady of Troy…the Good News should never be treated like a play toy…racers please don't put your faith in only some alloy…watch out for many a decoy…as the enemy only wants to kill and destroy…his job is to distract and annoy…with the Lord's Good News you truly get to enjoy…only in God's service will He be the one to employ…as Jesus is the real McCoy…for eternity He's the One to deploy…therefore it's God who says welcome aboard mate and by the way ahoy!