WELCOME TO MY NIGHTMARE…IF YOU DARE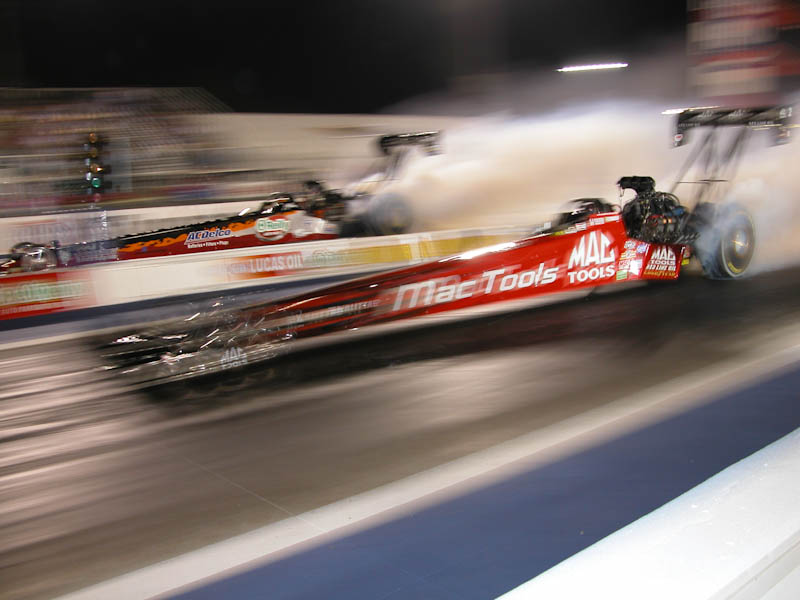 Jim Jack has been a chaplain for Racers For Christ for… let's just say… a long time. He writes a monthly column and we're honored to now publish it on our website. For more info on Racers For Christ, visit their website – www.teamrfc.org.
This is not an Alice Cooper adventure story. Drag racing is a 99-percent dream come true reality for the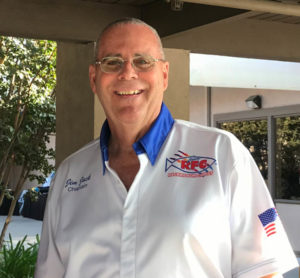 majority of people who love racing whether participating as racers or watching as spectators. The nightmare aspect of racing is a very small piece of a large puzzle. If you've been attending racing for a number of years, you realize there can be a nightmare of sorts when the unexpected happens right before our eyes…it involves gals and guys…all trying to win the prize…reaching for the skies…there's always lows and highs…at times we've witnessed grief-stricken cries…therefore look to God so you can be eternally wise.
As a chaplain for the past 31 years, I've witnessed so many great events and stories I pinch myself at times and think, wow, how did I get to be a part of drag racing that was a dream of mine as a boy. Getting involved in drag racing in the midst of the action is something thousands of people would love to do…the participation numbers are few…some feel a little blue…others sulk or stew…and some are still sitting in a church pew.
Most people would think it's a nightmare to officiate a family member's funeral. I conducted my father's memorial service in May 2001, my mother-in-law's funeral in January 2014, and my mother's memorial service in April 2018. Were these three services nightmares? By no means as I had 50 years of knowledge about all three of these wonderful people, and it was an honor to serve my parents by humbly celebrating their lives with family and friends.
Welcome to My Nightmare: Last year we came home from the NHRA Winternationals on August 2nd as the February race was postponed due to COVID. California was hot, but we survived the heat…so home we did retreat…couldn't wait to turn onto our street…the races and friendships in Pomona were neat…but it's always great because home is sweet.
After getting back home we prepared to go to the Colorado River for the annual Perseids meteor shower that entertains millions of earth's inhabitants every August. Many summers have gone by since we took in the meteor shower where the city lights don't block the meteors streaking across the night sky.
A couple days after returning home from Parker, AZ, I developed a deep cough, similar to bronchitis—sounding like my plug wires were crossed—thinking that's what I had. Three more days of coughing, then late on the night of August 18th, I started to have a little difficulty breathing. At 3:00 am on the 19th Linda took me to the ER: Maybe I've visited you in the ER in the past? It's weird going there for my own health issues.
They said my oxygen level was good. The doctor asked if I was having an anxiety attack. I said, "No, just having breathing issues." They performed a COVID test by sticking a long swab almost up to my brain (the test came back positive the next day). Later that same day I went back to the ER because I was sweating profusely. This time they did an EKG, chest x-rays and said everything looks good, but you probably have COVID. Here, go fill these two prescriptions.
The next day I felt okay, but the following day I felt crummy and our daughter Laurie Pugh suggested I go to the hospital and get the antibody infusion. Linda took me to the ER at different a hospital around 8:30 pm on Saturday August 21. Three hours later they did a chest x-ray and said they would give me the infusion around 1:30 am. They observed me for a couple hours and sent me home after 4:00 am—the nightmare was still unfolding.
After getting home around 5:00 am on Sunday August 22, I began to feel hot, then cold, then hot again, couldn't get comfortable, still had breathing issues, had to sit propped-up to sleep and breathe. Now I knew I was sick. The next three weeks were no fun. I could taste, but it was either too salty or too sweet. I could smell, but had a ghastly odor in my nose. I was hungry, but could only eat a few bites, my legs became rubbery. Everything was over the top in intensity: Like in the 70's when the ingested pharmaceuticals kicked in and it was a trip to the moon.
Adding to the nightmare, some friends and racers were in the hospital dealing with COVID at the same time. I began praying for racers and others who were also sick. Nighttime was the worst time as Linda was asleep and I was awake, sitting up, trying to relax, trying to sleep, and trying to breathe normally, which was a psychological chore at times. Sitting in the dark, I had lots of time trying to think, meditating and praying for many people. Maybe you were one of those I was interceding for during those difficult days and nightmarish nights.
My mortality truly came into play for a couple of weeks: Thinking about racers who had lost their lives, thinking of unknown people who lost their lives to this nightmare illness, praying to go to sleep, and praying for the Lord to watch over our family and others who were ill. Peering out into our backyard wondering if it was the last time I would see it, and lovingly thanking and thinking about my wife Linda, if I didn't make it through this nightmare. "Hold unswervingly to the hope we profess, for he who promised is faithful." (Hebrews 10:23).
I was intensely praying for a trinity of people: "Party To The Max" drag boat crewman and wire god Mark Lynner, NHRA racer and friend Thomas Bayer, and motorsports photographer Gil Rebilas who were all in the hospital at the same time I was sick. I prayed and prayed for these three men and other friends too. Unfortunately, Gil succumbed to his illness in September. Mark was in and out of the hospital a couple more times and Thomas is back to racing, but facing some high hospital bills. These three men, along with thousands of others have had their own nightmares this year too—not in the racing world.
Drag racing has been a huge part of my life for 63 years, and I've been blessed to be healthy most of my life. But this illness was a strange one as my brain was foggy for more than two weeks and it was difficult to read, concentrate, or take phone calls. Another nightmare part was I previously learned I had two memorial services to do in early October. One for drag boat owner, tuner, and engine builder Tim Roberts who died in May, and one for circle boat driver John "Jay" Hart who was killed driving his K-Boat on August 8th in Long Beach, CA.
It was frustrating knowing I needed to prepare two memorial services for two racing friends, but could not concentrate enough to do it. I had many hours to contemplate these services, but could not sit at the computer to compose them. Then an Arizona off-road racer needed someone to conduct a celebration of life for his father-in-law Dale Nees the week before the other two services. I was honored to help this family through their loss and grief.
A few years ago RFC had some "GFW" cards made: God, Family, and Work are the right order in life. I spent numerous hours with God during this nightmare illness. Countless hours praying for family and friends during this nightmare, and by the middle of September my brain was back functioning (almost normal?) so I could get back to a normal routine. I even lost 18 pounds during this nightmare, not the best way to lose weight.
Racers are always trying to learn from everything that happens in racing, so I was trying to learn during my nightmare illness. I had a few bizarre dreams during those weeks. I can't repeat…even out on the street…the people I did meet…a wild view from the backseat.
"There are three types of storms in our lives: Perfecting storms, protecting storms, and correcting storms," (Greg Laurie). Hardships in life make us stronger spiritually, that's a perfecting storm (Apostle Paul's thorn in his flesh). Protecting storms keep us from harm (Jesus calming the sea). Correcting storms, a result of our own choices and we reap the consequences (Jonah). Psalm 42:8, "By day the LORD directs his love, at night his song is with me—a prayer to the God of my life." "Never stop educating yourself in God's Word; there you will find all the hope and encouragement you will ever need," (Ami Hendrickson). "Faith in God doesn't eliminate fear—it overcomes it," (Bob Gass). Fear gives us the opportunity to practice our faith!
I've never forced my faith on anyone—and never will—but I truly hope and pray I've always been able to leave my faith—like a fresh breathe of air—behind me wherever I've been. The "aroma of Christ" is what others should sense about us when they walk with us and talk with us. Does your fragrance of the Lord linger among others after you're gone? Every human contact has eternal consequences. Never underestimate the effects a Christ-like life can have on others.
Philosopher William James (1842–1910) wrote, "At the end of your days, your life will largely be what you paid attention to." C.S. Lewis said "God whispers to us in our pleasures, speaks to us in our conscience, but shouts to us in our pain"…life surely can be a strain…racing can be a taxing campaign…our minds we have to practice and train…life at times seems mundane…please don't live your life in vain…only with God eternal life we can gain!